Home furnishings come at all different price points, and sofas are no different. You can find decent options starting at $300 and going way up to $3,000 or more. Unfortunately, such a massive range can be quite jarring when scoping out a new piece for your home. Exactly how much is a couch that's going to fit your needs, and can you realistically afford it?
The truth is, sofa pricing depends on several factors, including craftsmanship, material type, and size. However, you needn't worry about taking out a second mortgage to afford a quality couch. This guide helps you determine a price point within your comfort zone — one based on your specific needs. It also showcases fantastic pieces of furniture within every budget, from entry-level to high-end luxury. Join me in this guide, and let's price it all out.
How Much Should I Spend on a Sofa?
You should expect to spend several hundred to several thousand dollars on a new sofa — anywhere from $300 to $3,000 (and possibly more, if you have luxury tastes and a budget to match). To determine a more specific price, you need to consider these critical factors:
Your personal budget
The ideal size and shape of the sofa
What type of upholstery you want
The style of the sofa
Rest assured, you can find a quality option — one that fits many of your criteria — no matter how much money you have set aside. Just be sure about where you sit on each of these matters, as they form the basis for finding a suitable model for your home.
Select a Price Range for Your Sofa
If you're curious about how much do couches cost in today's market, let's break it down. Although exact pricing varies, here's a general price range consistent among manufacturers:
Budget ($300 to $1,500). A $300 to $1,500 couch is usually a small 2- or 3-seater with lackluster (often mass-produced) craftsmanship. Your new sofa may not last more than five to ten years (more if you take good care of it), but it should provide a comfy starting point for your family.
Mid-Range ($1,500 to $3,000). You can find high-quality, mid-range sofas with polyester, velvet, and even leather upholstery for anywhere between $1,500 to $3,000. Even with this material upgrade, mid-range sofas are often larger than budget variants, encompassing pieces like 3-4 seat sectionals and sleeper sofas.
High-End ($3,000 to $10,000). A $3,000 and higher budget buys access to the most luxurious, extra-long sofas, sectionals, and power reclining sofas money can buy. These are usually made to order and feature premium materials throughout.
Again, it's important to remember that this pricing structure isn't conclusive. You can still find high-quality sofas for under the $1,500 price point, and some "premium" leather sofas aren't worth a second glance. However, this range does provide a good overview of the market.
Decide What Size & Shape Sofa You'd Like
The cost of a sofa varies depending on its size and shape. In turn, the right size and shape depend on the size of your family and home.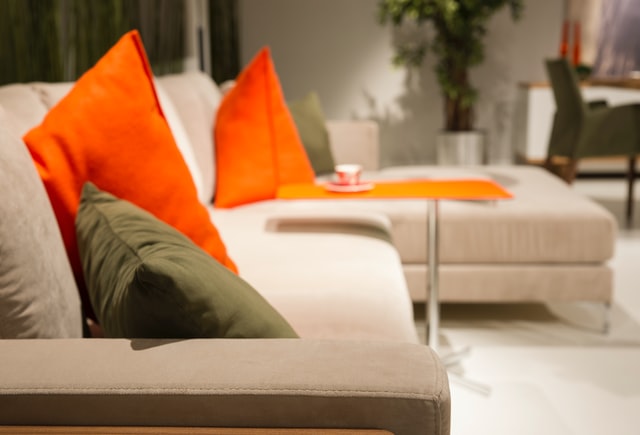 If you're a small family looking for a two or three-seater under 90″ or 95″, you can generally get away with a budget or mid-range option. For a sofa that seats four or more, you're looking at a 95″ or longer couch, which may slip into the higher-end of the price spectrum.
In addition to size, couches also come in different shapes. The most common shapes include standard "straight" sofas and corner sectionals. Although you can find extra-long standard sofas, they tend to run smaller than sectionals, which (by definition) include two or more sections, often in an L or U shape.
Standard sofas are usually more affordable, but you can occasionally find budget-friendly sectionals in lower price ranges, especially if you're willing to sacrifice in the upholstery department.
If you like to think outside the box, you can also choose a modular sofa. These sofas tend to be the most expensive option but provide customizable seating configurations that you can adjust to suit your ongoing needs. Start with a simple layout, and upgrade as you go, incorporating additional seats, seat cushions, and even chaises as your family grows.
Pick Your Ideal Upholstery
Upholstery has a massive impact on the look and feel of your sofa. It also has a massive impact on the price.
For instance, luxury leather and stain-resistant performance upholstery cost a lot more than, say, budget-friendly faux leather or standard polyester.
In between the highs and lows, you'll find mid-range natural fabrics like linen and budget fabrics with specialty textile weaves (e.g., twill or velvet).
| | |
| --- | --- |
| Price Range | Upholstery |
| High-End | Genuine leather, performance fabrics |
| Mid-Range | Non-cotton natural fabrics, fabrics with specialty weaves |
| Budget | Cotton, synthetic fabrics, faux leather |
Some savvy shoppers choose a budget upholstery option from the manufacturer and couple it with a fancy sofa cover featuring their desired aesthetic. A slip cover lets you customize the look of your couch and helps preserve the longevity of its underlying upholstery.
Choose a Sofa Style
Sofas have been around for millennia, and thousands of different designs have faded in and out of fashion. In the early 2020s, popular options include an eclectic mix of designs that take inspiration from the late 1800s through the late 1900s. These range in price, depending on their materials and intricacy.
For instance, sofas with Chesterfield, Art Deco, or Hollywood Regency designs tend to cost a small fortune due to their more expensive upholstery and intricate, hand-carved details. Meanwhile, options like minimalist and mid-century modern sofas are much easier to manufacture and generally cost less.
How much is a sofa that works for you? Unless you're dying to get your hands on a replica piece or need a couch to match your home's exact color and interior design, you can usually find an affordable option that features most of your stylistic preferences.
Our Favorite Sofas For Every Budget
While the factors listed above serve as general pricing and quality guidelines, there are high-quality couches within every price range. Even if your budget is under $1,000, you can find modern sofas, sectionals, modular couches, and even loveseats that fit most (though probably not all) of your needs.
It may sound too good to be true, but I can prove it. In this section, I've chosen a few of my favorite sofas within each price range (budget to high-end), highlighting their various specifications and showcasing their defining features. These illustrate your options when wondering how much should you spend on a quality sofa.
Price: Starting at $549
Dimensions: W90" x D37.5" x H32.5"
Frame Material: Wood
Upholstery: Cotton and polyester
Colors: 5 color options
Warranty: 10 years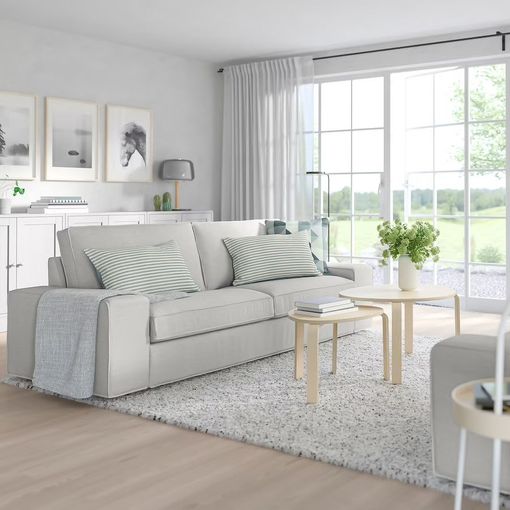 The IKEA Kivik is a dream sofa for families on a shoestring budget. Although it costs just over $500, the Kivik looks like it came straight from the cover of Vogue's latest magazine! The sleek 90″ design fits well in large and small spaces, elevating your home while providing plenty of room for family and friends to sit. Choose from five different color schemes to find a tone that blends in or pops as a gorgeous focal point of your interior design.
I find the Kivik supremely comfortable, even moreso than couches several times the price. It comes stuffed with memory foam cushioning that envelops your body like a bean bag yet maintains firm enough support for an upright posture. Although cotton and polyester are basic, entry-level fabrics, the couch cover doesn't look or feel cheap. On the contrary, the natural-meets-synthetic fibers are uniquely smooth and taut. Factor in the solid wood frame and armrests backed by IKEA's legendary 10-year warranty, and this robust piece of furniture becomes an essential new sofa for families on a budget.
Price: $2,369
Dimensions: W90″ x D38″ x H34″
Frame Material: Maple & poplar
Upholstery: Polyester or leather
Colors: 9 color options
Warranty: Lifetime (frame) & 3 years (cushions)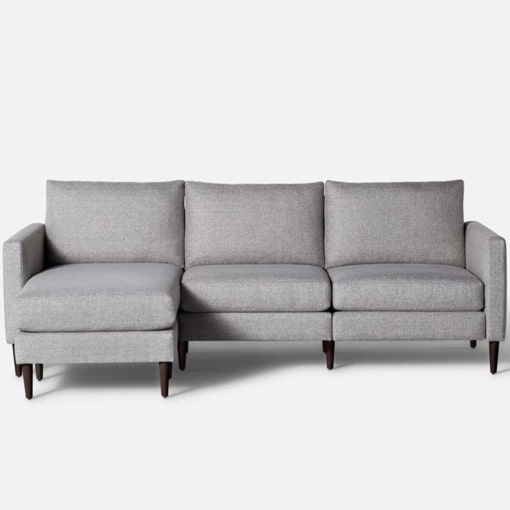 Allform is a premium brand with unbelievably accessible pricing. This is perfectly exemplified by the company's 3-Seat Sofa, which features top-grain leather or performance upholstery atop a robust maple and poplar frame. It comes in your choice of three wood finishes and nine fabric colors, offering a muted yet eye-catching composition that works with any living space. The sofa is also entirely modular, meaning you can customize its components (there's even a chaise lounge!) to fit your home like a jigsaw puzzle.
Every sofa is handcrafted to order, with minute attention paid to every detail. In particular, I love how comfortable the sofa's seat and back cushions are. They're stuffed with a special polyfoam filling, which sits atop a unique suspension system for incredible spring and buoyancy. Like the IKEA Kivik, the Allform measures 90″ long, except the extra-thin armrests room to breathe as you snuggle up with the fam for Netflix movie night.
Price: $3,675
Dimensions: W154.5 x D44" x 33"
Frame Material: Ash
Upholstery: Varies
Colors: 110 color options
Warranty: 1 year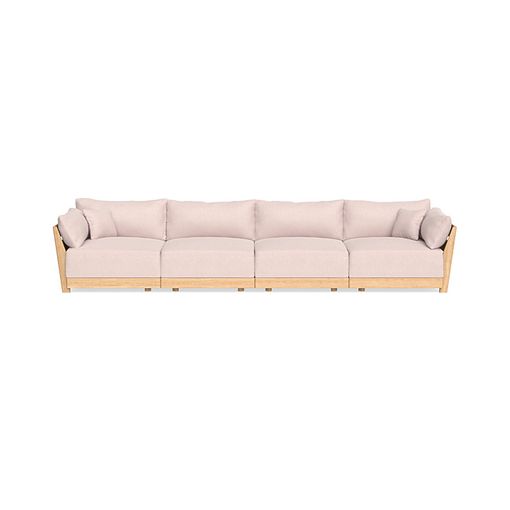 If you've been saving up or have expendable income, I highly recommend the Bondi 4-Seater from Inside Weather. This high-end couch costs just over $3,500, but it's well worth the price (once you get past the initial sticker shock, of course).
Like the 3-Seater from Allform, the Bondi is entirely modular. You can arrange the seating blocks in whichever way you like, transforming them from a massive 154.5″ standard sofa to a 3-seater with a chaise or even a giant 2×2 sofa bed supporting four to six people. Adjusting a block's lightweight wood frame only takes a few minutes, meaning you can change things up at any time.
Choose your favorite upholstery (pick between microfiber, genuine leather, faux leather, and more), select one of 110 color options, and enjoy the high-quality Bondi in whatever layout works for your home's interior design. It's luxurious comfort that the whole family will love.
FAQs
The following questions frequently come up among folks asking: how much should I spend on a couch? Well, here are the answers.
How long should my sofa last?
A high-quality sofa with sturdy wood framing and quality upholstery should last at least 15 years. If you opt for a mass-produced sofa made with budget materials, you're looking at closer to five to ten years.
Fun fact: some hand-made sofas last for centuries. While that's not the norm, it is possible to get decades out of your furniture, so long as you treat it well.
How can I extend the life of my sofa?
Although any living room furniture — high-quality or otherwise — is prone to wear and tear, there are steps you can take to extend your sofa's lifespan. Namely, treating it with care, protecting it from undue damage, and maintaining it properly.
Treat your sofa with care by respecting its weight limits and being gentle when sitting down or getting up (if you have kids, enforce a no jumping rule). Protect it with a slipcover or spray-on upholstery solution that repels liquids and stains, and consider leg pads where the sofa touches the floor. Maintain your sofa by repairing issues as they arise, fluffing pillows at regular intervals, and keeping everything clean and tidy.
How frequently should I be cleaning my sofa?
Play it by ear — keep an eye out for debris, stains (even minor ones), and soilage. Then, follow our cleaning guide as often as necessary.
If you have a family and pets or host many parties, that may mean monthly spruce-ups. If you're an introvert with your own apartment, a yearly deep clean may be all that's required.
Get More Home Decor Tips & Tricks with Home of Cozy
Everybody can find a sofa that suits their home decor and falls within their ideal price range. All it takes is a little searching.
Whether you're looking for a luxurious leather sectional sofa made from top-quality upholstery or a budget buy that meshes with your interior design scheme, Home of Cozy can help you find it.
Learn more about our recommendations and home furniture reviews by visiting our detailed guides on the Best Affordable Sofas, American Made Furniture Brands, and Top Grain vs. Bonded Leather.