Pottery Barn Price, Durability, Delivery, Pros and Cons
Pottery Barn was founded in 1949 by brothers Paul and Morris Secon after discovering three entire barns full of old pottery in Alfred, New York. Over the next few decades, Pottery Barn has become synonymous with elegance in modern interior design. Its signature furniture and home decor is generally relaxed and unstuffy but crafted from some of the finest and most durable materials.
Throughout the 80's and 90's, Pottery Barn's business grew exponentially with catalog orders. Today, their online business is booming and the retailer is incredibly popular primarily with homeowners seeking new sofas that are equal parts luxurious and comfy.
Pottery Barn competes with other high-end retailers such as Restoration Hardware and Crate and Barrel. Pottery Barn is a brand within the Williams Sonoma company, and operates close to 200 showrooms throughout the U.S. Shoppers can explore a full range of living room furniture from coffee tables and accent pieces to slip cover sofas, and accent pieces to suit any family room.
In terms of durability, Pottery Barn is among the best I've seen for high-volume retailers. There's a reason their loveseats and sofas generally start at high price points. Many designs are crafted here in the United States, using solid hardwood frames and incredibly durable upholsteries.
Shipping and delivery tend to vary. In-stock furniture may be delivered between 3 to 4 weeks after the order date. However, custom made-to-order furniture can take up to 2 months to arrive. However, as with other high-end furniture retailers, Pottery Barn offers white glove delivery services.
Pottery Barn Pros & Cons
Pros
Showrooms available
Large selection, variety of prices
Design consultations available
Flat rate shipping
Cons
Limited 30-day return window
No warranty
The Best Overall Sofas of 2023
To help you find the best deep seat sofa, I tested individual models from over 23 different brands. These are the best new sofas with extra deep seats that balance the best in design, price, sustainability, and durability.
How much are sofas and couches from Pottery Barn?
The price range for Pottery Barn sofas is between $500 to $10,000. On the lower end, these pieces tend to be small space loveseats and sofas, along with daybeds and futons more suited for home offices and guest rooms. As you get closer to $10,000, these tend to be washable slipcovered sofas along with sofas featuring premium performance fabrics and top-grain leather upholsteries. High-priced sofas also include Pottery Barn's signature collection of sectionals, many of which are made to order.
What is the most popular sofa or couch from Pottery Barn?
PB Comfort Square Arm Upholstered Sofa
Price: $1,199 to $5,000
Seat: 64″ W x 25″ D x 20″ H
Available Sofa Widths: 62″, 70.5″, 76.5″, 87″
Diagonal Depth: 32″
Arm: 6″ W x 36″ D x 25″ H
Square Tapered Legs (removable): 4.75″ square, 3.25″ high
Weight: 205 pounds
Sofa Filling Options: Memory Foam or Down cushions
Available Upholstery Options: 140+ made to order upholstery options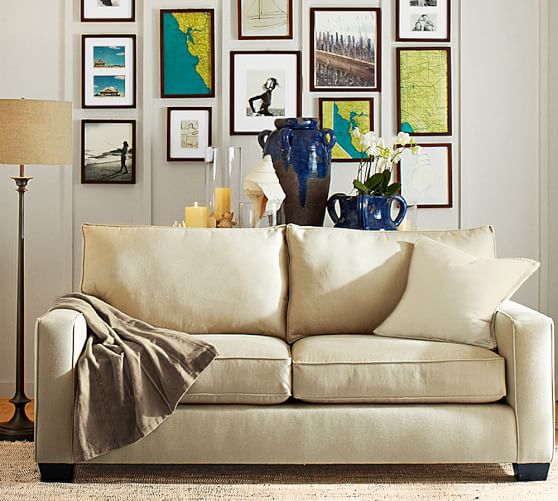 The PB Comfort is Pottery Barn's signature range of three-seaters and sectional sofas featuring extra-deep seats designed for you to practically sink into. With its incredibly robust frame and plush cushions, this sofa is a hit with customers because of its clean lines and unparalleled comfort.
It also comes in dozens of different upholstery options from premium linen and cotton blends to easy-to-clean performance fabrics and leather. Keep in mind that this is a made-to-order piece and will be delivered at around 10 weeks from the date you order.
What I love about the PB Sofa is its range of customizable options from seat filling selection: memory foam or down cushions, to the four different widths available depending on the size of your living space. Currently, you can only order split-cushion styles. However, previous iterations of the PB Comfort included bench cushions.
All in all, its materials and timeless design ensure any PB Comfort sofa is an investment piece whether you're decorating your first home or using it in a vacation house, guest room, or home office.
PB Comfort Sofa Features:
Removable square tapered wood legs are finished in a rich espresso.
Select down-blend seat cushions for a softer feel.
Choose poly-wrapped memory foam seat cushions for the ultimate balance of comfort and support.
Classic box-style back cushions give a more traditional look.
Loose seat cushions are removable.
Hardwood frame with mortise-and-tenon joinery provides exceptional structural integrity.
No-sag steel sinuous springs provide cushion support.
Masterfully designed for exceptional comfort, with extra depth and a double layer of padding.
Adjustable levelers provide stability on uneven floors.
Crafted in America by our own master craftsman. American and imported materials.
How long does it take for Pottery Barn to deliver sofas?
Delivery can range from 1 to 2 weeks for in-stock furniture or up to 10 weeks or more for custom, made-to-order pieces. Pottery Barn's shipping times generally align with other high-end furniture retailers with a mix of in-stock, ready-to-ship and custom furniture.
As always, the type of furniture you're buying and its range of customization options dictates how long the shipping time may be. In-stock items are held in warehouses and are mostly shipped within 2 weeks. However, any custom piece you order will be made specifically for you, hence the 10-week lead time.
Pottery Barn offers front door and white-glove delivery services, which include home delivery and assembly. These delivery fees range between $100 to $300 depending on the specific piece of furniture you're ordering. Your actual delivery fee will be calculated upon checkout.
How long do Pottery Barn sofas typically last?
Pottery Barn's sofas can last between 7 to 15 years. They're well-regarded by savvy homeowners and design enthusiasts for their comfort and durability. Pottery Barn sofas at higher price points tend to last the longest since they're crafted from durable materials and solid wood frames. However, even sofas towards the lower range of price points can also last at least a decade with regular care and cleaning.
Pottery Barn Return and Warranty Policies
Trial & Returns: 30 days
Financing: Financing available
Warranty: None
Where It's Made: USA
Like many other retailers, Pottery Barn offers a 30-day trial and return policy whether you're unhappy with what you bought or if there's a product defect. For returns, you'll need the original purchase receipt or gift receipt. Custom, made-to-order products are non-refundable.
Similar to other Williams Sonoma furniture stores such as West Elm, Pottery Barn does not offer any furniture warranties.
Real Pottery Barn Customer Reviews
I went through hundreds of honest reviews customers left on the Pottery Barn website as well as aggregators such as the Better Business Bureau and Consumer Affairs.
Generally, I found that Pottery Barn was popular with shoppers:
who were seeking high-quality furniture made in the USA.
savvy enough to wait around for sales, enabling them to save more on quality pieces at steep discounts.
interested in comparing swatches and fabric samples in order to make the most informed purchase.
looking for furniture with many different fabric upholstery options to choose from.
who were seeking premium slipcover sofas with washable seat and cushion covers, along with new slipcovers available online.
who were looking for classic-inspired sofas with roll arm and slope arm rests.
who prefer in-store showroom shopping to test out furniture and buy more accent pieces such as throw pillows, lumbar pillows, and throw blankets to complement their sofas
who don't mind short return windows and no warranties offered.
Here are some real positive reviews from Pottery Barn customers
"I went to the store and the associates are very helpful and knowledgeable to help me out and suggest other options as well. Also, she suggested that the items were on sale so I paid less than what I expected. It was great. Also, the product fits my living room perfectly. I was very pleased by their level of service and the quality of the product."
"I have always enjoyed shopping with Pottery Barn! Many times I have used their ideas for decorating my own home! Each item I have purchased has always been a quality item. I enjoy watching for their sales as their styles are timeless! I would recommend this store to all my family and friends!"
"Always a great experience, even if browsing for ideas of DIY in great home décor. I've shopped in several locations and the stores are always incredibly neat, comfortable, the merchandise is presented in easy-access so, seldom is it necessary to call for assistance. Merchandise is clean, which, to me, is extremely important. The sales people always appear to be happy about their work, and are knowledgeable about just about every item in the store."
Here are some real negative reviews from Pottery Barn customers
"Ordered a Pottery Barn flush mount schoolhouse pendant in nickel finish. Light arrived without the part to secure the glass globe to the fixture (it is the one with the screws, Pottery Barn…the one with the screws). Customer service rep had difficulty understanding what was needed. Sent hardware a second time. Still did not include the missing piece. Called customer service a second time. They sent a complete light kit this time. Still missing the part. You can literally see the missing part in the catalog/site photos but apparently cannot get the actual part shipped to you. So now I have 2.5 schoolhouse lights kits and zero parts needed to complete the installation. Do not order this light if you intend to actually install it. And Pottery Barn, DO NOT CONTACT ME with your helpful suggestions to call your customer service department. They were not helpful though they tried."
"We ordered two cabinets on May 17, 2021. Delivery was to June 14-28th. On June 23 one cabinet arrived. I had to make several calls to try to get someone to address the problem. In add they would not take the cabinet upstairs. I had scheduled a plumber to come the next day. Pottery Barn finally ordered a replace vanity (they said at no cost to me-really). The new cabinet arrived on July 28 and again they would not take it upstairs like I had been promised. I had to pay for two movers to come and an extra trip for my plumber to install the cabinet. Each time I reached out to pottery barn I was assured that someone would contact me within 24-48 hours. Never happened. Do yourself a big favor and run from this place. The cabinets were just ok. I accepted them because I couldn't be without a vanity and the measurements were already calculated in the remodel. Buyer beware."