In recent years, the online mattress industry has grown considerably. More and more retailers are creating innovative bed-in-a-box designs that cater to every type of sleeper.
For mattress customers, there are dozens of brands to choose from and plenty of great deals to be found.
Shopping in such a competitive category means that you have to do your homework to sort out the high-quality brands from the pretenders. However, shoppers who research carefully and pounce on discounts end up with great bargains on high-quality mattresses.
In this guide, we're zoning in on value. There are plenty of excellent queen-sized mattresses that you can get for less than $1,000, and today we're highlighting our favorites. Including typical discounts, each of the eight mattresses featured in this guide costs under or right around $1k.
Shopping for a Low-Priced Mattress: Factors to Consider
Along with finding a product that fits your budget, here are a few important factors to consider while mattress shopping.
Firmness
There's no "perfect" amount of mattress firmness, since different sleepers have different preferences. The same bed might be too soft for me, but too firm for you.
Fortunately, most retailers use an unofficial 1–10 firmness scale that helps shoppers better understand what to expect.
The firmness scale works like this:
1/10 indicates a very soft mattress that allows deep sinking
10/10 indicates maximum firmness, allowing virtually no sinking or contouring
6.5/10 is the industry standard for a medium-firm mattress
Sleep Style
Your preferred sleeping position may influence which type of mattress you'll find most comfortable.
In general, back sleepers and stomach sleepers tend to prefer firm mattresses that provide plenty of support for the neck and spine.
Side sleepers often feel more comfortable on softer mattresses that provide cushioning and contouring under the hips and shoulders.
Body Type
Along with sleep style, body type is an important factor in choosing a mattress.
Sleepers with heavy body weights tend to prefer firmer mattresses that resist sinking.
Sleepers with lighter body weights often prefer softer foam beds that don't require heavy pressure in order to provide contouring and cushioning.
Materials
Most mattresses fit into one of these four categories:
Innerspring: steel coil core and a thin outer layer of padding
Foam: high-density foam base plus memory foam or polyfoam comfort layers
Latex: layers of natural or synthetic latex that perform similarly to foam but with a more rubbery feel
Hybrid: coil core plus thick foam comfort layers
If you're shopping online for a mattress that costs under $1,000, you'll mostly have foam and hybrid options to choose from. Latex mattresses are higher-priced, while innerspring mattresses don't ship well in boxes and aren't commonly sold by online mattress companies.
Be aware that some lower-priced beds are lacking in strength and durability. Mattresses that are too weak or thin are more likely to cave in and become uncomfortable. So, choose a model that offers a strong support layer, in the form of high-density foam or thick pocketed coils.
Aside from picking a mattress that's strong and durable, choose one that was made with high-quality materials that suit your specific needs and preferences.
Memory foam is often preferred by sleepers with light body weights. Foam doesn't require strong pressure in order to provide contouring, which means that light-bodied sleepers can enjoy pressure relief that might be lacking with a firmer mattress.
Hybrids come in a variety of firmness levels. Plus-size sleepers, back sleepers, and stomach sleepers all tend to require extra firmness and support, which can be found in certain hybrids. Hybrids also offer superior airflow, helping hot sleepers to stay cool.
To pick the best mattress for your needs, figure out which type is likely to suit your body type and sleep style. Then, research individual brands and pay particular attention to firmness ratings.
Before making a purchase, be sure to carefully read a number of reviews. Along with information about the bed's performance, consider factors like sleep trial periods, warranty, and shipping details.
Our Top 8 Queen-Size Mattresses Under $1,000
We've checked out the top budget-friendly offerings from leading mattress brands and chosen our top eight picks. If you're looking for the best mattress under (or right around) $1,000, start your search with this selection of high-quality foam and hybrid designs.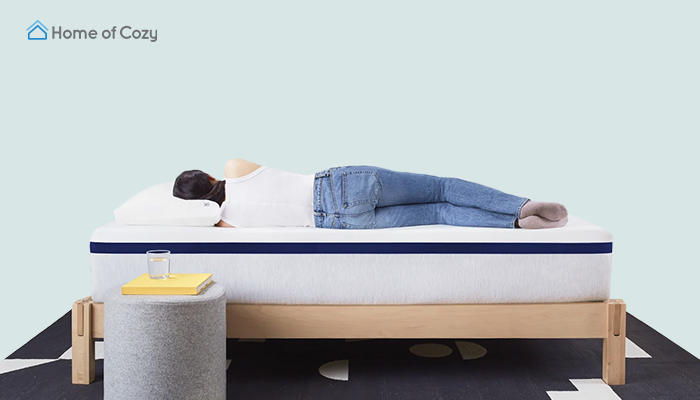 Best For: Overall
Price: $1,099 (Queen size)
Mattress Type: Hybrid
Firmness: 5.5/10
Trial Length: 100 nights
Warranty: 10-15 years
What I Loved About This Helix Mattress
Helix Sleep's top seller is the Midnight, a hybrid with a supportive medium-firm feel. Hundreds of individually-wrapped steel coils make up the bed's core, while multiple layers of pressure-relieving memory foam and poly foam provide a cozy sleep surface.
The Midnight provides enough bounce to prevent sleepers from feeling "stuck in" the bed, but it's soft enough for side sleepers to enjoy plenty of pressure relief around the hips and shoulders. This mattress also offers excellent edge support and motion isolation. Couples can use the entire bed comfortably and move around without disturbing one another's sleep.
Overall, the Midnight feels like a luxury mattress, but it's priced for value. I wouldn't recommend it for very heavy-bodied individuals or those who prefer extreme firmness, but the vast majority of sleepers will be comfortable on the Helix Midnight.
What I Didn't Love
Okay, okay, the Midnight doesn't technically make the cut for our list of mattresses priced under $1k. This mattress walks the line between budget and luxury. It's a high-quality bed at a great price, but it is a tad more expensive than the seven other low-priced options featured in this article.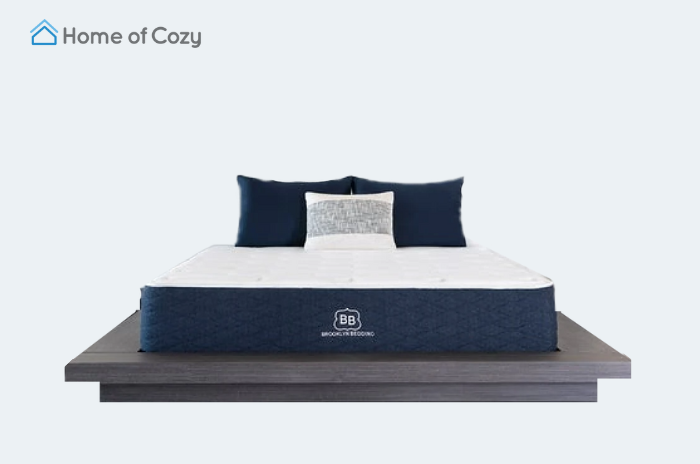 Best For: Comfort
Price: $999 (Queen size)
Mattress Type: Hybrid
Firmness: available in soft (3/10), medium (5/10), or firm (7/10)
Trial Length: 120 nights
Warranty: 10 years
What I Loved About This Brooklyn Bedding Mattress
Like the Helix Midnight, the Brooklyn Bedding Signature Hybrid is recognized as one of the best value buys in the online mattress industry. Made-in-America shoppers will be pleased to know that both the foam and coils for this hybrid mattress are made and assembled in-house by Brooklyn Bedding in Arizona.
The Signature Hybrid boasts an 11" height and an 8" coil core. These generous proportions result in excellent responsiveness, motion isolation, and support. In all sleep positions, the mattress gently contours against pressure points without permitting the body to sink down.
Shoppers can choose from three firmness options: soft, medium, or firm. These three models are made with the same materials in slightly different proportions in order to achieve the range of firmness levels.
What I Didn't Love
High-caliber coils around the perimeter help provide consistent support across the Signature Hybrid's entire surface. This results in terrific edge support in lying-down positions. However, the edge support doesn't hold up as well for seated positions. If you sit down on the edge of the bed, the mattress will sink down significantly.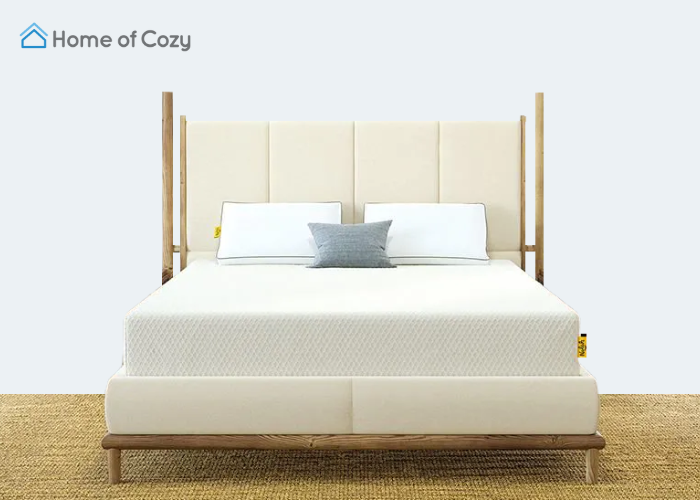 Best For: Side sleepers
Price: $899 (Queen size)
Mattress Type: Foam
Firmness: 5.5/10
Trial Length: 120 nights
Warranty: Lifetime
What I Loved About This Nolah Mattress
The Nolah Original is a 10" all-foam mattress. The comfort layer is made from 2" of Nolah's proprietary AirFoam™, a material that cushions like memory foam but does a better job of releasing body heat.
Airfoam is also impressively responsive, meaning that the foam quickly returns to its original shape after you press down on it. This results in an extremely pleasant sleep surface, with a great mix of comfort and support. This responsiveness is also helpful for spinal alignment, offering gentle pressure relief without allowing the body to sink.
What I Didn't Love
The Nolah Original is a fairly soft all-foam mattress, which means that it might not offer enough support for plus-size sleepers or back sleepers who prefer extra firmness.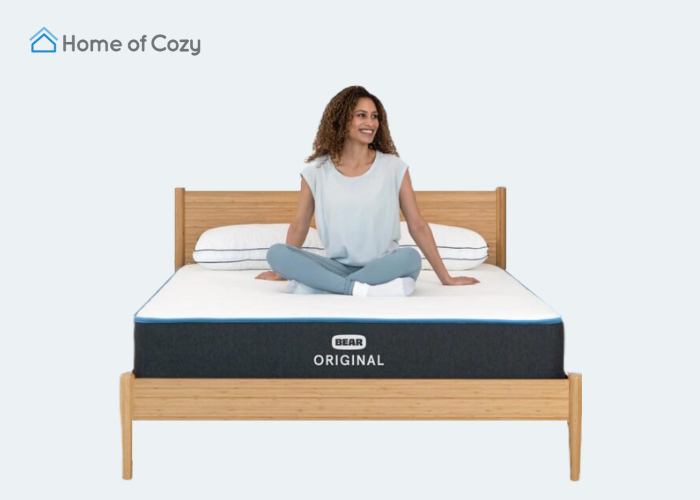 Best For: Memory foam
Price: $649 (Queen size)
Mattress Type: Foam
Firmness: 7.1/10
Trial Length: 120 nights
Warranty: Lifetime
What I Loved About This Bear Mattress
Even among the other bargains on this list, the Bear Original mattress stands out as a great value. You won't find a better mattress in the same price range.
From top to bottom, the Bear Original includes a breathable quilted cover, a cooling gel-infused memory foam comfort layer, a Bear Dynamic foam transition layer, and a high-density foam base layer. The gel memory foam top layer provides a sleep surface that's supportive, cozy, and cool to the touch.
The feel is fairly firm by memory foam standards, but there's enough cushioning to provide pressure relief for side sleepers and light-bodied sleepers.
What I Didn't Love
Because this mattress is just 10" thick and weighs only 70 lbs, I wouldn't recommend it to sleepers who weigh over 230 lbs. Memory foam mattresses may sag over time when used by heavy-bodied sleepers, and that's especially true for a thin and lightweight model like the Bear Original.
5. Best for Combination Sleepers: Leesa Studio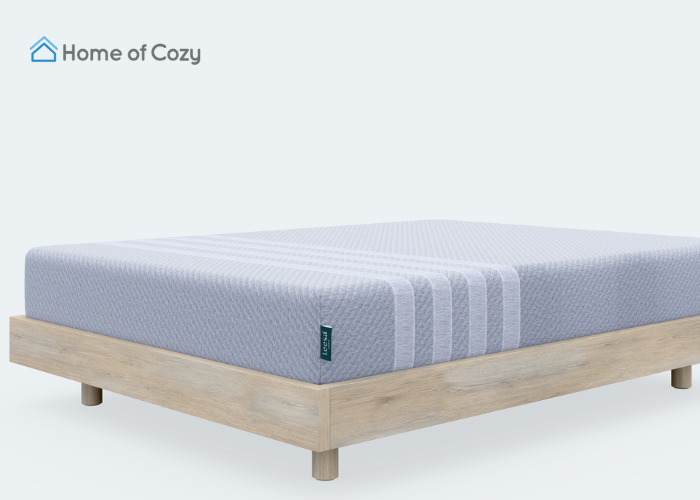 Best For: Combination Sleepers
Price: $749 (Queen size)
Mattress Type: Foam
Firmness: 7.5/10
Trial Length: 100 nights
Warranty: 10 years
What I Loved About This Leesa Mattress
The Leesa Studio is a memory foam mattress with a higher-than-average firmness rating of 7.5/10. The surface provides the slow response time that makes memory foam a desirable material for many sleepers. In other words, this mattress is firm, but not bouncy.
With a good blend of comfort and support, the Leesa Studio is comfortable in all sleep positions. It's a good pick for combination sleepers who tend to move in and out of different sleep positions during the night.
The Leesa Studio's ability to isolate motion is particularly impressive. Generally, firm mattresses do a poor job of isolating motion, since the surface isn't soft enough to absorb pressure. However, the Leesa Studio limits motion transfer to a very small radius. This is an especially desirable benefit for couples that tend to wake each other up while moving around during the night.
What I Didn't Love
As a 10" foam mattress, the Leesa Studio isn't ideal for heavy-bodied sleepers. Plus-size sleepers typically require thicker mattresses and even more firmness.
For plus-size-friendly options, check out the next two mattresses described below: the Titan Plus and the Plank Firm.
Best Mattress for Plus Size Sleepers: Titan Plus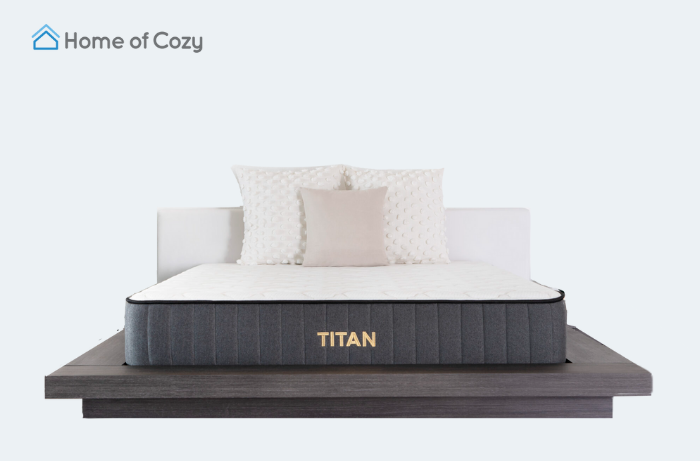 Best For: Plus size sleepers
Price: $926.80 (Queen size)
Mattress Type: Hybrid
Firmness: 9/10
Trial Length: 120 nights
Warranty: 10 years
What I Loved About This Titan Mattress
Not many low-priced mattresses offer the thickness and durability that plus-size sleepers require, but the Titan Plus is an exception. This 11" hybrid is designed specifically for sleepers who weigh over 250 pounds, with a high-density foam base, a heavy-duty coil core, and multiple layers of responsive comfort foam.
To meet the needs of heavy-bodied sleepers, the Titan Plus is a 9/10 on the firmness scale. The top layers of foam offer just enough cushioning to contour slightly around pressure points without permitting the body to sink.
The Titan Plus also includes several features to prevent overheating. The coil core permits internal airflow, while an infusion of TitaniumGel™ in the foam offers additional temperature regulation. An optional GlacioTex™ mattress topper can be added to keep the surface layer extra cool to the touch.
What I Didn't Love
If one member of a couple is plus-sized and the other isn't, then the Titan Plus might not be the best compromise. The surface is too firm to provide sufficient contouring or comfort for sleepers with light body weights. If you weigh less than 200 pounds, then a mattress as firm as the Titan Plus won't offer much cushioning or pressure relief.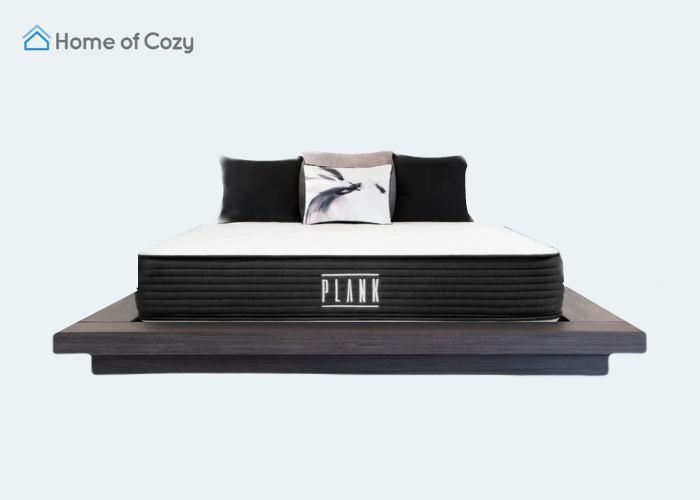 Best For: Extra firmness
Price: $999 (Queen size)
Mattress Type: Foam
Firmness: 8/10 (firm side) or 9.5/10 (extra firm side)
Trial Length: 120 nights
Warranty: 10 years
What I Loved About This Plank Mattress
The Plank Firm is a flippable all-foam mattress with a firm side (8/10 firmness) and an extra firm side (9.5/10 firmness). The flat, supportive surfaces on both sides are designed to provide lumbar support and help sleepers maintain neutral spinal alignment, preventing the discomfort that occurs when mattresses sag under body weight.
The firm side offers a traditional firm feel, with moderate contouring and pressure relief. The extra firm side is for folks who simply can't find the firmness they're looking for anywhere else. This group may include plus-size sleepers and individuals with lower back pain issues that are aggravated by any amount of sinkage in their sleep surface.
What I Didn't Love
A downside of using a super firm mattress is motion transfer. Motion transfer refers to movement and pressure on one side of the bed being felt on the other side.
Considering its firmness rating, the Plank Firm actually does an impressive job of isolating motion. However, an extra firm mattress can only absorb so much contact without sending some shockwaves across the surface. You'll notice your partner's movements on the Plank Firm more than you would if you were using a softer mattress.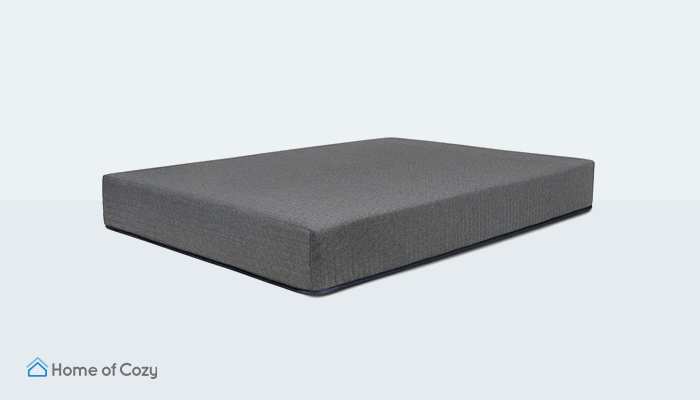 Best For: Value
Price: $393+
Mattress Type: Foam
Firmness: available in soft medium (4/10), medium (5/10), medium firm (6/10), firm medium (7/10), and firm (8/10)
Trial Length: 120 nights
Warranty: 10 years
What I Loved About This Dreamfoam Mattress
The Dreamfoam Essential comes in these five models:
6" – 8/10 firmness
8" – 7/10 firmness
10" – 6/10 firmness
12" – 5/10 firmness
14" – 4/10 firmness
The thicker Dreamfoam Essential designs are more soft and plush. Meanwhile, the 6" design consists of a simple 4" base and a 2" memory foam top layer, resulting in an extra firm feel. With each 2" of thickness added, the mattress's price goes up slightly.
The 6", 8", and 10" models are dual-layer designs (base foam and memory foam) while the 12" and 14" models include a transition foam layer to improve contouring and overall comfort.
It's tough to offer a brief review of the Dreamfoam Essential, since firmness and comfort features vary widely across the five models. However, what all five models have in common is excellent value, with even the 14" option priced well under $1k.
What I Didn't Love
Despite the wide range of heights and firmness options, none of the Dreamfoam Essential models are ideal fits for most plus-size sleepers. For individuals who weigh over 250 pounds, each model is either too thin to provide sufficient durability or too soft to provide sufficient support.
Find the Perfect Mattress for Your Budget
There are lots of great queen mattress options in the $500-$1,000 price range. However, if you're willing to spend a bit more, then your options increase significantly, since many brands price their queen beds slightly over $1k.
To check out a few more of Home of Cozy's favorite brands, check out our Lull mattress review, Plank mattress review, ,our review of the best models from Helix Sleep or our favorite mattress for 2023.