Has your mattress seen better days? Or, is it just too darn firm?
A mattress topper might be the remedy you're looking for. A topper can make a stiff bed more soft and comfortable while protecting the mattress underneath and extending its lifetime.
What Is a Mattress Topper?
A mattress topper is a thick layer of material that's placed on top of a mattress. The main reason for adding a topper is usually to make a mattress softer or to otherwise improve the feel of the surface.
To some extent, a mattress topper can "revive" an aging mattress that's become worn out or slightly uneven. The topper brings a fresh new layer of comfort that might help you get a few more years out of a mattress. However, keep in mind that if your mattress is significantly caved in or otherwise damaged, a topper won't make those problems disappear.
A mattress topper is different from a mattress protector, which is thinner and designed primarily to protect the mattress and keep it clean. Mattress protectors don't significantly change the firmness or feel of the sleep surface. Mattress toppers do.
A third term, mattress pad, typically refers to a product that wraps around the mattress like a protector but also offers some extra cushioning. The three terms are sometimes used interchangeably, so be sure to shop carefully.
Why Are Mattress Toppers Helpful for Side Sleepers?
Your preferred sleep position factors into which sort of mattress you feel most comfortable sleeping on.
Stomach sleepers and back sleepers tend to appreciate firm beds that support spinal alignment by preventing sinking.
For side sleepers, pressure relief is key. In a side sleeping position, lots of pressure is concentrated around the hips and shoulders. This can lead to hip pain, lower back pain, and joint pain. Therefore, side sleepers often prefer mattresses that are soft enough to provide gentle contouring and cushioning.
Many side sleepers find memory foam to be a perfect mattress material. Foam presses down slightly under body weight, comfortably enveloping pressure points.
Unfortunately, sometimes you end up on a mattress that's less than ideal. Maybe you moved in with a partner, moved into an apartment that came with a bed, or purchased a new mattress that didn't end up feeling how you expected it to. If you're a side sleeper who's stuck on a too-firm mattress, a soft mattress topper may be the simplest and most cost-effective way to achieve a more comfortable sleep surface.
Firmness
Most online mattress retailers include firmness ratings in their product descriptions, based on the following 1-10 scale:
1/10 indicates a super soft mattress that allows deep sinking
10/10 indicates extreme firmness that permits virtually no sinking or contouring
6.5/10 is the industry standard for a medium-firm mattress
Mattress toppers don't come with firmness ratings. However, if your mattress is firm, you can use a topper to make your bed significantly softer. Thick foam toppers may reduce mattress firmness ratings by around 2 points, e.g., turning a stiff 8/10 firmness into a plush 6/10.
Materials
Mattress toppers are often made with memory foam or poly foam. Foam offers the contouring and pressure relief that side sleepers need. Four of the five products featured in this guide are foam-based.
Mattress toppers may also be made from synthetic or natural latex, gel, microfiber, cotton, down alternative, feathers, or wool.
Thickness
Mattress toppers are typically 2" or 3" thick.
Breathability
A downside of many high-density foam sleep products is the tendency to trap body heat. Foam is dense and doesn't permit much airflow, which can result in overheating.
To counteract this effect, some foam mattress toppers come with breathable cotton covers. Others use gel-infused or copper-infused foam. These components, when added to foam, offer slight temperature regulation improvements by conducting body heat away from the foam and into the air.
Our Top Six Picks for Side Sleeper Mattress Toppers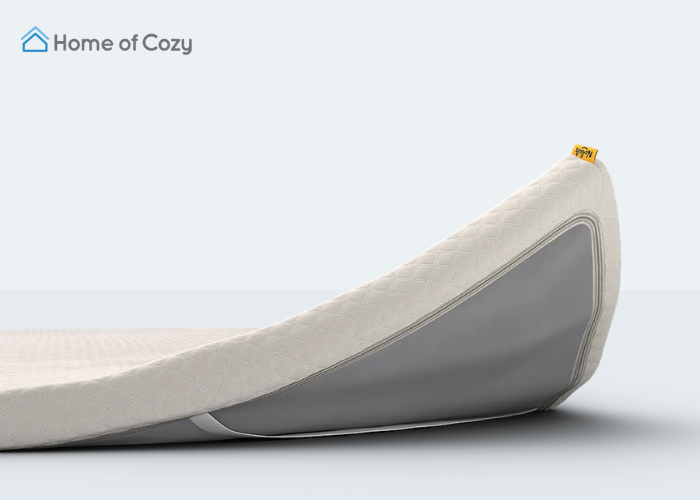 Best For: Overall
Price: $249+
Warranty: 10 years
Material: AirFoam™️
Thickness: 2"
What I Loved About This Nolah Mattress Topper
The Nolah Mattress Topper is made with Nolah's proprietary AirFoam™️. Like memory foam, AirFoam contours gently under the pressure of body weight, providing the cushioning and pressure relief that side sleepers need. Airfoam is also highly responsive, meaning that the material quickly returns to its original shape after you press down on it.
Responsive material is especially helpful in mattress toppers since the overall sleep surface is extra tall from the combined height of the mattress and the topper. Responsiveness keeps the sleep surface from feeling uneven or sloped.
Heat dispersal is another area in which the Nolah Mattress Topper impresses. AirFoam is made without the heat-sensitive viscoelastic chemicals that cause memory foam to trap warmth. The result is a temperature-neutral sleep surface that stays cooler than your body temperature throughout the night.
Two more things I loved about this design: first, there are four long elastic bands that slide under the mattress to keep the topper in place.
Finally, I appreciate the thin cotton cover that can be removed and washed. The cover protects the topper and can be cleaned as needed to maintain a hygienic sleep surface that's guarded against dust mites and allergens.
What I Didn't Love
The feel of AirFoam is slightly different from memory foam, which offers a deeper degree of compression that some sleepers love. If you're looking for a more significant cushioning upgrade, you might prefer a topper that's either thicker or made from traditional memory foam.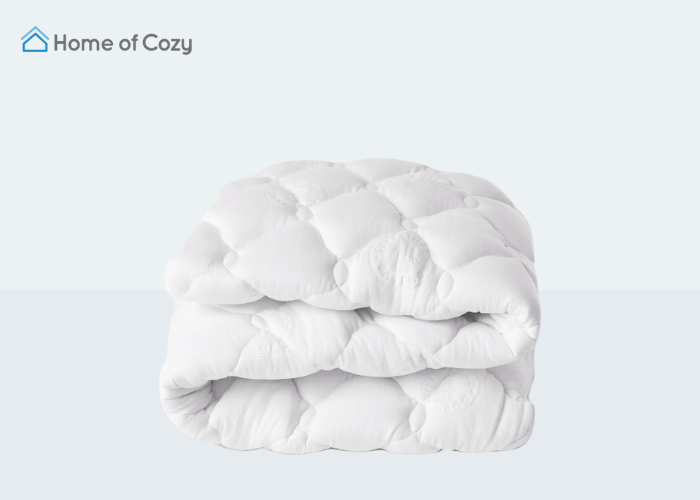 Best For: Plush feel
Price: $199+
Warranty: 1 year
Material: Polyester and Bamboo viscose
Thickness: 1.5"
What I Loved About This Helix Mattress Topper
The Helix Sleep brand likes to shake things up with the use of innovative materials and unique designs. For their Plush Mattress Topper, Helix uses a blend of dense polyester and bamboo viscose. The topper is just 1.5" tall, providing a less bulky option if your mattress needs extra comfort but you don't want to add too much more height.
This topper offers a plush, pillow top feel that's a bit more resilient and buoyant than memory foam. Along with softening up your sleep surface, Helix's topper offers a few practical advantages. It's hypoallergenic, breathable, and machine-washable. Plus, the topper is wrapped in a skirted cover with four deep corners that tuck in under your mattress. While many toppers tend to slide around atop your bed, this one stays put.
What I Didn't Love
The Helix Plush Mattress Topper will make most firm mattresses about one point or one-half point softer on the firmness scale. For a bed that needs just a minor adjustment, this topper may be perfect. However, if you're looking to make a more substantial alteration, you should go with a thicker topper.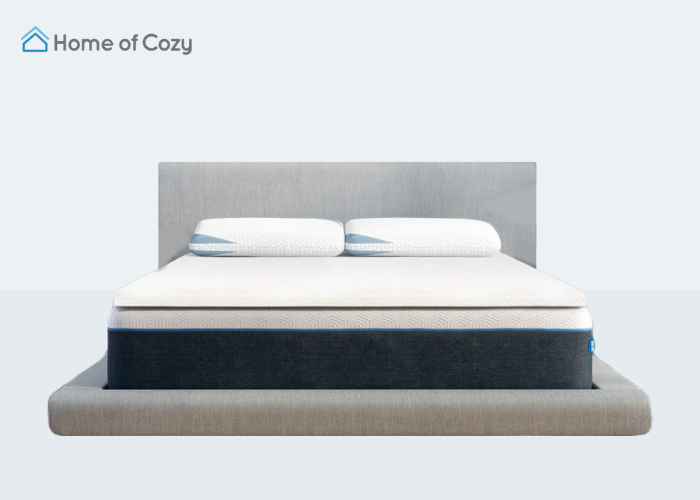 Best For: Classic memory foam feel
Price: $160+
Warranty: 3 years
Material: Memory Foam
Thickness: 3"
What I Loved About This Bear Mattress Topper
The Bear Pro Topper is extra thick, made from 3" of copper-infused memory foam. Three-inch toppers are ideal for pairing with mattresses that are thin or much too firm.
Bear's Pro Topper isn't just fat, it's plush. Three inches of memory foam can completely transform the feel of a mattress. If you're looking for a major boost in comfort and pressure relief, the Bear Pro Topper can get the job done.
This topper is CertiPUR-US certified, which means it's made without lead, mercury, formaldehyde, and other harmful chemicals. The topper comes in a zippered knit cover that can be removed for laundering, making it easy to keep your bedding hygienic and hypoallergenic.
What I Didn't Love
Avoid three-inch toppers if your mattress is already quite tall and you don't want to feel like you're sleeping closer to the ceiling than the floor. Additionally, keep in mind that the Bear Pro Topper offers a substantial difference in comfort. If you're looking for a more modest adjustment, go with a 2" model or one made from firmer material.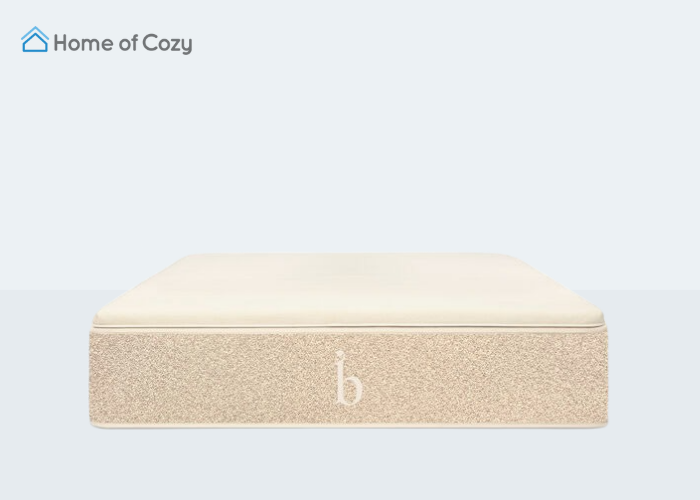 Best For: Natural and organic materials
Price: $287.20+
Warranty: 10 years
Material: Latex, Cotton, and Wool
Thickness: 2"
What I Loved About This Birch Mattress Topper
The Birch Plush Organic Mattress Topper is made from an impressive blend of natural Talalay latex, organic cotton, and Birch's proprietary Birch wool, which is sourced from free-range New Zealand sheep. Birch emphasizes responsible sourcing and eco-friendly production, earning the Global Organic Textile Standard (GOTS) and GREENGUARD Gold certifications.
What does a luxury mattress topper feel like? Well, the latex makes a big difference.
A latex mattress topper provides the pressure-relieving comfort of foam, but without the "sinking in" feeling that some sleepers find uncomfortable. Latex offers a more supportive and durable surface without compromising on cushioning or pressure relief. The Birch Mattress Topper somehow captures all of these benefits on 2" of material. Plus, the outer quilted organic cotton layer is cool to the touch. The feel of the surface hits the sweet spot—cozy and gentle but blissfully cool.
Unlike most bedding accessories, the Birch Mattress Topper comes with the major buyer protections that are usually reserved for mattresses: a 100-night sleep trial period and a 10-year warranty.
What I Didn't Love
If your top priority is a low price then this probably won't be the mattress topper you end up with. Its price ranges from $287.20 for a twin up to over $400 for a queen size.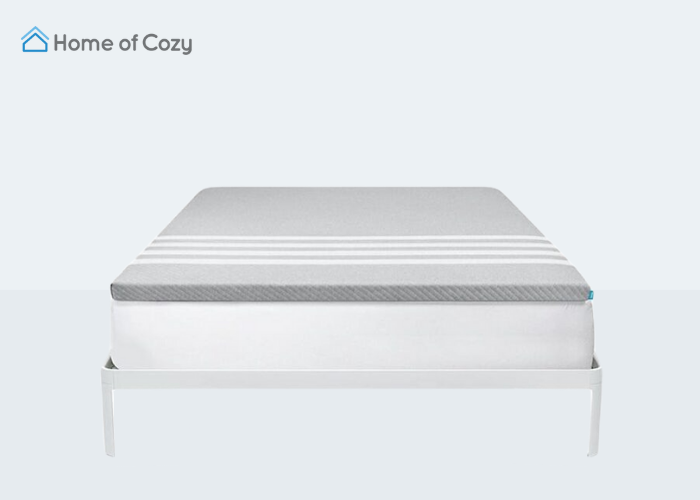 Best For: Machine-washable cover
Price: $169+
Warranty: 1 year
Material: Foam
Thickness: 2"
What I Loved About This Leesa Mattress Topper
The Leesa Mattress Topper is a 2" foam topper with a removable, machine-washable cover. Leesa uses the same proprietary memory foam for their toppers that they put in their mattresses.
Compared to traditional memory foam, Leesa's foam is more airy and buoyant. It's an especially nice material for light-bodied sleepers who don't exert enough body weight pressure to enjoy pressure relief on firmer surfaces.
This topper's removable cover seals closed with a zipper, helping to keep the foam fully protected and clean. The cover goes on and off in a few quick moments and easily fits inside your washing machine for thorough cleaning.
What I Didn't Love
Heavy-bodied sleepers might find the Leesa Mattress Topper to be too soft. The foam is slightly fluffy. Sleepers who weigh more than 250 pounds should look for a topper made from a stiffer, denser material.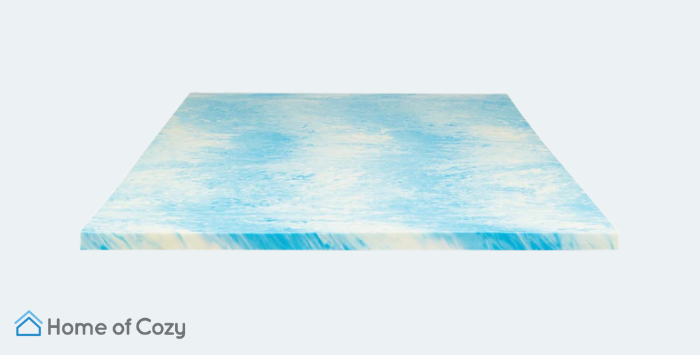 Best For: Value
Price: $89.25+
Warranty: 3 years
Material: Gel Memory Foam
Thickness: Available in 2" or 3" options
What I Loved About This Brooklyn Bedding Mattress Topper
Available in 2" or 3" options, the Brooklyn Bedding Gel Swirl Memory Foam Topper is the most affordable product featured in this top-five list. However, if you like the feel of memory foam, this might be your ideal topper, regardless of price.
This topper is made from ultra-plush gel-infused memory foam, providing the classic contouring that memory foam is known for. If you're suffering from a mattress that's too firm around the hips and shoulders, the Gel Swirl Memory Foam Topper can come to the rescue with a significant boost in pressure relief.
What I Didn't Love
The Brooklyn Bedding Gel Swirl Memory Foam Topper is a substantial block of dense memory foam. Memory foam tends to trap heat, so this topper might not be the best choice for hot sleepers or those who live in very warm climates. The gel swirl that's infused in the foam is meant to draw heat away from the body, but any benefit gained from cooling gel can't completely override the heat-trapping effects of foam.
Bed Shopping? Check Out More Home of Cozy Reviews
If you decide that your current mattress can't be saved with a topper, then you'll be happy to learn that the most affordable online mattresses don't cost much more than toppers. Start your search with Home of Cozy's write-up on the Best Mattress in 2023 or the Best Mattresses Under $1,000 in 2023.