Sleeper sofas are perfect for almost any home. They're especially great if you live in a smaller space and don't have a guest room for overnight guests. Pull-out beds also tend to be much more comfortable alternatives to both air mattresses and futons.
If you're thinking of getting a sofa bed for your living room, read on to see my five top picks. I combed through hundreds of customer reviews and tried sleeping on 10 different models to see which brands and retailers balanced comfort, durability, style, and price point.
Check out the best sleeper sofas from West Elm, Innovation, IKEA, Allmodern, and Urban Outfitters.
The Best Overall Sofas of 2021
To help you find the best deep seat sofa, I tested individual models from over 23 different brands. These are the best new sofas with extra deep seats that balance the best in design, price, sustainability, and durability.
5 Best Sleeper Sofas Consumers Loved This Year
Brand
Best For
1

Editor's Choice

Comfort
Shop Now
2
Ease-of-use
Shop Now
3
Value
Shop Now
4
Small Spaces
Shop Now
5
Leather Sleeper Sofa
Shop Now
1
Editor's Choice
2
3
4
5
Best For:
Leather Sleeper Sofa
1. West Elm Shelter Queen
Price: $2,199
Sofa Dimensions: 84.5″ width x 38″ depth x 30″ height
Sofa & Pull-Out Mattress Dimensions: 84.5″ width x 90″ depth x 30″ height
Frame Materials: solid hardwood frame
Upholstery Options: 20+ custom fabric options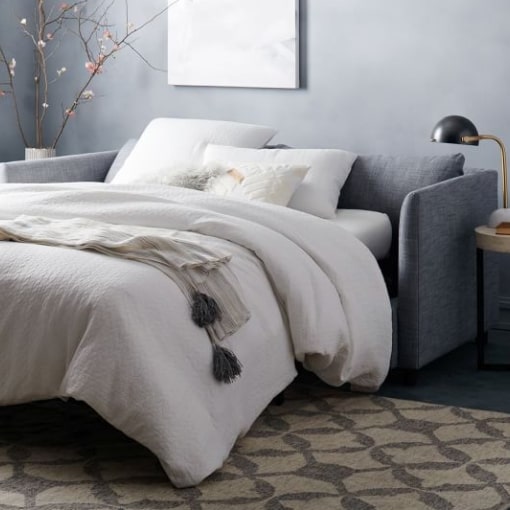 What I Loved
I'm always a fan of West Elm's sofas, loveseats, and sleeper sectionals. But this is the first sofa bed from them I've tried and I have to say, it was my personal favorite. I loved its overall style, with its clean lines and square arms. Plus its foam cushions were soft enough for lounging and sleeping even without pulling out the mattress.
The sofa itself has incredibly plush seats. And the pull-out mattress was easy to operate, and once it was set up, it felt almost like sleeping in a regular mattress. I think it would work perfectly in any living room or even a home office that has to double as a guest bedroom.
All in all, it was the most stylish and comfortable sleeper sofa I tried. Plus, it was one of the few that I saw and tested that was available in a queen-size mattress.
What I Didn't Love
I loved all of the fabric options. However, I'm not a fan of the 6-week minimum shipping times. Since these are built to order, you can expect fairly lengthy lead times for this model.
Best Sofa Bed: West Elm
2. Innovation Living Osvald Sofa Bed
Where To Buy: Trade Source Furniture's website
Price: $2,195
Sofa Dimensions: 71″ width x 41″ depth x 34″ height
Sofa & Pull-Out Mattress Dimensions: 71″ width x 100″ depth x 34″ height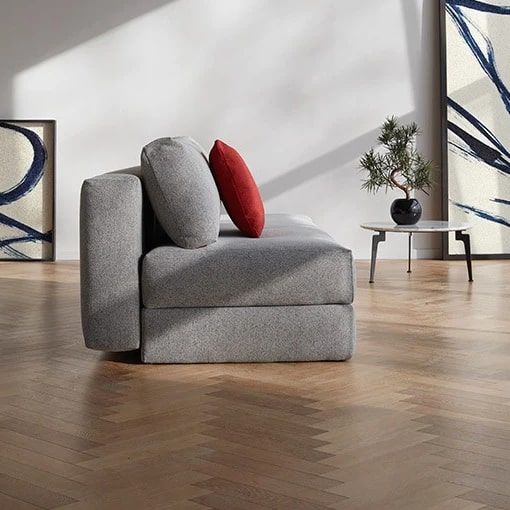 What I Loved
In terms of overall design, this was likely the most innovative and modern sofa bed I tried out. At first glance, it has the sleek, clean lines of a sofa you'd see in a commercial setting like an office or high-end hotel. However, I was impressed by how comfortable it was.
The seat cushions themselves weren't as cushy or soft as West Elm's Shelter Queen, but I loved how easy it was to use the pull-out sofa. Just pull the tab at the base of the seat cushion and the mattress effortlessly folds out into a generous full-size mattress.
The mattress wasn't as wide as the West Elm sofa bed, but it was just as comfortable to sleep on. With a great pull-out sofa mechanism and a really clean approach to design, this is definitely a sofa bed I'd recommend for any modern design lover looking for a sleek, contemporary sofa for overnight guests that doesn't take up a huge footprint in your living space.
What I Didn't Love
No complaints over the product quality. However, I would have liked to see more than two upholstery options.
3. IKEA HARLANDA
Price: starts at $1,429
Sofa Dimensions: 115″ width x 23″ seat depth x 64″ chaise depth x 41″ height
Sofa & Pull-Out Mattress Dimensions: 59″ mattress width
Frame Materials: Solid wood, Plywood, Fiberboard, Polyurethane foam 1.2 lb/cu.ft., Particleboard
Upholstery Options: 5 fabric options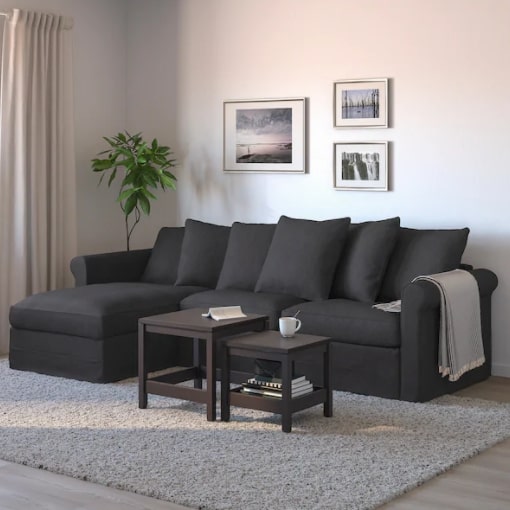 What I Loved
Of all the pull-out sofas on this list, I definitely loved the seat and back cushions on this one, which was surprising considering I wasn't anticipating that much from an IKEA sofa compared to a few of the other brands on this list. However, I have to agree with many of the 4 and 5 star reviews. It's a great value as far as a sofa bed is concerned.
What I Didn't Love
Assembly wasn't as easy compared to other IKEA sofas and sectionals I've put together in the past. Also, the mattress wasn't my favorite. I definitely thought the pull-put mattress worked well enough and it was fine for just one night. However, at 4.5 inches thick, it's definitely on the thinner end of sofa bed mattresses. A thicker mattress, in addition to the incredibly plush chaise, seat and back cushions would make for an amazing and versatile sofa bed.
4. Helvey 81″ Sleeper Sofa Bed 
Price: Starting at $1,190
Sofa Dimensions: 81" width x 43" depth x : 29" height
Frame Materials: solid wood frame
Upholstery Options: 3 in-stock fabric options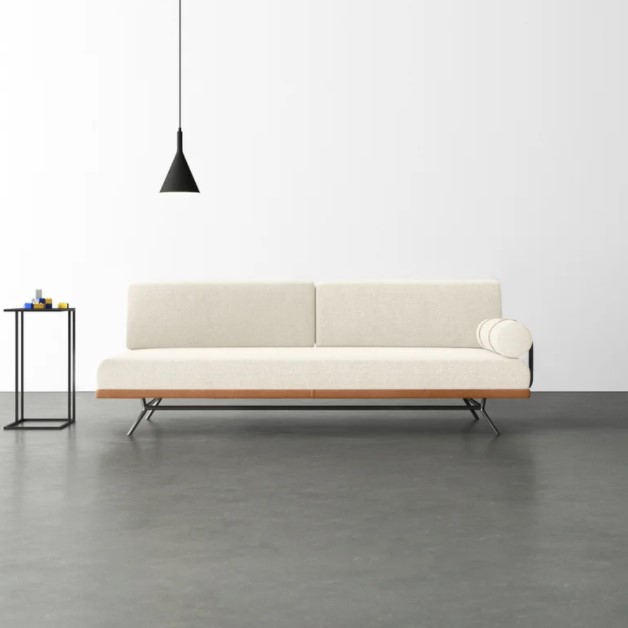 What I Loved
Allmodern is a great eCommerce site where you can find a wide range of furniture from any room from bedrooms and living rooms to home offices, guest rooms, and more.
In terms of style and design, it resembles a wide daybed more than it does a sofa. This is definitely one of the more unique sleeper sofas I've seen. The Helvey 81″ sleeper sofa bed doesn't feature a pull-out mattress. The two back cushions simply need to be removed to use as a twin size sofa bed.
Overall, it has a chic, minimal mid-century modern inspired silhouette with just one roll-style armrest that almost looks like a large throw pillow. And although it's 81″ wide, it's fairly economical when it comes to the space it takes up. That, plus its lack of a pull-out sofa means it's the best small space sofa bed in my review.
What I Didn't Love
This honestly would have been the perfect daybed/sofabed if the back cushions stayed in place. Also, the high-density foam seat cushion / bed is great for an impromptu sleepover but I wouldn't subject a guest to using it for more than one or two nights.
5. Urban Outfitters Greta Recycled Leather XL Sleeper Sofa
Price: starting at $899
Sofa Dimensions (folded up): 82″ width x 41.7″ depth x 30.8″ height
Sofa Dimensions (folded down): 82″ width x 51″ depth x 12.6″ height
Frame Materials: metal frame
Upholstery Options: one recycled leather option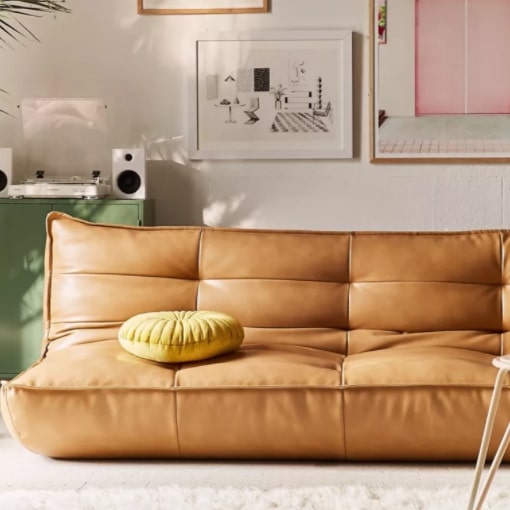 What I Loved
The Greta is one of Urban Outfitters' best reviewed sofas. At $899, it's a great, price-conscious alternative to Ligne Roset's iconic Togo convertible modular sectional sofa. And although there's just one upholstery option, I loved the recycled leather. Recycled materials are seldom used in upholstery, but given how much fabric is wasted in the textile industry, it's nice to see a company offer furniture that's at least somewhat sustainable.
This convertible sofa itself is fairly comfortable when folded up. Having sat on an actual Ligne Roset Togo module at a showroom once, it almost felt like the real deal. When it's folded down like a futon, it's a fairly comfortable twin XL size sofabed. All in all, another great space-saving sleeper sofa if you prefer a fold-down leather alternative to AllModern's Helvey Sofa Bed.
What I Didn't Love
At just above a foot with the back cushion folded down, this leather sofa bed feels a little low to the ground. If you prefer a lower bed, this shouldn't be an issue. However, if you prefer a sofa bed that's bout the height a regular mattress, then this one probably isn't for you.
Also, I personally didn't observe any quality issues during the test. However, some negative reviews highlighted some hit-or-miss product quality (e.g. squeaking whenever the sofa is folded down, the overall frame feeling flimsy, etc.)
Tips for Buying a Sleeper Sofa
Sleeper Sofas vs Futons
As you saw from the last two models on this list, the line between sleeper sofas and futons tends to be pretty thin, especially for multi-purpose designs that don't include pull-out mattresses.
From personal experience, I wouldn't ascribe a value judgment in saying either sleeper sofas are inherently better than futons. I think they're just classifications of sofas. The key thing I would note is that generally, sleeper sofas tend to be a bit larger (configured like a classic three seater sofa with a fold out mattress) while futons tend to be more like loveseats that double as full or twin xl guest beds.
Make Sure You Get the Right Mattress
Most sleeper sofas tend to come standard with innerspring mattresses. These are perfectly fine as long as they're constructed well with springs that don't dig into your back. However, if you want something more plush and high-quality for your guests to enjoy, consider a sleeper sofa bed with a high-density memory foam mattress. They tend to be pricier than the average pull-out sofa, but they're definitely worth the investment. If a memory foam mattress isn't an option, you can always buy a mattress topper for your sofa bed. Just make sure it's the right size!
Pay Attention to Sizing and Sleeper Sofa Dimensions
Shopping for sleeper sofas requires a bit of extra care when it comes to minding the dimensions. That's why I tried to include both sofa dimensions and sofa bed folded-out/pulled-out dimensions whenever possible.
Your sofa bed will be a piece of furniture that transforms and drastically changes sizes. So, you'll need to consider your living space's size very carefully. Always remember to measure your space and give a roomy amount of clearance for the mattress when it folds out.
Other Brands to Consider
If you weren't into any of my top picks, don't worry! Consider sleeper sofas from other great brands and retailers from Wayfair and Amazon to Ashley, Joybird, and Pottery Barn.
And if you're still considering non-sleeper sofas, you can always check out Home of Cozy's round-up of the best places to buy a sofa.