Lovesac vs. Comfy Sacks
Lovesac and Comfy Sacks are both direct-to-consumer e-commerce companies who specialize in "sack" style seating options similar to traditional bean bag cushion seats but with a higher-end, modernized look and feel. Both companies boast quality fabrics, with durable comfort foam interior.



| | | |
| --- | --- | --- |
| Price Range: | $350 to $1475 | $149 to $499 |
| Product Range: | Lovesac offers twelve versions of their "sacs" and also offers "sactional" sectional couches. | Comfy Sacks offers six versions of their "sacks" and four versions of their "loungers". |
| Ease of Ordering & Shipping: | Lovesac offers free shipping and requires 1-2 weeks. Lovesac offers hundreds of fabric options for sac covers. These covers can be customized but customized options take 4-10 weeks for shipping. In addition, Lovesac features several showrooms around the United States. Lovesac offers a 3-5 year warranty depending on fabric selection. The soft insert pieces for sacs and hard insert pieces for sactionals have a lifetime warranty. Lovesac also offers a 60-day trial to help you make up your own mind. | Comfy Sacks products ship same day if ordered before 12 pm PST (Mon-Fri) with the $19 Quickship option. Regular shipping is free with a 1-4 day time frame. Products can be personalized and embroidered with your choice of thread color, font, and two lines of text. Comfy Sacks come with a five-year warranty and offer free samples of their "shredded comfy foam" to try prior to purchase. They also offer a 30-day money back guarantee. |
| Quality of Service Delivery: | Lovesacs are delivered to your home, fully assembled and compressed in a duffle bag. While shipping time is estimated at 1-2 weeks, many customers report getting their sac in about 5 days. Getting the sac out of its packaging takes a little effort, having a helper is a good idea.. After removal from the packaging, you must fluff it to aid in decompression which happens pretty quickly. | Comfy Sacks are delivered to your door and the packaging is lighter than other brands. Customers rave about the fast shipping provided by Comfy Sack. The sack must be removed from its packaging and the foam (packaged separately) must be pulled apart manually and put into the sack to decompress. It takes about a week to fully decompress but can move a bit faster with fluffing. |
The Best Overall Sofas of 2023
To help you find the best deep seat sofa, I tested individual models from over 23 different brands. These are the best new sofas with extra deep seats that balance the best in design, price, sustainability, and durability.
---
About Lovesac
Lovesac's humble beginning date all the way back to 1995 when founder Shawn Nelson built the original eight-foot-wide foam-filled "Lovesac" in the basement of his parents' Utah home.
In 2016, they adopted a new showroom concept to support a direct-to-consumer model. In 2017, they were named, "America's fastest-growing furniture retailer" by Furniture Today and now own 70+ showrooms and are listed on the Nasdaq exchange.
Lovesac refers to their bean bag style seats as, "The World's Most Comfortable Seat." Filled with a proprietary Durafoam™, available in numerous sizes, and offering optional covers these seats are intended to provide cloud-like lounging for your home or office.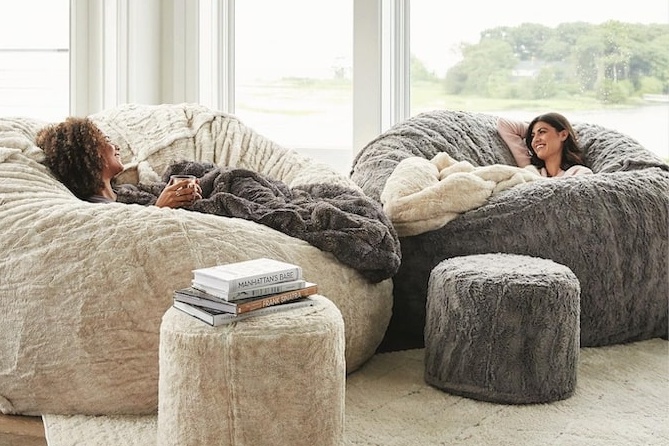 Free shipping
Lifetime warranty on soft insert pieces
Shape and size options to suit your needs
Available showrooms
Fabric samples
60-day trial
Washable covers
Hundreds of options for cover colors and fabrics
Company also sells customizable sectionals
Accessories available
Shipping takes 1-2 weeks (longer for custom covers)
External fabrics have 3-5 year warranties
Only 70 showrooms nationwide
Some options are more expensive than similar brands
Customization options are limited to fabric selection.
---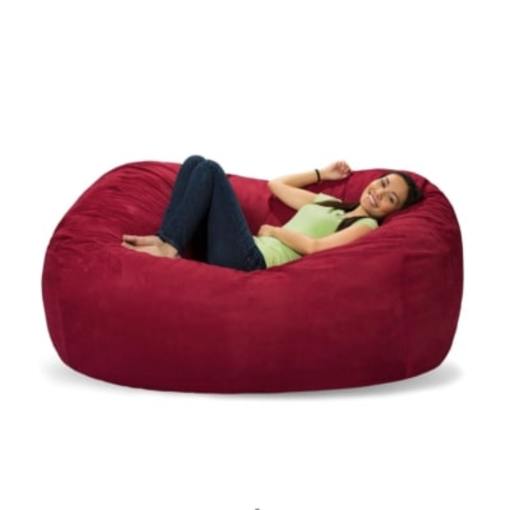 About Comfy Sacks
In 2004, Tyler Shearburn was searching for an uber comfortable seat, similar to the Lovesac, to complete his home theater room. After scouring the internet for a product with great reviews, a variety of sizes and fabrics, and at a reasonable price, it seemed such a product did not exist. Shortly after, he launched Comfy Sack to design a product geared toward home theater enthusiasts. Today, Comfy Sack sac's are used in college dorm rooms and even the executive offices of Apple, Amazon, and more. Comfy Sack advertises an ultra-comfortable, durable and long-lasting product at a competitive price, with a strong company-wide focus on providing exceptional customer service and satisfaction.

Free regular shipping
Optional same-day shipping for $19
5-tear warranty on covers
Size options to suit your needs
Fabric samples
Washable covers
Accessories available
Lower price point
Extensive customization options
30-day money-back guarantee
Furniture options limited to just the sacks
No lifetime warranty
No showrooms
Longer shipping time for customizations