I was an early adopter of Airbnb and VRBO. And I gotta say, it's been a mixed bag of experiences when it comes to getting a good night's sleep. I've spent many sleepless nights on vacation rental home mattresses. When I travel, I miss my high-quality bed. In fact, I've had some really gnarly interactions on this very subject. A few years ago, I rented a mountain home in Northern Arizona for a month to escape the desert heat. The place itself was darling. But the mattress was a nightmare. I spent the better part of a week in heated conversation with the owner—who feigned a lack of knowledge of the poor-quality mattress in his vacation rental—until he finally relented and had a new mattress delivered.
Still, what a time-sucking, stressful hassle.
More recently, I found myself in a dumpy Airbnb rental in a remote part of Texas with few alternative lodging options. The mattress sagged in the middle. I didn't even want to see how filthy or stained it likely was. I laid out a few blankets from my car and slept on the floor. I lost an entire night of sleep. I checked outta there early the next morning and managed a full refund after some intense haggling that took up a good portion of the morning.
Again, what a time-sucking, stressful hassle.
I'd estimate that a third to half of all the vacation rentals I've been in have had terrible mattresses. I suspect the owners dump their used beds into the rental properties thinking that's okay. It most certainly is not. You can bet, I've left scathing reviews about crummy mattresses. No matter how well-located or cutely decorated a vacation rental is, if the mattress is the pits, so is the stay. As a result, I closely read reviews for positive mentions of the bed from previous guests. I pay attention if the owner brags about mattress—that's a good sign. I inquire ahead of time about the quality of the mattress, especially if I'm staying for any significant amount of time.
If the owner claims not to know what kind of mattress or how old it is, I just don't book the rental. I move on.
I'm particular about mattresses—always have been. Especially when I'm far from home, whether I'm traveling for business or pleasure. Almost nothing can tank travel faster than poor sleep. This primer is for those of you who are Airbnb hosts—or aspire to be. You want to give your guests a quality sleep experience. It's good for your ratings. And frankly, it's good karma. But before we get into our top picks for best mattresses for vacation rentals, let's talk about what the important considerations are in a high-use bed for an Airbnb.
Best Airbnb Mattresses
Brand
Best For
1

Editor's Choice

Overall
Shop Now
2

Value
Shop Now
3

Hotel Feel
Shop Now
4

Cooling
Shop Now
5

Pressure Relief
Shop Now
6

Organic
Shop Now
7

Plus Size
Shop Now
8

Firm
Shop Now
1
Editor's Choice
2
3
4
5
Best For:
Pressure Relief
6
7
8
What Makes for the Best Rental Property Mattress?
As an Airbnb guest, I expect the bed to be comfortable, well made and supportive. A good night's sleep is fundamental to guests enjoying their stay in your rental.
Buying a less expensive mattress may seem like a good option initially, especially if money is tight, but having to frequently replace a bed drives up costs. And having a bad mattress is simply bad for business.
When it comes to choosing the best mattress for an Airbnb or vacation rental, as a rental host, it pays to use the same criteria you'd use to buy a mattress for your own home.
Durability. High-quality mattress materials and construction are critical to withstand regular use. If your Airbnb sees many short-term stays (versus long stays), it's really important to invest in a high quality mattress.
Comfort. Opt for a medium-firm mattress to accommodate various sleep preferences. A medium-firm bed is the universal standard for solid sleep.
Motion Isolation. Choose a mattress with good motion isolation to minimize sleep disturbances to your vacation rental guests. This is particularly smart if you advertise your Airbnb as a great getaway for couples.
Edge Support. Select a mattress with solid edge support to prevent sagging.
Material. Memory foam or hybrid mattresses are the gold standard for superior comfort and support.
Hypoallergenic Properties. Many Airbnb guests have allergies or sensitivities. Choose a mattress with hypoallergenic features, especially if you allow pets in your vacation rental or your rental property is in an area with wild climate swings. I've seen a few mattresses with black mold—an unacceptable health hazard!
Easy Maintenance. Look for a mattress with a removable, washable cover for easy cleaning between guest stays. A mattress protector is also a good idea, as it can save you from having to replace a high-ticket item like a mattress against a spill or pet accident. I mean, life happens, right?
Usage. Does your vacation rental cater to business travelers? Solo travelers? Couples? Families? Travelers with pets? Girlfriend getaways? Party groups? Having a sense of how much (or how little) wear and tear your rental mattress receives can help you make an informed choice that will hold up over years. Short-turn stays mean more turnover than longer-term stays and that can affect the life of a mattress.
Noise Reduction. Some mattresses, particularly innerspring mattresses, are noisier than others. Chose a mattress that minimizes noise during movement. Creaky beds are creepy.
Climate. If your rental property is located in a hot or humid climate, it would be smart to select a mattress with cooling properties, such as cooling gel foam to minimize the discomfort of hot sleepers. And it may just save on high summer air conditioning bills if guests don't have to crank down the thermostat so much during the night.
Value. There are great mattresses available at all price points. A good rule of thumb is: the more you charge for a stay, the better your mattress should be. So set your budget accordingly.
Carefully choosing a high-quality mattress that provides your Airbnb guests with comfort, durability and versatility results in positive reviews. And that translates into more bookings and more revenue for you as a host.
Our Top Mattresses for Vacation Rental Properties
Buying a mattress can be daunting. There are so many options, whether you're buying for yourself or for a rental property. Whether you're buying from Amazon, an online retailer or a bricks and mortar retailer, there are lots of great choices for a vacation rental mattress available.
We've narrowed down our top picks for the best mattress by category so you can choose your rental property mattress wisely.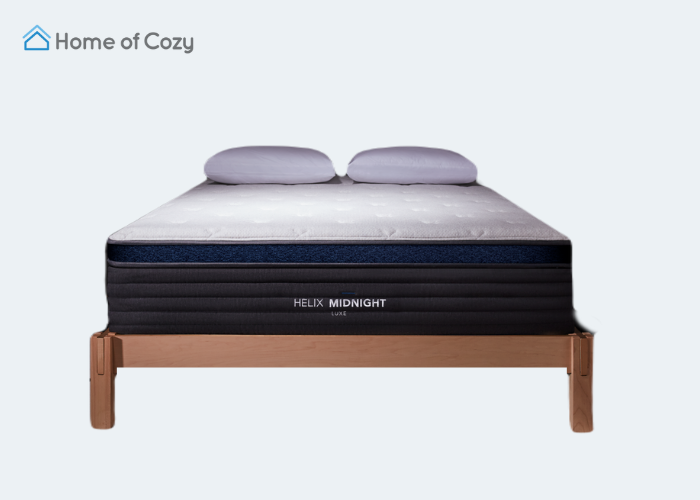 Best For: Side and back sleepers, couples with different sleep styles, hot sleepers
Price: $1,373.80-2,873.80
Mattress Type: Hybrid mattress, bed-in-a-box
Firmness Scale: Medium-firm mattress, 4.5-6.5/10 on firmness scale
Trial Length: 100-Night, Risk-Free Sleep Trial
Warranty: 15-Year Warranty
What I Loved
This is a mattress a majority of guest sleepers will love to retire to come bedtime. The tufted and textured Helix Midnight Luxe has six different layers and measures a plush 14" in thickness. Zoned, pocketed support coils promote spinal alignment, while the breathable, quilted pillow top layer adds cushioning without creating excessive heat. This cooling gel memory foam layer also reduces shoulder and hip pressure points as it contours to the body. The Helix Midnight Luxe boasts excellent edge support and motion isolation, making it a great choice for couples with different sleep styles. If you have the space, a king mattress is an excellent upgrade for your Airbnb—a plus for couples seeking a romantic stay.
What I Didn't Love
If you want the airy, light feel of a traditional pillow top mattress, the Helix Midnight Luxe may not the best fit. Still, its classic, neutral-foam feel has received thousands of rave reviews.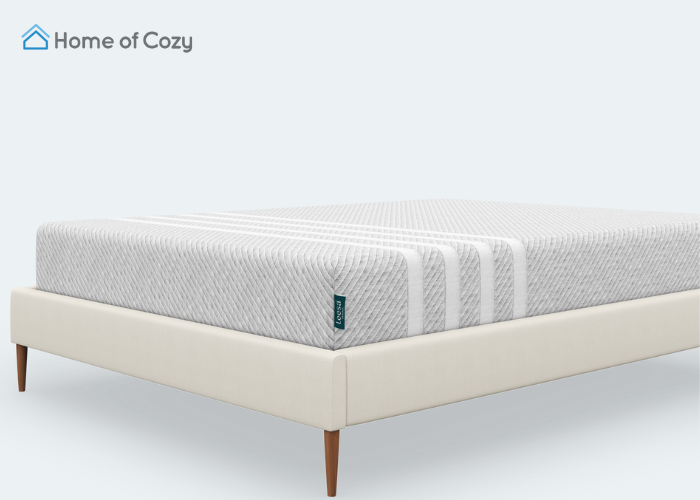 Best For: Back sleepers, side sleepers, lightweight stomach sleepers, value shoppers
Price Range: $849-1,599
Mattress Type: All foam mattress, bed-in-a-box
Firmness Level: 5.5/10 on firmness scale
Trial Length: 100-Night, Risk-Free Sleep Trial
Warranty: 10-Year, Full Replacement Warranty
What I Loved
The award-winning Leesa Original has a whole lot of pluses, starting with a neutral feel that will suit many Airbnb guests, and a value price point that owners will appreciate. If you want to offer your guests a combination of foam but with a bit of bounce (great for ahem, active couples), the Leesa Original is an excellent choice. And it offers solid pressure relief at the key trouble areas: back, hips and shoulders. The Leesa Original is comparable to other bed-in-box, rolled technology mattresses delivered right to your door, such as Casper and Tuft and Needle. The Leesa Original also offers feel-good philanthropy: their factories run on renewable energy, and they give back to the community, donating beds to the families in need and the unhoused. That's a cool plus to call out in your online listing for a growing number of socially conscious travelers as they evaluate vacation property rentals.
Additionally, the Leesa Original is CertiPUR-US Certified to be free of phthalates, mercury, lead, formaldehyde, ozone depleters and other bad-for-you, bad-for-the-environment materials. I also love that if you want to try out a Leesa Original, it's available at many Pottery Barn and West Elm stores.
What I Didn't Love
The Leesa Original is not a good choice for heavier stomach sleepers who weight 230 pounds, as they would need a firmer mattress for support. And for traditional memory foam devotees, the Leesa Original doesn't offer the same quicksand-like feel.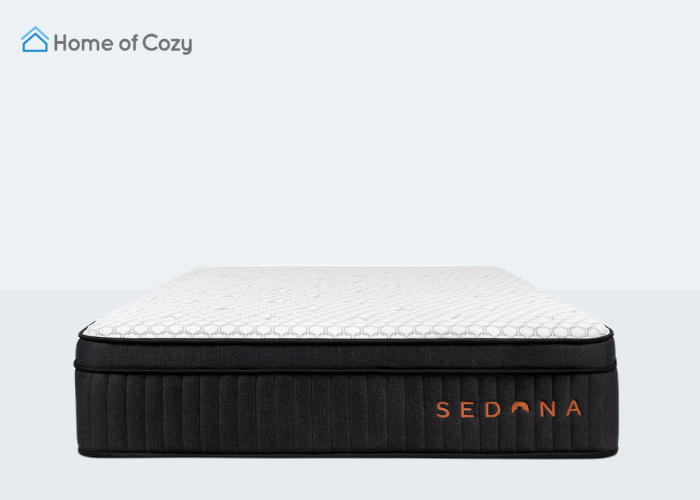 Best For: Side sleepers, sleepers that need pressure point relief (isn't that every traveler?!), hot sleepers
Price Range: $1,249-2,899
Mattress Type: Hybrid mattress, bed-in-a-box
Firmness Level: 4-6/10 on firmness scale
Trial Length: 120-Night, Risk-Free Sleep Trial
Warranty: 10-Year Warranty
What I Loved
If you want to spoil your guests with a luxury hybrid mattress—the kind the best hotels boast—the Sedona Elite by Brooklyn Bedding is a stellar choice for contouring and comfort. This premium model boasts plenty of top-class sleep technology features, including an 8" core of double-coil, steel construction for zoned support, topped by plush, cooling and antimicrobial copper-infused foam. The Sedona Elite also features a GlacioTex+™ Cooling Cover that calms weary travelers with a just-right-for-sleep temperature of 88 degrees. The Sedona Elite is also free of ozone depleters, flame retardants, heavy metals and other toxic substances—a potential selling point for your eco-conscious, green guests. The durability of the Sedona Elite is also top-notch.
What I Didn't Love
Heavier stomach sleepers (230 pounds or more) may need more support for spinal alignment than the Sedona Elite provides. And those with mobility issues may have some difficulty changing sleeping positions on this model.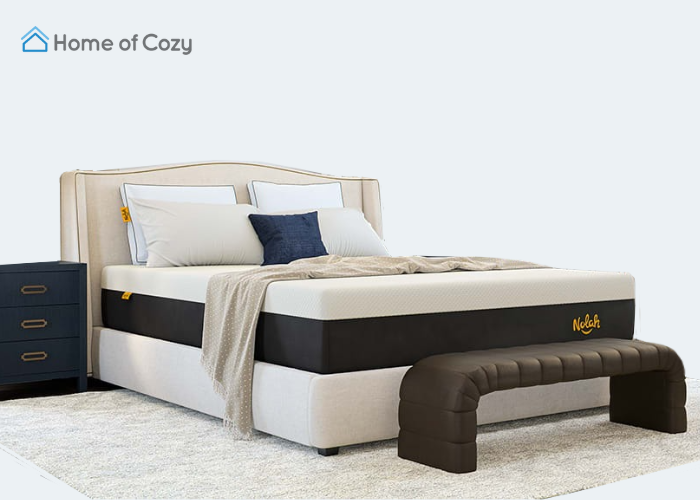 Best For: Sleepers who need exceptional pressure relief, side sleepers, lightweight back sleepers, hot sleepers, shoppers seeking an exceptionally durable mattress
Price Range: $1,299-2,798
Mattress Type: All-foam mattress, bed-in-a-box
Firmness Level: 5/10 on firmness scale
Trial Length: 120-Night, Risk-Free Sleep Trial
Warranty: Lifetime Warranty
What I Loved
The beefy Nolah Signature 12" balances plush cushioning with deep support and keeps guests cool with its temperature-neutral foam. The Nolah Signature 12" is the Denver-based company's best mattress for pressure point relief on the back, hips, shoulders, spine and other joints. This mattress features a proprietary material called AirFoam™: billions of microscopic air bubbles that distribute body weight for maximum pressure relief—great for hot sleepers. AirFoam™ also resists sagging, which is why it's backed with a lifetime warranty.
And if you want to appeal to chemically sensitive travelers, the Nolah Signature 12" is free of harsh, heat-trapping viscoelastic chemicals. At this price point, the Saatva and Winkbed are similar all-foam options, as are mattresses from Nectar and Layla.
What I Didn't Love
Sleepers who like a firmer feel might find the medium-soft Nolah Signature 12" a bit too cushy. And don't look for exceptional edge support here.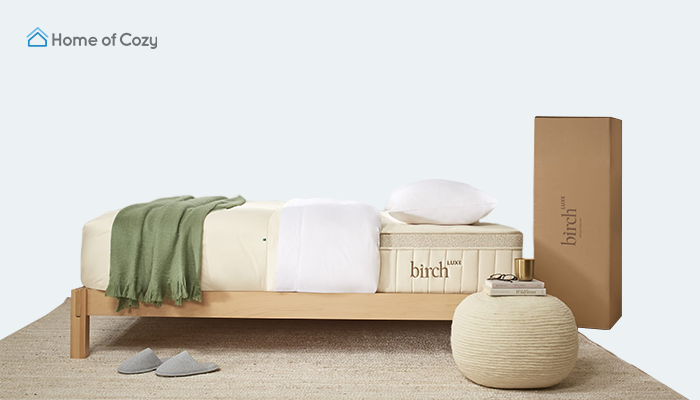 Best For: Shoppers seeking a sustainable mattress, back, side or combination sleepers
Price Range: $1,936.30-3,623.80
Mattress Type: Hybrid mattress, bed-in-a-box
Firmness Scale: Medium-firm mattress, with a mattress topper, 4-5/10 on firmness scale, without a mattress topper, 6-7/10 on firmness scale
Trial Length: 100-Night, Risk-Free Sleep Trial
Warranty: 25-Year Warranty
What I Loved
Guests will be cradled, cool and comfortable on the ultra-plush Birch Luxe Natural pillow top mattress. Birch is committed to using organic, natural materials that pass rigorous testing and achieve the highest ratings and standards from third party organizations. The materials—ultra-fine, organic cashmere, two organic comfort layers and non-toxic, natural latex—are breathable, moisture-wicking and cooling. The Birch Luxe Natural mattress is an upgrade to their Birch Natural mattress with enhanced lumbar support, full perimeter support and a plush quilted, organic cotton Euro top. In addition, Birch's production credentials are eco-responsible, and their partners adhere to ethical practices and materials sourcing. A latex mattress like the Birch Luxe Natural is an excellent choice for those with allergies, asthma or skin sensitivities. There will be no off-gassing with the Birch Luxe Natural. To me, this is like the Tesla of mattresses.
What I Didn't Love
Yes, the price is steep. But this premium mattress delivers safety and sustainability along with an incredibly dreamy, luxe sleep experience thanks to natural components.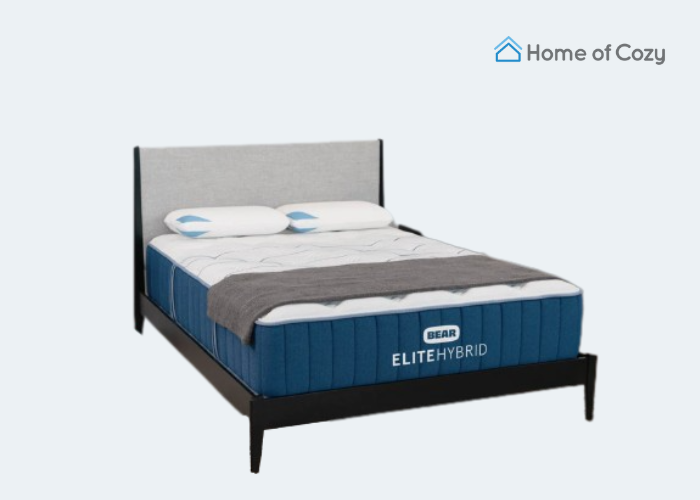 Best For: Hot sleepers, couples, combination sleepers
Price Range: $1,721-3,565
Mattress Type: Hybrid mattress, bed-in-a-box
Firmness Scale: Three firmness levels, ranging from 5/10-7/10 on firmness scale
Sleep Trial: 120-Night, Risk-Free Sleep Trial
Warranty: Lifetime Warranty
What I Loved
The Elite Hybrid is Bear's newest and most sophisticated mattress. Individually-wrapped coils provide superior motion distribution compared to traditional innerspring designs, while memory foam and zoned support create a perfect mix of firmness and contouring. The Bear Elite Hybrid features layout of five ergonomic zones offering varying pressure relief levels to support the spine and joints. This system employs higher-gauged coils in the mattress's middle section for lumbar support, while the end zones are more gently cushioned. The Elite Hybrid also performs well in several areas where other mattresses struggle. Its edge support and motion distribution are incredible, letting one partner toss and turn without disturbing the other. Temperature regulation is another strength, thanks to copper-infused cooling gel that draws away and disperses body heat. This would be a terrific mattress for active travelers seeking restorative sleep in biking, hiking or skiing properties.
What I Didn't Love
This is a premium mattress, so of course it carries a higher price tag, which may put it out of reach for budget owners. Also, our reviewers felt that the each of the firmness models tended to run a bit softer than ratings suggest. Still, it's a strong contender.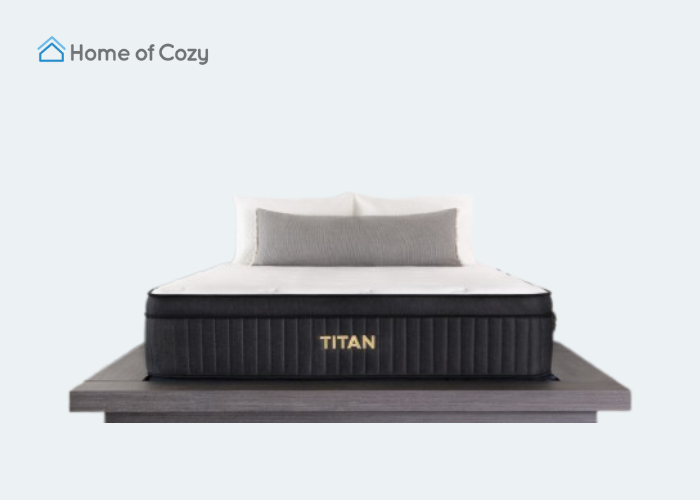 Best For: Heavier or plus size sleepers, back sleepers, stomach sleepers and couples who want superior motion isolation
Price Range: $899-1,799
Mattress Type: Hybrid mattress, bed-in-a-box
Firmness Scale: Medium-firm mattress, 5-7/10 on firmness scale
Trial Length: 120-Night, Risk-Free Sleep Trial
Warranty: 10-Year Warranty
What I Loved
The Titan Plus Luxe is designed with substantial support for heavier sleepers in a more traditional medium firmness. This pillow top mattress builds on the benefits of the original Titan Plus, with additional contouring and pressure point relief to accommodate both sleep partners. An 8" core of premium, individually pocketed TitanCaliber™ premium, individually pocketed coils ensure extra lift and extra durability for the life of the mattress. A 1" layer of quilted, gel memory foam resists body impressions and provides a cool-to-the touch surface. The Titan Plus Luxe would be an awesome choice if your Airbnb appeals to hunters or golfers.
What I Didn't Love
If you're a lighter sleeper (less than 130 pounds in weight), the Titan Plus Luxe isn't your best match.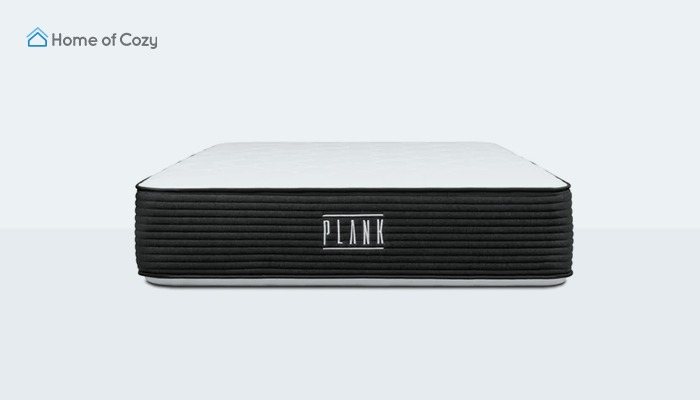 Best for: Stomach sleepers, back sleepers, sleepers who prefer an extra-firm bed
Price Range: $924-1,732
Mattress Type: Hybrid mattress, bed-in-a-box
Firmness Scale: Medium-firm to firm, 6.5-9.5/10 on firmness scale
Trial Length: 120-Night, Risk-Free Sleep Trial
Warranty: 10-Year Warranty
What I Loved
If you're want to provide your guests with an extra-firm sleep experience, look no further than the Plank Luxe Hybrid. Inspired by the minimalist approach to sleep in many parts of Asia, the firmer, flatter, flippable surface of the Plank Luxe Hybrid mattress creates a neutral spine position that's better for your back and overall posture. Individually-encased coils provide responsiveness and pressure point relief. The Plank Luxe Hybrid design offers two variations: the top side of the mattress feels like a traditional firm; the bottom side of the mattress is ultra-firm, allowing for highly customizable rest. Both the firm and extra-firm sides are offered with optional cooling panels for the ultimate sleep experience. Consider the profile of your guests when looking at the Plank Firm Luxe. IF you receive a lot of visitors from Asia, this could be a great choice.
What I Didn't Love
Extra-firm mattresses aren't for everybody. Side sleepers, those who like the feel of memory foam and those who prefer softer mattresses won't enjoy the Plank Firm Luxe.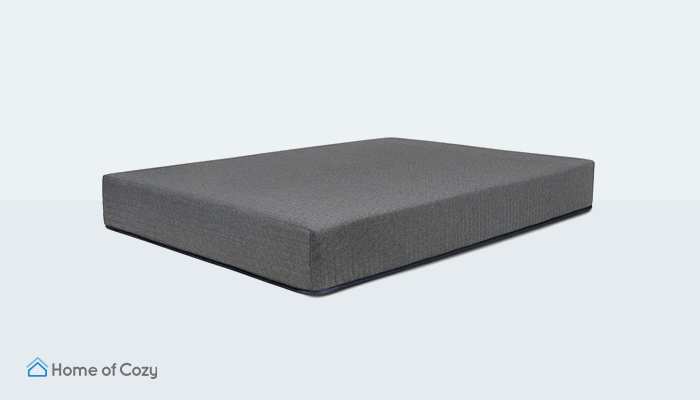 Best for: Lightweight and average weight back sleepers, side sleepers
Price Range: $274-699
Mattress Type: Memory foam mattress, bed-in-a-box
Firmness Scale: Options range from 3/10-9/10 on firmness scale
Trial Length: 120-Night Trial, Risk-Free Sleep Trial
Warranty: 10-Year Warranty
What I Loved
If your budget is tight, you can't do better than Dreamfoam Essential. It's unique in that it is available in five height options—from 6" to 14" so one thickness is sure to suit you. For such an affordable memory-foam mattress it also offers customizable comfort choices: from soft-medium all the way up to firm preferences. The Dreamfoam Essential is well-priced for budget shoppers—a great choice for kids who need a new mattress or young adults headed off to college. And this king bed doesn't sacrifice performance for price. The high-density, memory-foam design of the Dreamfoam Essential features gel swirl technology that keeps sleepers cool, and offers the contouring, response, and press point relief usually found only in a more expensive hybrid mattress. The innovative and environmentally-friendly, sewn-on stain protector is washable—a nice touch against spills and accidents. I think this would be a great mattress for a kids bedroom.
What I Didn't Love
The hottest of sleepers would do better on a model that features more cooling technology. Combination sleepers who need more responsiveness might look for a hybrid mattress that includes coils and a comfort layer of foam versus the Dreamfoam Essential. This mattress isn't the longest-lasting.
Why Your Vacation Rental Mattress Should Be Awesome
Acquiring furnishings for your Airbnb rental requires foresight, planning and some bucks. Don't be tempted to cheap out on a rental mattress. An investment in the best mattress for your vacation rental property will pay dividends in 5-star reviews and repeat guests—immediately and over time. Buying a high-quality mattress for your Airbnb makes sense and save dollars in the long run.
And please include high-quality bedding to complement your high-quality mattress. No pilled, stained or weirdly patterned sheets! Crisp white cotton is best and can be bleached for hygiene.
More and more Airbnb guests are like me: willing to go to the (proverbial) mat when it comes to getting a good night's sleep. As an Airbnb host, you don't want to have to wrangle with your guests about their disappointing stay. Nor do you want to have to refund money when the bed isn't up to snuff.
And poor reviews…well, they're forever.
Whether I'm booking a short-term rental property or a longer-term stay, I definitely notice when the owners call out their mattress brands. I'm impressed when I see listings that mention Birch, Casper, Leesa, Nectar, Purple, Tempur-Pedic, Tuft & Needle or Zinus-Green Tea. I also pay close attention to guests that leave enthusiastic reviews—or complaints—about the mattress.
I don't own a vacation rental, but I have friends that do. One, a friend named Karen, said the best compliment you can receive is something along the lines of: "I got an amazing night of sleep! Tell me what mattress I'm sleeping on so I can buy one for myself." She also explained that "all sleepers are different."
To help her guests get much-needed shuteye, Karen thoughtfully keeps several type of pillows stored in a bedroom closet: firm, squishier, memory foam. She also has a memory foam topper on hand. Karen is quick to add that these items need frequent replacement.
"Just Google how much dead skin is shed in a pillow. It will freak you out."
I'll let you decide whether you want to be shocked. Responsible Airbnb owners like Karen aim for a level of satisfaction that practically guarantees everyone will sleep well. I just returned from a quick getaway and my rental property mattress was dreamy, as were the pillows. You can bet that owner got a swift and glowing 5-star rating from me.
As you're shopping for the best mattress for your Airbnb, we suggest you also take a look at our comprehensive guide to the 10 Best Mattresses for 2023.