I was diagnosed with scoliosis in middle school. Scoliosis is a scary word, especially to a kid. But it turns out that scoliosis is more common than you might think.
What Exactly is Scoliosis?
Scoliosis is the medical term for a curvature of the spine. The National Scoliosis Foundation estimates that about two to three percent of the U.S. population, or more than four million people, are diagnosed with scoliosis every year.
Pre-adolescents and teens make up the largest group of people diagnosed with scoliosis.
The most common type of scoliosis—idiopathic scoliosis—starts before puberty. Kids typically get an annual spine check with their pediatrician and that's when it's discovered. Mine was found by a school nurse. Scoliosis is the most common spinal deformity among school-aged children.
According to the Mayo Clinic, the symptoms of scoliosis include:
Uneven shoulders—one shoulder blade may be more prominent than the other
Uneven waist
One hip higher than the other
One side of the rib cage jutting forward
A prominence on one side of the back when bending forward
I have one leg that's a bit shorter than the other.
What Causes Scoliosis and How Is it Treated?
About 80 percent of diagnosed scoliosis cases have no known cause. Even if a relative has scoliosis, it is not necessarily hereditary. Scoliosis cannot be prevented. The remaining 20 percent of scoliosis cases are attributed to neuromuscular conditions like muscular dystrophy or cerebral palsy, severe trauma like a car accidents or falls, or degenerative issues such as spinal disc deterioration in older people.
If you factor in the number of undiagnosed cases, scoliosis is something many of us—or our loved ones—are living with. Scoliosis-specific physicians and physical therapists treat all forms of scoliosis in children and adults. Typically, children with a spinal curve of 25 degrees can be treated without surgery by using specific exercises, vitamin D supplements and sometimes a brace.
Scoliosis Self-Care
Fortunately, I never had to wear a brace or have surgery for my scoliosis. But there are things I've learned that can help me cope with lower back pain.
Daily Stretching. I admit I'm not as diligent as I could be. But stretching first thing in the morning improves spinal health and helps restore some of the imbalances of scoliosis.
Keep Your Joints Warm. I'm originally from Florida and now live in the desert. I definitely notice that my scoliosis pain is worse in a cold climate, as muscles stiffen. To compensate, I keep my home well-heated in the winter and I dress warmly when outside. Hot baths, heat packs or a trip to the sauna or steam room help if I'm especially achy.
Eat Anti-Inflammatory Foods. I've introduced more fruits and vegetables, nuts and fish high in omega-3 fatty acids such as salmon in my diet. I've also limited added sugars and processed foods. I've noticed I feel better overall. Bonus: these dietary changes are also good for heart health.
Vitamin Supplements. Vitamin D3 is known to improve bone density and magnesium boosts spinal health. Talk to your doctor about dosage.
See a Chiropractor. As an adult, I've found occasional "tune-up" visit to a qualified chiropractor beneficial for my mobility and posture. Massage also offers relief whether I've been driving long distances, sitting in a cramped airplane or just hiked aggressively.
Sleep on a Firm Mattress. Scoliosis back pain responds best to a medium-firm or firm mattress. If you wake up with stiffness or pain in your spine, it's time to get a new mattress that will provide you with necessary support for your back.
Important Criteria When Choosing the Best Mattress for Scoliosis
Ever since I landed my first post-college job, I've prioritized buying a high-quality, supportive mattress for my scoliosis.
I may scrimp on other things, but never, ever on the best mattress for scoliosis. That decision has made a world of difference in reducing the back pain I often feel when I have slept on inferior mattresses in hotels or friends' homes.
I've also convinced boyfriends to upgrade to firmer mattresses for both our comfort! Even those who don't have suffer from scoliosis have appreciated an upgrade to a medium-firm mattress.
Before we dive into our picks for the 8 best mattresses for scoliosis in 2023, let's review the criteria you'll want to keep in mind so you can select the right mattress.
Firmness. Mattress firmness is of the utmost importance when you have scoliosis. Medium-firm to firm mattresses are recommended for scoliosis sufferers. That's because they help to maintain a neutral spine position during sleep. When in doubt, firmer is better.
Support. When you have scoliosis, it's critical to sleep on a mattress that provides adequate support for the spine. Proper lumbar support will prevent or lessen the discomfort and pain of scoliosis.
Pressure Relief. The most common pressure points are the hips and shoulder blades. You'll want a pressure-relieving mattress that can alleviate pain in those areas and in the lower back.
Materials and Construction. There are many high-quality mattresses available that can ease scoliosis-related lower back pain and provide pressure relief of scoliosis. You can choose from memory foam, latex, innerspring or hybrid mattresses. Keep reading to learn more.
Personal Preferences. Your specific sleeping position—back, side or stomach—is another consideration when choosing a mattress for scoliosis. As always, a generous sleep trial will allow you to assess whether a mattress feels comfortable and suits your needs.
Our 8 Favorite Mattresses for Scoliosis
When it comes to scoliosis, professional medical care and ongoing self-care are important.
But so is buying the best mattress for scoliosis so you can enjoy restful, restorative sleep and live a full, healthy and pain-free life.
Our in-depth buyer's guide will help you short-list the different mattresses on the market that can lessen the spinal pain of scoliosis. We'll cover various types of mattresses: brands, construction, design, firmness, features and benefits, prices and the sleeping positions each mattress is best paired with.
Let's take a closer look at our top picks for best mattresses for scoliosis in 2023.
Brand
Best For
1

Editor's Choice

Overall
Shop Now
2

Cooling
Shop Now
3

Pressure Relief
Shop Now
4

Memory Foam
Shop Now
5

Back Pain
Shop Now
6

Organic
Shop Now
7

Luxury Firm
Shop Now
8

Plus Size
Shop Now
1
Editor's Choice
2
3
Best For:
Pressure Relief
4
5
6
7
8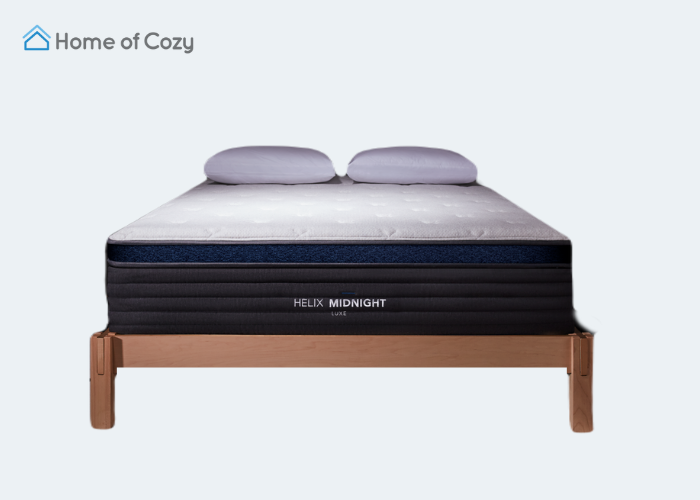 Best For: Overall
Price: $2,373 (Queen size)
Mattress Type: Hybrid
Firmness: 6.5/10
Trial Length: 100 nights
Warranty: 15 years
What I Loved About This Helix Mattress
The Helix Midnight Luxe is a step up from the company's best-selling Helix Midnight. It features six layers and high-density foams to provide durability, comfort and support. These layers include a springy gel layer that offers extra pressure relief, a dynamic foam transition layer and a high-grade polyfoam support layer. The Helix Midnight Luxe has superior motion transfer for uninterrupted sleep, and enhanced pressure-relieving comfort layers for targeted ergonomic support. The advanced Zoned Lumbar Support system features 1,500 individually wrapped pocketed coils that cradle your shoulders with a softer feel, while the coils beneath your hips have a firmer feel to align your spine.
The Helix Midnight Luxe also offers outstanding 4-sided perimeter edge support. If you're a hot sleeper, you can choose between two premium, hypoallergenic cover options: the TENCEL™cover or the best-in-class GlacioTex™ Cooling Cover. TheGlacioTex™ technology wicks heat away from your body as you sleep, just like a high-performance running shirt does.
What I Didn't Love
This high-quality mattress is an investment, so if your budget is tight, you might need to look elsewhere—or watch for online sales to bring it in line with your budget. It's also not the best bet for stomach sleeping.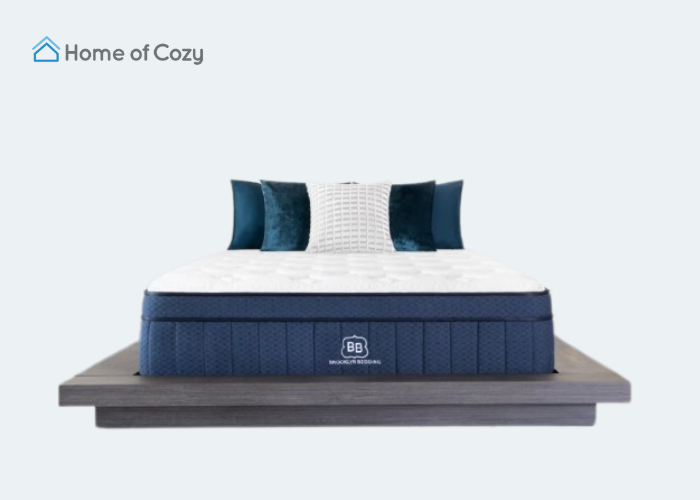 Best For: Hot sleepers
Price: $1,865 (Queen size)
Mattress Type: Hybrid
Firmness: Available in firmness levels from 3-7/10
Trial Length: 120 nights
Warranty: 10 years
What I Loved About This Brooklyn Bedding Mattress
A whole lot of technology is engineered into the high-end, hybrid Aurora Luxe mattress. The Aurora Luxe features individually pocketed coils that provide excellent support and minimize motion transfer for uninterrupted sleep. A phase-change memory foam comfort layer reduces heat buildup for a cooler sleep experience and provides exceptional pressure relief. The most advanced cooling fabric on the market, GlacioTex™, delivers advanced cooling, maintaining body temperature at an ideal-for-sleep 88 degrees. And if you're a bit of a Goldilocks, the company offers the Aurora Luxe in three different firmness levels for a perfect match no matter what type of sleeper you are.
What I Didn't Love
The Aurora Luxe mattress cover can't be removed, so it's not machine washable—something to keep in mind if spills or stains in bed might be an issue.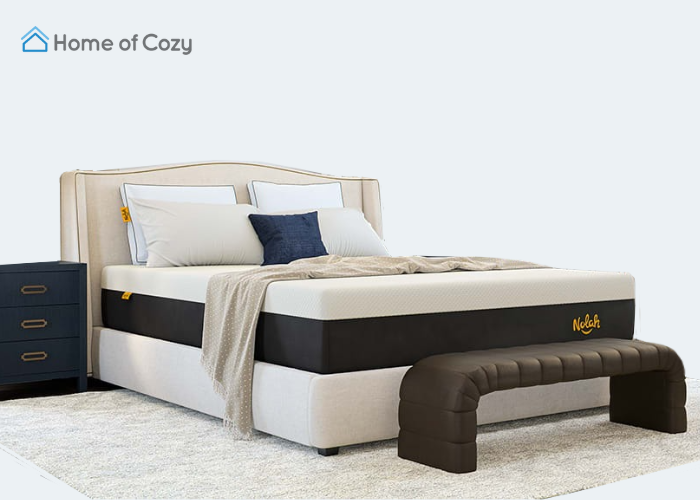 Best For: Pressure Relief
Price: $1,799 (Queen size)
Mattress Type: All-foam
Firmness: 5/10
Trial Length: 120 nights
Warranty: Lifetime
What I Loved About This Nolah Mattress
The company claims the all-foam Nolah Signature 12" is its best mattress for pressure point relief at the hips, shoulders, spine and other joints. This bed features a proprietary material called AirFoam™: billions of microscopic air bubbles that distribute body weight for maximum pressure relief. The company says it offers four times less pressure on back, hips and shoulders than memory foam, which is ideal for scoliosis sufferers. Hot sleepers will appreciate that the foam used is 100 percent temperature-neutral, and free of harsh, heat-trapping viscoelastic chemicals. The Nolah Signature 12" is balances plush cushioning with deep support and keeps you cool with its temperature-neutral foam. AirFoam™ also resists sagging, which is why it's backed with a lifetime warranty. At this price point, the Saatva and Winkbed are similar all-foam versus hybrid options, as are mattresses from Nectar and Layla.
What I Didn't Love
Sleepers who like a firmer feel might find the medium-soft Nolah Signature 12" a bit too plush. And don't look for edge support here.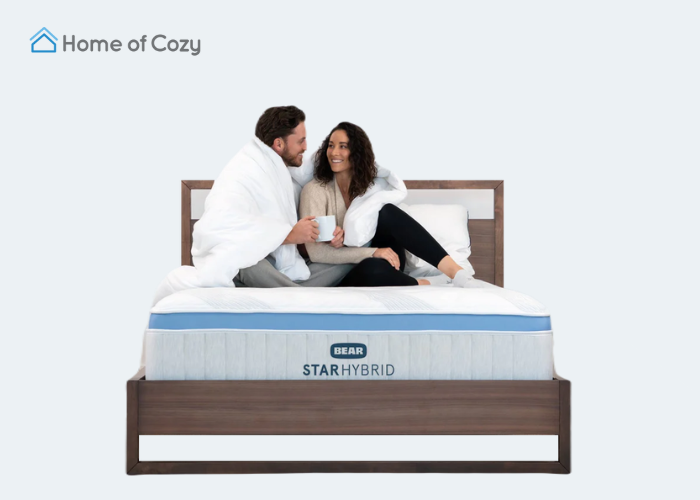 Best For: Memory Foam
Price: $1,732 (Queen size)
Mattress Type: Hybrid
Firmness: 6.8/10
Trial Length: 120 nights
Warranty: Lifetime
What I Loved About This Bear Mattress
The Bear Star Hybrid is the company's most popular mattress because it ticks many boxes buyers with scoliosis seek. The Bear Star Hybrid mattress combines copper-gel memory foam & individually-encased coils for a best-of-both-worlds soft and supportive feel.Responsive comfort foam adapts to all body types and sleep positions, and offers additional airflow and pressure relief. High-density support foam provides base support and durability to the entire mattress. The cool to the touch, hand-quilted cover combines HydroCool® technology plus Celliant® fiber to create a moisture-wicking sleep surface that improves overall well-being every night.
The Bear Star Hybrid also offers individually encased coils reinforces the strength and integrity of your mattress for superior edge support. In addition, it's non-toxic, certified clean and assembled in America so you can get all the good-feels when purchasing one of the best hybrid mattresses for scoliosis.
What I Didn't Love
When first freed from its packaging, you may notice minor off-gassing form the Bear Star Hybrid —normal for boxed mattresses. The smell will quickly dissipate. However, there are better choices for side sleeping.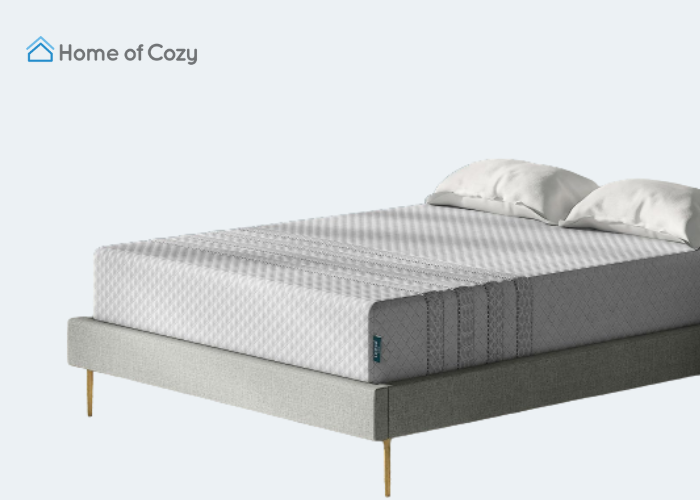 Best For: Back Pain
Price: $1,999 (Queen size)
Mattress Type: Hybrid
Firmness: 6/10
Trial Length: 100 nights
Warranty: 10 years
What I Loved About This Leesa Mattress
The high-performance Leesa Sapira Hybrid is a wallet-friendly option for budget shoppers. This hybrid provides sleepers with balance of bounce and pressure-relief in a medium-firm feel. The top layer of premium memory foam offers cooling and contouring, while 1,000 pocketed springs in the base layer actively respond to your individual sleep movements. The breathable cover of ultra-fine viscose and plant-based rayon fibers help hot sleepers stay cool. The Leesa Sapira Hybrid carries the CertiPUR-US® safety certification through independent accredited testing labs that ensure materials are low VOC and made without ozone depleters, phthalates, BPDE, formaldehyde or heavy metals. If you want to support a company with a dedication to social causes as part of its corporate mission, the Leesa Sapira Hybrid might tip the balance.
What I Didn't Love
If you prefer a plusher, cushier mattress, the Leesa Sapira Hybrid isn't a good match. If you are a partnered sleeper, you may feel your mate's movements during sleep.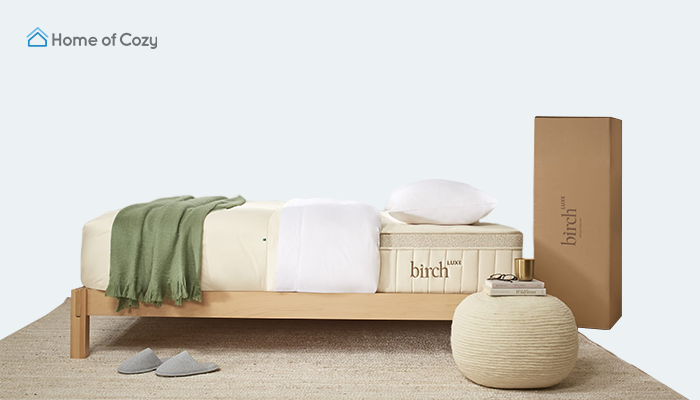 Best For: Eco-friendly
Price: $2,499 (Queen size)
Mattress Type: Hybrid
Firmness: 6-7/10
Trial Length: 100 nights
Warranty: 25 years
What I Loved About This Birch Mattress
Assembled in Arizona, the Birch Luxe Natural is a hybrid mattress you can feel good about purchasing. It's the company's most popular natural mattress, an upgrade from the Birch Natural that boasts organic cashmere and latex, and naturally breathable non-toxic, hypoallergenic materials.
What makes the Birch Luxe Natural one of the best mattresses for scoliosis is the targeted, zoned lumbar support courtesy of pocketed coils which provide enhanced contouring and complete edge support for a secure sleep experience that reduces stress on your lower back. It cradles your body with just-right pressure relief so you wake up refreshed. The quilted Euro top cover adds another posh touch to this luxury mattress.
This careful attention to green detail has earned the Birch Luxe Natural numerous eco-friendly and safety certifications.
What I Didn't Love
he exceptional materials and construction of the Birch Luxe Natural come with a hefty price tag. Side sleepers and those who like the slow-sinking feel of memory foam may not enjoy this somewhat bouncy mattress.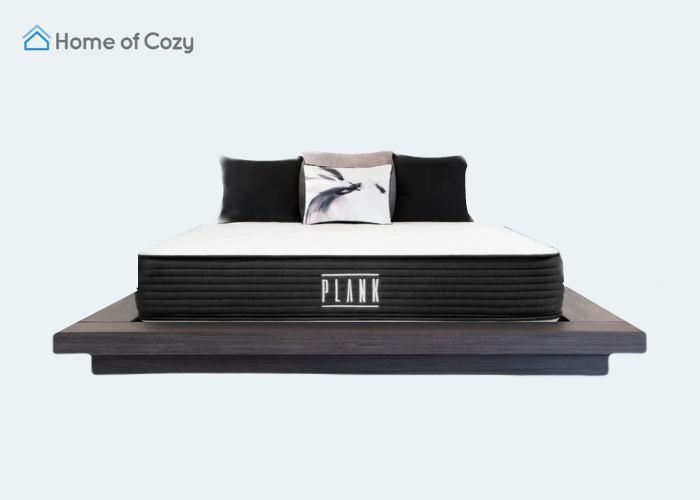 Best For: Extra Firm
Price: $1,532 (Queen size)
Mattress Type: Hybrid
Firmness: 7/10 (firm side) or 7/10 (extra firm side)
Trial Length: 120 nights
Warranty: 10 years
What I Loved About This Plank Mattress
The makers of the Plank Firm Luxe, Brooklyn Bedding, state that it delivers "a firm, flat and healthy sleep in a hybrid design." And it meets this objective very well. The flippable Plank Firm Luxe was inspired by the minimalist approach to sleep in parts of Asia, which creates a neutral spine position that's better for your back and posture overall. The dual comfort design with a coil core comes in two variations: the top side of the mattress feels like a traditional firm; the bottom side of the mattress is ultra-firm, allowing for a highly customizable sleep.
Both sides can be upgraded with GlacioTex™ Cooling Covers for hot sleepers. The Plank Firm Luxe is endorsed by the American Chiropractic Association who found in a three-month study that this design improves spinal support and reduces back pain. .
What I Didn't Love
If you like the plush feel of a pillow top mattress or the more adaptive contouring of a memory foam mattress, the Plank Firm isn't the right choice for you.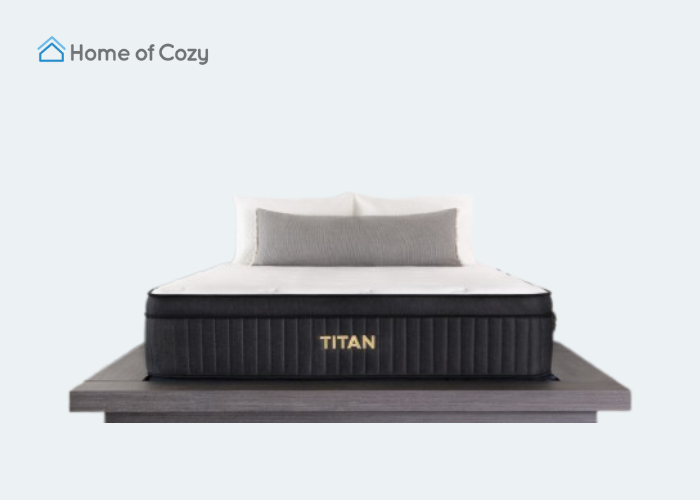 Best For: Plus size sleepers
Price: $1,599 (Queen size)
Mattress Type: Hybrid
Firmness: 5-7/10
Trial Length: 120 nights
Warranty: 10 years
What I Loved About This Titan Mattress
The Titan Plus Luxe is specifically designed with substantial support for heavier sleepers in a more traditional medium firmness. The Titan Plus Luxe builds on the original Titan Plus, bumping up the contouring comfort and durability for plus size sleepers weighing 230 pounds or more. The gel-infused memory foam quilted cover and latex-like, high-density polyfoam layer results in excellent stability.
The company's optional GlacioTex™ Cooling Cover can be sewn into the surface of the mattress to deliver ultimate cooling on contact—a terrific upgrade for hot sleepers. An 8" core of up to 1,032 individually encased TitanCaliber™ coils delivers ample support all the way across and to the edge of the Titan Plus Luxe, along with superior motion isolation.
What I Didn't Love
Side sleepers weighing 130 or less pounds may find the Titan Plus Luxe too firm. The responsive feel of a hybrid foam and pocket coils of this mattress may produce more motion transfer than some sleepers like.
Having Scoliosis Has Actually Improved My Sleep!
I prize a good night's sleep above…well most everything else in life. Because I've been successfully living with scoliosis since I was 12 years old, I've become a very astute mattress shopper.
I can personally attest to the benefits of exercise, pain management, dietary tweaks and most importantly, the restorative power of sleep on the best mattress for scoliosis that my money can buy.
Over the years, I've slept on innerspring mattresses, pillow top mattresses, hybrid mattresses, latex mattresses and memory foam mattresses. I've tried multiple firmness options and I've owned mattresses from a variety of brands. I've owned adjustable bases. I'm a classic combination sleeper. I change sleeping positions often during the night: I'm a side sleeper when I first fall asleep, end up back sleeping until I wake up.
I'm also a hot sleeper, so airflow and breathable mattress materials are really important to me. Cooling gel layers help dissipate my body heat. I'm not a fan of mattress toppers. Durability is not as important to me as it might be if I had kids or pets in my bed on a regular basis. Overall, I'm pretty easy on a mattress.
I like a balance of contouring and cushioning for optimum pressure relief and proper spinal alignment. As a light sleeper, I like a don't like much motion transfer. And as someone who sits on the edge of the bed quite a lot, I like a higher level of edge support construction. What I've learned over time, is I consistently get the best rest on a medium-firm (6-7 on the firmness scale) or luxury firm, gel-infused memory foam mattress with additional comfort layers.
But hey, that's just me.
When it comes to buying the best mattress for scoliosis, spend the necessary time to read mattress reviews and expert comparisons like this. When you do decide to purchase, buy from a respected manufacturer that has a generous sleep trial period and no-risk return policy. Know that you might need to test out a couple of mattresses to find out the best match for your sleep style and preferences.
In my experience, this may take a little more time. But it will pay off when you find the best mattress for scoliosis—and save your back over the long run.