If you're looking for an affordable mid-century modern sofa, or a leather sofa, you might think it's going to be impossible to find what you're looking for without paying an arm and a leg. Think again.
Today we're sharing the best sofas, sectionals and loveseats under $1000. We have options for small spaces as well as larger living spaces. We'll be talking about multi-functional sofas too, like futons and sleeper sofas.
The Best Overall Sofas of 2021
Our team evaluated price, quality, comfort and additional features to bring you the best new sofas available now.
Keep in mind that you're likely sacrificing on quality and longevity when picking a bargain sofa. If you're not okay with that caveat, check out our best sofas of 2021 list to see the real cream of the crop.
6 Best Affordable Sofas This Year
1. Winslow Armless Sleeper Sofa by Urban Outfitters
Price: $499
We love the look of this armless sofa from Urban Outfitters. It probably doesn't cut it as a living room centerpiece unless you live in a small apartment, but it's a quality find at an affordable price.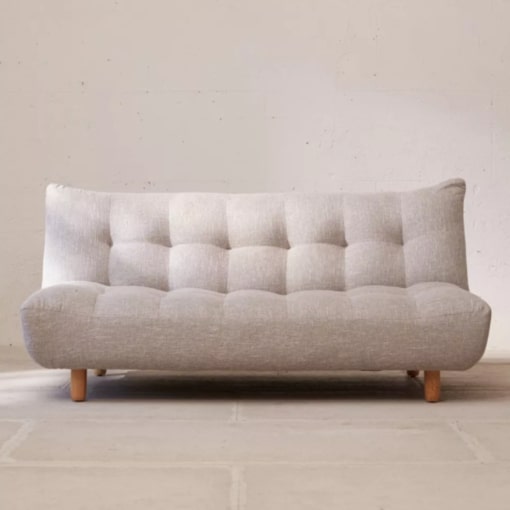 What real customers loved about the Winslow Armless Sleeper
Shoppers love the fashionable styling and the easy sleeper position to offer guests a place to lay their head for the night. The tufted look with clean lines paired with the convertible sofa bed option make this a great pick if you're looking to buy a low-cost, high-quality sofa.
Drawbacks or Flaws
Some shoppers have said that the mattress is not the greatest for sleeping, the material tends to start pilling after a while, and that the springs do not hold up well over time.
Best Affordable Sofa: Urban Outfitters
2. EKTORP Sofa by IKEA
Price: $399
IKEA is well known for its affordable furniture, and that's no different in the couch market. Some of the brand's stuff is really well done, like this simple couch from EKTORP.
It's not the most interesting look, but it's certainly well-made and should withstand wear and tear better than some other similarly priced sofas.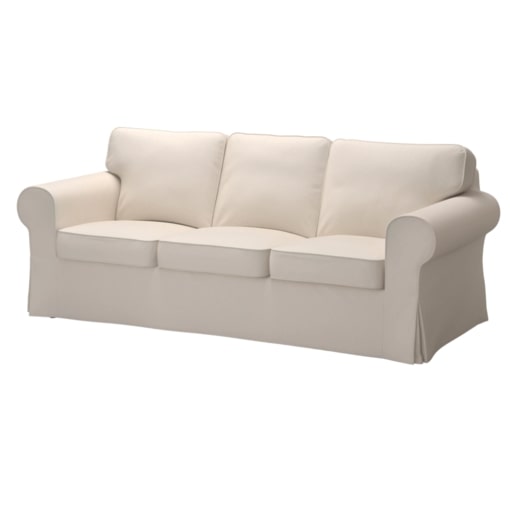 What real customers loved about the EKTORP Sofa
Shoppers love the long-term durability of the EKTORP and really enjoy the washable slipcovers that make cleaning with animals and kids super simple. Customers also enjoy the fact that sofa can be ordered locally and that the pricing is great!
Drawbacks or Flaws
Some customers have stated that the upholstery is a bit rough and irritating and that the cushions are not super comfortable.
3. Nia Velvet 81.5" Square Arm Sleeper by Wayfair
Price: $349.99
Talk about a great look for a low cost. This standout from Wayfair brings it with this simple sofa bed. Its availability goes on and on off on the site, so you'll have to hit it at the right time to get this deal.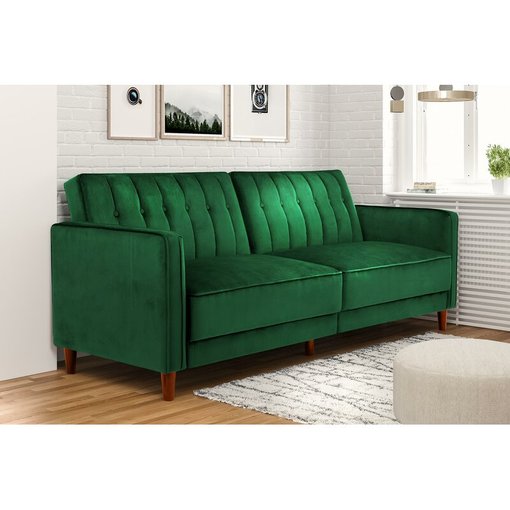 What real customers loved about the Nia Velvet Square Arm Sleeper
Customers love this lush velvet sofa, from the modern, square armrests, to the high-density back cushions. The Nia is a great option for a lower price point. Best of all, the Nia doubles as a sofa bed which is great for a small apartment that doesn't offer a guest room.
Drawbacks or Flaws
Some customers have stated that the sofa is quite firm and that guests might appreciate a foam topper if they will be using it for a bed.
4. Article Sven Birch Ivory 72" Sofa
Price: $999
Article is well-known for its versatile mid-century modern look. This example brings it again with a simple design with track arms and cushy seat backs. It's on the smaller side, but would be a great option for someone looking to find comfort in their apartment.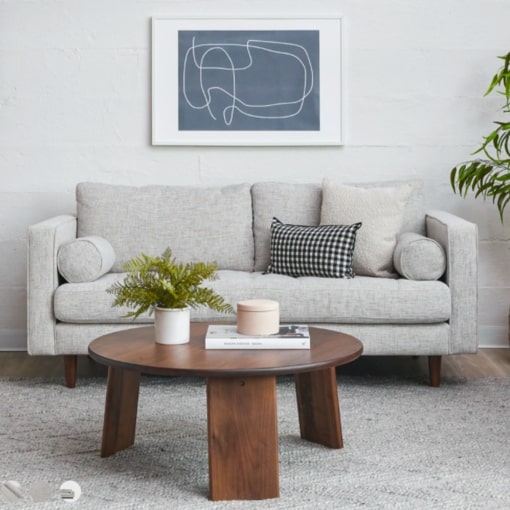 What real customers loved about the Sven 72″ Sofa
Shoppers have said that this sofa is so beautiful and comfy, it's perfect for lounging. While this option has a slightly higher price tag, the quality is well worth it as you can be sure the sofa is built with high-quality, durable materials.
Drawbacks or Flaws
Some customers have stated that they wish that the back cushions were a bit higher and that with heavy friction, some of the fabric options can start to pill.
5. Perla 85" Square Arm Sofa by Joss & Main
Price: $912
This is a great option for those with Boho-inspired decor. Crafted from solid eucalyptus wood with button-tufting on seat back, this couch gives the illusion of high price without the reality of it.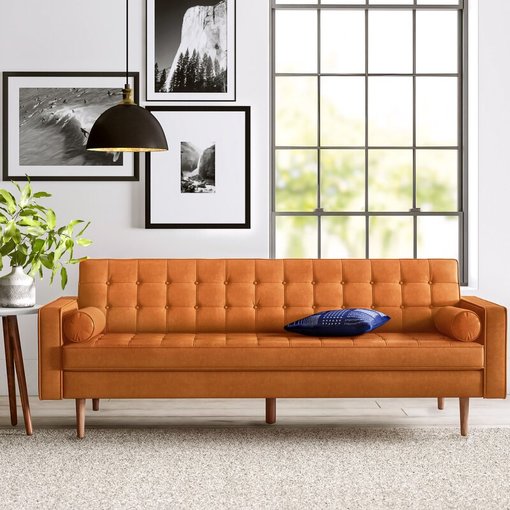 What real customers loved about the Perla
Customers really love the Perla as a chic, faux-leather option that definitely looks far more expensive than it actually is. They also love that cleaning is as easy as a quick wipe down and that the sofa is compact enough to fit into small spaces if needed.
Drawbacks or Flaws
Some shoppers have stated that the couch is quite firm when it is first delivered and must be broken in. Other customers have said that some seams have torn and that upholstery wears quickly.
6. The Noelle Sofa & Ottoman by World Market
Price: $799
This sofa is incredibly interesting as an option for your next piece of living room furniture. The sofa is made with a eucalyptus wood frame and its upholstered with rubberwood legs. Plus, it just has a great feel and style, especially at that price point.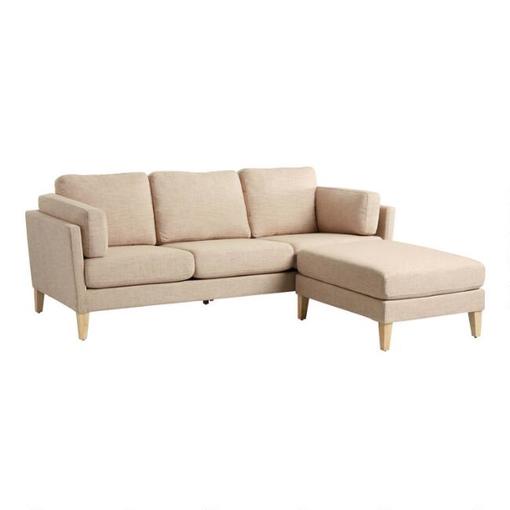 What Customers Loved about the Noelle
Customers loved that it includes an ottoman with sectional connectors to convert it into a corner couch. It also has removable and reversible cushions and simple assembly.
Drawbacks or Flaws
The main drawback is the quality. While this is a great out-of-the-box couch, you're just not getting the same value as many other brands, even if you're paying less. However it's still an appealing option for customers looking for a mix of style and affordability.
Some Cautions About Buying Low-Cost Sofas
Complete your look with accent pieces
If your sofa is very minimal or plain, look for a way to tie your entire look together with some accent pieces such as a recliner, chaise, settee, coffee table, plush throw pillows, or just some additional home decor.
Don't opt for a super large couch
When working with a small budget, it's best to choose a simple, two to three seater, classic sofa. The more elaborate and large, the more you are likely to sacrifice quality craftsmanship for price.
Consider other great affordable sofa brands
Many of the brands at the top of the food chain aren't listed here because they're out of the price range you're looking for. We advise that you wait a little longer and try to save your pennies to get something really high quality. Some of these include Allform, West Elm, Crate & Barrel and more.