Shopping on a budget isn't always easy. I get it. You want a chic, mid-century modern sofa or a tufted back cushion chesterfield, but it's tough when you have a budget of $1,000. To help you out, I've combed through customer favorites to find the best deals for you.
I've put together a list of the best cheap loveseats, futons, sleeper sofas, and sectionals whether you're on a strict budget or you need to furnish an entire living space.
Explore my top picks from Urban Outfitters, IKEA, Wayfair, Amazon, and more.
The Best Overall Sofas of 2023
I tested over 23 different sofas from the leading furniture brands and retailers out there, and analyzed each one in terms of price, quality, comfort, versatility, and durable design.
Our team evaluated price, quality, comfort and additional features to bring you the best new sofas available now.
The Best Overall Sofas of 2023
To help you find the best deep seat sofa, I tested individual models from over 23 different brands. These are the best new sofas with extra deep seats that balance the best in design, price, sustainability, and durability.
You don't need to sacrifice on quality or durability just because you're on a budget. However, if you do want more options, read my top picks at any price to see the best sofas of 2022.
10 Best Affordable Sofas This Year
Brand
Best For
1

Editor's Choice

Value
Shop Now
2

Cleaning
Shop Now
3

Mid-Century Style
Shop Now
4

Quality
Shop Now
5

Customization
Shop Now
6

Velvet
Shop Now
7

Sectional
Shop Now
8

Futon
Shop Now
9

Unique Design
Shop Now
10

Matching Set
Shop Now
1
Editor's Choice
2
3
Best For:
Mid-Century Style
4
5
6
7
8
9
10
Price: $499
Dimensions: 74.4″ width x 34.6″ depth 40.15″ height
Frame Materials: wood frame
Upholstery Options: 1 fabric option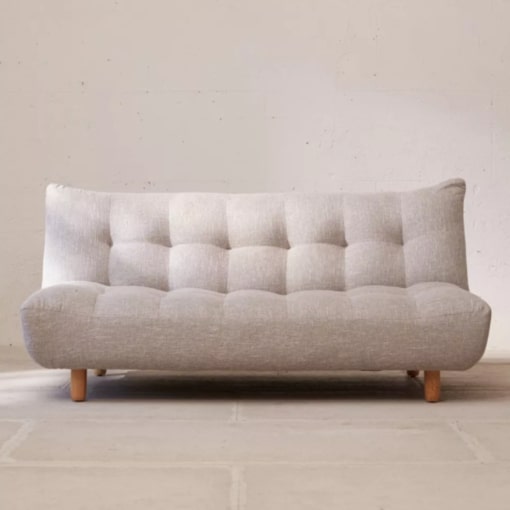 What I Loved
Urban Outfitters is a great store for clothes shopping, but they've been coming into their own recently with some unique, trendy sofas and larger furniture for any room.
The Winslow Armless Sleeper Sofa is a perennial favorite among Urban Outfitters shoppers, and it's the perfect living room centerpiece that coordinates easily with a lot of different home decor styles.
Its tufted back cushion has a nice juxtaposition with the sofa's overall clean lines and armless, minimal silhouette. It's incredibly comfortable to sit on, and the reclining/sofa bed mechanism works perfectly.
What I Didn't Love
Currently, the Winslow is just available in a gray fabric, which looks amazing in person. However, I would have appreciated more than just one option. I read some reviews that noted some pilling after a few weeks. Additionally, I've seen from some negative reviews that Urban Outfitters' home decor orders can sometimes see significant shipping and delivery delays.
Best Affordable Sofa: Urban Outfitters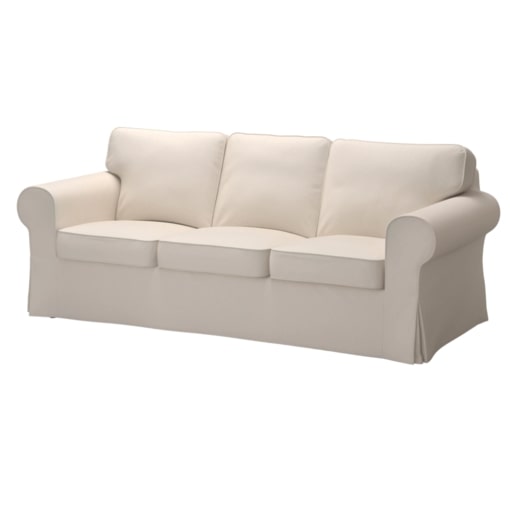 What I Loved
The EKTORP is a long-standing IKEA customer favorite. With its decent price tag and classic, three-seat roll arm design, it's easy to see why. Its clean lines and removable slipcover make it an incredibly versatile and easy-to-maintain sofa.
While it's on the lower range of IKEA's sofas, the EKTORP has always been a favorite of mine. It's comfortable, easy-to-assemble, and holds up fairly well over time.
Putting together and EKTORP sofa is also fairly easy, and IKEA's trademark instructions make the whole process relatively painless. Plus, the slipcovers for its seat cushions and back cushions are easy to remove and put on.
What I Didn't Love
You get what you pay for. It's definitely not as comfy or as stylish as a West Elm or Pottery Barn sofa, but for a good quality three-seater under $399, it's still a great deal.
Price: $309.99
Dimensions: 75.6" width x 31.1" depth x 33.5" height
Frame Materials: wood frame
Upholstery Options: 2 fabric options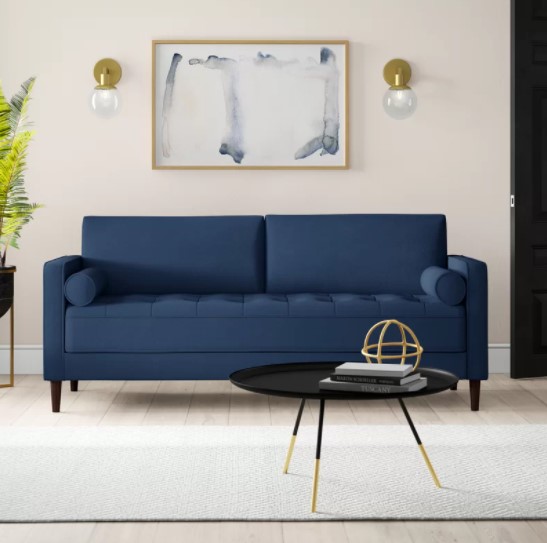 What I Loved
Wayfair's Mercury Row brand produces some great mid-century classics if you're on a strict budget. The Garren Square Arm Sofa is one of my favorites on the site right now. It has all the hallmarks of mid-century design, but with updated frame and upholstery materials that make it a durable piece you'll love having in your home for years to come.
I loved the chic roll-arm pillows paired with the square arms and tufted seat cushions. Overall, it's a little softer and more comfortable than it looks on the site. And at a little over 75 inches in width, it's versatile enough to fit enough a home office, living room, or a smaller apartment living space.
What I Didn't Love
Again, I would love some more upholstery options aside from the navy blue and gray options. However, it's still a pretty good sofa for the price.
Price: $999
Dimensions: 72″ width x 38″ depth x 34″ height
Frame Materials: kiln-dried laminated hardwood
Upholstery Options: 3 performance fabric options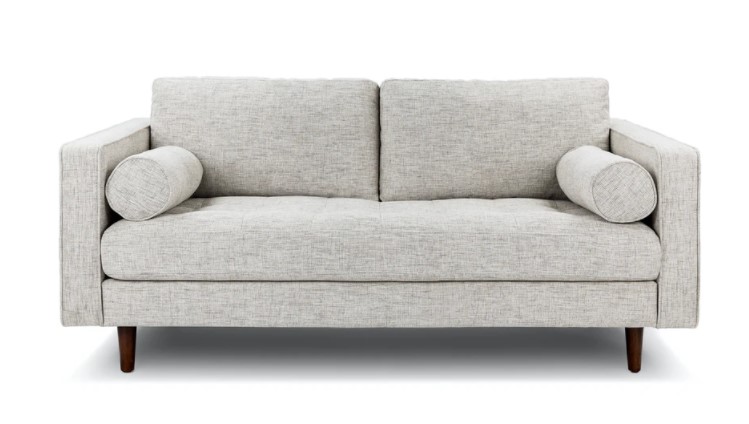 What I Loved
At $999, this one is definitely the most expensive sofa on the list, but it's well-worth it. Article is a furniture company that creates chic, mid-century and contemporary designs that aren't exactly affordable for any budget, but they are certainly attainable. And with financing from Affirm, you can even get this sofa with a payment plan starting at $88 per month depending on your credit.
Again, I think this sofa is definitely worth it if you envision yourself living with it for a few years. It's incredibly well-constructed, and are looking for a something a versatile, mid-century modern look. With its track arms and comfy seat backs, it's definitely my personal pick as a sofa perfectly engineered for lounging. Also, it's on the smaller side compared to a few others on this list, making it perfect for an apartment or small space.
What I Didn't Love
Obviously, the price puts it out of reach for a lit of folks. Other than that, I couldn't really find any quality issues with this one.
Price: $700
Dimensions: 82″ width x 37″ depth x 37″ height
Frame Materials: solid wood frame
Upholstery Options: 52+ Custom Options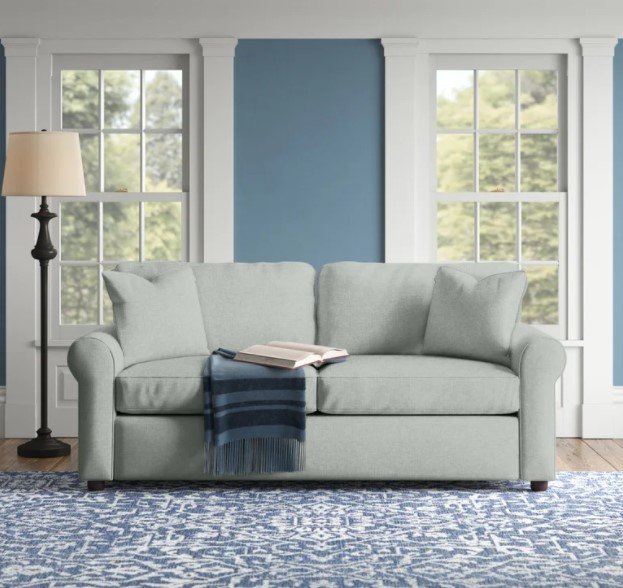 What I Loved
I'm a pretty big fan of Joss & Main, a Wayfair subsidiary that specializes in a more curated range of stylish furniture from more Boho-inspired home decor to sleek, mid-century and contemporary designs.
Looking at their selection of sofas under $1,000, I came across the Wolsingham. Another roll arm classic, the Wolsingham is an incredibly great deal for the price. Not only is it one of the top-rated sofas on Joss & Main (average of 4.4 stars out of 900+ reviews) it also comes in over 52 different custom fabric options.
In terms of construction, it's handcrafted in North Carolina with a frame made from solid wood with no metal springs in its suspension.
It's also one of the deepest and softest sofas on this list. Honestly, sitting down and lounging on it, it feels fairly similar to much more expensive West Elm or Pottery Barn roll arm designs.
What I Didn't Love
An incredibly plush, comfy roll-arm sofa for under $800. You know there has to be a catch. Unfortunately, it happens to be the 10-12 week lead time. However, I couldn't figure out why. The product page doesn't note whether or not the sofa is made to order, so I'm not entirely sure why it takes about as much time to produce as a bespoke designer sofa.
Price: $1,000
Sofa Dimensions: 34" H x 84" W x 37" D
Frame Materials: Solid wood
Upholstery Options: Velvet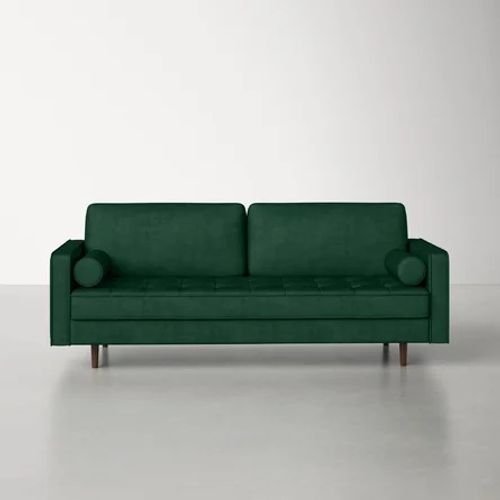 What I Loved
I always look forward to trying out a new couch from AllModern. Their customer service is wonderful, and delivery and assembly always go smoothly.
The Geo velvet sofa is a beautiful piece of furniture, especially for the price. The velvet feels expensive and luxurious, the wood legs are elegant, and the cushions are supportive, though they do take a couple of weeks to soften up. It really is stunning, and the couch became the focus of my living room while I was testing it.
At 34" deep, the couch is deep enough for me to really cozy up into it. It's also quite large as a whole, and there's enough room for three adults to lounge comfortably.
What I Didn't Love
The little dimples on the seat of the couch make a beautiful detail, but they collect crumbs and debris very easily. If you don't have a dust buster or some other easy mechanism for picking up dirt, it can be pretty annoying.
Also, if given the option, I would opt for a more padded armrest over the track armrests on the couch for some extra cushion.
Price: $650
Sofa Dimensions: 34" H x 65" W x 30.25" D
Frame Materials: Solid wood
Upholstery Options: Polyester Blend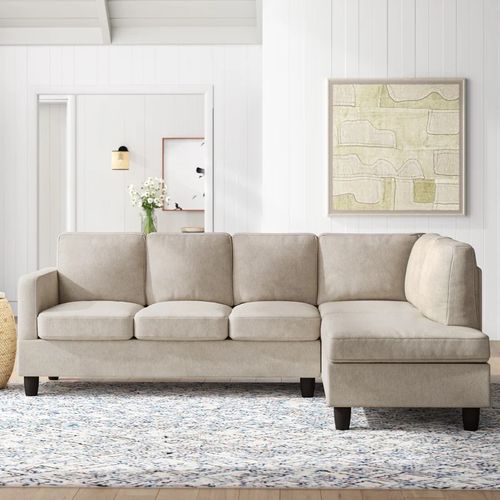 What I Loved
You're not likely to find a better sectional at this price. This thing is sturdy, comfortable, and looks fantastic in my living room.
The sectional arrived in vacuum sealed boxes, so it does take a couple days to fluff up. After that, the sofa breaks in over the next few weeks and loses its stiffness.
Plus, this sectional is a breeze to put together. With two people, it took us less than 45 minutes. The sofa came in just a couple boxes and clear, easy instructions.
I do wish this couch was slightly larger, as the seats are a bit narrow even for me at 5' 7". Other than that, I'm really happy with this section.
What I Didn't Love
Apart from the fact this couch could be slightly larger, the only complaint I have is that I wish it came in more colors. The beige is pretty, but some variety is always a plus.
Price: $393
Sofa Dimensions: 77″L x 32. 5″W x 33″h
Frame Materials: Wood
Upholstery Options: Linen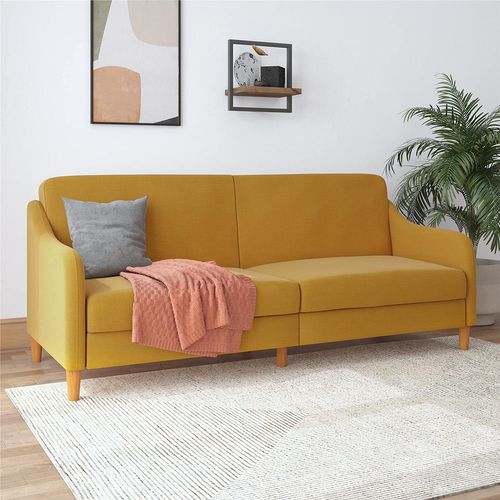 What I Loved
This convertible sofa is such a great find for the price. It looks great, is incredibly comfortable, and provides an actually sufficient sleep experience for an affordable futon.
It certainly does not feel like an expensive sofa, but it is sturdy and well made. It is easy to maneuver into a bed and back into a couch, and the cushioning is supportive enough for a night or two of sleep.
What I Didn't Love
Delivery seems to be a mixed bag with customers. Some have a smooth experience, while others have to deal with multiple back and forths with delivery companies. For what its worth, my sofa arrived as scheduled at my front door.
You should note that it arrives in one heavy box (over 100 lbs), so have an extra pair of hands around if possible to help you bring it in.
Price: $710
Sofa Dimensions: 30.32" H x 60.63" W x 30.7" D
Frame Materials: Solid wood
Upholstery Options: Polyester Blend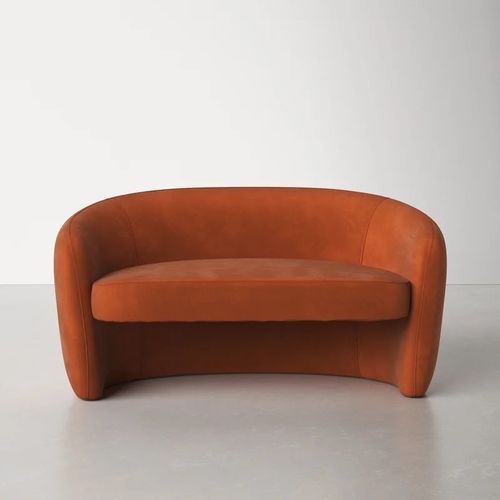 What I Loved
Another AllModern pick, this is one I'm really excited about. This loveseat is such a unique find, and fantastic quality too. The sofa's curved back, simple lines, and stunning colors make this a perfect addition to your seating area, or even as a decorative piece in your hallway or entryway.
What I Didn't Love
This sofa is definitely not ideal for hours of lounging, and adding an ottoman makes all the difference for long-term comfort. Other than that, this sofa makes an awesome statement piece at an affordable price.
Price: $799
Sofa Dimensions: 85″ with x 34.4″ depth x 34″ height
Ottoman Dimensions: 36.2″ width x 28″ depth x 18.5″ height
Frame Materials: eucalyptus wood frame
Upholstery Options: one fabric option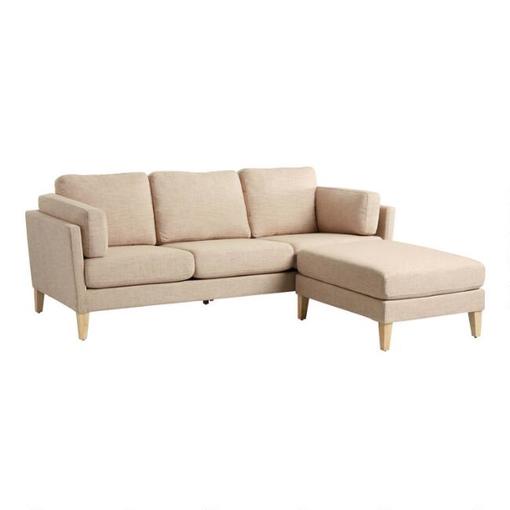 What I Loved
I'm Closing out this list on a good one: the Noelle Sofa & Ottoman set by World Market. I've personally never bought anything from them but everyone I've spoken to who has had a fairly good experience. In terms of price, it's a lot like shopping at a slightly discounted Anthropoloigie. Both retailers focus on more eclectic, Boho-inspired furniture and home decor but with World Market giving shoppers much better deals. If you're looking for living room furniture with a bit of personality but don't want to pay Anthropologie's ridiculous prices, this is retailer for you.
What drew me to the Noelle set was that, it was…a set. It's pretty rare these days to find a quality retailer selling a sofa and matching ottoman in one convenient, affordable package. Usually, ottomans are pricy add-ons that generally cost an extra $50 to $300. But with the Noelle, not only are you getting an incredibly comfortable three-seater, you're getting a matching ottoman!
The sofa and ottoman themselves are well-constructed and incredibly comfortable for the price. Plus, World Market offers some of the fastest shipping among retailers on this list, something I experienced first-hand testing this one out and from reading some of the most positive customer review.s
What I Didn't Love
Unfortunately, this set is only available in one off-white fabric. I would have appreciated a range of upholstery options.
Some Tips for Buying Low-Cost Sofas
Complete your living room with accent pieces
If you're going with a sofa that's on the minimal side, throw in some accent pieces such as recliners, chaises, or settees into the mix. Add in some throw pillows and some decorative and personal touches to round out your living space.
Don't expect a large couch
If you're working with a budget under $1,000, have a realistic expectation for the type of sofa you can afford. Most sectionals start at around $1,100 or more, so if you're shopping on a budget, either save up, take advantage of financing with easy repayment options, or opt for a loveseat or three-seater sofa.
Consider other great affordable sofa brands
These are just a handful of brands and retailers from which you can find affordable sofas and living room furniture. Shopping online is a great way to get the furniture you want at price points you can afford. Explore sites like Overstock, Amazon, and even Walmart to find quality furniture at great prices.