Having a pet is a pretty important factor for anyone buying a new couch. While anyone who doesn't have pets may have to contend with the occasional spill, pet owners have a whole other set of issues to deal with on a daily basis. When it comes to pet-friendly couches, durability and easy-to-clean upholstery are likely two of your most important priorities on top of how good a sofa looks in your living room.
So, to help you out, I tested 18 different sofas from some of the most innovative brands and furniture retailers out there. To help me out, I brought in a few furry friends of varying breeds, ages, and temperaments to see who truly had the most pet-friendly sofa of them all.
The Best Overall Sofas of 2023
To help you find the best deep seat sofa, I tested individual models from over 23 different brands. These are the best new sofas with extra deep seats that balance the best in design, price, sustainability, and durability.
5 Best Pet-Friendly Furniture Fabrics for Dog Owners
Let's start with some upholstery fabrics that definitely aren't pet-proof: suede/microsuede, chenille, and linen. Not only are these fabrics generally hard to keep clean if you're dealing with frequent spills and stains, but they also tend to snag much more easily than more robust performance fabrics.
But if you had your heart set on one of those fabrics, don't worry! These are some alternatives you can seek out as you're shopping for furniture:
1. Synthetic Fibers & Microfiber Fabric
Synthetic performance and acrylic fabrics are generally used in the most pet-friendly couches. Also known as "microfiber fabrics," the fine fibers used in these types of upholstery are the easiest to clean and make it hard for stains to seep through and set.
2. Leather or Fake Leather
Believe it or not, both faux and real leather sofas are pretty pet-friendly. Plus, leather sofas add an extra touch of sophistication as well as plush comfort for any living room.
In terms of their ability to keep clean, both types of leather are easy to wipe down, age all and are incredibly durable. Plus, they're fairly stain-resistant as long as you don't allow stains to set in and absorb into the upholstery.
Keep in mind that leather couches are easy to clean but they're not exactly pet-proof as they can still be scratched with sharp claws. If you're considering getting leather furniture, opt for a more affordable couch that uses mid to low-grade leather. For more insight on this, read my review of the best leather sofas.
3. Denim
While they're fairly rare among new couches made today, denim is one of the strongest and most durable fabrics you could choose for upholstery. It's also stain-resistant and with its tight-weave fibers, it's fairly resistant to snags, rips, or scratches in the long term.
4. Canvas
Canvas is a durable fabric made from cotton. It's incredibly resilient against claws, drool, and even urine. Unfortunately, like denim, it isn't commonly used among sofa upholstery. However, if you're looking for outdoor furniture that's pet-friendly, you'll have a lot of options for canvas chairs and benches.
5. Sunbrella Performance Fabrics
While Sunbrella is a company that's made a name for itself with awnings and outdoor furniture, they actually create a range of pet-friendly and stain-resistant indoor performance fabric upholstery. If you're thinking of designing and building your own custom pet-friendly sofa, you can buy fabric direct from their website.
How and Why Dogs Damage Couches
Dogs can damage sofas in any number of ways and for a literal mess of reasons. Maybe they're bored, unsupervised, and have nothing to chew on except for a nice roll-arm or seat cushion. Other times, when they have to go, they really have to go and can't wait until they're outside. Sometimes, they just sit around, leaving drool and scratches on your sofa upholstery when they're chewing on their favorite toy.
Ultimately, you can avoid dog-related damage to your couch is by:
potty training your dog from an early age and gently encouraging them to be better behaved about their bathroom habits.
setting up a dog bed in the living room where they can shed pet hair and drool to their heart's content.
What Makes Fabrics Pet-Friendly?
Generally, the best dog and pet-friendly fabrics tend to have tight-weave fibers, have stain-resistant properties, and come in darker colors. Tight weaves resist moisture if and when accidents happen. Many performance fabrics tend to be stain-resistant anyway, also making them best-suited for families with small children, too. And darker colors naturally conceal stains much better than lighter tones.
If you have cats, too, then the same dog-friendly fabrics will likely hold up against cat's claws, lint, and hairballs as well as they can with Fido's occasionally muddy paws. For more tips on this, read the Home of Cozy guide for cat-friendly couches.
And as a pro tip, get a couch with removable upholstery so you can throw the slipcover into the laundry whenever you need to.
The 4 Best Dog-Friendly Couches & Sectionals
Brand
Current Offers
Best For
1

Editor's Choice

20% off with code COZY20OFF

Quality, Functionality
Shop Now
2

Customization
Shop Now
3

Fabric Choices
Shop Now
4

Scratch-Resistant
Shop Now
1
Editor's Choice
Best For:
Quality, Functionality
Current Offer:
20% off with code COZY20OFF
2
3
4
Best For:
Scratch-Resistant
When it comes to pet-friendly furniture, these are the four sofas that held up against my impromptu, multi-species sofa test:
1. The 3-Seat Sofa with Chaise by AllForm
Price:$1,895
Dimensions: 90" width x 34" height. Chaise depth: 61″. Arm depth: 38″
Frame Materials: Maple and Poplar Kiln-Dried Laminated Hardwood
Upholstery Options: 7 performance fabric, 2 leather options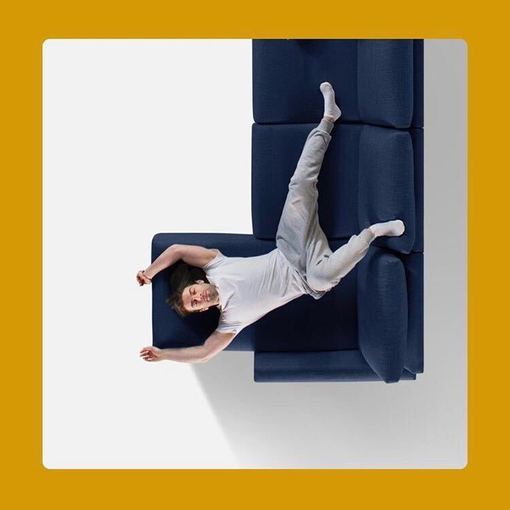 What I Loved
Based on customer reviews, features, warranty options, and how comfortable the dogs felt with this one, I had to give the top spot to AllForm. Not only do they create easy-to-assemble modular sofas and sectionals, Allform sources some of the easiest-to-clean perfromance fabrics I've come across while testing furniture for Home of Cozy. Even with some of the lighter performance fabrics, spot cleaning literally took less than a minute with a fabric spray cleaner and some elbow grease. Like I said earlier, the secret is to get to the stain before it sets in.
What I Didn't Love
There really wasn't anything to dislike, honestly. The dogs loved it. I loved it. It's an all-around great sofa you and your pets will love for years to come.
2. The Block Nomad Sofa from Burrow
Price: $1,395
Dimensions: 85″ width x 35″ depth x 33″ height
Frame Materials: precision milled Baltic Birch wood frame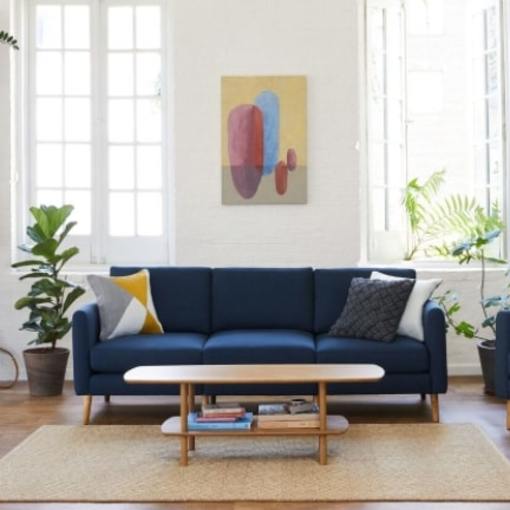 What I Loved
Like AllForm, Burrow is an eCommerce company specializing in mid-century modern inspired and contemporary designs, all at great prices. The Block Nomad is one of their popular models and I can see why. Not only does it come in a great range of performance fabrics and leather options, it has customization features that include arm style and 6 different leg finish options. You can even add on a matching ottoman. Best of all, it even has a built-in USB charger.
In terms of its pet-friendliness, the fabric held up great during the test. Its high-density foam cushions successfully withstood four different dogs piling on top of them. Plus, the performance fabric was almost as easy to clean as Allform's upholstery.
What I Didn't Love
With the added strength of its solid Baltic Birch frame and high-density cushions, the trade-off is that the sofa just isn't as soft compared to Allform and other models on this list.
3. The Hughes Sofa by Joybird
Price: $1,509
Dimensions: 90″ width x 37″ depthx 33.5″ height
Frame Materials: (not provided)
Upholstery Options: 50+ options (29 are specifically labelled "pet friendly")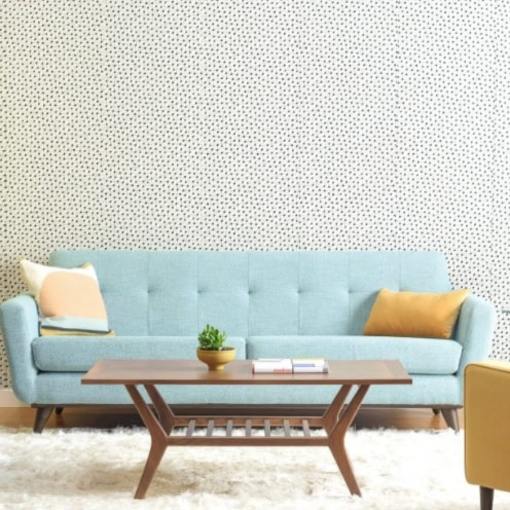 What I Loved
Joybird was a stand-out because unlike some other brands, they specifically called out 29 distinct pet friendly performance fabrics. With its densely woven performance fabric, this one was another incredibly pet-proof, easy-to-clean sofa. However, while the site labeled them pet friendly, I still found Allform and Burrow to have the best fabrics to clean.
What I Didn't Love
While most customers gave it 5 stars out of 5 for quality, I did find a few negative reviews complaining about shipping times exceeding 6 weeks.
4. The Sven Charme Tan Leather Sofa by Article
Price: $1,899
Dimensions: x 88″ width x 38″ depth x 34″ height
Frame Materials: corner-blocked wooden frame
Upholstery Options: 4 fabric, 4 leather, 4 velvet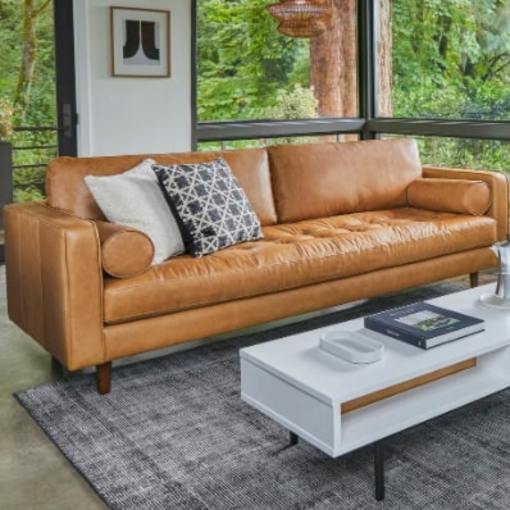 What I Loved
I tested the Sven in an aniline leather upholstery. All in all, it's a solid leather sofa for the price. It's stylish, with sleek mid-century styling and clean lines. Plus, the sturdy corner-blocked wood frame was one of the more scratch-resistant frames on this list.
And for some reason, the dogs loved the seat cushions on this one almost as much as they did the Allform couch. Maybe it was the tufted seat cushions and arm pillows?
What I Didn't Love
Unfortunately, it just wasn't as easy to clean despite me being as fast as I could with the spray bottle and towels. However, while it wasn't as stain-resistant as the first three sofas in this guide, it still held up better than a whole range of sofas from IKEA, Pottery Barn, and West Elm.
More Tips for Maintaining Your Dog-Friendly Couch in the Future
With these tips and guidelines, I hope you have a better sense of what makes a pet-friendly couch. To close out this guide, here are some more recommendations:
Invest in a quality, pet-friendly slipcover if a sofa doesn't have removable upholstery. These are machine-washable covers that can keep your sofa protected, not just from the occasional spill, but from long-term scratches and bites.
Keep pet claws trimmed and neat. Wipe down their paws after they've come in from outside, especially if they've been playing around in the dirt or mud. Lastly, brush and groom them regularly to keep them from shedding all over the sofa.