If you're in the market for a new couch and also own a dog (or two), you're probably wondering what types of material or upholstery are best for pet owners. While not every piece of furniture is pet-friendly, there are many couches that are essentially dog-proof with the proper care.
We'll review the ways that dogs can damage a sofa (so you know what to look for in a fabric), materials that are durable enough to protect against these issues, and examples of pet-friendly couches. At the end we'll throw in a few bonus tips to help you protect and maintain your furniture so you and your furry friend can enjoy it for years to come.
The Most Common Ways That Dogs Can Damage a New Sofa
Not all dogs are the same. Some may never leave a trace, while others can do some serious damage.
Many dogs love to chew. When left unsupervised or without a reasonable substitute, they sometimes take that habit to your living room furniture- leaving drool and chewed pieces of fabric, frame or even throw pillows in their wake. While we're on the subject of sharp teeth, let's not forget their claws. Dogs can often scratch or tear upholstery with their claws just by jumping on and off your couch.
In addition, dogs often use couches like dog beds and will shed a lot of pet hair there. Finally, for some dogs, urinating on furniture is also an issue which can lead to stains and odors if not cleaned properly.
Key Characteristics of Pet-Friendly Fabrics
When it comes to pet-friendly fabrics, your best bet is going to be a tight weave, stain-resistant upholstery fabric in darker colors. A tight weave fabric is going to be more resistant to soaking so if an accident were to happen, or your dog tracks something in from outside onto the couch, it's far less likely to seep into the fabric. This makes cleaning up far easier.
In addition, it's a great idea to choose darker colored fabrics because they are less likely to show dirt, drool spots, or water rings in the event that clean up doesn't go as planned.
4 Couch Fabric Options That Are Perfect for Dog Owners
It's important to note that there are very specific types of fabric and characteristics that you need to look for when selecting a pet-friendly couch. While this may feel limiting because fabrics like suede/microsuede, linen and chenille are not pet-friendly, don't worry- there are still a lot of great options to choose from.
1. Synthetic Fibers & Microfiber Fabric
Synthetic fabric sofas, like polyester, nylon and acrylic, are the most commonly used fabrics for pet-friendly couches. These are also commonly referred to as microfiber fabrics which means that the fabric fibers are extremely thin.
2. Leather or Fake Leather
Leather sofas and fake leather furniture (a.k.a. pleather) are an alternative for pet owners who want something slightly more sophisticated. Both are durable, easy to wipe down, and stain resistant as they don't absorb liquid. However, leather couches aren't scratch resistant.
3. Denim
Denim is a very strong, durable fabric. It's very easy to wipe down and stain resistant. In addition, it's tight-weave structure also makes it resistant to scratches, snags, and rips.
4. Canvas
Canvas is another durable fabric that can hold up to claws, drool, and even urine stains. The one drawback to canvas upholstery is that it is a bit more abrasive as it is so heavy duty.
4 Couches That Fit Our Pet-Friendly Criteria
When it comes to the best couch material for dogs, there are many different types of couches to choose from to accent your home decor, including reclining sofas. modular sofas and smaller apartment sofas. Here are just a few of our favorites that meet our pet-friendly criteria.
Price: $1895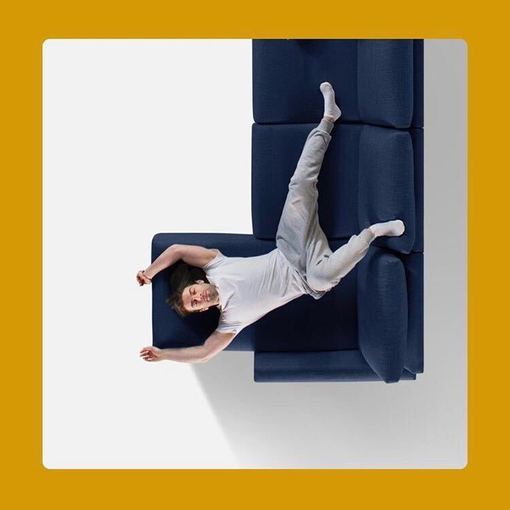 The three seat modular sofa with chaise by AllForm comes in seven fabric options and two leather upholstery options. Their performance sofa fabric is scratch, pill and stain resistant so it's perfect for busy households with kids and pets.
Price: $1395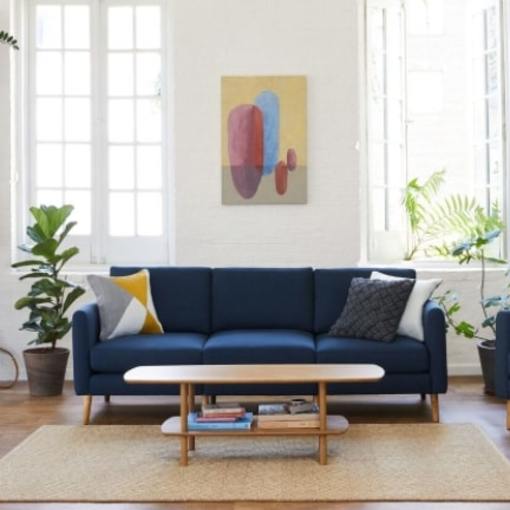 This Block Nomad Sofa is super customizable with five tight olefin fiber weave fabric colors that are both scratch and stain resistant.
Price: $1295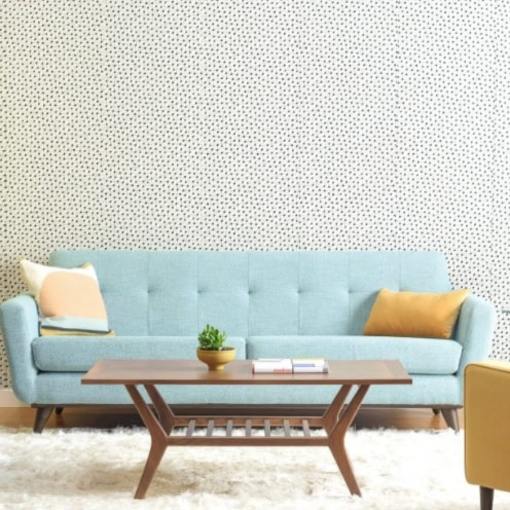 The Hughes Sofa comes with a densely woven performance fabric with a sleek finish for elegance and durability in an active home.
Price: $1795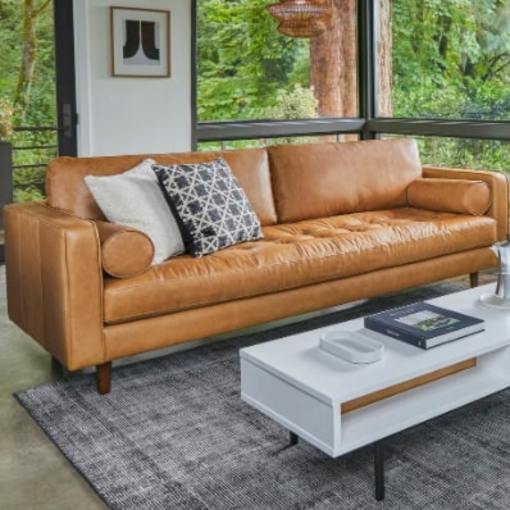 The Sven full-aniline leather sofa is a great option for those who prefer leather. Not only is the sturdy material naturally stain resistant, but this particular strain of leather fabric also ages surprisingly well, even with a few scratches from your doggo friends.
Tips for Maintaining Your New Couch in the Future
Now you know what types of issues to look out for when sharing your couch with pets, the characteristics and types of fabric that hold up well against these issues, and some of the best pet-friendly options on the market. Here are a few final tips to consider to help you protect and maintain your couch.
You might consider investing in a good, pet-friendly slipcover. These washable (and replaceable) covers are great at keeping your sofa protected from wear and tear from your dog (or cat for that matter).
In addition, another great way to protect your furniture is to keep your pets claws trimmed, their paws wiped down after walks, and also brush them regularly with a good grooming brush to keep them from shedding.