The first time I slept on a platform bed was when I dated a European man. Even though that was years ago and, at the time, was completely novel to me, platform beds have always been popular with a certain segment of sleepers.
And platform beds are gaining in popularity.
What is a Platform Bed?
Brand
Best For
1

Editor's Choice

Overall
Shop Now
2

Cooling
Shop Now
3

Luxury
Shop Now
4

Hybrid
Shop Now
5

Memory Foam
Shop Now
6

Organic
Shop Now
7

Soft Feel
Shop Now
8

Extra Firm
Shop Now
9

Plus Size
Shop Now
10

Value
Shop Now
1
Editor's Choice
2
3
4
5
6
7
8
9
10
A platform bed, sometimes known in the industry as a cabin bed, is a low-profile type of bed that features a large, sturdy, level, rectangular base.
Platform beds are designed so they hold a mattress without needing box springs or other mattress foundation. The platform itself acts as both the bed frame and foundation.
For this reason, platform beds sit closer to the ground than regular bed types that require box springs. Typically, a platform bed sits about 18 inches above the ground. For comparison, a traditional bed with mattress and box springs sits about 25 inches off the ground. Platform bed frames can be leg-less or have short legs. The bed frame itself usually sits between 5 and 12 inches in height off the floor.
Platform beds are popular in Asia and Europe, so if you've ever traveled to those areas, you may have slept on a platform bed—even if you didn't know it.
Platform beds come in various sizes, shapes and firmness options to support every type of mattress: memory foam mattresses, latex mattresses and hybrid mattresses. Platform beds provide a firm, sturdy foundation for all sleeping positions. And no worries if you have a headboard and footboard you enjoy. You can still use them with a platform bed.
Let's take a deep dive into the pros and cons of platform beds and the different types of platform bed frames before we reveal the best platform bed mattresses by sleeping preference.
The Advantages of Platform Beds
Platform beds offer a number of unique benefits over traditional beds.
Sleek Aesthetics. A platform bed offers a simple, modern, sleek and uncluttered look in a bedroom.
Budget-Friendly. Platform beds eliminate the expense of box springs or other separate mattress foundations. So if affordability is a consideration, a platform bed is an economical option.
Improved Support. Platform beds offer a lot of ergonomic support for improved sleep posture, especially if you sleep on a memory foam mattress. The surface of a platform bed also helps prevent mattresses from sagging in certain areas—so keep scrolling to learn more.
Space Saving. Platform beds are fairly compact, making them a terrific match for smaller apartments and condos, guest bedrooms and tiny houses.
Comfort Adjustment. Platform bed frames offer flexibility in terms of comfort adjustment, as the slats can be moved to better accommodate specific sleeping preferences.
Secret Storage. One of the best things about platform beds is they offer additional storage space under the bed or at the foot of it. That's a huge plus if you're in a dorm, studio apartment or if you've simply downsized your living space.
Better Ventilation. Slatted platform beds (keep reading…more on that below) allow for better mattress breathability and airflow than traditional box spring foundations.
Less to Move. Because platform beds don't need box springs, if you're someone who moves frequently—military members or corporate executives come to mind—there's less to pack.
Enhanced Durability. Platform beds are exceptionally durable. They can last for decades without damage or loss in sleeping performance.
Potential Downsides of Platform Beds
While there are a tremendous number of upsides to platform beds, there are some potential drawbacks as well.
Cumbersome. Platform beds can be large, heavy and hard to move around. So if you like to change up your bedroom—middle of the night rearranging after an HGTV binge—or you frequently relocate, keep that in mind.
Mobility Limitations. Because platform beds sit lower to the ground than traditional beds with a mattress and box spring combination, they're not the best choice for seniors or folks who have difficulty getting up or down.
No Underbed Storage. The lowest of platform beds can extend all the way down to the floor. That means there's no underbed storage space for your sweaters and other out-of-season clothing.
Too Firm. If your preference in sleeping is for a softer, more contouring mattress, skip a platform bed as it will likely be too firm for your taste.
Restricted Airflow. Solid platform beds—which we'll cover in the next section—don't permit much air circulation. That could be an issue for hot or heavier weight sleepers.
Allergies or Sensitivities. Because platform beds sit so much closer to the floor, you may find allergies to dust or pet dander can be triggered. That means you may need to chase dust bunnies and hairballs more frequently.
Types of Platform Bed Frames
There are different types of platform bed frames. Let's explore their construction so you can choose the best one for you.
Slatted Platform Beds. A slatted platform bed frame consists of a frame with side rails to support multiple slats which provide a supportive base for your mattress. The slats hold up the mattress, giving it support. Slats are usually adjustable, so you can move them to accommodate different sleeping preferences or sleepers. If you space slates further apart, there will be more "give," or softness, in your mattress. Conversely, if you move the slats closer together, you increase the firmness of the mattress. Slats also offer excellent airflow for your mattress, which can boost cooling for hot sleepers. Slatted beds are very affordable.
Solid Platform Beds. Unlike the slatted or metal platform beds, a solid platform bed frame is a single solid, flat surface that your mattress sits on. It's most often made of wood or laminate. Solid platform beds are more secure for heavier single or coupled sleepers, or those that like a mattress with a firmer feel. Solid platform beds generally sit lower to the ground than slatted and metal platform beds so if joint pain is an issue, a solid platform bed is generally less desirable than metal or slatted options.
Metal Platform Beds. A metal platform bed consists of a metal frame with rigid secondary steel and support wires that are laid out in a grid-like fashion to support your mattress. Metal platform bed frames offer additional support for your mattress compared to most slatted platform beds. Metal platform bed frames are practically indestructible. Like solid platform beds, they are a better option for heavy sleepers. But they are often more expensive than slatted platform beds.
Again, box springs aren't necessary when you own a platform bed. But if you want the additional height box springs offer, you can still use them in combination with your platform bed. You can also add risers or casters to a platform bed to elevate it for easier access.
The Best Mattresses for Platform Beds
No matter why you're looking at platform beds, some mattresses are better suited than others when you're ready to ditch your box springs.
In addition to the type—hybrid mattress, innerspring mattress, latex mattress or all-foam mattress—you'll want to consider the firmness, support and responsiveness of a potential platform bed mattress. Along with the price, of course.
Even if you've been sleeping in a traditional or conventional mattress, you can still get all the contouring, motion isolation and edge support you are accustomed to in the best platform bed mattresses.
We know mattress selection can be overwhelming, so we've picked our favorite mattresses for platform beds. And we've sorted them into the sleep preference categories where each takes the top score.
These are our picks of the best mattresses for platform beds in 2023.
Best Overall Mattress: Helix Midnight Luxe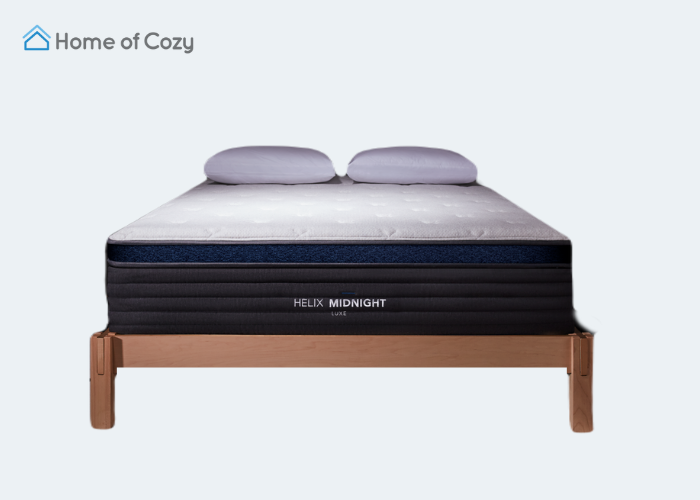 Best For: Sleepers who need a press-relieving mattress, back sleepers, side sleepers, hot sleepers, couples
Price: $749-1,748.80
Mattress Type: Hybrid mattress, bed-in-a-box
Firmness: Medium-firm, 5-6/10
Trial Length: 100 Night Sleep Trial
Warranty: 10-15 Year Warranty
What I Loved:
The Helix Midnight is the company's top-seller and an industry favorite. The Helix Midnight is a medium-firm mattress made of plush memory foam over pocketed coils. This construction provides excellent pressure relief, so it's a great choice for sleepers who experience aches and pains when sleeping or upon waking. Additionally, the Helix Midnight isolates motion very well, thanks to the top layer of memory foam that absorbs and dissipates most movement. The Helix Midnight also offers solid edge support that performs very well when lying down, with no noticeable sinking or sloping around the edges. Its breathable construction keeps the bed cool for a comfortable sleep.
What I Didn't Love
If you're a stomach sleeper, the Helix Dawn would be a friendlier choice. Hardcore memory foam lovers won't get that "hugged" feeling with the Helix Midnight. Heavier sleepers should upgrade to a Helix Luxe model for zoned back support. The Helix Luxe models are a terrific option for environmentally conscious buyers, as these models are CertiPUR-US certified to contain no harmful chemicals.
Best Cooling Mattress: Brooklyn Aurora Luxe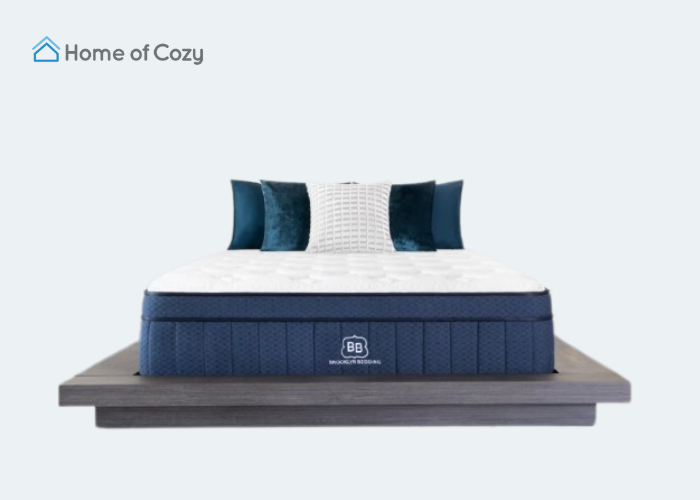 Best For: Hot sleepers, side sleepers, couples
Price: $1,199-2,930
Mattress Type: Hybrid mattress, bed-in-a-box
Firmness: Comes in three firmness levels: soft, medium and firm for a wide range of firmness options, 3-7/10
Trial Length: 120 Night sleep trial
Warranty: 10 Year Warranty
What I Loved
Hot sleepers rejoice! The hybrid design of the Brooklyn Aurora Luxe leverages technology for a superb comfort level of cool sleep that will suit all sleep positions. High-density, gel-infused foam and antimicrobial copper fiber layers combine in the manufacture of the Brooklyn Aurora Luxe mattress to prevent heat retention and allow for optional airflow and breathability. Individually encased coils cradle the body and provide superior motion isolation for partnered sleepers. That translates to undisturbed sleep no matter how restless your partner is.
What I Didn't Love
Heavier sleepers who suffer from back pain may not find the Brooklyn Aurora Luxe to be a firm enough pillowtop.
Best Luxury Mattress: Nolah Evolution 15"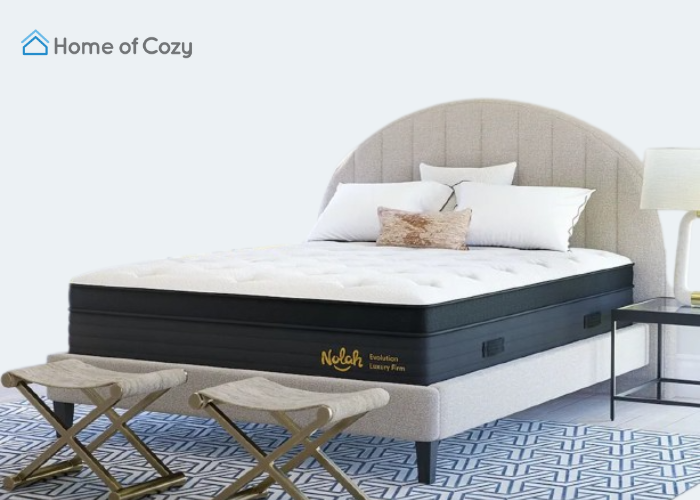 Best For: Side sleepers, sleepers with hip, back, or shoulder pain, combination sleepers, hot sleepers
Price: $1,499-3,148
Mattress Type: Hybrid mattress, bed-in-a-box
Firmness: Available in plush, luxury firm and firm options, 4-8/10
Trial Length: 120 Night Sleep Trial
Warranty: Lifetime Warranty
What I Loved
If you need enhanced spinal alignment—say you suffer from scoliosis or chronic lower back pain—the Nolah Evolution 15" may be just what the sleep doctor ordered. This high-tech, hybrid mattress—the company's most advanced—has been singled out by the Sleep Foundation for its excellent features. Its targeted back support and responsive pressure relief come courtesy of the HDMax™ Tri-Zone™ coils, while the breathable cover, heat-dissipating Euro topper and graphite-infused AirFoamICE™ (the company's next-level memory foam) combine for luxurious cushioning and best-in-class cooling. The Nolah Evolution 12" compares very favorably to a Tempur-pedic.
What I Didn't Love
The Nolah Evolution 15" may be a bit too cushy for those who prefer a firmer mattress. The Helix Dusk Luxe is a mattress you may want to consider if back pain is an issue for you.
Best Hybrid: Leesa Original Hybrid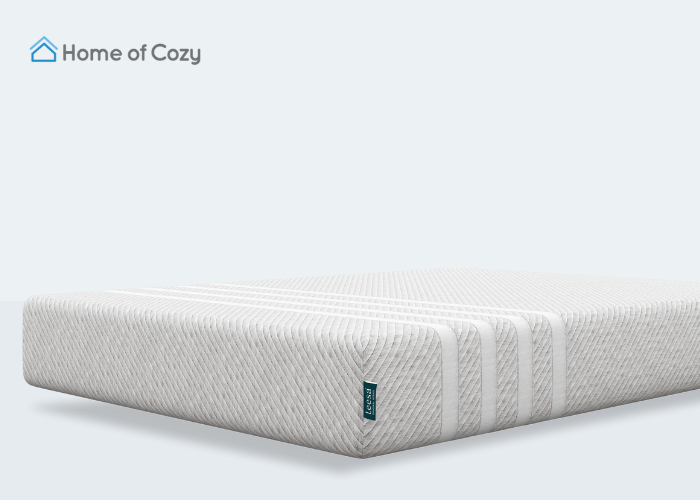 Best For: New to hybrid mattress shoppers who want best-of-both worlds contouring memory foam and supportive innersprings, back, stomach and side sleepers, heavy sleepers
Price: $1,049-1,799
Mattress Type: Hybrid mattress, bed-in-box
Firmness: Medium-firm, 6/10
Trial Length: 100 Night Sleep Trial
Warranty: 10 Year Warranty
What I Loved
The Leesa Original Hybrid has been a longtime pick of mattress reviewers who are ranking hybrid foam and innerspring mattresses. That's because there's a lot to recommend it. The cradling memory foam layers of the Leesa Original Hybrid paired with the innerspring layer provide both pressure-relieving performance at a great value. In addition, there's excellent edge support. The Leesa Original Hybrid also carries the eco-friendly CertiPUR-US®, a safety certification gained through independent accredited testing labs that ensure mattress materials are low VOC and made without ozone depleters, phthalates, BPDE, formaldehyde or heavy metals.
What I Didn't Love
While the Leesa Original Hybrid does an average job of sleeping cool, hotter sleepers should consider the Brooklyn Aurora Luxe, our favorite cooling platform bed mattress.
Best Memory Foam Mattress: Bear Original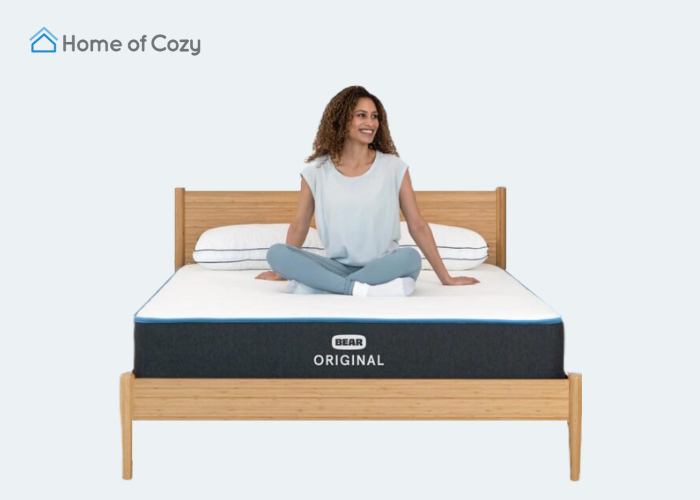 Best For: Budget buyers, sleepers who need additional support for back pain, hot sleepers
Price: $748-1,622
Mattress Type: Hybrid mattress, bed-in-a-box
Firmness: Medium-firm, 7/10
Trial Length: 120 Night Sleep Trial
Warranty: Lifetime Warranty
What I Loved
The Bear Original is specially designed for active people and offers outstanding value for the price. This high-quality, hybrid mattress hit the sweet spot by combining pressure point relief with balanced medium-firmness for comfortable, supportive and restorative sleep. The Bear Original boasts individually encased coils for increased comfort and deeper compression support. The breathable quilt cover boasts Sleep Recover Technology™ to promote muscle recovery. Additionally, the cooling gel, copper-infused memory foam wicks away unwanted body heat and provides improved spinal alignment. The Nectar gel-infused memory foam mattress, priced under $1,000 and backed with a lifetime warranty, may also be worth checking out.
What I Didn't Love
The Bear Original Hybrid is not the best option for stomach sleepers, as it's a bit softer in firmness which causes the sleeper to sink into the mattress. If you like the feel of a memory foam-only mattress, the Bear Original Hybrid mattress is also not your best choice because of its bounce. Heavier folks may find better support in a traditional innerspring mattress.
Best Organic Mattress: Birch Natural Mattress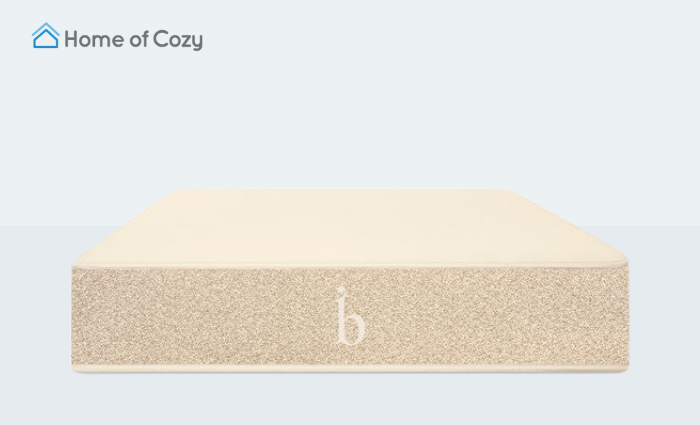 Best For: Eco-conscious buyers who want a non-toxic mattress, combination or stomach sleepers, light to medium-weight sleepers, sleepers who like responsiveness and support in a mattress
Price: $1,248.80- 2,186.30
Mattress Type: Hybrid mattress, bed-in-a-box
Firmness: Medium-firm, softer with a memory foam topper, 4-7/10
Trial Length: 100 Night Sleep Trial
Warranty: 25 Year Warranty
What I Loved
This eco-friendly, part-latex mattress is made with high quality, natural, non-toxic, luxurious materials including fair-trade, organic cotton, organic cashmere, New Zealand wool and breathable Talalay latex. These materials provide optimum airflow and breathability. Because Birch Natural is free from any harmful chemicals, they are safe for children and those with skin sensitivities. Because of this, Birch Natural has garnered a GREENGUARD Gold certification. The Birch Natural is also an obvious choice for sleepers who seek a greener mattress and it's comfortable for all sleeping positions.
This hybrid mattress includes up to 1,000 individually wrapped coils to cradle your body while limiting motion transfer. The sides are reinforced lengthwise to provide superior edge support. It's also very well-priced for the quality. And bonus: the Birch Natural is handmade in the U.S.
What I Didn't Love
If you're seeking a soft bed, the Birch Natural isn't your best bet. Latex mattresses are naturally bouncy–but they don't offer the best motion isolation—so pass on the Birch Natural.
Best Soft Mattress: Helix Sunset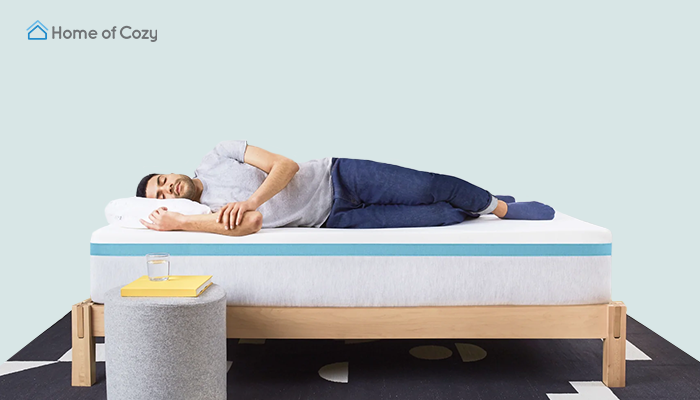 Best For: Sleepers who like a pillow top-like feel, side sleepers, sleepers who toss and turn, sleepers who suffer from joint pain
Price: $936.30-1,748.80
Mattress Type: Hybrid mattress, bed-in-a-box
Firmness: Soft, 2-3/10
Trial Length: 100 Night Sleep Trial
Warranty: 10-15 Year Warranty
What I Loved
If you like the feel of sinking into a cloud, the soft, plush Helix Sunset will deliver sweet dreams. Underneath that pillowy feel is real pressure-point relief to cushion your hips and shoulders. Restless sleepers take note: the middle layers of the Helix Sunset will softly support the body contours of side sleepers, especially. In addition, the Helix Sunset boasts two-sided, lengthwise edge support. Hot sleepers can choose between a breathable Soft Touch cover or upgrade to the silky GlacioTex™ Cooling Cover for additional cooling technology engineered to pull heat away from the body for exceptional airflow.
What I Didn't Love
The Helix Sunset isn't a good fit for stomach sleepers nor for heavy sleepers over 250 pounds. It's also not ideal for light, coupled sleepers who may be easily disturbed by their partner's movements. If you want a tad more support, check out the upgraded Helix Sunset Luxe model.
Best Extra Firm Mattress: Plank Firm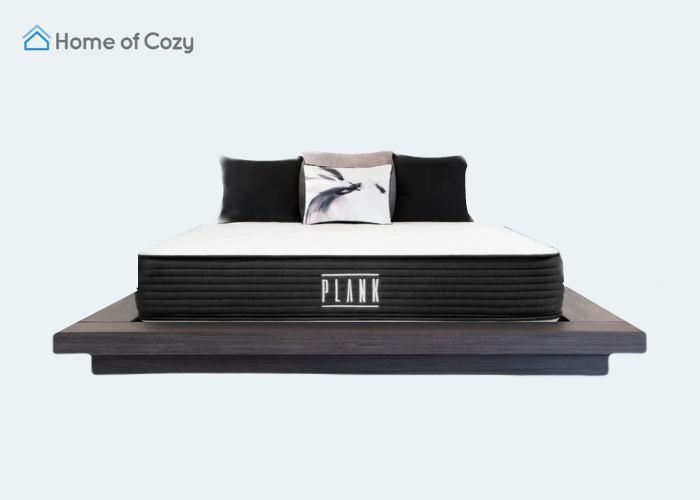 Best For: Shoppers looking for a firmer to extra-firm mattress, buyers looking for a sleek-looking mattress, back sleepers, heavy sleepers
Price: $749-$1,532
Mattress Type: Memory foam mattress, bed-in-a-box
Firmness: Flippable with firm to ultra-firm sides, 8-10/10
Trial Length: 120 Night Sleep Trial
Warranty: 10 Year Warranty
What I Loved
The Plank Firm, manufactured in the U.S. by well-respected Brooklyn Bedding, is the go-to for sleepers who complain that typical firm mattresses are never firm enough. Inspired by the minimalist approach to sleep in many parts of Asia, the high-density Plank Firm's dual comfort design offers two firmness variations in a flippable mattress. The top side of the mattress is ultra-firm and the bottom side of the mattress feels like a traditional firm, allowing for a highly customizable sleep. The flatter sleep surface of the Plank Firm is engineered to create a neutral spine position that's better for your back and posture. An optional GlacioTex™ Cooling Cover can be sewn onto the surface of both the firm and extra firm sides to deliver cooling on contact.
What I Didn't Love
If you like the plush feel of a pillow top mattress or the more adaptive contouring of a memory foam mattress, the Plank Firm will definitely be too firm for you.
Best Plus Size Mattress: Titan Plus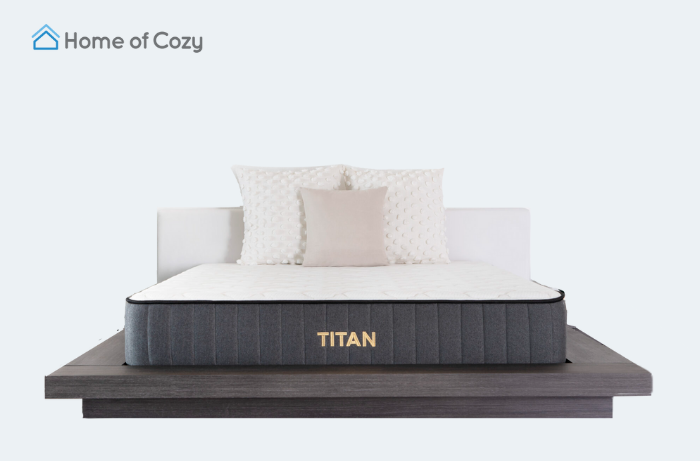 Best For: Heavier sleepers, shoppers seeking an extra durable bed, heavier couples, sleepers who prefer a medium-firm to extra-firm mattress
Price: $699-1,499
Mattress Type: Hybrid mattress, bed-in-a-box
Firmness: Medium-firm, 8-10/10
Trial Length: 120 Night Sleep Trial
Warranty: 10 Year Warranty
What I Loved
Brooklyn Bedding's Titan Plus Luxe is designed with substantial support for heavier sleepers in a more traditional medium firmness. This pillow top queen size mattress builds on the benefits of the original Titan Plus, with additional contouring and pressure point relief to accommodate both coupled sleepers. An 8" core of premium, individually pocketed TitanCaliber™ coils ensure extra lift and extra durability for the life of the mattress. A 1" layer of quilted, gel memory foam resists body impressions and provides a cool-to-the touch surface. The Titan Plus is best suited for heavier or plus size sleepers, and couples who seek superior motion isolation.
What I Didn't Love
If you're a lighter sleeper (less than 130 pounds), the Titan Plus Luxe isn't a match.
Best Value Mattress: Dreamfoam Hybrid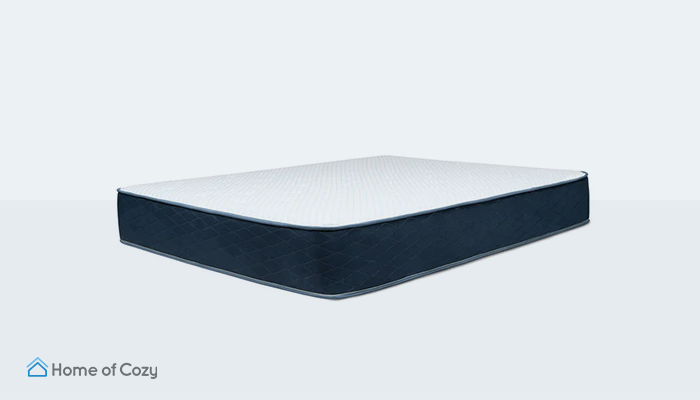 Best For: Budget shoppers, back and side combination sleepers, hot sleepers, buyers who need an inexpensive bed for a guest room, smaller-bodied kids or teens
Price: $532-999
Mattress Type: Hybrid mattress, bed-in-a-box
Firmness: Medium-firm, 6.5/10
Trial Length: 120 Night Sleep Trial
Warranty: 10 Year Warranty
What I Loved
The Dreamfoam Hybrid packs a lot of punch at a lower price point. Because it has a balance of firmness and bounce making it a solid choice for combination sleepers. The cooling cover, foam and a layer of encased coils add airflow making the Dreamfoam Hybrid a terrific choice for hot sleepers.
What I Didn't Love
Heavier sleepers need more support and durability than the Dreamfoam Hybrid offers. Likewise, stomach sleepers won't find the firm sleeping surface they need. You might steer toward the Brooklyn Signature.
Choosing the Best Mattress for a Platform Bed
As we've covered in this platform bed buying guide, there are a myriad of reasons shoppers are switching to platform mattresses. That's why you see them featured so often on HGTV, in home décor magazines and in vacation rental homes on AirBnB and VRBO.
We know that it can feel intimidating when you are looking for a new mattress. That's why we compiled our top choices for platform bed mattresses in this comprehensive guide so you can zero in on what's most important to you in a new mattress.
Because there are so many choices out there, we encourage you to reread this guide, research other platform mattress reviews and even check out options on Amazon. Make sure you have a generous, risk-free sleep trial period with a minimum of 100 nights to test out your platform bed mattress, along with a free turn policy should you need it.
Then take the plunge. You're sure to find a platform bed that's a heavenly match for you.