Family members sharing a bed is a centuries-old practice.
Back in the day, bed-sharing was mostly due to economic necessity and cramped living conditions. But there's also a long tradition of families sharing a bed that cuts across many cultures.
Co-sleeping has long brought families together—both figuratively and literally.
There are many benefits to communal sleeping. Sharing a bed with your family can foster bonds and a sense of belonging. Co-sleeping can shape memories and encourage open communication.
In fact, the concept of a master bedroom solely devoted to parents didn't emerge until the 19th century. By the 20th century, homebuilders ensured that single family homes featured multiple bedrooms for solo sleeping—i.e., a room for every kid.
As wealth and square footage increased during the 21st century, combined with school and work pressures and a device-driven life, family together time has steadily eroded.
And that's given rise to a co-sleeping trend. Many people are returning to the family bed to reverse the physical and psychological distance too many modern families experience. Quality family time, including sleeping together, has been shown to positively contribute to children's self-esteem, emotional well-being and resilience.
Mattress manufacturers have responded to the desire for renewed family closeness with the introduction of different types of mattresses. These oversized mattresses are named for some of our biggest U.S. states, along with a rogue New England state and a province in Canada.
In this article, we'll be focused on the Wyoming King bed.
Best Wyoming King Mattress
What is a Wyoming King Bed and Just How Big Is It?
A Wyoming King bed is part of the growing (pun intended!) category of family beds meant to sleep the whole family.
A Wyoming King mattress is square in shape and measures 84" x 84" or 7' x 7.' It's smaller than an Alaskan or Texas King, but larger than a standard king mattress which measures 76" x 80."
A Wyoming king mattress is not a standard size mattress like a standard king or California king mattress, so a Wyoming King mattress usually needs to be custom made. Likewise, the bed frame and bedding for a Wyoming King bed are also specialty items (keep reading for more on about that).
Factors to Consider Before Buying a Wyoming King
With the many pluses to a family bed, you may be interested in buying one.
But before you commit to the purchase of a Wyoming King bed—and before we reveal our top three choices for the best Wyoming King bed 2023—there are a number of important considerations.
Frequency of Use. If a Wyoming King bed is going to be used just for special occasions or solely for watching TV or playing video games, you can spend less on a mattress. But if you plan on co-sleeping every night with family members, you'll want to invest in a Wyoming King bed that offers pressure point relief and high-quality sleep support. If your Wyoming King mattress will be your every-night primary sleep bed, it will benefit all your family members if you set a higher budget.
Room Size. An oversized mattress like a Wyoming King requires extra floor space no matter what room it will be in. And because most custom mattresses are not returnable, you'll want to be sure a Wyoming King will fit in the space you have available. Measure, measure and measure again! And measure not just for the Wyoming King mattress itself, but for the accompanying bed frame or platform bed you'll need to accommodate such an oversized mattress. Also measure the existing or any new furniture in the room to be sure you have not only enough square footage for the Wyoming King bed itself, but the ability to comfortably move throughout the sleeping space.
Quality. Just like when you're in the market for a standard size mattress, you'll want to carefully consider the construction and type of materials used to make a Wyoming King bed. Wyoming King mattresses are offered in innerspring (sometimes called pocketed coils), foam (including gel memory foam) or hybrid (a combination of innerspring support with memory foam comfort layers).
Innerspring mattresses are typically the least expensive option, while memory foam mattresses are the most contouring. Hybrid mattresses offer a good balance of support and comfort with enhanced durability.
If it's been a while since you bought a new mattress, visit a couple of retailers and try out innerspring, memory foam and hybrid mattresses in standard mattress sizes. That will help you get an actual feel for the construction and comfort of a custom mattress like a Wyoming King. Always opt for the highest quality materials your budget allows—the whole family will thank you.
Price. Wyoming King beds are a big investment. They can run from $2,000-7,000 or more. The price of a Wyoming King bed can vary by thousands of dollars depending on the quality of construction and materials—just like with standard size mattresses. Before you begin comparing beds, we suggest you decide how important comfort versus affordability is to your family to avoid over- or underspending.
Sleep Trial/Return Policy. Because a Wyoming King bed is a custom item, it usually doesn't come with a sleep trial like most standard size mattresses. Even if can return your Wyoming king mattress, returning it could be a huge hassle. Because of this, we encourage you to think long and hard about a purchase of this magnitude.
Warranty Coverage. We've established that a Wyoming King bed is a supersized investment. As you're deciding which Wyoming King mattress to buy, take the extra few minutes to read the warranty. You want to rest easy knowing your purchase has the best protection possible.
Bed Frames. Unlike standard size mattresses, a Wyoming King requires a certain thickness to fit into a custom-sized bed platform. Again, we can't overstate the importance of careful measuring to avoid a costly mistake. We recommend wood over metal frames because they are more supportive and less bulky. Box springs are optional; just keep in mind they add visual heft to an oversized Wyoming King bed and may dwarf your room.
Bedding. Just as a Wyoming King bed is a custom size mattress, so are the linens that fit it. Be prepared to spend more for oversized bedding for a Wyoming King—from bed sheets to a mattress protector to a duvet cover. Retailers of Wyoming King mattresses very often sell Wyoming King bedding or can recommend sources for bed linens. One online source we like for Wyoming King bed linens is Ocochi.
Delivery and Installation Tips for a Wyoming King Bed
Let's say you've done your research. You've bought a Wyoming King bed.
The last—and potentially most important step before you and your family can enjoy your purchase is to ensure your home is ready to receive your new Wyoming King mattress.
A Wyoming King bed can be hard to handle! If you're receiving door delivery from an online retailer, be aware that the box can be really heavy. You might want to enlist a couple of extra hands to get it into the room before unboxing.
If you've ordered from a brick-and-mortar retailer, white glove delivery and setup of your Wyoming King bed will probably be an extra cost. But it's an expense many folks are glad they opted for to save the stress and physical strain of handling such a massive mattress.
White glove service includes the physical labor of getting your Wyoming King mattress into your house, unpacking it, setting it up and then disposing of the packing materials. It may even include removal of an old mattress if you have one.
To ensure things go smoothly, clear the path for your delivery team. That includes removing any obstructions such as furniture or artwork that could be damaged while the delivery team is onsite. And make sure your pets are secured in a separate area of the house.
Where You Can Find a Wyoming King Bed
This Wyoming King bed buyer's guide and review wouldn't be complete without telling you where you can buy a Wyoming King mattress.
So let's cover the most popular sources for a Wyoming King bed.
Bedding Retailers. Big-box chain mattress retailers can be a good source for oversized mattresses like Wyoming King beds. In larger markets, they may have Wyoming Kings on the floor to test out. Or they can order one for you, though a deposit or full payment in advance may be required. Always ask about the return policy before placing an order.
Luxury Furniture Retailers. In many larger metropolitan cities, high-end local furniture stores have oversized mattresses like Wyoming King beds in stock or can special order them for you. If you're making a special trip, call ahead to confirm stock.
Online Retailers. By far the easiest way to buy a Wyoming King bed is online. Thanks to roll packing technology, your compressed Wyoming King bed-in-a-box can be delivered right to your home. And when you buy from one of our recommended retailers below, you can generally count on a good experience. Take the time to read online reviews from customers as well as experts to get a well-rounded sense of what to expect.
Our Top Picks for Best Wyoming King Bed
Right now, these are the best of the best Wyoming King Beds available in 2023.
Best Value: The Original 11″ by Custom Mattress Factory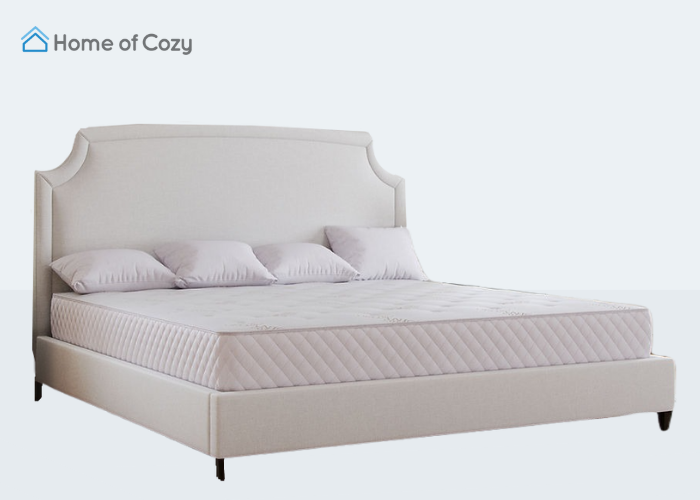 Price: $2,400
Mattress Type: Foam mattress
Firmness: Available in a range from a soft 3/10 to a firm 8/10 on firmness scale
Trial Length: None
Warranty: 10-Year Limited Warranty
What I Loved
The Original 11" by Wyoming King Bed Company is one of the most affordable Wyoming King mattresses on the market. The Original 11" Wyoming King Mattress was the first model the company—which also makes Alaskan, Texas and Vermont king beds—ever created. This luxe mattress is thoughtfully designed to provide a firm and supportive sleeping surface for sleepers of all shapes and sizes, especially taller or heavier people. Each Original 11" is handcrafted from eco-friendly materials produced without any harmful chemicals. A 2-inch layer of Hypercool™ material cradles your body and melts away the stress of the day. The exclusive PostureSupport™ base is engineered to prevent sinking and sagging while supporting your whole body. The baby-soft, quilted organic cotton cover adds a perfect finishing touch, maximizing comfort and creating an ultimate sleeping surface.
The company has a by-appointment retail store in Conover, North Carolina, and a factory store in Hyde Park, New York, if you wanna try out the Original 11." Two more stores are slated to open by the end of 2023. Made to order, it ships free to you in 3-4 weeks.
What I Didn't Love
The Original 11" is chockful of features to improve circulation and provide superior spinal alignment, but the white glove setup service is extremely pricey at $2,000. Returns are not accepted.
Best Luxury: Big Mattress Premier by Big Mattress Co.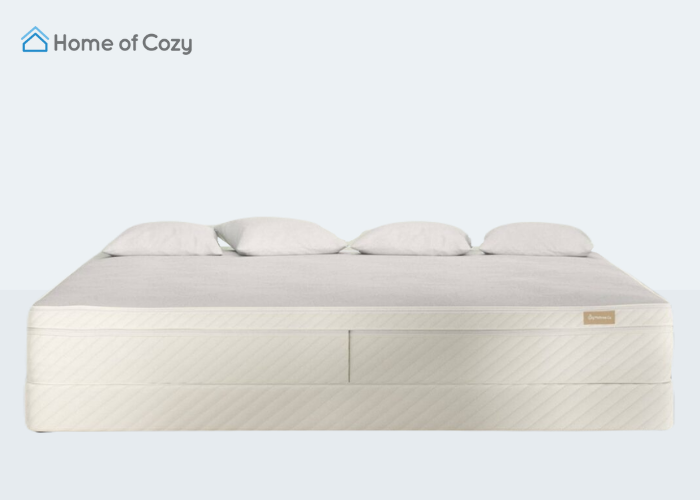 Price: $3,399
Mattress Type: Foam mattress
Firmness: 6/10 on firmness scale
Trial Length: 100-Night Sleep Trial
Warranty: 10-Year Limited Warranty
Trial Length: 100-Night Sleep Trial
What I Loved
The Big Mattress Premier features 12" of plush, contouring CertiPUR-US foam that reduces motion transfer and provides the unmistakable hugging support and pressure relief you expect from a foam mattress. The Hybrid model features the proprietary Pressure-Free Technology™, which features 80 air pods per mattress for enhanced responsiveness to your movements and pressure points.The breathable, soft cotton cover is comfortable in both cold and hot weather is made with Oeko-Tex fabrics, free from toxic chemicals, and can be removed for washing. That eliminates the need for a mattress protector. Components are replaceable, so you can extend the life of your Big Mattress Premier, keeping it out of the landfill. While most companies don't offer trial periods on Wyoming king mattresses, we appreciate the generous sleep trial and free returns should it not work for your family. The custom-made Big Mattress Premier ships free in 30 days or less from order.
What I Didn't Love
The Big Mattress Premier is not available in multiple firmness options. But if it's the right mattress for you, the Wyoming King mattress in medium-firm will suit most sleepers and is fairly priced.
Most Customizable: Wyoming King Bed by MattressInsider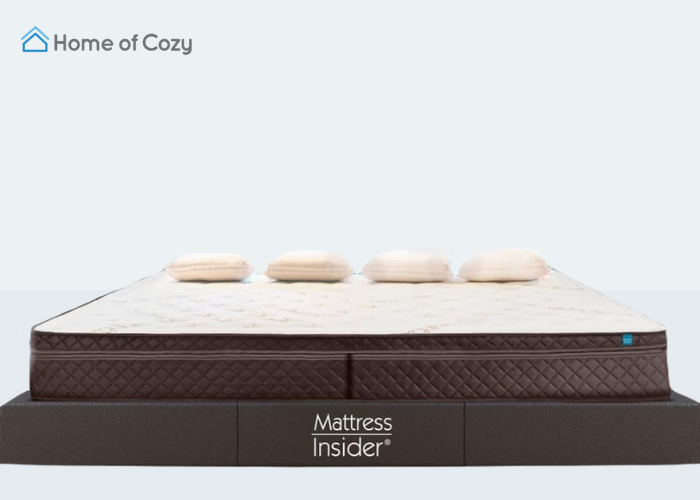 Price: $4,999
Mattress Type: Hybrid mattress
Firmness: Variable with 6 options from soft to firm, achieved by flipping or adding or removing interchangeable elements
Trial Length: None
Warranty: 10-Year Limited Warranty
What I Loved
Mattress Insider has been making custom and odd-size mattresses in the U.S. since 2008, and has garnered hundreds of five-star customer reviews. The hybrid construction of the Wyoming King includes a support layer of encased, individually pocketed coils and a comfort layer of gel memory foam and Talalay latex for cooler sleep. A soft, organic cotton cover is hypoallergenic and improves breathability and temperature regulation. The Wyoming King by Mattress Insider can support heavier sleepers weighing up to 300 pounds. Foam alone supports less weight and tends to wear out faster, with sagging and impressions over time. A really ingenious feature is the adjustable comfort system. Zippered connectors prevent mattress sections from shifting—great news for restless sleepers—and allow for six different firmness adjustments on two sides—a plus for partnered sleepers.
Most Wyoming King beds have just one firmness option. If the mattress arrives and you do not like the feel, you're stuck with a huge bed you don't like. Mattress Insider has solved this problem by providing you with a mattress that lets you adjust the feel to your liking by flipping or removing mattress layers.
What I Didn't Love
Shipping is slow, often taking months. And the Mattress Insider Wyoming King is thick and heavy, so it takes quite a bit of effort to make those firmness adjustments.
A Wyoming Bed Can Accommodate the Whole Family
If you've been feeling a bit distant from your family, a Wyoming King bed could be a game-changer. And if that's the right choice for your family, congratulations!
In this comprehensive buyer's guide, we've outlined everything you need to know to confidently buy a Wyoming King bed and all the accessories you'll need for some high-quality sleep.
If you've ruled out a Wyoming King mattress at this time, but are still considering a new bed mattress, check out our guide to the 10 Best Mattress for 2023.
As always, we wish you night after night of great rest no matter what size bed mattress you're sleeping on or who shares it.