No matter your weight, your home is a place where you deserve to feel safe and comfortable. For lots of folks out there, sitting on a sofa tends to be something we take for granted. But if you're a heavy person, you've likely had to do some extra research just to find furniture brands that have high weight capacities.
The best brands and retailers create heavy-duty furniture that use the most durable materials possible from solid hardwood to steel frames, spring coils or high-density foam cushioning. With that in mind, I reviewed dozens of sofas from some of the leading brands on the market and read through hundreds of real customer reviews.
To test out over 22 different sofas, I invited some friends over, all of varying heights and sizes, to gauge how each sofa held up to different ranges in weight. Read on to learn more about the best heavy-duty sofas from the best names in home furnishings: Allform, Modway, Homelegance, Wayfair, and Bassett.
Considerations for Sofas and Loveseats for Heavier People
Whether you're a heavier person or you're entertaining a lot of people in your living space and anticipating your couch getting a lot of use, consider these factors as you're shopping for a new couch:
Frame and Suspension Construction – Whether a frame is solid hardwood or solid steel, the operative term is "solid." A frame determines the structural integrity of any large piece of furniture like sofas and sectionals. So, if you're looking for a heavy-duty couch, always research the frame materials and how it's assembled. Be on the lookout for any joinery that doesn't seem secure. For instance, certain cheaper sofas tend to employ glue instead of nails or bolts.
Seat Cushion Design and Construction – Several writers I spoke to who've reviewed couches for heavy people personally said that spring coil seat cushions distributed weight more evenly than low or medium density memory foam cushions. However, they mentioned that high density foam cushions used in newer sofas tended to perform as well as spring coils.
Weight Capacity – This is an estimated weight limit by furniture companies, measured in pounds (lbs) if you're in the United States.
What's the Weight Capacity of an Average Couch?
Averaging weight capacities from dozens of sofas, the weight capacity of the typical three-seater couch is around 750 pounds. However, as you're shopping, you may also see weight capacities also noted "per seat" and range from 200 to 300 pounds.
The Best Overall Sofas of 2023
To help you find the best deep seat sofa, I tested individual models from over 23 different brands. These are the best new sofas with extra deep seats that balance the best in design, price, sustainability, and durability.
5 Best Couches that Heavy People Loved This Year
Brand
Best For
1

Editor's Choice

Quality, Functionality
Shop Now
2

Design
Shop Now
3

Tall Customers
Shop Now
4

Variety
Shop Now
5

Customization
Shop Now
1
Editor's Choice
Best For:
Quality, Functionality
2
3
4
5
1. Allform Sofas
Price: Starting at $1,595 for three-seaters
Weight Capacity: Not available
Dimensions: 97" width x 70" depth x 34" height
Arm Height: 25" height
Leg Height: 6" height
Frame Materials: Maple and Poplar Kiln-Dried Laminated Hardwood Frame
Upholstery & Fabric: 7 Performance Fabric options, 2 Top-Grain Protected Leather options
Home of Cozy Exclusive Offer: 20% off sitewide with promo code COZY20OFF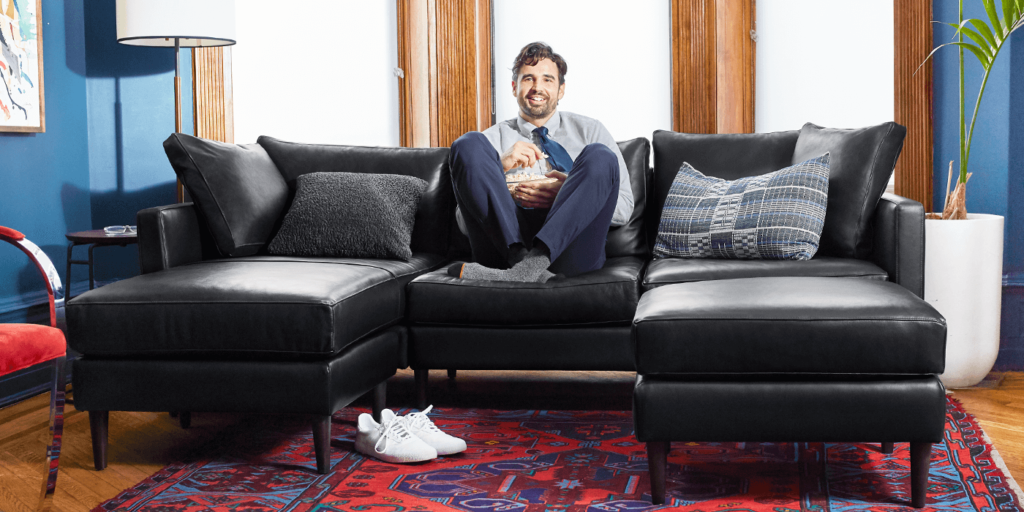 What I Loved
All in all, the in-person test I set up was a success. Three adults ranging from 150 pounds to about 320 pounds sat on the sofa at the same time, and separately. In between each trial, I checked the frame for any signs of stress and the cushions to see how quickly they bounced back. Both the frame and the cushions were impeccable, resilient, and the suspension was definitely the most supportive from all the sofas in this list.
While Allform doesn't list weight capacities yet, the brand's attention to good engineering and design puts them at the top of this list. And while it doesn't feature spring coil suspension, Allform sofas have a unique Tempered Steel Flexolator Grid System that replicates the even weight distribution of coils but without the added weight or discomfort of individual springs poking at you.
In terms of their cushions, I came across a recent Business Insider review on Allform that also highlighted the brand's use of "high grade polyfoam," which sounds super jargon-y, but rest assured this is no average foam cushion.
Based on over 300 reviews I read through, many customers praised Allform's modular designs, which made it very easy for people of any size to design and customize their sofas. While the site offers loveseats and solutions for small spaces, customers can easily scale up to 7 to 8-seater sectional sofas with additional modules, or even add chaise lounges.
I also tried some customization features myself, which Allform's site makes super easy with just a quick rundown of options from leg finish to custom add-ons such as matching ottomans and weighted blankets.
Delivery was quick and easy, much faster than traditional retailers by a longshot. The Allform sofa arrived within about a week and a half compared to over 2 to 3 weeks by retailers such as West Elm.
In terms of long-term customer service, I was also impressed by Allform's generous 100-day at-home trial, which gives customers the option of trying a sofa at home and sending it back if they're not satisfied. Allform also had the most generous warranty coverage: a lifetime policy covering the frame, something I've definitely never seen from a furniture company before.
Setup was just as painless, and I have to agree with reviewers who assembled their sofas themselves in that it takes about 30 minutes for a traditional three-seater and about 45 for a sectional. After that, you get an impressive piece of furniture that's built to last.
What I Didn't Love
While some customers had some reservations about the potential noisiness of a Flexorator grid suspension system, I tested out the Allform sofa myself and didn't notice any squeaking or noise.
Home of Cozy Exclusive Offer: 20% off sitewide with promo code COZY20OFF
2. Chance Upholstered Fabric Sofa by Modway
Price: Starting at $946
Weight Capacity: 1,323 lbs.
Dimensions: 83.5″ weight x 38″ depth 32″ height
Arm Height: 25″
Leg Height: 6″
Frame Materials: solid hardwood
Upholstery Options: 5 fabric options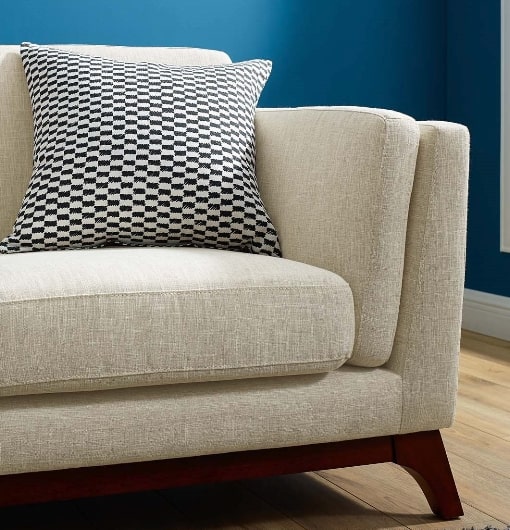 What I Loved
In the weight test, this three-seater from Modway performed almost as well as Allform's sofa. However, I did note that the frame tended to make unnecessary noise as more weight was applied.
That said, the Chance Sofa by Modway had one of the most impressive weight capacities of any model on this list, at 1,323 pounds. In terms of comfort, it felt comparable to Allform but the seats were a little less dense, which indicated that they may sag a bit over time.
As far as shopping was concerned, there were also fewer customization options (just 5 fabric upholstery options,) but the design of the sofa itself is stunning in person as it is online. The hardwood legs gave the sofa a nice mid-century modern design and overall, this is a decent heavy duty sofa for the price.
Shipping and delivery were fine, and like Allform, this sofa requires assembly. Although it wasn't as easy to snap together as Allform's modules, it was still easier than most IKEA sofas I've put together.
What I Didn't Love
Like I mentioned, assembly takes a little work, but if you've put together a lot of furniture in the past, this should be pretty easy. And as I said earlier, the cushions may sag over time, which is actually something that several customers highlighted in their critical reviews.
3. Reclining Sofa by Homelegance
Price: Starting at $679
Weight Capacity: 900 lbs. or 300 lbs. per seat
Dimensions: 81″ width x 36.5″ depth x 41″ height
Arm Height: 26″
Leg Height: n/a
Frame Materials: Solid wood and plywood frame with metal reinforced seat
Upholstery Options: 1 microfiber option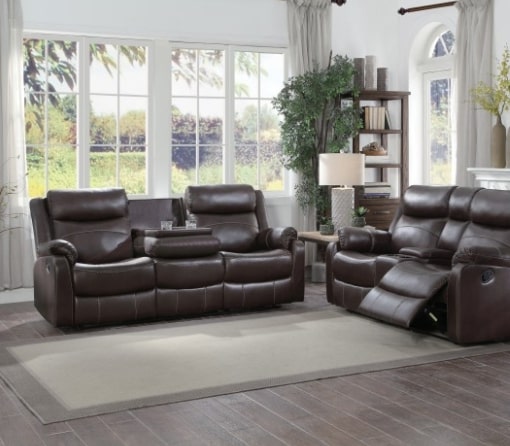 What I Loved
During the weight test, several reviewers commented that this is definitely one of the more comfy sofas we tried. The metal reinforced seats definitely held up to multiple rounds of tests and the solid hardwood frame made this one of the more impressive heavy duty sofas out there.
As far as customer experience goes, Homelegance's site is a little harder to shop than other eCommerce companies like Allform, and there weren't any customization options. That said, when the sofa arrived, it had some pretty impressive features like drop-down cup holders and a recliner feature that worked flawlessly. In fact, this is a recliner sofa that'd work if you're tall as well, since the reclining position extended several inches longer than even the best reclining sofas out there.
What I Didn't Love
The microfiber upholstery emulates the look and feel of a cheaper faux leather. If it wasn't for this and the lower weight capacity, I would have ranked Homeelegance higher considering how comfortable this sofa is.
4. Latitude Run Bourdeilles Sofa by Wayfair
Price: Starting at $1469
Weight Capacity: 800 lbs.
Dimensions: 84" width x 36" depth x 32″ height
Arm Height: 26″
Leg Height: 5″
Frame Materials: solid wood frame
Upholstery Options: 3 velvet options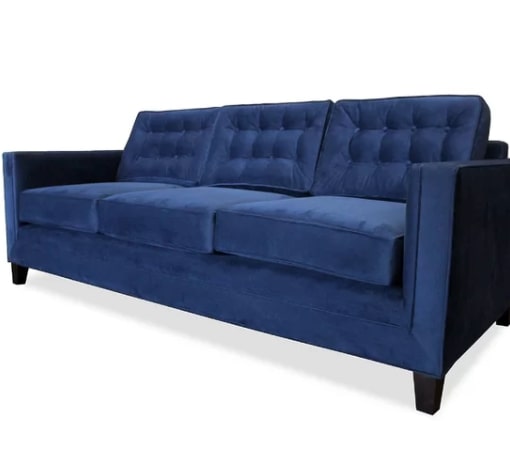 What I Loved
During the weight test, one of the reviewers commented to me that this Wayfair sofa, much like the Allform modular sofa, felt closest to the "Goldilocks" standard: not too stiff, but not too soft.
At an estimated weight capacity of 800 pounds, this may not be the best lounging sofa for heavier people, but several reviewers agreed with me that this would probably work best in a home office. That said, we were all impressed by the sturdy frame and chic mid-century styling.
And unlike Allform and Modway, this couch came pre-assembled, so there was no setup required other than getting it out of the box.
What I Didn't Love
Neither I or any of the reviewers had much of an opinion on velvet, but I know that it's not the upholstery option for everyone. However, one of the reviewers said to me that the armrests felt a little too stiff compared to the other sofas in this list.
5. Alexander Roll Arm Sofa by Bassett
Price: Starting at $1099
Weight Capacity: Not available
Dimensions: 93″ width x 37″ depth x 39″ height
Arm Height: 26″
Leg Height: 3″
Frame Materials: Interlocking Laminated Hardwood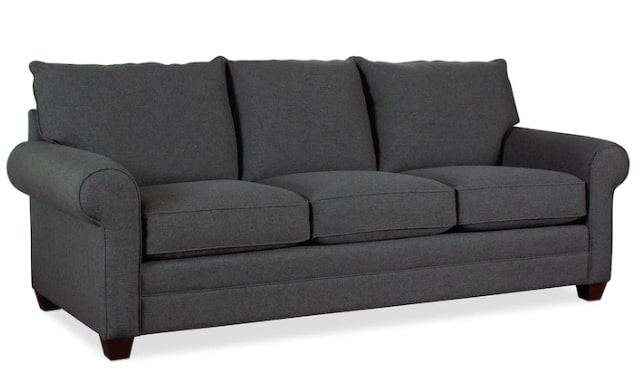 What I Loved
While a weight capacity wasn't available, this Bassett sofa performed better than over 16 other sofas I ended up not including in this list. This was one of the most impressive sofas the reviewers tested, and also one of the most comfortable in terms of upholstery type, seat depth, back cushions, and suspension.
As far as customization goes, I also saw over 100 different fabric upholstery options, definitely much more than any sofa on this list. Shopping with Bassett was fairly easy considering this is one of the more traditional retailers I've reviewed, and delivery was almost as fast as the eCommerce brands in this list. That said, delivery pricing was quoted $70 higher than Allform and Modway.
What I Didn't Love
Like I mentioned, delivery fees were pretty expensive. Additionally, Bassett didn't provide any weight capacity information or details on the frame and suspension. However, these were both fairly comparable to both the Modway and Wayfair sofas discussed above.
Tips for Buying the Best Sofa for a Heavy Person
Choose Sofas with Greater Seat Depth
Whether you consider yourself a tall person, a big person, or both, it helps to get a sofa that boasts a deep seat.
Look for Sofas with High-Density Memory Foam Cushions
While many writers and reviewers I spoke to preferred spring coil cushions in a heavy-duty couch, Low or medium-density memory foam cushions tend to sag and flatten over time. However, the best brands and retailers to buy a sofa from will generally highlight their use of high-density memory foam cushions. This generally indicates a high-quality construction and durability as these types of cushions will likely hold their shape longer.
Avoid Sofa Beds
Unfortunately, the vast majority of sofa beds and futons aren't constructed with heavier people in mind. While there may be exceptions to this, the best thing you can do is research maximum weight capacities before purchasing any sofa beds. Or, opt for more durable options like reclining sofas.