According to the American Academy of Orthopaedic Surgeons, four million U.S. citizens suffer from shoulder problems.
As I write this I'm one of the Americans suffering from shoulder pain. And I know exactly what the source is.
I'm suffering from shoulder pain caused by the inferior—truthfully really lousy—Airbnb mattress I've been sleeping on while on a business trip. It's caused shoulder pain that I never feel when I'm at home sleeping on my own medium-firm memory foam mattress. The shoulder pain has even radiated to back pain and hip pain.
Mattress-induced shoulder pain has zapped my energy, fouled my mood and negatively affected my productivity.
Take it from me: there's definitely a cause and effect relationship between your mattress and shoulder pain. Plain and simple: shoulder pain can be caused—or aggravated—by a second-rate mattress.
But the good news is, shoulder pain can be greatly prevented or relieved by the right mattress. Keep reading as we reveal our top-tested choices of the best mattresses for shoulder pain pressure relief in 2023.
But first, let's look at what causes chronic or situational shoulder pain.
The Varied Causes of Shoulder Pain
The shoulder is a ball-and-socket joint that has been called the most moveable joint in the body.
Because so many individual components contribute to the shoulder's range of motion, it's prone to pressure buildup and pain that can occur at any age.
Shoulder pain is caused by a variety of conditions, including arthritis, sports injury, sprains, strains and dislocations. The most common cause of shoulder pain is rotator cuff tendinosis. Rotator cuff tendinosis is most often diagnosed in folks over the age of 40, when tendons around the shoulder socket become inflamed or deteriorate with age and use.
Sleeping positions can also play a role in shoulder pain, too.
Tips for Choosing the Best Mattress for Shoulder Pain
If you suffer from shoulder pain, swapping out your current mattress for a new shoulder-supportive, medium-firm mattress could be a game-changer.
Some mattresses—softer mattresses in particular—can aggravate shoulder pain. Certain mattresses are better designed to stop shoulder pain, and they're available at every price point.
As you begin to shop for mattresses as a shoulder pain sufferer, keep these considerations in mind:
Firmness. Remember Goldilocks? Like her, you want to buy the just-right mattress for should pain relief. A too-soft mattress can cause poor spinal alignment and added pressure on shoulders. A too-firm mattress can cause shoulder pain and discomfort. A medium-firm mattress or firmer mattress improves shoulder pain and stiffness and promises many nights of good sleep for shoulder pain sufferers.
Support. The best mattress for someone with shoulder pain should provide proper support to shoulders, spine and hips. Look for a mattress that evenly distributes body weight and maintains proper spinal alignment.
Materials. Different materials used in the manufacture of mattresses can affect how a mattress feels and supports the body. In my experience, memory foam and latex are the best mattresses to provide optimum relief for those with shoulder pain.
Pressure Relief. You'll absolutely want to prioritize buying a mattress that offers superior cushioning, support and pressure relief for your shoulders. If you suffer from shoulder pain, you will benefit most from a medium-firm mattress with thick comfort layers that alleviate pressure in sore joints. Look for a mattress that distributes weight evenly and conforms to your body shape and body weight.
Sleep Position. Your individual sleep position (or, if you're a combination sleeper like me, sleeping positions) position affects how your shoulders meet your mattress during the night. Side sleepers with shoulder pain must opt for a mattress that cushions shoulders and hips—it can have a positive effect in calming inflamed pressure points. Back sleepers should look for a mattress that supports the natural curvature of the spine.
Personal Preference. The best mattress for someone with shoulder pain is ultimately the one that feels most comfortable. As with all mattress purchases, you'll want to try out several different options, read mattress reviews, look for a generous sleep trial period and take advantage of a no-risk return policy to discover which one works best for you.
Our Top 10 Mattress for Shoulder Pain
Brand
Best For
1

Editor's Choice

Overall
Shop Now
2

Cooling
Shop Now
3

Value
Shop Now
4

Luxury
Shop Now
5

Pressure Relief
Shop Now
6

Side Sleepers
Shop Now
7

Organic
Shop Now
8

Back Sleepers
Shop Now
9

Plus Size
Shop Now
10

Budget
Shop Now
1
Editor's Choice
2
3
4
5
Best For:
Pressure Relief
6
7
8
9
10
Best Overall: Helix Midnight Luxe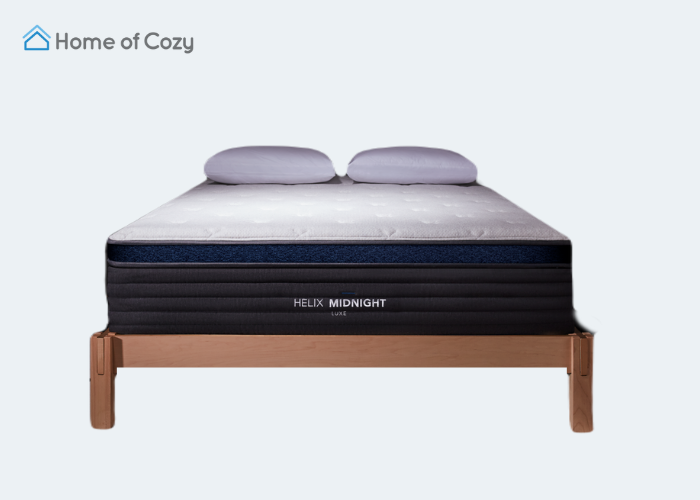 Best For: Side and back sleepers, couples with different sleep styles, hot sleepers
Price: $1,373.80-2,873.80
Mattress Type: Hybrid mattress, bed-in-a-box
Firmness Scale: Medium-firm mattress, 4.5-6.5/10
Trial Length: 100-Nnight, Risk-Free Sleep Trial
Warranty: 15-Year Warranty
What I Loved
This is a mattress most sleepers will love to retire to at bedtime. The tufted and textured Helix Midnight Luxe has six different layers and measures a plush 14" in thickness. Zoned, pocketed support coils promote spinal alignment, while the breathable, quilted pillow top layer adds cushioning without creating excessive heat. This cooling gel memory foam mattress reduces shoulder and hip pressure points as it contours to the body. The Helix Midnight Luxe also has excellent edge support and motion isolation, making it a great choice for couples with different sleep styles. If you have the space, a king mattress is an excellent upgrade for couples.
What I Didn't Love
If you want the airy, light feel of a traditional pillow top mattress, the Helix Midnight Luxe may not be for you. It has a more classic, neutral-foam feel.
Best Cooling: Brooklyn Aurora Luxe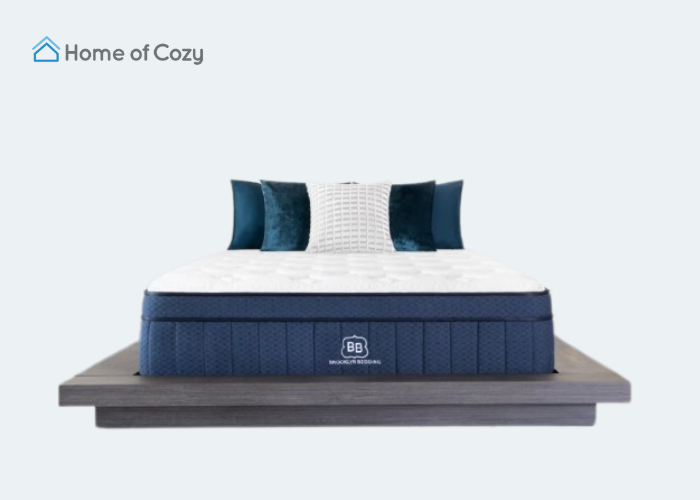 Best For: Hot sleepers, side sleepers, couples
Price: $1,199-2,665
Mattress Type: Hybrid mattress, bed-in-a-box
Firmness Scale: Comes in three firmness levels: soft, medium and firm, 2.5-7.5/10
Trial Length: 120-Night, Risk-Free Sleep Trial
Warranty: 10-Year Warranty
What I Loved
Hot sleepers rejoice! The hybrid design of the Brooklyn Aurora Luxe leverages technology for a superb comfort level of cool sleep that will suit a variety of sleep positions. Individually encased coils cradle the body and provide superior motion isolation for partnered sleepers. High-density, gel-infused foam and antimicrobial copper fiber layers combine in the Brooklyn Aurora Luxe mattress to prevent heat retention and allow for optional airflow and breathability. That translates to undisturbed sleep and pain-free mornings
What I Didn't Love
Sleepers of heavier body weight who suffer from back pain may not find the Brooklyn Aurora Luxe to be a firm pillowtop. Shopper looking for a more luxe mattress may want to consider the luxury firm Titan Plus Luxe, which features a foam comfort system that offers strong cushioning for pressure points.
Best Value: Leesa Sapira Hybrid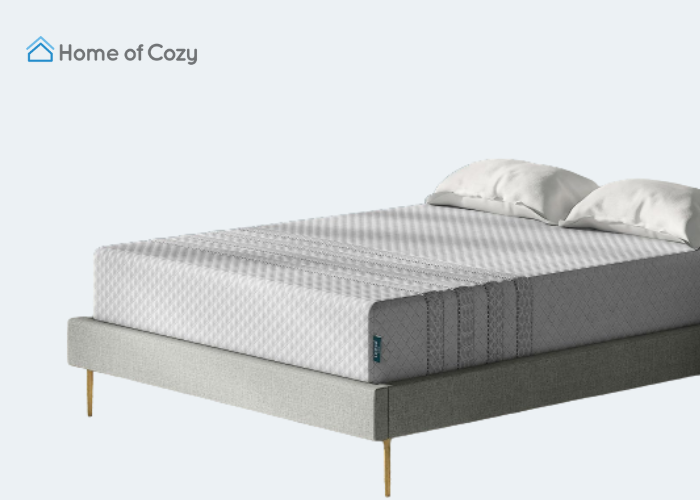 Price: $1,349-2,299
Mattress Type: Hybrid, bed-in-a-box
Firmness Scale: Medium-firm, 6/10
Trial Length: 100-Night, Risk-Free Sleep Trial
Warranty: 10-Year Warranty
What I Loved
The high-performance Leesa Sapira Hybrid is a wallet-friendly option for budget shoppers. This hybrid mattress provides sleepers with a balance of bounce and pressure relief in a medium-firm feel that suits most sleepers. Premium memory foam offers cooling and contouring, while 1,000 pocketed springs actively respond to your individual movements and sleep style. The breathable cover of ultra-fine viscose and plant-based rayon fibers help hot sleepers stay cool.
The Leesa Sapira Hybrid carries the CertiPUR-US® safety certification through independent accredited testing labs that ensure materials are low VOC and made without ozone depleters, phthalates, BPDE, formaldehyde or heavy metals. If you want to support a company with a dedication to social causes as part of its corporate mission, the Leesa Sapira Hybrid might tip the scale
What I Didn't Love
If you prefer a plusher, cushier mattress, the Leesa Sapira Hybrid isn't a good match. If you are a partnered sleeper, you may be prone to feeling your mate's movements during sleep.
Best Luxury: Nolah Evolution 15″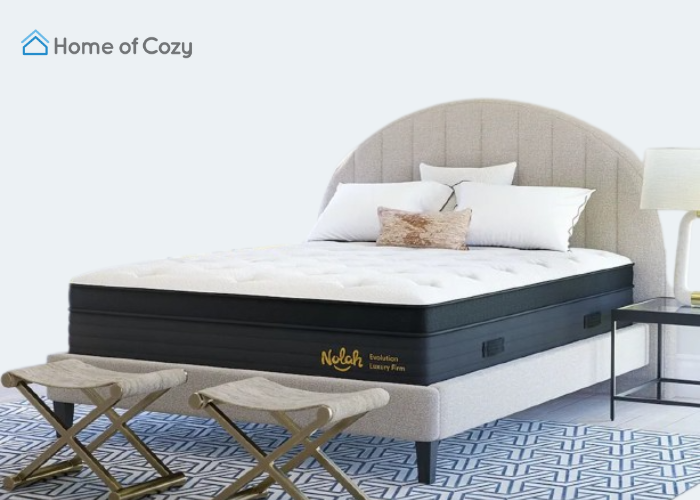 Best For: Side sleepers, sleepers with hip, back, or shoulder pain, combination sleepers, hot sleepers
Price: $1,499-3,198
Mattress Type: Hybrid, bed-in-a-box
Firmness: Available in plush, luxury firm, and firm, 4-8/10
Trial Length: 120-Night, Risk-Free Sleep Trial
Warranty: Lifetime Warranty
What I Loved
If you need enhanced spinal alignment—I have scoliosis so this mattress was of special interest to me—the Nolah Evolution 15 may be just what the (sleep) doctor ordered. This high-tech, hybrid mattress—the company's most advanced—has been singled out by the Sleep Foundation for its excellent features. Targeted back and shoulder support and responsive pressure relief come courtesy of the HDMax™ Tri-Zone™ coils, while the breathable cover, heat-dissipating Euro topper, and graphite-infused AirFoamICE™ provide luxurious cushioning and best-in-class cooling. This mattress compares favorably to a Tempur-pedic.
Another comparable luxe mattress well suited for those with shoulder pain is the Saatva Classic. The design of this innerspring mattress includes a unique coil-on-coil construction that provides an even balance of contouring and responsiveness. A cushy layer of memory foam is quilted with a Euro top for a comforting touch.
What I Didn't Love
The Nolah Evolution 15 may be just a bit too cushy for sleepers who prefer a firmer mattress.
Best Pressure Relief: Bear Star Hybrid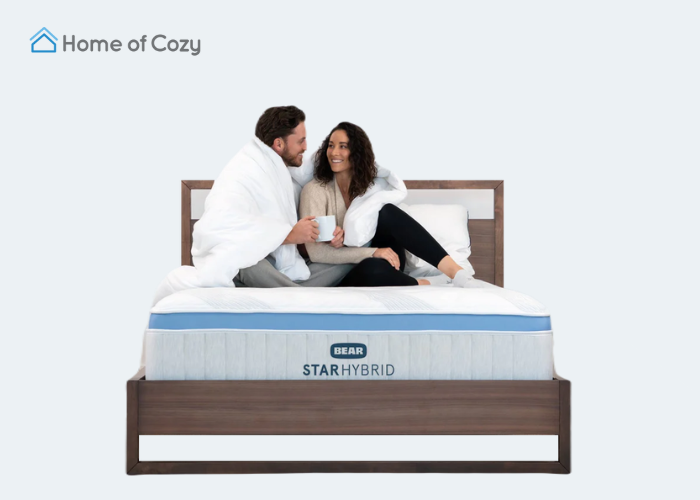 Best For: Hot sleepers, couples with different weights and sleep positions, sleepers who need pressure relief for back or shoulder pain
Price: $1,298-2,796
Mattress Type: Hybrid Mattress, bed-in-a-box
Firmness Scale: Medium-firm mattress, 6.8/10
Trial Length: 120-Night, Risk-Free Sleep Trial
Warranty: Lifetime Warranty
What I Loved
The ultra-plush Bear Star Hybrid comes with numerous premium features. Measuring a beefy 14" thick, it's made with several fluffy foam layers. Even though it contains several layers of foam, it feels like a plush pillow top on a supportive innerspring system. The pillow top itself is constructed of Celliant, a thermo-reactive material. The technology absorbs body heat and returns it back to you, which the company claims boosts blood circulation and oxygen so you feel more energized when you wake up. The medium firmness level of the Bear Star Hybrid is engineered for pressure relief whether you're a stomach, side or combination sleeper.
What I Didn't Love
This is one of the more expensive pillow top mattresses, though our testers thought the super comfy pillow top Bear Star Hybrid mattress was well worth the splurge.
Best for Side Sleepers: Helix Sunset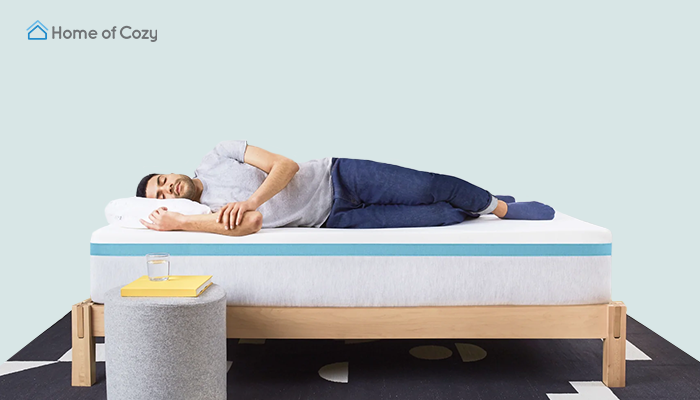 Best For: Side sleepers
Price: $936.30-1,748.80
Mattress Type: Memory foam mattress
Trial Length: 120-Night, Risk-Free Sleep Trial
Warranty: 10-Year Warranty
What I Loved
If you toss and turn at night or like a mattress with a softer feel, the high-quality Helix Sunset could be a good match for you. The Helix Sunset has that plush, cloud-like, hotel-type comfort that many people enjoy. For side sleepers or restless sleepers, the Helix Sunset cushions the pressure points at the hips and shoulders to relieve back and shoulder pain and optimize comfort. In addition, the middle layers of the mattress support your body's contours. You can choose between the company's breathable Soft Touch cover or upgrade to the GlacioTex™Cooling Cover that pulls additional heat away from your body.
What I Didn't Love
The soft support of the Helix Sunset isn't ideal for those who strictly sleep on their stomach; they require firmer models. And couples might find that the motion isolation isn't enough to keep them from disturbing each other during sleep. The thicker Helix Sunset Luxe would be a better option with its zoned lumbar support and carries a 15-year warranty. Heavy sleepers—250 pounds or more—won't find the durability or support they need with the Helix Sunset.
Best Organic: Birch Luxe Natural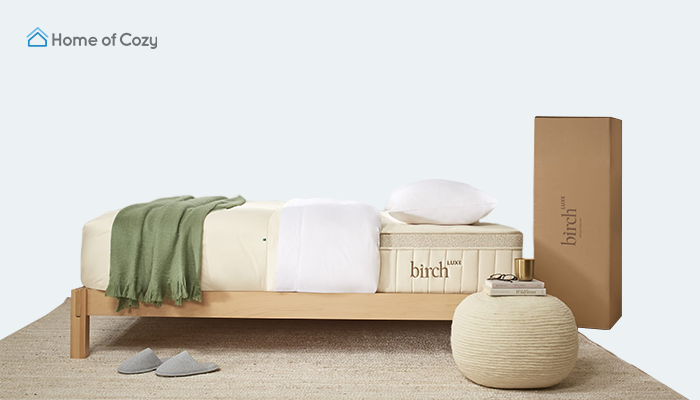 Best For: Shoppers seeking a sustainable mattress, back, side or combination sleepers
Price: $1,936.30-3,623.80
Mattress Type: Hybrid Mattress, bed-in-a-box
Firmness Scale: Medium-firm mattress, with a mattress topper, 4-5/10, without a mattress topper, 6-7/10
Trial Length: 100-Night, Risk-Free Sleep Trial
Warranty: 25-year Warranty
What I Loved
You'll be cradled, cool and comfortable on the ultra-plush Birch Luxe Natural pillow top mattress. Birch is committed to using organic, natural materials that pass rigorous testing and achieve the highest ratings and standards from third party organizations. The materials—ultra-fine, organic cashmere, two organic comfort layers and non-toxic, natural latex—are breathable, moisture-wicking and cooling. The Birch Luxe Natural mattress is an upgrade to their Birch Natural mattress with enhanced lumbar support, full perimeter support and a plush quilted, organic cotton Euro top.
In addition, Birch's production credentials are eco-responsible and their partners adhere to ethical practices and materials sourcing. A latex mattress like the Birch Luxe Natural is an excellent choice for those with allergies, asthma or skin sensitivities.
What I Didn't Love
Yes, the price is steep. But this premium mattress delivers safety, sustainability along with an incredibly dreamy, luxe sleep experience thanks to Mother Nature!
Best for Plus Size: Titan Plus Luxe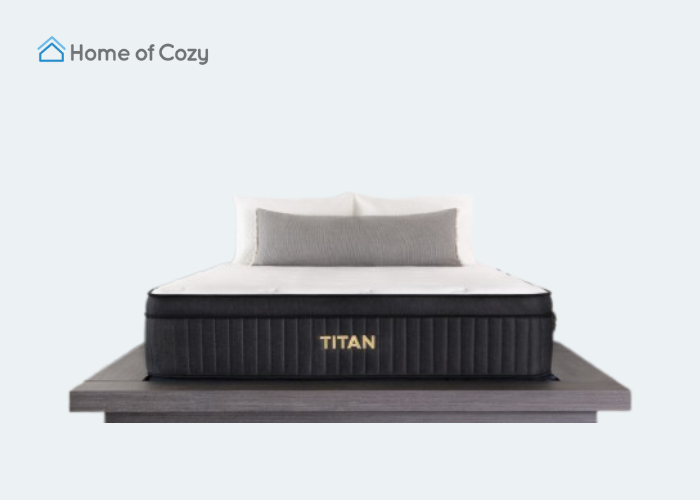 Price: $899-1,799
Mattress Type: Hybrid Mattress, bed-in-a-box
Firmness Scale: Medium-firm mattress, 5-7/10
Trial Length: 120 nights
Warranty: 10-year warranty
What I Loved
The Titan Plus Luxe is designed with substantial support for heavier sleepers in a more traditional medium firmness. This pillow top queen size mattress builds on the benefits of the original Titan Plus, with additional contouring and pressure point relief to accommodate both sleep partners. An 8" core of premium, individually pocketed TitanCaliber™ premium, individually pocketed coils ensure extra lift and extra durability for the life of the mattress. A 1" layer of quilted, gel memory foam resists body impressions and provides a cool-to-the touch surface
What I Didn't Love
If you're a lighter sleeper (less than 130 pounds in weight), the Titan Plus Luxe isn't your best match.
Best for Extra Firm: Plank Firm Luxe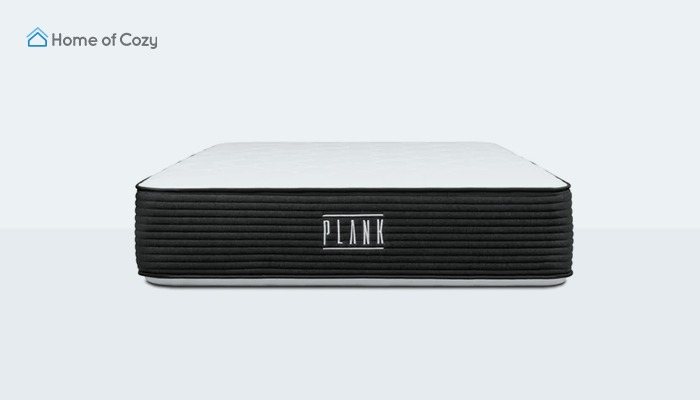 Best For: Back sleepers who need an extra firm mattress
Price: $924-1,732
Mattress Type: Hybrid bed-in-a-box
Firmness Scale: Two-sided with medium-firm & firm side, 6.5-9.5/10
Trial Length: 120 nights
Warranty: 10-year warranty
What I Loved
If you're looking for an extra firm sleep experience, look no further than the Plank Luxe Hybrid. Inspired by the minimalist approach to sleep in many parts of Asia, the firmer, flatter, flippable surface of the Plank Luxe Hybrid mattress creates a neutral spine position that's better for your back and overall posture. Individually encased coils provide responsiveness and pressure point relief.
The Plan Luxe Hybrid design offers two variations: the top side of the mattress feels like a traditional firm; the bottom side of the mattress is ultra-firm, allowing for highly customizable rest. Both the firm and extra firm sides are offered with optional cooling panels for the ultimate sleep experience. The Plank Firm Luxe is especially suited to stomach and back sleepers.
What I Didn't Love
If you don't love an extra-firm sleep surface, this king size mattress isn't for you. Side sleepers, those who like the feel of memory foam and those who prefer softer mattresses should also steer clear of the Plank Firm Luxe.
Best for Your Budget: Dreamfoam Hybrid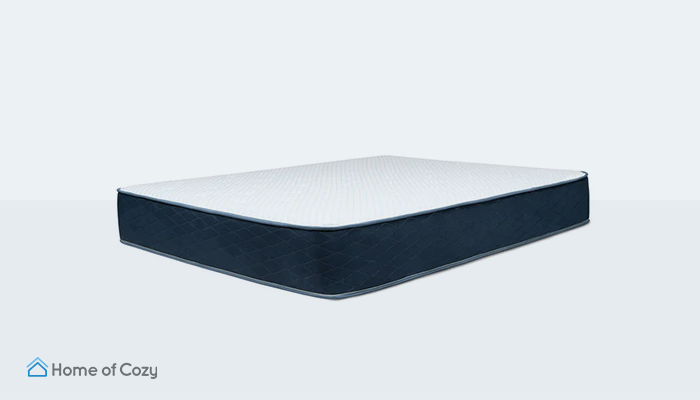 Best For: Budget shoppers, back and side combination sleepers, hot sleepers, buyers who need an inexpensive bed for a guest room, smaller-bodied kids or teens
Price: $532-999
Mattress Type: Hybrid mattress, bed-in-a-box
Firmness Scale: Medium-firm, 6.5/10
Trial Length: 120 nights
Warranty: 10-year warranty
What I Loved
The Dreamfoam Hybrid packs a lot of punch at a lower price point. Because it has a balance of firmness and bounce, it's a solid choice for combination sleepers. The cooling cover, foam and a layer of pocketed coils increase airflow, making the Dreamfoam Hybrid a terrific choice for hot sleepers. The Dreamfoam Essential is another good value option for someone who likes the contouring feel of memory foam. Hot sleepers will appreciate that it includes gel-infused memory foam for enhanced temperature regulation.
What I Didn't Love
Heavier sleepers need more support and durability than the Dreamfoam Hybrid offers. Likewise, stomach sleepers won't find the firm sleeping surface they need. Instead, consider the Brooklyn Signature.
The Best Mattresses Offer Shoulder Pain Relief
Shoulder pain makes even simple, daily tasks difficult.
A rotator cuff injury, bursitis, joint pain or neck pain can all be worsened by sleeping on the wrong mattress.
We've compiled this guide to help you select the best mattress for shoulder pain, to lessen or eliminate pain, whether it's chronic or intermittent. The mattresses we've selected are the best pressure-relieving mattresses for shoulder pain, your sleeping position, body type and budget.
If you suffer from shoulder pain, take extra time and care when shopping for a mattress. As you're doing research, keep in mind the points we've covered here. It's also super helpful to read mattress reviews from experts, as well as reviews from users. And always take advantage of a generous in-home sleep trial to be sure the mattress you select minimizes shoulder pain.
If you don't suffer from chronic shoulder pain, but are in the market for a new mattress, our recent roundup of the Best Mattresses for 2023 offers an in depth, up-to-date survey of the best offerings from multiple mattress manufacturers.
We can't can't control the mattresses we sleep on when traveling. But you can rest easy knowing that when you return home, your own mattress will provide restorative rest and protect you from vexing shoulder pain.