Corner sofas became popular during the later part of the mid-century modern era, with the template for modern sofas and sectionals stemming from "conversation pits" during the 60's and 70's.
Today, they're enjoying a resurgence in interior design as popular designs for growing families or anyone who likes to entertain frequently. To help you out, I've put together a list of the five best corner sofas whether you're looking to emulate the look and feel of mid-century modern designs or you're looking for something to truly give life to your living space.
I tested corner sofas from over 15 different brands to see who used the best high-quality upholstery, craftsmanship, and styling. Discover sofas from some of the best brands and retailers out there: Allform, West Elm, Anthropologie, Pottery Barn, and Brentwood.
Brand
Best For
1

Editor's Choice

Quality, Customization
Shop Now
2

Depth Options
Shop Now
3

Style
Shop Now
4

Width and Seat Options
Shop Now
5

Fabric Options
Shop Now
1
Editor's Choice
Best For:
Quality, Customization
2
3
4
Best For:
Width and Seat Options
5
5 Best Sleeper Sofas Consumers Loved This Year
1. Allform 4 Seat Corner Sectional Chaise Sofa
Price: starts at $2,245
Dimensions: 97" width x 70" depth x 34" height
Frame Materials: Maple and Poplar Kiln-Dried Laminated Hardwood
Upholstery Options: 7 performance fabric, 2 leather options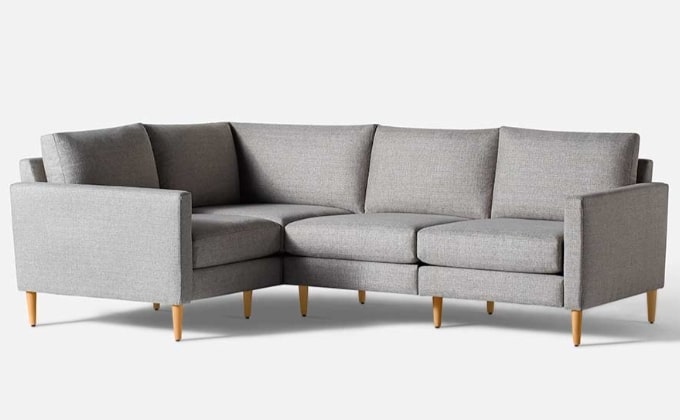 What I Loved
Allform simply produces modular sofas and sectionals that I truly think stand the test of time, even if the company itself is fairly new. From a site that's easy to shop to customization options, overall design, and customer service, it's clear Allform's considered pretty much anything a prospective customer is thinking about when they're shopping for a new sofa.
As far as corner sofas go, this corner sectional has the best of both worlds: a comfortable sofa with deep seats and a chaise that's perfect for all-day lounging.
In terms of long term care, I was also impressed by Allform's generosity: a 100-day free at-home trial coupled with a lifetime warranty for its solid hardwood frame.
What I Didn't Love
There honestly wasn't much I could find wrong with the Allform corner sectional. It's well-priced considering the high quality of its materials and overall design. Plus, assembly was incredibly fast and easy.
Best Corner Sofa: Allform
2. West Elm Andes 3-Piece Chaise Sectional
Price: starts at $2,697
Base Dimensions: 92″w x 70″d x 32″h (three different depths available: Petite (35″), Standard (40″) or Extra Deep (46″))
Frame Materials: solid hardwood frame
Upholstery Options: one in-stock and ready-to-ship fabric, 30+ custom options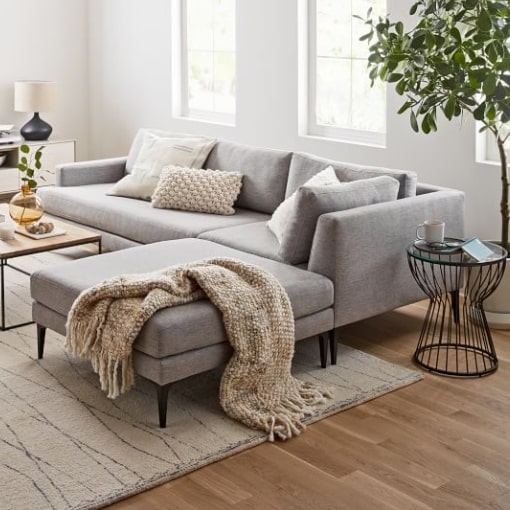 What I Loved
West Elm is always one of my go-to's for home decor and accent pieces. And given their range in price points, West Elm's sofas are also incredibly popular among shoppers as a "next step" up from IKEA.
What immediately stood out to me about the Andres Sectional is that it's one of the few fabric corner sofa sets that's available in three different depths depending on what you're looking for: Petite (35″), Standard (40″) or Extra Deep (46″). You can also customize the configuration to a reversible sectional with the chaise on either side depending on your preference.
It's incredibly comfortable in-person, and in my opinion, second only to Allform's corner sectional. I also appreciated the white glove delivery and the fact that I didn't have to put anything together. Plus, I loved how plush the back and seat cushions were.
What I Didn't Love
This definitely isn't a small living room sofa. So, if you're planning on ordering this one, just keep in mind its base, chaise, and extra-deep seat dimensions.
Also, I would have appreciated more than one in-stock and ready-to-ship upholstery option. While the off-white fabric looks and feels great, there are over 30 different fabrics you could potentially order, too. Just keep in mind the 30+ custom fabric options come with a 10-week lead time.
3. Anthropologie Relaxed Saguaro Sectional
Price: starts at $3,598
Small Sectional Dimensions: 108″: height: 32.25″ x width: 108.75″ x depth: 62.5″
Large Sectional Dimensions: 130″: height: 32.25″ x width: 130.75″ x depth: 62.5″
Frame Materials: hardwood frame
Upholstery Options: 3 fabric in-stock and ready-to-ship, 16 custom options including linen, jute, and recycled cotton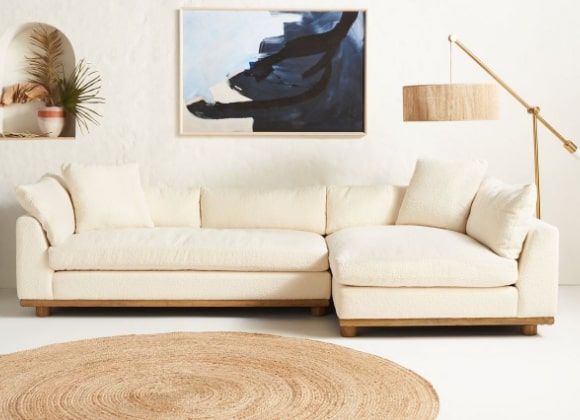 What I Loved
Stylistically, this might be my favorite sectional on the list. Anthropologie is always a great source for unique home decor, but I haven't had much experience with their sofas, coffee tables, or any large piece of furniture. That said, I loved the vibe of this "relaxed" corner sectional.
With its low, sweeping silhouette, I loved how this four-seater sectional sofa is available in two different widths depending on your living space's size. And like West Elm, you can choose the orientation of the chaise (on either the righthand facing or lefthand facing.) The fabric options were also impeccable. While there are three great in-stock options, you also have your pick of 16 different options including "upcycled" cotton, jute, and linen.
In terms of comfort, this is one that's worth its price. Owing to its "relaxed" name, the back and seat cushions definitely felt softer than a lot of other sofas on the list.
What I Didn't Love
I didn't experience this personally, but some negative reviews have highlighted that the lighter fabrics tend to discolor very easily and pick up pigments from clothing dyes within weeks.
4. Pottery Barn Big Sur Square Arm Upholstered U-Shaped Chaise Sectional
Price: starts at $4,595
Dimensions: 146″ width x 68″ chaise depth x 42″ seat depth x 37″ height
Frame Materials: steel sinous springs, steel connectors, mortise-and-tenon joinery in a solid wood frame
Upholstery Options: 30+ options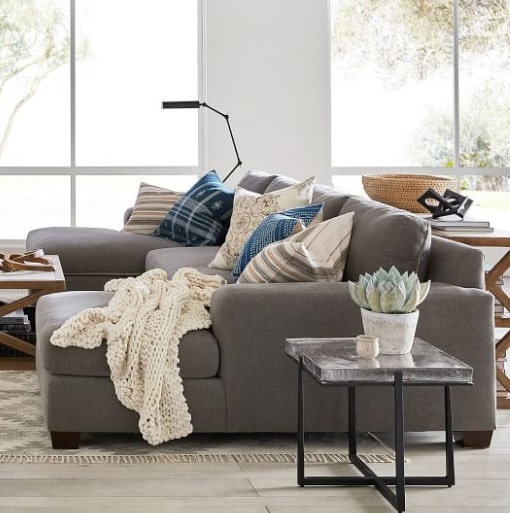 What I Loved
The Big Sur is one of Pottery Barn's bestsellers, and a model that I'm personally a fan of since I tested out the L-shaped version for my review of best sectionals. Pottery Barn sofas tend to be splurges and investment pieces, but in my opinion, they're definitely worth it when it comes to comfort, customization, and overall style.
The Big Sur u-shaped sectional ticks all those boxes and then some. You can order it in three different widths (146″, 154″, and 178″,) select the type of seat (bench-style or split-seat,) and pick from a wide range of custom upholstery options.
Unsurprisingly, it didn't really differ in terms of comfort from the L-shaped sectional. They're both constructed with the same level of precision and attention to durability.
What I Didn't Love
As I noted in my review of the best sectionals, I felt that the Big Sur was a bit too short. However, if you are looking for a short corner sectional, then this one's for you. Additionally, I would have appreciated the option for more in-stock and ready-to-ship fabrics.
5. Brentwood 2-Piece Sectional Sofa by Apt2B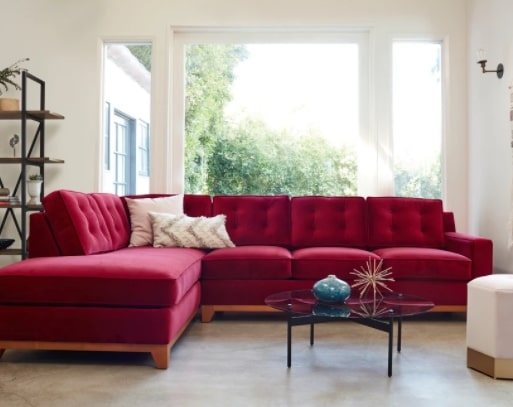 What I Loved
Apt2B is a brand that I've come across before, but haven't personally tested so it was nice to get a feel for how they design.
As far as mid-century modern designs go, this was another stand-out sectional sofa set. I loved the tufted back cushions and sleek, clean lines. And unlike a lot of other sofas on this list, there were over 60 different in-stock fabric options. That means you literally have your pick of upholstery without those dramatically extended lead times for made-to-order sofas.
Shopping from Apt2B was also interesting. I appreciated the "See it in 3D" feature, especially if you want to skip the crowds and in-store shopping experience.
What I Didn't Love
I personally didn't observe this, but some critical reviews highlighted that the upholstery tended to pill and attract lint pretty easily.
Tips for Buying a Corner Sectional
Always Measure Your Living Space
Corner sofas and corner sectionals tend to be the most cumbersome pieces of furniture you could buy. Before clicking "add to cart" or buying something from a showroom, always remember to come prepared with measurements. And remember to measure your doorframe to make deliveries as stress-free as possible.
Consider Small Corner Sofas
If you love the appeal of large, u-shaped or l-shaped sectionals but just don't have the space, look into a small corner sofa or sectional that has the same overall vibe but with a smaller footprint. Or, opt for modular models that can grow with you. Allform, in particular makes this easy. You can order individual, two-seater loveseat or three-seater sofa modules and build a small space sofa or sectional perfectly configured for your space.
Customizing Your Corner Sectional
Whether you're an interior design enthusiast or you just want a corner sofa tailored to your tastes, remember to take advantage of those customization options. Like top-grain leather? Opt for a leather corner sofa that looks as good as it feels. If you entertain frequently, consider a corner sofa bed with a comfortably mattress. If you need an ergonomic sofa, opt for something a sturdy as well as supportive headrests and backrests.
More Brands to Consider
These are just a few of the best corner sofa brands out there. Whether you're still looking for your new sofa or looking for more inspiration for prospective living room furniture, check out IKEA, Amazon, Joybird, Wayfair, or Inside Weather for even more options.