One of the most amazing aspects of RV living is the ability to sleep on a real bed without leaving your vehicle. But while it's great to have a designated sleep spot while you're on the go, the thin mattresses that come with RVs are often quite thin and uncomfortable.
If you want to enjoy the RV experience without suffering from insomnia or back pain, you might need to replace your mattress. Or, there's another simpler, less expensive option: add a mattress topper.
A mattress topper is a material layer that's placed on top of a mattress in order to improve the feel of the sleep surface. Like a mattress pad, a topper protects a mattress and may improve its lifespan. However, toppers are thicker than pads and designed primarily for comfort, rather than protection.
In an RV, a topper is useful for combining with a thin mattress in order to make a more cozy and supportive bed.
Below, we'll discuss the key factors to consider when shopping for an RV mattress topper. Then, we'll offer Home of Cozy's six favorite toppers for RVs.
Best RV Mattress Topper
Choosing an RV Mattress Topper: Factors to Consider
Dimensions and Thickness
Not all RV mattresses come in standard sizes, so it's important to measure the length and width of your mattress before buying a topper. Then, check to see if the dimensions match a standard mattress size (e.g. 60" wide by 80" long for a queen size).
RV beds go all the way up to king size, but they often have reduced length. If your camper mattress has a standard width but a short length, you may be able to buy a regular-sized topper, then trim it to fit your bed.
If you plan on trimming your topper, contact the manufacturer before purchasing to confirm that their materials can be effectively cut and sealed. Note that trimming a topper will void your warranty.
Along with length and width, consider the height/thickness of your mattress in relation to the amount of overhead room in your bed space. Most mattress toppers are between 1.5"–3" thick. If your vertical space is limited, choose a thin topper.
Materials
Mattress toppers are most often made with memory foam or other types of high-density foam. A foam topper makes a firm mattress softer and more pressure-relieving—qualities that are often severely lacking in thin RV mattresses. Foam is also great for reducing motion transfer, permitting sleep partners to shift around without bothering one another.
Other material options include latex, cotton, feathers, down alternative, alternative fill, and microfiber. For a lower-priced option, there are the old-fashioned egg crate toppers, made from lightweight polyurethane foam.
Many foam bedding products tend to be heat-trapping. If you're a hot sleeper, look for a topper that includes features for cooling, airflow, and moisture wicking. These include memory foam with gel beads or copper infusion, open-cell foam, and breathable cotton covers.
Another minor issue with foam bedding is "off-gassing", i.e. the release of odors when a product is removed from its packaging. This effect can be unpleasant, but isn't dangerous and typically only lasts for a few hours or up to a day or two. If you buy a foam topper, allow time for airing it out before initial use.
Durability and Maintenance
For full-time RVers, it can be tough to always properly care for your bed and protect it from the elements. So, it's important to choose a mattress topper that's made from high-quality materials that won't quickly break apart or change shape.
Features to look for include:
Hypoallergenic and moisture-wicking surfaces
Removable, washable cover
Straps for securing the topper to the mattress
Rollable material for easy storage
Note that mattress toppers should never be folded, but some can be easily rolled up. However, thicker toppers may be more difficult to roll and may become damaged in the process.
Our Picks for the Best Mattress Toppers for RVs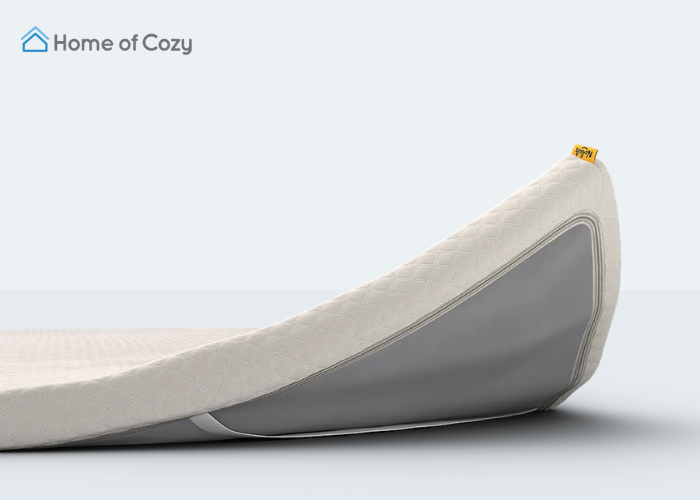 Best for: Best overall
Price: $249–$399
Warranty: Lifetime
Material: Airfoam™️
Thickness: 2"
What I Loved About This Nolah Mattress Topper
Our pick for the best overall RV mattress topper checks all the boxes: significant comfort improvement, customization options, convenience features, and great value.
Made with the company's proprietary AirFoam™️, the Nolah Mattress Topper offers a major comfort upgrade in just 2" of material. AirFoam compresses under pressure like memory foam, but it's a highly responsive material that prevents the uncomfortable "stuck" feeling that sometimes occurs on foam.
This topper is available in plush (soft) or luxury firm (slightly firmer). If your RV mattress is stiff as a board, go with the plush option. If you need more support but don't want to compromise firmness, choose the luxury firm topper.
Finally, the Nolah Mattress Topper includes elastic bands for securely fitting on top of your mattress as well as a removable, washable cotton cover. A washable cover is particularly helpful for an RV topper, where dirt, dust mites, moisture, and allergens can easily compromise a bed's cleanliness.
What I Didn't Love
Nolah's Airfoam shouldn't be confused with memory foam. If you prefer the deep compression of memory foam, then this topper might not be soft enough for you.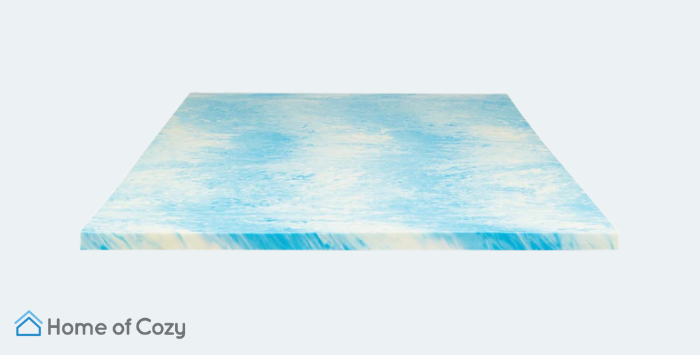 Best for: Value
Price: $74.25–$149.25
Warranty: 3 years
Material: Gel-infused memory foam
Thickness: 2" or 3" options
What I Loved About This Brooklyn Bedding Topper
The Brooklyn Bedding 2.5-lb Gel Swirl Memory Foam Topper starts at just $74.25 and is available in 2" or 3" options.
If your RV mattress is thin and stiff, this topper will add a major dose of comfort. It's an ideal pick for side sleepers who require relief around sensitive pressure points. This topper also includes a gel swirl to counteract the heat-trapping effects of foam. Gel absorbs and releases body heat, helping to maintain a more temperature-neutral sleep surface.
What I Didn't Love
For some back and stomach sleepers, especially those with heavy body weights, this topper might make an RV bed too soft. If you require a firmer sleeping surface, Brooklyn Bedding also offers a latex mattress topper that comes in three different firmness options.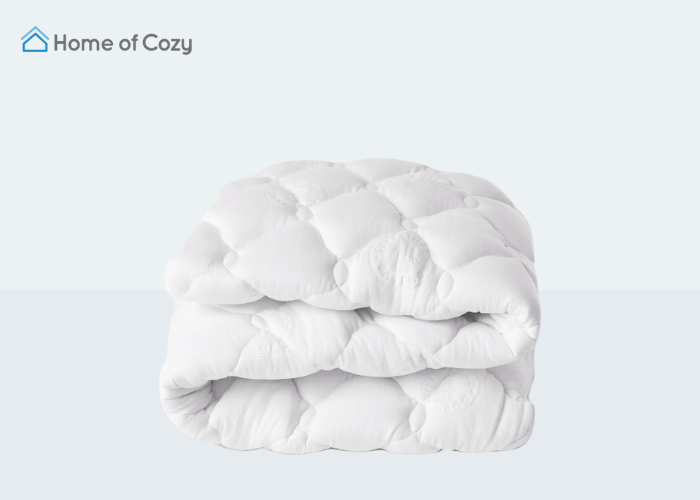 Best for: Side sleepers
Price: $87.20–$111.20
Warranty: 1 year
Material: Polyester and bamboo viscose
Thickness: 1.5"
What I Loved About This Helix Mattress Topper
Just 1.5" thick, the Helix Plush Mattress Topper is ideal if your RV bed needs a comfort boost but headroom is tight. Made with a unique blend of bamboo viscose and polyester filling, this topper has an ultra-soft surface that's ideal for side sleepers and sleepers with light body weights.
Perfect for RV use, the Helix Plush Mattress Topper is hypoallergenic, breathable, and has deep pockets for tucking in over your mattress like a fitted sheet.
What I Didn't Love
This topper is just 1.5" thick. That might be ideal if you don't have much vertical room to spare, but keep in mind that a thin topper can only offer moderate comfort benefits. If you need a more significant adjustment to the feel of your bed, go with a thicker topper.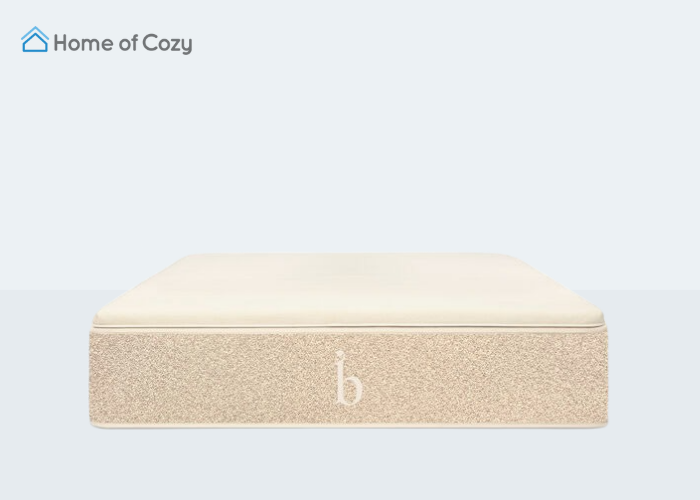 Best for: Organic and natural materials
Price: $349–$599
Warranty: 10 years
Material: Latex, cotton, and wool
Thickness: 2"
What I Loved About This Birch Mattress Topper
The Birch Plush Organic Mattress Topper is a luxury product made with Talalay latex, considered one of the finest mattress materials. Talalay latex conforms gently like foam, but it's more supportive and responsive.
Like all Birch sleep products, this latex topper feels amazing and is made with the highest-quality natural and organic materials. Along with natural latex, the construction includes organic wool and an organic quilted cotton cover. Birch's certifications for sustainability and responsible sourcing include the GREENGUARD Gold certification and the Global Organic Textile Standard (GOTS).
Unlike most mattress toppers, this product comes with a 100-night sleep trial and a 10-year warranty.
What I Didn't Love
If you aren't on a tight budget, you won't beat Birch's quality. Unfortunately, at $499 for a queen size, many RV owners will need to go with a lower-priced option.
Best for Combination Sleepers: Bear Pro Topper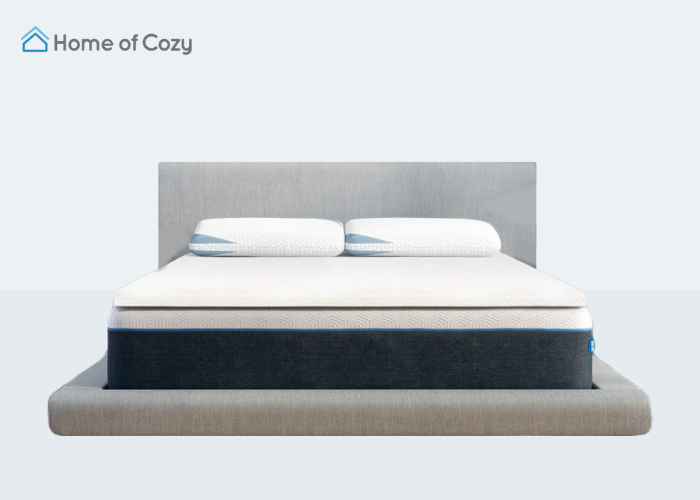 Best for: Combination sleepers
Price: $172–$347
Warranty: Lifetime
Material: Foam
Thickness: 3"
What I Loved About This Bear Mattress Topper
The extra-thick Bear Pro Topper offers a significant comfort upgrade. This dense, plush, memory foam topper is a good choice if you prefer much more pressure relief and cushioning than your thin RV mattress can provide on its own.
In particular, I recommend this topper for couples and combination sleepers, i.e. those who move around between different sleep positions in the night. With its dense, thick construction, the Bear Pro Topper can provide a thin RV mattress with much-needed support and cushioning, making every sleep position more comfortable.
This topper is CertiPUR-US certified, free of lead, mercury, formaldehyde, and other harmful materials.
What I Didn't Love
At 3", this is the thickest topper we've included in our top picks for RVs. If your vertical space is limited, a 1.5" or 2" topper might be a better fit.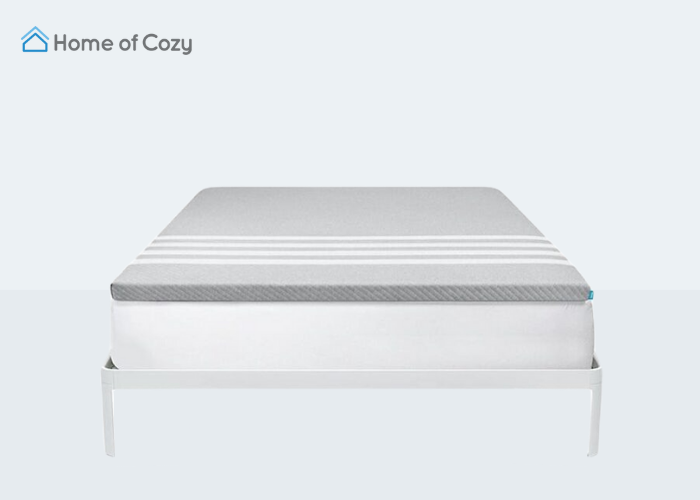 Best for: Memory foam construction
Price: $169–$305
Warranty: 1 year
Material: Foam
Thickness: 2"
What I Loved About This Leesa Mattress Topper
If you like the classic feel of memory foam, the Leesa Mattress Topper is a good option. It's tough to get deep contouring and pressure relief from a thin RV bed, but this 2" topper can help. Its foam is dense and luxurious, providing soft contouring for the shoulders and hips.
The Leesa Mattress Topper has a machine-washable cover that zips securely. This is a great feature for a messy RV, providing the opportunity to regularly clean your topper to maintain a hygienic sleep surface.
What I Didn't Love
Foam toppers tend to trap heat, and this one doesn't have any special cooling features to counteract that effect. In fact, Leesa specifically notes that the topper is great for "people in colder climates who need extra warmth." So, if you tend to overheat at night, the Leesa Mattress Topper might not be your ideal match.
Upgrade Your RV'ing Sleep Experience
A topper can work wonders for an old mattress. That said, if your RV mattress is too thin and uncomfortable to work with, there are some great options for affordable, durable replacements. If you're not sure if a topper can get the job done, check out Home of Cozy's picks for the Best RV Mattresses of 2023.