Burrow Price, Durability, Delivery, Pros and Cons
In reviewing Burrow sofas, its important to understand how it all got started.
Burrow launched in 2016 after co-founder Stephen Kuhl, who had herniated two discs in his back from college rowing, teamed up with friend Kabeer Chopra while at Wharton Business School at The University of Pennsylvania. They wanted to design a couch that would be ergonomically perfect for multi-hour Netflix binges while still maintaining a stylish flair in the living room.
They felt that consumers had long been plagued with one of two choices: cheap, flimsy furniture or high-quality, expensive, heavy piece of furniture. Their goal was to remove the need to have a team to move or put together furniture and replace it with clever, comfortable furniture that fits into your life.
Each piece of Burrow furniture is handcrafted from durable, sustainably-sourced hardwood and scratch-and-stain resistant, non-toxic fabrics.
Burrow has a strong commitment to selling furniture at a reasonable price. To that end, couches are delivered directly to the customer to remove retail markups and save extensively on standard shipping costs.
In this review, we're going to touch on everything there is to know about the online sofa in a box brand. So read on and find out if the burrow sofa is worth it for your next couch purchase.
Pros and Cons of Ordering Your Sofa from Burrow
Pros
Fast, free shipping
Made in the USA
1-year warranty
Many size and color options
30-day return policy
Durable, stain and scratch resistant materials
Cons
No in-home delivery or setup
Returns will incur fees
No lifetime warranty
No showrooms
Higher price point for lightweight furniture
How much are couches from Burrow?
Overall, the price for a sofa ranges from $1395 to $3995. It's fair to say that Burrow sofas are at a higher price point than many other brands. On the lower end of the price range is your basic 3-seater sofa, while on the higher end are oversized double sectionals and leather options.
Burrow offers a variety of different couch types including sofas, sectionals, sleeper sofas, loveseats and armchairs. In addition, they also offer a line of tales, rugs, and accessories.
What is the most popular sofa from Burrow?
Nomad Sectional Sofa
Price: Starts at $1695
Sofa Dimensions: 86.5" L x 36" W x 35" H
Seat Height: 17"
Seat Depth: 22"
Arm Height: 23"
Leg Height: 7"
Chaise Length: 61"
Available Colors: Ivory, Brick Red, Crushed Gravel, Navy Blue, Charcoal
Available Leg Finishes: Ebony, Walnut, Oak
Arm Style Options: Low or High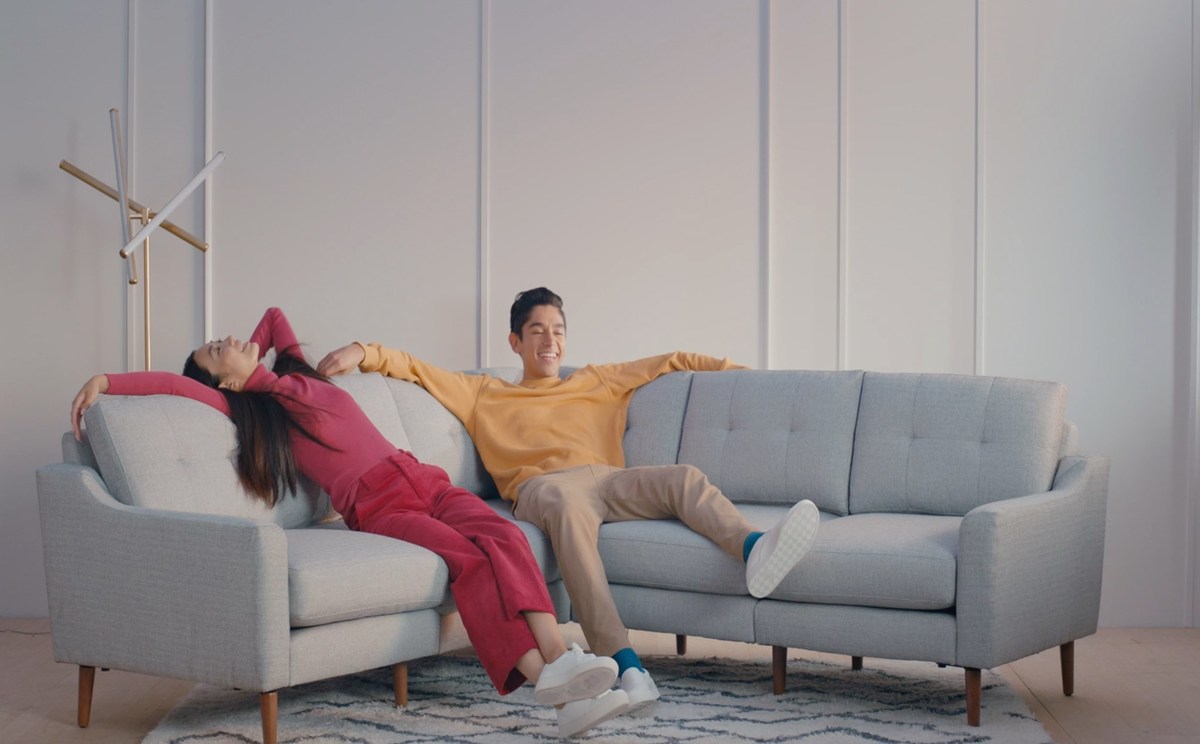 Adding onto the Nomad Sofa that customers loved, the Nomad Sectional Sofa features a long, comfy chaise lounge for ultimate relaxation.
The chaise is reversible so you can change it to suit your decor and room setup. You can even put the chaise in the middle. Like all of Burrow's pieces, the modular design is easy to move and packed with little extras to better your life, like a built-in USB charger.
Customers also just loved the comfort of this piece. It provides all the room you'd expect with a corner sectional, with low arms and supportive seat cushions and backrest cushions for great upright lounging.
Features:
This sofa is customizable with 5 fabric colors, 3 leg finishes, and 2 armrest heights. You can also swam reversible back cushions change from a tufted, classic look, to a smooth and contemporary look.
The universal, modular design means Burrow furniture can adapt and grow with you.
Cushions are formulated for both durability and comfort with a proprietary 3-layer foam and fiber architecture.
The fabric used is a tight olefin fiber weave that is scratch and stain resistant.
The frame is built with sturdy, precision milled Baltic Birch wood to that prevents warping.
The hardware used is comprised of strengthened steel pins and galvanized latches.
The legs are made with responsibly forested wood, available in multiple finishes.
Built into the couch is a USB charger and 72" power cord.
Care Instructions:
Stains can be sprayed with a water/bleach solution to blot out stains (yes…we said bleach).
The Best Overall Sofas of 2021
To help you find the best deep seat sofa, I tested individual models from over 23 different brands. These are the best new sofas with extra deep seats that balance the best in design, price, sustainability, and durability.
How long does it take for Burrow to deliver sofas?
Burrow offers free 1-week shipping to your door in lightweight, easy-to-move boxes. This is a bit quicker than other couch brands we've reviewed. Depending on which region of the U.S. you are located, furniture could take 3-10 business days for delivery.
How long do Burrow sofas typically last?
Burrow sofas are lightweight and easy to move. They are meant to be moved around and changed easily without the use of heavy lifters. While this is far more convenient, it also indicates that the sofas may have a shorter life cycle. In addition, a limited one year warranty, lends itself to that assumption. If used reasonably, without a lot of wear and tear, it is fair to assume you could get 5-10 years out of the couch.
Reviewing Burrow Policies
Burrow offers a 30-day return policy. They charge a return shipping fee equal to 10% of what you paid for the product and it must be in the original packaging.  If you don't have the original packaging, the fee is 20% of the paid value. The fee is always capped at $250. They also have some limitations on certain items that can't be returned if bought individually such as seat modules, armrests, legs, or cushions.
Burrow offers a warranty that covers defects in materials and workmanship for one year, starting on the date of delivery. There are no fees to repair, replace, or return an item that's covered by our warranty.
Trial/Returns: 30 days free trial period (fees included)
Financing: Financing available at checkout
Warranty: 1 year
Where It's Made: U.S.A
Real Burrow Customer Reviews
We enjoyed reviewing Burrow and think this brand is a great choice for those who:
Are looking for quality crafted furniture that is lightweight and easy to unpack and setup themselves.
Expect free shipping.
Don't plan to put heavy wear on the sofa as it only comes with a limited one year warranty.
Want products made in the USA.
Don't mind ordering products online as Burrow is an e-commerce-only brand.
Want to check out free swatches before purchase.
Positive Experiences:
"I spent a lot of time researching for a light grey sectional, and this couch did not disappoint. It is comfortable, beautiful, and well-made. Easy assembly. Love that you can move the sectional. HIGHLY recommend!"
"I've been wanting to get a Burrow for over a year before I finally purchased it; so I loved it even before the purchase. It's safe to say my weekends will be spent there."
Negative Experiences:
"I was very excited about the Burrow couch when it first arrived at my door. However, after assembly and sitting on it, I am kinda disappointed. I had a VERY HARD time screwing one crouch leg into the crouch. The thread on the nut isn't clean cut, and the screw doesn't fit in. I have to use tools and a lot of strength to basically re-make the nut, and then be able to screw in the leg. It feels a bit too stiff and doesn't have enough depth to let you sit cross-leg on the sofa."
"I just received my Burrow Sofa tonight. I am wishing a million times over I'd bought an Ikea couch… because it might look like a $600 couch, but the pieces would fit together. None of the pieces of mine fit, will have to return it. Big pain."