Ethan Allen Price, Durability, Delivery, Pros and Cons
Ethan Allen Interiors Inc. is an American furniture chain, founded in 1932 by brothers-in-law, Nathan S. Ancell and Theodore Baumritter. Ethan Allen is a direct-to-consumer manufacturer but also sells some third-party items manufactured by other companies. They currently own over 300 stores across the United States, Canada, Europe, and Asia.
Their mission: to specialize in creating icons of livable luxury. Beautifully designed classic pieces that become a part of your personal style, like your favorite pair of jeans or black dress.  
Ethan Allen Pros & Cons
Pros
Wide range of price points
Huge selection
In-store and online
In-home delivery
Cons
Higher price point
Longer shipping window
No free shipping
How much are sofas and couches from Ethan Allen?
Ethan Allen offers a wide range of sofas, sectionals, loveseats, armchairs. They also offer a full selection of other household furniture and home decor. Overall, the price for an Ethan Allen sofa ranges from $1100-$13,000. On the lower end of the price range are smaller loveseat sofas, and on the higher end are over-sized and leather sectionals.
What is the most popular sofa or couch from Ethan Allen?
The Remson Sofa
Price: $1376
Dimensions: 75″ w x 35″ d x 31″ h
Weight: 135 pounds
Colors: 30+ color options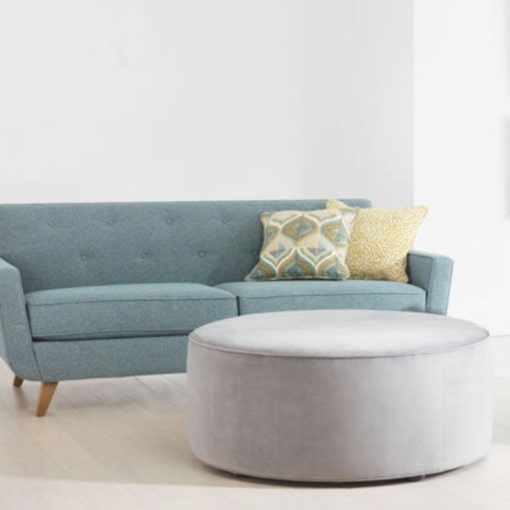 Ethan Allen describes this sofa as a "very now throwback." Inspired by midcentury modern design, it has a tight, accent-button back. It's a good, versatile sofa for anything from movie night with friends to a lazy Sunday afternoon nap.
Features:
Midcentury inspired. Curved-corner style angled track arms. Accent buttons.
Stain-resistant fabric prevents damage from spills. A great choice for homes with families or pets.
Engineered wood frame. Superior strength and durability.
4 removable leg styles: flare or tapered cone (crafted from hardwood), acrylic, or metal
Wood legs available in two finishes: Umber or Bark Brown.
How long does it take for Ethan Allen to deliver sofas?
Ethan Allen creates custom, made-to-order sofas. As such, you should expect 6-8 weeks for delivery. Additionally, Ethan Allen offers an in-home delivery service for their furniture items.
How long do Ethan Allen sofas typically last?
Considering the quality of materials and practices used by the manufacturer, and the fact that each piece is hand-crafted, made to order, you can expect Ethan Allen sofas to last the full life cycle with proper use and maintenance. Sofas of this quality can last anywhere from 7 to 15 years.
Ethan Allen Policies
Ethan Allen delivery fees range from $59 to $199 depending on the price of the item. Premier In-Home Delivery includes item inspection, placement, and assembly (when necessary). Returns are accepted within 30 days of delivery. Shipping and return fees are the responsibility of the customer.
Ethan Allen also provides a limited warranty on its furniture. This includes a seven-year warranty for upholstery frames, springs, and legs; a four-year warranty for seat cushions; a three-year warranty for back cushions; a one year warranty for fabric upholstery; a three-year warranty for on stitching, workmanship, buttons, and zipper closures; and a one year warranty on arm pillows.

Trial & Returns: 30 days
Financing: Yes
Warranty: Yes
Where It's Made: USA
Real Ethan Allen Customer Reviews
We enjoyed reviewing Ethan Allen and think this brand is a great choice for shoppers:
Looking for furniture made in the USA.
Looking for high-quality, made-to-order items.
Who prefer to shop online or in-store
Here are some real positive reviews from Ethan Allen customers
"If you can afford it, they have gorgeous furniture and lovely quality items. I would highly recommend them for investment pieces."

"I can't say enough about the quality of furniture available at Ethan Allen! They are a little on the pricey side, but their customer service and high-quality product make investing in Ethan Allen furniture worth every penny!"
Here are some real negative reviews from Ethan Allen customers
"I like Ethan Allen furniture. I find the styles are easy to incorporate into just about any room, even if they often are somewhat uninspired in design. My main issue is the price that they charge. Yes, the furniture is made well and should last quite a while but the prices are just too inflated. I can buy similarly well-made furniture for a whole lot less. And chances are the design will be something much more unique."

"Overpriced items. Not in my budget. Ok selection. Not for me. The place is nice and the staff is nice. Well, cleaned store."