Ethan Allen Price, Durability, Delivery, Pros and Cons
Ethan Allen is a homeware brand and furniture store that's dedicated to creating unique, intensely American designs by combining quality with innovation. The brand's modern designs are superbly-made reimaginings of classic and country furniture styles.
The goal of the brand, as far as I can tell, is to become the furniture equivalent of your favorite pair of jeans or little black dress – an instantly recognizable symbol of livable luxury.
Ethan Allen's sofas, sectionals, chairs, and recliners are stylish, durable, and sustainably built in North America with high-quality craftsmanship. The only downside is that the luxurious looks and long-lasting comfort comes at a comparatively high price when measured against similar brands we've reviewed.
Ethan Allen Interiors was founded in 1932 by brothers-in-law, Nathan S. Ancell and Theodore Baumritter. Back then, they exclusively sold outdoor furniture and garden accessories, which were all made by someone else.
Fast forward 89 years, and the brand now manufactures the majority of its own goods (including indoor furniture and home decor) within the United States, and sell them directly to consumers via 300+ stores located on 3 continents. The complimentary interior design service has been at the heart of what they do for fifty years, helping customers to style their homes with new furniture items for free. I'm not sure how many of their customers use this service, but it's definitely a nice perk.
When thinking about the brand, I'm struck by the diverse array of sofas and loveseats that feature a mix of traditional and modern designs, which are all customizable and made to order. Their best-selling fabrics are available online, but you can always visit an Ethan Allen design center for even more options or to speak directly to a salesperson.
In this article, I'm going to explore the pros and cons of shopping with this brand, tell you about Ethan Allen customer service policies, and review one of their best loved sofas, the Remson.
Pros and Cons of Ethan Allen
Pros
Ethan Allen has a huge selection of sofas, sectionals, chairs, and recliners. Unlike other brands – e.g., Lovesac – who do one or two things (and do them well), Ethan Allen create high-quality furniture across a range of designs.
They offer these items at a range of price points, starting from around $1100.
Ethan Allen own 300+ stores across the United States, Canada, Europe, and Asia. This means you can actually go into a showroom to test the sofas out before you buy one. Other brands we have reviewed, like Wayfair and Allform, are exclusively online retailers; they don't give you this kind of confidence or security.
The in-home delivery service means you don't have to unpack or assemble your sofa yourself. Unlike Allform and Lovesac, Ethan Allen have a dedicated delivery team who will build your new furniture item (when necessary) and bring it straight into your home.
Cons
The higher price point. Ethan Allen offer sofas at a range of prices, but even the positive reviews seem to comment on how expensive they are compared to other brands. For example Article sofas start at $600, though they're not typically up to the same quality.
Ethan Allen don't just sell sofas. They offer a diverse range of products, including dining room tables, bedroom sets, lamps, and rugs. If you're looking for a couch or living room furniture specialist, you might want to check out brands like Allform, Lovesac, Natuzzi, or Burrow.
Even the "Quick Ship" option on customizable sofas is not as fast as other brands. These custom pieces take up to 30 days to arrive. This is significantly longer than the shipping windows given by Allform, Article, Burrow and Lovesac. Standard delivery takes 6-8 weeks within the contiguous United States.
No free shipping. Plus, Ethan Allen charges extortionate delivery fees. You could end up paying for $199 for your new sofa to be delivered – money which could otherwise have been spent on an Ethan Allen ottoman to go with it.
How much are sofas and couches from Ethan Allen?
The price of Ethan Allen sofas starts at around $1100 for a small loveseat, but their large, high end leather sectionals can cost as much as $13,000.
The brand does sell a wide variety of high quality sofas, sectionals, loveseats, recliners, and arm chairs. In addition to living room furniture, they also offer a full range of products for other rooms in the house, including dining room and bedroom furniture, and home accessories. Plus, their free, professional design service will help you put it all together, which I think is pretty cool.
How long does it take for Ethan Allen to deliver sofas?
Ethan Allen creates custom-made sofas. Each new piece of furniture is made to order. As such, you can expect to wait between 6 to 8 weeks before your new couch is ready for delivery.
However, they do offer an expedited, "Quick Ship" service on some customizable sofas, which take up to 30 days to arrive. That's lightning fast compared to some other custom brands I've tried.
It's worth the wait, though, because Ethan Allen run an in-home delivery service for all their furniture items. They handle all the heavy lifting and complicated assembly (where necessary) and check everything is as it should be before leaving you to enjoy your new sofa in peace.
How long do Ethan Allen sofas typically last?
Ethan Allen use high quality materials, and every order is custom made by their US-based manufacturers. So, as long as you look after your sofa properly, it should last at least 7 to 15 years. Proper sofa maintenance means fluffing and turning the cushions weekly to spread the wear and keeping the fabric out of direct sunlight to prevent discoloration.
However, if you're this careful and something still goes wrong within the sofa's expected lifecycle, Ethan Allen offers limited warranties on all its products and components, and the length of the warranty varies from piece-to-piece.
Upholstery frames, springs, and legs (7 years)
Seat cushions (4 years)
Back cushions (3 years)
Stitching, buttons, zippers, etc. (3 years)
Fabric upholstery (1 year)
Arm pillows (1 year)
Just make sure you check the specific warranty on the faulty item prior to making a claim. To be clear, I've never had to do this, so I'm not exactly sure how smoothly it goes.
Ethan Allen Policies
Ethan Allen does not offer free deliveries. Costs range from $59 to $199, depending on the price of the item. Parcel post items are sent out at standard UPS shipping rates, but since their sofas won't fit inside your mailbox, you're looking at the maximum delivery cost of almost $200.
It isn't cheap, but this fee does cover their "Premier In-Home Delivery Service," which at least saves you having to carry, unpack, and put together heavy items of furniture.
The Ethan Allen in-home delivery team will do all that for you – plus, they'll do a thorough inspection of your new sofa before they go, saving you the trouble and cost of returning it, if something is wrong.
Returns are accepted within 30 days of delivery, but please note that all shipping and returns fees are the responsibility of the customer.
Trial/Returns: 30 days
Financing: Ethan Allen offers 6-month – 4 years' promotional financing with an Ethan Allen Platinum Card. Apply online or at your local Design Center.
Warranty: 7 year warranty on upholstery frames, springs and legs. Other warranties vary (1-4 years on different cushions, pillows, and design elements).
Production: All Ethan Allen goods are manufactured in the USA.
What is the most popular sofa from Ethan Allen?
The Remson Sofa is the most popular sofa from Ethan Allen. I put together some of the specifications below, and then you can see my review right after.
Price: starts at $1462
Sofa Dimensions: 75" W x 35″ D x 31″ H
Seat Dimensions: 65″ W x 24″ D x 13″ H
Arm Height: 22"
Seat Height: 18"
Leg Height: 5.5"
Weight: 135lb
Fabric Options: Velvet, Woven, Chenille
Available Colors: 30+ solid/texture solid color choices
Foams: Certified through the CertiPUR-US® program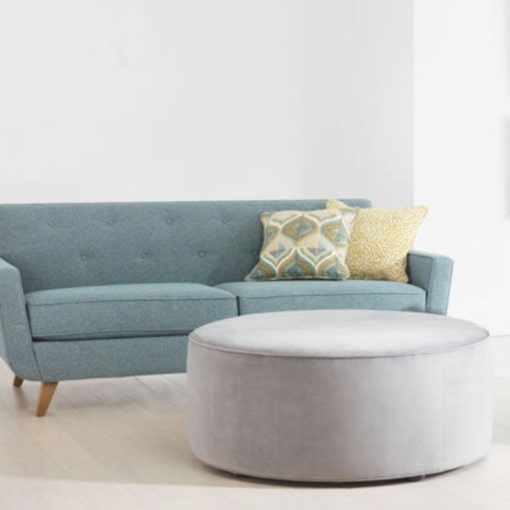 Review of the Remson Sofa
At Home of Cozy, we know furniture shopping can be tricky. It's not enough to rely on pictures, specs, and dimensions. Ideally, you want to try a couple of sofas for yourself before you buy one, to find out which one you like the best.
We also know, however, that that's not always an option, so we've tested this sofa for you, and reviewed it in terms of the following criteria:
Durability – Given the price point of this sofa, you'd expect it to stand the test of time. So, we assessed the durability of both the fabric and the frame when testing the Remson Sofa.
Comfort – The whole point of a couch is that it's a comfy place for you to curl up at the end of a long day and entertain guests on the weekends. We tested the softness of the cushions and the couch's overall snuggability in order to write this review.
Style – Comfort has got to be the #1 factor in choosing a couch, but you want something that's going to look good in your living room too! By consulting Ethan Allen's interior designers, we were able to determine what would go well with the Remson Sofa in a real living room set up.
Sustainability – As consumers have become more ecologically aware, sustainability has started to influence their purchasing decisions. We wanted to make sure that the brand ethics matched the concerns of our readers and that the Remson Sofa was sustainably produced.
Quality – considering all of the above factors, and the overall quality of the sofa, we determined whether the Remson Sofa was worth its starting price.
The Remson Sofa from Ethan Allen is a very modern take on a classic, American, mid-century design. With its sleek curves and button-accented back, I'd call it "a very now throwback".
We tried the Remson Sofa in Verona Aquamarine with flared legs in the bark brown finish, and not only was it so chic, it was super comfortable, too.
The cushions are filled with flexible polyurethane foam certified through the CertiPUR-US® program, and the velvet upholstery over the top is luxuriously soft, meaning this sofa gives you a great feeling inside and out.
Personally, I love Ethan Allen's ethos, as a homeware brand, that we have to take care of the home we all share, i.e., the planet. They are reducing their impact upon the environment by using recycled fibers and metals when they manufacture their sofas. Specifically, the Remson Sofa fiber wrap is made of 30% recycled materials.
Because velvet fibers are very tightly woven, this fabric is very durable. It doesn't snag easily, and polyester velvets are stain resistant to boot. So, when you add in the engineered wood frame as well, you've got yourself a really strong, long lasting sofa.
The interior designer we talked to recommended pairing it with a Remson chair, if we were going to be making a purchase, to create a full living room set. Plus, aquamarine goes beautifully well with mustard yellow, so he suggested adding in a couple of throw cushions or even a cube-shaped ottoman to accent it.
Entertain guests on the Remson Sofa in your lounge, or gather the family on the couch to watch a movie. For lazy days and formal nights, we think this is the perfect addition to any living room if it's within your budget.
It's beautiful, comfortable, and will last you a long time – an investment, as real Ethan Allen customers have. Check out what they have to say about the brand and its pricing structure below.
Real Ethan Allen Customer Reviews
Positive Experiences:
"If you can afford it, they have gorgeous furniture and lovely quality items. I would highly recommend them for investment pieces."
"I can't say enough about the quality of furniture available at Ethan Allen! They are a little on the pricey side, but their customer service and high-quality product make investing in Ethan Allen furniture worth every penny!"
Negative Experiences:
"I like Ethan Allen furniture. I find the styles are easy to incorporate into just about any room, even if they often are somewhat uninspired in design. My main issue is the price that they charge. Yes, the furniture is made well and should last quite a while but the prices are just too inflated. I can buy similarly well-made furniture for a whole lot less. And chances are the design will be something much more unique."
"Overpriced items. Not in my budget. Ok selection. Not for me. The place is nice and the staff is nice. Well cleaned store."