In the quest for the perfect night's sleep, choosing the right mattress store becomes a major decision. After carrying out meticulous research I found my ideal destination at Mancini's Sleepworld for my next mattress purchase. This choice wasn't just about buying the best mattress; it was about investing in personalized service, expertise, and a legacy of quality that spans generations.
Company Overview: Mancini's Sleepworld
Founded in 1969 in Sunnyvale, CA, Mancini's Sleepworld began as a discount-focused sleep company. Over the years, it evolved into a trusted family-run business catering to a diverse range of budgets and desires. What sets Mancini's Sleepworld apart is its extensive selection, accommodating various budget ranges without compromising on quality.
At Mancini's Sleepworld, you'll find an array of options, from hybrid mattress choices to luxury mattress brands like Aireloom and Stearns & Foster, to mid-line choices such as Tempur-Pedic and Beautyrest. The wide assortment of comfortable mattresses was impressive. When I arrived at the shop they were also having a day sale where I could save even more on my mattress purchase in-store. I noticed that there was also a Labor Day sale coming up so clearly they offer holiday savings.
They also offer discount options through their proprietary Sleepworld Designs line. While the selection is vast, there's an underlying truth in the mattress industry – the prices might be higher due to the operational costs, commissions, and profits involved.
What you get at Mancini's Sleepworld is not just a mattress; it's a personalized service experience from a mattress middle-man. Their knowledgeable salespeople guide you through the selection process, ensuring you find the right fit for your needs.
One thing to note is that there are reports of Mancini's Sleepworld offering second-hand mattresses, a practical option for those looking to save money. However, it's essential to clarify with their sales staff whether the mattress you're interested in is second-hand or brand-new. Different stores have different policies.
I believe that Mancini's Sleepworld stands as a testament to quality, customer service, and a commitment to helping you achieve the sleep you deserve.
Store Locations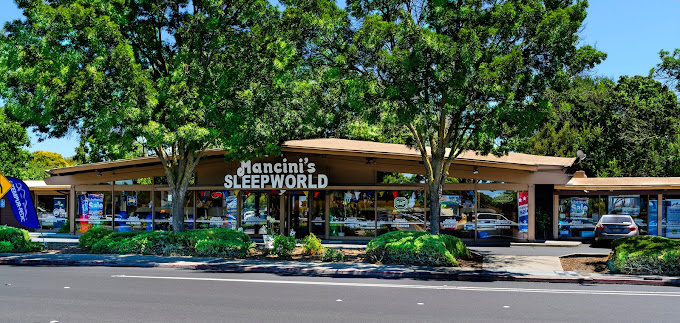 Mancini Sleepworld has many store locations across California where they offer quality mattresses and furniture.
2828 Sisk Rd. Modesto, CA 95350
S209-524-7700
Mancini's Sleepworld Concord
Concord, CA · (925) 689-9300
Stockton, CA · (209) 951-5400
Mancini's Sleepworld Walnut Creek
Walnut Creek, CA · (925) 932-9200
Mancini's Sleepworld Sunnyvale
Sunnyvale, CA · (408) 245-6251
Mancini's Sleepworld Pittsburg
Pittsburg, CA · (925) 755-4600
Mancini's Sleepworld Fremont
Fremont, CA · (510) 490-0100
Mancini's Sleepworld Brentwood
Brentwood, CA · (925) 634-7800
Mancini's Sleepworld Fairfield
Fairfield, CA · (707) 425-2800
Mancini's Sleepworld Pinole
Pinole, CA · (510) 758-3800
San Jose, CA · (408) 264-6100
Mancini's Sleepworld Laurel Heights
San Francisco, CA · (415) 750-0500
Mancini's Sleepworld Dublin
Dublin, CA · (925) 828-9760
Mancini's Sleepworld Redwood City
Redwood City, CA · (650) 367-1770
Mancini's Sleepworld Union City
Union City, CA · (510) 324-4700
Mancini's Sleepworld Alameda
Alameda, CA · (510) 749-4800
Mancini's Sleepworld Santa Clara
Santa Clara, CA · (408) 261-7400
Mancini's Sleepworld Campbell
Campbell, CA · (408) 559-4800
Mancini's Sleepworld Colma
Colma, CA · (650) 755-9100
Open ⋅ Closes 8 PM
Mancini's Sleepworld Mountain View
Mountain View, CA · (650) 988-1300
Mattress Brands and Other Product Offerings At Mancini's Sleepworld

At Mancini's Sleepworld, the diverse array of mattress brands ensures that every customer finds their perfect match, tailored to individual needs and preferences.
Among the renowned brands featured include:
Tempur-Pedic is celebrated for its innovative memory foam mattresses that offer exceptional comfort and support.
Avocado, with its eco-conscious approach, provides organic and natural latex mattresses, appealing to environmentally conscious sleepers.
Aireloom and Stearns & Foster offer luxurious options, combining exquisite craftsmanship with premium materials for a truly opulent sleep experience.
Beautyrest and Sealy provide reliable choices with a focus on both comfort and affordability, ensuring a good night's sleep without breaking the bank.
Kluft, known for its handcrafted designs, showcases the artistry of mattress making, while Sleepworld Designs, an in-house line, offers quality options tailored to various budgets.
Casper and Helix bring innovation to the forefront with their advanced sleep technology, catering to those seeking modern solutions.
Mancini's own brand signifies their commitment to quality and personalized service. Sleepworld Express, Kingsdown, Nectar, and DreamCloud round out the selection, providing a comprehensive range of options that guarantee a restful and rejuvenating night's sleep for all customers.
One thing I appreciated about Mancini's is that they offered more than just mattresses. All Mancini's are also furniture stores where you can buy more than a new mattress. They also sell bedroom furniture, bed frames, dressers, sofas, kids' furniture, and more at their Northern California stores.
Mattress Brands that Stood Out
Yes, Mancini carries an impressive line of mattress brands. However, two stood out as my favorites: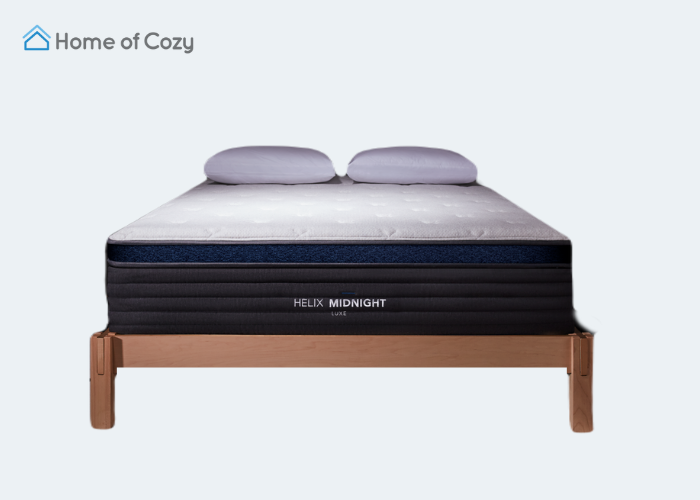 The HELIX MIDNIGHT LUXE mattress stands out for several compelling reasons. Its Luxe Upgrade Features include zoned lumbar support, ensuring enhanced contouring and optimal alignment for the body. The premium quilted pillow top adds an extra layer of plushness, offering a luxurious feel while maintaining necessary support.
What makes this mattress truly versatile is its medium feel, striking the perfect balance between firmness and softness. This medium feel is especially popular among couples with different comfort preferences, providing a harmonious sleeping experience for both partners.
What I Loved
I loved that this mattress is designed for side sleepers and individuals who tend to toss and turn during the night. It incorporates luxury Memory Foam, specifically designed to provide targeted pressure point relief on the hips and shoulders. This feature ensures that side sleepers (like me) experience optimal support.
Also, the HELIX MIDNIGHT LUXE offers a unique customization feature with its choice of cooling covers. Customers can opt for the ultra-breathable TENCEL™ cover, designed for maximum airflow, ensuring a refreshing sleep experience.
You can upgrade to the GlacioTex™ Cooling Cover, which effectively pulls heat away from the body, creating an environment conducive to a cool and comfortable sleep. This customization option allows you to tailor your sleeping surface according to your specific temperature preferences, ensuring a restorative and undisturbed night's sleep.
What I Didn't Love
They don't offer a firm choice in this mattress. It is only available in a medium firmness.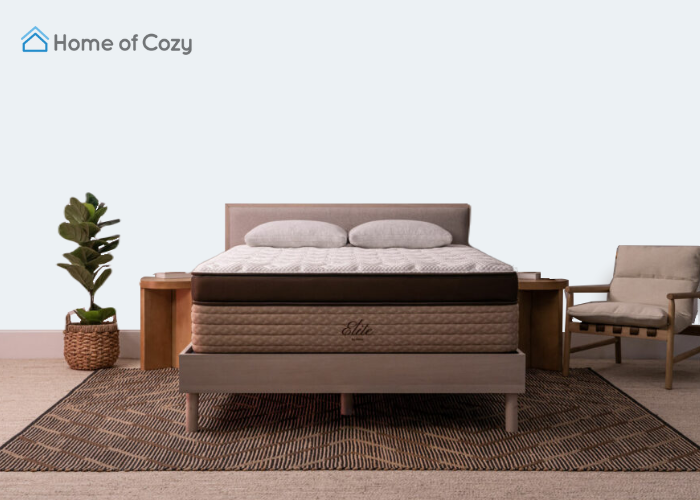 The Helix Elite Collection is not just one mattress but a family of outstanding mattresses so I was able to pick exactly which one best met my needs.
What I Loved
I loved the variety! The Helix Elite Collection caters to different sleep preferences and positions. The mattresses offered a range of feels, from soft to firm, ensuring there was an option for every type of sleeper. The targeted pressure relief and dual micro coil layers provided body cradling comfort and best-in-class support, ensuring a comfortable and restful night's sleep. Also, the 100-night sleep trial and 15-year warranty were impressive perks.
What I Didn't Love
A high-quality mattress is worth paying up for. The Helix Elite mattresses were priced a little high, but they were not excessive.
Mancini's Online Presence
Visit Mancini's website at sleepworld.com can be found HERE You can also check out their social media sites:
Warranties, Sleep Trial, and Return Policies

Mancini's Sleepworld understands the importance of ensuring customer satisfaction and confidence in their mattress purchase. To provide peace of mind, Mancini's offers a comprehensive 120-night sleep trial, allowing customers ample time to test out their chosen mattress thoroughly. If, within this period, the customer is not fully satisfied with their purchase, they have the option of a ONE TIME exchange or ONE TIME full refund for the mattress set. This policy demonstrates Mancini's commitment to customer comfort and its dedication to ensuring customers find the perfect mattress for their needs.
At Mancini's Sleepworld they always maintain a customer-friendly return policy designed to ensure satisfaction with their products. Within 120 days (sleep trial) of delivery, customers have the option of a ONE TIME exchange or ONE TIME full refund for their mattress set. It is important to note that the first 30 days of the purchase are non-returnable and non-exchangeable. To be eligible for a return, the mattress must be in pristine condition, free from damage, abuse, stains, and the law label must be intact.
While Mancini's Sleepworld always works to accommodate customer needs, certain items are not covered by their Money Back and Comfort Exchange Guarantee. These items include Warranty Replacements, Damaged, Abused, or Stained Mattresses, "As-Is" Mattresses, Treated Mattresses, Floor Models, Special Order Items, Furniture, and Adjustable Bases. Should customers proceed with an exchange or return, there is a processing fee of $99.95 applicable. Additionally, foundation returns or exchanges will incur a $39.95 processing fee.
To ensure a seamless return experience and a clear understanding of the terms and conditions, customers are advised to review Mancini's Sleepworld's official return policy or consult their customer service team. This ensures that customers receive specific details about eligibility, timeframes, fees, and any additional requirements that may pertain to their particular situation, providing transparency and clarity throughout the process.
Outstanding Promotions
At Mancini's Sleepworld, customers are treated to exceptional promotions that enhance their shopping experience. They can take advantage of Free Next Day Delivery, which not only ensures swift delivery but also includes setup and the removal of the old mattress, simplifying the entire process. With an impressive array of products,
Mancini's Sleepworld proudly boasts the Biggest Brands and Largest Selection in the market, offering customers endless choices from renowned mattress brands.
The promotions extend beyond mattresses to furniture, where customers can enjoy discounts of up to 50% Off, allowing them to create a comfortable and stylish bedroom space.
Mancini's Sleepworld prioritizes customer satisfaction, providing quality products, substantial savings, and unmatched convenience, making their shopping journey truly exceptional.
Community Involvement

In their commitment to community involvement, Mancini's Sleepworld dedicates their efforts to making a positive impact on the lives of others. Partnering with Ticket to Dreams, an organization focused on supporting foster children and empowering them to chase their dreams, Mancini's Sleepworld contributes to providing essential resources, educational support, and enrichment programs.
Recognizing the unique challenges faced by foster children, Mancini's Sleepworld and Ticket to Dreams work together to bridge the gaps, ensuring these young individuals have the necessary tools for a brighter future.
Understanding the fundamental needs that often go unmet for foster children, Mancini's Sleepworld actively engages in their collaboration with Ticket to Dreams. They go beyond financial contributions by participating in various programs and hosting events aimed at donating essential items to these children. Through their shared mission, they create a sense of comfort and stability in the lives of these young souls, offering them a safe and restful environment to sleep, study, and dream.
One of the notable initiatives undertaken by Mancini's Sleepworld is their Coat Drive, an event aimed at providing warmth and support to those in need within the community. By organizing such drives, they extend their commitment to making a meaningful difference in the lives of others, embodying their belief in the power of community and compassion.
Mattress Shopping Tips
Are you ready to shop for your next mattress? We encourage you to visit Mancini's Sleepworld for your next mattress purchase.
Here are a few mattress-shopping tips:
Prioritize Comfort: Focus on your comfort above all else. Lie down on different mattresses to find the one that feels just right for your body.
Consider Your Sleep Style: Take into account your preferred sleep position. Side sleepers might prefer softer mattresses for better spinal alignment, while back or stomach sleepers might opt for firmer support.
Understand Mattress Types: Familiarize yourself with various mattress types like memory foam, innerspring, latex, and hybrid. Each type offers different benefits in terms of support and durability.
Set a Realistic Budget: Determine your budget beforehand. Be open about it with the salesperson to explore options within your price range. Remember, a higher price doesn't always mean better quality.
Test Extensively: Don't rush the testing process. Spend enough time lying down in your natural sleeping position. Assess how the mattress supports your body and whether it alleviates pressure points.
Research Warranty and Return Policies: Understand the warranty details and return policies of the store. A good warranty protects you against defects, and a flexible return policy ensures you have options if the mattress doesn't meet your expectations.
Read Customer Reviews: Check online reviews for the specific mattress you're interested in. Real experiences from other customers can provide valuable insights into comfort, durability, and overall satisfaction.
Negotiate Smartly: Don't shy away from negotiating the price, delivery fees, or added perks. Many stores are open to negotiation, especially if it means making a sale.
Look for Value: Consider the overall value of the purchase. Sometimes, stores offer bundles including pillows, mattress protectors, or delivery services. Evaluate these deals for added value.
Trust Your Instincts: If something feels off or if the salesperson is too pushy, it's okay to walk away. Your mattress is a significant investment; take your time and make an informed decision that feels right for you.
Conclusion
Mancini's Sleepworld emerged as my ultimate destination for a mattress purchase. Established in 1969, this family-run business in Sunnyvale, CA, has transformed from a discount-focused sleep company into an impressive mattress and furniture retail chain that caters to diverse budgets and desires. Mancini's extensive selection, ranging from luxurious brands like Aireloom mattresses, Beautyrest Black, Serta and Stearns & Foster to budget-friendly options like Sleepworld Designs, ensure quality without compromise.
The mattress store's commitment goes beyond transactions; it's a personalized service journey guided by knowledgeable staff. Offering a 120-night sleep trial and partnerships with organizations like Ticket to Dreams, Mancini actively participates in community initiatives, making a meaningful impact.
Among their standout offerings, the Helix Midnight Luxe and the Helix Elite Collection caught my attention. The Helix Midnight Luxe, though lacking a firm option, impresses with zoned lumbar support, luxury Memory Foam for pressure relief, and customizable cooling covers, making it ideal for side sleepers. The Helix Elite Collection, available in various feels such as mattress firm, ensures tailored comfort with targeted pressure relief and dual microcoil layers.
With Mancini's Sleepworld, mattress shopping becomes an experience in personalized service, community engagement, and a transformative journey toward better sleep. Before you head to Mancini's I suggest that you read: The Best Mattresses for 2023 so you can make your perfect matters purchase.