In this article, we've carefully researched and handpicked the best mattress stores in Santa Rosa, ensuring you have the essential information to make an informed mattress-buying decision. Whether you're seeking memory foam, innerspring, or eco-friendly alternatives, these stores have you covered.
Choosing the right mattress is essential for your physical and mental well-being. Santa Rosa's mattress stores offer diverse options to cater to every preference and budget. Enjoy a better night's sleep and relaxation with the perfect mattress choice.
Your Guide to the Best Mattress Stores in Santa Rosa, CA
Mattress Shopping Tips
When shopping for a new mattress at a retailer, it's crucial to be well-prepared. Start by conducting thorough research in advance, familiarizing yourself with all of the different types of mattresses available. Having a clear understanding of memory foam, innerspring, latex, and hybrid options can help you make an informed choice.
Establish a budget beforehand. Set a specific budget range and be transparent with the salesperson about your financial limitations. Open communication ensures you're shown mattresses that align with your budget constraints while still meeting your comfort requirements.
Consider your unique needs and preferences when selecting a mattress. Think about factors like firmness level, ideal sleeping positions, and any special considerations such as allergies or back pain. Communicate these preferences clearly to the salesperson to find a mattress that caters to your specific requirements.
Test the different mattresses extensively. Lie down in your preferred sleeping position and take your time to assess comfort and support. A mattress is a significant investment, so it's crucial to ensure it feels just right for you. Always consider if you want to shop for firm mattresses or soft ones such as memory foam mattresses.
Inquire about the trial period and return policy offered by the mattress store. A reputable store should provide a trial period during which you can return the mattress if it doesn't meet your expectations.
Understand the terms and conditions thoroughly before purchasing to avoid any misunderstandings later on. You want to gain the best price but you also want to ensure an informed mattress purchase.
Comparison shopping is key. Visit multiple stores and compare prices for similar mattresses. Don't shy away from negotiating. You can negotiate not only the mattress price but also delivery fees, free accessories, and additional perks like extended warranties.
Consider the warranty offered with the mattress. Understand the warranty terms, including what is covered and for how long. A reliable warranty ensures your investment is protected in case of any unforeseen issues.
Weigh customer reviews. Reading real experiences from other buyers can provide valuable insights into the quality of the mattress and the customer service provided by the store.
Taking the time to research and follow these tips will help you make a well-informed decision and find the perfect mattress for your needs.
Our Top Picks for Best Mattress Stores in Santa Rosa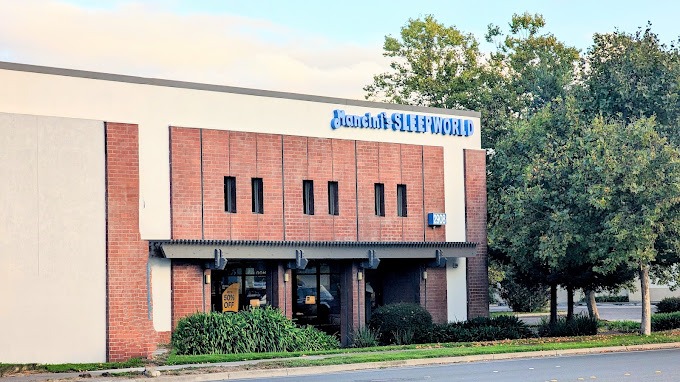 Address: 2908 Santa Rosa Ave Santa Rosa, CA 95407
Phone Number: 707-525-1900
Trial Length: 120 nights
Mancini's Sleepworld in Santa Rosa offers a diverse selection of premium mattresses from top brands like Beautyrest, Sealy, Tempur-Pedic, and more. The variety in sizes, comfort levels, and types catered to my specific needs, ensuring I had numerous options to choose from.
The Helix Midnight Luxe mattress stood out due to its premium features tailored for customized sleep. Its zoned lumbar support, luxurious quilted pillow top, and a choice between ultra-breathable TENCEL™ Cover and advanced GlacioTex™ Cooling Cover ensured enhanced comfort and cool sleep.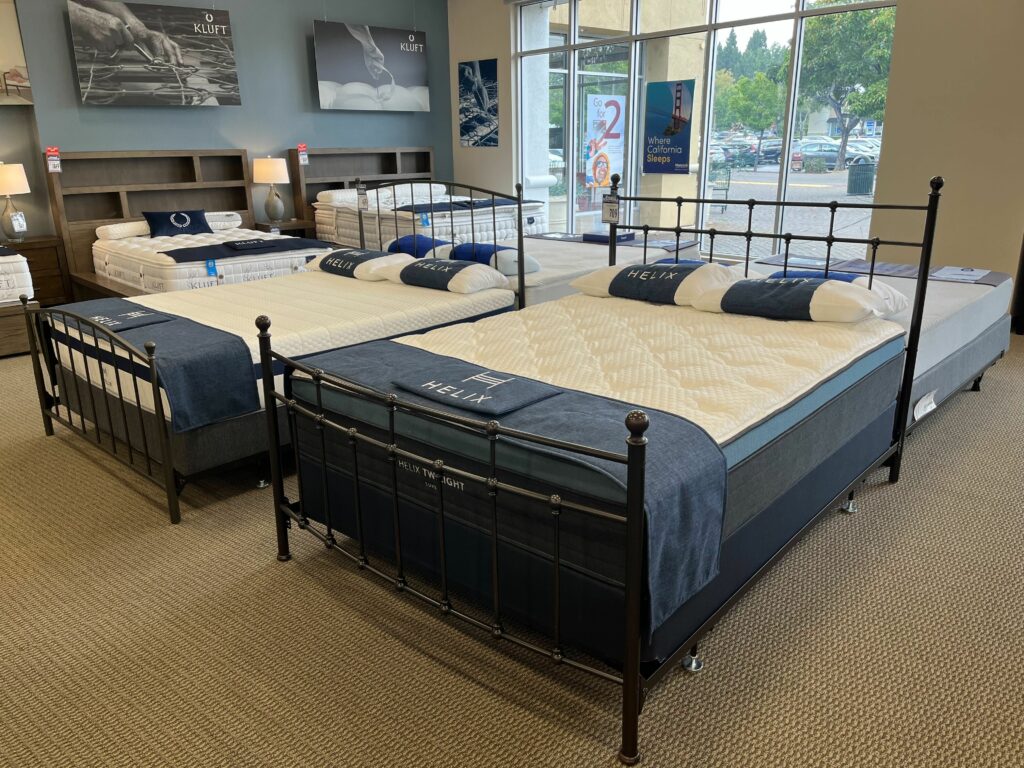 Being able to test the mattress in-store and experiencing its medium firmness firsthand convinced me of its suitability for my sleep preferences. As a side sleeper, the mattress seemed to hold the promise of relieving the pressure on my hips and shoulders.
The convenience of finding both the Helix Midnight Luxe mattress and matching bedroom furniture at Mancini's Sleepworld influenced my decision. The store's comprehensive offerings made it easy for me to create the perfect bedroom setup, ensuring a comfortable and aesthetically pleasing sleeping environment.
I was able to visualize a California-king mattress, look at bed frames, compare an adjustable frame with adjustable bases, and more. I even found the perfect headboard and mattress topper for my new mattress and bedroom.
Besides mattresses, the store provides extensive collections of stylish home and office furniture, and futons, including bedroom sets, kids' beds, desks, and dining chairs. This allowed me to explore furniture options in addition to finding the perfect mattress, creating a one-stop shopping experience. To learn more about this Helix mattress, check out Helix Mattress Reviews.
What I Loved
The customer service at Mancini's Sleepworld was exceptional. The staff was warm, quick, and responsive, ensuring I had a comfortable shopping experience. Their willingness to assist and answer questions made the process enjoyable and stress-free.
Mancini's Sleepworld's Perfect Match Guarantee, offering a hassle-free 120 Night Guarantee and a 10% Price Match Guarantee, provides peace of mind. Knowing I had the option to return the mattress if it didn't meet my expectations added confidence to my purchase decision.
The promise of free next-day delivery within the local areas of the San Francisco Bay Area was a significant advantage. This convenience factor made the entire buying process seamless and efficient. I didn't have to worry about pick up because I could just have the mattress easily delivered.
What I Didn't Love
While the shopping experience was generally positive, I found the store to be quite busy, possibly affecting the personalized attention I received. However, the staff's responsiveness helped mitigate this concern to some extent.
In summary, Mancini's Sleepworld in Santa Rosa, CA, emerged as the best mattress store for me due to its extensive selection, excellent customer service, convenient guarantees, and the availability of the Helix Midnight Luxe mattress, which perfectly met my comfort needs. I even bought a bed frame, headboard, box spring, and new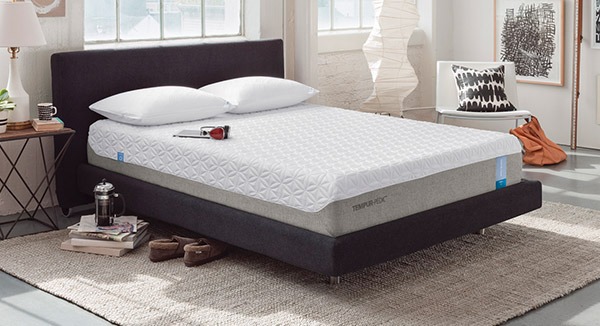 Address: 2770 Santa Rosa Avenue Santa Rosa, CA 95407
Phone Number: 707-578-1896
Trial Length: Depends on the mattress brand
Sleep City Mattress Center has multiple locations, including Napa, and Petaluma, two in Santa Rosa, and Windsor. This extensive network ensures accessibility for customers across various neighborhoods, making it a go-to choice for many residents in the region. You'll want to map out the different locations.
The mattress retailer offers a diverse selection of reputable mattress brands. From luxurious options like Aireloom, Stearns & Foster, Serta, and Tempur-Pedic, to more budget-friendly choices including Sealy and Bedtech, Sleep City caters to a wide range of preferences and budgets. The availability of trusted brands provides customers with ample choices to find a mattress that perfectly aligns with their comfort needs. They offer quality mattresses and budget-friendly choices.
With a strong emphasis on customer service, Sleep City ensures that its customers have a positive shopping experience. The staff is knowledgeable and helpful, guiding customers through the selection process and addressing any queries or concerns promptly. This focus on customer satisfaction creates a welcoming and supportive atmosphere, enhancing the overall shopping experience. I felt like I could find a mattress set at an affordable price.
From the minute that I walked through the door, I felt like my questions were promptly answered and I received impressive customer service.
Sleep City's commitment to excellent customer service extends beyond the showroom floor. Their dedicated customer service team is always reachable via the provided phone numbers, so you can seek assistance even after your mattress purchase. This availability for inquiries fosters trust and loyalty among customers.
Sleep City stands out among the best mattress stores in Santa Rosa due to its extensive network of conveniently located stores, a diverse range of high-quality brands, and a customer-centric approach that prioritizes satisfaction. Whether customers are seeking a luxurious mattress from Aireloom or a reliable option from Sealy, Sleep City offers an impressive mattress selection.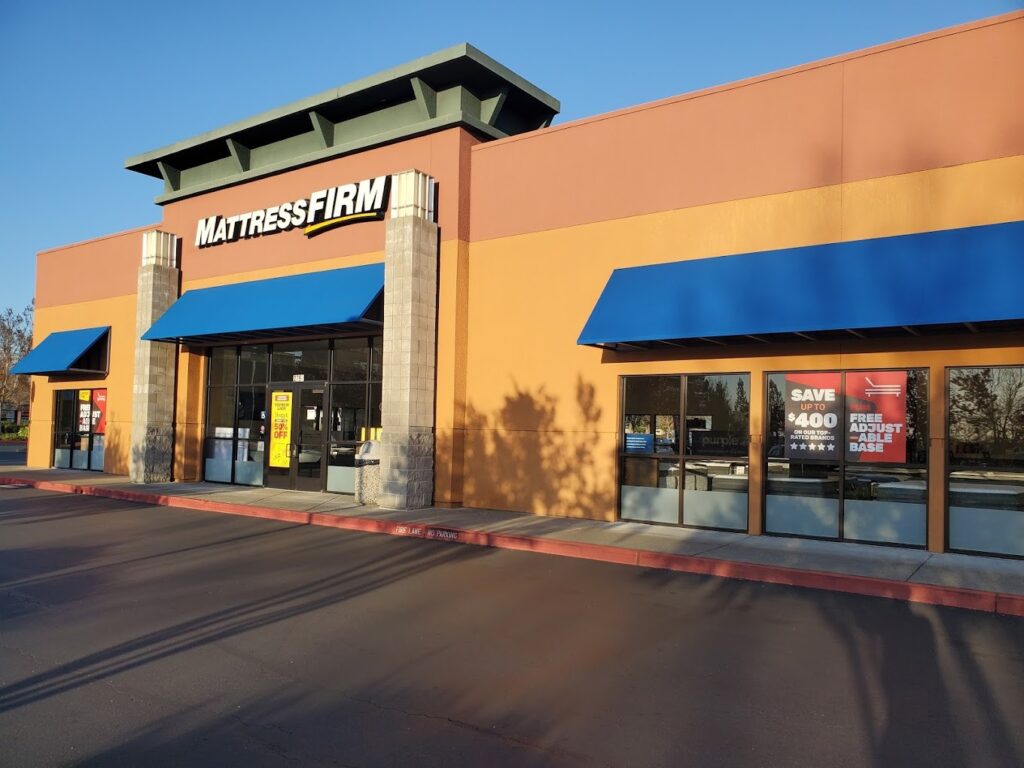 Address: 2795 Santa Rosa Avenue Santa Rosa, CA 95407
Phone Number: (707) 568-6511
Trial Length: 120 nights
Mattress Firm Santa Rosa Avenue stands out due to its unique focus on matching customers with the perfect mattress tailored to their needs. The store is not just about selling mattresses; it's about ensuring that every customer finds their ideal match, emphasizing personalized service and customer satisfaction.
With an impressive 90-year legacy, Mattress Firm has become a leader in mattress retail. Over the years, the company has transformed into America's largest specialty mattress store, boasting a vast network of more than 2,400 neighborhood stores across 49 states. This extensive experience speaks volumes about their credibility and understanding of customer needs.
What sets Mattress Firm apart is its investment in its employees. Each Sleep Expert undergoes rigorous training, totaling 80 hours, to ensure they are equipped with the knowledge and skills to assist customers effectively. This dedication to employee training translates into exceptional service for customers, creating a positive and informative shopping experience.
Mattress Firm's commitment to customer satisfaction is reinforced with their Love Your Mattress Guarantee®. This guarantee promises customers the best prices, selection, comfort, and overall shopping experience. It gave me much-needed shopping confidence that I truly appreciated.
Beyond their sales, Mattress Firm is deeply committed to giving back to the communities they serve. The Mattress Firm Foster Kids initiative, part of the Ticket to Dream Foundation, shows the retailer's dedication to making a difference. The store regularly hosts collection drives to ensure that foster children have access to the resources needed for better sleep.
Mattress Firm Santa Rosa Avenue earns its place among the best mattress stores in Santa Rosa due to its customer-centric focus, extensive industry experience, highly trained staff, ongoing commitment to customer satisfaction, and meaningful community engagement.
Conclusion
Choosing the right mattress is an investment. You want to make the best choice possible. Santa Rosa's best mattress stores offer diverse options to cater to every individual's unique preferences and budgets.
Armed with the right knowledge and following the provided mattress shopping tips, you can confidently make an informed decision about your mattress purchase. Before embarking on your mattress-buying experience, I suggest that you take the time to read "The Best Mattresses for 2023 so you have an idea about the different types of mattresses and which one will best fit your needs.
When in-person mattress shopping at reputable retailers, such as Mancini's Sleepworld, Sleep City, and Mattress Firm Santa Rosa Avenue, you are not just exploring a multitude of mattress choices; you are immersing yourself in a personalized and customer-focused experience. The experts at each of the stores will work closely with you to help you make the best mattress purchase choice.