If you're in the market for a new sofa, you know how overwhelming it can be. Finding a sofa that fits your style and meets your criteria for quality, price, comfort and size can be a big ask.
We've scoured the sofa market for both big and small sofa brands and found the best couches for consumers across the board. Whether you're looking for something upscale or affordable, traditional farmhouse style or mid-century modern, we've got you covered.
Keep in mind that not every couch brand is going to suit everyone's needs. There are a ton of variations when it comes to the categories we mentioned. In the end, you'll have to make the final decision based on what works best for you.
We judged our best sofa brands by five different categories:
1. Quality – We accounted for the quality of materials used in these sofas compared to the industry standard, and tried to answer key questions around sofa longevity, pilling and more.
2. Budget – For the materials and quality you're getting, we want to make sure you're getting a fair price. We looked at this objectively to determine the value of the couch and decided whether they are good buys or not.
3. Comfort – We evaluated comfort by both testing some of these brands and comparing against consumer preference. We take comfort very seriously at Home of Cozy.
4. Design – We rated brands that are bringing fresh designs or interesting functionality to their couches a little more highly than traditional sofa makers.
5. Sustainability – Bonus points for brands that are focusing on making their couches with sustainable materials or have sustainability as an ethic for the brand.
We picked the best of the best for each category. On top of that, we only considered brands that offer both affordability and quality. We've also taken other qualities like return policies, warranties, and in-store experience into consideration, making this list the de facto authority on the entire sofa-buying experience.
12 Best Sofa Brands for Any Buyer's Style and Price Range
This selection provides a variety of brands with different strengths. With a range of price points and styles, there's a brand here for everyone.
Brand
Best For
1

Editor's Choice

Overall
Shop Now
2

Durability
Shop Now
3

Budget
Shop Now
4

Comfort
Shop Now
5

Timeless Design
Shop Now
6

Frequent Movers
Shop Now
7

Variety
Shop Now
8

Trends
Shop Now
9

Ergonomic Design
Shop Now
10

Brand For Sustainability
Shop Now
1
Editor's Choice
2
3
4
5
Best For:
Timeless Design
6
Best For:
Frequent Movers
7
8
9
Best For:
Ergonomic Design
10
Best For:
Brand For Sustainability
1. Best Sofa Brand Overall: Allform
Home of Cozy Exclusive Offer: 20% off sitewide with promo code COZY20OFF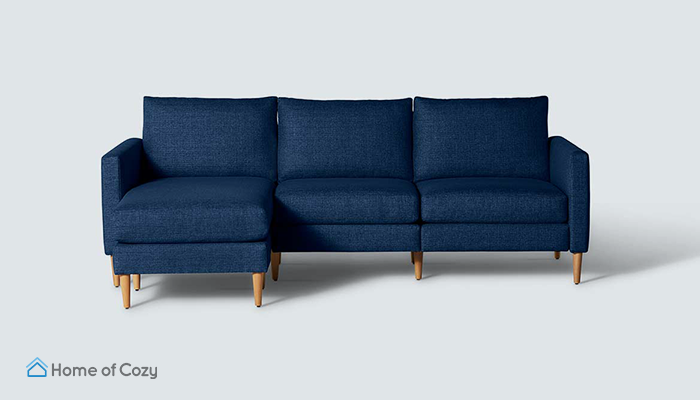 For sleek, comfortable sofas, you have to consider Allform.
If you haven't heard of Allform, we're happy to introduce the two of you. The brand is relatively new on the scene – launched in 2020 as a sustainable and affordable furniture company. From their five seat sectionals to their love seats, everything they make is made in the U.S.A from high-quality and durable materials while remaining mid-priced, so you know you're getting a great bang for your buck.
Allform blew us away with their high-quality materials. Top-grain protected leather, heavy duty performance fabrics, kiln-dried laminated hardwood frame, and high grade foam and fiber for cushioning.
Allform is also pioneering the modular sofa – made up of different pieces that can be joined together.
Each Allform product is customizable, so you can pick the best color and material to fit your space. You can also choose between their premium upholstery, including performance fabrics and top-grain leather. Allform also makes one of the best leather sofas we've seen this year – both in terms of design and quality.
The shipping experience is also a breeze. Couches are delivered as flatpacks directly to your home and are very easy to put together. They're headed by the same team that started Helix Sleep, so you know they've got the furniture-in-a-box thing down pat.
They definitely hit the mark on all fronts and are well-deserving of this top spot. Allform sofas are delivered directly to your home, and you can try them for 100 days to decide whether they're a good fit for you.
Home of Cozy Exclusive Offer: 20% off sitewide with promo code COZY20OFF
2. Best Budget Sofa Brand: IKEA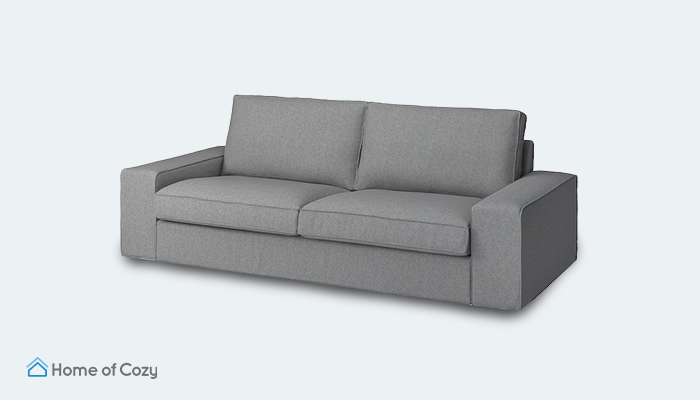 Everybody knows IKEA. If you've ever bought your furniture there, you've probably spent some time frustrated at the amount of time you spent assembling their pieces.
But, they've pioneered home design trends across the globe, popularizing Scandinavian design and making functionality and minimalism dual necessities for furniture-buyers.
Because Ikea does everything in-house, they can produce high-quality furniture and sell it at a low cost. The company is a giant when it comes to fulfillment and logistics. And while some people consider IKEA lower end on the quality spectrum, the brand actually pumps out some really well-designed, high quality sofas.
They're comfy and have high durability even with the lower price tag. IKEA actually uses the same materials as many of its competitors, but is able to keep that low price due to their masterful packaging, and the fact that consumers have to assemble the pieces themselves.
So yes, IKEA does some quality furniture without the high-end price tag. And while that's not necessarily the rule across all of its products, there are some that standout above the rest:
Our favorite loveseat: The Uppland is a classic loveseat– plush, sturdy, and comfortable. The design can fit any space, and the price is right.
Our favorite sectional sofa: The Kivik is a five-seater with a chaise. It is big, comfortable, and looks fantastic in a large scope of interior designs.
Our favorite for flair: The Lindome is a vibrant blue, timeless sofa sure to catch everybody's eye as they walk through your door. The Lindome does not sacrifice comfort for design– seats are deep, soft, and perfect for lounging.
If you've never bought furniture from Ikea before, they come in flatpack boxes that you assemble yourself. They can ship directly to your home, or you can see what all the hype is about yourself at one of their many brick and mortar locations. You have an entire year to return merchandise for a full refund.
3. Best Sofa Brand For Comfort: La-Z-Boy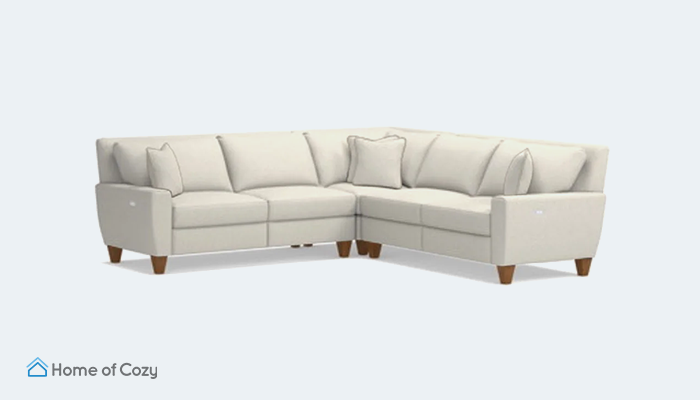 As the creator of the original recliner, La-Z-Boy has earned a reputation for creating some of the most comfortable sofas and chairs on the market. One thing La-Z-Boy certainly has going for its brand is the variety of function. They make both reclining sofas and sleeper sofas. And those back cushions rank among the coziest.
These sofas really prioritize comfort. They have a few sleek, modern designs, but they mostly stick with what they're known for: recliners. So, if comfort is your prerogative, this is the brand for you.
And while comfort is definitely high on our list, one ding we have to give La-Z-Boy couches is their design. A lot of times, they can be a little man cave chic, but they have some looks that standout. Take the Meyer Sofa, for example, and tell us that wouldn't look great in most living rooms.
Another drawback is that they don't allow returns (only a 3 day exchange) and can have long shipping windows. They have many in-store locations for you to test before purchase, so hopefully you'll avoid having to make a sofa return.
4. Best Sofa Brand For Durability: Maiden Home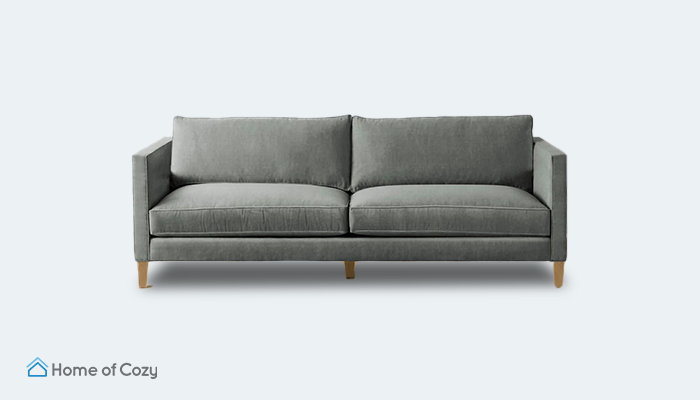 Maiden Home makes all of their couches to order from a workshop in North Carolina. They specialize in clean lines, modern designs, and first-rate craftsmanship using incredibly high quality materials.
Their performance fabrics are some of the best you can get in terms of stain resistance, fur, and spot cleaning while still feeling luxurious. Plus, slipcover options like the Dune make for easy maintenance if you frequently deal with spills.
As for the rest of the couch, the ultracel cushions keep their shape with minimal maintenance, and there's a lifetime warranty on all couch frames and springs in case you ever run into an issue.
To keep their prices down, Maiden Home has no physical showrooms. It was a bit anxiety-inducing to order a couch sight unseen, but their customer support is top-notch. They walked me through fabrics, couch fillings, and even sent over dozens of free fabric swatches as I slogged through the decision-making process.
The one downside is the time you have to wait for your couch– since each sofa is made to order, it can take anywhere from 12 to 15 weeks to finally arrive at your door.
5. Best Sofa Brand For Timeless Design: Pottery Barn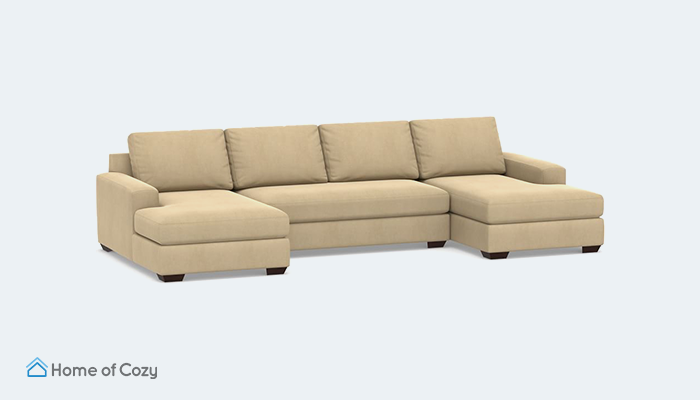 Pottery Barn is the go-to spot for the classic touch. A piece of furniture from Pottery Barn is nearly guaranteed to never go out of style, though we can't necessarily predict what's next in the sofa world. But Pottery Barn does remain a staple for interior designers and decor-minded folks.
We give it a top spot here for its lounging prowess, and the variety of design. Pottery Barn has become more eclectic and diverse over the years, while still maintaining its classic lines.
If you're looking at Pottery Barn, check out some of the brand's more popular sofas. The York, Cameron, and Pearce are three of our personal favorites.
6. Best Sofa Brand For Frequent Movers: Floyd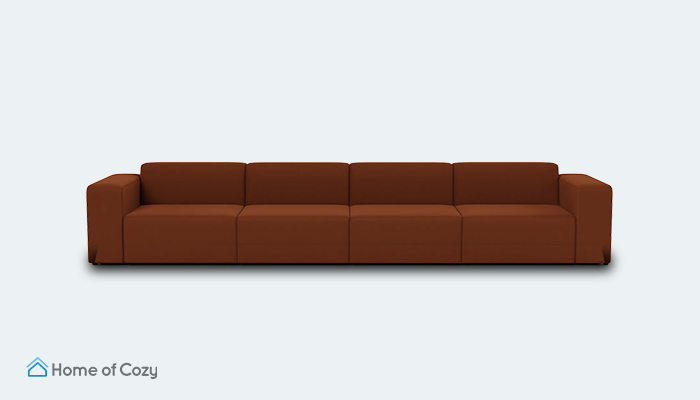 Floyd keeps it simple with just two sofa products, the sofa and the sectional. Both are designed to move with you and last a lifetime, made of solid wood and stain resistant fabric that lets nothing (not even red wine) discolor the fabric.
The sofa is one of the easiest pieces of furniture I've ever assembled. The instructions are clear and concise, and every nut and bolt is packaged thoughtfully and easy to pick out. The allen wrench even doubles as a bottle opener, so it remains useful even after assembly.
Floyd's furniture is also modular, with options to add chaises and extra sectional pieces as your needs change.
You should note that, because the sofa is designed to be easily movable, it is a bit more compact. Seat depth is 22", and the back is quite upright. I (and most of Floyd's customers) find the couch extremely comfortable, though taller folks might want to consider adding a chaise.
7. Best Sofa Brand For Variety: Wayfair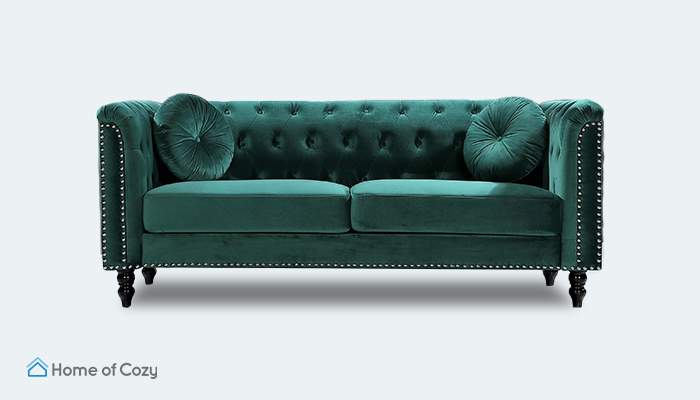 With a massive selection of home furnishings at every price point imaginable, Wayfair offers the best variety for someone who wants a great selection for their budget.
Even though they don't have showrooms, Wayfair has made a commitment to upholding the same standards you'd expect from an in-store retailer: quality furniture at reasonable prices. Plus the beauty of being a mega online retailer is that most items have plenty of customer reviews and consumer-taken photos so you can check out each item in greater depth than you can with smaller sites.
If you're a fan of hosting get-togethers and overnight guests, Wayfair is a great place to look. Their furniture is stylish, comfortable, and affordable. Available designs fit a number of decor style – a Sleeper sofa like the Carly Sofa Bed is a classic, timeless, effortless piece, while a sleeper sofa like the Silvester Sofa Bed is a funky, affordable statement piece.
Their return policies are among some of the best out there too. Just be sure you're picking something quality – there are a handful of duds with this retailer. That's the trade-off with Wayfair, you get convenience, you get variety, but quality control can sometimes be an issue when you're sourcing from so many different brands.
8. Best Sofa Brand For Trends: West Elm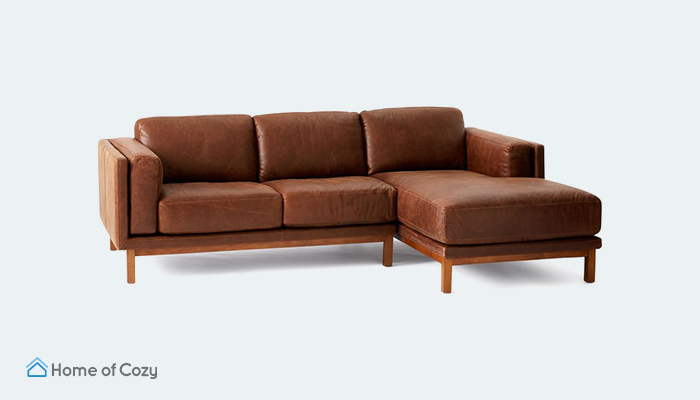 West Elm, like Pottery Barn, is a daughter company of the global Williams-Sonoma brand. West Elm's aesthetic inspiration is a slightly edgier, contemporary design that plays very well with young professionals, particularly those looking for a chic, yet affordable apartment sofa. And those upholstery fabrics are to die for pretty much across the board.
So many of West Elm's sofas are incredibly elegant, with beautiful lines and versatile, modern colors. The Harmony Down-Filled Sofa is one of our favorites– like the name implies, the down-filled cushions are extra lavish for lounging, and it comes in a 32-inch extra-deep option (which we highly recommend). The armrests are extra plush, the body feels very high-quality and sturdy, and the squared-off armrests add a pretty, modern flair.
West Elm also offers white glove delivery service and a 30-day return policy, but they have a limited number of locations and don't offer free shipping. And like IKEA, certain West Elm sofas have had their fair share of quality concerns, which can be troubling given their relatively higher price point.
9. Best Sofa Brand For Ergonomic Design: Burrow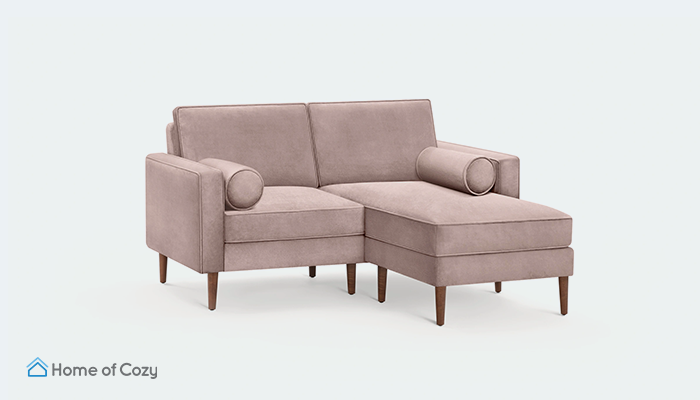 Burrow is known for its ergonomic designs. Co-founder Stephen Kuhl herniated two discs while rowing in college, which motivated him to prioritize designs that promote comfort and long-term back health. Kabeer Chopra, Burrow's other co-founder, helps inject style into designs, resulting in extraordinarily comfortable, long-lasting, and modern sofas.
The materials both look and feel great – they use durable, stain and scratch resistant materials and give a wide variety of fabric and color options. Our personal favorite is the Nomad, one of Burrow's most popular sofas. This sofa epitomizes the Burrow's strengths – it is plush and comfortable, has great lines, and keeps your back feeling great, even throughout your longest stints on the couch. It is a similar design to West Elm's Harmony down sofa, but at a more affordable price point.
However, customers looking to try out a sofa in person should be advised that Burrow is a 100% online direct-to-consumer brand with no showrooms. They're also somewhat nascent and don't always use industry-best materials, so longevity is potentially an issue.
We're fine with that, but understand that not everyone is. What sweetens the deal is that Burrow furniture comes with 100% free delivery and easy assembly.
10. Best Sofa Brand For Sustainability: Joybird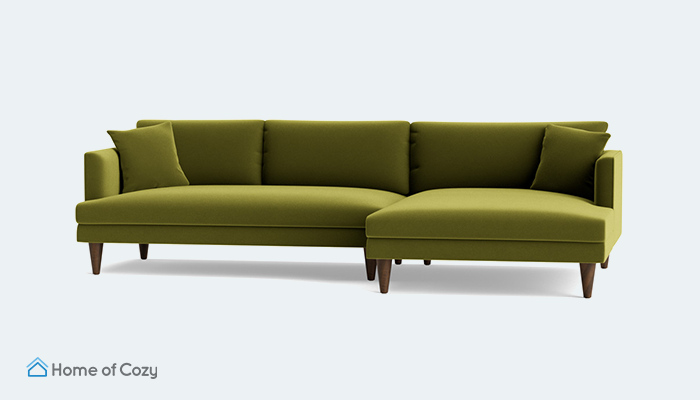 As a brand, Joybird is deeply committed to sustainability. They partner with a number of conservation groups with the goal of conserving the materials Joybird itself uses to make furniture. Moreover, all of Joybird's furniture is handmade and designed to last a lifetime, helping to reduce furniture waste across the the board.
Specializing in mid-century design, Joybird sofas offer a bold choice intended to spice up any living room. Our personal favorite is the Briar Sofa– this sofa is both soft and firm and feels incredibly durable, like it wouldn't lose its shape over time. For a grander design, check out the Braxton Sofa.
Unfortunately, Joybird's mere two showrooms in the United States and limited return window might be a turn off for some customers.
11. Best Sofa Brand For Splurging: BenchMade Modern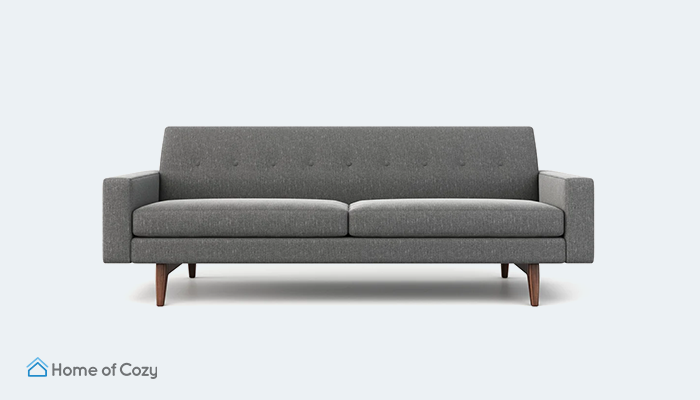 BenchMade Modern is the ultimate luxury sofa brand. Each couch is made to order in the United States, and I am blown away again and again by the brand's attention to detail, quality, and customer service.
BenchMade is another online retailer, with no showrooms to visit in-person. This would be a deterrent to purchase, especially for the price, if the customer service wasn't so great. I've called several times for guidance on couch fabric, filling, and sizing, and each and every time was a painless, even pleasant experience.
With 15 different collections, there are a wealth of designs to choose from. Our favorite is the SkinnyFat, a minimalist and modern collection of armchairs, sofas, and sectionals. Ours came in just about 7 weeks, and I opted for the white glove service, which meant the couch was unloaded, unpacked, and set up for me.
Plus, they offer a 100 day return policy and a lifetime warranty on the frame, so the couch pays for itself in no time.
12: Best Sofa Brand For Unique Designs: Perigold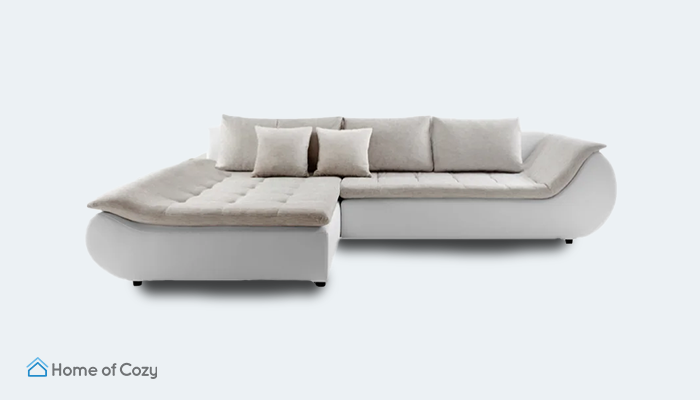 Perigold is the luxury furniture subset of Wayfair, based out of Boston, Massachusetts. Their collection of sofas and sectionals is robust, with a plethora of unique, fun, even whimsical designs to browse through.
The quality of each piece speaks for itself. The brand prioritizes highly vetted, top-notch vendors, so you're unlikely to run into any issues with quality.
Our favorite designs include:
The Four Hands Marta sofa: A curved, very mod, very art deco-esque sofa that will add some fun and style to any space. Plus, at $3,000, the price is fair for a piece so stylish and high-quality.
Bernahrdt Andie Recessed Arm Sofa: This armless sofa is an interesting and modern take on the sofa, and the down-fill cushions are extraordinarily plush and comfortable. Again, at just over $3,000 I think the price is fair for what you get.
Nordic Upholstery Round Arm Sofa: This is a simple, sleek design with a focus on high-quality, long-lasting materials. Plus, at just over $1,500, the price is competitive with most sofas on the market.
Orders are typically fulfilled in a week, and within two your couch will be at your door. Delivery is free and all-inclusive, meaning furniture is delivered, unpacked, and assembled for you at absolutely no cost to you.
Most Important Things to Keep in Mind When Shopping for a Couch
To help you make your decision a little easier, here's a breakdown of the considerations you should include before choosing a sofa brand to buy from.
Sofa Type
From standard three-seater sofas to small-space modular sofas, sectionals and sleepers, there's a wide range of options for any home.
If you're unsure which type is best for you? Is it for a big family or will you be entertaining a lot? Do you want to be able to lay down or put your feet up? Do you want to be able to convert it to a bed for guests? Use these factors to decide what type of sofa you want before you start shopping.
Sofa Style
Another factor is the style of the sofa. For some this isn't as much of an issue, while others are extremely particular about their style preferences. For the latter, start with the type of upholstery you want. Would you rather have a leather sofa or fabric options like microfiber? Some brands specialize in offering hundreds of color options and will send fabric swatches to help you make your choice.
In terms of "style," anyone buying a sofa should also consider the overall decor and aesthetic appeal of a sofa in relation to the rest of your furniture. Sofas tend to be big-ticket purchases, and they're also the most prominent pieces of furniture in your living room. So, consider whether you want something that's more sleek and minimal, a sofa that's plush and focused on comfort, or something that evokes an older, classic style such as a Chesterfield or Tuxedo-arm.
Price
If you're shopping with a particular budget in mind, it's important to consider price points for various furniture brands. This will help save on the heartache of finding a couch you love, only to see the price tag and realize you can't afford it. A quality sofa can run you anywhere between $700 from affordable furniture brands to upwards of $3,000 for a custom design.
Tips Before You Buy
Hopefully by now you've decided what type of sofa you'd like to buy, which style you prefer, and what price point you'd like to stay in. Furthermore, you now have the information to narrow down your search to a few trusted brands.
However, if you're still on the fence, here are some additional tips to help you make the best decision.
Visit Furniture Company Showrooms
First, if there is a particular brand you like, you can visit the department store or showroom to test it out before you buy. Ashley Furniture is a great example of a company with numerous department stores and a wide variety of brands to try in person.
If it turns out not to be what you thought, there will be many other similar sofas you can try out and a similar one you like.
Find Online Retailers with Free Returns
If the brand you like is not available in furniture stores, be sure to find a company that offers free returns and a generous return window so that you can arrange one if you're not satisfied with the sofa after it's delivered.
Use Brands That Offer Delivery Service
If you're nervous about having to carry or assemble a new sofa on your own, be sure to use a company that offers white glove delivery service. Many offer this service that includes delivery to your home and in-home setup.