A high-quality mattress is one of the most important purchases you'll make for your child during the toddler years.
One mattress can serve your little one through multiple stages of development. Many toddler mattresses can be flipped over to convert a firm, flat infant bassinet to a more cushioned big kid bed.
Now that we've had a thorough look at 2023's best toddler mattresses, it's time to highlight Home of Cozy's top picks and review which factors to prioritize as you shop.
Best Toddler Mattresses
Brand
Current Offers
Best For
1

Editor's Choice

20% off with code COZY20OFF

Overall
Shop Now
2

Memory Foam
Shop Now
3

Organic
Shop Now
4

Hypoallergenic
Shop Now
5

Value
Shop Now
6

Budget
Shop Now
7

Calming Sleep
Shop Now
8

Washable
Shop Now
9

Germ-Free
Shop Now
10

Waterproof
Shop Now
11

Comfort
Shop Now
12

Temperature Regulation
Shop Now
13

Comfort
Shop Now
14

Eco-friendly
Shop Now
1
Editor's Choice
Current Offer:
20% off with code COZY20OFF
2
3
4
5
6
7
8
9
10
11
12
Best For:
Temperature Regulation
13
14
How to Choose the Right Toddler Mattress
Toddlers spend around half of their time sleeping. While no single factor can guarantee easy bedtimes, a safe and comfortable mattress is a necessity for developing healthy sleep patterns. Shop accordingly!
Here are the factors we'll use to rank and evaluate the leading toddler mattresses.
Quality
Your child will spend thousands of hours snuggled up on their mattress, so it's worth investing in a high-quality product.
Look for a mattress that's non-toxic and provides sufficient firmness and support. Make sure your toddler's mattress is medium-firm and designed to reduce potential nighttime hazards like suffocation, falls, trapped fingers, and chemical inhalation.
Budget
Toddler mattress prices vary widely.
Flippable dual-sided mattresses offer the longest use and tend to be higher priced while foam mattresses provide many of the most affordable options. The use of organic materials also impacts price. Likewise for designs that offer removable parts.
Safety
A toddler mattress should be near enough to the ground so that the youngster can move in and out without risking a dangerous fall. Consider the combined height of the frame and mattress while planning your toddler bed. The mattress should also fit snugly into the frame to prevent little fingers from getting caught.
When upgrading to a big kid bed, many parents find the safest option to be starting out with the mattress placed directly on the floor.
Additionally, be mindful of potentially harmful materials and chemicals, such as phthalates. To purchase from manufacturers that adhere to rigorous sustainability and air quality standards, look for a GREENGUARD Gold certification. For foam mattresses, check for a CertiPUR-US certification.
Easy to Clean and Waterproof
Awake or asleep, toddlers are messy.
For dealing with potty accidents, sick nights, and sweat, it's important to have a mattress that's durable and easy to clean. To reduce the time and effort spent on cleaning, choose a mattress with a machine-washable waterproof cover.
Firmness
Some manufacturers use an unofficial 10-point firmness scale to indicate how soft or hard a mattress is. A score of 1 indicates a mattress that the user sinks into deeply while a score of 10 allows virtually no sinking or conforming. A score of 6.5 is considered the industry standard for a medium-firm mattress.
Sleeping surfaces for infants must be quite firm to support their delicate bodies and prevent suffocation.
Toddler mattresses should also be firm but can provide a comfortable top layer. Softer toddler mattresses range from 4-7 on the firmness scale, while firmer toddler mattresses have scores of 8-9.
Note that not all manufacturers report firmness scores.
One company rep told me: "We don't rate our mattresses on a level of firmness because everyone's idea of what is firm and what isn't is so different."
There isn't currently a standardized physical test that corresponds to the 1-10 rating system. So, using a firmness scale is useful, but imprecise.
Below, I'll provide a firmness rating for each mattress and note which ratings came from the manufacturer and which ones I've determined myself.
Type
There are several different types of toddler mattresses. You may wish to narrow down your selection by shopping within one of these categories:
Foam: Most toddler mattresses are made with high-density foam. Foam mattresses are lightweight and affordable. They're also firm enough to prevent sinking and thin enough to prevent long long-distance falls.
Innerspring: This traditional mattress style is made from a core of coils and a thin comfort system for optimal breathability. These mattresses are great for temperature regulation. However, they can be on the heavy side and tend to be less durable than other types.
Latex: Latex mattresses contain one or more layers of latex, either natural or synthetic. Latex is durable but high-priced. Avoid this type if someone in the household has a latex allergy.
Dual-Sided: Built for versatility and long-term use, a dual-sided mattress can last from the crib transition to around age 12. One side provides firm enough support for an infant and the other side is suitably soft for a toddler. Dual-sided mattresses are typically made from foam or a coils/foam combo.
Hybrid: Hybrid mattresses are made from a combination of cushioning layers and coil supports. The outer layers are usually foam, latex, or cooling gel.
The 14 Best Toddler Mattresses for a Full Night's Sleep
These are the best of the best toddler mattresses from the industry's leading brands. There are major differences between these products regarding price, size, firmness, and materials. However, once you determine which sort of bed you favor, one of these 14 products should be a perfect fit for your little one.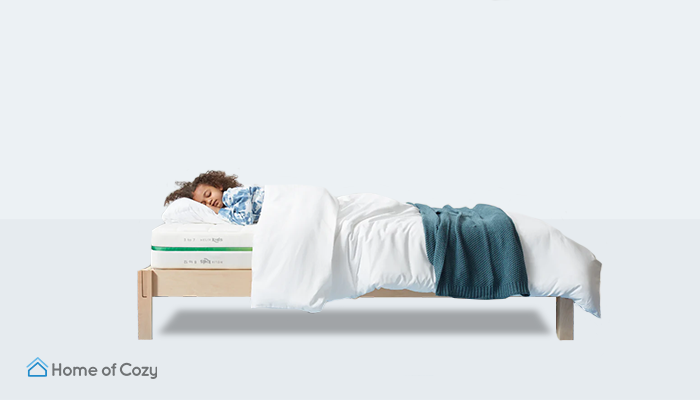 Best For: Overall
Price: $649
Mattress Type: Dual-Sided
Trial Length: 100 nights
Dimensions: 38" W × 75" L × 8" H (twin)
Firmness: Firm side of 6.5/10 and medium-firm side of 4.5/10 (ratings provided by Helix)
What I Loved About This Helix Kids Mattress
I just love the approach that Helix took in developing a kids' mattress that provides the best sleeping experience for the maximum number of years. The dual-sided design serves the transition from toddler (firm side) to big kid (softer side), rather than infant to toddler, meaning that this mattress can be a perfect fit from age 3 all the way up to age 12.
The Helix Kids Mattress features a hypoallergenic, breathable TENCEL™ cover to allow plenty of airflow, preventing itchy and sweaty nights. The cover is water-resistant, odor-resistant, and protects against stains. The innovative materials used by Helix are also non-toxic and environmentally safe (CertiPUR-US Certified).
I was most impressed with how perfectly this mattress delivers on expectations regarding firmness and material quality. Helix is known for superior designs and materials and they don't cut corners for kids' products. The toddler-friendly side for ages 3-7 is just firm enough to provide safe sleep for growing bodies, while the softer side for ages 8-12 is blissfully cozy and supportive.
What I Didn't Love
Both sides of the Helix Kids mattress are super comfy, but it's worth noting that the medium-firm side is softer than most big kid mattresses. Some kids will likely prefer to stick with the firm side until it's time to transition to a larger bed size.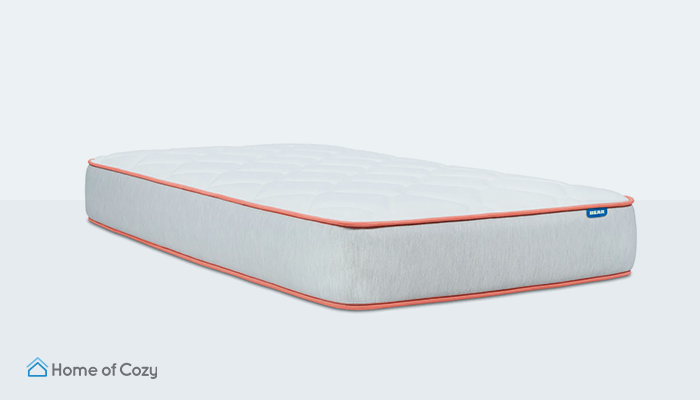 Best For: Memory Foam
Price: $452
Mattress Type: Hybrid
Trial Length: 120 nights
Dimensions: 38" W × 75" L × 8.5" H (twin)
Firmness: 6.8 (rating provided by Bear)
What I Loved About This Bear Cub Kids Mattress
Many parents choose to skip the toddler bed and transition straight from a crib to a big kid bed. For that approach, the Bear Cub Kids Mattress is a perfect option at a fair price. It's a cozy bed, but it's appropriately medium-firm, built for growing bodies.
The Bear Cub Kids Mattress is a hybrid, with hundreds of individual coils and an impressively responsive memory foam layer. There's also a quilted hypoallergenic cover. The foam is CertiPUR-US-certified and the entire mattress is GREENGUARD Gold Certified.
When you lay on this bed you can sense a subtle redistribution of your weight on the coils, but you feel perfectly supported and gently contoured.
I especially love that Bear actually encourages kids to jump on the bed, because they know they've built a durable mattress that hits the firm/soft/bouncy sweet spot.
What I Didn't Love
Bear recommends maintaining their mattresses by spot-cleaning, but many toddler messes are more than just "spots." Bear's mattress covers aren't removable, so you might have some maintenance problems if your toddler is still bedwetting. Bear does sell a washable "Bear Protector," but it's not specifically designed for toddlers.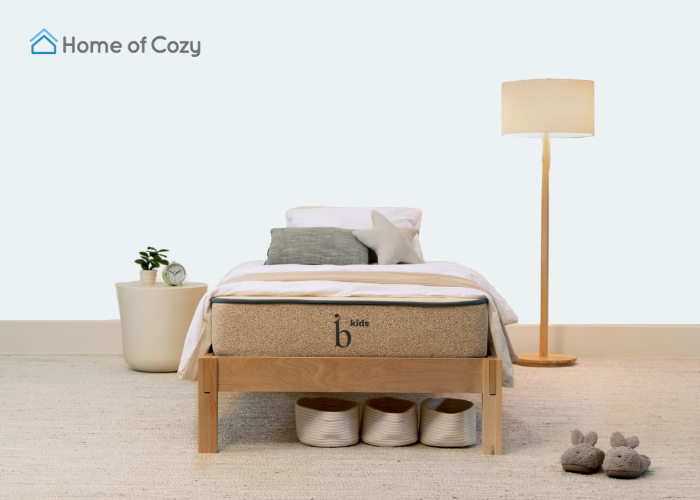 Best For: Organic
Price: $749.10+
Mattress Type: Hybrid
Trial Length: 100 nights
Dimensions: 39" W × 75" L × 11" H (twin)
Firmness: Firm side of 6.5/10 and soft side of 4.5/10 (ratings provided by Birch)
What I Loved About This Birch Mattress
The Birch Kids Natural mattress, like the Helix Kids, offers a firm side for ages 3-7 and a softer side for ages 8-12.
Compared to most youth mattresses, the Birch Kids is thicker, more supportive, and more durable. In fact, with its 11" height and powerful coil core, this hybrid mattress is probably more comfortable than what you have in your own bedroom.
The difference between the Birch Kids mattress and a typical adult mattress is that this bed is made from organic, natural materials that meet the highest certification standards for clean, non-toxic production. These include organic wool, organic cotton, and natural latex. The mattress is GREENGUARD Gold certified for avoiding harmful chemicals, eco-INSTITUT certified for emission-free natural latex, and Fair Trade certified for organic cotton.
Most notably, the Birch Kids mattress is GOTS certified. A GOTS certification is a gold standard for ensuring that a product is free of harmful chemicals, organic, and ethically produced.
What I Didn't Love
This mattress is a winner. The only drawbacks for some shoppers will be price (more expensive than most kids' mattresses) and firmness (it's on the softer end of the firmness range for kids' beds).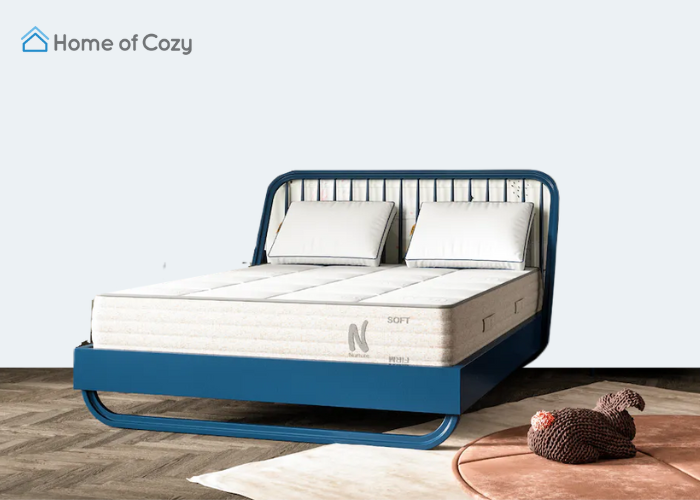 Best For: Hypoallergenic
Price: $1,049+
Mattress Type: Hybrid
Trial Length: 100
Dimensions: 38" W × 74.5" L × 10" H (twin)
Firmness: Firm side of 7.5/10 and soft side of 5.5/10 (ratings provided by Nolah)
What I Loved About This Nolah Mattress
Certain qualities are of higher importance in mattresses that are designed for young sleepers. A youth mattress should be free of harmful chemicals, easy to clean, cool, and hygienic. The Nolah Nurture 10" checks these boxes, plus offers all of the comfort and durability that you'd expect from your own mattress.
This hybrid design includes individually wrapped coils and Talalay latex, creating a luxurious mix of contouring and firmness. The mattress is flippable, with a firm side and a soft side. With firmness ratings of 7.5/10 and 5.5/10, both sides offer sufficient support for young bodies.
The hypoallergenic organic cotton cover is particularly appealing to many parents. This material stops the movement of dust mites and prevents them from setting up residence inside the bed. For little tykes with allergies or sensitive systems, this protection can be the difference between sniffly nights and peaceful sleep.
What I Didn't Love
A high-quality mattress is worth paying up for, especially one like the Nolah Nurture 10" that's built to last for many years. It's worth every penny, but it's a big expense. This mattress comes with a separately-priced platform base, with the full set costing well over $1,000.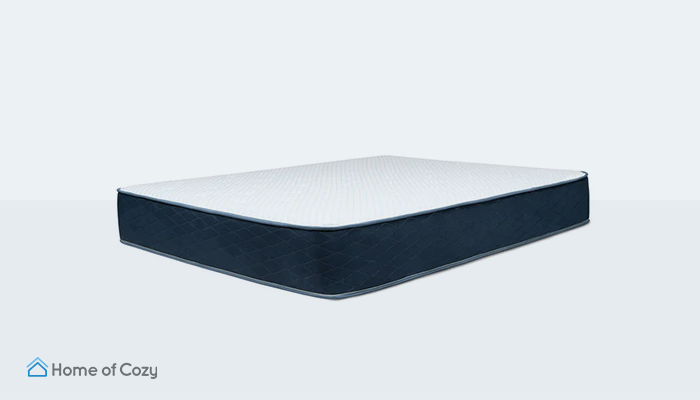 Best For: Value
Price: $393
Mattress Type: Hybrid
Trial Length: 120 nights
Dimensions: 38" W × 75" L × 10.25" H (twin)
Firmness: 5 (rating provided by Dreamfoam)
What I Loved About This Dreamfoam Mattress
The Dreamfoam hybrid mattress isn't made specifically for toddlers, or even for kids. However, it's an affordable option that can be used for many years, starting at toddler age.
All Dreamfoam mattresses boast superior temperature control. They're made with a cooling panel that uses phase change materials (PCM) to draw excess warmth from your body. Foam-infused gel cooling beads help to provide extra heat relief. The coil system underneath releases captured heat and improves breathability.
This mattress is definitely on the soft side for toddlers, but it's very supportive. The body is cushioned but doesn't sink.
Frankly, the Dreamfoam hybrid is probably more luxurious than a toddler or young kid requires. However, the price is great, making this mattress worthy of consideration as a long-term investment for a growing child.
What I Didn't Love
My main concern about getting this mattress for a toddler would be the cleanups. The surface has no slickness to it, and I would worry about its resilience against repeated bedwettings.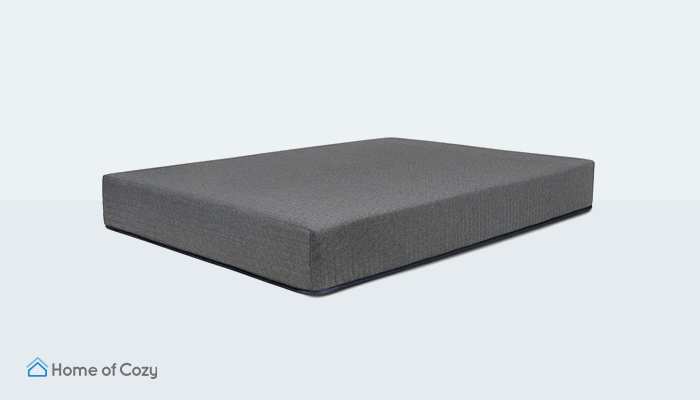 Best For: Budget
Price: $205.50
Mattress Type: Foam
Trial Length: 120 nights
Dimensions: 38" W × 75" L × 6" H (twin)
Firmness: 8/10 (rating provided by Dreamfoam)
What I Loved About This Dreamfoam Essential Mattress
The Dreamfoam Essential mattress is available in over a dozen unique sizes because Brooklyn Bedding markets this model to RV owners. If your growing family is trying out van life or if you simply have challenging room dimensions, one of the Dreamfoam Essentials models might be a perfect fit.
Better yet, the smallest model of this mattress (6" twin) is a perfect budget toddler mattress. Dreamfoam Essentials come in heights of 6" up to 14". As the sizes go up, the mattresses get softer and the prices increase. The 6" model is rated 8/10 for firmness, ideal for toddlers.
The mattress's Nano Stain Terminator finish may have been built for RV spills, but it's a nice feature for messy youngsters, too.
What I Didn't Love
This mattress is definitely firm and cozy, but doesn't quite earn the same level of praise regarding comfort as some other products in this guide. The firmness level is appropriate for toddlers but would benefit from a soft mattress pad for older kids.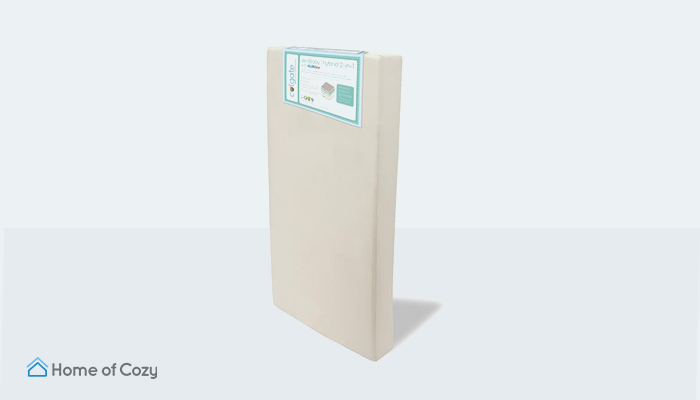 Best For: Calming Sleep
Price: $279.99
Mattress Type: Dual-Sided
Trial Length: N/A
Dimensions: 27.5" W × 52" L × 6" H
Firmness: Firm side of 8/10 and medium-firm side of 7/10 (rating determined by Home of Cozy)
What I Loved About This Colgate Mattress
The Colgate zenBaby is a dual-sided infant-to-toddler transition mattress that goes the extra mile to provide comfort for sensitive young sleepers. Colgate is family-owned, handcrafts their mattresses, and earns both CertiPUR-US and GREENGUARD Gold certifications.
The surface of the infant side is made with extra firm eco foam. This side is also made with KulKote, a nontoxic coating that keeps surfaces cool. The toddler side is supported by microcoils that provide a slightly softer surface that's still quite firm.
Both sides feel cozy but appropriately firm for their age groups.
The cotton cover isn't removable. Rather, it's made with a waterproof backing for spot cleaning.
What I Didn't Love
Since the cover isn't removable, it's smart to pair this mattress with a washable cover or pad. There's nothing unusual about that, but some of the other high-end mattresses offer removable covers or washable cores.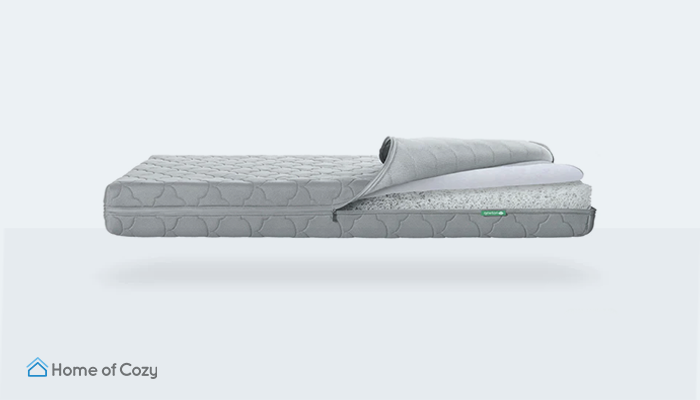 Best For: Washable
Price: $199.99+
Mattress Type: No-Springs Hybrid
Trial Length: 100 nights
Dimensions: 28" W × 52" L × 5.5" H
Firmness: 7/10 (rating determined by Home of Cozy)
What I Loved About This Newton Mattress
The GREENGUARD Gold certified Newton Crib Mattress can start off as an infant crib bed and last through the toddler years.
First of all, I've never seen anything quite like this mattress's core material, which Newton describes as 90% air and 10% food-grade polymer. The spaghetti-like arrangement of the polymer does an incredible job of creating a firm yet buoyant surface.
You can literally smush your face up against the mattress and breathe in and out. The waterproof cover is also entirely breathable. This superior airflow, which has performed impressively in third-party testing, is a major benefit for parents that have general or child-specific nighttime suffocation concerns.
To maintain breathability and simplify cleanup and laundry, you can use this mattress without a fitted sheet. The cover is machine washable and the core can be washed in the shower.
What I Didn't Love
My only complaint here is the way the different versions of this mattress are presented on the company's website. Make sure you know which model you're getting—the "original" version is actually higher-priced than the "essential" model. Plus, of the four models, only the "waterproof" version is dual-sided, so it would be easy to get mixed up and not completely understand which product you're buying.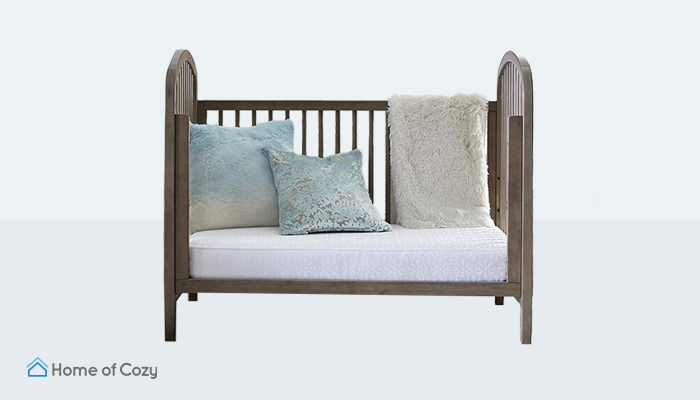 Best For: Germ-Free
Price: $80.72
Mattress Type: Innerspring
Trial Length: N/A
Dimensions: 27.25" W × 51.63" L × 5.75" H
Firmness: 8/10 (rating determined by Home of Cozy)
What I Loved About This Sealy Mattress
At a great price, the GREENGUARD Gold certified Sealy Anti-Bacterial Toddler Mattress provides an easy-to-clean, hygienic option for parents of messy toddlers.
The waterproof cover is extremely tough, even by toddler mattress standards. It's designed for preventing bacteria from moving around, but the 100% waterproofing protection is what many parents will appreciate most.
The cover material feels a bit like plastic, but it's not at all uncomfortable. The mattress is well-designed to provide a supportive, firm, and cozy surface. If your little one didn't like the feel of the cover, a thin mattress pad would do the trick.
What I Didn't Love
While the waterproof cover doesn't pose any texture problems, it does make a bit of noise. I don't think it's enough to bother most tykes, but it's not completely silent like some beds.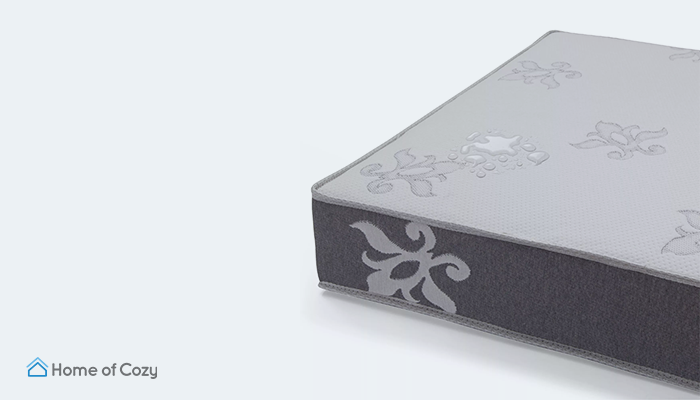 Best For: Waterproof
Price: $209.99
Mattress Type: Foam
Trial Length: N/A
Dimensions: 27.5" W × 52" L × 6" H
Firmness: Firm side of 8/10 and medium-firm side of 6/10 (rating determined by Home of Cozy)
What I Loved About This buybuyBABY Mattress
This buybuyBABY mattress is made with BlackICE memory foam that's firm, breathable, and comfortable. The mattress is CertiPUR-US certified, GREENGUARD Gold certified, and exceeds the most rigorous third-party chemical emissions standards.
The design is innovative, packing several useful layers into 6" of height. The core is a pocketed coil support system, encased in memory foam and sealed with a polyester cover. Polyester is an underrated material, used here to make the mattress fully waterproof and easily spot-cleaned.
What I Didn't Love
Brand new, this mattress feels great. However, there are a number of customer reviews reporting that the middle starts to sag over time. There are also oodles of positive reviews, but the potential for sagging is something to be aware of. Note that Beautyrest does offer a limited lifetime manufacturer's warranty and a fairly permissive returns policy.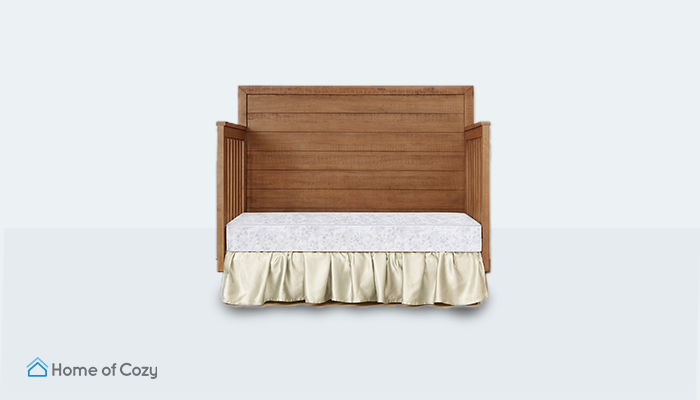 Best For: Easy Delivery
Price: $35.97
Mattress Type: Dual-Sided
Trial Length: N/A
Dimensions: 28" W × 52" L × 5" H
Firmness: Firm side of 9/10 and medium-firm side of 8/10 (rating determined by Home of Cozy)
What I Loved About This Dream on Me Mattress
The Dream on Me Twinkle Coil Crib & Toddler Mattress is the lowest-priced mattress featured in this guide. In fact, you could buy a roomful of these dual-sided infant/toddler mattresses for the price of some higher-end options.
Nevertheless, this is a quality, GREENGUARD Gold-certified product, made with coils and hypoallergenic foam. The stain-resistant waterproof binding seals up the mattress to create an outer surface that can be easily cleaned with soap and water.
Walmart is also one of my favorite companies for handling delivery orders. Orders over $35 get free shipping and delivery timelines are speedy regardless of where you're located.
What I Didn't Love
The waterproof covering is built for functionality, so it has a bit of a plastic feel to it. You'll want to use a softer mattress protector to improve the surface touch. The texture and support aren't bad at all, but can't be expected to match the brands that cost an arm and a leg more.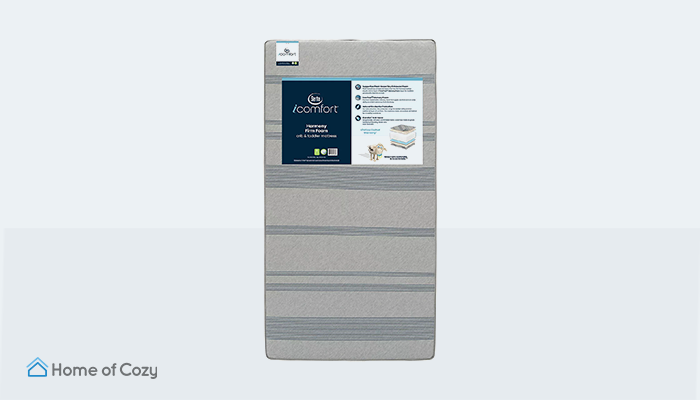 Best For: Temperature Regulation
Price: $119
Mattress Type: Dual-Sided
Trial Length: N/A
Dimensions: 27.5" W × 52" L × 6" H
Firmness: Firm side of 8/10 and medium-firm side of 6/10 (rating determined by Home of Cozy)
What I Loved About This Serta Mattress
This two-sided mattress from Serta has a baby side and a toddler side. It's GREENGUARD Gold certified, CertiPUR-US certified, and free of toxic fire retardants.
The core is made with what Serta describes as "the world's first breathable memory foam." Even the firm side feels surprisingly cozy and cool.
This mattress will fit most budgets but feels just as comfy as some products that cost much more. Serta did a great job of combining function and comfort. The cover is topped with super-soft knit fabric but includes medical-grade waterproof backing.
What I Didn't Love
Macy's doesn't offer a trial period for this mattress. That alone wouldn't bother me, but the product page also doesn't have any customer reviews yet. Those two factors combined mean that buyers have to put a bit more faith than usual in the brand name.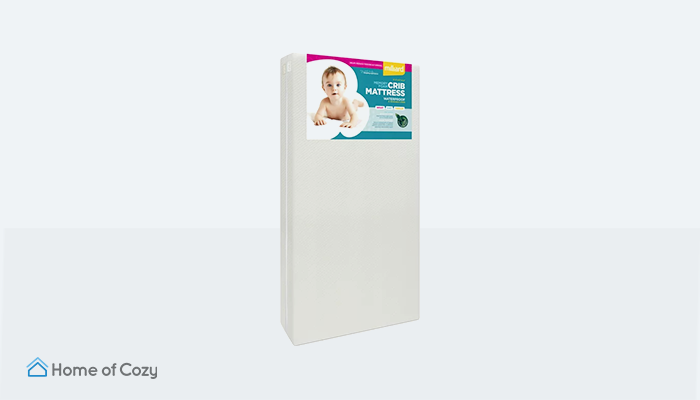 Best For: Comfort
Price: $86.99
Mattress Type: Dual-Sided
Trial Length: N/A
Dimensions: 27.5" W × 52" L × 5.5" H
Firmness: 7/10 (rating determined by Home of Cozy)
What I Loved About This Milliard Mattress
One of the biggest problems with some lower-priced mattresses is that they don't hold their shape. However, the Milliard Memory Foam Infant Crib Mattress does a good job of providing a low-priced toddler mattress that doesn't sag or bottom out.
The foam base is extra dense and topped with memory foam. If you press your hand down hard on the surface, you can feel the strength and support, but it also retains a cozy softness. All foam loses its shape eventually, but I don't foresee a few years of toddler body weight affecting this mattress.
Fortunately, Milliard's low pricing doesn't compromise non-toxic priorities. This mattress is hypoallergenic and CertiPUR-US certified to be free of heavy metals and low in volatile organic compounds (VOCs).
What I Didn't Love
I love the value provided by this Milliard mattress and it's a stretch to criticize such a high-quality product at this price point. However, I will say that after breathing straight through a Newton mattress (#6 above), other "breathable" mattresses don't compare.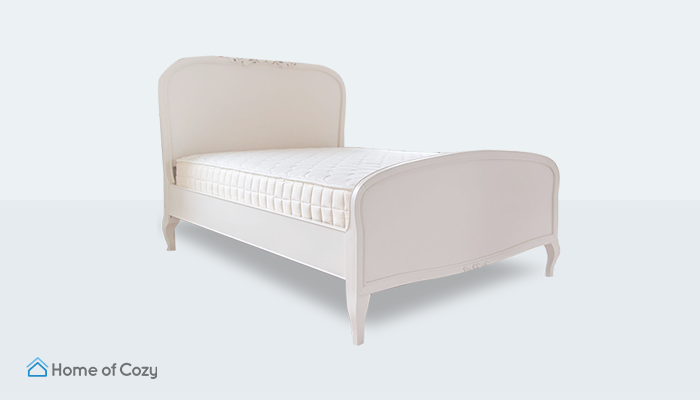 Best For: Organic
Price: $699+
Mattress Type: Dual-sided
Trial Length: 100 nights
Dimensions: 38" W × 75" L × 7" H (twin)
Firmness: Waterproof side of 8/10 and big kid side of 7/10 (rating determined by Home of Cozy)
What I Loved About This Naturepedic Mattress
For parents with elevated concerns regarding toxic materials and emissions, Naturepedic provides a safe haven. They go far beyond the industry standards regarding the use of clean and safe materials. Certifications for the 2-in-1 Organic Kids Mattress include GREENGUARD gold, MadeSafe, and Global Organic Textile Standard (GOTS).
This mattress weighs 44 lbs, more than most toddler mattresses. The weight is put to good use, packing in dense layers of springs and organic cotton. The surface is delightfully firm and also smooth and waterproof on the toddler side.
This is another model that transitions from toddler to big kid, rather than infant to toddler. It's definitely built to provide years of high-quality use, with the big kid side featuring quilted cushioning that won't be quickly outgrown. If I was investing in this mattress, I would probably go for a full, rather than a twin, allowing for even more years of use.
What I Didn't Love
Among mattresses that are made specifically for kids, this is at the very top of the price range. It really is an impressive mattress, but budget-focused parents have plenty of great options at lower price points.
Get More Practical Furniture Reviews from Home of Cozy
Safety, comfort, quality, and budget are all important factors when shopping for a toddler mattress. Fortunately, the category is diverse. There are plenty of great mattresses to choose from, so you're sure to find one that meets your family's unique needs.
At Home of Cozy, we're your source for comprehensive, rigorously-researched furniture reviews. Visit Home of Cozy for more interesting brand comparisons, product reviews, and more from our expert team. And don't miss our top picks for the best mattresses in 2023.