Twin mattresses make me feel nostalgic.
Until I moved out of my parents' home at age 21, I slept on one. So, all through my childhood and college years.
Come to think of it, my bedroom served as a successful guest room with that same twin mattress when I'd come home for visits over many years.
Twin size mattresses are the smallest mattresses on the market. But just because their dimensions are petite, doesn't mean twin mattresses aren't manufactured to the same high-quality standards as larger-size mattresses.
We've evaluated a number of the top twin size mattresses you can buy today, and we'll reveal our choices a bit further down in this blog, so keep reading.
But first, let's talk about when you might want to buy a twin mattress.
Best Twin Mattress
Brand
Best For
1

Editor's Choice

Overall
Shop Now
2

Hybrid
Shop Now
3

Value
Shop Now
4

Cooling
Shop Now
5

Pressure Relief
Shop Now
6

Kids
Shop Now
7

Organic
Shop Now
8

Firm
Shop Now
9

Heavy People
Shop Now
10

Budget
Shop Now
1
Editor's Choice
2
3
4
5
Best For:
Pressure Relief
6
7
8
9
10
Why Buy a Twin Mattress?
Most of us slept on twin mattresses as kids.
Because of their compact measurements, twin mattresses are perfect for kids' rooms. And because twin mattresses are the cheapest beds on the market, they are perfect for growing children, tweens and teens, and buyers on a budget.
Many parents also opt for a twin mattress as a toddler transitions from crib to bed. But twin-size mattresses aren't just for kids under 18.
Twin mattresses are often the go-to size of mattress for teens living in dorm rooms or sharing space with other young adults during college or as new graduates living in studios or otherwise tight quarters.
Twin mattresses are also a popular choice for those who have small guest rooms but want to provide something more comfortable than a futon mattress or air mattress to friends and family.
People who have multiple guest rooms also like to purchase twin-sized mattresses for at least one guest room, to accommodate siblings rooming together, or a parent and child sharing a room. Twin mattresses are also an ideal choice for bunk beds.
And because twin mattresses can be pushed together to make a king bed (called a split king in mattress lingo), they are versatile whether you have kids, single sleepers or couples as guests.
Are you now sold on the idea of buying a new twin mattress? Great!
But before we get into our top picks for best twin mattress in 2023, let's review some of the things to keep in mind as you begin your twin mattress search.
Your Essential Checklist When Shopping for the Best Twin Mattress
Shopping for a twin mattress is no different than shopping for any other size mattress. These are the criteria you will want to consider as you evaluate different twin mattresses from numerous mattress brands.
Space. Standard twin size mattresses typically measure 38" wide by 75" long. You'll want to ensure that these dimensions fit your existing bed frame and the available space in your room. Twin mattresses take up the least amount of floor space, but it's still smart to take measurements that include all the furniture in the room before buying.
Mattress Type. You have a lot of options when it comes to twin mattresses: innerspring mattress, memory foam mattress, latex mattress and hybrid mattress. Each type of construction has advantages and disadvantages. Keep reading and we'll cover our favorites in each category.
Firmness Level. Firmness levels for twin mattresses range from soft to extra firm. As always, the level of firmness you select should be based on your personal preferences and sleeping position. The most successful twin mattress for most people is a medium-firm twin mattress.
Support and Comfort. You'll want to look for a twin mattress that provides proper support, contours to your body and distributes weight evenly. We'll cover those details for each of our picks, too.
Motion Isolation. It's a good idea to choose a twin mattress with good motion isolation, especially if you share the bed with a partner or pet.
Temperature Regulation. We recommend a twin mattress with cooling technology and breathable materials to prevent heat retention. That's extra important if you live in an area with sweltering summers—Sunbelt, we're talking to you!
Edge Support. If you frequently sit or sleep near the edge of the bed—say to get dressed or undressed—choose a mattress with reinforced edges for added support. Slipping off the edge of a twin mattress can be a hazard for the very young, disabled people or the elderly.
Durability and Warranty. Definitely take note of the manufacturer's warranty that protects against manufacturing defects; 10 years is the industry minimum. It can also be very enlightening to read customer mattress reviews and assess the manufacturer's reputation to get honest feedback on a twin mattress's durability and longevity.
Trial Period. Always look for mattresses with a generous trial period so you can test out a twin mattress in your own home. A 100-night, no-risk sleep trial is standard and most mattress makers cap the trial at 120 nights. Read the fine print to be sure you aren't stuck with expensive return shipping costs or restocking fees.
Budget. Determine your budget before you begin shopping online or at a retail store. Only explore twin mattresses that fall within that price range. Many online brands offer frequent sales which can save you hundreds of dollars.
Reviews and Recommendations. Besides reading customer reviews, seek recommendations from friends or family members who have purchased twin mattresses. You might even want to post on social media platforms like Facebook or Nextdoor for twin mattress recommendations.
Now, let's get into our top twin mattress selections for 2023!
Our Top Picks for Best Twin Mattress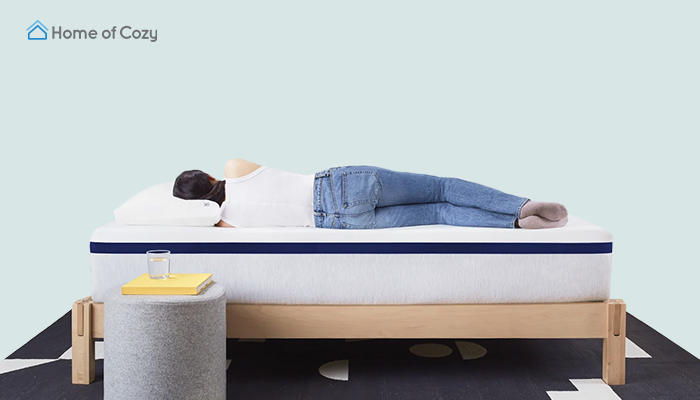 Best For: All sleep positions, sleepers seeking pressure-relieving support from aches and pains, sleepers who want solid temperature regulation, sleepers who prefer strong motion isolation, value shoppers
Price: $936.30 for a twin mattress
Mattress Type: Hybrid mattress, bed-in-a-box
Trial Length: 100-Night, No-Risk Sleep Trial
What I Loved
The Helix Midnight is the company's top-seller and an industry favorite. The Helix Midnight is a medium-firm, hybrid mattress made of plush memory foam pillow over pocketed steel coils. This construction provides excellent pressure relief, so it's a great choice for sleepers who experience aches and pains when sleeping or upon waking. Additionally, the Helix Midnight isolates motion very well, thanks to the top layer of memory foam that absorbs and dissipates most movement. The Helix Midnight also offers solid edge support that performs very well when lying down, with no noticeable sinking or sloping around the edges. The breathable construction of the Helix Midnight keeps the bed cool all night long for a comfortable sleep. It is great for couples, too.
What I Didn't Love
Stomach sleepers will likely find the Helix Midnight too soft, and hardcore memory foam lovers won't get that deep sinkage feel with the Helix Midnight. Heavier sleepers should consider an upgrade to a Helix Luxe model for zoned back support. And if you're a stomach sleeper, the Helix Dawn would be a friendlier choice.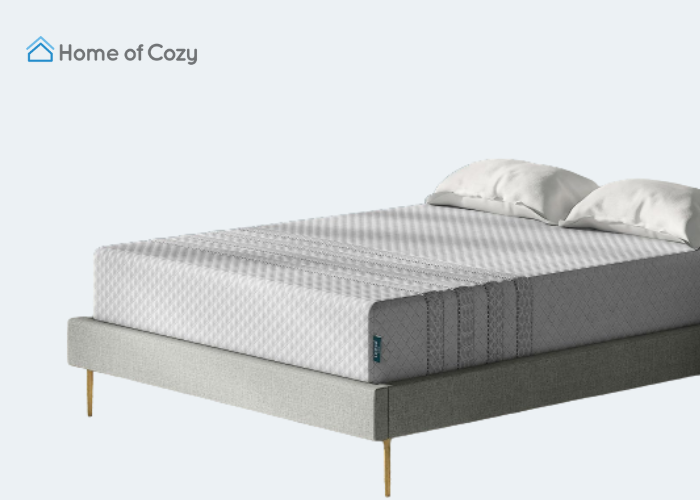 Best For: Sleepers who like freedom of movement paired with minimal motion transfer, sleepers who like the balance of bounce from an innerspring mattress and cushioning from a foam mattress, shoppers who want a premium hybrid at a great price point, sleepers with lower back pain, shoppers who want to support charitable causes
Price: $1,349 for a twin mattress
Mattress Type: Hybrid mattress, bed-in-a-box
Firmness: Medium-firm, 5-7/10 on firmness scale
Trial Length: 100-Night, Risk-Free Sleep Trial
Warranty: 10-Year Warranty
What I Loved
This is the company's bestseller and a winner with both reviewers and buyers. The high-performance Leesa Sapira Hybrid is a premium hybrid mattress that provides sleepers with balance of bounce and pressure relief in a medium-firm feel that suits most sleepers. The memory foam offers cooling and contouring, while 1,000 pocketed springs actively respond to your individual movement and sleep style. The breathable, soft cover of ultra-fine viscose and plant-based rayon fibers help hot sleepers stay cool. The Leesa Sapira Hybrid carries the CertiPUR-US® safety certification through independent accredited testing labs that ensure materials are low VOC and made without ozone depleters, phthalates, BPDE, formaldehyde or heavy metals. If you want to support a company with a dedication to social causes as part of its corporate mission, the Leesa Sapira Hybrid might tip the balance when you're ready to buy.
What I Didn't Love
If you prefer a plusher, cushier mattress, the Leesa Sapira Hybrid isn't a good match. If you are a partnered sleeper, you might feel your mate's or pet's movements during sleep.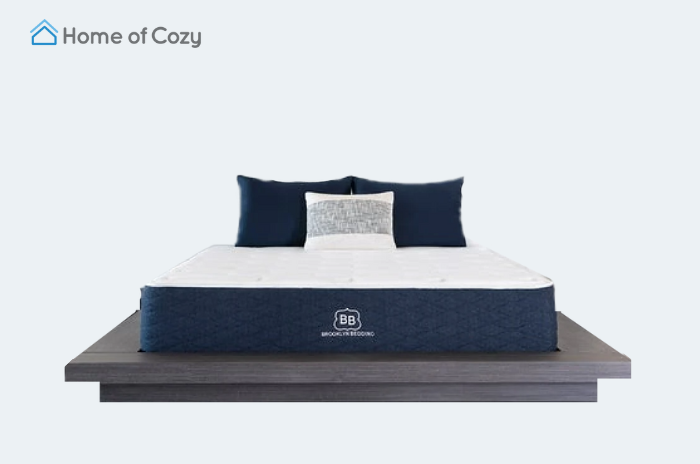 Best For: Shoppers on a tight budget, side sleepers, couples, sleepers with troublesome pressure point pain seeking a pressure-relieving twin mattress
Price: $665 for a twin mattress
Mattress Type: Hybrid mattress, bed-in-a-box
Firmness: Customizable firmness levels ranging from 3-7/10 on firmness scale
Trial Length: 120-Night, No-Risk Sleep Trial
Warranty: 10-Year Warranty
What I Loved
This Arizona-made mattress from Brooklyn Bedding provides superior support at a factory-direct price. The top-of-the-line memory foams used to construct the Brooklyn Signature Hybrid offer outstanding pressure relief and contouring comfort, along with buoyancy, breathability and best-in-class comfort. The individually wrapped steel coils are zoned for independent movement, support and superior motion isolation, and the coil-reinforced perimeter means excellent edge support. You can customize the firmness of the Brooklyn Signature Hybrid mattress with three options: soft, medium or firm to get the just-right-for-you firmness. An optional GlacioTex™ Cooling Cover delivers high-tech cooling comfort with a pillow-top feel that soothes hot or heavy sleepers. Shoppers might compare the Saatva Memory Foam Hybrid mattress in this category.
What I Didn't Love
Because the Brooklyn Signature Hybrid mattress has some motion transfer, couples may feel their partner's movements in the night. It's a better choice for solo sleepers.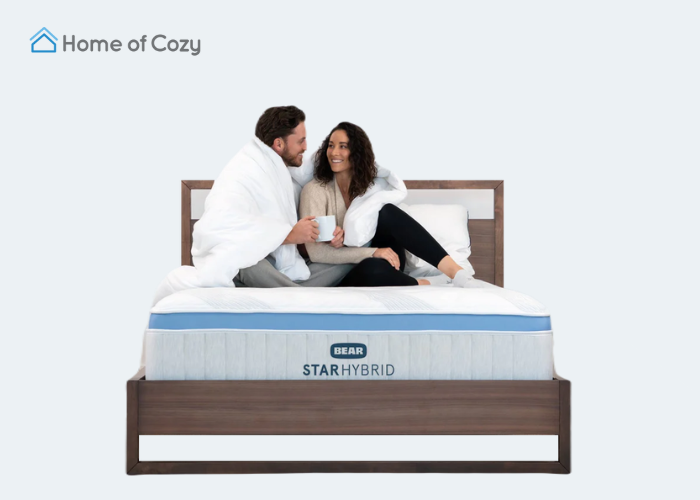 Best For: Sleepers who like the balanced feel of a traditional mattress, sleepers who desire a pressure-relieving mattress, sleepers who need extra temperature regulation, couples with different sleep positions and weights
Price: $1,298 for a twin mattress
Mattress Type: Hybrid mattress, bed-in-a-box
Firmness Level: Medium-firm mattress, 6.8/10 on firmness scale
Trial Length: 120-Night, No Risk Sleep Trial
Warranty: Lifetime Warranty
What I Loved
The Bear Star Hybrid is the company's most popular mattress because it ticks many of the boxes on buyers' lists. The Bear Star Hybrid mattress combines copper-infused cooling gel memory foam and individually-encased coils for a best-of-both-worlds soft and supportive feel. Those same steel coils reinforce the strength and integrity of the Bear Star Hybrid mattress for superior edge support. High-density support foam provides base support and durability to the entire mattress. Responsive comfort foam adapts to all body types and sleep positions, and offers additional airflow and pressure relief. The cool-to-the-touch, hand-quilted cover combines HydroCool® technology plus Celliant® fiber to create a moisture-wicking sleep surface that improves overall sleep well-being every night. In addition, the Bear Star Hybrid is non-toxic, certified clean and 100% made in America.
What I Didn't Love
When first freed from its packaging, you may notice minor off-gassing form the Bear Star Hybrid—normal for boxed mattresses. The smell will quickly dissipate. However, there are better choices for side sleepers.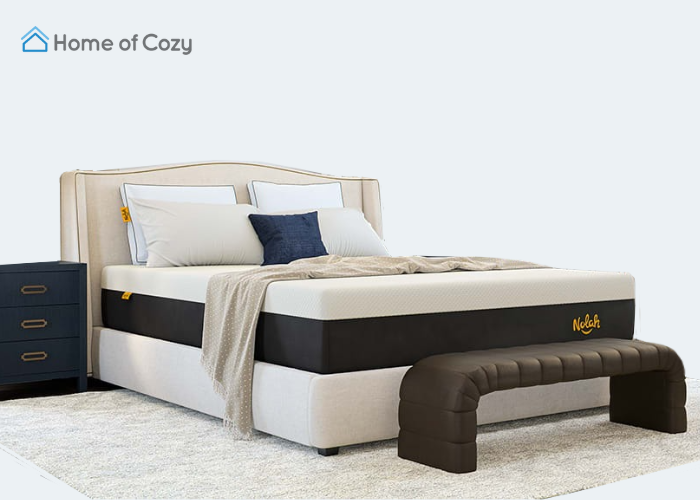 Best For: Sleepers who need exceptional pressure relief, side sleepers, lightweight back sleepers, shoppers seeking an exceptionally durable mattress
Price: $1,299 for a twin mattress
Mattress Type: All-foam mattress, bed-in-a-box
Firmness Level: 5/10 on firmness scale
Trial Length: 120-Night, Risk-Free Sleep Trial
Warranty: Lifetime Warranty
What I Loved
The Nolah Signature 12" is the Denver-based company's best mattress for pressure point relief on the lower back, hips, shoulders, spine and other joints. This mattress features a proprietary material called AirFoam™: billions of microscopic air bubbles that distribute body weight for maximum pressure relief. The beefy Nolah Signature 12" balances plush cushioning with deep support and keeps a variety of sleepers cool with its temperature-neutral foam. AirFoam™ also resists sagging, which is why it's backed with a lifetime warranty, making it a great long-term twin mattress choice. If you're concerned about toxic materials in a mattress, the Nolah Signature 12" is free of harsh, heat-trapping viscoelastic chemicals. At this price point, the Saatva and Winkbed are similar all-foam options, as are mattresses from Nectar and Layla.
What I Didn't Love
Sleepers who like a firmer feel might find the medium-soft Nolah Signature 12" a bit too cushy. And don't look for exceptional edge support here; you will experience some sinking if you're sitting on the edge of the bed.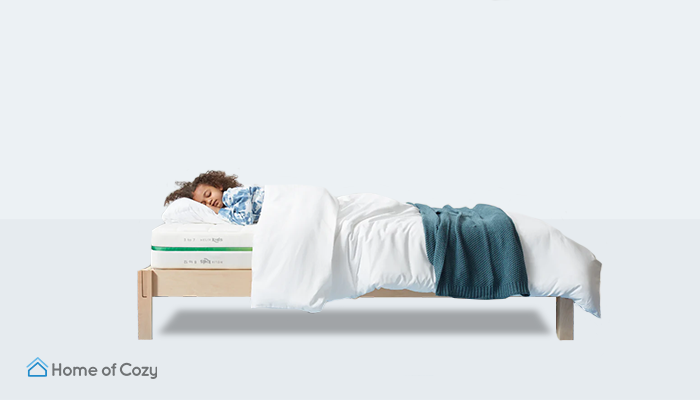 Best For: Children ranging from toddlers to 'tweens, kids who sleep hot, kids with any sleeping position, kids with allergies, parents who prefer a non-toxic, "clean" mattress
Price: $748.80 for a twin mattress
Mattress Type: Hybrid mattress, bed-in-a-box
Firmness: The flippable design ranges from 4-7.5/10 on firmness scale
Sleep Trial: 100-Night, No Risk Sleep Trial
Warranty: 10-Year Warranty
What I Loved
Kids grow when they sleep and the Helix Kids mattress features a genius design for growing bodies. The two-sided construction incorporates innersprings with foam layers, it has a firm support side for children ages 3-7, and a softer side for kids 8-12. So the Helix Kids mattress beautifully—and economically—adapts to children's growing bodies. And it's easy to differentiate each side, thanks to clear labeling and a bright green trim that separates the two sides. The Helix Kids mattress doesn't scrimp on materials, either. There's also excellent pressure relief in the Helix Kids mattress so active bodies can recover overnight. This mattress is made with non-toxic CertiPUR-US® foams that are free of harmful chemicals, lead, mercury and PBDE flame retardants so parents can rest easily. The Helix Kids mattress is also treated with a plant-based water-repellent finish to combat odors, stains and spills even when the littles are dirty. Plus the hypoallergenic TENCEL® cover is permanently treated with AEGIS® Microbe Shield to fight bacteria, and repel dust and allergens so it's a great choice for kids with allergies, asthma or skin sensitivities. The Helix Kids mattress also comes in a twin XL mattress size if you want to size up for a taller kiddo.
What I Didn't Love
Heavier kids and teenagers will want to move up to a larger adult mattress.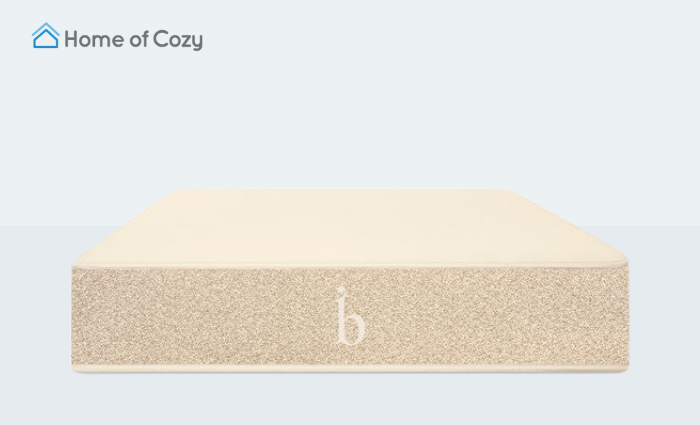 Best For: Back and average-weight stomach sleepers, sleepers who like a supportive, responsive feel in a mattress, sleepers who weigh at least 130 pounds, hot sleepers, eco-conscious shoppers
Price: $1,498.80 for a twin mattress
Mattress Type: Hybrid mattress, bed-in-a-box
Firmness: Medium-firm, 6-7/10 on firmness scale; softer with a memory foam topper
Trial Length: 100 Night, No-Risk Sleep Trial
Warranty: 25-Year Warranty
What I Loved
This eco-friendly mattress is made with high quality, natural , non-toxic and luxurious materials, including fair-trade, organic cotton, organic cashmere, New Zealand wool and natural, breathable Talalay latex. These materials naturally provide optimum airflow and breathability. Because the Birch Natural is free from any harmful chemicals they are safe for children and those with skin sensitivities, and has garnered a GREENGUARD Gold certification. The Birch Natural is an obvious choice for sleepers who seek a greener mattress and it's comfortable for all sleeping positions. This hybrid mattress includes up to 1,000 individually wrapped steel coils that cradle your body while also limiting motion transfer. The sides are reinforced lengthwise to provide superior edge support. It's also very well-priced for the quality. And bonus: the Birch Natural is handmade in the U.S.
What I Didn't Love
If you're seeking a soft bed, the Birch Natural isn't your best bet. And note that latex is a naturally bouncy material, so it doesn't offer the best motion isolation, if that's important to you.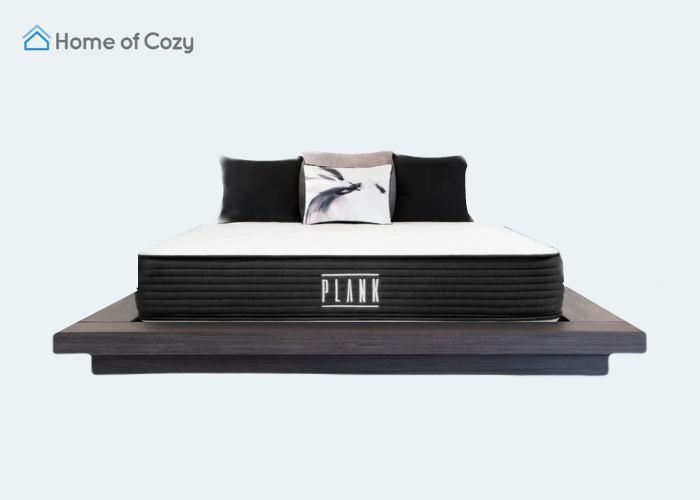 Best for: Shoppers who prefer a luxury firm mattress, hot sleepers, couples seeking superior motion isolation, average and heavier back sleepers, stomach sleepers
Price: $749 for a twin size mattress
Mattress Type: Memory foam mattress, bed-in-a-box
Firmness: Flippable, with firm to ultra-firm sides, 8-10/10 on firmness scale
Trial Length: 120 Night, No-Risk Sleep Trial
Warranty: 10-Year Warranty
What I Loved
The Plank Firm is the go-to for sleepers who complain that typical firm mattresses are never firm enough. Inspired by the minimalist approach to sleep in many parts of Asia, the high-density Plank Firm's dual comfort design offers two firmness variations in a flippable mattress. The top side of the mattress is ultra-firm, while the bottom side of the RV mattress feels like a traditional firm, allowing for a highly customizable sleep. The flatter sleep surface of the Plank Firm is engineered to create a neutral spine position that's better for your lower back and posture to banish lumbar pain. An optional GlacioTex™ Cooling Cover can be sewn onto the surface of both the firm and extra firm sides to deliver cooling on contact. The Plank Firm is an excellent match for back sleepers and heavy sleepers.
What I Didn't Love
If you like the plush feel of a pillow top mattress or the more adaptive contouring of a memory foam mattress, the Plank Firm will definitely be too firm for you.
Best Mattress for Heavier People: Titan Plus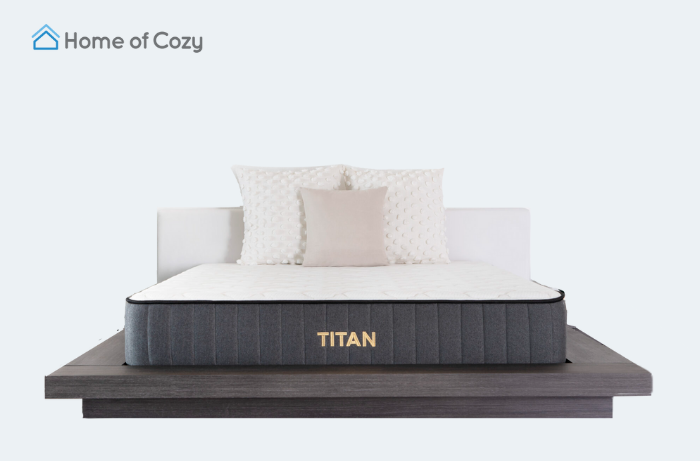 Best For: Heavy sleepers who weigh 230 pounds or more, sleepers who like an extra firm mattress, plus size, partnered sleepers (including those with big dogs!), shoppers seeking an extra durable mattress
Price: $699 for an XL twin mattress
Mattress Type: Hybrid mattress, bed-in-a-box
Firmness: Firm mattress, 8-10/10 on firmness scale
Trial Length: 120-Night, No-Risk Sleep Trial
Warranty: 10-Year Warranty
What I Loved
The Titan Plus is one of the few mattresses thoughtfully and specifically manufactured for the needs of heavier sleepers. The Titan Plus is designed with substantial support for larger-sized sleepers. This pillow-top queen size mattress is 11" tall and features 6 well-designed, high-performance layers for outstanding contouring and pressure point relief to accommodate plus size solo or partnered sleepers. A 6" core of premium, individually pocketed TitanCaliber™ coils ensure extra lift and extra durability for the life of the mattress, while a 1" layer of quilted, cooling gel memory foam resists body impressions and provides a cool-to-the touch surface. The Titan Plus is best for heavier or plus size sleepers, and couples who seek superior motion isolation. There's also an upgrade Titan Plus Luxe model with a more traditional medium-firm feel.
What I Didn't Love
If you're a lighter sleeper (less than 130 pounds) or you prefer a more moderately firm mattress, the Titan Plus isn't for you.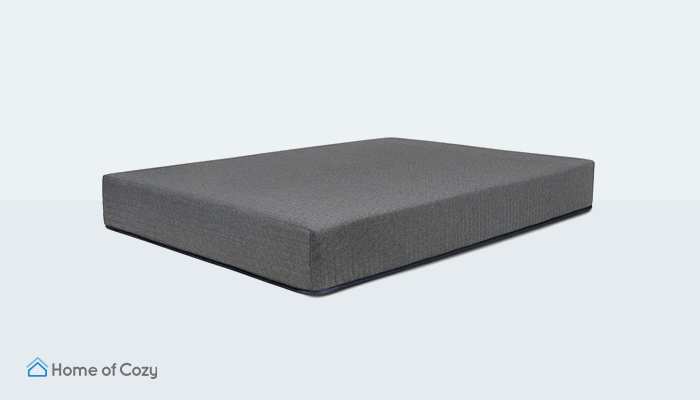 Best For: Shoppers on a very tight budget, all sleeping positions: back, side and combination sleepers, sleepers who want a variety of firmness options
Price: $274 for a twin mattress
Mattress Type: Memory foam mattress, bed-in-a-box
Firmness: Available in multiple firmness options from 3/10 (soft) to 9/10 (extra firm) on firmness scale
Trial Length: 120 Night, No-Risk Sleep Trial
Warranty: 10-Year Warranty
What I Loved
The budget-friendly Dreamfoam Essential is unique in that it's available in five height options—from 6" to 14"—so one thickness is sure to suit you. For such an affordable memory-foam mattress it also offers customizable comfort firmness choices: from soft-medium all the way up to extra firm preferences. The Dreamfoam Essential is very well-priced for budget shoppers, making it a great choice for kids who need a new mattress or young adults headed off to college. And this twin bed doesn't sacrifice performance for price. The high-density, memory-foam design of the Dreamfoam Essential features cooling gel-swirl technology that keeps sleepers comfy, and offers the contouring, response and pressure-point relief usually found only in a more expensive hybrid mattress. The innovative and environmentally-friendly, sewn-on stain protector is washable—a nice touch against spills and accidents. The Dreamfoam Essential is so affordable, you may even want to consider sizing up to a twin XL mattress.
What I Didn't Love
The hottest of sleepers might opt for another model that incorporates more cooling technology. Combination sleepers who need more responsiveness might look to a hybrid mattress that includes coils and a comfort layer of foam versus the all-foam Dreamfoam Essential.
Sleep Products To Add to Your Twin Mattress Sleep Experience
If it's been a while since you've shopped for a new mattress, you might be surprised at how many new accessories have been introduced to boost your sleep experience.
Once you buy your new twin mattress, you might want to try wicking bamboo or crisp, high-quality pima cotton sheets for dreamier sleep. Or maybe a breathable cotton mattress topper, a mattress protector or a new duvet cover to accompany your new twin mattress.
We believe when you buy a new mattress, you should also replace your old pillows to enhance your sleep experience.
Some mattress manufacturers offer free pillows with the purchase of a new twin mattress, which is a nice bonus. But even if you didn't score free pillows, upgrading to a memory foam pillow could make a big difference in the quality of your sleep.
Weighted blankets can offer comforting touch for anxious or solo sleepers. For those who enjoy technology, a sleep tracker, a wake-up light "sunrise" alarm clock or a white noise machine may improve overall sleep. Sleep masks, blackout curtains, a cool mist humidifier or reusable ear plugs can also help you catch more Zzzz's on your new twin mattress.
In addition to sourcing sleep products from mattress or big-box retailers, comb Amazon for deals on all these sleep products and many more. There's a whole world of gadgets designed to improve your sleep experience!
The Best Twin Mattress Will Last for Years
Twin size beds are a classic for so many reasons.
And even though twin-size mattresses are small, you don't have to sacrifice comfort, durability or quality. Twin mattresses are made with the same materials, craftsmanship and attention to detail as larger-sized mattresses.
They're obviously great for growing kids, small spaces like studio apartments, college or other temporary digs. But they can also be an elegant and economical choice for a guest room.
Whether you're considering a twin mattress for a kid, a 'tween or teen, a college student sharing a dorm room or for a grandparent's guest room, there are some fantastic options available in every price range and for every sleep preference.
Regardless of why you're buying a twin mattress, rest assured that we've made our top picks on the basis of construction, materials, firmness options, quality and durability. Every one of the twin mattresses we've reviewed here meet our rigorous standards and represent the best options available in 2023.
And though they didn't make our top picks for this comprehensive buyer's guide, there are also solid choices for twin beds from mattress brands including Caspar, Nectar, Saatva Classic, Tuft & Needle and Winkbed.
And if you're also in the market for a larger size mattress, check out our thorough roundup of the Best Twin XL Mattresses or 10 Best Mattresses for 2023 for our current favorites.
Happy shopping!