At the end of a long day, nothing feels better than lounging on a sofa with extra deep seats you can sink into.
Whether you're looking for a space-saving loveseat or a sectional sofa that'll be the centerpiece of your living room, I've put together a round-up of deep seat sofas from the best brands and furniture retailers on the market right now.
The Best Overall Sofas of 2022
To help you find the best deep seat sofa, I tested individual models from over 23 different brands. These are the best new sofas with extra deep seats that balance the best in design, price, sustainability, and durability.
5 Best Deep Seat Sofas Consumers Loved This Year
Brand
Current Offers
Best For
1

Editor's Choice

20% off with code COZY20OFF

Quality, Functionality
Shop Now
2
Style
Shop Now
3
Deepest Seat
Shop Now
4
Customization
Shop Now
5
Depth Options
Shop Now
1
Editor's Choice
Best For:
Quality, Functionality
Current Offer:
20% off with code COZY20OFF
2
3
4
5
1. 3-Seat Sofa with Chaise by Allform
Price: $1,895
Dimensions: 63" Width x 38" Seat Depth x 61″ Chaise Depth x 34" Height
Seat Depth: 38″
Chaise Depth: 61″
Arm Height: 25″
Leg Height: 6″
Frame Materials: Maple and poplar kiln-dried laminated hardwood
Upholstery Options: 7 performance fabric options, 2 leather upholstery options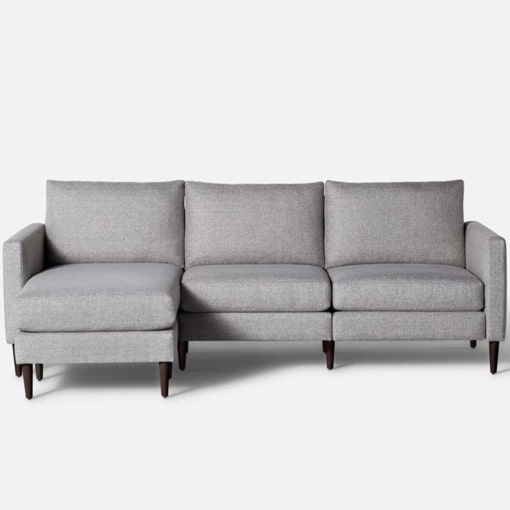 What I Loved
In just a few years, Allform has perfected the art of modular sofas. You can literally start with an armchair or loveseat and evolve your seating configuration for any home you end up in. They even sell sectionals that seat up to 8.
The standard three-seater already features a sleek, low profile and deep seat cushions. but what stands out to me is Allform's ability to customize their sofas and sectionals so you can include extra deep seating elements like chaise lounges. Shoppers can customize everything from the finish on the solid wood legs to the upholstery used on the base and removable cushions.
In-person, the three-seater with a chaise is impressive. Its high-density foam cushions also make it one of the best ergonomic back support couches I've reviewed in the past year. In fact, I was obsessed with how the sofa's plush cushions made it so easy to recline, lie down, or just sit upright and do work on my computer without any back pain.
Customer service and care is also something I loved about Allform compared to any other direct-to-consumer brand or retailer. Allform offers a 100-day trial period during which you can try it at home and return it if you're not completely sold on the sofa. Also, they back all of their kiln-dried laminated hardwood frame with a lifetime warranty.
What I Didn't Love
To be honest, there isn't really anything I disliked about the Allform three-seater. It's worth the investment and Allform simplifies the shopping, ordering, and delivery process. However, it is still a sofa that requires some assembly. That said, you should have an easy time fitting the individual seating modules, backrest, and armrests together compared to lower-priced pieces from sites like Wayfair or retailers like IKEA.
Best Deep Seat Sofa: Allform
2. Sunday 82" Sofa by Blu Dot
Price: $2,899
Dimensions: 82″ width x 40″ depth x" 30″ height
Seat Depth: 26″
Arm Height: 24″
Leg Height: 4″
Frame Materials: kiln-dried hardwood
Upholstery Options: 4 fabric options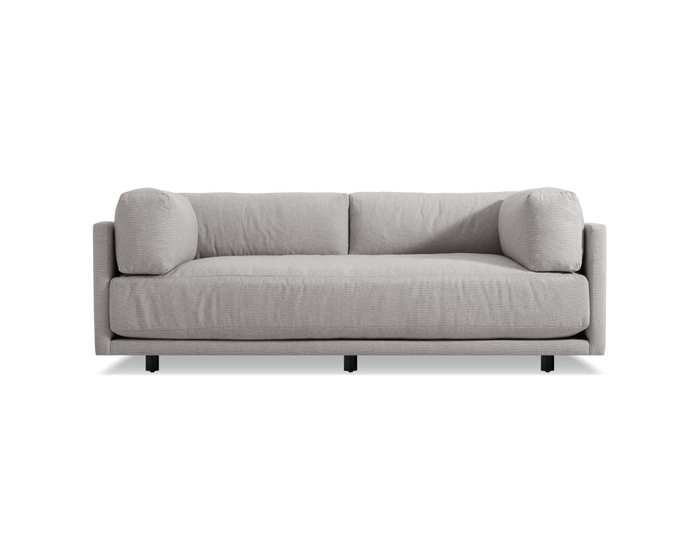 What I Loved
If you're a fan of modern, minimal styles you can actually live with, Blu Dot is probably the retailer for you. The Sunday Sofa stuck out as the clearest example of Blu Dot's design ethos, with a low profile similar to Allform's, along with big, cushy armrests and back cushions.
Like Allform, the Sunday also features a kiln-dried solid wood frame, making it a sturdy, reliable sofa. For this test, I chose the Sanford Black upholstery (which, if I'm being nitpicky, is actually a subtle beige/off-white.) Either way, it was incredibly comfortable and I could see myself actually living with this one.
In terms of the seat cushions, 26 inches may not seem like a lot, but with the super plush back cushions and armrests, it almost feels like you're being enveloped in it. So, if you're looking for a sofa that'll be perfect for movie nights and all-day lounging, this one's for you.
What I Didn't Love
While the Allform three-seater and the Blue Dot Sunday are both sofas that require self-assembly, I honestly found Allform to be the easier one to put together. While Allform's sofa took me about 30 minutes to put together, the Sunday sofa took some elbow grease and close to an hour.
3. Lyre Chesterfield Sofa by Anthropologie
Price: $2,198
Dimensions: three widths (82″,90″, 100″) x 41″ depth x 36″ height
Seat depth: 41″
Arm Height: 36″
Leg Height: 6.5″
Frame Materials: Kiln-dried laminated hardwood
Upholstery Options: 4 ready-to-ship fabric options, 20+ custom options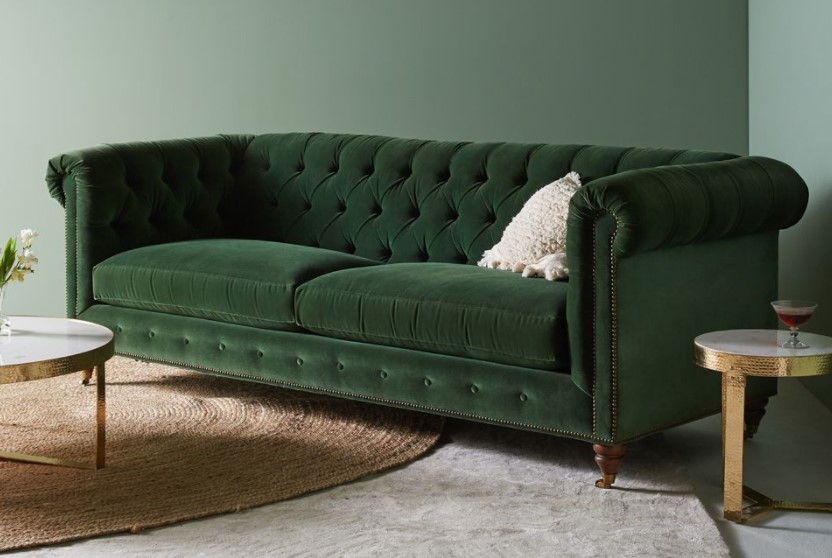 What I Loved
Anthropologie might be your go-to for chic, trendy home decor, but they may not always be at the top of your list for functional furniture you can live with and lounge on. However, I'm pleasantly surprised by the Lyre. It may just be one of the best deep seat sofas for balancing substance and style.
Modeled after 18th-century Chesterfields with luxurious button-tufted backs, the Lyre gets a modern update with a sturdy, kiln-dried laminated hardwood frame on par with Allform's and a noise-free flexorator grid suspension.
While you can't add on custom add-ons like chaise lounges or matching ottomans, it does come in three different widths depending on your living space.
And have I mentioned how deep the seats are? At 41″, it's likely the deepest seat depth on this entire list.
What I Didn't Love
Anthropologie's site photography really sells you on that deep, rich emerald green velvet. However, that option plus 20+ upholstery fabrics are only available if you custom order it, which contributes significantly to an already lengthy lead time.
Also, I didn't experience any quality issues during the time when I was testing this one, but reviewers have complained in the past about the hit-or-miss durability of Anthropolgie's furniture overall.
4. The Lewis Sofa by Joybird
Price: starts at $1,797
Dimensions: 83″ width x 41″ depth x 32″ height
Seat depth: 28″
Arm Height: 28″
Leg Height: 7″
Frame Materials: Bench assembled Engineered wood frame assembly reinforced with corner blocking and kiln dried solid wood
Upholstery Options: 1 in-stock and ready-to-ship, 20+ custom options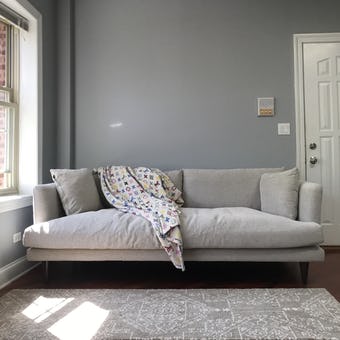 What I Loved
Along with being a great deep seat sofa, this is also one of the taller sofas on this list, which is great considering the weird trend I've been noticing in the past few years for sofas to have as low a seat height as humanly possible.
Like AllForm and Anthropologie, Joybird also excels when it comes to the number of customization options, particularly when it comes to sizes and upholstery. Like the customer reviews, I also really loved the addition of throw pillows, something missing from the other top sofas on this list.
What I Didn't Love
Like Anthropologie, I fell in love with one of their performance velvet upholstery options only to realize that there was just one ready-to-ship option in an off-white fabric. Also, the Lewis sofa wasn't as soft or as plush compared to the top three sofas on this list.
5. The Harmony Sofa by West Elm
Price: starts at $1,279.20
Dimensions: (four widths) – 76″, 82″, 92″, 102″ width x 36″ depth x 34″
Seat Depths: (three depths) – 36″, 42″, 47″
Arm Height: 23″
Leg Height: 5″
Frame Materials: Engineered hardwood frame with slot & tenon joinery
Upholstery Options: 30+ options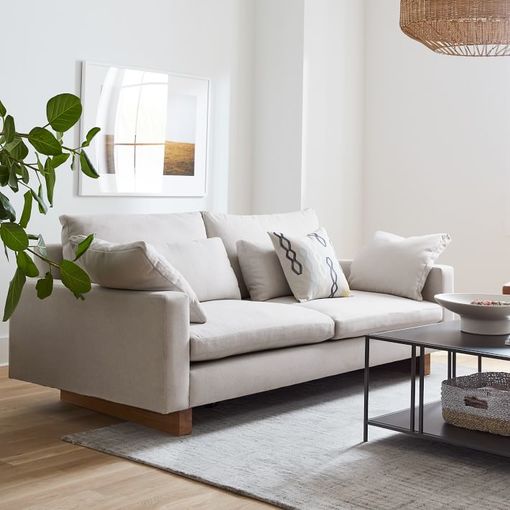 What I Loved
Unlike the other options on this list, the Harmony Sofa comes in custom seat depths: 36, 42, and 37 inches, depending on how deep you want your sofa to be. West Elm also offers a range of customizations from width to over 30 different upholstery options.
Along with West Elm's signature luxe, clean lines and stylish appeal, it also felt incredibly sturdy, with its hardwood frame and high-gauge sinuous spring suspension that didn't make a sound.
What I Didn't Love
Like the Lewis sofa by Joybird, this one didn't feel quite as soft or plush as the top three sofas on this list.
Extra Tips for Buying a Deep Seat Sofa
Complete your look with a few accent items
A sofa with deep seats literally gives you plenty of room to accent it with decorative items. Go maximal with a mix of accent pillows and throw pillows. Consider a coffee table that corresponds with the width of the sofa and think about area rugs or accent chairs that'll compliment your vision. Just think about your living space's color palette first before you toss pillows all over the place.
Look for extra comfort options
If you're looking for the perfect deep seat sofa, think about some other customization options that'll make the most of your purchase. Think about removable or reversible cushioning, power recliners, along with specific styles such as sleeper sofas if you like having guests over.
More brands and retailers for deep seat sofas
Whether you're not feeling any of the sofas I tested or you're still searching, check out more of our resources on the best online sofa brands and best sofas of the year.