Most of us change sleep positions repeatedly through the night but have one "preferred" position. Your preferred sleep position is the one in which you're best able to initially fall asleep and it's the pose in which you typically spend the majority of the night.
Each sleep style has pros and cons for your health. For example, sleeping on your stomach reduces snoring but often leads to neck pain. Side sleeping allows for a natural spinal alignment, but may cause shoulder pain or joint pain.
Back sleeping is known for causing snoring and for worsening the symptoms of sleep apnea. On the plus side, back sleeping alleviates acid reflux. Lying on your back also keeps the head, neck, and spine in a healthy neutral alignment. Nevertheless, back sleeping can cause lower back pain if your bed doesn't provide a proper amount of support.
A tiger can't change its stripes and you probably can't change the way you sleep. However, you can change your mattress.
If you're tired of waking up with back pain, then maybe it's time to finally upgrade to a bed that was designed with your preferred sleep style in mind.
In the sections below, we'll step through the top priorities for back sleepers. Then, we'll review Home of Cozy's top picks for the best mattresses for back sleepers in 2023.
Brand
Best For
1

Editor's Choice

Overall
Shop Now
2

Value
Shop Now
3

Extra Firm
Shop Now
4

Luxury
Shop Now
5

Back Pain
Shop Now
6

Couples
Shop Now
7

Plus Size
Shop Now
8

Organic
Check Price
9

Budget
Shop Now
1
Editor's Choice
2
3
4
5
6
7
8
9
Choosing the Best Mattress for Back Sleeping
Mattress shopping isn't simply about buying the "best" mattress. It's about buying the mattress that's best suited to meet the needs of you and your partner, based on sleep style, body type, and comfort preferences.
If you're a back sleeper, here are the factors you should consider while you evaluate different mattress models.
Type of Mattress
Most modern mattresses fit into one of these four groups:
Innerspring: a core of steel coils and a thin layer of padding
Foam: layers of memory foam or polyfoam supported by a high-density foam base
Latex: layers of natural or synthetic latex foam, often in combination with a coil core (hybrid) or other comfort layer materials
Hybrid: a coil core topped with thick foam comfort layers
Thanks to the rise of the mattress-in-a-box industry, innerspring mattresses are becoming less common. Most online retailers sell foam, hybrid, and latex models, all of which offer superior comfort and are more easily compressed for shipping.
Firmness
Back sleepers generally require a firmer mattress that can properly support the spine and prevent sinking around the hips. A softer mattress may force the spine to curve unnaturally, often resulting in discomfort and back pain.
To help describe how stiff or soft their products are, most online bedding retailers use the following 1-10 mattress firmness scale:
1/10 indicates a very soft mattress that permits deep sinking
10/10 indicates extreme firmness that allows virtually no contouring or sinking
6.5/10 is the industry standard for a medium-firm mattress
The preferred firmness range for most back sleepers is around 5–8/10.
Along with sleep style, body type affects firmness preference. In general, heavy-bodied sleepers need a firmer surface in order to prevent deep and uncomfortable sinking. Lightweight sleepers exert less pressure on a bed's surface, and thus often prefer a soft pillow top that more easily contours under lesser body weight.
The mattresses featured below have firmness ratings between 5.5/10 and 9/10.
Support and Durability
Along with feeling appropriately firm for your needs, your mattress should be supportive and durable.
Supportiveness refers to a bed's ability to handle your weight and support the natural curve of your spine. Durability refers to a mattress maintaining its original shape for many years without caving in or wearing down. The heavier you are, the more important these qualities become.
If you're heavy-bodied and need a very supportive mattress, select one that's thick (over 10") and made with high-density foam and a steel coil core. These materials are used to provide sufficient lumbar support, preventing lower back pain for back sleepers.
Comfort
Back sleepers need firmness and support along with a touch of softness.
A mattress's comfort layers are typically made from memory foam, other foam materials, or latex. The thickness and softness of these layers determine how much relief you'll feel around your pressure points. If these layers are too squishy or airy, you'll sink in uncomfortably. However, if they're too thin or stiff, you won't feel any of the contouring and pressure relief that helps relax your muscles and joints.
High-quality mattresses offer a mix of comfort and support by using top layers that gently cradle your pressure points without sinking downward significantly. To find a mattress that meets your comfort needs, always check the firmness rating, look for high-quality materials, and read plenty of reviews.
Breathability
Temperature regulation and breathability refer to a mattress's ability to release heat. Some materials, like memory foam, tend to trap warmth, but this effect can be reduced by adding gel or copper infusions into the foam.
Hybrid beds are generally better than all-foam models for temperature regulation because some airflow can occur through the metal coil core.
Breathability is no more or less of a concern for back sleepers than for stomach or side sleepers. Regardless of sleep position, sleeping hot depends on your local climate and your individual body temperature tendencies.
Price
Mattresses come in a huge price range, with luxury models costing several times more than budget brands. In general, latex mattresses are pricy, foam mattresses are lower-priced, and hybrid prices are mid-ranged. Additionally, thicker mattresses are pricier than thinner ones. Customers also pay a premium for high-quality materials, organic materials, and complex constructions.
For the mattresses in this list, the price range (including current discounts) for a queen size is between $393 and $1,899.
Our Top Picks for Best Mattresses for Back Sleepers
Best Overall: Helix Dusk Luxe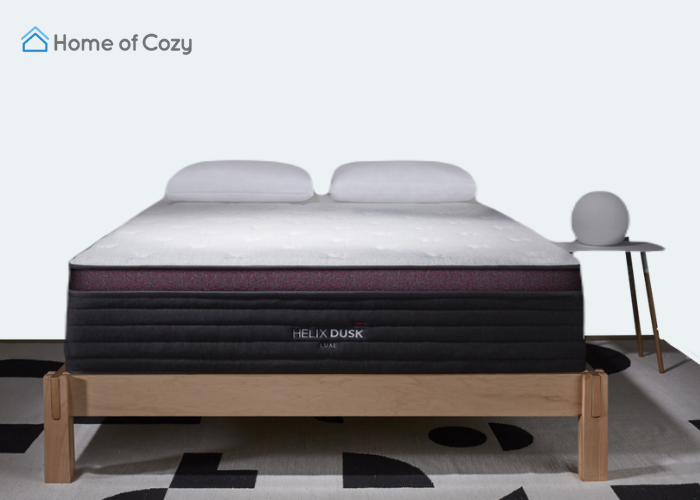 Price: $1,099–$2,299
Mattress Type: hybrid
Firmness: 5.5/10
Trial Length: 100 nights
Warranty: 15 years
What I Loved About This Helix Mattress
The Helix Dusk Luxe is a medium-firm mattress designed for back sleepers and stomach sleepers.
With a whopping 16" height and a core layer of 1,000 individually wrapped coils, this bed is extremely supportive for all body types. However, it's not overly stiff. The construction includes five distinct foam layers of varying densities and thicknesses. These combine to create the perfect mix of contouring, responsiveness, firmness, and pressure relief.
Even among luxury models, this mattress stands out as a fantastic option for all sleep styles and for couples. With its jumbo thickness and deluxe blend of materials, the Dusk Luxe can simultaneously offer perfect support for a heavy-bodied back sleeper on one side of the bed while providing sufficient cushioning for a lightweight side sleeper on the other side.
What I Didn't Love
Our "best overall" selection is also one of the highest-priced models that we've included in this top-8 list. At $1,899 for a queen size, the Helix Dusk Luxe won't fit every shopper's budget. If you like the Dusk but can't afford it, check out the standard (non-luxe) Helix Dusk, which includes fewer features but offers a similar feel.
Best Value: Brooklyn Bedding Signature Hybrid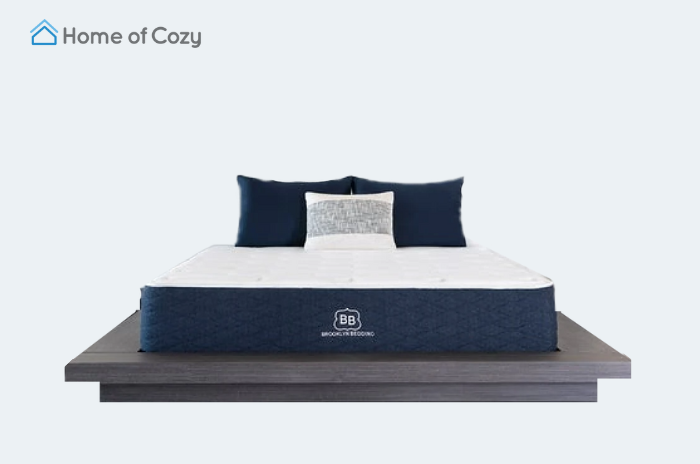 Price: $498.80–$1,199.30
Mattress Type: hybrid
Firmness: 7/10
Trial Length: 120 nights
Warranty: 10 years
What I Loved About This Brooklyn Bedding Mattress
The Brooklyn Bedding Signature Hybrid comes in soft, medium, and firm options. At 7/10 on the firmness scale, the firm option provides back and stomach sleepers with a stiff, flat surface and plenty of lumbar support.
An 8" coil core makes up the bulk of the Signature Hybrid's 11.5" total height. These tall, individually encased coils create a responsive and buoyant sleep surface. If you hate the feeling of "sinking in" to your bed, then you'll appreciate the way the Signature Hybrid resists and supports your body weight.
Along with 7,000+ 5-star reviewers, I absolutely LOVE this mattress. There's 100% support for the hips along with just enough contouring to help joints and muscles feel gently cradled. Considering its great price, the Brooklyn Bedding Signature Hybrid should be on any back sleeper's shortlist.
What I Didn't Love
The firm option is ideal for back or stomach sleepers. However, if you're one-half of a couple and your partner likes more cushioning, then this mattress might not be the best compromise. The foam layers are dense and firm and won't provide the squishy contouring that many side sleepers prefer.
Best Extra Firm Mattress: Plank Firm Luxe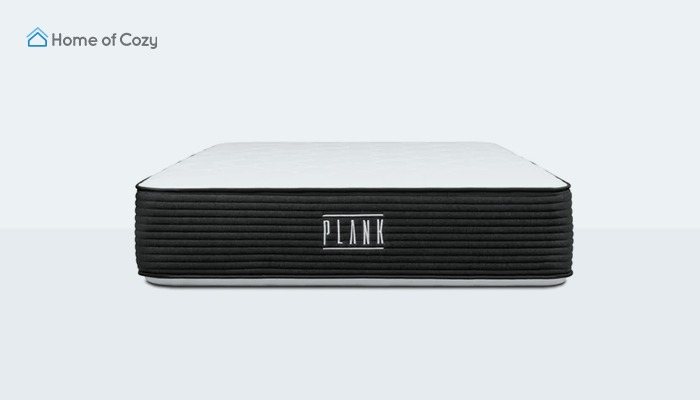 Price: $693–$1,299
Mattress Type: hybrid
Firmness: flippable design with a firm side (7.5/10) and an ultra-firm side (9/10)
Trial Length: 120 nights
Warranty: 10 years
What I Loved About This Plank Mattress
The Plank Firm Luxe is an upgraded version of the original Plank Firm. Both designs are flippable. The original is ridiculously firm, with an 8/10 firm side and a 10/10 extra-firm side. The Luxe is slightly plusher, with a 7.5/10 firm side and a 9/10 ultra-firm side.
To form this mattress's extra supportive core, Plank employs 961 individually encased TitanCaliber™ coils. Atop the coil core, several layers of dense foam are used to establish a firm sleep surface. Finally, a GlacioTex™ cooling cover is sewn into the outer layer, helping the mattress release heat and stay cool to the touch.
Many back sleepers will find the Luxe's firm side to be an ideal mix of support and comfort. Those who require extreme firmness and lumbar support can opt for the ultra-firm side.
What I Didn't Love
The Plank Firm Luxe underperforms slightly in one area: motion transfer. The mattress is simply too firm to completely absorb movements in the manner that softer beds can. So, sensitive sleepers might notice their partner getting in and out of bed or rolling around in the night. However, the Plank Firm Luxe does pass the "no spill" motion isolation test—you can place a glass of water on the mattress and roll across the bed without spilling it.
Best Luxury Mattress: Nolah Evolution 15"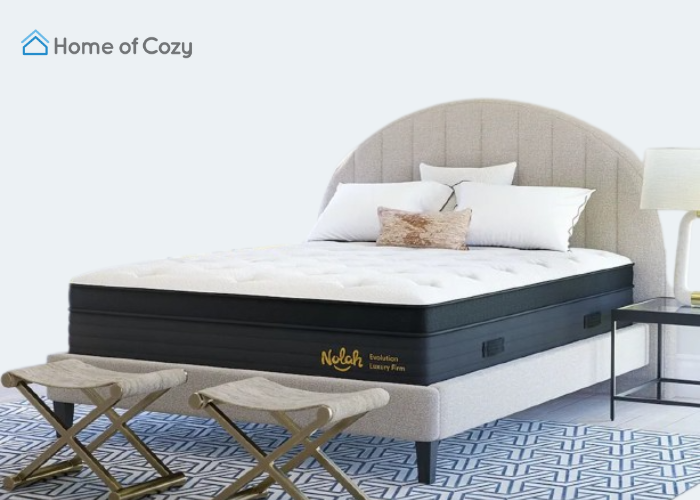 Price: $1,199–$2,159
Mattress Type: hybrid
Firmness: luxury firm option (6.5/10) or firm option (7.5/10)
Trial Length: 120 nights
Warranty: Lifetime
What I Loved About This Nolah Mattress
Anything over 12" is considered a "thick" mattress. The Nolah Evolution 15" exceeds that mark by 3", making this luxury model one of the fattest, most supportive options in the entire boxed mattress industry.
From top to bottom, this mattress's impressive design includes these seven layers: a cooling quilted Euro topper, a heat escape gusset, three separate layers of foam, an 8" coil system, and a plant fiber foundation.
This is one of the comfiest mattresses out there, especially for a back or stomach sleeper. The surface provides a heavenly dose of responsive pressure relief without compromising support. The points of contact are gentle, yet there's zero sinking around the hips.
The Nolah Evolution 15" comes in three firmness options: plush, luxury firm, and firm. The luxury firm (6.5/10 firmness) and firm (7.5/10) options are both appropriate for back sleepers.
What I Didn't Love
Fine print warning: Nolah's 120 night sleep trial period isn't entirely risk-free for the consumer. Unlike most brands, Nolah charges a $99 return fee if you choose to send the mattress back for a full refund.
Best for Back Pain: Leesa Sapira Hybrid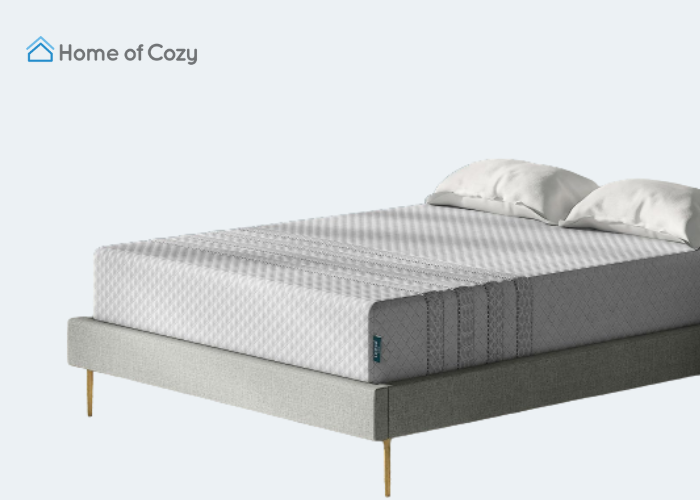 Price: $1,199–$1,899
Mattress Type: hybrid
Firmness: 6.5/10
Trial Length: 100 nights
Warranty: 10 years
What I Loved About This Leesa Mattress
The Leesa Sapira Hybrid is an 11" five-layer mattress. Its construction includes a core support foam base, a 6" coil core with perimeter edge support, and three layers of comfort foam. Those include a 1.5" layer of contouring memory foam, which provides the bed's responsive and pressure-relieving surface.
If you're a back sleeper who needs pressure point pain relief around your hips or shoulders, this mattress might do the trick. It's firm enough to keep your spine aligned but soft enough to cushion your joints.
The Leesa Sapira Hybrid is also one of the best hybrid mattress options for hot sleepers. Although memory foam tends to trap heat, Leesa provides better-than-average temperature control. The pocketed coils permit ample airflow, while Leesa's foam blend is ventilated to permit the release of body heat.
What I Didn't Love
Leesa describes the Sapira Hybrid as "medium to medium-firm," or around 6.5/10 on the firmness scale. However, I would say it feels more like a "medium-soft." This mattress is side-sleeper friendly and resides on the softer end of the back sleeper firmness range. If you're a back sleeper who prioritizes support over comfort, then you'll likely prefer a firmer construction.
Best for Couples: Bear Star Hybrid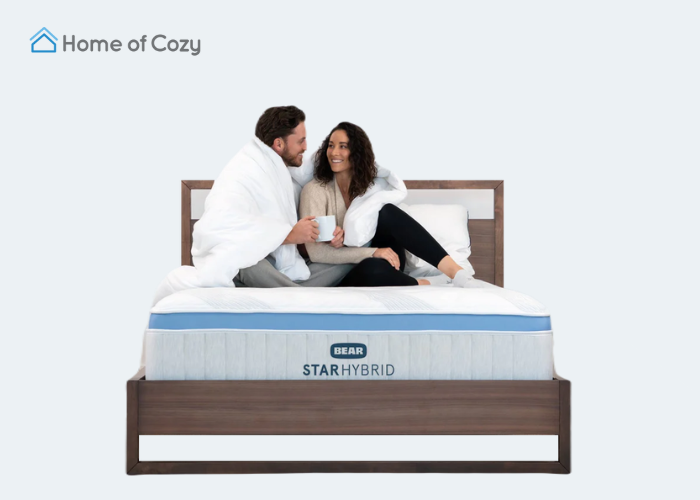 Price: $844–$1,386
Mattress Type: hybrid
Firmness: 6.8/10
Trial Length: 120 nights
Warranty: lifetime
What I Loved About This Bear Mattress
Bear is known for high-quality, straightforward designs and terrific prices. The all-foam Bear Original is one of the very best value buys in the entire online mattress industry.
With their latest design, the Bear Star Hybrid, Bear takes things up a notch. This five-layer mattress is 13" tall and includes edge-to-edge individually encased coils and cooling copper-infused memory foam. There's also a hand-quilted cover made with HydroCool® technology and Celliant® fiber, creating a hygienic surface that wicks away moisture and body heat.
This hybrid mattress is a true medium-firm, meaning that there's no sinking but there's definite contouring. This firmness level is ideal for back sleepers who need a healthy dose of pressure relief, as well as combination sleepers or mixed-sleep style couples.
Exceeding the industry standards, the Bear Star Hybrid comes with a 120-night sleep trial period and a lifetime warranty.
What I Didn't Love
If you've purchased a Bear mattress previously, then the Bear Star Hybrid might be more expensive than you expected. As Bear expands its offerings and makes thicker high-end models, we're seeing some higher prices. However, if you're looking for the classic all-foam Bear design, the Bear Original is still available as one of the industry's best values.
Best for Plus-Size Sleepers: Titan Plus Luxe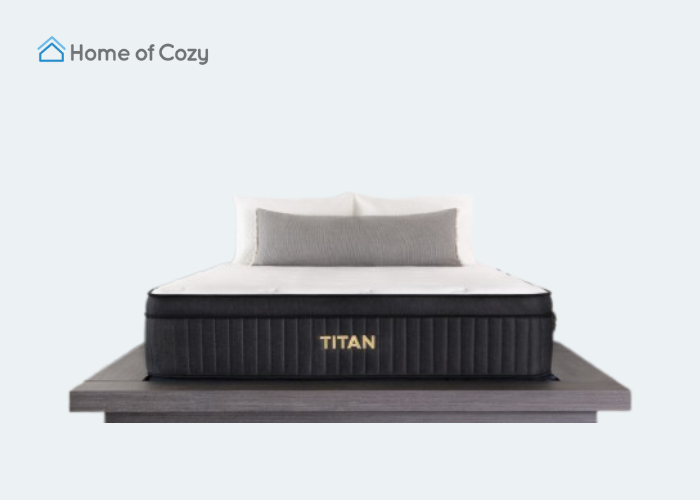 Price: $674.30–$1,349.30
Mattress Type: hybrid
Firmness: 6/10
Trial Length: 120 nights
Warranty: 10 years
What I Loved About This Titan Mattress
Plus-size sleepers have extra challenges when mattress shopping. Along with firmness, support is key. A mattress must remain flat and even under a heavy body weight, and must be able to hold its shape over time.
Fortunately, a few brands have designed products specifically for larger body types. In this category, the Titan Plus Luxe stands out as a top pick for overall quality, comfort, and value.
This mattress is 13" tall and has a weight limit of 1,000 lbs. Its core layer includes 1,032 individually encased TitanCaliber™ coils while the comfort layers include TitanFlex™ foam and gel memory foam.
Note that the Titan Plus Luxe is a plusher upgrade on the original Titan Plus. The Luxe has 6/10 firmness, compared to the original's 9/10. This model is ideal for heavy-bodied back sleepers who would need a mix of support and pressure relief.
What I Didn't Love
One of the challenges of buying an extra supportive mattress is moving the darn thing. Be prepared for a bit of exercise if you need to get this mattress up a flight of stairs—a king size weighs around 150 lbs.
Best Organic Mattress: Plank Firm Natural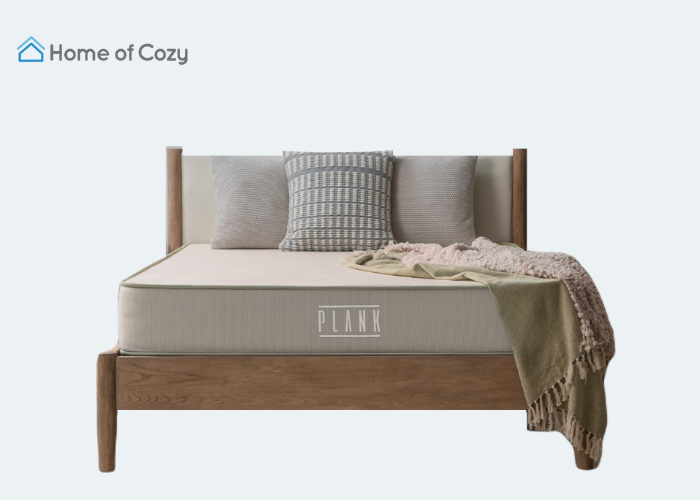 Price: $1,049.30–$1,998.80
Mattress Type: hybrid
Firmness: flippable design with a medium-firm side (7/10) and a firm side (8.5/10)
Trial Length: 120 nights
Warranty: 10 years
What I Loved About This Plank Mattress
The Plank Firm Natural is flippable, with a 7/10 medium-firm side and an 8.5/10 firm side.
This eco-friendly mattress is made with organic wool, organic cotton, and natural Talalay latex. By guaranteeing strict safety standards and harmful chemical avoidance, Plank earns the prestigious Global Organic Textile Standards (GOTS) certification.
Most importantly, this mattress feels amazing and offers two different firmness options for back sleepers. If you've never slept on a latex mattress before, you're in for a treat. This luxury material is stiffer than foam, but at the same time deliciously buoyant, responsive, and gentle.
The Plank Firm Natural is a brand-new 2023 model that's currently priced for amazing value. If you're looking for a high-quality organic mattress at a great price, here's your chance.
What I Didn't Love
This mattress is tall and very firm—both qualities that plus-size sleepers look for. However, it's also quite lightweight, with a king size weighing in at just 105 lbs. Therefore, I wouldn't recommend this model for individuals who weigh over 250 lbs, since it's tough to trust a lightweight mattress to remain durable under heavy body weights. For a similar feel and firmness in a more plus-size-friendly construction, check out the original Titan Plus.
Best for Your Budget: Brooklyn Bedding Dreamfoam Essential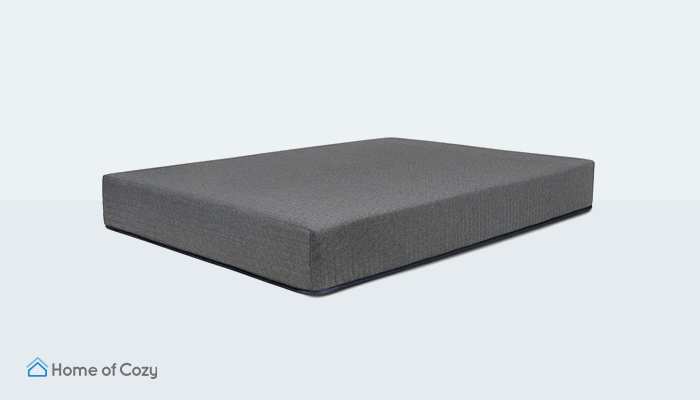 Price: $205.50–$599.25
Mattress Type: all-foam
Firmness: 8" option (7/10) or 6" option (8/10)
Trial Length: 120 nights
Warranty: 10 years
What I Loved About This Dreamfoam Mattress
The Dreamfoam Essential is an all-foam mattress. That means that, unlike the seven hybrid designs described above, this bed has no coil core. The construction consists simply of high-density foundation foam topped with gel swirl memory foam.
This mattress is available in 6", 8", 10", 12", and 14" options. The thicker models are softer, while the 6" and 8" options present a medium-firm feel that's suitable for back or stomach sleepers. The thinner options are also lower-priced.
The Dreamfoam Essential isn't fancy but it offers terrific value. The gel-infused memory foam is dense, stiff, and surprisingly comfy considering the mattress's thin dimensions.
This slender mattress is especially useful if you have size limitations, such as for an RV bed or a bunk bed. Catering to the nomadic crowd, Brooklyn Bedding offers this mattress in over 20 sizes so that van-lifers can select the perfect dimensions for their vehicle.
What I Didn't Love
The Dreamfoam Essential offers great value for light-bodied back sleepers. However, plus-size sleepers may find the 6" or 8" options to be too thin to offer sufficient support.
Find the Right Mattress for Healthy and Comfy Sleep
The eight mattresses described above are some of our favorites, but don't be discouraged if none of them seem quite right. These days, mattress retailers are targeting their products toward very specific consumer profiles, based on factors like sleep style, body type, and budget. That means that the perfect new mattress is out there, but you've gotta shop around until you find it.
If your search continues, check out more Home of Cozy mattress reviews, starting with The Best Mattresses for 2023.