Apt2B Price, Durability, Delivery, Pros and Cons
Established in 2011, Apt2B has come to be known for hip furniture that's comfortable, functional, and made in the USA. Apt2B is a one-stop furniture shop for anyone seeking value, quality, and style. By relying on e-commerce only, Apt2B is able to save on the costs of renting retail space and paying third-party vendors that it can focus on the highest quality standards and passing the savings on to the customer.
Apt2B Pros and Cons
Pros
Made in the USA
Free Fabric Swatches
Free Delivery
100-day trial/return policy
Lifetime Warranty
White-Glove Delivery Service Available
Cons
Higher price point
No showrooms
In-home setup costs $99
Long wait for delivery
How much are sofas/couches from Apt2B?
Apt2B sofas cost between $1200 to $4000.
Apt2B offers a variety of different couch types including sofas, sectionals, sleeper sofas, loveseats and armchairs. In addition, they also offer a line of tales, rugs, and accessories.
What is the most popular sofa/couch from Apt2B?
Goliath 2-Piece Modular Sofa
Price: Starts at $2396
Sofa Dimensions: 24" H x 102" W x 44" D
Seat Height: 21"
Seat Depth: 27"
Arm Height: 24"
Arm Width: 8"
Leg Height: 2"
Pillow Height: 34"
Available Colors: LS Natural, LS Flannel, LS Hemp, and LS Oat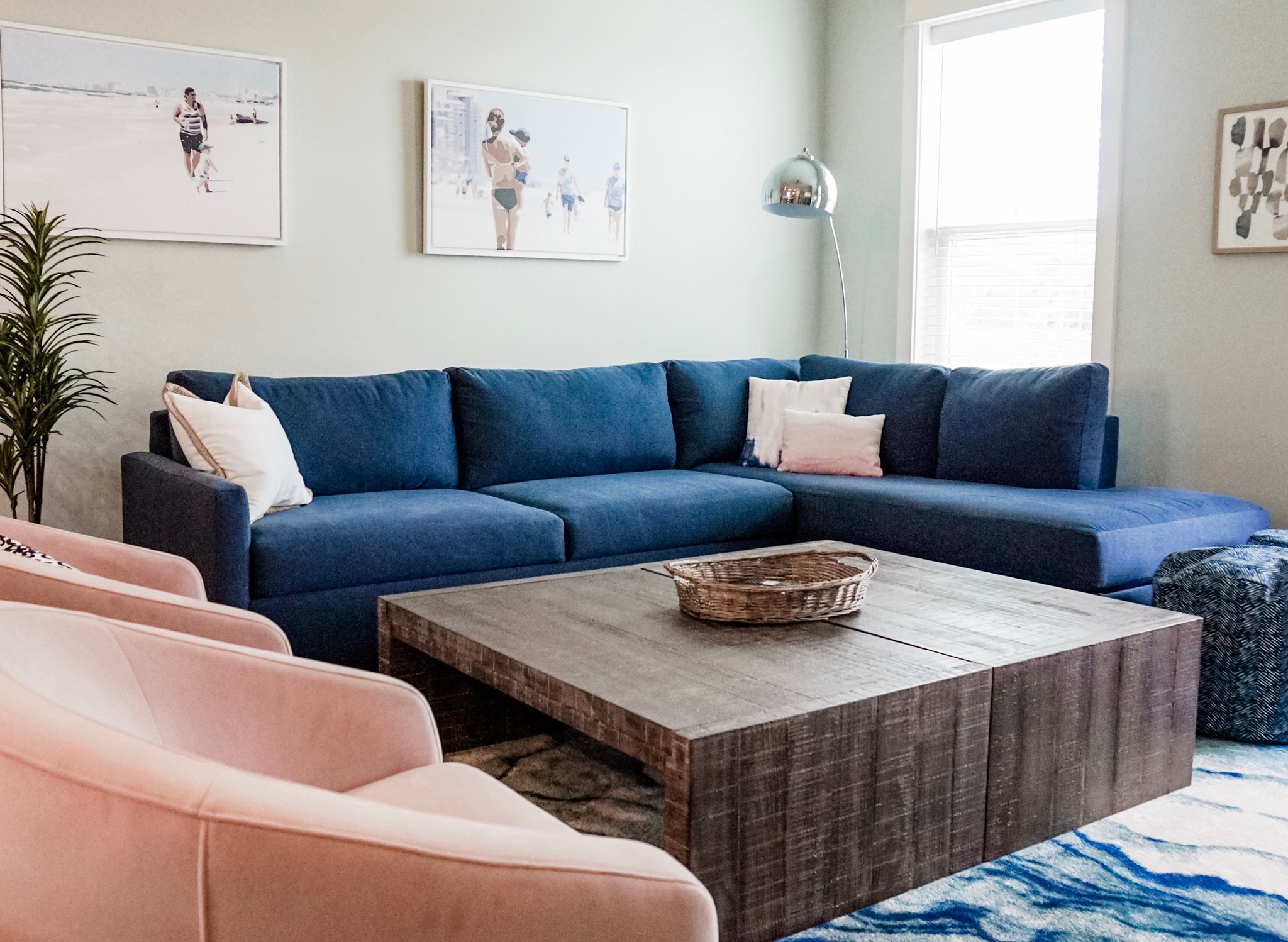 The Goliath 2pc Modular Sofa is built with larger than life style. It's big on style and comfort. A win-win for those fond of couch-napping. The Goliath features the softest cushions around and it's modular design lets you rearrange the layout to meet your needs. It's the perfect option for big families, big pets, and big get-togethers.
The Goliath is custom-built on demand, in the USA with the highest quality components and craftsmanship. It comes with 50/50 plush down cushions wrapped around a supportive foam core and over-sized back cushions for superior comfort. It is available in 4 pet and kid-friendly fabrics.
Features:
Available in 4 colors. Free swatches available to see colors before you buy.
Made in the USA
Eco-friendly construction
Cleanable and breathable hypoallergenic fabrics
Seat cushions are a 50/50 down blend wrap over a foam core which offers a cozy yet supportive sit / no flame retardants added
Lifetime guarantee on frame and workmanship
The Best Overall Sofas of 2023
To help you find the best deep seat sofa, I tested individual models from over 23 different brands. These are the best new sofas with extra deep seats that balance the best in design, price, sustainability, and durability.
How long does it take for Apt2B to deliver sofas?
Apt2B creates it's furniture on-demand, once ordered. Therefore, it will take 4-6 weeks for your order to be built. After that, delivery varies based on location but you can plan on it taking an additional 1-2 weeks. Regular delivery is free or Apt2B offers white-glove delivery service and setup for an additional $99.
How long do Apt2B sofas typically last?
Apt2B sofas are custom built in the United States. Hand-craftsmanship and stateside manufacturing typically lends itself to longer lasting furniture. In addition, Apt2B offers a lifetime warranty on the workmanship of your furniture. After several years of use, it is likely that you will begin to see wear and tear but this can be minimized by reasonable use, cleaning when necessary, keeping your sofa out of direct sunlight and not moving it frequently.
Apt2B Policies
Apt2B offers a 100 day trial/return policy. If you are unhappy with your order, they will schedule a return pickup but the original packaging must be kept to authorize the return. In addition, you will be responsible for return shipping and a minimum restocking fee of 15% will apply to any opened items or items that can't be guaranteed as new.
Additionally, Apt2B offers a lifetime warranty on the workmanship of it's furniture. In other words, damage due to how it's built. If damage is determined to be caused by you, it won't be covered under the warranty.
Trial/Returns: 100 days
Financing: Financing available
Warranty: Lifetime guarantee on workmanship
Where it's made: U.S.A
Real Apt2B Customer Reviews
We enjoyed reviewing Apt2B and think this brand is a great choice for shoppers who are:
Those looking for quality crafted furniture that is custom made in the USA.
Those who expect free shipping.
Those who prefer in-home delivery and setup and don't mind paying extra for it.
Those who don't mind ordering products online as Apt2B is an e-commerce only brand.
Positive Experiences:
"Apt2B has such beautiful, quality furniture for a really affordable price. So many fabric and color options! The customer service is also stellar, they are super friendly and helpful! Best perk is that they have free delivery in Los Angeles! 5 stars!!"
"I can't say enough good things about Apt 2B! Literally my dream couch! I was so impressed about the process from beginning to end. I was able to talk with an associate and find a piece that was perfect for my living room! I'm a loyal customer for life after the service we had with our sofa! The white glove delivery was the cherry on top. The entire delivery process took under 10 min and was worth every penny. I get compliments every time we have guests over and would recommend this piece of furniture to anyone. A++"
Negative Experiences:
"My wife and I just recently purchased a couch from APT2B. While we ARE happy with the couch (decent price, constructed in USA), we are dismayed with the entire process following our order (the 3rd party shipping folks were unprofessional at best), and our order arrived damaged. Totally unacceptable."
"Terrible experience with Apt2B. Still waiting for them to solve the problems. The couch arrived here this morning and it was severely broken. Huge disappointment. And, of course, no one was available to address my concerns and the moving company they hired was polite but useless. Bottom line: unless you live in Southern California where they're located,I strongly suggest you stay away. The prices are not good enough to warrant this experience."