Buying a sofa online is always a leap of faith. While showrooms and retail stores can be grueling to experience if you're trying to compare several brands and couch models, shopping online can easily overwhelm you with all the different possibilities. Plus, it's pretty clear that any brand can say they have the best couches, loveseats, and sectionals without backing it up.
To help you find the best online sofa brands out there, I gathered notes from all my past reviews in the last year. Plus, I've reviewed and rated brands based on their online experiences, price points, warranties, return policies, product durability, and overall design.
Read on to see which six brands made the cut.
6 Best Online Retailers for Sofas 2023
Brand
Best For
1

Editor's Choice

Quality, Functionality
Shop Now
2

Large Selection
Shop Now
3

Fabric Choices
Shop Now
4

Customization
Shop Now
5

Easy Assembly
Shop Now
6

Minimalist Designs
Shop Now
1
Editor's Choice
Best For:
Quality, Functionality
2
Best For:
Large Selection
3
4
5
6
Best For:
Minimalist Designs
1. Allform
Price Range: $1,400 to $5,000
Seating Configurations: armchairs, modular sofas, loveseats, and sectionals,
Average Review Rating: 4.8 out of 5 stars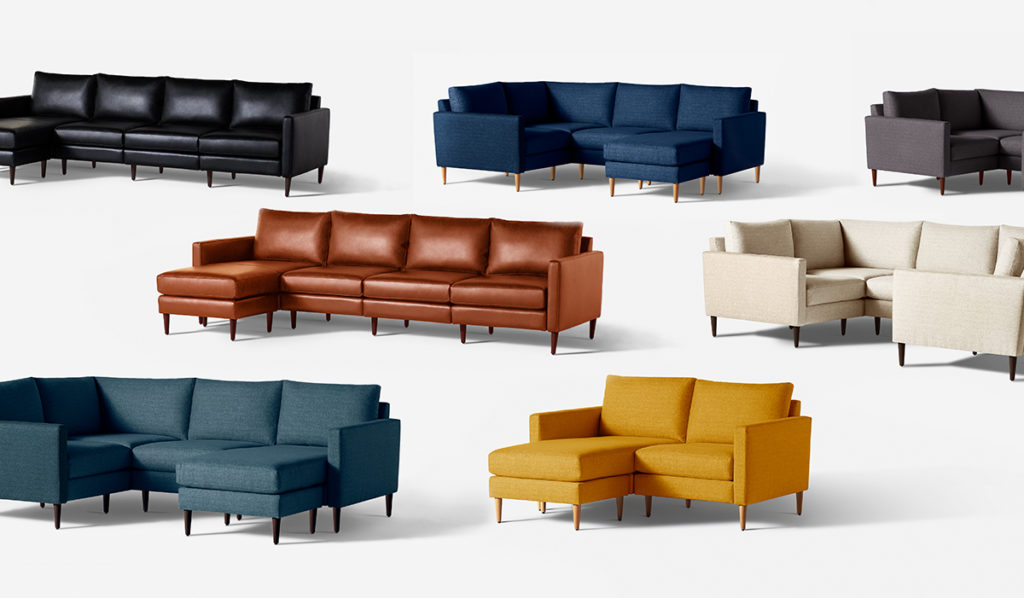 What I Loved
I've tried about a dozen different Allform sofas from two-seater loveseats all the way up to 8-person sectional sofas and to be honest, there isn't a single one I disliked. Allform may be pretty new to the eCommerce furniture space, but they definitely have a clear idea of what makes for a great shopping, delivery, and assembly experience.
Allform is a sister brand to Helix, the leading mattress-in-a-box company. So, it's clear that Allform's eCommerce cred is backed by a team of creative and analytical minds set to reinvent the way people buy and live with their furniture.
Modularity is what sets Allform apart from many online brands that sell limited collections or one-off designs. As a design enthusiast, it's something I tend to be biased towards, but for good reason! Modular sofas and loveseats enable you to start small and evolve your living room set as you grow as opposed to constantly buying and disposing of furniture. And given how much waste the home decor and furniture industry produces, sustainable visions like this are going to be a key component of our future on this planet.
When it comes to the sofas themselves, you couldn't pick any more durable and high-quality materials. Upholstery options include performance fabrics and top-grain leather that's easy to clean. And if you're having trouble deciding, Allform gives you the option of ordering free fabric swatches before you make a choice.
Their frames are solid kiln-dried laminated maple or poplar wood. And speaking of frames, they're all backed by lifetime warranties! Allform also provides one of the most generous return windows I've seen for a furniture brand: a 100-day return window in which you can decide whether or not you're fully in love with your Allform furniture.
And although you have to assemble Allform's furniture, it's pretty easy to do, especially if you've had to assemble more difficult pieces from sites like IKEA or Amazon.
What I Didn't Love
Allform sofas are honestly the most versatile and comfortable sofas I've tried to date. They're perfect for working from home or lounging at nights and on weekends. The one piece of feedback I have is that I'd love to see more furniture styles! I love mid-century modern aesthetics, but it'll be fun to see more designs like classic Chesterfields, art deco, or contemporary styles.
Best Online Retailer: Allform
2. Wayfair
Price Range: $120 to $23,000
Seating Configurations: armchairs, recliners, loveseats, three-seater sofas, sectionals
Average Review Rating: 2 stars out of 5 on Trustpilot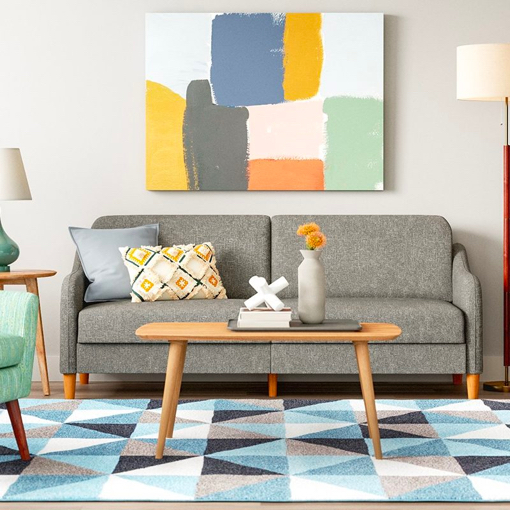 What I Loved
As you've seen from the price range, one of the best selling points of shopping from Wayfair is the sheer diversity in what they have to offer. If you love having literally hundreds of thousands of options, this is the site for you. They have sofas, loveseats, sectionals, along with furniture for any room in your home.
Wayfair is definitely a site in which you need to use filters to help narrow down what you're looking for since it has so much more than a furniture store ever could. Honestly, if you just close your eyes and think of what your ideal sofa looks and feels like, you could probably find something similar on Wayfair.
As far as durability goes, it all depends on which products you're considering. You should definitely make good use of those "Sort By" filters to see which were the top-rated and most popular designs among real customers.
Based on my personal experiences and reviews I saw on aggregators like Trustpilot and Sitejabber, Wayfair excels when it comes to customer service. In particular, many positive reviews highlighted individual team members who went above and beyond to answer customers' questions, process refunds, and handle shipping issues.
What I Didn't Love
While Wayfair has a selection of incredibly popular, well-made furniture, the overall quality for the site and its living room categories tends to be mixed. Wayfair aggregates furniture from a wide range of brands and manufacturers, which makes it difficult to standardize product quality. That said, there are always a few customer favorites and standouts. Just be sure to grab them before they sell out!
3. Article
Price Range: $599 to $4,999
Seating Configurations: armchairs, chaise lounges, loveseats, three-seat sofas, sectional sofas
Average Review Rating: 4.7 out of 5 stars on Trustpilot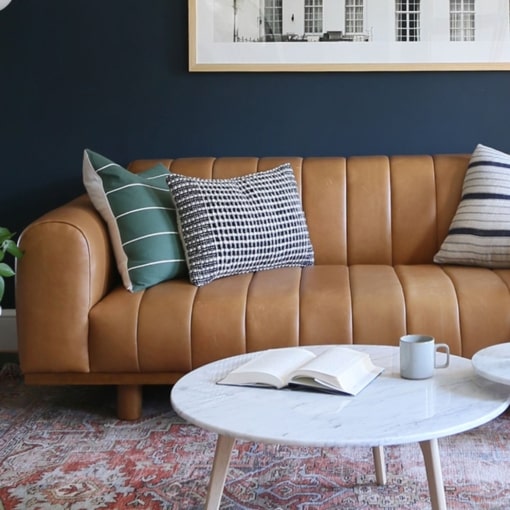 What I Loved
Article is an eCommerce retailer with an eye for mid-century modern inspiration. Similar to a few other top picks like Allform, Joybird, and Burrow, those mid-century design choices tend to be anchored in a contemporary focus on materials you can actually live with.
And like Allform, it's a brand that feels balanced when it comes to price point: sofas tend to be over $500 but the majority are about $1,800. Their materials look and feel luxurious, but ultimately durable and wear well against occasional spills and lots of lounging. By far the most popular sofa is the Sven, the brand's signature mid-century sofa range available in loveseats, three-seat sofas, and sectionals. You can shop it in either performance fabric or leather upholstery options. Plus, Article even produces matching ottomans just for this line.
User-generated content is another thing I love about shopping from Article. Other sites feature UGC, too, but I love the inclusion of real living room shots throughout Article's category pages. This is particularly important if you're buying a large piece of furniture such as a sofa and want to see it in the context of an actual home.
What I Didn't Love
There wasn't a lot that I or any other reviewers had issues with. Customer service was impeccable, as was the product selection. However, some negative reviews have complained that the company only offers a 30-day trial while other brands are starting to offer much longer trial periods.
4. Joybird
Price Range: $1200 to $3500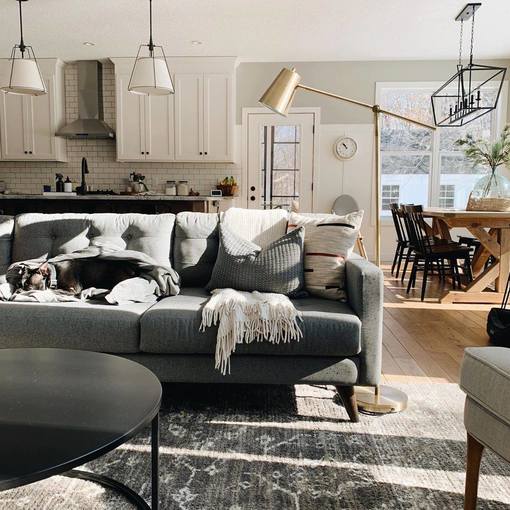 What I Loved
If you're over the past decade's worth of beige living room trends, you'll love Joybird. Customization and color options are integral to what Joybird does as an eCommerce site. Look at any of their seating and you'll have the best selection of upholstery that I've seen from an online furniture store. What I love is Joybird's ability to integrate the aspirational elements of customizing furniture with the way you actually live your life. You can find upholstery that's stain-resistant, pet-friendly, ethically-sourced, and so much more.
Although mid-century modern is pretty much all they do, you'll also find a diverse range of preferences like different arm styles, upholstery fabrics, and even entire sofa styles from more straightforward mid-century staples to bolder accent chairs and tables among their other living room furniture.
Where Joybird really shines is its charmingly mid-century approach to customer service upgraded for 21st-century conveniences: free design consultation, fabric samples, and white glove delivery for many of its larger pieces.
What I Didn't Love
Like a few other top contenders on this list, there really wasn't much to complain about. I think Joybird has a great product selection that's backed by incredibly attentive customer service. However, I will agree with some negative reviewers who mentioned that shipping times for custom orders generally went over what was quoted.
5. Burrow
Price Range: $1,395 to $3,995
Seating Configurations: armchairs, loveseats, three-seater sofas, sectionals, reversible chaise sectionals
Average Review Rating: 4.7 out of 5 stars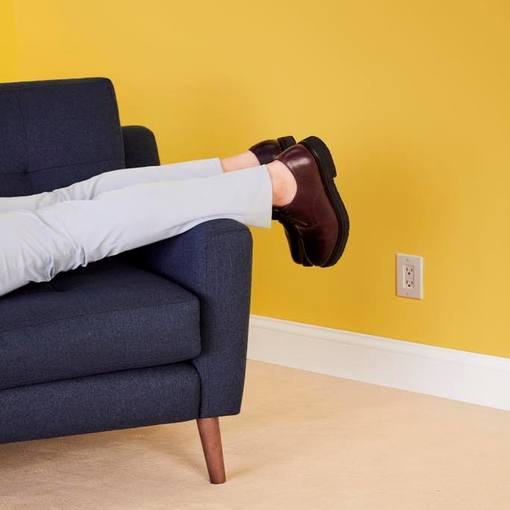 What I Loved
Burrow is another eCommerce furniture retailer that started with a focus on mid-century modern inspired designs but quickly defined a following for its feature-rich designs, such as sofas with charging ports.
By far the most popular style on the site is the Nomad Sofa. Similar Allform's three seater, the Nomad is a boxy, square-arm style mid-century inspired modular sofa that's easy-to-assemble. In fact, next to Allform, this is one of the easiest to assemble in my opinion as it doesn't even require any hardware to put together. You don't even need an allen wrench!
I tested the Nomad Sofa personally, along with some of Burrow's other popular sofas. From personal experience, the seat cushions weren't as plush and soft compared to other brands like Crate & Barrel or Allform. However, if you're looking for a chic work-from-home sofa, the Nomad is a great choice.
What I Didn't Love
While I saw that the Burrow site has a ton of positive reviews (mostly 4 and 5 stars,) third party review sites tend to tell a different story. They don't have a Trustpilot, but their Product Hunt reviews page features a troubling number of bad reviews detailing lots of inconsistencies in product quality, missing pieces from boxes, and shipping times extending weeks over their quoted windows.
6. Allmodern
Price Range: $250 to $3,500
Seating Configurations: armchairs, futons, loveseats, sofas, sectionals
Average Review Rating: 3 stars out of 5 on Trustpilot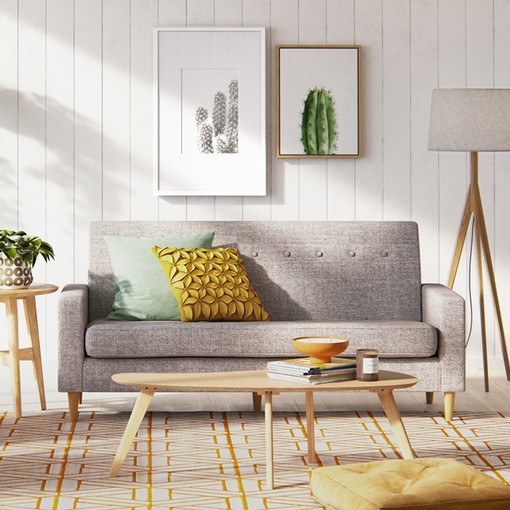 What I Loved
Similar to Joss & Main, Allmodern is another extension of Wayfair but with a more curated selection of designs if you're not in the mood to comb through thousands of individual sofa styles, models, and brands. Like the name basically states, Allmodern is a modern palate cleanser for any living space with a focus on minimalist designs.
However, just because they have such a focused range, that doesn't mean they skimp on good values. I love how Allmodern has such a range price points, with futons and convertible sofas in the low hundreds and more premium pieces like sectionals topping out in the low thousands.
Customer service was about average for the industry from what I gathered. They offer white glove delivery, fabric swatches, and a pretty easy online shopping experience. If you're a fan of modern furniture and the convenience of shopping from a furniture giant within the Wayfair family, this brand will be perfect for you.
What I Didn't Love
I've never really seen any product quality issues from Allmodern sofas I've tested such as the customer favorites: the Lark 84″ Sofa and the Hailey Genuine Leather Sofa, but I did notice a few concerning Trustpilot reviews that mentioned entire sofas being lost in transit.
How to Have the Best Shopping Experience Buying from Online Sofa Brands
Do Your Research & Plan It Out
If you landed on this page, you're already off to a great start. You already know that buying a sofa isn't a simple impulse purchase. Similar to buying a mattress or any large piece of furniture, it's a pretty big investment that needs to correlate with your actual day to day needs.
Start with the type of seating configuration that'll work best for you and your living space. You'll be good with a classic three-seater sofa or sectional if you have the room. But what if you don't? You can capture the style and functionality of a large sofa with the best small space and apartment sofas, loveseats, futons, and sofettes.
Or, if you have overnight guests and no guest room, you'll have to think about sofa beds that pull double duty as lounging spaces during the day and comfy guest mattresses in the evening. And speaking of lounging, what about an optional reclining seat if you love all-day movie marathons?
Next, consider materials. From my personal experience, the most comfortable and durable sofas tend to have solid wood frames. While you may be able to get a good deal on them, I try to avoid sinous spring suspension systems since the individual springs can start protruding or poking you within a few years of constant use.
In terms of upholstery, go with fabrics that are easy to clean. While I love the look and attitude of brightly toned designer sofas in luxe fabrics like linen and velvet, they aren't exactly designed for the rigors of daily life, especially if you have kids or pets. Instead, opt for microfibers and performance fabrics that can be cleaned easily on a regular basis. Better yet, look for sofas featuring removable slipcovers on pillows and cushions.
Last, think about long-term customer care. When you're buying a big piece of furniture like a sofa, you're not just buying the sofa itself but you're also putting a lot of trust in a furniture company's ability to build a product that lasts. Just as you would with appliances or even cars, pay attention to long-term protection plans and warranties. Always read the terms of the agreement as well as any fine print that can undermine your coverage.
Consider a New Sofa From These Great Brands, Too!
These aren't the only online sofa brands out there. They're just a few from which I've consistently seen great products and high customer satisfaction levels.
Shop around online and you can find great sofas from these brands and more: Anthropologie, West Elm, Crate & Barrel, Floyd, and Pottery Barn. As always, you can visit IKEA, the ever-present Scandinavian furniture juggernaut if you're just looking for something affordable. If you're looking for a hybrid showroom experience (the convenience of looking online and seeing something in-person at a showroom) then head over to Interior Define.
Check Out More Home of Cozy Guides
If you're still looking for some recommendations, explore more Home of Cozy guides, like our reviews of the best place to buy a couch, the best overall sofas, and the best sectionals.