When it comes to purchasing living room furniture for your large or small apartment, especially your sofa, there are a lot of considerations to keep in mind before making your selection.
First, if it's a small space, be sure to measure your room dimensions so you know how much space you have to work with and still be comfy. In addition to apartment size, you should take into account what type of aesthetic you want for your living space because that will have an impact on what sofa you choose.
If you're not sure where to start, this guide will walk you through everything you need to know. Plus, we'll show you 5 different styles of apartment sofas that are great for smaller spaces.
We hope this inspires you on your journey to selecting the best option for your small living room.
The Best Types of Sofas for Apartments
Let's move on to the various types of modern sofas that you might choose for your apartment.
If you're in a one bedroom apartment but plan on having guests sleep over, a sleeper sofa, futon or some other convertible sofa bed would be a great option. If you plan on entertaining and have an accommodating space, a sectional sofa with a reclining option is a solid choice as well.
In addition to style options, make sure to consider practicality as well. If you plan to move and want a more portable option, you might want to consider a smaller, lighter sofa with a wood frame so that it's easier to move. If you have pets, too, you want to make sure that your sofa is cat-proof or dog-proof, and upholstered with materials that will last. No one likes a scuffed up arm rest from scratching or pilling across the seat cushions.
5 Apartment Sofas That Are Perfect for Any Size Place
Next, let's review some sofa options that are great for apartments. We've included a range of sofa style and types from some of the top brands to inspire your next purchase. We've included fabric upholstery, velvet and leather options as well as loveseats, traditional sofas and sectional options to complete your home decor.
Keep in mind though, that while these are great options, it is ultimately up to you to decide what's best for you considering your dimensions, price point and what you're comfortable with for Netflix binging, lounging or having guests stay over.
1. The Allform Loveseat
Price: $1145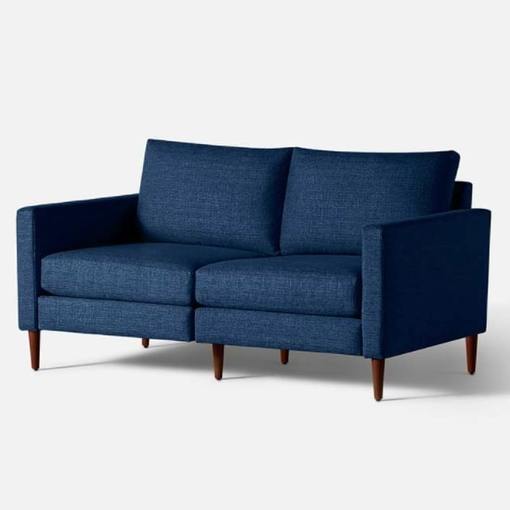 The Allform Loveseat has fun, bright upholstery options, clean lines and modern style. Its petite size and performance fabrics make it a great addition to your cozy living room. In addition to the pre-set configurations, Allform also allows you to create your own modular sofa to fit your square footage and choose from 7 fabric and 2 leather options.
Allform also leads small sofa retailers in its warranty and trial options. The brand offers a forever warranty on the solid wood frame, free delivery and a 100-day trial. Package those options with a reasonable price tag, and Allform is a winner if you're looking for versatility to be the focal point of your living space.
2. The Albright Apartment Sofa by Apt2B
Price: $1258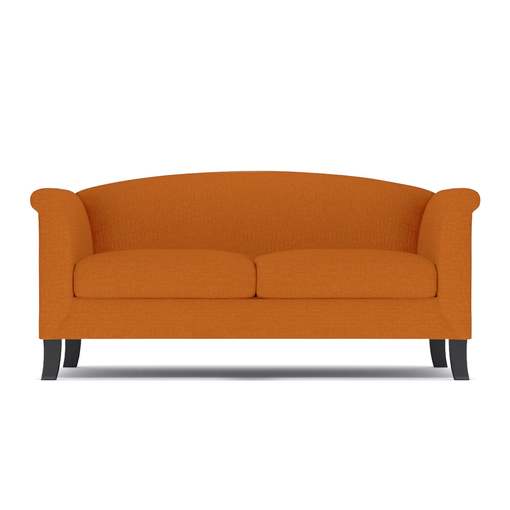 The Albright Apartment Sized Sofa from Apt2B is an ultra modern, high-quality plush sofa with rolled arms, smooth back, cozy 22" seat depth, and tapered wooden legs. And with it's 74" length it's compatible with most size rooms. 
3. The Hopson Sectional by Joybird
Price: $2131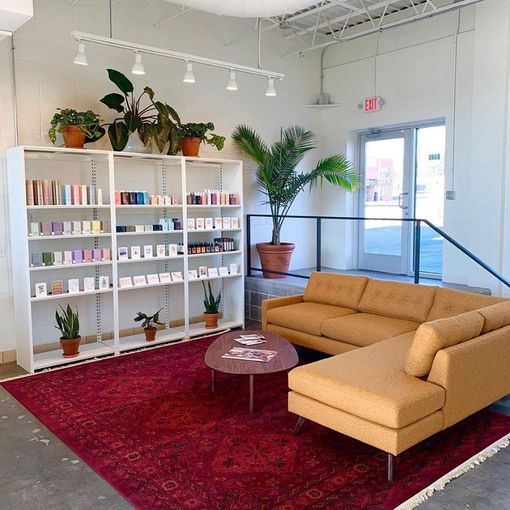 The Hopson Apartment Sectional from Joybird packs a lot of style in a compact package. This understated sectional includes a chaise so you can stretch out even in your small space.
Its tufted design is a winner with many interior design-inspired folks. 
4. The Barrett 3-Seater by Crate & Barrel
Price: $3299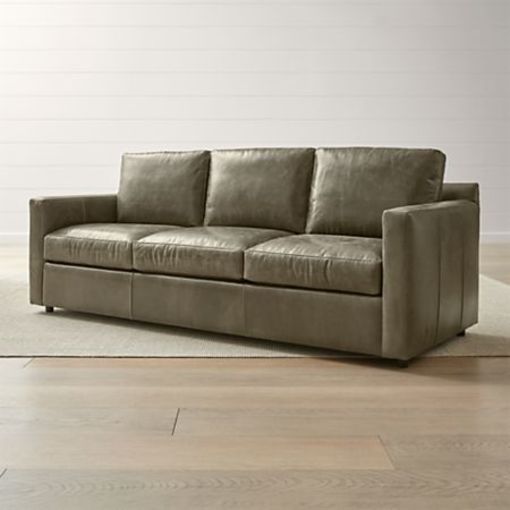 The Barrett Leather 3-Seat Track Arm Sofa from Crate & Barrel is a modern, and luxurious small-space leather sofa with track arms. No faux leather here, this baby is all real and designed to stay looking good even in a high-traffic family room.
5. The Paidge Reversible Sectional by West Elm
Price: $1799 to $2299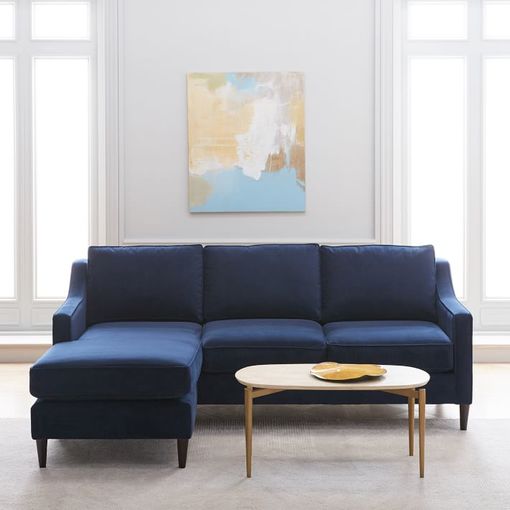 The Paidge Reversible Sectional by West Elm is a versatile fabric sectional with velvet upholstery and numerous color options. The sweeping arms and deep, plush cushions make this a super chic option for any apartment.
Properly Measuring Your Apartment
You can still have your dream sofa, but you'll need to take a few measurements before selecting that lucky piece. With smaller spaces, it's important to measure the size of your room, as well as any entryway or hallway that the furniture might need to move through on the way in or on the way out.
Another important aspect to consider is what other furniture will you need in the room with the couch. If you have, or will have, other small space furniture like coffee tables or a dining table in a multi-function room, those need to be accounted for in your measurements. Make sure to keep enough space in between items so it doesn't get crowded and you can move about easily in the room.
Finally, be sure to consider any breaks in the walls that may cause your sofa to look out of place if it's too big or too long. Remember, now all living rooms are the same. In fact, there can be quite a bit of variation from one to the next depending on the style of the construction.
Make sure that your sofa will not stick out past the wall or look ill-fitting in your space. It should also not block off any eye-catching architectural features like a bay window or a fireplace.
Bonus Design Tips for When You Buy
By now you know what considerations to make for your space before buying a sofa. You know that you need to measure the space and be sure that the sofa fits appropriately and doesn't cover any architectural features.
In addition, we've also shared a number of different style and aesthetic options, and some great examples to inspire you to make the best choice. Here are a few extra tips to help make sure your sofa choice is a great fit for your apartment.
Make sure to pick your sofa based on what you will be using it for. If you plan to use the sofa for lots of lounging or even sleeping, the cushioning and size should support that. You may even want to consider a sleeper sofa for that reason. 
If you're not sure about a particular upholstery option or color and whether or not it will fit appropriately with your chosen aesthetic, ask for fabric swatches that you can view before you buy. 
To help make the selection, draw out what you want your apartment to look like. Be sure to choose an option that fits in your space in terms of height and style and flows well with your other living room, home office, or bedroom furniture in the space. 
If choosing a sectional, make sure to pre-measure both for width and length so that it fits well in your space and you can still move around well.
Note that while these are our top picks, you can still consider some other top brands like Amazon's Rivet Sofas, IKEA, Allmodern, Urban Outfitters, Wayfair and more. Don't limit your search – expand it to find the right piece. 
Other Resources To Help Your Apartment Sofa Shopping