I've lived in a lot of weirdly-shaped apartments and small spaces. I've had to climb into loft beds built above kitchenettes and played real-life tetris with furniture in a studio apartment the size of most people's living rooms. At one point, I had a bedroom that was technically a walk-in closet. These experiences taught me a few things about how to get creative with small living rooms and small spaces in general.
Hopefully, you don't have to live with the same weird challenges I've dealt with. But whether you're living in a loft with an open floor plan, a condo, a studio, or a typical one bedroom apartment, I'm here to help you find the perfect apartment sofa.
To help you out, I tested 15 different apartment sofas from some of the best brands and retailers out there from Crate & Barrel and West Elm to Joybird, Apt2B, and Allform. Read on to see my top picks!
The Best Types of Sofas for Apartments
From my personal experience, modern sofas tend to be the best-suited for apartment living. Don't get me wrong. I love antiquing and finding vintage pieces full of personality and design details you just can't find today.
However, contemporary furniture brands seem to have a handle on creating multi-purpose furniture that works from day to night, whether you're working from home and need a supportive, ergonimc seat to work from to later in the day when you just want to lounge and binge some Netflix shows. Retailers like West Elm, Crate & Barrel, and Allform have built solid reputations for intuitively-designed furniture that works perfectly in small spaces.
In general, the seating configurations that work best for smaller apartments tend to be either loveseats or standard three-seater sofas. And as I mentioned earlier, multi-purpose furniture tends to work best. Consider convertible sofa beds such as sleeper sofas and futons if you're anticipating overnight guests and don't have a spare bedroom. Think about sofas that have just the right height for you to use with a laptop table. Or, consider small space sectionals with comfortable add-ons like reclining seats or chaise loungers.
Last, if you have pets or kids, then you already know the challenges of finding upholstery that can keep up with them. To help you out, Home of Cozy has a few great guides whether you need a dog-friendly or cat-friendly sofa.
5 Best Couches for Your Apartment
Brand
Best For
1

Editor's Choice

Quality, Functionality
Shop Now
2

Easy Assembly
Shop Now
3

Fabric Options
Shop Now
4

Comfort
Shop Now
5

Chaise
Shop Now
1
Editor's Choice
Best For:
Quality, Functionality
2
3
4
5
These are the 5 best sofas from some of the leading names in furniture design and home decor:
1. The Allform Loveseat
Price: $1,145
Dimensions: 63" width x 38" depth x 34" height
Frame Materials: Maple and Poplar Kiln-Dried Laminated Hardwood
Upholstery Options: 7 performance fabric, 2 leather upholstery options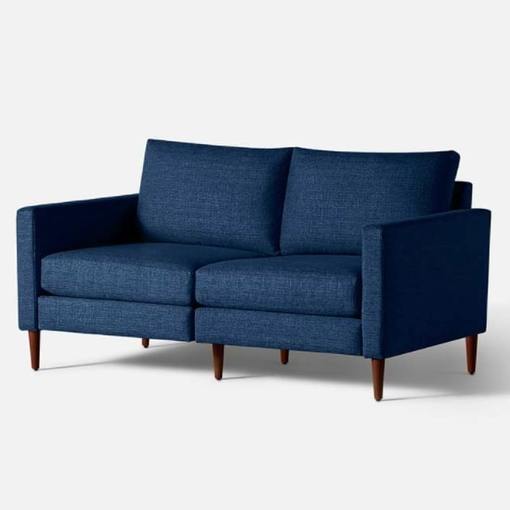 What I Loved
I wish I had an Allform loveseat in my first apartment. With its clean lines and plush, high-density foam seat and back cushions, it's by far the most versatile sofa on this list. It's the perfect height for working from home and lounging once the day is done. I was a huge fan of Allform's modular approach to design.
This two arm loveseat took about 20 minutes for me to assemble, with modules basically clicking together once assembled. I could absolutely see how someone could start with a loveseat and add modules on to create a three seater sofa or a sectional that seats up to 8 adults.
While I probably won't be doing the latter any time soon, this loveseat was the stand-out among my picks for apartment sofas for three reasons: brilliant design, unparalleled comfort, and a relatively affordable price tag considering the sturdiness and quality of its materials from the performance fabrics to the solid wood frame. By the way, that kiln-dried laminated hardwood frame is backed by a lifetime warranty! All in all, I don't think you'll find another small space sofa that compares.
What I Didn't Love
There wasn't much to dislike, honestly. You do have to assemble it, as I mentioned. However, it's definitely a lot easier to put together than comparable loveseats from IKEA or Joybird.
2. The Albright Apartment Sofa by Apt2B
Price: $1,258
Dimensions: 74″ width x 34″ depth x 32″ height
Frame Materials: solid wood frame
Upholstery Options: 31+ fabric options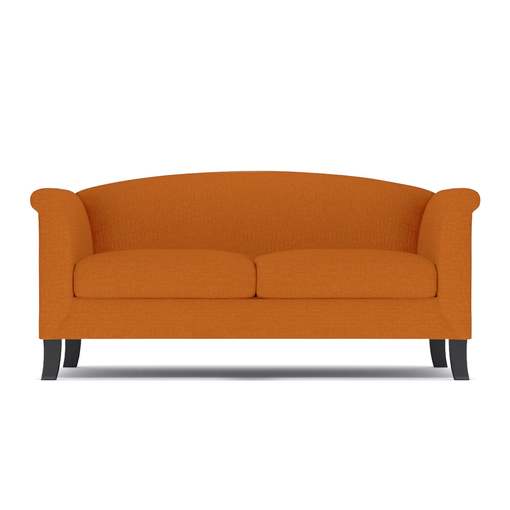 What I Loved
This sofa comes in two different widths, its "apartment sofa" width at 74″ and a loveseat at 60″ wide. I went with the standard 74″ length, and even that was pretty economical on space given its ability to seat up to three adults on its high-density foam cushions. And I'll admit, I definitely have a bias against older sofa styles, but the chic, contemporary take on the classic settee grew on me.
Like Allform, the frame on this Apt2B sofa is backed by a lifetime warranty. And at $1,258, it wasn't a bad price to pay for a sofa constructed in the USA. Ultimately, if you want a chic, classic-inspired contemporary settee, this is one that'll work in your apartment no matter the square footage.
What I Didn't Love
I loved the range of different fabric options. And while I didn't observe this with the Buckwheat upholstery option I chose, some reviewers commented that some of the heavier-weave fabrics were harder kind of hard to clean.
3. The Eliot Apartment Sectional by Joybird
Price: $2,679
Overall Dimensions: 90″ width x 64″ depth x 33″ height
Chaise Dimensions: 34″w x 64″d x 33″h
Frame Materials: kiln dried wood frame
Upholstery Options: 50+ options including pet-friendly, microfiber, velvet, and SafeGuard performance fabrics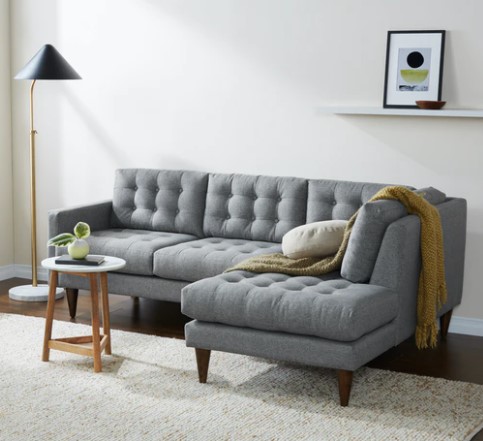 What I Loved
I'm always a fan of Joybird's entire line-up of furniture. They have such a good handle on mid-century inspired furniture but with an attention to contemporary design needs, like their extensive range of upholstery and color options for almost all of their seating.
As one of the pricier items in my review, I definitely think this one is worth it, especially if you're seeking the elusive sectional sofa that'll actually fit in your apartment. The Eliot Apartment Sectional is one of my personal favorites on the Joybird site right now. It has a chic, retro look with tufted back cushions, slim, square arms that don't take up too much room along with incredibly plush, yet firm seat cushions. Plus, you can even choose to have the chaise righthand or lefthand facing depending on how your living room is configured.
What I Didn't Love
No complaints from me. However, I did notice a few negative reviews highlighting some difficulty when it came to connecting the chaise component to the rest of the sofa.
4. The Barrett 3-Seater Track Arm Sofa by Crate & Barrel
Price: $3,299
Dimensions: 90″ width x 36″ depth x 30″ height
Frame Materials: kiln-dried certified sustainable engineered hardwood
Upholstery Options: 10 aniline leather options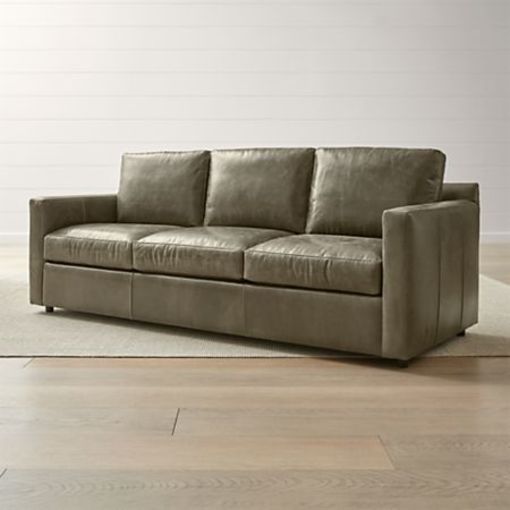 What I Loved
If you're looking for a more upmarket, leather sofa, this one's for you. Crate & Barrel has an incredible track record when it comes to creating versatile, comfortable, and splurge-worthy furniture. And their Barrett 3-Seater is one of my new favorites.
There isn't much to say about it. I'm honestly kind of speechless at how comfortable it was to sit on. At this point, I've tried dozens of Crate & Barrel sofas and this is definitely one of the most plush models I've sat on. It's comfortable, and it's hard to pick between the leather upholstery options since they're all so tasteful and actually easy to live with.
What I Didn't Love
I don't have any quality-related complaints. I was able to enjoy this sofa for the purpose of this test. However, if you're ordering this model from Crate & Barrel, just know that the Barrett is made to order and the retailer anticipates shipping sometime in February 2022. So, if you're in need of a sofa before then, I'd recommend going with another brand. Also, I would have liked to have seen a vegan faux leather upholstery option.
5. The Paidge Reversible Sectional by West Elm
Price: $1,799 to $2,299
Dimensions: 86.25″ width x 64″ depth x 34.5″ height
Frame Materials: Solid oak and engineered hardwood frame
Upholstery Options: 1 in-stock and ready to ship, 30+ custom options ready within 6-9 weeks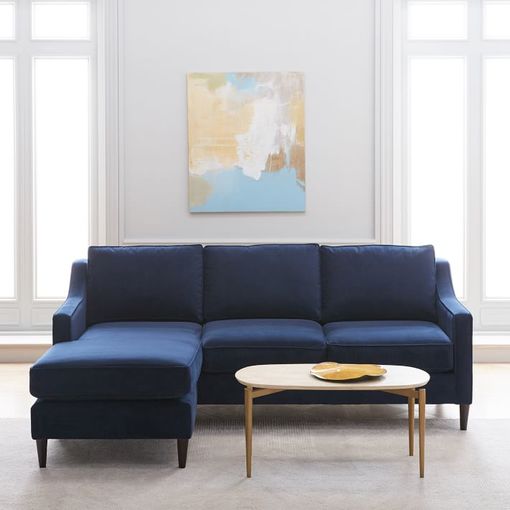 What I Loved
West Elm is almost synonymous with high-quality apartment sofas. Their designs work whether you're furnishing a small apartment or you're simply looking for one or two pieces for your home office.
I loved this take on the traditional two-arm three seater sofa, but with a chaise you can orient to the left or right depending on your living space. What I love most about this one is the removable covers on its seat cushions. This little detail makes all the difference if you're spending a ton of time in your space and need furniture that can be easily cleaned.
What I Didn't Love
As with other West Elm sofas and sectionals I've reviewed, I didn't have any issues with the quality of the sofas themselves. However, I would like to see more in-stock upholstery options ready to ship.
Measuring and Configuring Your Small Apartment
Similar to when you're buying a small space sofa, you're going to have to consider every square foot of your apartment when you're purchasing large pieces of furniture. It helps to have a tape measure handy whether you're shopping online or in a showroom.
Your apartment is likely going to house much more than a sofa. Account for clearance around coffee tables, side tables, credenzas, shelving units, and even kitchen and dining room furniture if you have an open floor plan. And as always, remember to measure your door frame if you're having furniture delivered. You'll want to ensure any sofa you buy will fit through your door frame easily.
Additional Tips for Buying an Apartment Sofa
Along with overall aesthetics and price, here are some functional tips for buying your next apartment couch:
Always consider your needs before buying. Are you going to be lounging a lot on the weekends? Do you need a sleeper sofa or a futon if guests come over?
Ask for fabric swatches if available. Most companies will happily oblige. And today, virtually all eCommerce brands offer swatches if you need some time to make a decision.
Plan out your space before you shop. Either sketch on paper or use a 3D rendering software of your choice. Don't worry about how clear your design is. You don't have to be an artist or a professional interior designer, but it helps to conceptualize your space before you buy large furniture.
If you're buying a sectional sofa, remember to choose the correct chaise configuration based on where you're placing it. Most brands and retailers selling sectionals will let you choose whether you want the chaise on the right or the left.
If you're not into any of my top picks for the best apartment sofas out there, you can always check out some reliable retailers and brands including: Amazon's Rivet line of furniture and home decor, Urban Outfitters, Wayfair, Allmodern, IKEA, Floyd, and Burrow.
More Resources To Help You Find the Perfect Apartment Sofa