For many of us, a king size memory foam mattress represents the ultimate in sleep luxury. The best high-quality king mattresses are made with high-density foam, gel-infused memory foam with comfort support layers. These luxe mattresses offer durability, breathability, and luxe feel for a wide range of sleeping positions. In this guide, we'll take a close look at 8 of our favorite king size memory mattresses based on quality, budget, and type.
How to Choose the Right King Size Memory Foam Mattress
When choosing a king size or California king size memory foam mattress, there are a number of factors to consider.
Firmness. Memory foam beds come in a wide range of firmness levels, from soft to firm. Consider your preferred level of firmness and choose a mattress that meets your needs. Medium-firm mattresses are a popular choice for sleepers of all types.
Quality. Look for a mattress made with high-density memory foam, which ensures durability and support.
Temperature Regulation. Memory foam has many advantages, but it can retain heat. A mattress with temperature regulation technology, such as gel-infused memory foam, can help keep you cool at night.
Brand Reputation. It's critical to research the manufacturer of the mattress you are considering buying. Reading customer reviews to get an idea of the overall quality and satisfaction of the product and the company can help you make an informed decision.
Trial Period. Look for a mattress with a trial period of at least 90 days, so that you can test it out—your body needs time to adjust—and see if it's the right fit for you.
Warranty. Look for a mattress with a multiple year warranty period, such as 10 years, to protect your investment.
With so many king size memory foam mattress choices in the marketplace, your big investment is a big decision with big consequences. So how do you select the best king size mattress? If you are confused about which king size memory foam mattress be right for you, keep reading. In this post, we will share our favorite king size memory foam mattresses, matching them with specific sleep needs.
The Top 8 King Size Memory Mattresses
Brand
Best For
1

Editor's Choice

Overall
Shop Now
2

Cooling
Shop Now
3

Athletes
Shop Now
4

Plus Size
Shop Now
5

Extra Firm
Shop Now
6

Side Sleepers
Shop Now
7

Back Sleepers
Shop Now
8

Value
Shop Now
1
Editor's Choice
2
3
4
5
6
7
8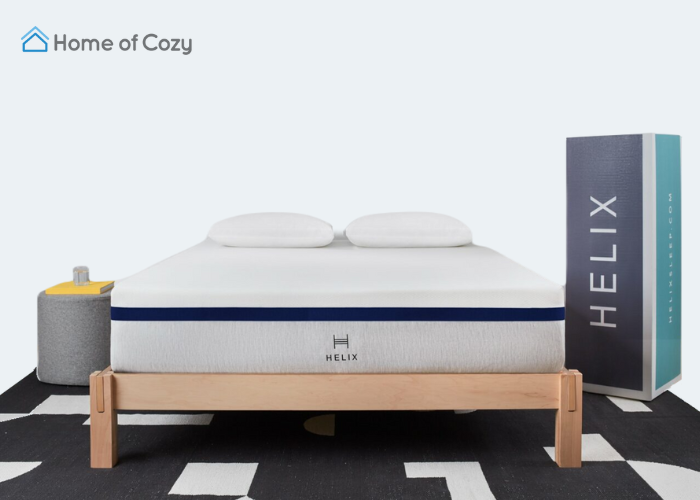 Price: $1,300
Best For: Overall
Mattress Type: Hybrid
Trial Length: 100 nights
Dimensions: 76" W x 80" L; Cal King: 72' W x 84 " L
What I Loved About This Helix Mattress
The Helix Midnight is the company's top-seller and an industry favorite. The Helix Midnight is a medium-firm mattress that is made of plush memory foam pillow over pocketed coils. This construction provides excellent pressure relief, so it is a great choice for sleepers who experience aches and pains when sleeping or upon waking. Additionally, the Helix Midnight isolates motion very well, thanks to the top layer of memory foam that absorbs and dissipates most movement. The Helix Midnight also offers solid edge support that performs very well when lying down, with no noticeable sinking or sloping around the edges. Its breathable construction keeps the bed cool for a comfortable sleep. It is great for couples, side, and back sleepers.
What I Didn't Love
If edge support is important to you, the Helix Midnight may not be your best option since you'll experience some sinking and sloping, say when you slip on socks or shoes. If you're a stomach sleeper, the Helix Dawn would be a friendlier choice. Hardcore memory foam lovers won't get that deep sinkage feel with the Helix Midnight. Heavier sleepers should upgrade to a Helix Luxe pillow top mattress model for zoned back support. The Helix Luxe models are a terrific option for environmentally conscious folks, as these models are CertiPUR-US certified to have no harmful chemicals.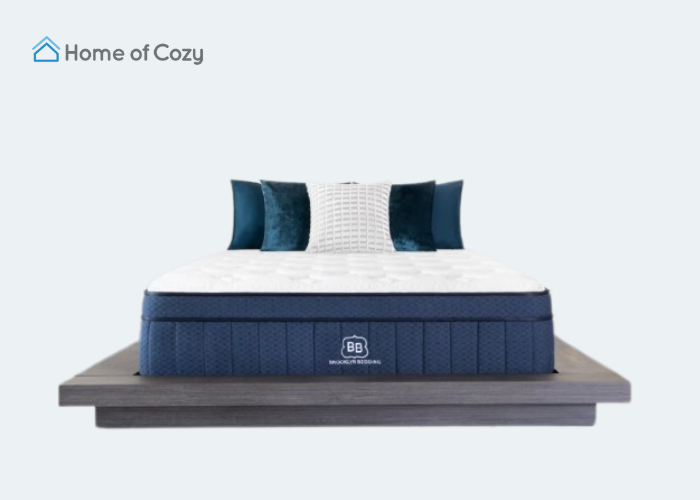 Price: $2,249
Best For: Cooling
Mattress Type: Hybrid
Trial Length: 120 nights
Dimensions: King: 76" x 80"; Cal King 72" x 84"
What I Loved About This Brooklyn Bedding Mattress
If you're a hot sleeper like me, the Brooklyn Aurora Luxe is an excellent choice. The company's proprietary GlacioTex™ Cooling Cover is made with high-tech fibers that remove excess heat from the mattress's sleep surface so you stay cool and comfortable all night long. The Euro top layer features a cooling gel-infused foam that absorbs excess body heat.
The open cell hybrid airflow design in both the foam layers and the innersprings prevents heat retention, and allows for optimal airflow and breathability. It's also a nice pick for side sleepers who struggle with hip or shoulder pain because the Brooklyn Aurora Luxe has a softer, more giving feel.
What I Didn't Love
The edge support of the Brooklyn Aurora Luxe isn't ideal for heavier sleepers or couples. It's also not the best choice for stomach sleepers who need a firm memory foam mattress structure to keep their hips aligned with their shoulders.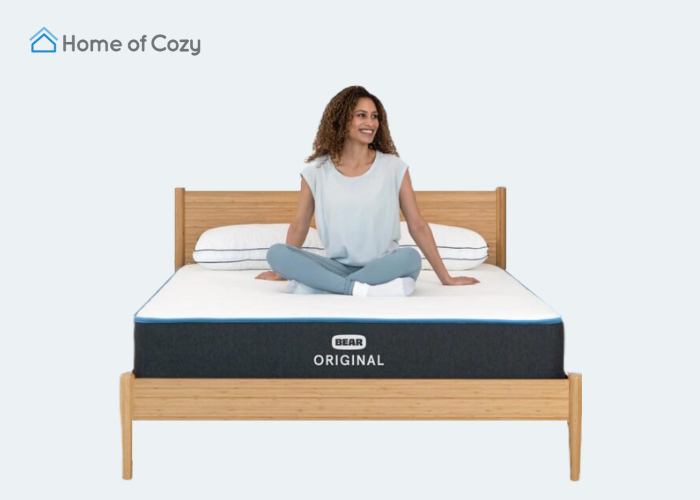 Price: $1,084
Best For: Athletes
Mattress Type: Foam
Trial Length: 120 nights
Dimensions: 76" x 80"; Cal King: 72" x 84"
What I Loved About This Bear Mattress
Originally designed for athletes, the luxury Bear Original Hybrid boasts many innovative, high-tech features that can benefit even weekend warriors who may overdue exercise—I'm guilty! The Bear Original Hybrid offers cooling gel foam with individually encased coils for increased comfort and deeper compression support. The breathable quilt cover boasts Sleep Recover Technology™ to promote muscle recovery. The cooling gel, copper-infused memory foam wicks away unwanted body heat and provides improved spinal alignment for a more comfortable night's sleep. The Bear Original Hybrid also features perimeter edge support for exceptional responsiveness and motion isolation to minimize sleep disturbances. The Bear Original Hybrid is an excellent choice for active folks. It's suitable for most sleepers, and offers balanced support and deeper compression for improved pressure-relieving sleep.
What I Didn't Love
It's not the best option for stomach sleepers as it's a bit softer in firmness which causes the sleeper to sink in. If you like the feel of a memory foam-only mattress, the Bear Original Hybrid is not your best mattress choice because of its bounce. Heavier folks may find better support in a hybrid innerspring mattress.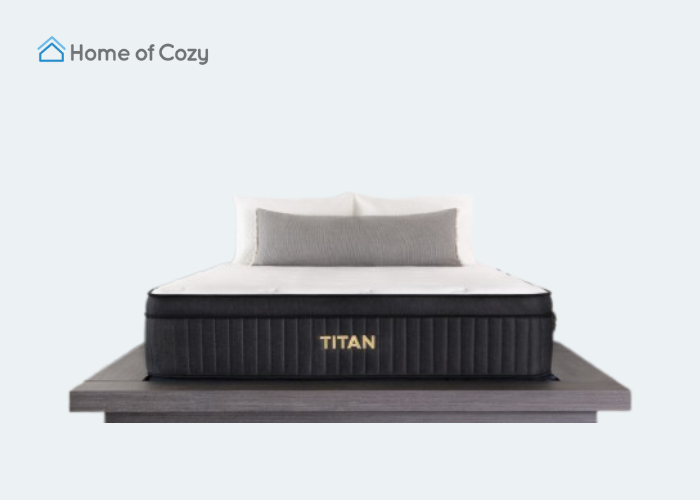 Price: $1,599
Best For: Extra Firm
Mattress Type: Hybrid
Trial Length: 120 nights
Dimensions: King: 76" x 80"; Cal King: 72" x 84"
What I Loved About This Titan Mattress
The Titan Plus Luxe is specifically designed with substantial support for heavier sleepers in a more traditional medium firmness. The Titan Plus Luxe builds on the original Titan Plus, bumping up the contouring comfort and durability for plus size sleepers weighing 230 pounds or more. The gel-infused memory foam quilted cover and latex-like, high-density polyfoam layer results in excellent stability.
The company's optional GlacioTex™ Cooling Cover can be sewn into the surface of the mattress to deliver ultimate cooling on contact—a terrific upgrade for hot sleepers. An 8" core of up to 1,032 individually encased TitanCaliber™ coils deliver ample support all the way across and to the edge of the Titan Plus Luxe, along with superior motion
What I Didn't Love
Side sleepers weighing 130 or less pounds may find the Titan Plus Luxe too firm. The responsive feel of a hybrid foam and pocketed coil king Titan Plus Luxe mattress may produce more motion transfer than some sleepers like.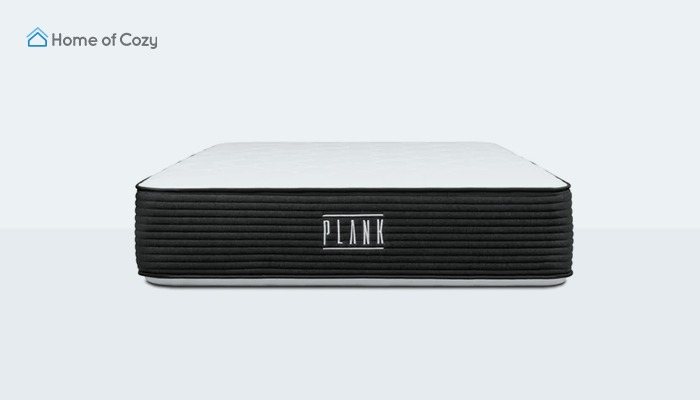 Price: $1,732
Best For: Extra Firm
Mattress Type: Flippable Hybrid
Trial Length: 120 nights
Dimensions: King: 76" x 80"; Cal King: 72" x 84"
What I Loved About This Plank Mattress
If you're looking for an extra firm sleep experience, look no further than the Plank Luxe Hybrid. Inspired by the minimalist approach to sleep in many parts of Asia, the firmer, flatter, flippable surface of the Plank Luxe Hybrid mattress creates a neutral spine position that's better for your back and overall posture. Individually encased coils provide responsiveness and pressure point relief.
The Plan Luxe Hybrid design offers two variations: the top side of the mattress feels like a traditional firm; the bottom side of the mattress is ultra-firm, allowing for highly customizable rest. Both the firm and extra firm sides are offered with optional cooling panels for the ultimate sleep experience. The Plank Firm Luxe is especially suited to stomach and back sleepers.
What I Didn't Love
If you don't love an extra-firm sleep surface, this king size mattress isn't for you. Side sleepers, those who like the adaptive feel of memory foam, and those who prefer softer mattresses should also steer clear of the Plank Firm Luxe.
6. Best for Side Sleepers: Helix Sunset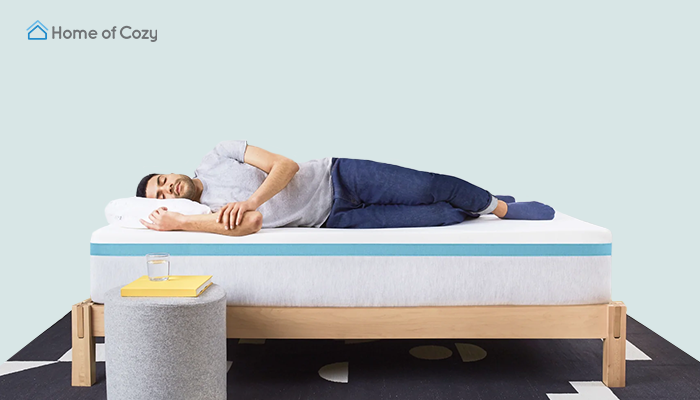 Price: $1,312
Best For: Side sleepers
Mattress Type: Hybrid
Trial Length: 120 nights
Dimensions: King: 76" x 80"; Cal King: 72" x 84"
What I Loved About This Helix Mattress
If you toss and turn at night or like a mattress with a softer feel, the Helix Sunset could be a good match for you. The Helix Sunset has that plush, cloud-like, hotel-type comfort that many people enjoy. For side sleepers or restless sleepers, the Helix Sunset cushions the pressure points at the hips and shoulders to relieve back pain and optimize comfort. In addition, the middle layers of the mattress support your body's contours. You can choose between the company's breathable Soft Touch cover or upgrade to the GlacioTex™Cooling Cover that pulls heat away from your body.
What I Didn't Love
The soft support of the Helix Sunset isn't ideal for those who strictly sleep on their stomach; they require firmer models. And couples might find that the motion isolation isn't enough to keep them from disturbing each other during sleep. The thicker Helix Sunset Luxe would be a better option with its zoned lumbar support. Heavy sleepers—250 pounds or more—won't find the durability or support they need with the Helix Sunset.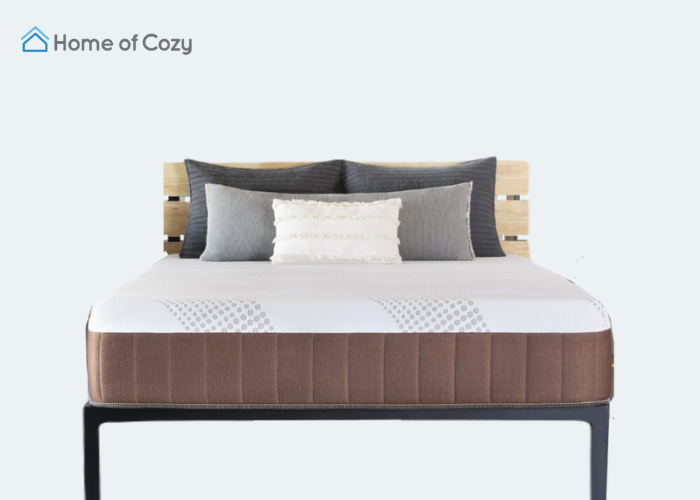 Price: $1,369
Best For: Back sleepers
Mattress Type: Hybrid
Trial Length: 120 nights
Dimensions: King: 76" x 80"; Cal King: 72" x 84"
What I Loved About This Dreamfoam Mattress
The Dreamfoam Copper combines the deep contouring properties and reduced motion transfer of a gel memory foam mattress with the cooling effects of a copper-graphite infusion and individually encased coils. As a back sleeper who runs hot, I found the multiple layers of high-end foam made the bed-in-a box Dreamfoam Copper a cushioned, medium-firm, satisfying sleep experience.
What I Didn't Love
The Dreamfoam Copper is neither the most durable nor the most luxe mattress out there. It's also not the most firm, nor is it bouncy like an innerspring (coil) mattress. Heavier stomach sleepers might do better with a more supportive model.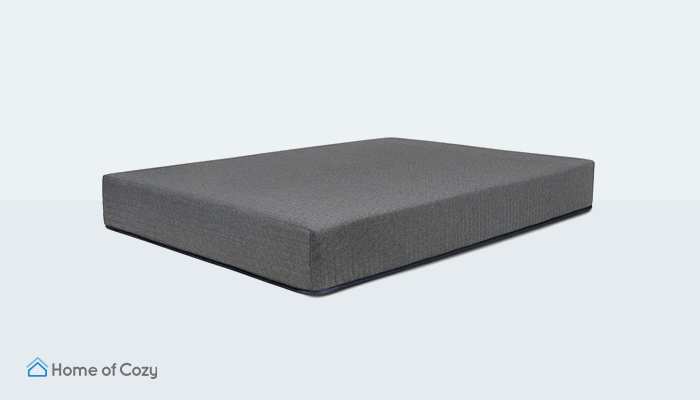 Price: $699
Best For: Value
Mattress Type: Foam
Trial Length: 120 nights
Dimensions: 76" x 80"; Cal King: 72" x 84"
What I Loved About This Brooklyn Bedding Mattress
The budget-friendly Dreamfoam Essential is unique in that it is available in five height options—from 6" to 14" so one thickness is sure to suit you. For such an affordable mattress it also offers customizable comfort choices: from soft-medium all the way up to firm options. The Dreamfoam Essential is well-priced for budget shoppers—a great choice for kids who need a new mattress or young adults headed off to college. And this king bed doesn't sacrifice performance for price.
The high-density, all-foam design of the Dreamfoam Essential features gel swirl technology that keeps sleepers cool, and offers the contouring, response, and press point relief usually found only in a more expensive hybrid mattress. The innovative and environmentally-friendly, sewn-on stain protector is washable—a nice touch against spills and accidents.
What I Didn't Love
The hottest of sleepers might opt for another model that features more cooling technology. Combination sleepers who need more responsiveness might need a hybrid mattress that includes coils and a comfort layer of foam versus the Dreamfoam Essential.
Frequently Asked Questions
What are the Benefits of a King Size Mattress
There are many advantages to owning a king size bed.
Spacious. A king size mattress is spacious, providing generous space for two people to sleep comfortably with about 38" of width for each. A king size or California king size mattress is also a practical choice if you sometimes share your bed with kids or pets—or a laptop!
Comfortable. King beds are considered to be the most comfortable bed size, as they provide plenty of room to move around and stretch out.
Good for tall people. King size beds are also a good choice for taller sleepers as they provide extra length, especially if you opt for a California king mattress.
Helpful for couple. King size beds can be a good option for couples who want to minimize disruptions to their partner's sleep.
But keep in mind that because king size beds are larger and take up more space, they may not be a good fit for smaller bedrooms. Making the move to a king size mattress also means that you'll need to purchase king bed sheets and comforters, along with bed frames and larger furniture pieces.
How Thick Should a Memory Foam Mattress Be?
Memory foam mattresses come in variety of thicknesses, from 6" to 14". When purchasing a king size memory foam mattress you want a thickness that will provide enough support for the adults sleeping on it. In most cases, a 10" thickness will have enough base support and comfort layers for many years of restful sleep.
But thickness alone doesn't mean quality. Low quality foams in thick mattresses don't provide the durability and comfort level you need in a king size bed used for nightly slumber. That's why it's important to buy a mattress from a respected, reputable manufacturer who uses high quality materials and construction methods. A generous sleep trial period allows you try out your new bed in your own home to make sure it works for you. And a minimum 10-year warranty is a sign that the manufacturer stands behind their king size bed.
More Mattress Choices Means Your Perfect Bed Is Just Clicks Away
No matter what specific attributes you want in a king size mattress—firmness, cooling, long warranty, durability, or affordability—and what sleeping positions you and your partner have, the category is chockful of great choices that can be delivered right to your door. For more reviews of top mattress brands, check out our guide to the Best Mattresses in 2023.