Your sofa is the heart of your living room. It's the place where everyone converges to spend time together, be entertained and lounge. So, it's only natural you might get a spill or spot once in a while.
Whether you're deep cleaning your sofa or just trying to get out a stubborn stain, these are the best ways to keep your sofa looking fresh. We've also have put together some tips to clean different types of upholstery, with methods for cleaning a fabric sofa versus a leather couch.
6 Safest Sofa Cleaning Methods
For general cleaning and maintenance, there are the 6 best ways to keep your sofa clean.
However, these methods may not be effective for certain fabrics or tough to remove stains. We'll review spot cleaning and stain removal of microfiber or fabric couches as well as leather sofas in a later section.
1. Vacuum
You can use the brush attachment or crevice tool of a vacuum cleaner to remove dust, dirt, hair, crumbs, etc from both the surface of your couch and hard to reach places. Be sure to remove the cushions to get all the particles that sneak underneath.
2. Baking Soda
A great add on to a vacuum cleaning is to sprinkle baking soda on the areas you plan to vacuum and let it sit for 20 minutes before vacuuming. If you need something a bit stronger, you can make a cleaning solution with baking soda and a bit of carpet cleaner and use the same process.
3. Washing Machine
If your sofa cushions have removable covers, you can just throw them in the wash, in cold water, on the gentle cycle. Make sure that the fabric is suitable for machine wash but checking that the care tag has a 'W' on it. If you can't find the care tag, the information may also be on the back or underside of the sofa.
4. Steam Cleaner
Steam cleaning isn't right for all types of fabric. Again, you'll want to verify that your sofa's care tag is marked with a 'W' code, indicating that it's suitable for steam cleaning.
5. Stiff Brush or Whisk Broom
Another method is to use a stiff brush or whisk broom to break up and clean off any hard, dried-on substances. If the spot is large, work from the outside in, but don't scrub too hard! You don't want to damage the fabric.
6. Lint Roller
For pet fur, hair, and other fibers, a lint roller is a great tool to have to keep your sofa clean. Use the roller, against the grain, over the surface of your couch in sections, removing the tape to reveal a fresh piece as needed.
Cleaning Different Sofa Fabrics and Upholstery
Depending on your sofa's specific materials and upholstery, there are definitely right and wrong ways to clean cotton, linen, microfiber, suede and leather. It's important to observe best practices to avoid damaging the upholstery, so we're going to lay out the proper methods for each type below.
Cotton or Linen
With a cotton or linen fabric couch, it's important to check the care tag to avoid causing further stain when you clean. However, cotton and linen can both be cleaned easily with a gentle solution of dish soap and water.
Microfiber
Similar to cotton and linen, microfiber upholstery can usually be cleaned with dish soap and water or laundered, depending on what your care tag says.
Leather
To clean a leather sofa, be sure to use a distilled water and non-detergent soap solution unless there is a particular leather cleaner your manufacturer recommends.
Suede
Suede, like leather furniture, once completely dry, can be brushed with a soft brush to restore the nap. Nap are the fibers that give suede it's smooth texture.
Spot-Cleaning Tough to Remove Stains and Spots
For stubborn spots and stains on your living room furniture, there are specific methods that can help to remove them depending on the substance.
However, not all of these methods may be appropriate for your particular sofa, which is why we always recommend you check the care tag or contact the manufacturer if you're not sure.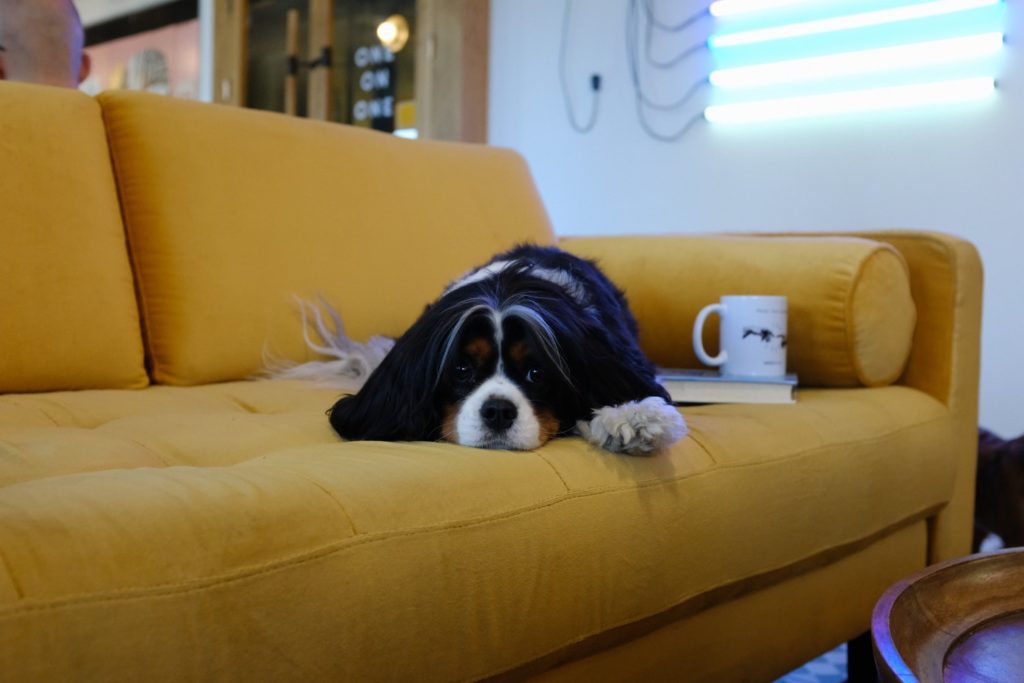 Pets
For urine, wipe up with a clean cloth or paper towels. Use a diy mixture of water, a few drops of dish detergent and white vinegar to gently rub and blot dry. For feces, you can use the same solution with a few drops of hydrogen peroxide to disinfect while cleaning. However, you'll need to be sure to clean off the peroxide after with cold water because it can strip the color from your fabric.
Wine
With red wine stains, blot with cloth or paper towel and clean with cold water and dish soap or detergent.
Coffee & Food
For coffee or food stains, blot up any excess liquid first. Then, spot test with warm water and white vinegar to remove any stains. Repeat this until the stain is gone.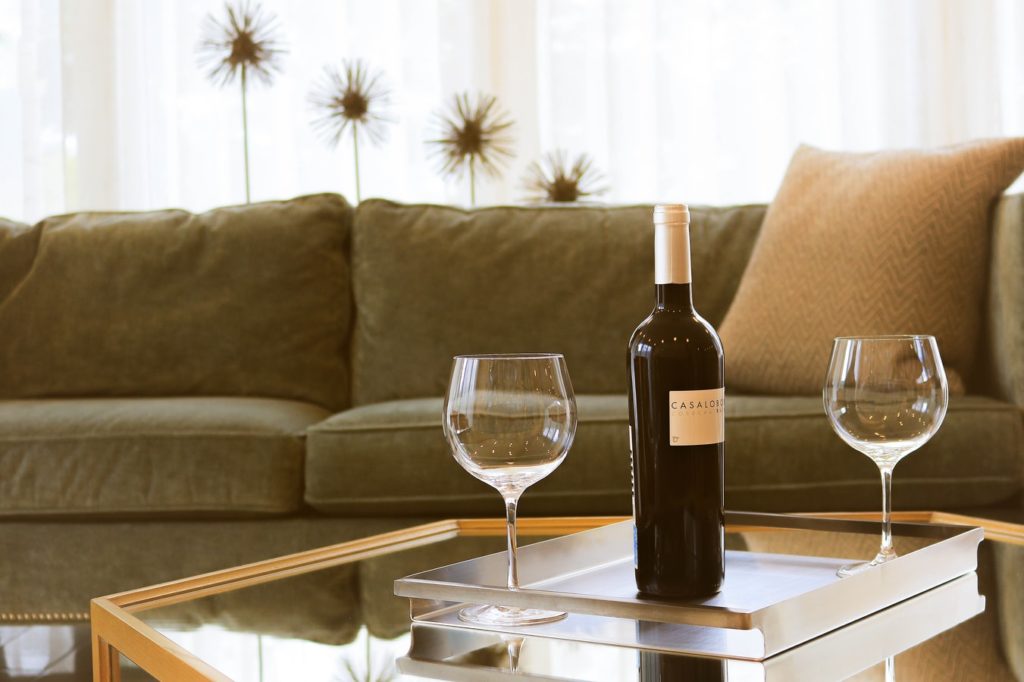 Ink
As with other liquids, blot excess away. Don't rub because a big build up could smear. Dab with cold water to clean, or if the stain is stubborn, use a hair spray bottle, white vinegar, or rubbing alcohol to spot clean.
Understanding Your Sofa's Cleaning Instructions
Earlier, we suggested you check your furniture care tag to be sure you're using the right cleaning methods for your sofa. Here's a guide to help you understand what each of the care tag codes means.
W Code
This code indicates that you use a warm water solution to clean the upholstery. To avoid saturation, use a spray bottle.
S Code
This code indicates that a solvent, not water, should be used to spot clean the upholstery. For these types of upholstery, you need the room to be well-ventilated so you can use a solvent cleaner or rubbing alcohol to clean or rubbing alcohol to clean it.
W/S
This code means you can use a mix of water-based or solvent-based cleaner to remove spots and stains. Be sure to spot test a hidden area beforehand to be sure the solution you use will not add further damage to the furniture.
X Code
This code means you should not use ANY TYPE of cleaner on your sofa's upholstery. Your only option is dry methods like vacuum, brush, or lint roller.
Checking the care tag before cleaning is super important. Otherwise, you could end up doing more damage with your cleaning attempts. If you can't find the tag, and the information is not on the underside of your sofa, you can always check with your manufacturer.
More Tips for Deep Cleaning Your Sofa
When cleaning upholstery, it's always best to dry clean if possible. However, when it's a liquid stain, a deeper clean will be necessary to remove the stain. Always be sure to check your furniture care tag or consult with the manufacturer to be sure you're using the right cleaning methods and solutions.
To be safest, spot check the solution on a hidden piece of fabric to be sure it doesn't strip or degrade the fabric when you use it. When using a solvent based cleaner, always be sure to ventilate the room properly to avoid breathing toxic fumes. If you ever end up with a stain you can't remove, you can have the furniture professionally cleaned or invest in a washable slipcover.