Your couch will be one of the most important investments you'll make in your home. For many, it's the piece of furniture that gets the most use while doubling as the visual home decor centerpiece in your living room.
To put this list together, I tested dozens of different couches and gathered some insights on the best couches to furnish any living space. In this review, you can explore some options I pulled from trusted brands like Joybird and Allform to popular retailers including IKEA, West Elm and Pottery Barn.
Whether you love the look of a crisp, mid-century modern sofa or you're looking for something classic, luxe, or perfect in a small space, these are the best couches to choose from in 2022.
How We Chose the Best Couches and Sofas of the Year
There were a lot of couches to review and research. At Home of Cozy, we don't just look at manufacturer specs and details, we test sofas out ourselves and analyze hundreds of real customer reviews to judge the best new sofas based on this criteria:
Quality – A high-quality couch should last you close to a decade or more depending on the brand, its production methods and materials. We analyzed the durability of frame and upholstery materials, how they hold up to daily wear and tear, and more.
Budget – No matter your budget, we always want to make sure you're getting the best possible deal
Comfort – Regardless of the brand name or price, a couch simply wouldn't be worth if it were something you could barely sit or lounge on.
Design – The best couches blend all of this criteria and look good while doing it. Generally, there's a correlation between couches designed with a timeless eye for design as well as superior construction.
Sustainability – We want you to buy less, but better. And that starts with focusing on brands committed to sustainable and ethical production methods.
The 6 Best Couches of 2022
Brand
Current Offers
Best For
1

Editor's Choice

20% off with code COZY20OFF

Overall
Shop Now
2
Value
Shop Now
3
Families
Shop Now
4
Leather
Shop Now
5
Sleeper
Shop Now
6
Comfort
Shop Now
1
Editor's Choice
Current Offer:
20% off with code COZY20OFF
2
3
4
5
6
1. Best Overall: Modular Sectional Sofas by Allform
(for the classic Three-Seater)
Price: on sale for $1,595
Dimensions: 90" width x 38" depth x 34" height
Arm Height: 25″
Leg Height: 6″
Frame Materials: Maple and poplar kiln-dried laminated hardwood, tempered steel Flexolator Grid System suspension
Upholstery Options: 9 performance fabric options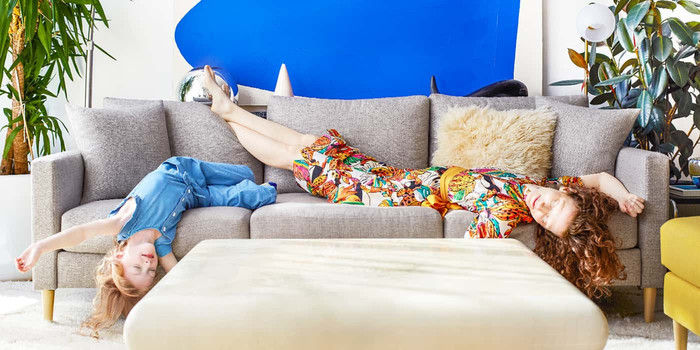 Allform is a relatively new brand by the same creative minds behind Helix mattresses. Given the brand's DNA for comfort and accessible design, it's clear that customers loved the Allform sofa's adaptable minimalist modern designs, lots of customization options, the attention to detail with high-end materials.
With an easy-to-build modular design, impeccable materials and quality, and a seamless build, Allform gets the top spot in this list.
What I Loved About this Allform Sectional Sofa
Out of 308 customer reviews, most rated the Allform Sectional 4.5-5 stars out of 5. Overall, I agree with most of them. Like I mentioned in my round-up of best sectional sofas, Allform thinks of everything from an easy designing and buying experience to lighting-fast shipping and assembly.
As far as design goes, I loved all the different seating configurations you could select, from space-saving loveseats to modular sofas with chaise lounges or eight separate seats, all available without having to visit a physical showroom.
Delivery was incredibly fast and the Allform sofa arrived with easy instructions. All in all, it took about 40 minutes to put together.
Here's a video of me putting it together with some additional thoughts on the brand:
Don't be fooled by the brand's signature mid-cenutry inspired design. Like 4-5 star reviewers, I found Allform's seat cushions to be incredibly comfy and plush, yet the foam cushions retained their shape perfectly, making this the perfect sofa for working from home as well as lounging and napping.
And while I don't have any pets or children, I can see how customers who have both absolutely loved the solid, sturdy frames, wood legs, and stain-resistant performance fabric.
What I Didn't Love
Like most customers who reviewed, I couldn't really find anything to dislike about Allform's modular sofa. If you're not crazy about assembling your own furniture, this might not be the couch for you. Additionally, I'm excited to see a more diverse line-up of sofa styles in the future.
2. Best Value Sofa: The Uppland by IKEA
Price: $449.00
Dimensions: 88 1/4″ width x 36 1/4 " depth x 36 1/4 "
Arm Height: 26 3/4 "
Leg Height: n/a
Frame Materials: Back and Seat – Fiberboard, Particleboard, Plywood, Solid wood, Polyurethane foam 1.2 lb/cu.ft., Laminated veneer lumber; Armrest – Polyester wadding, Fiberboard, Particleboard, Solid wood, Polyurethane foam 1.2 lb/cu.ft., Polyurethane foam 1.5 lb/cu.ft., Laminated veneer lumber
Upholstery Options: 6 fabric options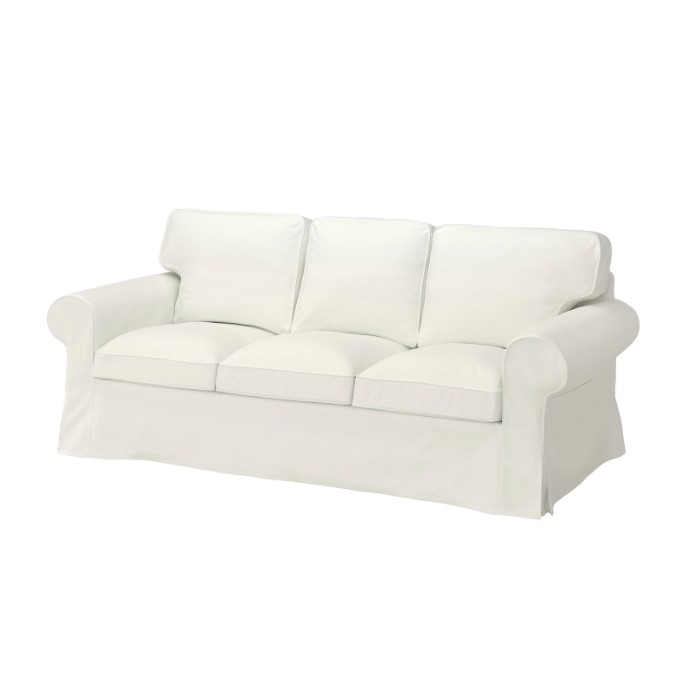 What I Loved About IKEA's Uppland Sofa
Odd's are, you've owned IKEA furniture before. You may even be sitting on an IKEA couch right now. With its cushy roll-arms, deep soft seats, and comfy three-seat configuration, the Uppland looks and feels like the quintessential ideal of what a couch should be. It also happens to be the most affordable couch I reviewed.
Most customer reviews I found averaged between 4.8 to 5 stars out of 5 on IKEA's site. I used the IKEA app to browse and check out the shopping experience. What works well is the app's geolocational focus, guiding you to the nearest location where your preferred items might be in stock. Normally, I'd just go to my closest store and just pick it up myself. However, the Upploand was out of stock. And for what it's worth, there's a pretty strong chance the boxes wouldn't fit in my car anyway. For larger IKEA pieces, I recommend ordering online unless you can rent a U-Haul or pickup for in-store purchases.
After delivery, it was pretty easy to assemble. Although, I have to say, it wasn't as easy as Allform's assembly. And in IKEA's strict adherence to global design solutions, there weren't a ton of instructions in English to guide me through some of the more complicated steps of putting the frame together.
That said, the Uppland sofa is an incredible deal for the price. And I have to agree with one reviewer who said the reversible cushions felt "like sitting in a cloud."
What I Didn't Love
Friends warned me about IKEA's notoriously slow and frustrating shipping process for larger pieces. Unfortunately, they were right. My Uppland arrived almost a week and a half late. IKEA's home deliveries tend to be slower than a lot of other retailers, something that many negative reviews noted.
For an IKEA couch priced less than $500, my expectations weren't very high. However, the slipcover fabric started pilling within days. While I didn't spend a significant amount of time with the sofa, reviewers who've had this piece in their homes commented that signs of wear started within one to two months.
3. Best Family Sofa: The Tana Sectional by Castlery
Price: $1,599.00
Dimensions: 58″ or 37″ width x 63″ chaise depth and 36″ seat depth x 34″ height
Arm Height: 17.5″
Leg Height: 6.6″
Frame Materials: Eucalyptus Inner Frame; leg – Solid Rubberwood
Upholstery Options: one (100% polyester fabric cover; available for separate re-order)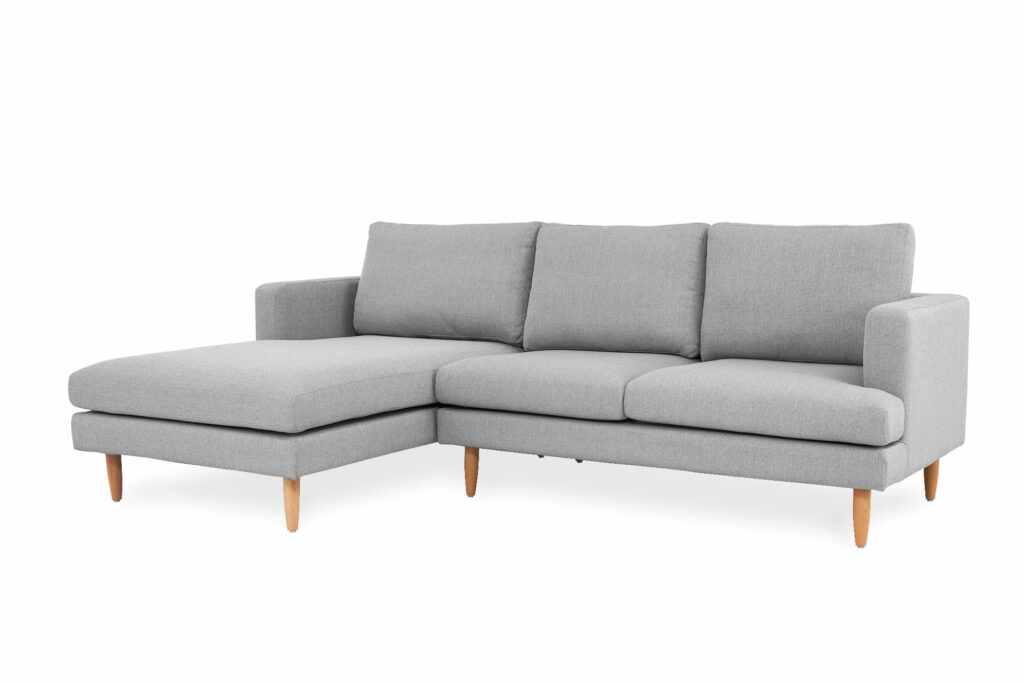 What I Loved About The Tana Sofa
Castlery is a new but reputable furniture brand known for its quality pieces and clean, crisp modern design sensabilities. With stunning, high-quality furniture and thousands of glowing customer reviews on their site, I have to agree that the brand lives up to its tagline of "reinvtenting how furniture retail works." Along with a focus on customer satisfaction, Castlery also partners with renowned designers along with partners in Spain, Poland, and Australia.
To see if the Tana was truly "the best couch for families," I gathered a few friends (and one dog) to test it out simultaneously. Ultimately, it was a success! Like a lot of the reviews, the Tana was a hit when it came to the balance of style, durability, and overall quality. We loved the medium-firm seat and back cushions that positive reviewers highlighted as big selling points, giving the Tana a high-end silhouette without sacrificing on comfort. Plus, I tried removing and re-fitting the washable cover several times just to see how easy it was. Overall, I can see how this fabric can hold up to daily wear-and-tear, especially with kids and pets.
What I Didn't Love
I personally didn't experience any shipping issues for this specific couch, but more than a few customers noted long shipping estimates (ranging between a week up to a month and a half in certain cases.) And despite our special guest 'test pet' having a pretty comfy nap on the Tana, several customers commented that it probably isn't the most pet-friendly couch in the long run since the faux-chenille poly-blend fabric tended to pill, stain, and snag easily.
4. Best Leather Sofa: The Hamilton Sofa by West Elm
Price: starts at $2,199
Dimensions: 70″, 81″, and 91″ Width x 38.1″ Depth x 31.5″ Height
Arm Height: 26″
Leg Height: 6.7″
Frame Materials: Kiln-dried hardwood frame, reinforced joinery
Upholstery Options: 12 performance fabric options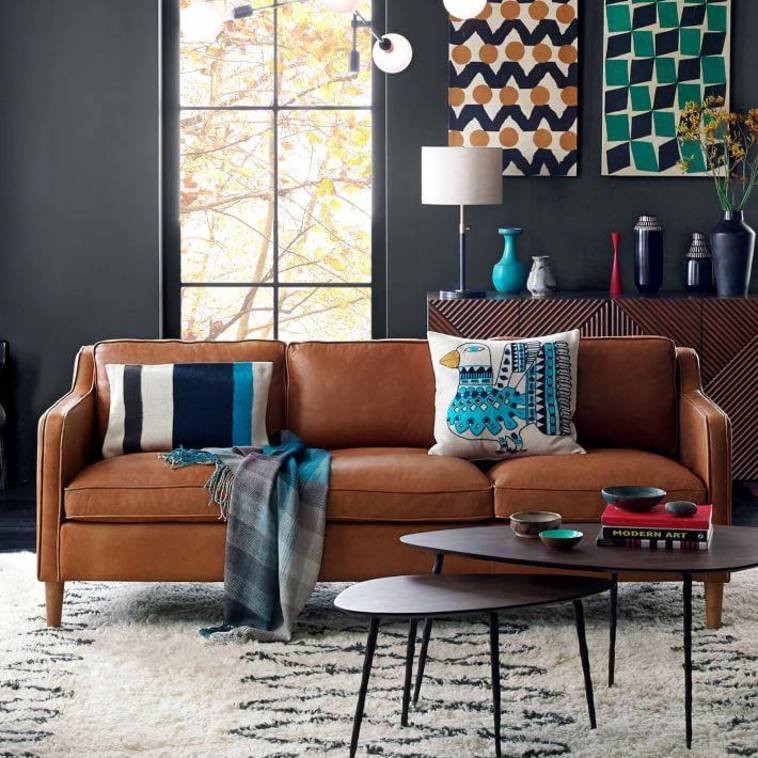 What I Loved About this West Elm Couch
I'm pretty partial to West Elm. It's a retailer that many customers turn to when they're ready to graduate from IKEA, and for good reason. They offer trendy, aesthetically-pleasing couches that look and feel much more expensive than they actually are.
What drew me to this couch was its modern take on a classic mid-century silhouette, something a lot of other customers liked along with its three distinct width options. West Elm also makes the consideration and customization process pretty easy. When shopping online, all I had to do was select a width (70″, 81″, or 91″ and choose a color.) Like many other West Elm couches, you should know that just two leather options were ready to ship while an additional 11 made-to-order options would require up to 10 weeks to ship.
What also makes West Elm convenient is the site's ability to route you to a nearby store for a design appointment if you'd like to talk to one of their specialists or try furniture out in a showroom environment. However, I just went with the online ordering experience to save time.
West Elm's white-glove delivery is some of the best service in the furniture sector, and it made for a pretty seamless experience. The delivery guys brought the couch in just one large box and had it assembled within twenty minutes.
When they were done, I was pretty impressed. Like 4 and 5 star customers who reviewed, I loved how soft the down-wrapped back cushions felt. Plus, it actually seemed a little bit smaller than the site's pictures made it seem, which may be a good thing if you're buying for an apartment or small space.
What Customers Didn't Love
I didn't really have any quality-related complaints, but some highlights from the negative reviews include extremely long wait times for custom microfiber upholstery, sometimes extending several weeks past the quoted 10 week window.
5. Best Sleeper Sofa: Eliot Sleeper Sofa by Joybird
Price: on sale now ($2,259 – $2,582, down from $3,227)
Dimensions: 78″ width x 36″ depth x 33″ height
Arm Height: 25″
Leg Height: 4″
Frame Materials: Bench-assembled engineered wood frame, kiln dried solid wood, steel suspension
Upholstery Options: 60 fabric options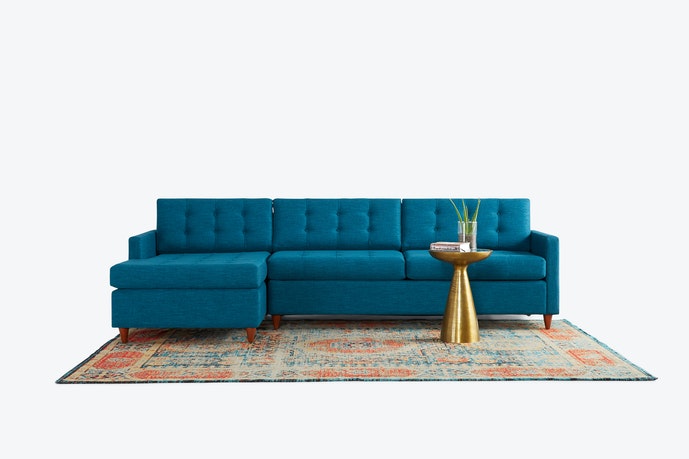 What I Loved About this Joybird Sleeper Sofa
Joybird has built a solid reputation with chic, mid-century inspired designs that many customers find affordable and practical. When it came to sleeper sofas, the Eliot stood out as a customer favorite because of its solid frame and timeless design sensibilities.
I generally agreed with most customers ratings for the Eliot, many of which were between 4 and 5 stars.
Like other Joybird couches, loveseats, and chairs, the Eliot Sleeper Sofa is available in a kaleidoscope of vivid hudes (over 60 different options.) It's easy to get overwhelmed, but Joybird's already thought of that with their "Decide Later" feature, which goes beyond normal Favorite or Wishlist features.
All I had to do was go through the normal checkout process, but instead of actually checking out, I selected the option to get a swatch book. Having this swatch book was incredibly helpful, and from the wide variety of reviews and customer pictures, it's something that helped a lot of people whether they were considering performance fabrics or kid and pet-friendly stain-resistant options. Ultimately, I went with the Key Largo Zenith Teal in microfiber.
The couch cushions were soft, but not as plush as similar mid-century models from Allform and West Elm. That said, they were pretty supportive and kept their shape easily.
To test out the sleeper sofa in all its glory, I decided to spend the night on it. And while no sofa will likely compare to the best mattresses out there, this was a cut above the rest when it comes to couches you can sleep on. My back didn't hurt the way you'd expect after sleeping on a futon or cheaper sleeper sofa, and I felt pretty well-rested. Like the positive reviewers who've tried out the sofa's mattress at home, I could see how this would be a hit with overnight guests.
What I Didn't Love
For as great and intuitive as the browsing experience is, the 6 to 8 week lead time was a little frustrating. And while I personally didn't have this issue, several customers said that they received the wrong products (i.e. some customers were shipped the wrong color or fabric.)
6. Best Comfort-Focused Sofa: The Comfort by Pottery Barn
Price: starts at $1,119
Dimensions: 62″, 70.5″, 76.5″, 87″ Width x 38.5″ Depth x 37″ Height
Arm Height: 25″
Leg Height: 5″
Frame Materials: Hardwood frame with mortise-and-tenon joiner
Upholstery Options: 20+ options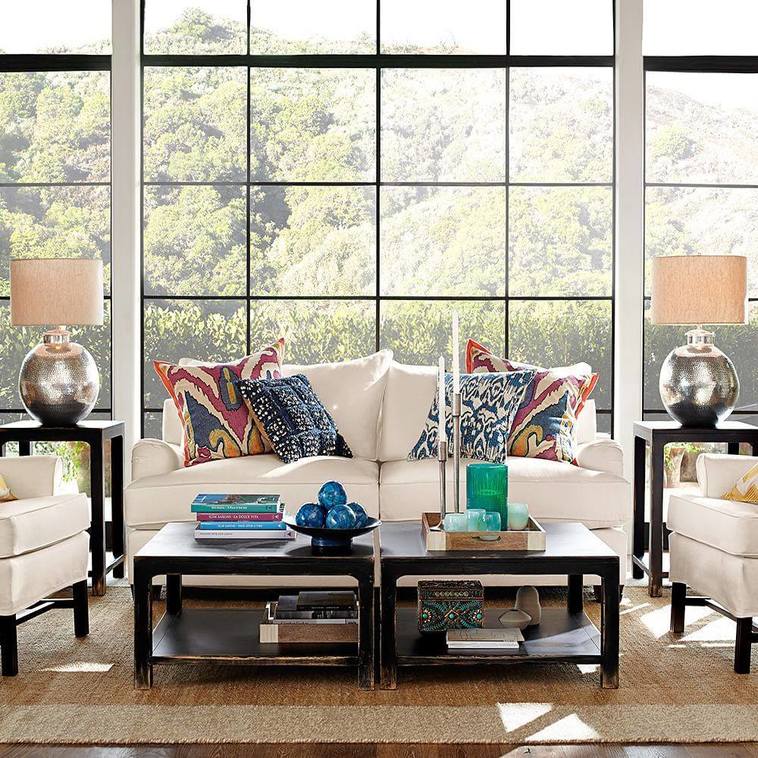 What I Loved About this Pottery Barn Couch
The Comfort sofa doesn't take its name lightly. With four distinct widths to choose from, I can see how this couch was practically designed for relaxation. Many customers who reviewed the Comfort gave it 4 to 5 stars, and again, I have to agree with them.
The product page makes it easy to go through customization steps, with a four-step process that's actually very similar to West Elm's options. I chose the 70.5″ width and really appreciated the option to choose between two different filling types: memory foam or down blend. I went with the memory foam just to see how that felt as it's not really an option you see offered from a lot of brands. And if it weren't for the 10-week lead time for all of the color options, I probably would have rated this couch a little higher.
However, where this couch excels is its incredibly soft, plush feel that I honestly couldn't get enough of. Pottery Barn may be among my favorite retailers that creates the most pristine, comfort-focused couches. but with a price tag north of $1,100, I totally understand why it's definitely more of a splurge for most shoppers.
What I Didn't Love
I tried out this Pottery Barn couch over the course of a few days and noticed that the back cushions had a tendency to flatten out. Also, as with other Pottery Barn couches, the Comfort is comparably shorter than couches from Allform, West Elm, Joybird, and Castlery. While it doesn't sit directly on the floor, it is a little challenging to get out of.