If you're looking for a nice fabric or leather sofa for your living room, big and comfy enough to support lounging for the entire family, you've come to the right place.
Whether you're looking for a mid-century style or a modern sectional with chaise, we have options available to suit every size family and living spaces. From Allform to West Elm, we're bringing you the best couches to accommodate your entire family.

5 Best Couches for Families in 2023
Brand
Best For
1

Editor's Choice

Quality, Functionality
Shop Now
2

Options
Shop Now
3

Sleeper Sofa
Shop Now
4

Customization
Shop Now
5

Affordability
Shop Now
1
Editor's Choice
Best For:
Quality, Functionality
2
3
4
5
1. 5 Seat Corner Sectional by Allform
Price: $2,845
Dimensions: 124" width x 70" depth x 34" height or 97" width x 97" depth x 34" height
Cleaning Difficulty: Easy
Frame Materials: kiln-dried laminated hardwood
Upholstery options: 7 performance fabric, 2 leather upholstery options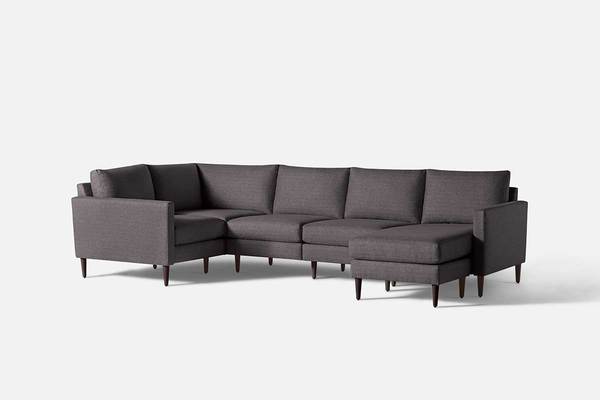 What I Loved
The beauty of Allform's loveseats and sofas is that they're all modular. You can literally start out with armchair and continue buying additional seating modules as your living space and family grow.
Combined with their superior attention to design, functionality, and long-term durability, I had to put them at the top of this list.
For a growing family, the 5-seat corner sectional is by far the best choice. Just from a shopping experience alone, it was so easy to pick an upholstery (you can also select free swatches), leg finish, along with optional add-ons like throw pillows and weighted blankets to make your lounging experience as comfy as possible.
To test this one out and the rest of the top contenders on this list, I invited an actual family of four to test out the sofa; kids, pets, and all. Overall, it was a hit! Plus, the performance fabric upholstery was incredibly easy to clean. Over the course of the 8-day test, I also didn't notice any pilling.
And if you're still feeling apprehensive, just know that Allform modular sofas come backed with a lifetime frame warranty and a free 100-day at-home trial, meaning you can send it back at no cost if you don't completely in love it as a long-term living room fixture.
What I Didn't Love
While the prospect of assembling a 5-seat sectional seems daunting (something a few reviews pointed out,) it couldn't have been easier to put the modules, armrests, and back cushions together.
Best Couch for Family: Allform
2. Hamilton Leather 2-Piece Sectional by West Elm
Price: starts at $3,198
Dimensions: Sofa piece: 53″w x 35″d x 32″h, Chaise piece: 30″w x 62″d x 32″h
Cleaning Difficulty: Easy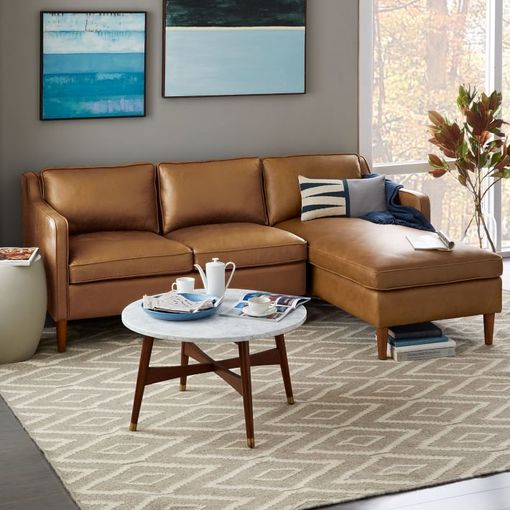 What I Loved
While it's a little pricier, this model from West Elm is definitely one of the best family sofas out there. It's similar in shape to Allform's 5-seater sectional in that it's a great corner sofa, but with an added chaise lounge.
I loved the ability to customize for either a right or left-facing chaise, plus the two different widths available (83″ or 93″) depending on how large your living room may be. I went with the 83″ for the purpose of this test and it was definitely roomy enough, but for a growing family, you may want to opt for the larger option.
I also chose one of the performance fabric options to gauge how easy the upholstery and reversible cushions would be to clean. Overall, it held up well to both kids and pets but cleaning stains took a bit more elbow grease than with the Allforms sectional.
As a two-piece sectional, the regular seating and chaise sections arrived in separate boxes but with West Elm's white glove delivery service, assembly was included, so I didn't have to worry about that.
What I Didn't Love
While the white glove delivery was incredibly convenient, I wasn't exactly a fan of an additional $100+ fee on top of a $3,000 price tag.
3. Mansfield King Rolled Arm Sofa by Crate & Barrel
Price: starting at $4,249
Dimensions: 93″ width x39″ depth x37″ height, mattress: 80″ length x 93″ width
Cleaning Difficulty: Medium
Frame Materials: Hardwood, steel suspension
Upholstery options: 5 standard fabric options, 40+ custom options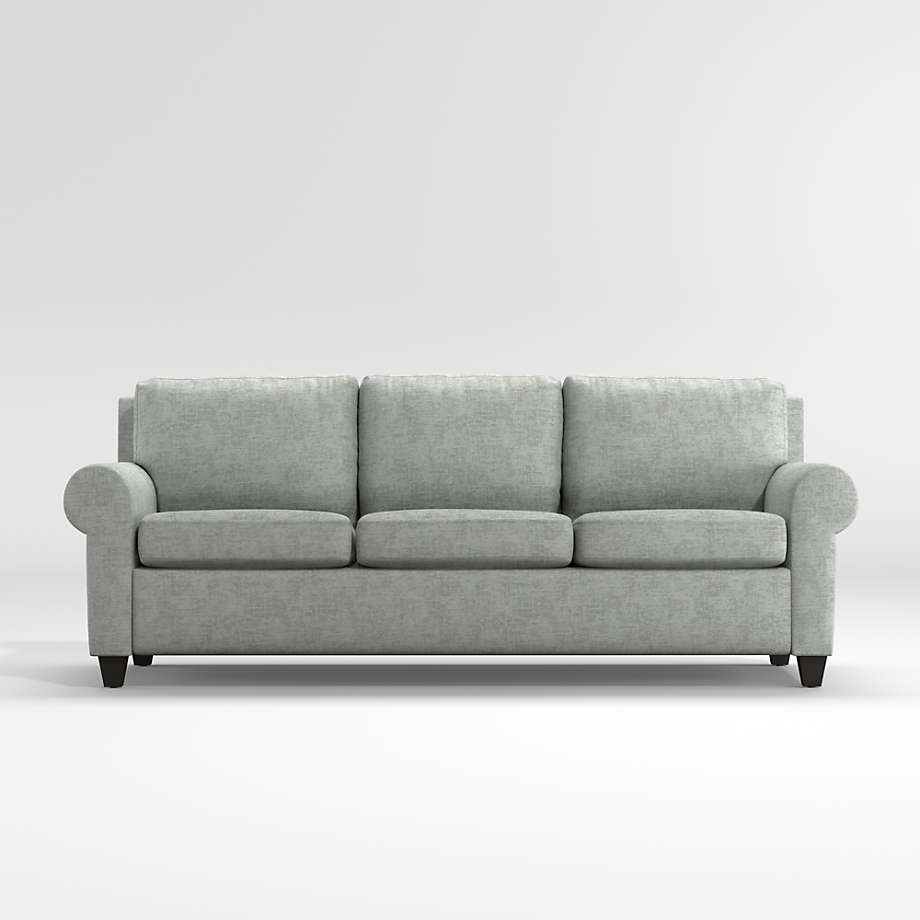 What I Loved
Not only is this an incredibly comfortable and utilitarian couch, it's also one of the most stylish ones on this list, and one of the best sleeper sofas I've tested in the past year. What I love about it is that it's also a sleeper sofa that pulls out to a king-size mattress, which is perfect if your family has guests over. At 80″, it's definitely longer than a lot of other sleeper sofa mattresses out there.
In terms of comfort, this one and Allform's sectional were my personal favorites. The test family I brought in did comment that this one seemed "a little more fussy" and high maintenance than the top two choices. And I could see what they meant seeing as how stains required quite a bit of effort to get out.
What I Didn't Love
This definitely isn't a sofa for a small space. Also, with a price tag starting above $4,000, it's definitely more of an investment piece or splurge rather than a practical purchase for most. Additionally, this sofa is made to order, meaning you won't get it with the standard 2-3 week lead time you'd get from other retailers. Currently, West Elm quotes new orders on this model arriving at least 3 months past the date of ordering.
4. Nomad Sectional by Burrow
Price: $1,790
Dimensions: 86″ width x 61″ depth x 33″ height
Cleaning Difficulty: Medium
Upholstery options: 5 fabric options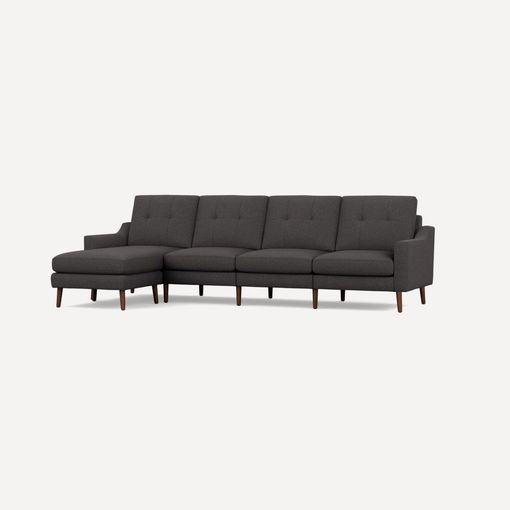 What I Loved
Burrow is an eCommerce brand focused on creating chic, modern sofas and furniture for any room in your home. What I love about the Nomad is its broad appeal (over 800 positive reviews,) and the range of customization options based on your own needs and design preferences. It's also the only sofa on this list for which you can customize the armrest style (arch, block, or slope.) You can even customize whether or not the back cushions are tufted.
Like Allform, you also get the option of getting swatches before committing to your new sofa. Plus, I appreciated the add-ons like the optional chaise, lumbar pillows, ottomans, and a sleep kit in case you want to have guests over.
What I Didn't Love
While it has an easy-to-latch modular design, I didn't find the latch mechanism all that "easy" to operate compared to Allform's sectional. Additionally, it wasn't exactly an "easy cleaning" sofa, and took a bit more effort to keep presentable and clean.
5. Eliot Sofa by Joybird
Price: starts at $1,509
Dimensions: 84″ width x 36″depth x 33″ height
Cleaning Difficulty: Easy
Frame Materials: hardwood frame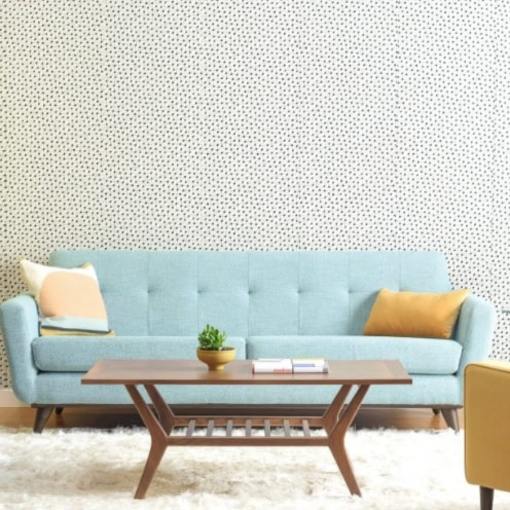 What I Loved
Both I and the test family loved the performance microfiber upholstery. While it wasn't the softest or easiest sofa to assemble, it was definitely worth it when it came to the relatively low price. Plus, the solid hardwood frame felt comparable to the more expensive sofas on this list, making it a more durable bargain I could see a lot of families appreciating.
Stylistically, I also loved its chic, mid-century appeal. It features tufted back cushions and solid, square armrests.
What I Didn't Love
As far as the sofa itself, I wasn't a huge fan of how the foam cushions weren't removable or reversible/ Additionally, I noted several customer reviews that complained about colors "looking off" in person compared to how they appeared in the site's product photography.
I appreciated the additional protection plan, but you should know that it is an additional $143 on top of the sofa's price tag and delivery fee, and the plan is up after 5 years.
Some Tips for Buying a Family Sofa
Consider multi-functional furniture
Like your family will grow, you should always consider a piece of furniture that evolves with it. The best family-friendly sofas aren't just home decor. They're pieces of furniture you can simply lounge on in addition to being comfy living room centerpieces that double as sleeper sofas. For even more comfort, consider sofas with built-in reclining elements.
The Best Overall Sofas of 2023
To help you find the best deep seat sofa, I tested individual models from over 23 different brands. These are the best new sofas with extra deep seats that balance the best in design, price, sustainability, and durability.
Look for pet-friendly performance fabric
For all those multi-species families out there, think about loveseats, sofas, and sectionals that can hold up to pet hair and scratches as well as they're stain-resistant against crayons and apple juice. For instance, you likely won't be going with a velvet sofa unless it's specifically a performance velvet that's easy to clean.
Always be on the look-out for dog-friendly sofas, along with the best sofas for cat people. As a pro-tip, look out for couches with removable slipcovers for the seat cushions, back cushions, and throw pillows.
Research several sofa brands
These are just a handful of family-friendly sofas and brands out there. Do some research and discover great pieces from trusted retailers like Pottery Barn and IKEA, along with eCommerce innovators like Floyd.
Whether you're thinking about one of the sofas I talked about here or you're still on the hunt for the best furniture brands, explore my round-up for the best sofas of 2022 and the perfect sectional sofas.