When it comes to DIY interior design, your area rug serves as the piece that pulls everything else together. But when you're dealing with sectional couches, it can be difficult to arrange your home decor properly. Should the rug be centered under the sofa, or it is okay if the design is asymmetrical? This post will answer those questions for you today.
5 Ways to Place Your Rug with a Sectional Sofa
1. Centering it in the L
The most commonly used styling option is to center the rug in your sectional seating area. While doing this it's important to make sure there's enough floor space around it for every other piece of furniture. If that's not possible, it might be better to center under the coffee table instead so that you have enough room for your other pieces to fit well around it.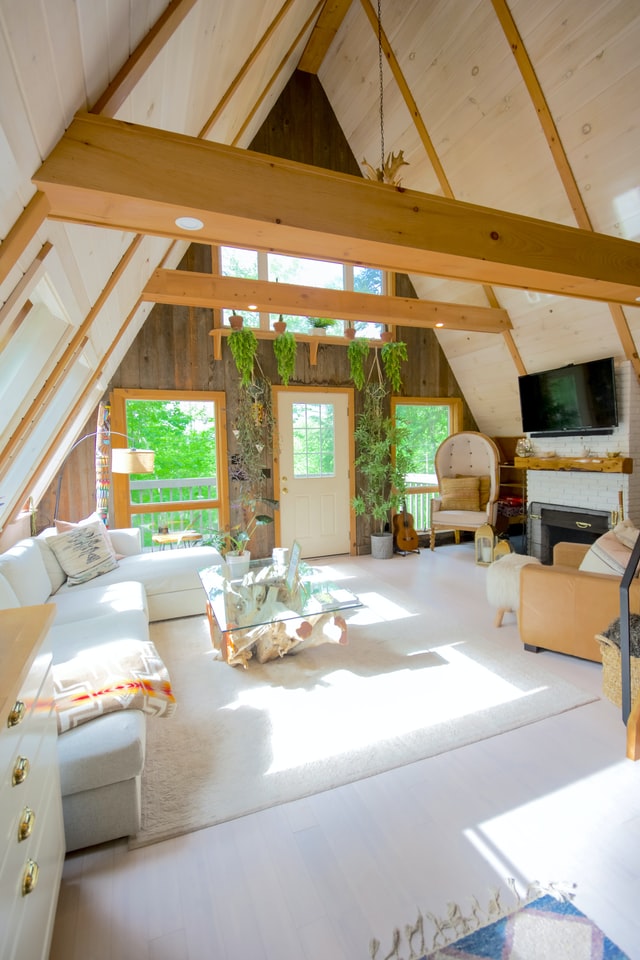 2. Place it partially under your sofa
Another option is to place the rug partially under your sofa with the front legs on the rug and the back half of your sectional off the rug. This is a very common living area arrangement for small living rooms. If you then include a coffee table on the rug, it will help to frame the area by making the coffee table the center, focal point and create an inviting seating arrangement for you and your guests to get cozy.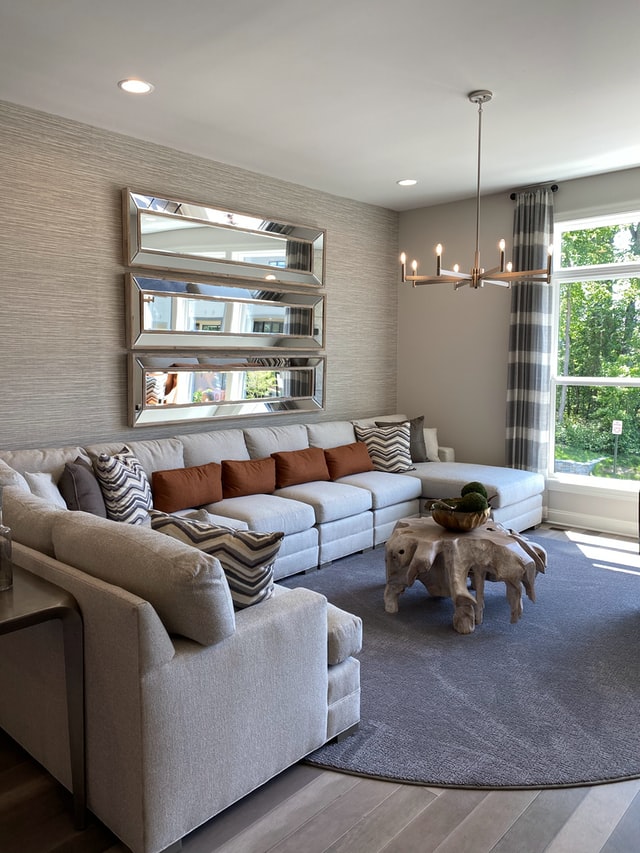 The Best Overall Sofas of 2023
To help you find the best deep seat sofa, I tested individual models from over 23 different brands. These are the best new sofas with extra deep seats that balance the best in design, price, sustainability, and durability.
3. Match it up with the short side of your sectional
Another option is to line up the rug with the short end of your sectional. Doing this creates a geometric effect and by placing your coffee table in the center of the rug and using it as an anchor, it really helps to bring balance to the room. If the chaise is much longer than the short portion of your sofa, you can add a side table to the short end to balance out the flow of the space.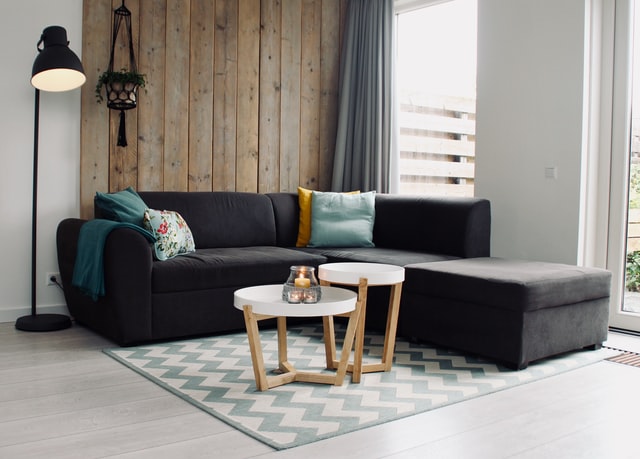 4. Center it in the living room
You can also use the center rug as the centerpiece or focal point of the room and layer your furniture around the rug to balance out the room. This is best for larger spaces and a smaller rug. If you're decorating a small space, however, you'll be better served to use a larger rug and choose one of our other options where the furniture helps to anchor the rug.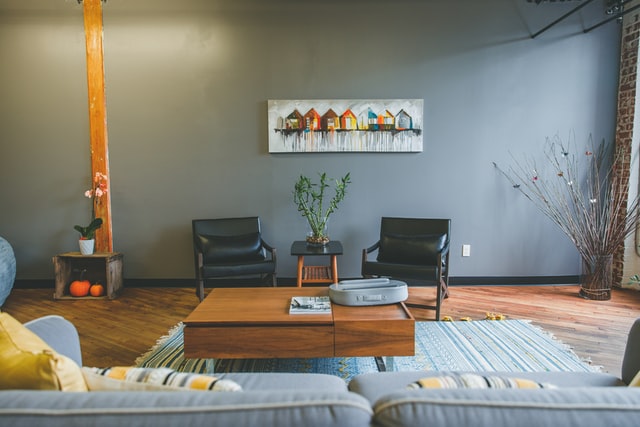 5. Go asymmetrical or diagonal
If all else fails you can choose to go with an asymmetrical or diagonal floor plan. In this case, your coffee table wouldn't be centered on the rug, but rather off to one side. Then you'll use your other furniture pieces to decorate around the rug on the bare floor. While it may feel a little odd, it's important that none of your family room elements is dead center. The point is to create more of a complimentary flow around the rug as opposed to centering items.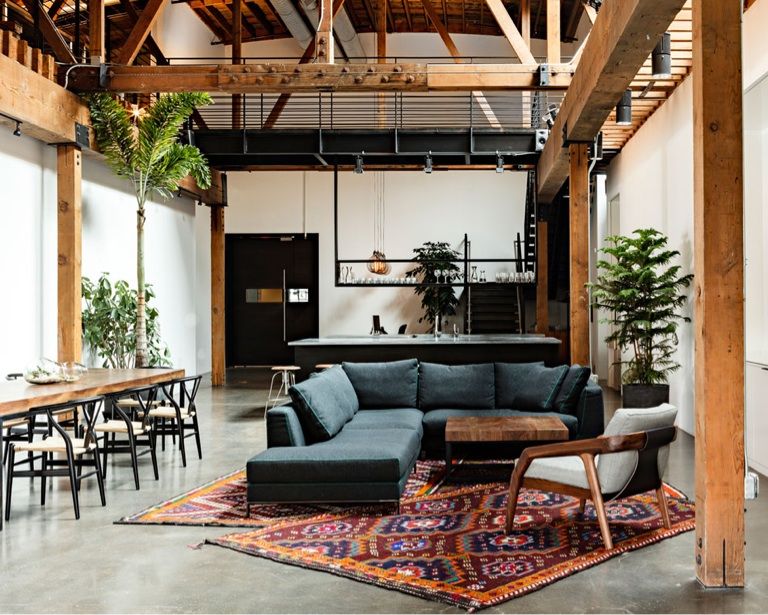 Area Rug Placement FAQs
What size rug do you put under a sectional?
The general rule of thumb here is to use a large rug that is anchored by at least two pieces of furniture. But of course, there are other options available (as seen above) if that option doesn't work for you or you have an extra-large space and need to spread our items as much as possible.
What about round rugs?
There are no "set-in-stone" rules when it comes to the size or shape of your rug. When there are too many rectangular shapes and straight lines, a round coffee table or round rug can help to create a counterbalance that breaks up the monotony and ties the room together in a more welcoming and cozy way.
Why does the placement matter?
Whichever arrangement you decide, the placement of your items will be very important to tie the room look together. Depending on the shape of your room, you may need to be creative to make the most use of the space. In addition, when it comes to a larger room, making the most use of the space so that it is well-balanced is very important.
How to choose the right rug?
By now you should have a better idea of how you will arrange your room and how to place a rug under your sectional sofa. But if you're still unsure because you aren't sure what type of rug to purchase, here are a few more points to help you:
Round rugs are good to make a small space feel bigger and offset rectangular shapes.
Square rugs are best for square rooms and are best paired with other square shapes.
Rectangle rugs are best for large spaces where you need to make the most use of space.