Wayfair vs. IKEA: Comparing Price, Quality, & Service
Wayfair and IKEA are both large scale furniture retailers who sell items bought at wholesale prices and pass those savings on to the customer. Both companies offer a wide variety of household items including sofas, chairs, tables, bedroom furniture, storage, outdoor furniture, and numerous decor accessories.
Price Range:
$120 to $4,000
$150 to $3,200
Product Range:
Wayfair is one of the largest furniture providers in the world. It offers a wide variety of sofas, loveseats, sectionals and more.
IKEA has become an international giant in furniture sales. You can find everything from sofas, sectionals and loungers to smaller accessories.
Ease of Ordering & Shipping:
Wayfair shipping takes 1 to 3 weeks, but can be much sooner. Free shipping is available for orders over $49.

Wayfair will allow returns for most items for a refund or store credit within 30 days of delivery, minus shipping costs, but the products must be in original packaging.

Wayfair products do not typically come with warranties but protection plans are available for purchase.
IKEA shipping takes 1-2 weeks, and shipping charges range from $39 to $59 for larger items like sofas.

IKEA has a 365 day return policy provided you have proof of purchase, and items are not dirty, stained or otherwise compromised.

IKEA does offer limited warranties, depending on the product, that begin on the date of purchase.
Quality of Service Delivery:
Wayfair offers several types of delivery methods based on your budget and needs. You can select basic delivery drop off all the way to full in-home unpacking and setup.

Do to its large scale, you are likely to not get the same level of white glove service and attention you would get from smaller operations.

However, the savings you receive as well as the ability to return unwanted items and purchase protection plans does allow you to cover the same concerns you would have with a smaller scale company.
While IKEA does offer a delivery and shipping option, it does not appear to offer any sort of unpacking and setup service. This is bad news for those who subscribe to the idea that IKEA furniture is notoriously difficult to build.

As is the case with Wayfair, you may not receive the same level of service offered by most smaller manufacturers. Some mass produced items are lower quality than you may find with smaller brand focused on hand crafted items. However, this results in savings for the customer.

If you decide your IKEA item is not for you, they do allow returns within a full year, provided the item is not damaged.
The Best Overall Sofas of 2023
To help you find the best deep seat sofa, I tested individual models from over 23 different brands. These are the best new sofas with extra deep seats that balance the best in design, price, sustainability, and durability.
---
About Wayfair
Wayfair is undoubtedly, one of the world's largest, most recognizable furniture brands. Their commitment to providing stylish furnishings at a reasonable price lends itself to a philosophy that everyone should be able to design a home they love.
Wayfair is a proud adopter of the online shopping experience, providing a user friendly way to find exactly the right item in an inventory of more than 14 million products. That product line includes a wide array of home furnishings, as well as decor, home improvement, storage, outdoor, and housewares.
While Wayfair is large scale retailer, they have attempted to hold on to the principles that many smaller scale, customer satisfaction oriented manufacturers adopt: selling quality items, offering delivery service, returns and customer service.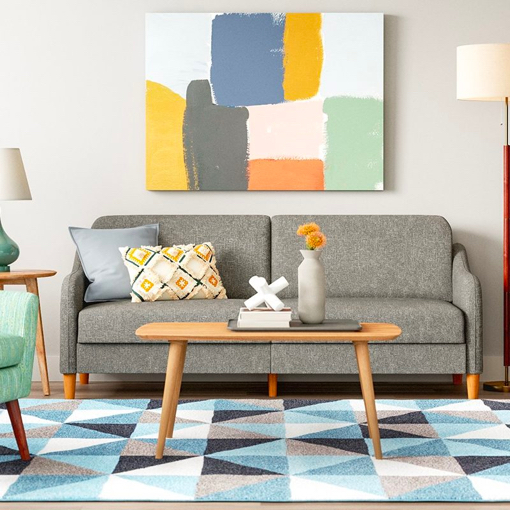 In-home delivery and setup available
30-day return policy
Protection plans available for purchase
Millions of items available of varying brands, styles, colors, and fabrics
Free shipping on items over $49
All price points available
In-home delivery costs extra
Limited time for returns and restrictions
No warranty
No showrooms as they are a mass retailer
---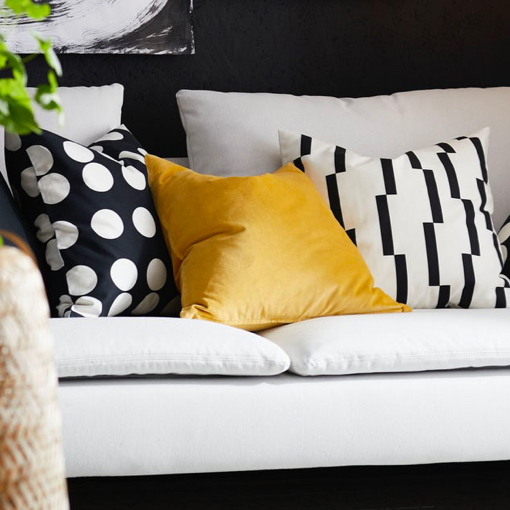 About IKEA
IKEA's culture is founded on enthusiasm, togetherness, and a "get-it-done" attitude. This is apparent in their furniture line that combines functionality with simple, clean lines and modern designs. Their company vision is to create a better everyday life for their customers, co-workers, and suppliers.
This vision expands beyond their product line to the environment where they source sustainable materials that have a positive impact on the world. By sharing they do, and speaking up for what they believe in, they feel that they can be part of a positive change in society.
The overarching theme: to offer a wide range of well-designed, functional home furnishing products at prices that are low enough for most to afford. This "democratic design" influences the design and function of every item they create.
While Wayfair is large scale retailer, they have attempted to hold on to the principles that many smaller scale, customer satisfaction oriented manufacturers adopt: selling quality items, offering delivery service, returns and customer service.

365-day return policy
Limited warranties available depending on the item
Many items available of varying styles, colors, and fabrics
Flat rate shipping fees
Lower price point
Many IKEA showrooms across the US
No in home delivery or setup option
No free shipping
Some items are lower in quality due to mass production