A couch is a big investment. Not only is it literally a big piece of furniture, you're likely going to be spending anywhere between $500 to $1,500 or more to find the one that fits your home and lifestyle perfectly.
To help you out, I've reviewed over 30 brands that create sectionals, loveseats, and classic three-seaters and rated them based on comfort, style, customizable options, and overall quality of their materials and frame construction. I also combed through thousands of real customer reviews and testimonials to see which brands and retailers offered the best deals, shipping and delivery experiences, as well as customer service.
Whether you're shopping for furniture online or in a showroom, read on to see which brands have the best couches you can buy.
Home of Cozy's Criteria for the Best Places to Buy a Couch
At Home of Cozy, comfort is practically in our name. To hone in on the best stores and websites to find your new couch, I analyzed the leading brands according to this criteria:
1. Quality – Couches should be built to last, which is why I always analyze the durability of materials used in each couch and compare them to other brands, industry standards, along with key factors such as longevity of those materials and how easily they hold up to daily wear and tear.
2. Budget – Like I said, a new sofa is a huge investment. At Home of Cozy, we always want you to get the best deal possible.
3. Comfort – You should never have to try hard at getting comfortable on a couch. Comfort is one of the key deciding factors you should always follow.
4. Design – Like the famed industrial designer Dieter Rams said, "Good design is as little design as possible." Your new couch shouldn't just look good. It should have features, details and nuances that enrich your life at home.
5. Sustainability – There's too much cheap furniture inundating landfills throughout the world. And odds are, if you're buying a high-quality couch, it'll last you for up to a decade or more. Buy less, but buy better with a focus on brands committed to sustainability and ethical production methods.
The 11 Top Brands & Retailers for Finding Your New Couch
1. Allform: Best Overall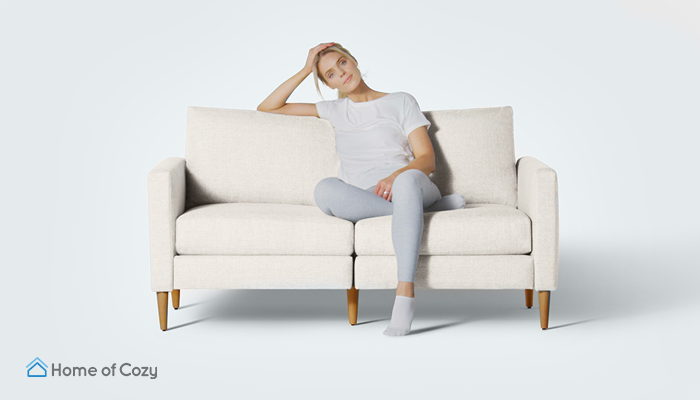 Price Range: $1,145 to $4,500
Seating Configurations: Armchairs to 8-seat sectionals
Upholstery Options: Performance fabric, top grain leather
Home of Cozy Exclusive Offer: 20% off sitewide with promo code COZY20OFF
Allform is a pretty new furniture brand, but it's powered by the same innovators behind Helix, one of the most notable mattress-in-a-box companies out there. With their attention to good, sustainable design, easy-to-build modular couches and range of customization options, it was pretty clear to me that Allform gives furniture shoppers the best overall online shopping and quality pieces of furniture at attainable price points.
What I Love About Allform Couches
While they're not the cheapest couches on the market, it's hard to find another brand that creates beautiful mid-century modern furniture that's as versatile and comfortable as it is aesthetically pleasing.
At a time when record numbers of people are moving or reinventing their current homes, Allform's modular approach to design definitely speaks to the moment. One thing that sticks out to me is how easy customers can get started. You can start out with one module for an armchair or two modules for a loveseat and customize configurations based on your living room and specific design tastes. Add on a chaise lounge or up to 8 individual seating modules to create the perfect sectional sofa.
And as far as shipping and delivery are concerned, I found Allform to be among the most reliable furniture brands out there. Judging from over 300 reviews, many of which were 4 to 5 stars, I found that orders are shipped much faster than traditional retailers, with many arriving in as fast as 18 days.
What sets Allform apart in terms of customer service is flexibility. Customers can enjoy a full 100-day free trial. That means if you're couch isn't for you, for pretty much any reason, you can ship it back for a full refund. Also, their frames are covered under a lifetime warranty, something that I genuinely haven't seen any other brand offer.
What I Didn't Love
Allform ships all furniture in boxes and requires self-assembly. While I personally don't think this is a pain point, numerous customers did comment on this. However, I'll note from personal experience that Allform's modular sofas are a lot easier to assemble than models from IKEA and Wayfair.
Home of Cozy Exclusive Offer: 20% off sitewide with promo code COZY20OFF
2. IKEA: Best For Budget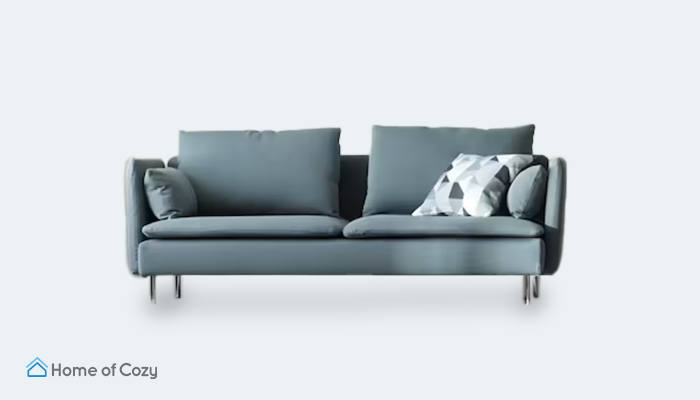 Price Range: $149 to $3229
Seating Configurations: armchairs, loveseats, chaise lounges, three-seat couches, sectionals
Upholstery Options: polyester fabric, bonded leather, top-grain leather, vegan leather
What I Love About IKEA
IKEA is one of the most ubiquitous and reliable furniture companies on Earth. If you live in a major metropolitan area, there's a good chance there's a big box store with a wide selection of affordable Scandinavian-inspired designs near you. Because of it's convenience and incredibly affordable furniture, it's easy to see why IKEA makes it close to the top of this list.
As one of the biggest furniture retailers out there, IKEA has a pretty intuitive app and eCommerce site that compliments their in-store experience. My favorite feature on their app is actually the ability to check in-store stock. This is useful particularly for any couches or other big ticket items you want to see in person.
And like I mentioned, IKEA is likely the most reputable company that boasts reasonable prices for pretty great furniture. In fact, price points are actually how the designs for all IKEA products are determined. After establishing a product's price, then the company's design team collaborates on the most economical and easily replicable products that we see in showrooms worldwide.
What I Don't Love
Shipping and delivery problems are the most common among IKEA customers, and it's actually something I've experienced first-hand in reviewing furniture for Home of Cozy. Generally, you should expect some type of delay or issue when it comes to ordering big pieces of furniture. However, IKEA's shipping fees tend to be cheaper than other traditional retailers.
And it goes without saying, but durability and longevity likely aren't key factors in any IKEA purchase I've made.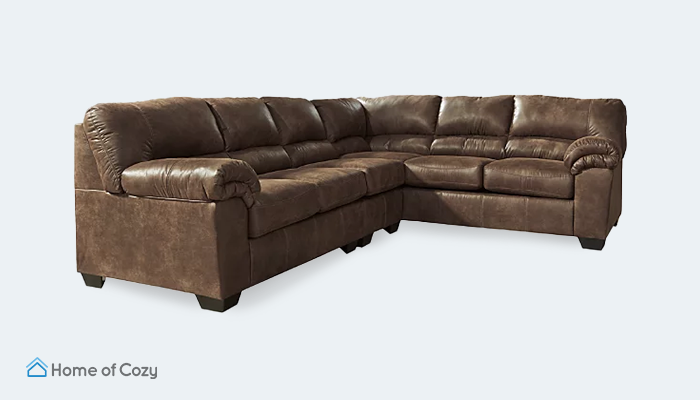 Price Range: $299 to $3999
Seating Configurations: recliners, armchairs, accent chairs, sofettes, loveseats, couches, sectionals
Upholstery Options: performance fabric, microfiber, vegan leather and suede, leather, suede
What I Love About Ashley Furniture
While they're not the trendiest company out there, Ashley Furniture excels when it comes to durable, reliable, and incredibly comfortable couches.
Ashley Furniture has one of the most diverse selection of couches I've seen from a traditional retailer, with a wide range of styles including chic mid-century modern to traditional designs, and contemporary styles with cool features like built-in recliners, cupholders, and more.
Like Allform, what sets Ashley Furniture apart from competitors is their dedication to great customer service and warranty coverage. Out of hundreds of reviews I read, many verified buyers highlighted brand's Premium Protection Plan, which gives customers direct access to specialists who can assist with everything from how to get out hard-to-clean stains to ongoing repairs and maintenance through convenient at-home appointments.
Another thing I want to note: Ashley Furniture also provides affordable financing options that let you pay off a new couch over several months.
What I Don't Love
I personally don't like Ashley Furniture's website as an eCommerce experience. Because of how much furniture the company offers, it can be kind of hard to navigate through all the different categories and options.
Also, judging from reviews, a few customers have complained about Ashley's unreasonable markup as well as persistent issues regarding late orders or incorrect products being shipped.
4. La-Z-Boy: Best For Comfort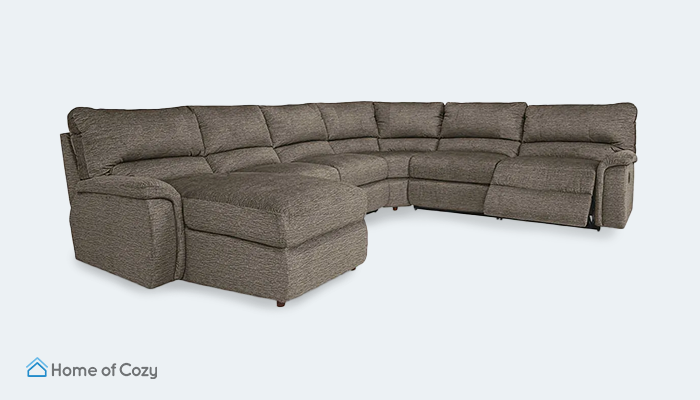 Price Range: $699 to $2999
Seating Configurations: Sofas, loveseats, sectionals, chairs, recliners
Upholstery Options: Fabric, leather
What I Love About La-Z-Boy
La-Z-Boy is one of the most iconic furniture brands in existence, and one of the few to invent a completely new category of furniture pieces: the recliner.
Having reviewed their couches and loveseats in previous lists, I can see why customers become lifelong devotees. The company simply produces impeccably crafted loungers and sofas.
And for a brand that was founded in 1927, I'm always impressed by their attention to good eCommerce user experience. Browsing online, I'm able to filter by a range of popular features such as Power Reclining and Power Headrest, "Perfect For" filters by lifestyle (e.g. reading nook, perfect for entertaining, Game Day, etc.) The site also has a sliding measurement tool to shop specifically by sofa width, something I've definitely never seen on another furniture site before.
What I Don't Love
I personally don't have any complaints about La-Z-Boy. However, some 1 and 2 star reviews I read highlighted the incredibly inflexible returns policies and meager 3 day exchange window.
5. Pottery Barn: Best For Design Longevity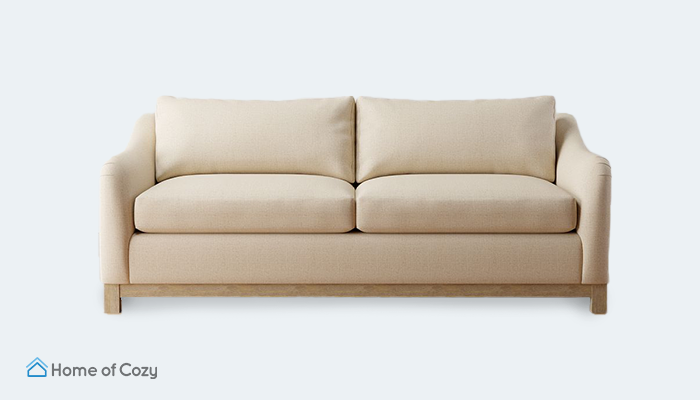 Price Range: $499 to $2999
Seating Configurations: couches, loveseats, chaise sectionals,
Upholstery Options: performance fabric, microfiber, leather, suede
What I Love About Pottery Barn
For me, Pottery Barn designs the type of high-end, minimalist modern sofas you see in Architectural Digest profiles of celebrity homes. But, the best part is you can easily order any of their designs.
Pottery Barn offers elegant home furnishings for any room from chic living room staples to bedroom pieces and outdoor furniture. However, their couches are definitely stand-outs when it comes to customer favorites. Out of thousands of positive reviews I combed through, I found that customers loved the website's easy browsing and customization process, as well as the white glove delivery service, which is especially important for large pieces of furniture like couches and sectionals.
From personal experience, Pottery Barn couches are among the most comfortable I've tested for Home of Cozy. And their upholstery options offer the perfect balance of soft textures and durability. However, their couches definitely don't come cheap. With many starting at $1,500 or more, Pottery Barn tends to be a splurge or serious investment for many furniture shoppers. That said, their quality is almost unmatched.
What I Don't Love
Speaking from personal experience testing out a few different Pottery Barn couches, they tend to be shorter than other retailers' designs. This makes them a little hard to get out of.
6. West Elm: Best For Small Spaces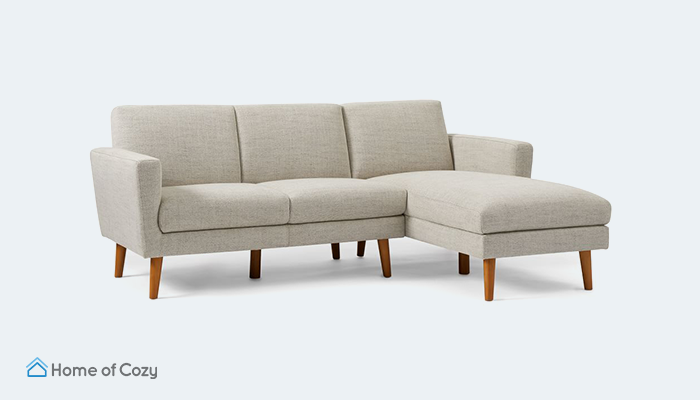 Price Range: $499 to $2999
Seating Configurations: sofas, sectionals, loveseats, armchairs, ottomans
Upholstery Options: leather, textured weave, microfiber, velvet
What I Love About West Elm
For me, West Elm strikes the perfect balance: relatively affordable prices coupled with modern design trends that resonate with real customers.
What I love about West Elm's couches and seating configurations is their ability to work in small spaces like inner city apartments, studios, and offices. And judging from many customer reviews, testimonials, and even Reddit threads, this is something that a lot of other people care for as well.
Like IKEA, West Elm offers site users the ability to see if their local store has the furniture they're interested in testing out in person.
What I Don't Love
While I've personally never experienced this, West Elm has had some pretty egregious product quality concerns as recently as 2017. However, since certain sofas have been retired, quality has been pretty consistent since then.
7. AllModern: Best For Leather Sofas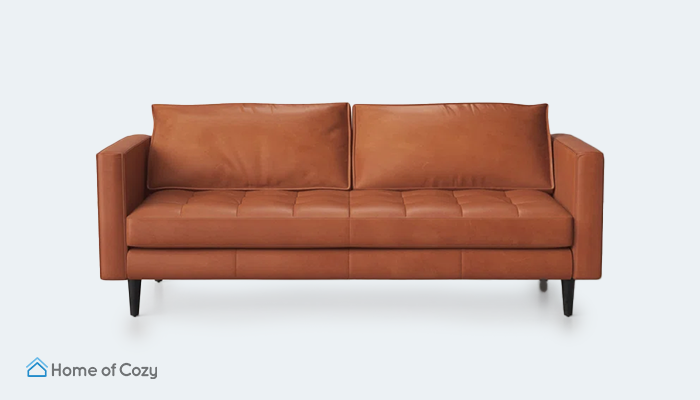 Price Range: $1,200- $8,200
Seating Configurations: sofas, sectionals, sleeper sofas, loveseats, ottomans
Upholstery Options: leather, faux leather, microfiber, velvet, canvas, wool, performance fabrics
What I Love About AllModern
Elegant and affordable, AllModern's leather sofas are fantastic quality too. The leather is soft, seams hold up over time, and assembly is incredibly easy.
I've only had great experiences with the company. Ordering is easy, and AllModern's online browsing is seamless and intuitive. Plus, I've never had a problem with customer service, and delivery happens relatively quickly– 3 weeks at the longest.
What I Don't Love
At home delivery and set up costs $120, and AllModern doesn't offer any sort of warranty on their sofas. Coupled with the brand's lack of showrooms, this can be an anxiety-inducing detail. However, I've never had an issue with quality, and if the product isn't exactly what you wanted you have 30 days to return for a full refund.
Also note that AlllModern's couches can be relatively stiff upon arrival, but will soften up over the first few weeks.
8. Wayfair: Best For Variety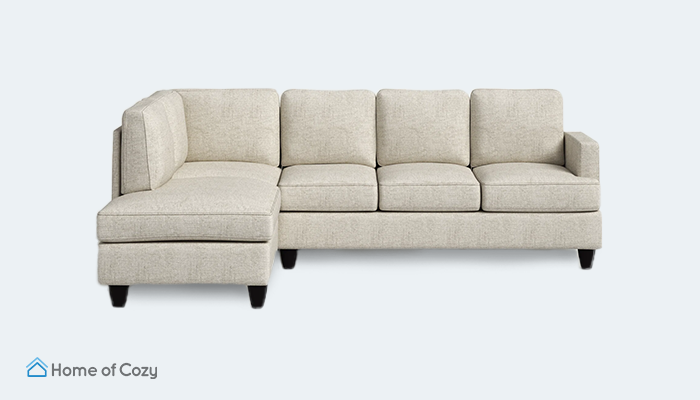 Price Range: $200-$44,000
Seating Configurations: sofas, sectionals, loveseats, armchairs, ottomans, chaises
Upholstery Options: Leather, faux leather, microfiber, cotton, velvet, linen, polyester, chenile
What I Love About Wayfair
Wayfair provides an unbeatably huge collection of sofas at price points up and down the scale. They offer hundreds of options for every type of item, from couches and sectionals to armchairs and sofa beds.
With so many products on offer, Wayfair has made user experience a priority so it is very easy to filter for products of a specific style, size, color, quality and price point. You can easily find everything you need all in one place, within your budget.
There are several fantastic product images for each sofa, as well as a plethora of user reviews so you have a great idea of what you're getting before it arrives at your door.
Plus, all home deliveries are free, with options to scale up for full set-up and assembly.
What I Don't Love
I've never had any issues, but a few customers have had some issues with missing or damaged parts upon delivery. However, the problem always seems to be rectified in just a few days.
9. Burrow: Best For Growing Families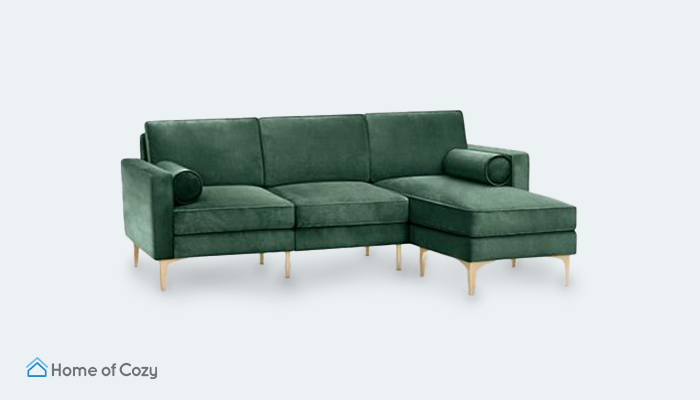 Price Range: $1,300 – $5,000
Seating Configurations: Sofas, sectionals, loveseats, ottomans, sleeper sofas
Upholstery Options: Performance fabric, leather, velvet
What I Love About Burrow
Burrow is known for offering incredibly high quality modular sofas at at affordable price point. Their M.O. is long-term practicality, so their sofas are designed to move with you, grow with you, and withstand everything that comes with a dynamic, ever-changing life.
The modular design of Burrow's sofas means you can easily add or take away sections, so the sofa can fit new places and more people as needed.
Burrow's performance fabrics are also stain-resistant and scratch-resistant, able to survive the worst of pets and kids. The fabric is so non-absorbent that I was able to soak up nearly all of the water spilled from a glass without much of a water spot left behind.
From browsing to ordering to delivery, the entire Burrow experience is seamless, and it seems like the vast majority of their customers feel the same way.
What I Don't Love
Relative to other brands on this list, delivery does take awhile. It seems most get customers get couches within 4-7 weeks, and some report even longer waits.
10. Anthropologie: Best For Eclectic Design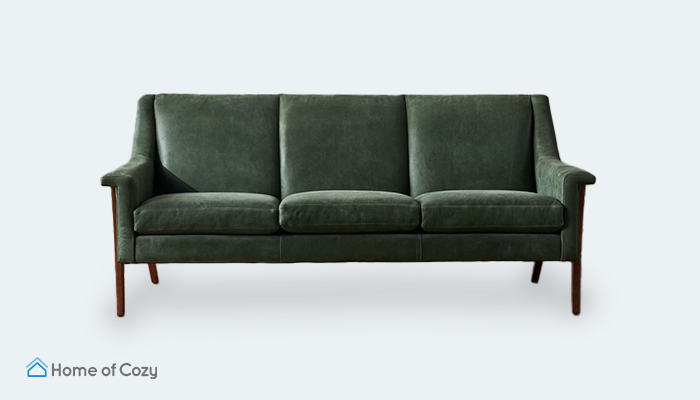 Price Range: $300 – $5,600
Seating Configurations: Sofas, sectionals, benches, ottomans, armchairs
Upholstery Options: Leather, velvet, polyester, microfiber
What I Love About Anthropologie
Anthropologie is a one stop stop for trendy, unique, and vintage designs. Known primarily as a clothing brand, they've branched out to sell home goods and furnishings across the board including sofas, beds, armoires, tables and desks.
As a brand, Anthropologie prioritizes vendors with stylish furniture and interesting silhouettes. They've curated an especially fun and chic collection of sofas available at relatively affordable price points, making for an effortless browsing experience especially if style is your number one priority.
Our favorite Anthropologie sofas include:
Kettleby Sofa – This glamorous velvet sofa is plush, elegant, and effortlessly stylish. It comes in 22 different colors, and customers rave about both comfort and quality.
Goleta Sofa – This understated sofa epitomizes exactly the unique silhouette Anthropologie is famous for. Inspired by 1960's mod style, this sofa is both beautiful and affordable.
Channel Tufted Sofa – Another charming vintage design, this sofa boasts deep, down-filled cushions, beautiful legs made of solid wood, and an elegant channel-tufted back.
Despite a large number of sofas on the site, you can easily filter to find sofas in a certain style, fabric, color, and price point. Delivery and assembly vary from vendor to vendor, but it seems most customers receive their sofas within 2-4 weeks of placing their order.
What I Don't Love
Because Anthropologie works with vendors instead of designing and manufacturing furniture in-house, quality varies across the board. Not all vendors are equal, so be sure to read the review before you place an order to make sure quality if up to snuff.
11. Albany Park: Best For Easy Shopping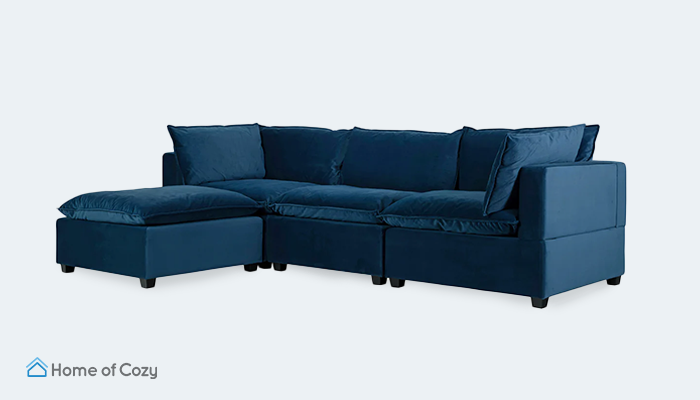 Price Range: $1,195 – $4,960
Seating Configurations: Sofas, armchairs, sectionals, ottomans
Upholstery Options: vegan leather, velvet, polyester fabric
What I Love About Albany Park
For the decision-averse, Albany Park is the perfect furniture retailer. The brand was founded essentially to fill a hole in the sofa market for a no frills, minimalist approach to high-quality furniture shipped quickly and directly to your door.
With only 3 distinct collections, Albany Park's users aren't bogged down by decision fatigue after hours of scrolling. Even with a pared down selection, you'll still find exactly what you need, as you can customize the fabric type, color, and leg color for the perfect fit.
Once you order, your couch arrives within a week in flat pack boxes, and assembly shouldn't take your more than 15 minutes.
Plus, similarly to Allform, Burrow and Allmodern, Albany Park does not maintain any brick and mortar retail space, so they can keep a focus on quality while keeping costs low. The couch themselves are beautiful, well-made, and comfortable, with little evidence of wear and tear even after a year of everyday use.
All in all, Albany Park is a refreshingly uncomplicated sofa retailer option for beautiful, high-quality sofas designed to last.
What I Don't Love
Though I've never experienced it, there have been complaints of weeks-long delivery delays over the last two years. Though this can be attributed to supply chain issues throughout the pandemic, it is certainly something to note if you're planning to place an order.
What To Consider When Looking at Furniture Stores
Know what kind of sofa you're looking for
The first thing I do whenever I'm shopping for a new couch or any piece of furniture is ask myself these questions:
Do I absolutely need it?
Where is it going to go?
What's the most I can spend?
What are some brands and retailers I've shopped from in the past?
Should I look in-store or am I okay with only searching online?
Understandng these can help refine your search. You can browse through countless modern furniture brands for the perfect sleeper sofa or sectional, but your search will be a lot harder if you don't have a solid understanding of your needs and budget.
Other Brands & Retailers for High-Quality Couches
The brands and retailers are just a few options for you. Here are some other ideas depending on your specific tastes and preferences:
Extensive Product Range:
World Market
Amazon
Wayfair
Walmart
Target
While you may not be thinking about Amazon as a source for quality furniture, keep in mind they have some great brands as well as some great Amazon Prime Day deals.
Trendy and Eclectic Modern Furniture:
Urban Outfitters
Joybird
Hayneedle
Choose a new sofa that fits your space and your life appropriately
No matter what you're looking for, always go for a couch you can see living with for a few years. It should be something that compliments your existing decor as well as any living space you envision yourself in down the road. And lastly, it should be comfortable!
I hope I made your decision-making process a little easier. If you're shopping for more seating or furniture, check out more of Home of Cozy's handy guides and reviews.