Alaska is big. Like, really, really, really big.
Alaska is the largest state in the U.S. And not by a little bit.
Alaska, nicknamed the last frontier, is bigger than California, Texas and Montana combined. As unbelievable as this seems, you could fit Rhode Island into Alaska 425 times.
Yes, you read that right: 425 times!
So it should come as no surprise that an Alaskan king size bed, which debuted in the 1960s, following the popularity of the California king bed among consumers, is the largest commercially made bed available on the market today.
Best Alaskan King Mattress
Just How Big Is an Alaskan King Bed?
An Alaskan king mattress is bigger than a standard king bed or a California king bed.
It's also bigger than a Texas king bed, a Wyoming king bed and its slightly smaller counterpart, the Alberta king mattress (sorry, Canada!)
The Western states really conjure size and scale, don't they?
An Alaskan king bed measures a whopping 9' x 9', or 108" x 108." It's a perfect square shape. Four adults or a family of two adults and three or four kids plus a dog or cat can easily fit in an Alaskan king bed.
For comparison, a king size bed measures 76" x 80" and a California king bed measures 72" x 84."
But is bigger really better? Many tall sleepers think the impressive legroom of an Alaskan king mattress is totally worth it. Ditto many plus size sleepers who appreciate the extra sleeping surface and support of an Alaskan king bed.
Factors to Consider When Shopping for an Alaskan King Mattress
When it comes to oversized mattresses like Texas king, Wyoming king and especially Alaskan king beds, there are a few extra things to keep in mind.
Our buyer's guide will cover everything you need to consider before you purchase a mattress of this size. Then keep reading for our top three recommendations for the best Alaskan king beds for 2023.
Room Size. Alaskan king beds require serious floor space, the kind you most often find in newer-construction homes and master bedrooms. You'll definitely want to measure the room where your Alaskan king bed will be placed, to ensure you have not only sufficient space for the bed itself, but for the bed frame, any additional furniture such as nightstands or dressers—plus room to move around. We recommend your room size by no smaller than 16' x 16'.
Budget. As you've probably already guessed, an Alaskan king bed comes with a hefty price tag. On the low end, prices can start at $2,000 and rise to well over $7,000 on the higher end. To avoid sticker shock, establish a budget before searching. Keep in mind that a specialty bed frame or platform, headboard and high-end linens such as a duvet cover and mattress protector can adds hundreds—or even thousands—of dollars more to your purchase. Custom-made Alaskan king bedding will run significantly more than California king bedding. A good source for Alaskan king bed linens is Ocochi.
Frequency of Use. While many, if not most, buyers are seeking an Alaskan king bed for their master bedroom, some folks want it for a media room, communal family living room or basement lounge area. An Alaskan king mattress can also serve as a family bed for co-sleeping, which is especially helpful for parents of newborns and tots.
The Materials Alaskan King Beds Are Made Of
Alaskan king mattresses are manufactured using the same high-quality materials as any every mattress you've purchased before. When deciding what type of Alaskan king bed to buy, think about your past comfort preferences as you evaluate your choices.
If your Alaskan king mattress will be an every night bed, it's smart to spend more for the support your body needs. If it's a TV-watching bed for the kids and pets, you can spend less without diminishing the Alaskan king bed experience.
Innerspring. Innerspring (pocketed coil) mattresses offer unsurpassed durability and support. They are the best option for heavier sleepers. Innerspring mattress models offer breathability which can boost airflow if you're a hot sleeper. And if you're a budget shopper, innerspring mattresses offer great value. But keep in mind that innerspring mattresses aren't so good in terms of pressure alleviation. Side sleepers and those with painful pressure points—say at the hips or shoulders—should steer clear of innerspring mattresses.
Foam. Memory foam mattresses are the tops when it comes to evenly distributing a sleeper's weight over the surface of the mattress to relieve pressure. Memory foam mattresses contour to the body—they're the mattress equivalent of a hug. But they do sleep hot, so enhanced gel foam mattresses are worth an upgrade to keep you cool while you're asleep.
Latex. If you love the feel and pressure relief of memory foam but sleep hot, a latex Alaskan king mattress is worth considering. Latex is a natural material—derived from the rubber tree sap—and so it's hypoallergenic and conforms to every sleeping position. Latex mattresses are also impressively durable. But all these pluses come with a big price tag—latex mattresses are the most expensive on the market.
Hybrid. Hybrid mattresses are manufactured with a combination of materials for a balance of feel and performance. Hybrid mattresses usually consist of wrapped or pocketed coils for support and foam or latex layers for comfort. They are usually taller than innerspring, foam or latex mattresses because of the additional layers. In a bigger bed, like an Alaskan king mattress, they may look too oversized.
Where to Buy An Alaskan King Bed
There are many pros to owning an Alaskan King bed. But shopping for a plus size mattress can be challenging.
The Alaskan king mattress is a size not all retailers offer. Because it must be made to order, an Alaskan king mattress is a specialty or custom size mattress.
Unlike standard mattress sizes like queen size, king size or California king size mattresses, Alaskan king mattresses aren't widely available. But even though an Alaskan king size mattress isn't super common, there are still solid options out there when you're ready to buy.
Bedding Retailers. Located coast to coast, big box (chain) mattress stores can be a good source for Alaskan king beds. If you're traveling a distance to visit such a retailer and possibly test out an Alaskan king mattress in store, call ahead to confirm stock.
Online Retailers. Thanks to the rise of specialty online mattress retailers (in addition to Amazon) and compressed, roll-packing technology, you can have an Alaskan king bed shipped straight to your home. But be sure and closely read reviews from experts and fellow shoppers before you hit the "buy" button. And doublecheck whether the Alaskan king size mattress comes with a sleep trial—many don't—and return policy. Also study the warranty. You don't want Alaskan-sized buyer's remorse.
Furniture Stores. Local or national furniture stores—particularly those that offer luxury goods—may have in-stock inventory of Alaskan king beds. Or they may be able to special order an Alaskan king mattress for you.
A Couple More Caveats When Buying an Alaskan King Bed
Once you've made a decision on which Alaskan king mattress to buy, there are a few extra steps that will ease your purchase, delivery and enjoyment of your new extra-large bed.
Roll-packing technology means your Alaskan king bed can literally arrive at your doorstep. If you're ordering from an online retailer, be sure to check the weight of a bed in a box, or else you may be unable to wrangle it into your house. If you're ordering from a brick and mortar retailer, it might make sense—and save your back—to include the cost of white glove delivery.
You'll also want to ensure your home can successfully accommodate the delivery and installation of your Alaskan king mattress. That means clearing the doorway and removing any obstructions—artwork, furniture, pets—from the path to the bedroom or other room where the Alaskan king bed will be placed.
Our Top Picks for Best Alaskan King Bed
Among Alaskan king beds, we most like these well-reviewed models from trusted manufacturers.
Best Value: The Original 11″ by AlaskanKingBeds.com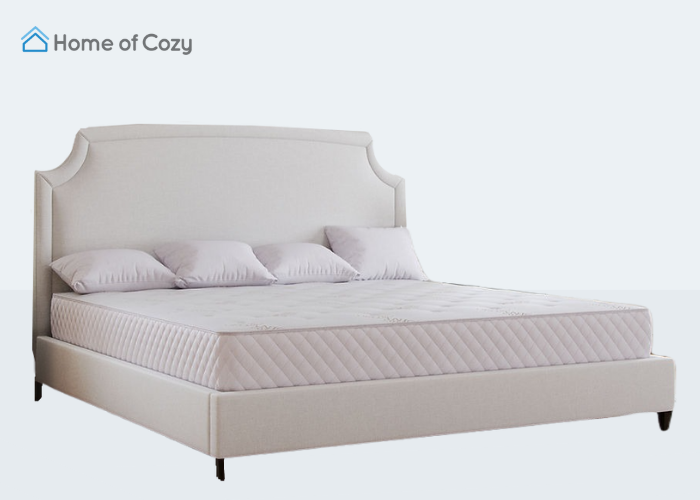 Price: $3,250-3,700
Mattress Type: Foam mattress
Firmness: 7-8/10 on firmness scale
Trial Length: None
Warranty: 10-Year Limited Warranty
What I Loved
The Original 11" Alaskan King Mattress was the first model the company—which also makes Alberta, Vermont and Wyoming giant beds—ever created. This luxe mattress is thoughtfully designed to provide a firm and supportive sleeping surface for sleepers of all shapes and sizes, especially taller or heavier people. Each Original 11" is handcrafted from eco-friendly materials without any harmful chemicals. A 2-inch layer of Hypercool™ material cradles your body and melts away the stress of the day. The exclusive PostureSupport™ base is engineered to prevent sinking and sagging while supporting your whole body. The baby-soft, quilted organic cotton cover adds a perfect finishing touch, maximizing comfort and creating an ultimate sleeping surface.
This model is also available in mini, shorty, shorty L and shorty XL sizes. They have a buy-appointment retail store in Conover, North Carolina and a factory store in Hyde Park, New York, if you wanna roll around on the Original 11." Made to order, the lead time for your Alaskan king mattress is 3-4 weeks.
What I Didn't Love
The Original 11" is chockful of features and claims ranging from improved circulation and superior spinal alignment, but the white glove setup service is extremely pricey at $2,000. Returns are not accepted.
Best Luxury: Big Mattress Premier by Big Mattress Co.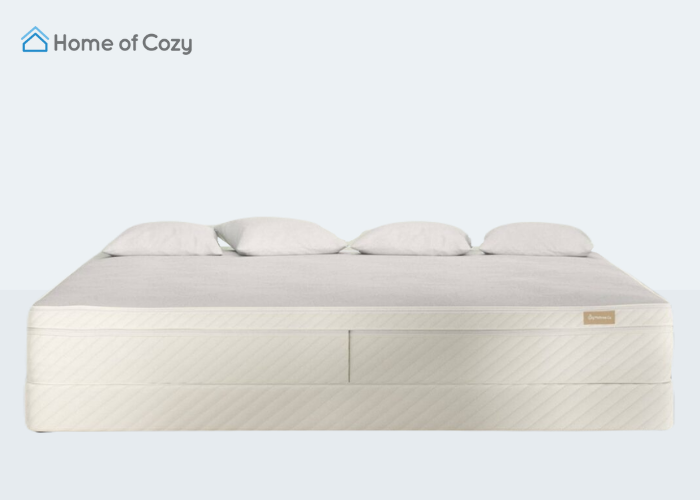 Price: $4,899
Mattress Type: Foam mattress
Firmness: 6/10 on firmness scale
Trial Length: 100 Night Sleep Trial
Warranty: 10-year Warranty
What I Loved
The Big Mattress Premier features 12" of plush, contouring CertiPUR-US foam that reduces motion transfer and provides the unmistakable hugging support and pressure relief you expect from a foam mattress. The breathable, soft cotton cover is comfortable in both cold and hot weather, and removable for washing. That eliminates the need for a mattress protector. Components are replaceable, so you can extend the life of your mattress and keep it out of the landfill. While most companies don't offer trial periods on Alaskan king mattresses, we appreciate the generous sleep trial and free returns should it not work for you. The custom-made Big Mattress Premier ships in 30 days or less from order.
What I Didn't Love
The Big Mattress Premier is not available in multiple firmness options.
Most Customizable: Alaskan King Bed by MattressInsider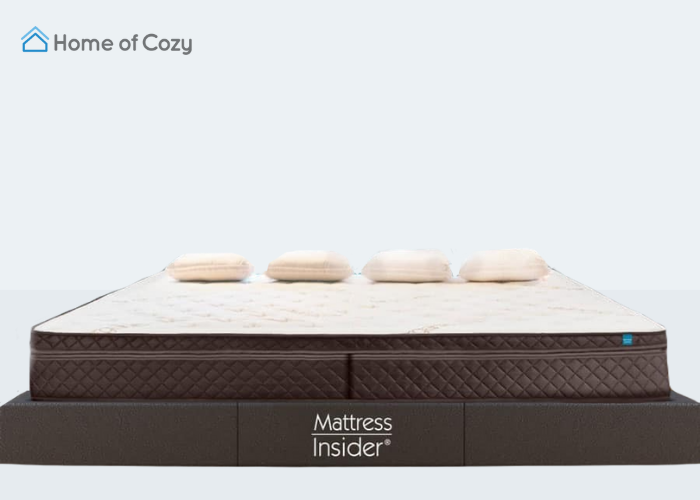 Price: $6,999
Mattress Type: Hybrid mattress
Firmness: Variable, with 6 options from soft to firm
Trial Length: None
Warranty: 10 Year Limited Warranty
What I Loved
Mattress Insider has been making custom and odd-size mattresses in the U.S. since 2008, and has garnered hundreds of five-star customer reviews. The hybrid construction of the Alaskan King includes a support layer of encased, individually pocketed coils and a comfort layer of gel memory foam and Talalay latex for cooler sleep. A soft, organic cotton cover is hypoallergenic and improves breathability and temperature regulation. The Alaskan King by Mattress Insider can support  individuals weighing up to 300 pounds, making it an outstanding choice for heavy sleepers. Foam alone supports less weight and tends to wear out faster, with sagging and impressions over time. A really ingenious feature is the adjustable comfort system. Zippered connectors prevent mattress sections from shifting—great news for restless sleepers—and allow for six different firmness adjustments on two sides—a plus for partnered sleepers. 
What I Didn't Love
Shipping is slow, often taking months. And the Mattress Insider Alaskan king is thick and heavy, so it takes quite a bit of effort to make those comfort adjustments. It's also is at the very top of the price range for Alaskan king beds.
Alaskan King Beds Offer Lots of Room to Sprawl Out
Just like its namesake state, an Alaskan king bed offers room to spare. No wonder there are so many reasons you might want a huge mattress like an Alaskan king.
Massive Alaskan king beds are fantastic for co-sleeping with the whole family. They are an excellent option to accommodate tall people or heavier sleepers. They can be a super comfy crash pad for slumber parties.
Alaskan king beds are also great for partners who want snuggle (or sexy) time as well as solitude. They are also a killer option if you, like me, like to work remotely from your bed/command center with plenty of room to spread out.
Because an oversized bed is such a significant investment over a standard mattress, if you're in the market for a supersized Alaskan king mattress, we suggest you take additional time to do your research. Especially because most Alaskan king beds are not returnable.
We hope you find our Alaskan king bed buyer's guide and reviews make it easier to shop for your Alaskan King mattress.
But if after reading this guide, you've ruled out an Alaskan king bed but you're still on the hunt for a new mattress, check out our roundup of the 10 Best Mattresses for 2023.