Sofas and couches seem to be terms describing the same type of furniture. But while most people say "couch" and "sofa "interchangeably, they're technically not the same thing. With a little research, you'll see that most interior designers see the distinction between a sofa and a couch is whether the furniture has arms.
The main difference between sofas and couches is that sofas have arms and couches do not. Also, while sofas are typically chosen for their design, couches are more frequently chosen for function. Now, let's dig a bit deeper and see how we got two distinct terms for the same piece of furniture.
History of Sofas vs Couches
The word "sofa" comes from the Arabic "suffah," which was defined as a bench adorned with cushions and blankets. It was also referred to as a "settee" in 17th century Europe, which is defined as a long seat with a back and arms. In both instances, the sofa is recognized by its use of arms.
While there are some close similarities between the original and current definitions, we now refer to sofas most commonly as a long, upholstered bench, with a back, two arms and enough room for several people to sit down.
Conversely, the word couch originated from the French word "couche," during the Victorian Era, which is defined as a piece of furniture with no arms or back. It is also a derivative of the french verb, "coucher," which means to lay down.
That means that the closest match to present-day furniture is actually more like a bed. However, the chaise lounge, or "divan" which blends both sitting and laying is also pretty close.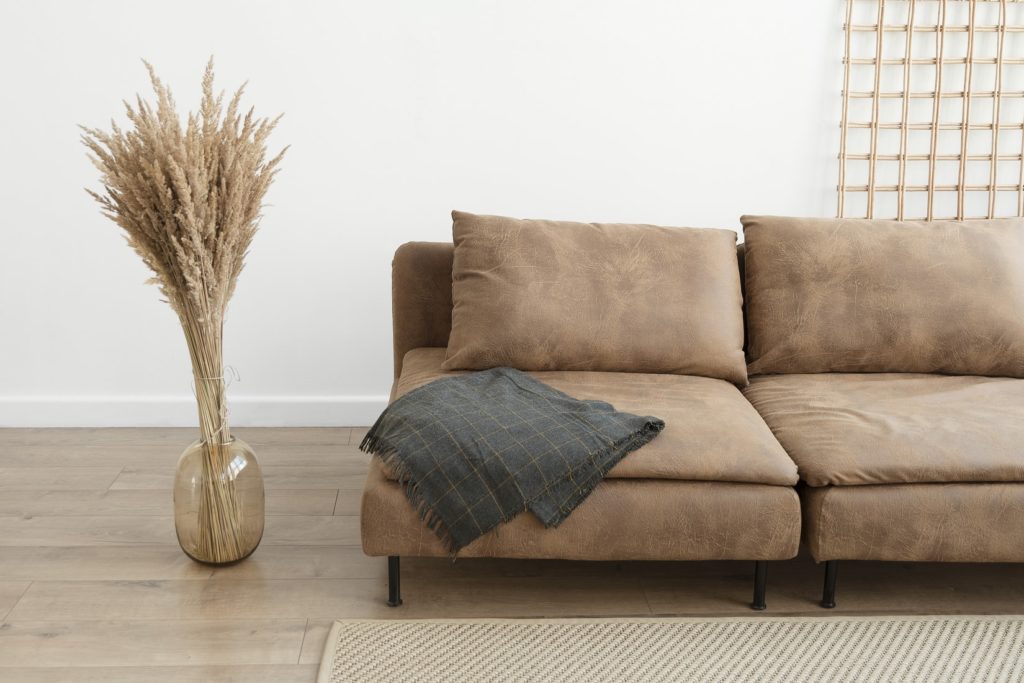 How Sofas and Couches are Used
So now we know that couches were actually intended for lying down, not sitting. Conversely, sofas, while originally more like wooden benches, were intended for sitting, which explains the armrests.
That is, by far, the biggest differentiator between the two terms, considering that we refer to them interchangeably today. This also explains why the most common definition given when you google the word couch states the absence of armrests.
So when did the co-mingling of terms begin?
This happened when companies started designing multi-purpose furniture (i.e. pieces you can both sit and lie down on). Some good examples of multi-purpose sofas include sectional sofas, chaise lounges, sofa beds, and futons. There are also certain types of sofas that stick to the traditional design, such as a loveseat or three-seat sofa.
Seating and Location
So now that we know a little bit more about the evolution of the sofa vs couch debate, let's discuss a bit more how they differ in terms of seating and where they might be placed in one's home.
Today, one of the main differences between a couch and a sofa is seating capacity. Couches are often smaller and designed to fit two to three people maximum while sofas are generally designed to accommodate four or more individuals.
Are Loveseats Sofas or Couches?
What about the loveseat? If you're wondering whether a loveseat is a sofa or a couch given it's smaller size- it's still a sofa, if it has armrests. Loveseats are often used for smaller spaces or as an addition to a similar, larger sofa for your space.
Where do People Place Sofas and Couches?
Due to their size, sofas are most frequently used in larger areas of the house such as the living room furniture or family room Couches however, are often placed in more intimate areas to add a bit of home decor and convenience to the area. This might be a foyer, an office, or as an addition to a large bedroom.
In the most formal sense, sofas are intended for formal entertaining, whereas couches are for more informal, relaxed settings where you might expect someone to lie down.
How are "Sofa" and "Couch" Used Now?
Most furniture industry professionals will use the term sofa unless the piece of furniture is extremely casual. And even for some more casual pieces, the word sofa is still used, like in "reclining sofa" for example.
However, in the modern day home, there is far less pomp and circumstance given to furniture. Most families are searching for multi-functional furniture that can accommodate a range of uses from sitting and lounging to napping. That's why the average consumer will likely use both "sofa" and "couch" interchangeably when describing their living or family room.