Diversity, excellent school systems, and affordable living make Modesto a wonderful place to call home. But what really makes the city stand out is the ease and convenience of finding the perfect mattress. Read on as we explore the best mattress stores in Modesto, offering you tips and advice to make each night's sleep in the city the best it can be.
The Do's & Don'ts to Buying A Mattress in Modesto, CA
The unique advantage of getting a real feel for the mattress you will spend a third of your life on makes in-store shopping the best option for getting quality sleep every night. To make the most of your experience, here are some do's and don'ts to keep in mind:
● DO your research. Mattress retailers vary in their products, so knowing which store carries the quality furniture you want can save you time searching for a new mattress. If you are someone who likes options, it is advised to choose a Modesto store that carries multiple brands rather than mattress stores with variations on only one model.
● DON'T be afraid to ask questions. The hunt for the perfect sleep surface is only successful if you ask questions. The salesperson is there to help and educate you on the differences between mattresses, so don't be shy! Ask about warranties, trial periods, and return policies before purchasing.
● DO lay down on each mattress. The only way to really feel the comfort and support a mattress offers is to lie on it. Take your time and try different positions to ensure that the mattress is comfortable for you. Sleep experts advise spending at least 20 minutes on a mattress to get an accurate feel.
● DON'T be swayed by sales and discounts. Many people make the mistake of buying a mattress based on sales or discounts alone to save money. Remember that you will be using this mattress for years to come, so it is essential to invest in a quality one rather than settle for one because it has a low price. Fortunately, the best mattress stores in Modesto offer a wide range of prices to fit any budget without sacrificing comfort.
● DO consider more than your sleep position. A mattress can be designed to support back, side, or combination sleepers – but that isn't the only factor to consider. You should also consider whether you need cooling features, motion isolation & edge support, firmness preferences on a scale of 1 to 10, and sleep accessories to make your mattress even more comfortable.
Finally, always consider the sleep trial period, as this allows you to test out the mattress in the comfort of your own home risk-free. The longer the period, the more time you have to determine if the mattress is right for you.
The Three Best Mattress Stores in Modesto, CA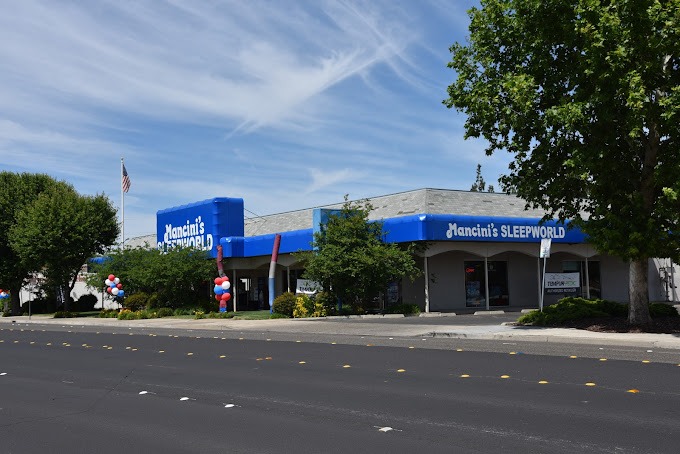 Address: 2828 Sisk Rd. Modesto, CA 95350
Phone Number: 209-524-7700
Trial Length: 120 nights
Store Hours: Mon-Fri 10am-8pm/Sat-Sun 10am-7pm
Why We Picked This Store
Located at the junction of Sisk & W. Rumble Road with easy accessibility by residents in Ripon, Turlock, Del Rio, Ceres, Manteca, and Keys, Manicini's Sleepworld offers Modesto residents the very best in mattresses, adjustable bases, nightstands, dressers, and sofas to transform your bedroom into a true sleep haven.
Our visit to the mattress wholesaler verified the thousands of positive reviews Mancini's Sleepworld Modesto has received from its 100,000+ satisfied customers. Upon entering, our testers were greeted by friendly and knowledgeable staff who guided us through the extensive showroom of innerspring, hybrid, and memory foam mattress options, answering all of our questions – without any hard sell or pressure to buy.
We tested everything in their extensive collection of the best mattress brands, including Serta, Aireloom, KingCoil, and Tempur-Pedic. With each test, the knowledgeable staff was right by our side, asking us detailed questions to help us consider whether we were getting the right combination of firmness, lumbar support, and temperature control.
Additionally, in-store deals, financing, and warranty information were well explained, and we were given the choice to buy right away or enjoy their free delivery options. Overall, Manicini's Sleepworld is the perfect choice for Modesto area residents who don't want to risk a good night's sleep on anything less than the best.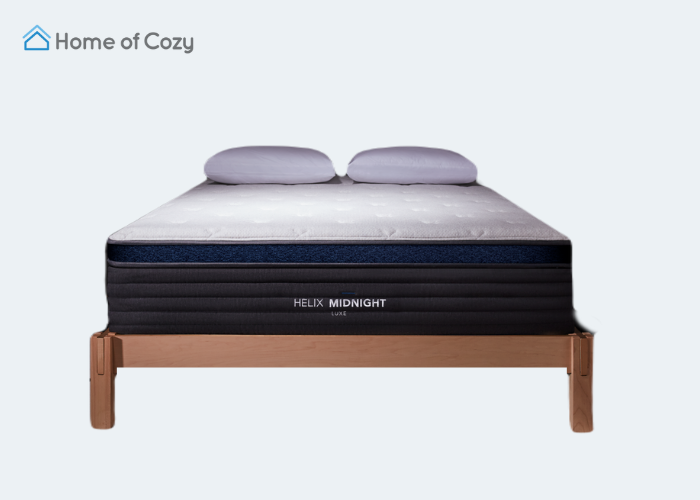 What We Loved
The Helix Midnight Luxe surpasses similar hybrid mattress options thanks to its unique design, an extensive support coil system, copper cooling foams, a lush pillow top, and multiple layers to reduce motion and enhance comfort.
Additionally, with its medium firm rating, this award-winning mattress is ideal for side sleepers, the most common position for the majority of adults. And with optional cushioning and cooling add-ons to provide even more lumbar support, back sleepers can also benefit from a great night's rest without that sinking feeling that exacerbates chronic back pain.
What We Didn't Love
Ideally, the Helix Midnight Luxe should sit on a flat, solid surface with no box spring, so you might have to upgrade your current setup to ensure all the sleep benefits of this luxury brand. That said, Mancini's Sleep World offers a wide selection of compatible (and affordable) bed frames that can be purchased in-store, making it easy to complete your sleep sanctuary in one go.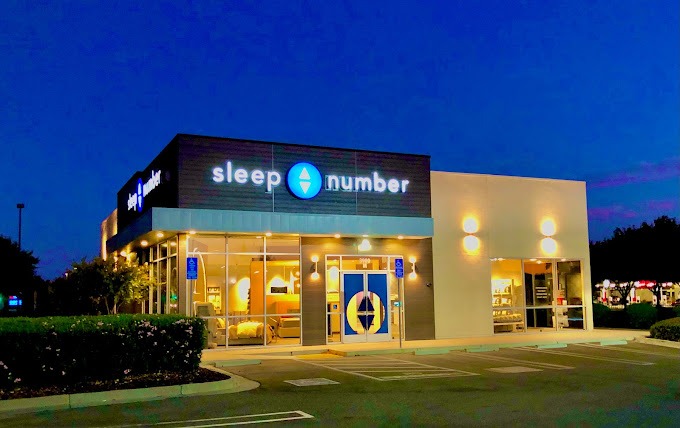 Address: 3900 Sisk Rd. Suite M Modesto, CA 95356
Phone Number: (209) 572-3736
Trial Length: 100 nights
Store Hours: 11am-8pm, 7 days a week
Why We Picked This Store
When pain and discomfort disrupt your sleep, The Sleep Number in Modesto is the perfect place to find relief. This Sisk Road location is their only store in the area and is conveniently located for residents of Manteca, Empire, Del Rio, Escalon, and more. Because they are open seven days a week, finding the perfect mattress has never been easier – no matter your schedule.
We found the unique pressure mapping only available in Sleep Number retail locations to be a huge benefit compared to shopping online. Not only did the experience feel more personalized, but it also gave us detailed insight into what supports our sleep needs by highlighting the causes and solutions of common sleep problems like snoring, back pain, or hot flashes.
The knowledgeable staff was more than patient as we tried each level of their adjustable smart bed air mattresses, and they were always ready to answer our questions and offer recommendations based on the data from our pressure mapping and real-time experience.
Best of all, in-store shopping comes with plenty of deals, great financing plans, and free delivery options that meant we could take our mattress, bedframe, and headboard home the same day – without breaking the bank to do it.
Overall, shopping for a new Sleep Number mattress with patented SleepIQ technology was fun and educational, but the real cherry on top was the incredible selection of bedding, pillows, mattress protectors, and bedroom furniture accessories that allowed us to customize our perfect sleep experience in just one stop.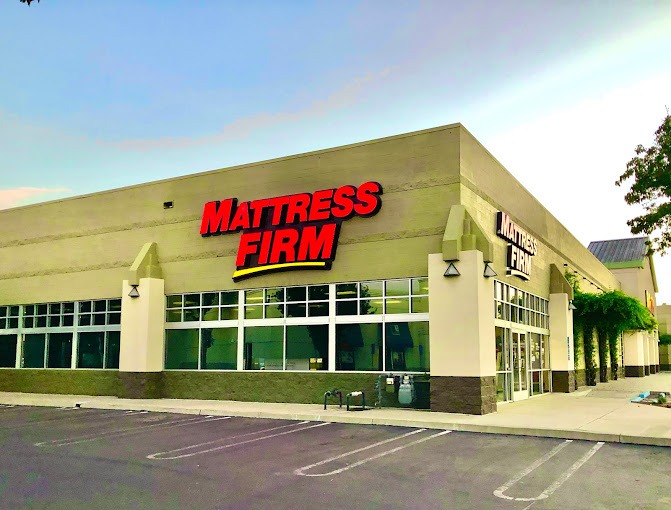 Address: 3900 Sisk Road Suite C2 Modesto, CA 95356
Phone Number: (209) 543-1300
Trial Length: 120 nights
Store Hours: Mon-Sat 10am-8pm/Sun 10am-6pm
Why We Picked This Store
Mattress Firm is an excellent choice for enhancing sleep quality without sacrificing comfort for cost. The Sisk Road location is ideal for many Modesto residents, but its multiple locations in the north, south, and east parts of the city make it even more convenient for those who don't have the time to travel far for mattress purchases.
The bedroom furniture showroom regularly carries 17 of the best mattress brands, including BeautyRest, Serta, Sealy, Stearns & Foster, and Tempur-Pedic. Yet, with all the options available, we never once felt overwhelmed in the showroom, thanks to the knowledgeable staff and store manager who were always available to answer our questions and help us narrow down the best options based on our sleep needs.
What makes Mattress Firm unique across all its locations in Modesto and beyond is the unique sleep-enhancing accessories on sale. From sleep trackers to robots for more relaxed breathing to massages that melt away tension and promote better blood circulation, Mattress Firm is a one-stop shop for keeping your sleep cycles on track.
And it isn't just beds for adults that qualify for great pricing, financing, and free delivery – it's also kids and pets too. From crib mattresses to cozy pet beds, Mattress Firm covers your entire family's sleep needs for a more well-rested home.
Get The Perfect Night's Rest With Modesto Mattress Stores
A visit to the best mattress stores in Modesto, California, ensures your sleep needs are met with the utmost care and attention to detail. With in-store testing, professional advice, and an array of brands and sleep accessories, you can't go wrong with any of their high-quality mattresses or bedroom furniture.
No time to research the best mattress for your money before you visit a Modesto bedroom furniture store? Check out Home of Cozy's expert mattress reviews to expedite the shopping experience so you can start sleeping better, sooner.