We all know that a mattress purchase is a big-ticket item that has a big impact on your quality of life. Every time I visit a friend or relative or sleep in a hotel, I literally feel the difference a high-quality mattress can make to my rest. But too often, comparing and selecting a mattress is itself overwhelming, confusing, and intimidating. I know I've actually lost sleep over buying a mattress, which is pretty ironic!
Helix Sleep recognizes and caters to individual sleep-related challenges and differences. Helix doesn't think you should settle, that's why they offer a wide variety of high-quality mattresses in varying firmness levels so you can get the sleep you need. It's why Helix has become such a popular online mattress company since its launch in 2015.
If you've narrowed down your choice between the standard Helix Midnight and the upgraded Midnight Luxe mattress, congratulations on getting this far in your research! But if you aren't quite sure whether the original Midnight or Midnight Luxe is right for you, keep reading. This comparison guide will lay out the key differences and similarities in every category. Both have earned glowing mattress reviews. We'll highlight the key differences between these two luxe mattress models, and answer some frequently asked questions to help you choose wisely. To learn more about other Helix models, read Helix Mattress reviews.
Quick Look at Helix Midnight vs. Midnight Luxe
Both the Helix Midnight and Midnight Luxe are luxe hybrid mattresses—a combination of traditional coils and memory foam—that have been carefully engineered to offer excellent support. Either mattress delivers a comfortable and restorative sleep for a variety of body types night after night, month after month, and year after year.
The Midnight is the brand's most popular mattress. The responsiveness is supportive and medium-firm. The upgraded Midnight Luxe offers more premium features, advanced technology, and is higher priced. We'll drill down on all the differences between the Midnight and the Midnight Luxe mattresses further in this guide, but at a glance, here's how they compare:
Helix Midnight
Helix Midnight Luxe
Price Range:
$849-$1,549
$1,199-$2,499
Firmness:
Medium, 6/10
Medium, 5.5/10
Sizes Available:
Twin, Twin XL, Full, Queen, King, CA King
Twin, Twin XL, Full, Queen, King, CA King

Standout Features:
Memory Plus foam provides medium-feel and pressure relief

Invidually wrapped coils to limit motion transfer

Breathable Soft touch cover
Additional comfort and support foam layers

Targeted zones for extra lumbar support

Choice of TENCEL cover or upgrade to GlacioTex cooling cover

Who It's Best For:
Side sleepers who prefer a medium mattress

Individuals with hip or shoulder pain who need additional pressure relief

Side, back or combination sleepers who prefer a medium mattress

Couples who want to limit motion transfer

Those who want extra support & premium upgrades

Sleep Trial & Warranty
100-night sleep trial
10-year warranty
100-night sleep trial
15-year limited warranty
---
Helix Midnight vs. Midnight Luxe: What's the Differences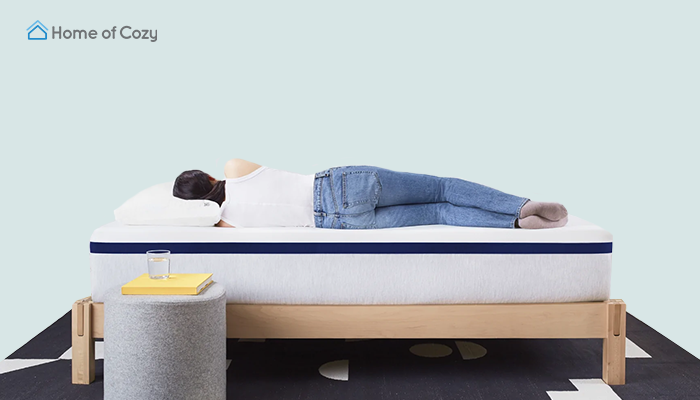 The Helix Midnight is an excellent choice for many customers—that's why it's the company's top seller.
I'm a bit like the title character in the children's fairy tale the Princess and the Pea—a highly sensitive sleeper. Even the tiniest of disturbances can cost me a good night's sleep. The Helix Midnight Luxe, with its advanced sleep technology and upgrades that offer luxurious and plush comfort, have that something extra that I want in my mattress.
Let's take a closer look at the specific build and feel differences between the two mattresses.
Pressure Relief
This is a biggie, perhaps the single most important factor most people consider when choosing a new mattress.
The Helix Midnight, the company's original and perennial best-seller, provides excellent pressure relief for tender points around the shoulders, hips, and lower back. At 5.5 on a 10- firmness scale, the Helix Midnight is soft enough to cushion the body's "hot spots," but firm enough to prevent that "stuck" feeling that restricts comfortable movement. It's a good balance for sleepers who suffer from aches and pains during the night.
The Helix Midnight Luxe is great for side sleepers who need pressure point relief at the hips and shoulders, or those like me who toss and turn at night (my bedsheets often look like I did battle during the night!) With a firmness pegged at 6.5, the Midnight Luxe is also good for couples who have sleep feel differences.
Motion Transfer
Motion transfer refers to how much your partner's movements have on your side of the bed. Let's face it, you don't want to feel it or wake up every time your cuddle buddy changes sleep position or heads to the bathroom.
As a medium-firm mattress, the standard Helix Midnight provides solid motion isolation, especially by hybrid standards. The top layer of memory foam absorbs and dissipates most movement. Unless you're jumping on the bed, one partner's movements have minimal impact on the other side of the bed.
The upgraded Helix Midnight Luxe has superior motion transfer for uninterrupted sleep. That's a necessity if you're a light sleeper like me.
Edge Support
The Helix Midnight offers length-side (head and foot) edge support for structural reinforcement. This 2-sided edge support performs very well when lying down. There's no noticeable sinking or sloping around the edges. But when you sit on the side edge of the bed, say to put on socks or shoes, you'll experience some sinking.
Personally, I don't like that feeling of sliding off the mattress, so I'd opt for the Midnight Luxe. Its 4-sided, all perimeter coiled edge support delivers complete structural stability. It's a premium feature that comes standard on the Helix Midnight Luxe mattress.
Mattress Construction
The Helix Midnight is the company's top seller because its design combines contouring and cushioningthat hit the right balance for most sleepers with 4 supportive layers, including foam. layers. The Midnight's top layer is Memory Plus Foam. A thin layer of high-grade polyfoam provides support between the memory foam comfort layer and the coil core. Overall, this mattress has the plush feel of a memory foam but without deep sinking.
The Helix Midnight Luxe has enhanced pressure-relieving comfort layers for targeted ergonomic support. Specifically, the advanced Zoned Lumbar Support system features individually wrapped pocketed coils that cradle your shoulders with a softer feel, while the coils beneath your hips have a firmer feel to align your spine.
Layer Differences
The Helix Midnight comes in at 11.5" in height and features 4 carefully selected foam comfort layers to match your sleep needs and preferences.
The Helix Midnight Luxe measures 2" taller than the Helix Midnight, so it's 13.5" tall, and features six layers and high-density foams to provide durability, comfort, and support. It also features a springy Gel Visco layer for pressure relief, in addition to the Memory Plus Foam, Helix Dynamic Foam transition layer, and high-grade Polyfoam support layer.
The Midnight Luxe has a balanced feel with a little bit of give on top. If you like the feel of a plush, hotel-like quilted pillow top, select the Helix Midnight Luxe, the only Midnight model that offers this topper upgrade.
Coil Comparison
The original Helix Midnight Mattress features up to 950 individually wrapped 8" steel coils throughout the entire mattress. The coils offer edge support, but not quite as premium as the Helix Midnight Luxe, which has up to 1,500 individually wrapped 8″ steel coils.
Cooling Features
I also sleep hotter than ever these days—aging? Climate change? stress? all of the above?—so a mattress that can literally help me keep my cool is a winner in my book.
The Helix Midnight allows you to choose from two hypoallergenic covers: the breathable Soft Touch knitted cover for exceptional airflow, breathability, and comfort, or the silky, cutting-edge GlacioTex Cooling Cover, that pulls heat away from your body.
The Helix Midnight Luxe also features two premium, hypoallergenic cover options: the TENCEL™ cover or the cutting-edge GlacioTex Cooling Cover upgrade. GlacioTex technology wicks heat away from your body as you sleep, just like a high-performance shirt does. And it feels cool to the touch, which for hot sleepers, is well worth the extra money.
Which Should You Choose
You really can't go wrong with either the Helix Midnight or the Luxe version because both offer outstanding value-for-features, free shipping, a generous sleep trial period, a lengthy warranty, and a no-risk return policy.
The Helix Midnight is the company's best-selling mattress, and has won accolades from Forbes, Sleep Foundation, and Tom's Guide.
The Helix Midnight Luxe is the company's most awarded mattress, and is the company's top-selling premium mattress. The Midnight Luxe has nabbed rave reviews from such varied publications as Allure, Apartment Therapy, Business Insider, CNET, GQ Home, The Wall Street Journal, and Wired.
So let's recap which of the two Helix Midnight mattresses may be a better fit for you:
Choose Midnight If…
You're a side sleeper
You're looking for a solid balance of comfort and support
You like a mattress that's medium in firmness
Upgrades are less important to you
You're looking for a more affordable option
Choose Midnight Luxe If…
You're a side, back or combination sleeper
You want a mattress that sleeps cooler
You need greater lumbar support
You want the plusher feel of a pillow-top mattress
You want superior edge support
You're willing to spend a bit more for an upgraded sleep experience
Helix Sleep Company Policies
A mattress is a major investment and you want to feel confident about your choice—after all, you'll live with it for about a decade. No one wants to feel their new mattress is "just okay" or "good enough."
All new mattresses have a break-in period. That's especially true if you've been sleeping on an older mattress for a long time. Helix gives you up to 100 nights to try out your Midnight mattress in your own home to be sure it's right for you. By giving yourself at least 30 days, you'll allow your body to fully adjust to your new bed and the best sleep ever.
If it's not a match, simply contact Helix during the 100-day trial—in other words, days 31-100—to start your free, easy return. A Helix sleep specialist will walk you through the return process, arrange for mattress pickup at no cost to you, and you'll receive a full refund once it's complete.
Every Helix mattress comes with a comprehensive warranty so you can rest easy with the peace of mind you deserve on such an important purchase. The Helix Midnight mattress features a 10-year warranty, while the upgraded Helix Midnight Luxe carries a 15-year warranty. Manufacturer flaws or defects in the design are covered, as is any abnormal sagging from daily use. The warranty on either is prorated to coincide with the natural wear of the mattress.
Regardless of which you opt for, both the Helix Midnight and the Helix Midnight Luxe mattresses come with the same outstanding customer service to back them up.
Helix Midnight and Midnight Luxe FAQs
I've done a lot of research already. Is there anything else I should do prior to making a decision between the Helix Midnight and the Midnight Luxe?
If you need added guidance and you haven't already taken it, Helix offers a helpful sleep quiz that quickly analyzes your sleep needs and preferences, confirming the best mattress for you. You can do exhaustive online research, but the ultimate test of whether a bed-in-a-box is a good match for you, is to actually sleep on it at home for a month.
I struggle with back pain. Is the Midnight Luxe a better long-term choice?
It might be. Because the Helix Midnight Luxe has a layer of individually-wrapped zoned coils, it makes the center of the mattress feel firmer. This design helps support the lower back, which boosts spinal alignment to minimize back pain.
Is the Helix Midnight Luxe worth the extra money?
If you are a larger person, a hot sleeper, or want a mattress that will last longer, the Helix Midnight Luxe mattress is worth serious consideration. Amortized over the life of your mattress, the benefits are likely to outweigh the negligible cost difference.
Why does the Midnight Luxe have a longer warranty?
The Luxe carries a longer warranty—15 years versus 10 for the original Midnight model—due to the increased durability of materials, especially the foam layers.
How Long Will a Helix Mattress Last?
High-quality hybrid mattresses generally last 7–10 years. Over time, the internal support system weakens and wear and tear occurs on the surface. A mattress that's well-cared for may be useful for 10 years or longer. Quality tends to decline gradually, so the decision when to replace a mattress is a matter of personal preference. Helix doesn't specify an expected lifetime for their mattresses, but all Helix mattresses come with either a 10-year or 15-year warranty.
How does the Helix Midnight and Midnight Luxe compare to other mattress models?
The Helix Dusk and Dusk Luxe are most similar to the Midnight models, but with a more medium firm feel to support back and stomach combination sleepers. Side sleepers may prefer the Helix Sunset or Helix Moonlight, two of Helix's softer models. Stomach sleepers should check the Helix Dawn, which is Helix's firmest model.