Article Sofas Price, Durability, Delivery, Pros and Cons
Article launched in 2013 with a mission of making stylish furniture that is durable and competitively priced. Article uses no retailers or resellers, and works closely with their manufacturer to allow for a strong focus on quality assurance and attention to detail.
In addition, Article's goal is to get your orders to you quickly and has narrowed the time from order to delivery down to two weeks. However, often times, customers receive their orders sooner than that. To date, they've delivered furniture to more than a quarter of a million homes and businesses in North America.
Article is staffed by engineers, journalists, painters, weight lifters, slack-liners, mountain bikers, chefs, reiki masters, and more. Their diversity is second only to their desire to make the furniture buying process easy and delightful. Article's culture is rooted in five core values: be good, be direct, be better, be adventurous, be genuine.
Pros and Cons of Ordering/Buying from Article
Pros
Fast shipping
Free basic shipping on orders $999+
1-year warranty
Many size, fabric and color options
30-day money back guarantee
Cons
In-home delivery/setup costs $169
Much shorter trial period
No lifetime warranty
No showrooms
Returns cost $49 for shipping
May incur a $50 repackaging fee
How much are sofas/couches from Article?
Overall, the price for a sofa ranges from $600 to $5000 so various price points are represented and customers with a wide range of budgets can find a sofa at Article. On the lower end of the price range is your basic three seat sofas or loveseats. On the higher end are oversized sectionals and leather, luxury sofas.
Article offers a variety of different couch types including sofas, sectionals, sleeper sofas, loveseats, chaises, and daybeds. In addition, they offer a full line of household furnishings.
What is the most popular sofa or couch from Article?
Sven Sofa
Price: Starts at $1299
Sofa Dimensions: 34"H x 88"W x 38"D
Weight: 126 lbs
Seat Height: 19"
Seat Depth: 24"
Arm Height: 27"
Exterior Options: Fabric, Leather, or Velvet
Available Fabric Colors: Aqua Tweed, Birch Ivory, Briar Gray
Available Leather Colors: Charme Chocolat, Charme Tan, Oxford Black, Oxford Blue, Oxford Gray
Available Velvet Colors: Cascadia Blue, Grass Green, Pacific Blue, Shadow Gray, Yarrow Gold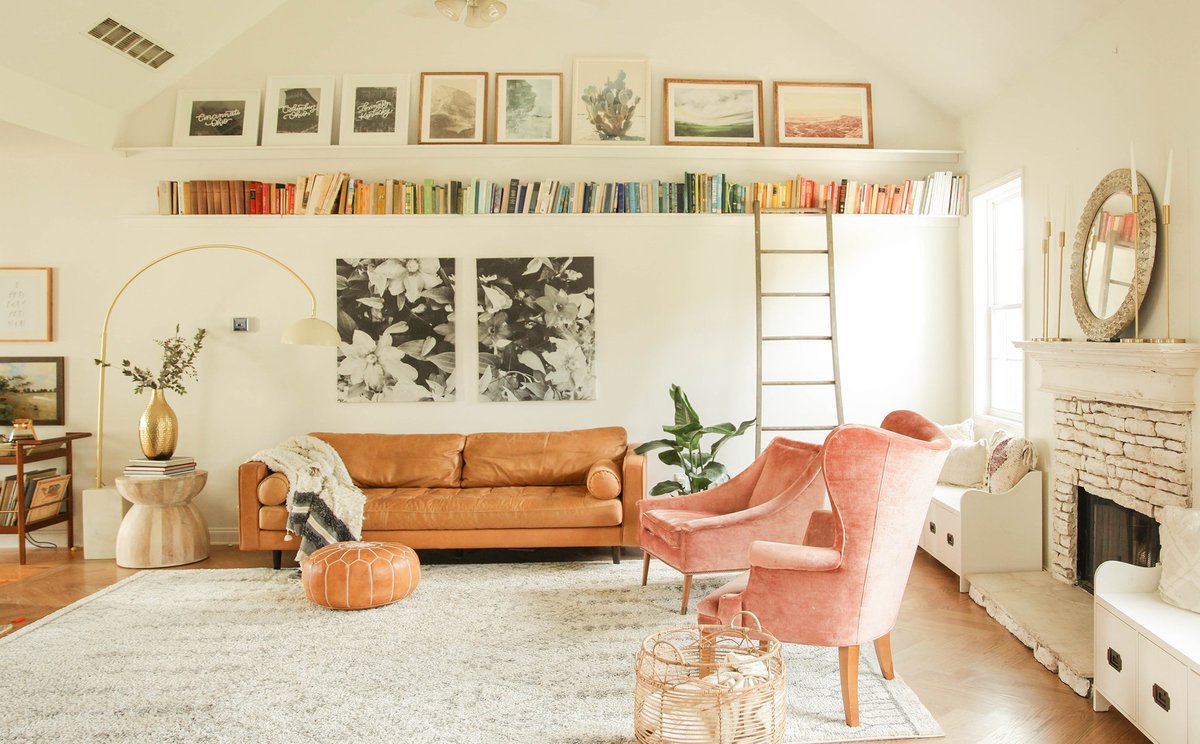 If thrones came in couch form, this would be it. The Sven Sofa is a Mid-Century modern style sofa that comes with plush back cushions for your regal lounging pleasure. On the inside, is a solid wooden block frame to support you and your loved ones for years to come. In addition, this sofa is customizable in a variety of different fabric or leather options, various colors to choose from, and you can choose from variations of this couch: 2.5 seater, 3 seater, and sectional.
Features:
Sturdy corner blocked wooden frame
High density foam with polyester filling
Fabric, Leather, or Velvet upholstery
Pirelli webbing
Loose seat and back cushions
Loose bolsters included
Simple assembly required (approximately 5 minutes)
Care Instructions:
Fabric is dry clean only.
Fluff cushions regularly to help maintain shape.
Keep out of direct sunlight, prolonged exposure will cause fabric to fade.
How long does it take for Article to deliver sofas?
Article sofas can take up to 2 weeks to ship but may arrive sooner depending on how close you are to a fulfillment warehouse. Unlike other companies that just drop your sofa off at the curb, Article offers you the option of white glove delivery service which includes the delivery, unpackaging of your item and bringing it inside to stage where you like.
Basic shipping without setup on orders over $999 is free, however, you also have the following options to choose from.
Basic Shipping: $49 (for orders under $999). With this option, your Article order is delivered to the front door of your building/home.
In-Room Shipping: $99. With this option, your Article order is delivered in doors to the room of your choice.
In-Room Assembly Shipping: $169. With this option, your Article order is delivered in doors, to the room of your choice and fully assembled.
How long do Article sofas typically last?
Article sofas, if used reasonably, can last many years, perhaps with minor blemishes over time. Given that Article works directly with their manufacturer and does not rely on any middlemen, they are able to ensure that each piece is made to high quality standards. So you can reasonably assume these items will last longer than furniture outsourced and made on assembly lines. In addition, Article offers a one year warranty on their furniture.
Article Policies
Article offers a 30-day return policy at a rate of $49, but it must be returned in the original packaging or you will incur an additional $50 repackaging fee. In addition, the item must be in like new condition with no signs of wear and tear.
Article also offers free exchanges, so you can exchange your couch if the color, style, or comfort isn't to your liking. However, this can only be done once.
Article offers a one year warranty for defects in materials or the construction of the item, effective from the date of delivery.
Trial/Returns: 30 days (fees included)
Financing: Financing available at checkout
Warranty: 1 year
Where It's Made: Vietnam, China, Indonesia, and India
Real Article Customer Reviews
We enjoyed reviewing Article and think this brand is a great choice for shoppers who are:
Those looking for quality crafted furniture and in-home delivery service so you don't have to worry about unpackaging or setup.
Those who don't mind paying for shipping and are comfortable with the 30 day return window.
Those who don't plan to put heavy wear on the sofa as it only comes with a limited one year warranty.
Those who don't mind shopping online as Article does not have showrooms to visit.
Positive Experiences:
"Very high quality, as I have come to expect from Article furniture. It is firm, but I expected that and like that. The fabric is durable but comfortable. I love the blue color."
"Very nice, firm enough to be good for you, soft enough to be relaxing. A fair deal for the buyer with good price, good quality, good design."
Negative Experiences:
"The couch was delivered quickly by very friendly moving guys. Set up was easy and it's incredibly comfortable. The images online make the couch seem a bit more green than it actually is – this is a truly deep blue couch. I've decided to keep it because overall it still looks and feels great, but wish the photos were a bit more true to color online."
"The color, design, and size of this couch is exactly what I wanted. The only downside is in reading a ton of reviews I thought the couch would be a little more cushiony than it is. I think this design and the newness lends towards stiffer cushions, but it's fairly firm. I am hoping it breaks in a bit. I mostly keep a cover over it because of my dogs, but not on the side arm cushions. I just washed them for the first time and they look great. Very pleased with the purchase."