Allform Price, Durability, Delivery, Pros and Cons
Allform is a furniture brand focused on creating high-quality modular sofas, loveseats, and sectionals. Launched in the Spring of 2020, Allform furniture is designed by the same team behind Helix Sleep, one of the most innovative mattress-in-a-box companies out there. Currently, your best bet for getting an Allform sofa is by shopping their website. Alternatively, you can visit their showroom in New York City.
Allform features a range of customizable armchairs, loveseats, three-seater sofas, and corner sectionals. Prices start at around $695 for modular armchairs and top out at around $6,500 for sectional sofas that can seat up to 8 adults. Prices also vary based on the type of seating configuration you start with, upholstery options (performance fabric or top-grain leather), and add-ons such as matching ottomans and weighted blankets.
It may be a relatively new furniture company, but their singular focus on high-quality, modular, mid-century furniture enables Allform to prioritize great customer experiences and long-term durability.
Our Video Review for Allform
Allform Pros & Cons
Pros
100-day trial/return window
Fast, free delivery
Forever warranty
Made in the USA
Financing available
Cons
Limited showroom locations
Smaller selection than some more established brands
Higher price point than some value brands
How much do sofas and couches from Allform cost?
Allform loveseats, sofas and sectionals generally cost $1,145 to $6,500. While they're not the cheapest sofas on the market, I can say from personal experience that they're some of the most high-quality and intuitively-designed sofas I've sat on. They're crafted here in the USA using incredibly durable materials, starting with kiln-dried solid hardwood frames and finished in upholstery that feels on par with a new sofa you'd find at a high-end retailer such as Pottery Barn.
The key differentiator here is that Allform sofas are incredibly versatile and can be configured any way your living room is laid out. Plus, every model features a wide range of customization options.
What is the most popular sofa or couch from Allform?
3-Seat Sofa with Chaise
Price: Starts at $1,895
Overall Dimensions: 90" width x 34" height. Chaise depth: 61″. Arm depth: 38″
Arm Depth: 38"
Arm Height: 25"
Leg Height: 6"
Available Upholstery Options:

Performance Fabric: Light Grey, Sand, Dark Blue, Charcoal, Teal, Amber, Red
Top-Grain Leather: Whiskey, Dark Smoke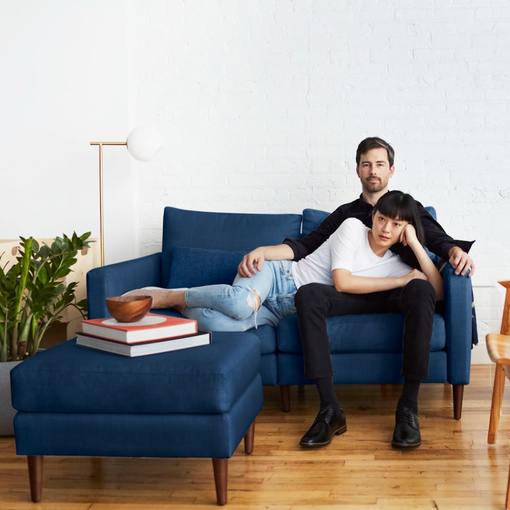 Allform Sofa Features at a Glance:
Performance fabric and top-grain protected leather
High-grade polyfoam & fiber cushions
Maple and poplar kiln-dried laminated hardwood frame
Tempered steel Flexolator grid system
Loose seat cushions are removable
Ships in boxes. Assembly is simple, fast and requires no tools.
Sofa customization options
The three-seater with a chaise lounge is by far Allform's most popular sofa. It's a contemporary take on the classic three-seater sofa but with a fine-tuned attention to timeless style and durable materials. What I love about shopping for this and the rest of Allform's furniture is the easy customization flow you go through on the product page. Simply choose from one of their performance fabric and top-grain leather upholsteries. Then, choose a leg finish: natural (lightest), walnut (medium tone), or espresso (darkest). Then, you can choose custom add-ons like square throw pillows or rectangle-shaped lumbar pillows, weighted blankets, and a matching armchair starting from $695.
Sofa materials
Diving deeper into their materials, I love how their performance fabrics are heavy-duty upholsteries that are scratch free, pill, and stain-resistant, making them some of the most robust cat and dog-friendly sofa fabrics I've tested so far. And as a company that's constantly thinking of the future, Allform's kiln-dried laminated hardwood frames are sourced from Sustainable Forest Initiative-certified vendors.
Allform sofa assembly
Allform sofa modules arrive in separate, labeled packages. However, they use a patent-pending latching system that helps modules basically snap together once you unpack and assemble each seating component. All in all, a three-seater with a chaise generally takes about 30 minutes to fully assemble.
How long does it take for Allform to deliver sofas?
Judging from past orders and Home of Cozy reviews, most Allform sofas get delivered within 5 to 10 business days.
How long do Allform sofas typically last?
A durable, well-made sofa generally lasts 7-15 years according to The Spruce. Since Allform uses such high-quality, durable materials in its construction and design, it's reasonable to assume that a typical Allform sofa will last up to 15 years or more if it's regularly cleaned and maintained.
Allform Return and Warranty Policies
Trial & Returns: 100 day trial period
Financing: Financing available
Frame Warranty: Lifetime
Where It's Made: USA
Returning an Allform Sofa
In my opinion, Allform has one of the most return policies in the furniture industry. Customers get 100 days to try out an Allform sofa at home. If you're not completely sold on it and want to return a sofa, you can return it for a refund of the full purchase price. So, the return process is completely free for you.
Sofa Frame Warranty
All Allform sofa frames are covered by a lifetime warranty.
Real Allform Customer Reviews
I went through over 334 reviews on the Allform website. Of these real customer reviews, the average rating was 4.5 stars out of 5. Overall, I found that Allform's sofas resonated most with shoppers:
seeking high-quality furniture made in the USA.
who enjoy shopping for furniture online.
are willing to invest more for a sofa that will last them a long time.
Here are some positive reviews from verified Allform customers
"Totally love our new 3 seat sofa and love seat and ottoman from All form! The design is sleek and stylish and the teal color is amazing. The sofa is more comfortable than it looks considering it is not an oversized, overstuffed type of sofa. Family stretches out often to watch TV or hang out. I am sooo happy the cat has only made one or two randomRead more about Totally love our new 3 seat sofa and attempts to touch it and didn't leave a mark. It seems indestructible. This is one of the main reasons I chose All form over similar, less expensive, online sofas out there. I have not heard of any pilling or sagging with this fabric when I read reviews and after 6 weeks I haven't seen any either. My only desires would be to have a bit thicker arm rests but we use pillows when we lay down on them. Also wish fabric sleeves came with the sofas to protect the arms but I don't think sofas come with them anymore…since design is very slim lined and sleek. The assembly was done almost completely by my 15 hear old son. He only had issues attaching one side's arm on both sofas and needed my husband's help for that. Was a bit tricky to align the holes and hardware for that area for some reason. All in all so far we are very happy with our purchase…..and it was made and delivered in three weeks and arrived in time for our family reunion graduation party!! woohoo!"
"I liked what I heard about the American company and the construction of the furniture. Their return policy was so reassuring so I gave it a try. The couch came quicker than any department store could promise. My husband had it set up in the time it took me to cook some dinner. He was impressed by the sturdiness & the connecting hardware. It loRead more about I liked what I heard about the
oks great! Color was perfect. Material feels sturdy yet cozy. Spills wipe away easily. My 6' husband can comfortably sleep on it. My 4yo can use it as a trampoline and I hear it holds up to that so we'll see. So far so good. It has a nice, deep cushion depth that can accommodate sitting upright or curling up. The back cushions are proper as well. I really feel like after weeks of online research and visiting furniture stores I made the right choice. I'm relieved. And satisfied"
Here are some real negative reviews from verified Allform customers
"Easy to set up. Not the most comfortable sofa since the cushions are a bit stiff, but I think those will soften over time."
"not a fan of assembling a sofa. easier than IKEA, though"
"I like my loveseat a lot. But I wish it came in a few other prints or fabric options."