Looking for a new couch can be complicated if you're a pet owner. Cats, in particular, make it difficult, because they leave claw marks and hair all over your furniture – and sometimes mark their territory inside the house. You don't want to spend thousands of dollars on a new sofa, just for it to be ruined in the same way as your old one, so we thought we'd help you out by recommending the five best pet-friendly couches for cat owners we could find. While it's unlikely that any of these are 100% cat-proof, if you choose upholstery and cushions in a durable and easy-to-clean fabric, they should stay looking new for longer.
To put together this guide, I did a lot of research into online furniture and home accessories brands, including Allform, Wayfair, and Joybird, paying close attention to real consumer reviews and trying a bunch out on my own. I narrowed down my top 5 using the following criteria:
Durability – We wanted to make sure these couches were built to last. Fabric quality and durability were huge factors in deciding our recommendations.
Comfort – No one wants an uncomfortable couch. These are all cozy for people and felines alike.
Design – Sizing, layout, and optionality were huge for our evaluation.
Brand Values – We give a slight nod to retailers with brand values that align with customer and quality over profits.
Sustainability – Couches that are sustainably produced is a big win for animal lovers, so we took this into consideration as well.
Then, just to be doubly sure I'd made the right choices, I tested all these couches out myself to tell you definitively, what the best couches cat owners can buy in 2023 really are.
The Best Overall Sofas of 2023
To help you find the best deep seat sofa, I tested individual models from over 23 different brands. These are the best new sofas with extra deep seats that balance the best in design, price, sustainability, and durability.
The 5 Best Couches for Cat Owners in 2023
1. Allform Modular Sofa
Home of Cozy Exclusive Offer: 20% off sitewide with promo code COZY20OFF
For the 3-Seat Modular Sofa:
Price: from $1595
Dimensions: 90" width x 38" depth x 34" height
Arm Height: 25"
Leg Height: 6"
Frame Materials: Maple and Polar Kiln-Dried Laminated Hardwood
Upholstery fabric: Performance Fabric / Top-Grain Protected Leather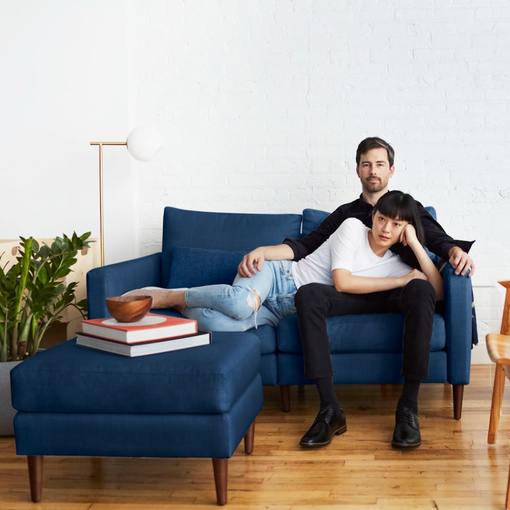 Allform is a brand dedicated to bringing you long-lasting comfort with their sleek and modern sofa designs. Unlike many things in today's world, which are made to be broken, or at least upgraded every couple of years, Allform sofas are hardy and durable. They are definitely able to stand the test of time. Brand values and ethics are very important to modern consumers, and the customer-first ethos of Allform, plus their commitment to sustainable practices, put me right at ease.
In terms of the actual design process, they couldn't have made it easier. The order and delivery process was quick and easy. The sofa came in boxes, but the unpacking process is a breeze because everything is clearly labeled. The perfect choice of couch in terms of comfort and durability.
What I loved about the Allform Modular Sofa
The 3-Seat Modular Sofa starts at $1595, with the option to add more seats and extra comforts like cushions, chaises, ottomans, and throws. Your choice of upholstery will also have an impact on the price. Cat lovers may want to consider purchasing the couch in leather, which is strong and stain-resistant, easy to brush pet hair off. The price of the leather sofa starts at $2445 for a 3-seater – but given the durability of the material, plus a 4.5 rating from over 300 reviews, you won't regret upgrading.
Nor will you be disappointed by the strength of the high-quality Performance Fabric (which comes in seven different colors) if that's the covering you choose. This fabric is 3.5x more durable than the industry standard "heavy duty". If treated properly, it won't mark, pill, or absorb stains – which is ideal for cat owners.
Plus, your pets will love the five boxes the sofa is delivered in. Don't worry, assembly is so easy, and it doesn't take long – it was our first time putting any kind of furniture together, but my partner and I managed to have it up and be sitting down on it in under an hour.
The Allform Modular Sofa doesn't feel like a flat pack/self assembly couch, either. At medium firm, it has exactly the right level of comfort for me. We've had a couple of accidents on it, but shh! A sprinkle of baking soda and quick suction from the vacuum hose erases any evidence.
Potential drawbacks
Because Allform is an online brand, you might be skeptical about buying from them, because you won't be able to try the couch out before you buy it. But if you're not happy with your purchase, for whatever reason, you can have it shipped back and get a full refund within the first 100 days.
Home of Cozy Exclusive Offer: 20% off sitewide with promo code COZY20OFF
2. West Elm Hamilton Leather Sofa
Price: $2699
Dimensions: 81" width x 36" depth x 32" height
Arm Height: 26"
Leg Height: 7.5"
Frame Materials: Solid and engineered hardwood frame with reinforced joinery
Upholstery fabric: Aniline leather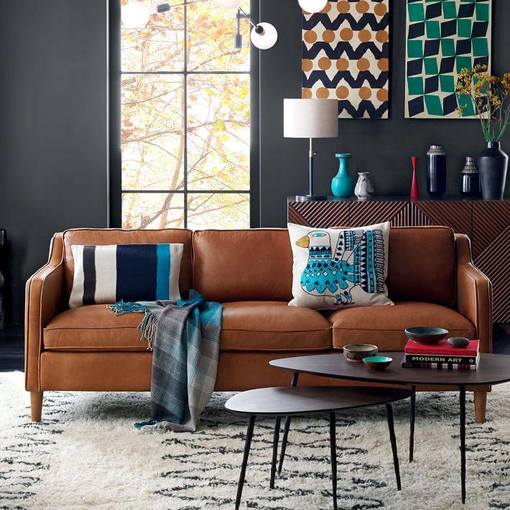 West Elm is a global furniture and home accessories brand with an independent, artisanal feel. Their in-house design teams work closely with individuals in traditional industries all around the world to create handcrafted rugs, mats, cushions, and more. You'll find all sorts of products for your kitchen and dining room, bed- and bathrooms, as well as your living room in West Elm stores and online, but today's talking point is their luxurious Hamilton Leather Sofa.
What I loved about the West Elm Hamilton Leather Sofa
As a fan of all things retro, it was inevitable that I was going to fall in love with the chic 50s-style design of this sofa. I was worried it wasn't going to be as comfy as it looks – leather can be a bit unyielding – but although it's not exactly squashy, the seat cushions are surprisingly comfortable. They're a little on the firm side, perhaps, but all that does is stop you from sinking too far into them.
Actually, the choice of upholstery is one of my favorite things about this couch. Leather is one of the best sofa materials if you've got cats (and/or small children) because it's non-absorbent and easy to clean. It's not scratch-proof, but that's the beauty of the aniline leather; the soft, waxy surface of it scuffs over time, meaning any small claw marks will just blend into the natural patina of the material.
And unlike the Allform sofa, this one from West Elm comes already assembled, so you can sit right down and stick your feet up as soon as the delivery team has gone. The West Elm Leather Sofa is a winner for instant satisfaction.
Potential drawbacks
Like I said, while the back cushions are nice and pillowy, the seat remains pretty firm, so if cat naps are your thing, you might prefer a couch with a bit more padding. However, if you are after a sofa that will give you a lot of support and make it easier for you to stand up, the Hamilton's a great choice; you won't sink too far into the back of it, and the arms are at a comfortable height, giving you a little bit of extra leverage as well.
3. 123" Wide Reclining Corner Sectional
Price: $2269.99
Dimensions: 123" width x 97" depth x 35" height
Arm Height: 29"
Leg Height: 5.5"
Frame Materials: Solid wood
Upholstery fabric: Customizable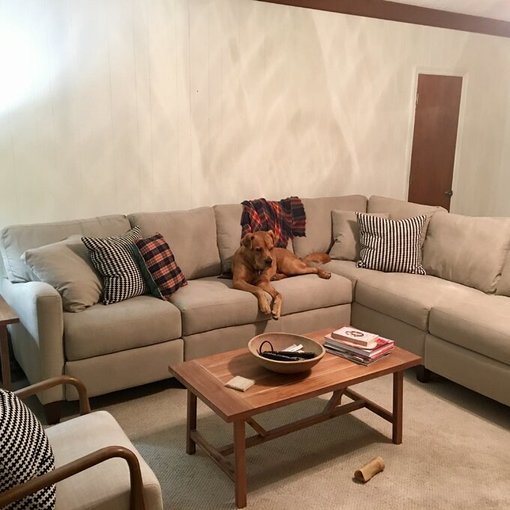 Over the last twenty years, Wayfair has grown into one of the world's largest online home retailers. Their selection of indoor and outdoor furniture and accessories seems almost endless – but too much choice is not always a good thing. Luckily, Home of Cozy is here to help you narrow your options down.
Previously, we recommended the Wayfair William Hybrid Sectional for cat owners, but that's since proved to be so popular, it's completely sold out. So, instead, let's take a look at the pros and cons of the 123" Wide Reclining Corner Sectional, which I'm confident you'll love just as much.
What I loved about the 123" Wide Reclining Corner Sectional
Speaking of options, this couch comes in 27 different fabrics/colours, ranging from classic white, through a selection of neutrals, to gorgeous deep purples and blues. A bit mind-boggling at first, if you're as indecisive as I am, but I really love how there's something to suit every room and personality here. Plus, if you can't make up your mind from the pictures, you can request free fabric samples from Wayfair to get a feel for the materials before you buy.
The swatches arrived really quickly, and after reviewing them, I decided to try the couch in Tina Gulfstream microfiber, which is a very soft material in medium grey.
Reviewers with cats also have great things to say about the Sunbrella fabric:
"ATTENTION CAT OWNERS: This is the couch you have been looking for. My cats took my old couch to Scratch Town, but thanks to the Sunbrella fabric on my new sectional, their claws have lost interest."
So, sometimes, it's definitely worth taking your time over all the different customization options – and Wayfair gives you plenty
From a human perspective, one of my favorite things about this sectional is the fact that it's a recliner. With the press of a button, the bottom section of the sofa goes up, making this sectional ideal for both humans and cats who like to lounge.
Potential drawbacks
If you're looking for a quick and easy purchase, the sheer number of customization options might be enough to put you off. In fact, the brand markets the options as "endless" for a totally unique piece, so if you're not fussed about having a one-of-a-kind sectional, and just want to buy a sofa, you might be better off looking for a standard, showroom couch.
Plus, some customers have found the customization options confusing. The direction of the sectional (left-facing or right-) is not especially clear. Some customers reported receiving mixed up or misunderstood orders, leading me to reflect that, often, the simplest things in life are the best ones.
4. Joybird Bryant U-Sofa
For the 5-seat Bryant U-Sofa:
Price: $3908
Dimensions: 120" width x 80" depth x 31" height
Arm Height: 8" x 25"
Leg Height: 1.5"
Frame Materials: Kiln-dried, responsibly sourced wood
Upholstery fabric: Various pet-friendly microfibers and velvets in different colors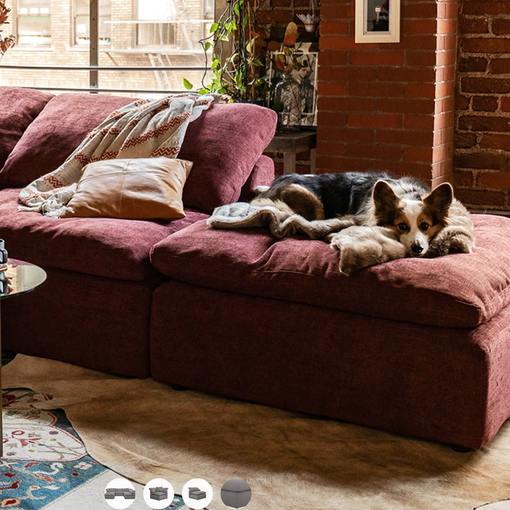 Joybird furniture, as their brand name might suggest, is designed to be bright, bold, and free of constraint when it comes to the creative process. They specialize in mid-century staples with multiple customization options, making all their handcrafted sofas one of a kind.
What I loved about the Joybird Bryant U-Sofa
This Bryant U sectional is everything I'd hoped it would be. It's got super comfortable, foam-stuffed cushions, and despite it's large dimensions (it can seat 4+ people and pets, no problem), it doesn't look too big in smaller spaces. And since we're looking at sofas that are super comfortable for people and pets, this was an eye-opening find.
What really impressed me about Joybird's website was how easy it was to navigate. Like Wayfair, they offer a lot of customization options for their sofas, but you can narrow down your choices more easily using the, "Popular", "All", "Velvets", "Pet-friendly", and "Safeguard" tabs. Given my criteria, I clicked to see the "Pet-friendly" materials straight away, and was pleasantly surprised by how much choice I still had. Just because you need something practical, doesn't mean it can't also be stylish. Choose from a range of colours, fabrics, and textures.
Personally, I went for the Sunbrella in Premier Fog, which is a gorgeous grey twill weave. It included a $480 supplement, but it was so worth it; it is very soft, is easily cleaned, and the cushions are easily "plumped" back up. The cat preferred this sofa to his bed – and I can see why. For sinkability alone, the Bryant U sectional is a winner. And luckily, the Sunbrella fabric is 100% vacuumable, so you'll able to get all the hairs off once your cat's got up and strolled away (if you feel like moving).
I definitely agree with fellow customers who have commented, "Imagine hanging out on a cloud that sits in front of the TV. That's what this couch is like!" This couch gets a 10/10 from me and Henry, too.
Potential drawbacks
The Joybird Bryant U-Sofa is really easy to put together – you can assemble it one way, then rearrange the sections later, if you think that would work better, or you just fancy a change. The only negative some customers have noticed that the pieces can start to slide apart after a time, but as long as you click the brackets together properly every time you move the sections around, this shouldn't be an issue for you.
5. Crate & Barrel Infiniti Curve Back Sofa
Price: $1,799
Dimensions: 88″ width x 40.5″ depth x 34.5″ height
Arm Height: 25.5″
Leg Height: 3″
Frame Materials: Kiln-dried, sustainably sourced hardwood
Upholstery fabric: Yarn-dyed polyester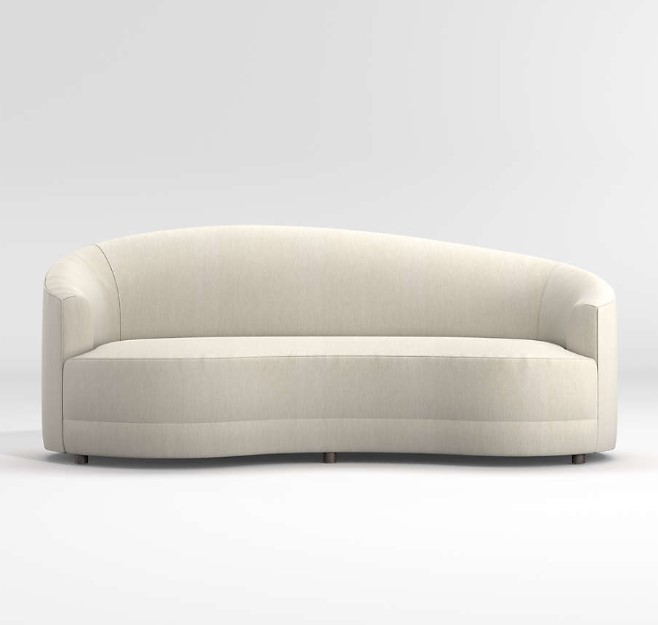 Crate & Barrel is an international homeware and lifestyle brand with a distinctly architectural aesthetic. Just look at the sleek curves of the vintage-inspired Infiniti Curved Back Sofa, which recalls all the razzle-dazzle Hollywood's golden age – it's purrfect for glamour pusses.
What I loved about the Infiniti Curve Back Sofa
The Infiniti Curve Back Sofa, unique to Crate & Barrel, comfortably seats two people – plus a furry friend. The standard version of the couch comes in a neutral, heathered Everweave ® chenille that has a soft, velvety feel to it, but custom upholstery is available in a range of different color palettes to suit your tastes. I tried it in the stock Oatmeal, which proved to be very durable, easy to clean, and the shade was great for covering up all the light cat hairs.
Its chic and versatile design is modern with a little vintage twist, and you can use it to create all kinds of aesthetics in your living room – everything from extravagant art deco to a minimalist, Scandinavian design.
I am so in love with the shape of the couch, and I think your cat will be too. The kidney-shaped seat is ideal for kitties who like to stretch and sleep. No sofa is completely scratch proof, unfortunately, but at least your cat's claws won't snag in this fabric.
Potential drawbacks
I found this couch to be very comfortable for sitting on – however, it is more than moderately firm, and the back rest is not very cushioned, so if you're looking for a couch to lounge on, you might want to refer back to some of the earlier options. Tuck yourself into the curve, though, and you've got yourself a perfect nook to read (or sip a martini) in, with your cat curled up in your lap.
FAQs: Things to consider when you're buying a feline-friendly sofa.
How do cats damage furniture?
1. Scratching
Domestic cats are miniature versions of massive hunters like lions and tigers. And all those predatory instincts are deeply ingrained in them. One of the many reasons they scratch, therefore, is to sharpen their claws. Otherwise, it could be an indication of excitement or stress, a way of them marking their territory, or even just an accidental byproduct of a good, long stretch. Whatever the reason, scratching can damage your furniture irreparably, so you'll need to buy a sofa with hardy cushion coverings.
2. Shedding
Cats shed. How much depends on the breed and whether it's long-haired or short-haired, but unless you have a Sphynx cat (which have no hair at all), it's likely you're going to spend a lot of time brushing your furniture down. If you're a cat owner, and you're in the market for a new couch, make sure you get one you can vacuum.
3. Spraying
Gross, I know, but accidents do happen. You'll want to choose an anti-absorbent material for your new couch, just in case your fluffy, furry friend mistakes your couch for its litter box.
What are the best couch material choices if you've got a cat?
1. Synthetic Fibers/Microfiber Fabric
Synthetic and microfiber couches (think polyester, nylon, suede, and acrylic upholstery blends) are ideal for cat owners because the fabric fibers are extremely thin and tend to be tougher, meaning they are more scratch-proof. Look for fabrics with a tight-weave and try to find sofas with removable, machine-washable covers for ease of cleaning.
2. Denim
Denim is another great option as it is a very strong, highly durable fabric. Denim is easy to wash, and its tight fiber weave makes it very resistant to scratches and stains.
3. Leather/Faux Leather
Real leather furniture/vegan alternatives will create a high-end look in your living room that will stand up to stains. Leather is easy to wipe down, and though it's not scratch repellent, the odd mark can add a touch of worn and vintage charm to the couch.
How else can I minimize cat damage in my home?
1. Get a cat scratching post or cat tree.
That way, with the cat scratcher, they've got something else to scratch, other than your new couch.
2. Have a regular grooming routine for your cat.
Cut your cat's claws and brush their fur to keep their shedding to a minimum. You can either do these things yourself, or take them to a professional groomer.
3. Buy a pet-friendly slip-cover or encourage your cat to sleep in their actual cat bed.
Easier said than done, I know – cats will do as they please – but reducing the amount of time your cat spends on your couch will also reduce the amount of wear and tear on the furniture.