If you're looking for a new pet-friendly couch and hoping it won't turn into your furry friend's next cat scratching post, we've got you covered. While it is unlikely that you'll find n entirely cat-proof sofa, there are some that are better at resisting pet hair and claw marks.
The key here is finding a high-quality sofa brand that specializes in durability, so even if your sofa ends falls victim to cat scratch fever, it holds up over time.
In this post, we'll review the ways that cats can damage your couch and the materials that are best at protecting against these issues. We'll also share some examples of cat-friendly couches, and some bonus tips to help you protect and maintain your furniture so you and your furry friend can enjoy it together for a long time to come.
If you're not a cat lover but have a dog, you can check out our guide to the best couch materials for dogs to guide your search.
The Best Overall Sofas of 2021
To help you find the best deep seat sofa, I tested individual models from over 23 different brands. These are the best new sofas with extra deep seats that balance the best in design, price, sustainability, and durability.
5 Couches That Can Withstand Cat Damage
Whether it's a loveseat, a sectional, or a sofa bed, when it comes to selecting a new sofa that can hold up well under traffic from your cat, it's the upholstery that matters most.
Sturdier fibers like synthetics, canvas, and denim will be best at holding up against scratches and resisting stains, while leather and leather alternatives are the easiest to clean. With that being said, here are 5 great options for cat-owners.
1. Allform Modular Sofa
Price: $1595 to 4345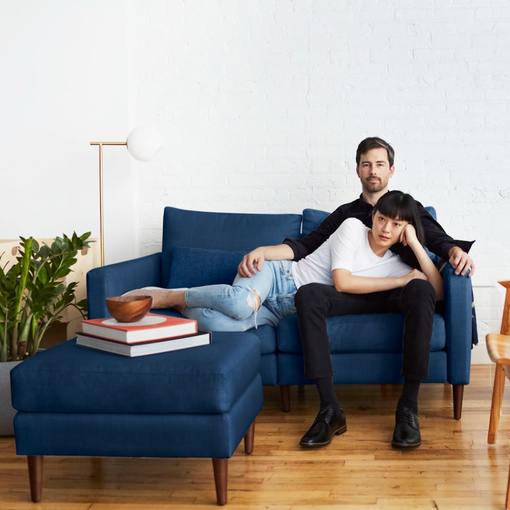 The Allform sofa can be completely modular or you can order a preset configuration. All Allform products offer a modern aesthetic, premium performance fabric, and ultra-comfortable lounging. They're scratch-, pill- and stain-resistant and make a great option for homes with cats.
Best Couch for Cats: Allform
2. West Elm Hamilton Leather Sofa
Price: $2399 to $3199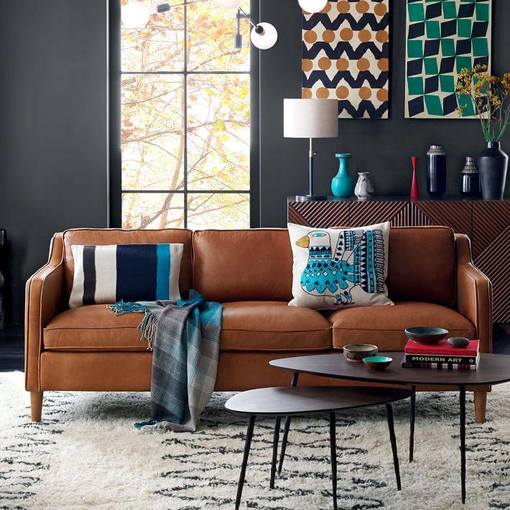 In true 1950s style, the Hamilton Sofa from West Elm has down-wrapped back cushions offer plush comfort and it comes covered in your choice of durable leather.
3. Wayfair William Hybrid
Pirce: $3550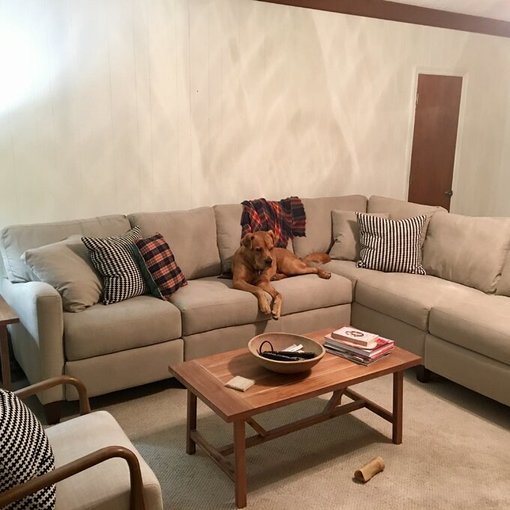 The William Hybrid is made for group lounging with seating for five and a power recliner. With durable, easy-to-clean fabric, it's also a great option for you and your cat.
4. Joybird Bryant U-Sofa
Price: $3929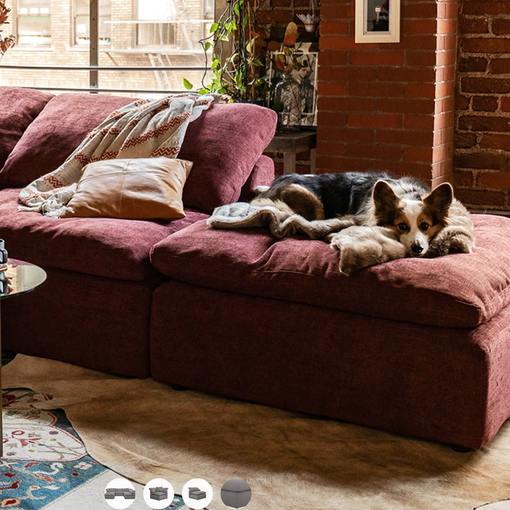 Joybird's Bryant U-Sofa Bumper Sectional provides contouring comfort and a customizable construction. In addition, the Sunbreeze performance weave is tough enough to withstand cat claws.
5. Pottery Barn Carlisle Upholstered Sofa
Price: $1,449 to $2,949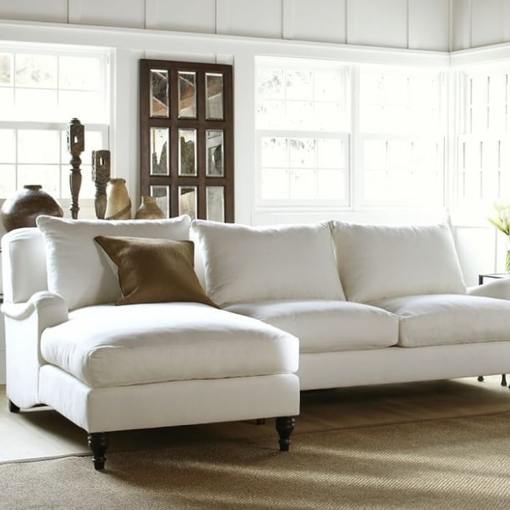 The Carlisle Collection is stylish, easy to clean, and ultra-durable. It's deep seats and low back are great for loungers, whether that be you or your kitty.
3 Ways Cats Can Damage Furniture
There are many ways that cats can damage couches. It's important to remember that not all cats will damage your living room furniture, and not all cats cause the same kind of damage. Let's take a quick look at the different types of trouble your furry friends can cause to home decor.
Scratching
If you have a cat, you already know that a cat's claws can be your worst enemy. Cats love to scratch recreationally, and they also sometimes practice clawing inadvertently while sleeping and purring. This can mean snags on almost any piece of furniture in your living space.
Shedding
Another common issue for pet owners is shedding. Cats, unfortunately, tend to shed a lot of fur and unless you have furniture made with pet-friendly fabrics, you can be spending a lot of time trying to get fur off your couch.
Bathroom Accidents
Finally, while this one is a bit less common with cats, accidents can happen. Some cats tend to mark their territory by "spraying" and if your cat is doing this, it's likely your couch will be a target at some point. You need to make sure the upholstery fabric has some moisture repellent properties if your cat does mistake your couch for its litter box.
The 4 Best Couch Fabric Options to Cat-Proof Your Sofa
There are some specific fabrics available that are far more pet-friendly than others. For example, materials like suede/microsuede, linen, chenille, and silk are not good choices for cat owners, but here are a few options that are.
Synthetic Fibers/Microfiber Fabric
Synthetic and microfiber couches (think polyester, nylon, and acrylic upholstery blends) are typically the best choice for cat owners because the fabric fibers are extremely thin and tend to be tougher and scratch and stain-resistant. Look for fabrics with a tight-weave and even potentially sofas with machine washable upholstery.
Denim
Denim is another option as it is a very strong, highly durable fabric. Denim is easy to clean and scratch-resistant due to its tight fiber weave and also stain resistant.
Leather/Fake Leather
Leather sofas and leather alternatives are also good options for cat owners who are looking for a higher-end furniture option but still require something that can hold up against traffic from their furry friends. Leather couches are strong, easy to clean, and stain-resistant. However, they aren't scratch resistant.
Canvas
Canvas is another alternative to traditional fabric and leather couches for those that need a truly scratch and stain-resistant upholstery option. However, canvas material is typically used for patio furniture that is made to be waterproof and as such, it can be a bit touch and abrasive for lounging.
Extra Tips for Minimizing Cat Damage
Now you know what to expect in terms of potential damage from your feline companion, and you also know what types of upholstery are best to avoid these issues. Finally, you have our top picks for the best in cat-friendly sofas to help you make your final decision.
But before you do, here are a few extra tips to help you minimize cat damage so you can enjoy your investment, with your furry friend, for a long, long time.
First, consider a good scratcher or cat tree for your furry friend to sow their scratching oats so they avoid taking it out on your sofa. You can also consider getting your cats nails trimmed either yourself with cat claw trimmers or at the vet or groomer. Speaking of the groomer, regular grooming, and brushings will keep your pets shedding to a minimum.
Finally, you might consider investing in a pet-friendly slipcover or cat bed to reduce the amount of time and damage your cat spends on your couch.