I'm not going to say that daybeds are "making a comeback." Why not? Because, while researching this topic, I found that exact phrase in articles about daybeds from 2005, 2008, 2017, 2018, 2019, and 2021.
I will say that daybeds are practical, appealing, and a great fit for many homes.
I'll also say this: if you want a unique and comfy piece of furniture, don't worry about whether or not it's in style this year. Just go for it!
Daybeds are great for filling small spaces and creating cozy afternoon lounging nooks that also double as guest beds. Like futons, daybeds are built for both sitting and sleeping. However, compared to a futon or a sofa bed, a daybed is typically smaller, more attractive, and doesn't require any lifting or folding to switch modes.
In this guide, we'll cover all you need to know about choosing a daybed mattress. Then, we'll highlight our six favorite mattresses for pairing with daybeds.
Best Daybed Mattress
What Is a Daybed?
A daybed is a piece of furniture that can function as a bed or a sofa. Instead of a headboard and footboard, a daybed typically has a backrest along one long side, with armrests on both of the short ends. This creates an enclosed and supportive sofa-like seating area, but the surface is covered with a mattress instead of a set of couch cushions.
Daybed frames may be made from metal or wood and usually include horizontal slats for supporting the mattress.
Most daybed frames are designed to hold a standard twin (38" x 75") or full-size (54" x 75") mattress.
Daybed vs Trundle Bed
A trundle bed is a low-to-the-ground bed that can be slid underneath another bed for storage. A trundle bed typically rolls on a set of small wheels. With a trundle bed, you can keep an extra guest bed in the house without taking up any additional storage space.
Daybeds and trundle beds offer similar benefits, but with different designs. Daybeds have handrails and a backrest, like couches. Trundle beds, meanwhile, do not include any rails and are built low enough to slide completely underneath a regular bed.
Sometimes, the two concepts are combined. Some daybeds stand tall enough for a trundle to slide underneath, and some manufacturers make daybed frames that come with their own trundle beds.
Which Types of Spaces Are Suitable for Daybeds?
Daybeds are useful anywhere that you might alternately want to have a couch and a bed. A daybed increases your total number of high-quality sleeping spaces without devoting any space to full-time bed use.
Daybeds are popular in kids' rooms, guest rooms, game rooms, dens, living rooms, covered porches, large stairwells, studio apartments, and tiny homes.
What Type of Mattress Is Best for a Daybed?
Most daybeds are designed to hold a twin-sized mattress. Daybeds almost never come with mattresses, so you'll have to shop separately for your daybed frame and mattress.
Foam mattresses and hybrid (springs plus foam) mattresses can both work well for daybeds. The important thing is to choose a mattress that provides a comfortable surface for both sitting and lying down. In general, foam mattresses are known for cozy contouring and pressure-relieving comfort. Hybrids tend to be more supportive and provide superior airflow.
Before you shop for the perfect daybed mattress, consider the height of your daybed frame. The seat height for a couch is typically between 16-20", so the combined height of your frame plus the mattress's thickness should be in that range. You'll probably want a daybed mattress that's between 5-11" thick.
Note that there probably won't be room for a box spring, so you should choose a mattress that doesn't require one. That rules out many traditional innerspring mattresses.
In general, you can simply shop for a durable, high-quality mattress that fits your budget. However, you might want to avoid an extra soft memory foam mattress or a pillow-top mattress, which may be too squishy or permit too much sinking to be comfy for sitting on. Soft mattresses also tend to offer less support around the perimeter (where you'll be sitting) and may develop indentations over time from the pressure of seated bodies.
Or, for a great bargain on your daybed mattress, go with a kids' bed mattress. Kids' mattresses tend to be low-priced, thin, and firm. Thin kids' mattresses can work well for daybeds that are used in kids' rooms, dens, or anywhere that the bed won't be used as a full-time sitting or sleeping surface by large adult bodies.
Firmness and Edge Support for Daybed Mattresses
A medium-firm mattress is ideal for a daybed. The surface should be soft enough to cushion a body's pressure points in any position, but not so soft that you sink in.
Keep in mind that a soft mattress is designed to contour to a body in a lying down position, with the body's weight evenly distributed. Sitting down, on the other hand, applies a more concentrated pressure. As a result, sitting down on a very soft mattress can lead to a "stuck in" feeling. Some soft mattresses are also prone to caving in over time, especially when used frequently for sitting.
Another important consideration is edge support, which refers to the amount of resistance a mattress provides around its perimeter. While couches typically have very soft outer comfort layers, the frames underneath are solid and supportive. Mattresses tend to be stiffer on the surface but more flexible in the core. Look for a daybed mattress that either offers excellent edge support or mimics the feel of a couch's edge.
In general, firmer mattresses and hybrids offer stronger edge support and are often preferred by larger-bodied sleepers, stomach sleepers, and back sleepers. Softer mattresses and foam mattresses tend to offer more contouring, less edge support, and are often preferred by side sleepers and lighter-bodied sleepers.
Our Top 6 Daybed Mattresses
Here are Home of Cozy's picks for 2023's top six daybed mattresses. While most of these mattresses weren't designed specifically for daybed use, each selection has the ideal qualities for pairing with a daybed frame.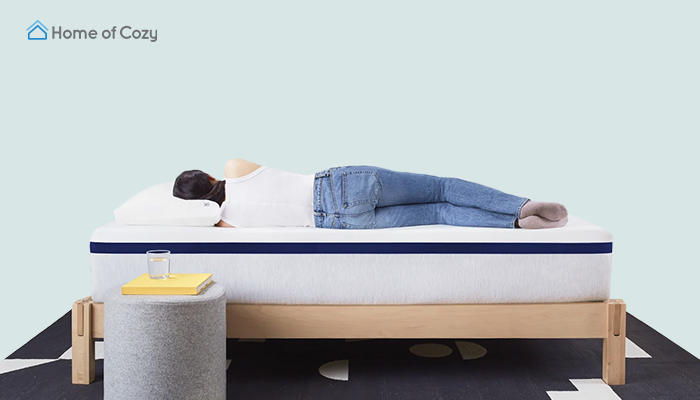 Price: $702.20 (twin)
Best For: Overall
Mattress Type: Hybrid
Firmness: 5.5/10
Dimensions: twin (38" x 75" x 11.5") or full (54" x 75" x 11.5")
Trial Length: 100 nights
Warranty: 10 years (limited)
What I Loved About This Helix Mattress
Among online mattress brands, Helix has earned a reputation for quality materials and innovative designs. Helix specializes in hybrid mattresses made with pocketed coil cores and CertiPUR-US-certified foam comfort layers. The Midnight, a hybrid with a firmness rating of 5.5/10, is Helix's top seller.
As a sleeping surface, the Helix holds wide appeal thanks to a perfect mix of firmness and contouring. It's ideal for side sleepers, but suitable for almost everyone. This mattress is also a great fit for daybeds, with hundreds of individual coils in its core that establish plenty of stability, buoyancy, and contouring for seated bodies. Thanks to reinforced perimeters, the edges are comfortable for sitting and able to support heavy-bodied adults.
What I Didn't Love
With a height of 11.5", the Helix Midnight is the thickest bed among our top daybed mattress picks. All that thickness makes the Midnight extra supportive and super comfy. However, before pairing this mattress with a daybed frame, consider the combined height. If the frame is also tall, then a thinner mattress might be a better fit, or else your daybed's surface might be awkwardly high off the ground.
2. Best for Trundle Beds: Bear Trundle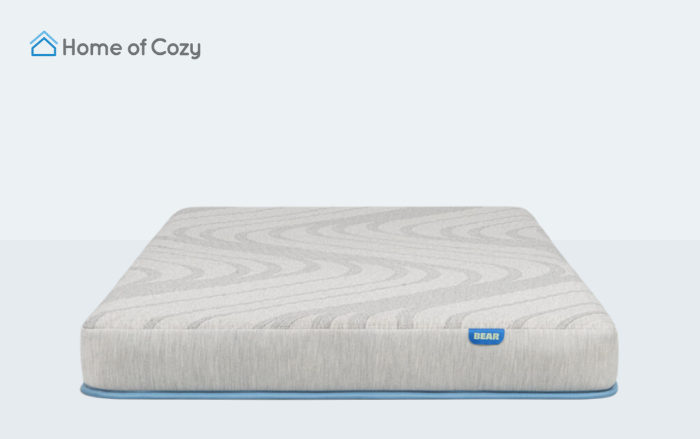 Price: $257 (twin)
Best For: Trundle beds
Mattress Type: Foam
Firmness: 6.5/10
Dimensions: Twin (38" x 75" x 5")
Trial Length: 120 nights
Warranty: Lifetime
What I Loved About This Bear Mattress
The Bear Trundle is designed specifically for trundle beds, with a 5" height that lets it slide into under-bed storage when not in use. With its medium-firm feel and dense foam construction, this space-saving and comfortable mattress is also a great fit for a twin daybed.
Made with a high-density support foam base layer and a comfort layer of cooling gel memory foam, the Bear Trundle mattress is surprisingly comfy despite its slender construction.
What I Didn't Love
The Bear Trundle mattress is designed to slide into the thin space underneath a twin bed. To make that tight fit possible, the mattress is just 5" thick. It's the thinnest of the five mattresses reviewed in this guide. The mattress is made from dense, supportive material, and it's cozier than expected. However, you shouldn't expect luxurious comfort from a 5" mattress.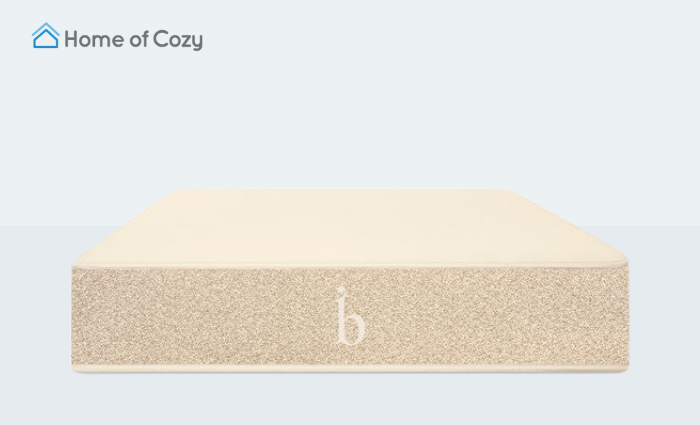 Price: $936.60 (twin)
Best For: Organic
Mattress Type: Hybrid
Firmness: 6.5/10
Dimensions: Twin (39" x 75" x 11") or Full (54" x 75" x 11")
Trial Length: 100 nights
Warranty: 25 years
What I Loved About This Birch Mattress
The Birch Natural is a top-flight hybrid that includes a core of 6" coils along with layers of breathable organic cotton, natural Talay latex, and an organic wool top layer. If your daybed is high-end or designed to pair with a taller mattress, then this 11" luxury design is perfect.
The materials in the Birch Natural are entirely free of harmful chemicals. Thanks to Birch's commitment to organic, natural, and safe materials, this mattress is GOTS Certified (for organic materials and ethical production), GREENGUARD Gold Certified (for environmental health standards), and made with Fair Trade Certified Organic cotton and eco-INSTITUT certified latex.
The feel is medium firm, at 6.5/10 on the firmness scale. Thanks to the inclusion of high-quality latex, along with the mattress's extra-thick construction, the Birch Natural hits a perfect balance of support and comfort. Although the surface provides some cushioning and contouring, you don't sink or squish. Best of all, the mattress is strong and durable, capable of enduring years of heavy use as both a bed and a couch.
What I Didn't Love
This beautiful mattress is pricey. If you're investing in a daybed as a featured piece of attractive furniture, the Birch Kids mattress is an ideal choice. If budget is a top priority, you'll have to look elsewhere.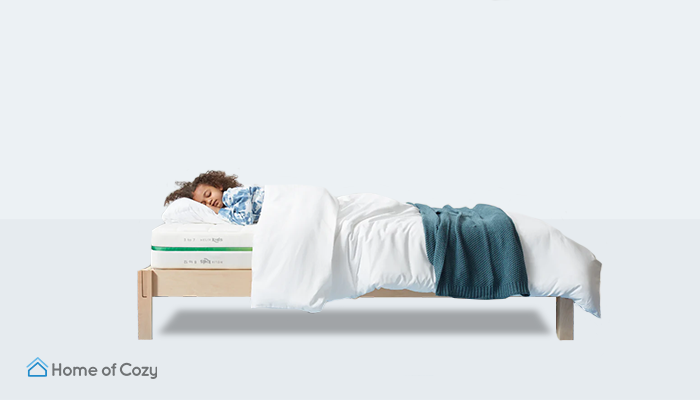 Price: $561.60 (twin)
Best For: Kids
Mattress Type: Hybrid
Firmness: Soft side (4.5/10) and Firm side (6.5/10)
Dimensions: Twin (38" x 75" x 8") or Full (54" x 75" x 8")
Trial Length: 100 nights
Warranty: 10 years
What I Loved About This Helix Mattress
The Helix Kids mattress is a hybrid mattress with a core consisting of hundreds of 6" coils. The mattress is flippable, with a memory foam layer on the soft side and a high-grade polyfoam firm side. Either side would work well for a daybed, since the coil core creates a super comfy surface for both sitting and laying down.
Designed with messy kids in mind, this mattress features an easy-to-clean, water-repellent, hypoallergenic surface. That makes it a great option for kids' rooms and dens.
What I Didn't Love
If you go with the Helix Kids or another kids' mattress, keep in mind that these models are designed for children. The Helix Kids mattress is only 8" thick and may wear out faster than a regular couch if it's regularly used for sleeping or sitting by adult bodies.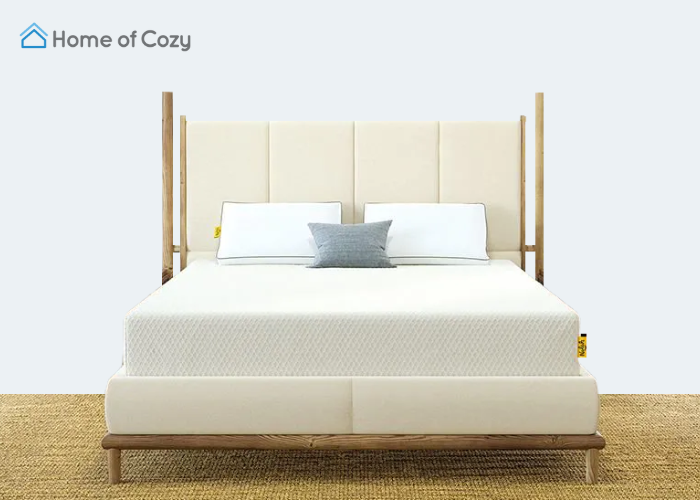 Price: $489 (twin)
Best For: Pressure relief
Mattress Type: Foam
Firmness: 5.5/10
Dimensions: Twin (38" x 74.5" x 10") or Full (54" x 74.5" x 10")
Trial Length: 120 nights
Warranty: Lifetime
What I Loved About This Nolah Mattress
If you're looking for a daybed mattress that provides a blissfully comfy sleep surface and won't break the bank, consider the Nolah Original. The all-foam construction includes a layer of Nolah's proprietary AirFoam™, which functions like memory foam but is more durable and traps less heat.
Compared to most of the models featured in this guide, the Nolah Original is softer and offers more of a traditional foam feel. That means you get plenty of pressure relief in sleeping positions and you'll feel gently cushioned in seated positions.
What I Didn't Love
As a soft, foamy mattress, the Nolah Original might not be everyone's cup of tea as a sitting surface. Some folks, especially heavy-bodied individuals, may prefer a firmer surface that provides more of a bouncy, pressure-resistant feel.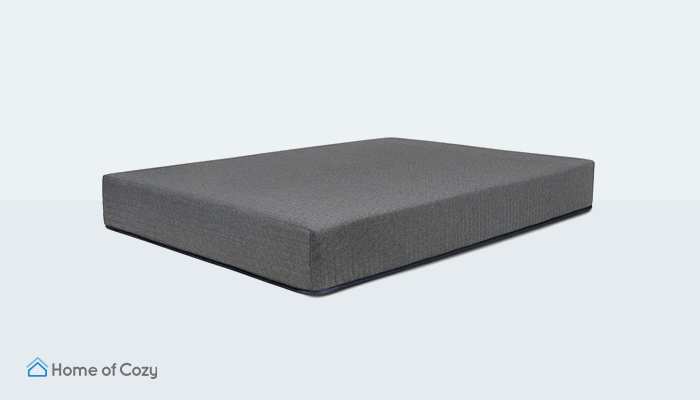 Price: $191.80 (6" twin)
Best For: Value
Mattress Type: Foam
Firmness: available in Soft Medium (4/10), Medium (5/10), Medium Firm (6/10), Firm Medium (7/10), and Firm (8/10)
Dimensions: Twin (38" x 75") or Full (53" x 75") with height options of 6", 8" 10", 12" and 14"
Trial Length: 120 nights
Warranty: 10 years
What I Loved About This Brooklyn Bedding Mattress
The Dreamfoam Essential by Brooklyn Bedding is known as one of the best overall value buys among the leading online mattress brands. It's the lowest-priced option among the five daybeds featured in this guide (if you opt for the 6" model). This mattress is available in five different firmness levels, ranging from 4/10 to 8/10 on the firmness scale. Each firmness option corresponds to a different mattress thickness, with the 6" model being the firmest and the 14" option being the softest. This customization is useful for selecting a daybed mattress, letting you pick the precise size and feel that best suits your bed frame and your preferred comfort features.
What I Didn't Love
Like many all-foam mattresses, the Dreamfoam Essential doesn't offer particularly strong edge support. When you sit directly on the edge, you'll notice some dipping, especially if you have a plus-size body weight.
Shop Like an Expert for Your Next Mattress Purchase
A daybed is a fun furniture choice that contributes both style and practicality to a home's interior layout. If you're shopping for a daybed, you won't go wrong with one of the six mattresses highlighted above.
For all of your mattress purchases, don't click BUY until you've seen what Home of Cozy has to say. We're testing out the best beds from all of the leading online mattress brands and writing up comprehensive reviews that point you toward the best values. If a daybed is just one option you're considering for a kids' room, check out our review of the safest and most comfortable toddler mattresses to discover a few more great options for your youngster's new bed. If you're looking your grown up bed, check out our guide on the best overall mattresses.