While there are certainly a lot of gorgeous, Instagram-worthy sofas out there, there actually aren't very many that provide the lumbar support you may need if you struggle with constant back pain.
If you're shopping for living room furniture and having some trouble vetting furniture brands and retailers for their attention to good ergonomics, we're here to help you out.
To see which brands create the best back support sofas, I tested over 20 different sofas and combed through hundreds upon thousands of real customer reviews and testimonials.
The Best Overall Sofas of 2023
To help you find the best deep seat sofa, I tested individual models from over 23 different brands. These are the best new sofas with extra deep seats that balance the best in design, price, sustainability, and durability.
5 Couches That Provide Excellent Back Support
Brand
Best For
1

Editor's Choice

Quality, Customization
Shop Now
2

Delivery
Shop Now
3

Pre-assembled, Free Delivery
Shop Now
4

Firm Cushions
Shop Now
5

Small Spaces
Shop Now
1
Editor's Choice
Best For:
Quality, Customization
2
3
Best For:
Pre-assembled, Free Delivery
4
5
From high-quality seat cushions to help those with a bad back decompress their spine to reclining sofas, we've reviewed them all. I analyzed furniture companies offering sofas with all kinds of features, from built-in reclining seating elements to footrests. I also looked for sofas that provide substantial seat heights and depths for added comfort.
1. Allform Modular Sofa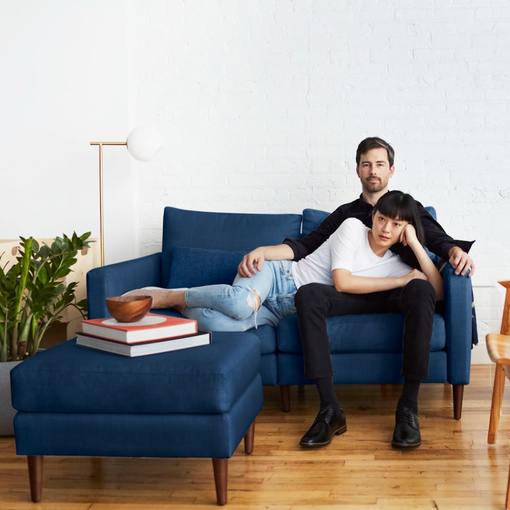 (for the classic Three-Seater)
Price: on sale for $1,595
Dimensions: 90" width x 38" depth x 34" height
Arm Height: 25″
Leg Height: 6″
Frame Materials: Maple and poplar kiln-dried laminated hardwood, tempered steel Flexolator Grid System suspension
Upholstery Options: 9 performance fabric option
Home of Cozy Exclusive Offer: 20% off sitewide with promo code COZY20OFF
What I Loved About this Allform Sofa
Allform is a brand that focuses on versatility and modular design. What drew me in was the easy ability to build a custom sofa inspired by mid-century design but with the contemporary focus on comfort and craftsmanship. Best of all, their site highlighted the sofa's medium-firm foam seat and back cushions, which would be perfect for lower back support.
While Allform's sofa isn't the cheapest one on this list, I definitely have to agree with over 300 customer reviews that have highlighted the sofa's comfy appeal, durability, and sturdy frame.
Designing a sofa online couldn't be easier, as the site just guides you through intuitive customization options from seat cushions to upholstery, wooden legs, along with add-ons I haven't seen anywhere else like weighted blankets.
And while I had to put together the Allform sofa myself, it was definitely worth it. The high-quality materials and plush cushioning feel just as great as they look on the site, and after intentionally crouching at my desk all day, I tested out the Allform sofa and honestly felt great after just a few minutes.
In terms of customer service, I was also impressed that Allform backs all their frames with a lifetime warranty. The brand also gives customers 100 full days to try furniture out at home before committing long-term, something I've definitely never seen from any other furniture brand.
For its impeccable quality, easy ordering and assembly, and intuitive customer service, I had to put Allform at the top of this list.
What I Didn't Love
Most customers generally didn't have any complaints over quality, shipping, or deliveries. However, I noticed that some customers complained about the prospect of having to assemble their own furniture. That said, I've put together my fair share of IKEA and Wayfair furniture, and Allform has made it a lot easier than both brands despite being a relatively new company.
Home of Cozy Exclusive Offer: 20% off sitewide with promo code COZY20OFF
2. Rivet Sloan Mid-Century Sofa
Price: $716.02
Dimensions: 64.2" width x 35.8″ depth x 33.1″ height
Arm Height: 24″
Leg Height: 6″
Frame Materials: Solid wood frame, wood legs, foam padding; removable back cushions
Upholstery Options: 6 performance fabric options, 1 leather option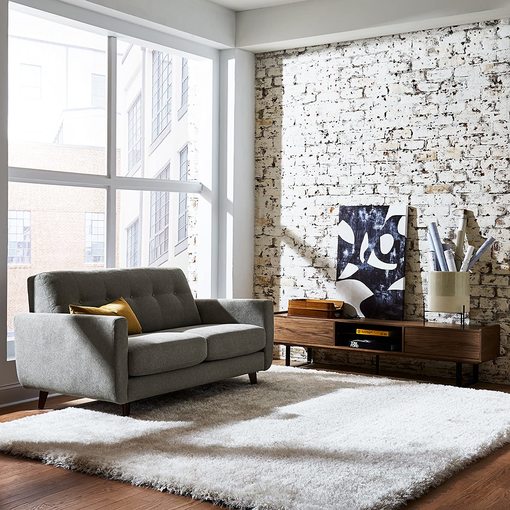 What I Loved About this Amazon Sofa
Amazon has been making significant inroads with a wide range of home decor, and sofas are no exception. In fact, the easy browsing and shopping experience was one of the highlights that drew me to this sofa.
The Rivet Sofa is a customer favorite, and I actually included the two-seat version in my round-up of best loveseats. So, it's safe to say my expectations were already set. Overall, I agreed with the customers' consensus across 896 verified reviews (most of which were 4.6 out of 5 stars.)
Like the Rivet Loveseat, the sofa is just as ergonomic and sturdy. However, I don't think it was that much of a firm sofa compared to Allform. That said the high-density foam cushions didn't sag very easily.
All in all, I'm impressed by Amazon's optimized online shopping experience affordable and specifically its Rivet brand of ergonomic sofas that offer ample back support.
What I Didn't Love
I didn't spend too much time with it, but several customers who bought the Rivet sofa noted quality issues as well as long-term sagging issues with the cushions.
3. Homelegance Power Reclining Love Seat
Price: $835
Dimensions: 83″ width x 38. 5″ depth x 40″ height
Arm Height: 25″
Leg Height: 2.5″
Frame Materials: solid steel, hardwood
Upholstery Options: bonded leather in black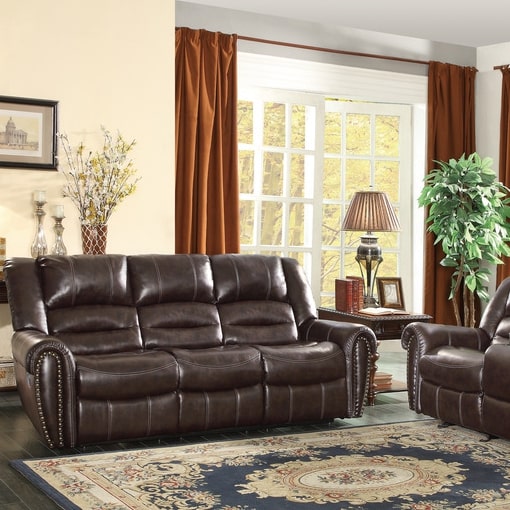 What I Loved About This Amazon Loveseat
Another Amazon favorite, I tested the Homeelegance recliner sofa, which features channel-tufted foam cushions and ergonomic headrests. While it didn't have as many reviews as the Rivet sofa, customers who did buy it raved about its easy-to-use double reclining mechanism.
Like the Rivet Sofa, I was able to specify a free delivery time. The sofa arrived on time, but unlike the Rivet, came pre-assembled. I tested that out as soon as it arrived and I was hooked. The mechanism itself is easy to operate, on-par with much higher-priced La-Z-Boy options out there, and the smooth gliding motion worked seamlessly. And in a first for this list, this loveseat features cup holders!
What I Didn't Love
It doesn't really fit my home or room decor aesthetic. And as far as leather upholstery goes, I would have preferred top grain leather over bonded.
4. Ashley Furniture Larkinhurst
Price: $849
Dimensions: 89″ width x 39″ depth x 38″ height
Arm Height: 26.5″
Leg Height: 3.5″
Frame Materials: Corner blocked solid wood, steel frame
Upholstery Options: faux leather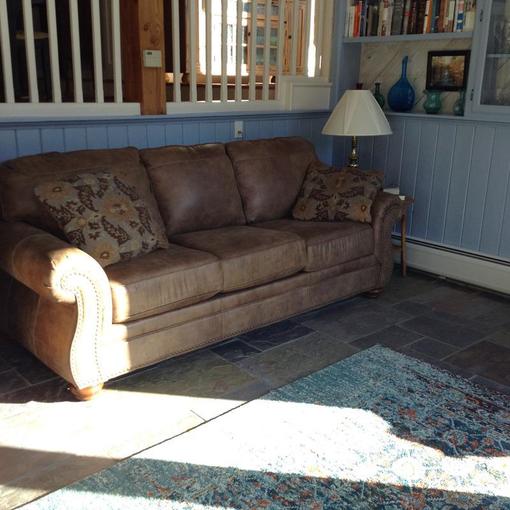 What I Loved About this Ashley Furniture Sofa
While I've seen trendier brands come and go, Ashley Furniture has built a name for itself as a brand and retailer that customers trust. And as I was researching brands that customers trust in terms of ergonomic design, Ashley Furniture kept coming up. So, I decided to test the Larkinhurst sofa to see if it lived up to the hype.
For the most part it did. To start with the shopping experience, Ashley Furniture may not have the most intuitive eCommerce experience. However, I did appreciate the opportunities to add on a matching armchair or even a sleeper sofa to create a full set, something that I'm sure a lot of families would appreciate when furnishing a living room on a budget.
All in all, I have to agree with most of the 162 customers who gave it 4.6 out of 5 stars. The Larkinhurst is comfortable, and compared to the Homeelegance reclining sofa, doesn't feature a middle console, which makes lounging much easier. Additionally, I was impressed by the plush upholstery, which felt much more luxurious and comfortable to the touch than Amazon's Homeelgance sofa. The sofa's high-density foam cushions and throw pillows made for additional back support.
What I Didn't Love
The cushions were a little stiff for my liking, but I didn't see any glaring quality or durability issues.
5. Serta Copenhagen
Price: $459
Price: $425.99
Dimensions: 78″ width x 32.5″ depth x 35″ height
Arm Height: 26″
Leg Height: 7″
Frame Materials: wood frame, steel joints
Upholstery Options: 15 performance fabric options, 1 leather option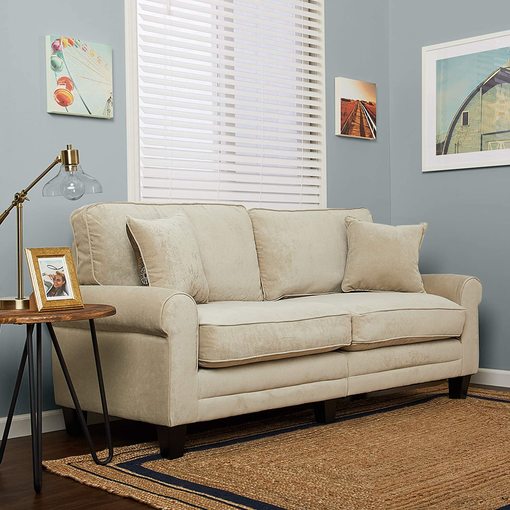 What I Loved About this Serta Sofa
To be honest, I didn't even realize that Serta made anything other than mattresses. That said, it's not hard to imagine that one of America's most trusted mattress brands would create an incredibly ergonomic sofa that can help alleviate certain back problems.
I read through hundreds of the Copenhagen's 1,900 reviews and a few things kept coming up. It's a comfortable couch for the price. I'd have to agree. For a sofa with a price tag under $500, I was definitely impressed.
And while it may not have fancy add-ons like cup holders, a sleeper sofa mattress or a recliner, it was by far one of the most comfortable sofas I've ever tested. At 78″, it was also a great sofa for a small space.
What I Didn't Love
While I had great luck with the other Amazon sofas on this list, I did experience significant delays getting this one delivered. Delayed shipments were something low-rating customers complained about specifically.
How to Find the Best Sofa for Back Support
Back pain sufferers seeking a sofa that provides substantial support may have some added challenges. In addition to finding the right size sofa and specifically one that fits through a door, you'll also have to scrutinize everything from sofa cushions to frame durability. Here are a few tips to help you out:
Proper Support – Your sofa needs to have a strong frame with impeccable integrity that'll stand the test of time. Always opt for a solid steel or hard-wood frame. Better yet, look for sofas with medium-firm memory foam cushions that'll provide lumbar support and encourage good posture.
Reclining Sofas – Many new sofas have recliners built-in, which takes the pressure off your spine and helps eliminate slouching. Look for furniture with easy-to-use recliner mechanisms or automated features.
Sofa Beds – While back pain sufferers should generally stay away from sleeping on sofa beds or futons for long spans of time, these can be beneficial if you like lounging horizontally during the day.
Chaise/Ottoman Options – Many brands offer sofa sets with optional chaise and ottomans. Look out for these as they can also help alleviate pressure to the spine without the added price of a recliner.
Good Posture – No matter what seating configuration or features you're seeking, just ensure the couch you buy has the right seat height and seat depth to support you. Also, look into sofas that provide sturdy armrests to support you even more.
Choosing the Best Back Support Sofa
Whether you're looking for a neat little loveseat or a sectional sofa to spread out on, I want to make it easy for you to find the best sofa to suit your needs and lifestyle.
Explore even more tips in our furniture guides.