Not all sofas are good at providing lumbar support, but there are plenty that can really help with your back pain. Back support isn't the sexiest marketing term, so you won't see too many brands focus directly on that.
We're here to remove that uncertainty and provide you with some great recommendations for sofas that can help your aching back and make you comfortable in your living room again. We'll also point out some things to look for during your shopping journey.
High-quality seat cushions can help those with a bad back to decompress their spine, for example. But first, let's get to the best back support sofas and we'll circle back to tricks and tips toward the end of the article.
The Best Overall Sofas of 2021
Our team evaluated price, quality, comfort and additional features to bring you the best new sofas available now.
5 Couches That Provide Excellent Back Support
We've combed through tons of sofas and chose the five that we thought were best at providing proper back support. We've considered proper support features, reclining options, footrest options, quality of materials, as well as those with good seat heights and depths.
And of course, this is the Home of Cozy, so we're always looking to make picks that are comfy for all people.
1. Allform Modular Sofa
Price: starting at $1595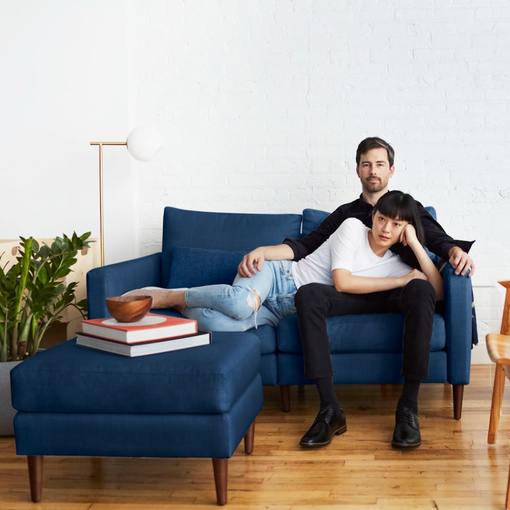 With extra-large seating, high-grade foam and channeling in the back and seat cushions, and a hardwood frame made from solid wood, Allform sectional sofas are great at providing back support, modern style, and customization options.
In fact, the best part about these couches is that they can be completely customizable. You can choose from a two-seater loveseat up to a U-shaped sectional with 8 seats. You can choose your own upholstery fabric and color – either top-grain leather or performance fabrics. You can even get granular and choose the color of the wooden legs.
But the real reason Allform stands apart from other retailers is the high-quality materials packaged in a mid-century modern look. You can be sure you're getting a supportive sofa that can ease your back and last for years and years. There's also a pretty sweet lifetime frame warranty and a 100-day return policy for those who are a little unsure of jumping in without trying it out in a showroom.
Best Sofa for Back Support: Allform
2. Rivet Sloan Mid-Century Sofa
Price: $813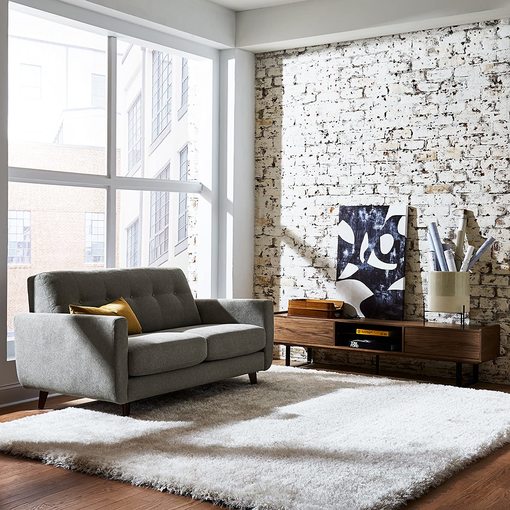 The Rivet Sloan, from Amazon, is a great Mid-Century style ergonomic loveseat. Built with high-density foam cushions and a solid, hardwood frame it's a great medium-firm sofa for back support.
While it does follow the IKEA model of producing functional furniture that's convenient to get, Rivet improves on quality from its Scandinavian counterpart. Though not as long-lasting as Allform, it's definitely a step above some of the more well-known fast furniture companies.
3. Homelegance Power Reclining Love Seat
Price: $835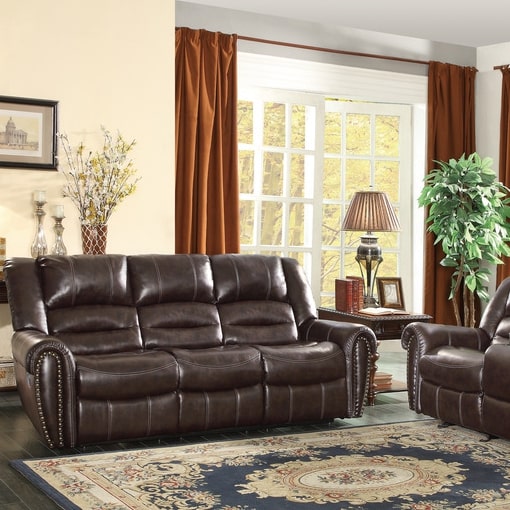 The Homelegance bonded leather, double glider recliner sofa features a double reclining mechanism, channel-tufted foam cushions and headrests, and smooth gliding motion to those who require back and/or mobility support.
If you're looking for a supportive recliner that has high durability, this is your best budget pick in that market.
4. Ashley Furniture Larkinhurst
Price: $669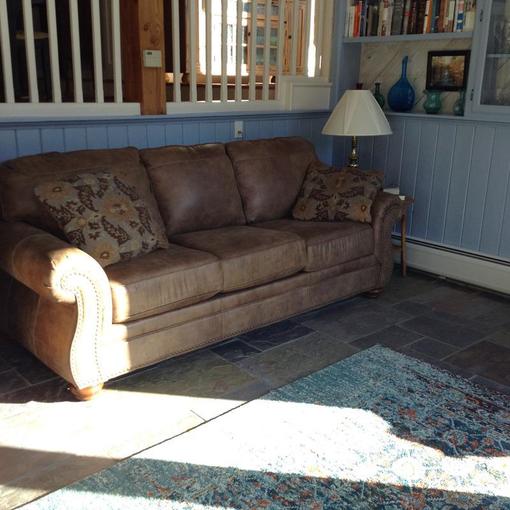 The Larkinhurst contemporary, three-seater, leather sofa from Ashley Furniture features a plush upholstery with high-density foam cushions and two throw pillows for extra back support.
It's not the most stylish piece of furniture for you home decor specialists, but there are some different colors available for different tastes. In terms of back support, this one definitely does the trick, though.
5. Serta Copenhagen
Price: $459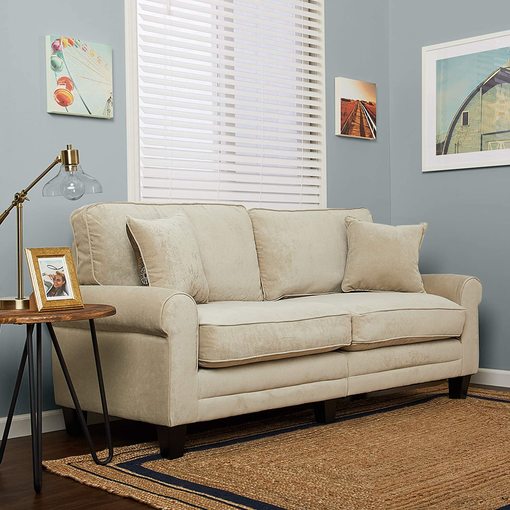 The modern styled Serta Copenhagen loveseat features soft, rounded arms, ergonomic, straight-back cushions, an individually wrapped coil support system, and high-density foam, making it one of our top picks for best sofa for back support.
How to Spot Couches That Provide Back Support
If you suffer from lower back pain, it's important to find a couch that provides proper back support. But how can you spot couches that will provide that? Here are a few suggestions.
Proper Support – First and foremost, your sofa should have a strong support structure including a metal or hard wood frame, springs, and memory foam cushion fill are all important features when it comes to finding a supportive sofa with proper lumbar support. It should be comfortable for lounging and watching Netflix without sinking you into a poor posture.
Reclining Sofas – New sofas with a recliner option can help take the pressure off your spine because it allows you to sit in more of a lying position and eliminates slouching. In addition, these pieces of furniture often come with remote controls to help you get out of the chair if you have difficulty standing.
Sofa Beds – We'd recommend staying away from sofa beds and futons. The dual-purpose of these sofa styles often makes them a lackluster option for those seeking back support in their sofa.
Chaise/Ottoman Options – Another option for those with back pain is one that includes a way to put your feet up to alleviate pressure on your spine. So you'd want to find a sectional with a chaise or purchase a couch that includes an ottoman.
Good Posture – It's important to find sofas that allow you to sit upright and fit your body. Therefore, you need to be sure to find a couch with the right seat height and seat depth to suit your seated measurements. Armrests are also an important feature for ergonomic seating.
Choosing the Best Sofa For You
Now you know what to look for in a modern sofa that provides proper back support, as well as some examples of great couches for those with back issues. We're going to wrap up with a few extra tips on how to find the best couches for your particular situation.
Look for quality materials and upholstery, like top grain leather, high-density foam, hardwood or metal frames, and a spring support system.
Look for ergonomic features like rolled arm armrests, backrest lumbar support, and headrests.
Consider options that also fit your other needs, like sleeper sofas, sofas that match your other room decor, and sofas that are a good fit (in size) for your space.
For help choosing where to buy your next sofa, see our Best Place to Buy a Sofa Article.
Other Brands To Consider for Back Support Sofas
While this list is our top picks, it's certainly not comprehensive. There are many sofa retailers that do the trick for those of us suffering from back pain.
Some notable retailers not on this list include West Elm, Joybird, Article, Room & Board, Burrow and Floyd.