The perfect loveseat is much more than a two-seater sofa. A loveseat can be an incredibly versatile piece of furniture. In small spaces, it gives you the comfort of a sofa and in bedrooms or offices, it can seamlessly anchor a sitting area.
Whether you're shopping for a small apartment, a home office, or your living room, I've put together some recommendations for new loveseats and settees. I tested over 20 different loveseats from the best brands and retailers out there including West Elm, Allform, Inside Weather, Crate & Barrel, Amazon and more.
The Best Overall Sofas of 2023
To help you find the best deep seat sofa, I tested individual models from over 23 different brands. These are the best new sofas with extra deep seats that balance the best in design, price, sustainability, and durability.
5 Best Loveseats Consumers Loved This Year
Brand
Best For
1

Editor's Choice

Quality, Functionality
Shop Now
2

Convenience
Shop Now
3

Options
Shop Now
4

Free Delivery
Shop Now
5

Kids & Pets
Shop Now
1
Editor's Choice
Best For:
Quality, Functionality
2
3
4
5
1. AllForm Custom Loveseats
Price: starts at $1,145
Dimensions: 63" Width x 38" Depth x 34" Height
Arm Height: 25″
Leg Height: 6″
Frame Materials: Maple and poplar kiln-dried laminated hardwood
Upholstery Options: 7 performance fabric options, 2 leather options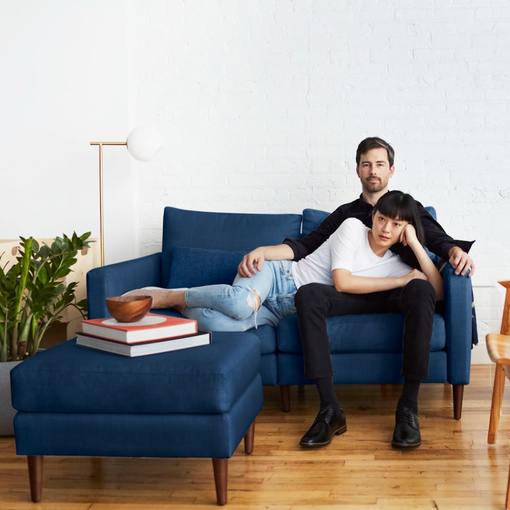 What I Love About Allform Loveseats
Allform may be new to the furniture market, but their mid-century modern loveseats are some of the most adaptable designs I've seen to date. I honestly think they can work in any living space you put them in. Much of that has to do with how they design 100% modular seating, giving you the flexibility to continually design a seating configuration as you move from home to home. You could start out with a classic two-seater loveseat for a small city apartment and gradually add on a chaise or additional seating modules to create a three-seater or sectional that's perfect for all-day lounging.
Allform just has one physical showroom right now, and it's in Manhattan. But even without seeing them in person, their online browsing and design experience couldn't be easier, especially for loveseats. For the sake of this test, I went for the classic two-seater with dark walnut legs in dark blue performance fabric upholstery. However, they also have a chaise sectional as well as top grain leather options.
While customizing, I decided to go with some add-ons like matching throw pillows and a weighted blanket, something I've definitely never seen offered from other brands.
When it arrived (much quicker than a lot of other brands by a longshot,) I was definitely impressed by the easy instructions and how seamless all of the modular pieces fit with one another. All in all, putting the solid wood frame together and adding seat and back cushions took under an hour. After that, it was hard to believe this fabric loveseat literally came from a box.
Hundreds of verified customers also shared their feedback, and as I went through 4 and 5-star reviews on the site, I found some commonalities: that it felt much more expensive than what the price was, and how it felt much more comfortable than it looked. Those are two pretty big wins as far as I'm concerned, and because of that, I definitely have to put it at the front of this list.
What I Didn't Love
While I didn't mind putting together this loveseat myself, some customers did complain about the prospect of having to assemble of luxe piece of furniture themselves. However, I will say that it's a lot easier to put together an Allform loveseat than anything I've ever ordered from IKEA or Wayfair.
2. Finn Sofa by West Elm
Price: $899 – $1,299
Dimensions: 61″, 75″, 84″ Width x 35.5″ Depth x 32″ Height
Arm Height: 24″
Leg Height: 6″
Frame Materials: Hand-built solid wood frame
Upholstery Options: 1 fabric that's in-stock and ready to ship, 20+ performance fabrics for custom pieces that ship within 10 weeks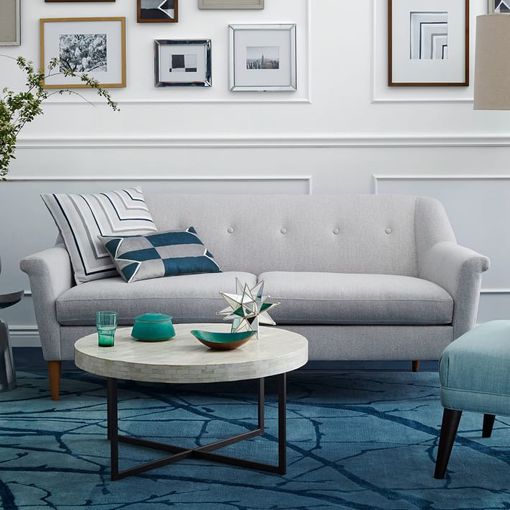 What I Loved About this West Elm Loveseat
Along with hundreds of other customers, I definitely think that West Elm has carved out a niche for itself as a retailer that produces pieces that work perfectly in small spaces, particularly studio apartments and one-bedrooms.
What drew me to this loveseat was its availability in three distinct widths. I loved the elegant, yet modern take on a sofa with a tufted back, which in my opinion gives it a look that emulates much more expensive Danish mid-century modern pieces. Additionally, this specific loveseat is handcrafted in Mississippi as part of West Elm's initiative to manufacture more substantive, high-quality furniture in the United States.
As with other large West Elm pieces, the Finn Loveseat came with the company's signature white glove delivery, and it was out of the box and set up within 10 minutes. Overall, the seats felt a little more firm compared to Allform's loveseat, so probably not the best for lounging and napping, but I could definitely see myself having a loveseat like this in a home office.
What I Didn't Love
I'm always a fan of West Elm, both their online and in-store experiences. And while I didn't see any particular issues with this specific loveseat, West Elm has in recent history had some quality control issues related to some defunct loveseats and sofas. Also, some negative reviews complained about the store's very short return window (just 7 days) compared to other retailers.
3. Powell Sofette by Inside Weather
Price: $1,349
Dimensions: 56″ Width x 33.5″ Depth x 35.5″ Height
Arm Height: 24″
Leg Height: 7″
Frame Materials: Solid kiln dried ash wood
Upholstery Options: 40+ performance fabric options, pet friendly, and commercial grade options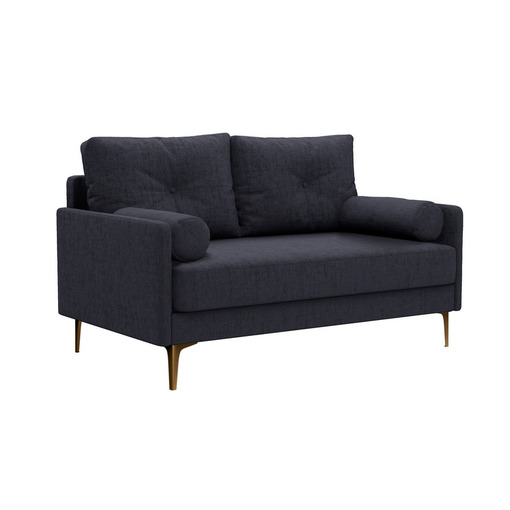 What I Loved About This Inside Weather Loveseat
Like West Elm, Inside Weather specializes in chic yet utilitarian furniture for smaller spaces. This is the kind of intuitive approach that resonated with me, and ultimately what drew me to this loveseat.
With its roll-style bolster arm cushions, the Issa is a quintessential mid-century modern piece that'll work in any space. Putting together a customized Issa online was easy, if not a little daunting considering how many options there are to choose from. I noted over 40 different upholstery options along with tufting or no tufting for the back seat cushions, along with customizable legs and armrests.
What Real Customers Didn't Love
One thing I'd note for anyone browsing Inside Weather's site: there are just a few options in stock and ready to ship with lead times between 30 to 35 days. However, custom upholstery or design options can drastically extend that shipping window.
4. Rivet Revolve Loveseat by Amazon
Price: $743
Dimensions: 79.9″ Width x 34.6″ Depth x 35.4″ Height
Arm Height: 24″
Leg Height: 6″
Frame Materials: Solid wood frame, wood legs, foam padding; removable back cushions
Upholstery Options: 5 performance fabric options, 3 leather options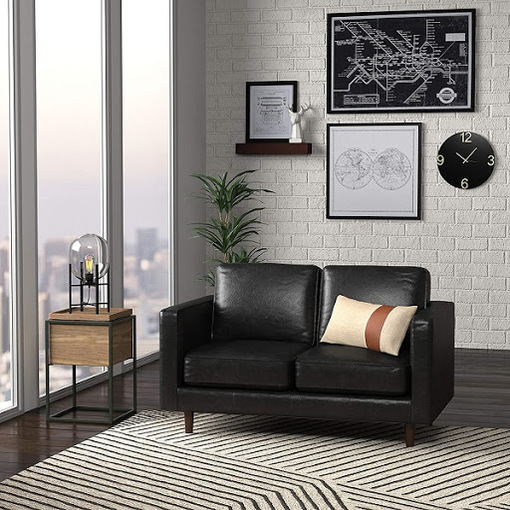 What I Loved About this Amazon Loveseat
Amazon is a retailer that needs no introduction, but in the past few years, they've been upping their game in terms of furniture that's in stock and ready to ship. And while I had my apprehensions about ordering furniture from such a huge company with its fair share of logistical issues, I was pretty impressed.
Buying a loveseat on Amazon isn't that different from buying books or electronics on the marketplace. It features 8 different upholstery options as customizable features, and Amazon even includes free scheduled delivery.
While it wasn't as soft or as easy to put together as Allform's customizable loveseat, I could definitely see why over 1,377 customers gave it between 4 and 5 stars. It looks just as great as it does in the product photos. It felt sturdy and the cushions held their shape pretty well. And while I didn't spend too much time with it, lots of verified buyers left high ratings for its durability.
What I Didn't Love
I didn't experience any quality issues, but I did have a harder time putting this together than the Allform loveseat.
5. Barrett Track Arm Apartment Sofa by Crate & Barrel
Price: $1,249
Dimensions: 70″ Width x36″ Depth x30″ Height
Arm Height: 26″
Leg Height: 2.25″
Frame Materials: Kiln-dried sustainable engineered hardwood
Upholstery Options: 17 In-stock and ready to ship fabric options, 30+ custom options (may extend delivery time)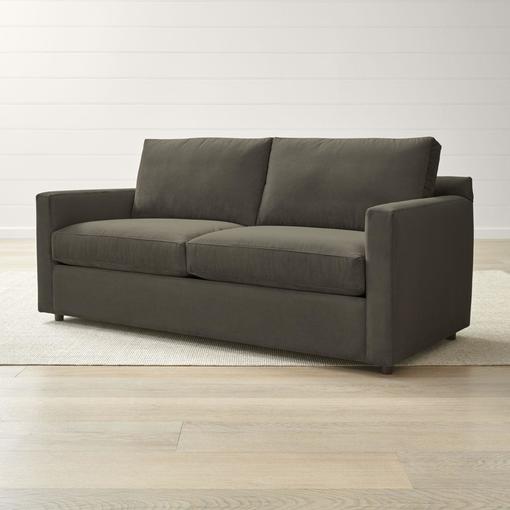 What I Loved About this Crate & Barrel Loveseat
Of 616 reviews I read through, most customers rated this loveseat between 4 to 5 stars. Overall, I agree with most reviewers who trusted Crate & Barrel as a source for chic, attainably-priced contemporary furniture and home decor. Something that stood out to me about from the reviews was how this loveseat in particular held up to daily wear as well as small kids and pets.
So, to test it out, I invited some friends with both kids and pets to give this couch their worst, i.e. their perennially sticky hands and paws. I have to say, I've had harder times cleaning seat cushions. Compared to more finicky fabrics from Pottery Barn or even West Elm, Crate & Barrel's Barret Apartment Sofa lives up to the hype.
What I Didn't Love
I didn't experience any quality or customer service issues. However, I noticed that some negative reviews complained that the loveseat's high-density foam cushions sagged frequently after several months of use and needed regular fluffing to maintain their shape.
Tips for Buying a New Loveseat
Choose Your Upholstery, Build & Color Options Wisely
First, you should consider the layout and seating configuration you're looking for. Would you be fine with a loveseat or a sofa? Do you want to look and feel of a classic chesterfield or would you prefer a minimal, mid-century modern piece? Would you appreciate a sofa with a built-in recliner?
If you anticipate entertaining frequently, consider a sleeper sofa or futon that reclines. If you're decorating a really small space, consider whether or not you may be fine with a one-arm loveseat chaise that doubles as something you can easily lounge on.
Next, think about your lifestyle and what a large, expensive piece of furniture may have to put up with on a day-to-day basis. If you have kids, pets, or you anticipate spending a lot of time in your living space each day, then you should probably seek out a loveseat that's stain-resistant. Lots of brands today offer stain-resistant microfiber or faux leather loveseats
Speaking of upholstery, it can also be based on your specific tastes. For instance, choosing fabric or leather upholstery is completely dependent on what texture you see yourself living with day in and day out for as long as you own that loveseat. Some people truly love the vibrancy of a statement sofa or loveseat to anchor a room. Meanwhile, others love when a sofa harmoniously blends into a room's decor with coordinating throw pillows and blankets.
Align With Your Existing Living Room Furniture
With the exception of buying furniture for a new house or apartment, you're likely buying furniture for an existing seating area. This is when it's handy to have a tape measure with you whether you're going to a furniture showroom or shopping online. You'll need to measure your living space to see whether you can really spread out with a sectional or need to go for a small sofa instead.
Consider Other Loveseat Brands
While we went through a lot of great brands in this review, you should always do some research to see which furniture companies and home decor retailers may have high-quality designs that'll work perfectly in your home. Honorable mentions include great retailers like Wayfair, Joss & Main, and Modway. And one final tip: always look into a company's warranties as well as seasonal sales that'll give you the best deals possible.