After a long day of dealing with hip pain, the last thing you probably want is for it to come with you to bed, too.
If you've stumbled around these parts, you've been scouring the internet looking for the best mattress for hip pain, dreaming of your hip joint finally feeling some pressure-relieving relaxation after hours of being on your feet.
The quest for a good night's sleep and finding the type of mattress that can support your hip pain can be tricky— but don't worry— we did all the hard work for you so you can find a cozy mattress for hip pain relief!
But before our little bespoke mattress review just for you, let's review some important factors to consider when finding a quality mattress to support your pain and body type.
Best Mattresses for Hip Pain
Brand
Best For
1

Editor's Choice

Overall
Shop Now
2

Hybrid
Shop Now
3

Cooling
Shop Now
4

Couples
Shop Now
5

Organic
Shop Now
6

Pressure Relief
Shop Now
7

Extra Firm
Shop Now
8

Plus Size
Shop Now
9

Budget
Shop Now
1
Editor's Choice
2
3
4
5
6
Best For:
Pressure Relief
7
8
9
Support
Striking that Goldilocks balance— not too soft, not too firm, but just right— is where the magic happens, which is why it's crucial to find a mattress that provides just the right amount of hip and spine support.
A medium-firm mattress (or even a firmer mattress if you prefer) usually hits that sweet spot, offering the perfect blend of support and comfort. But no matter what your causes of hip pain may be, we'll go over mattresses of all types and firmness options so you can find exactly what you need: from a luxury mattress to an innerspring mattress to a memory foam mattress, a latex mattress, and everything in between.
Pressure relief
For those with hip pain (or shoulder pain, or back pain), pressure relief is the difference between having a deep, long sleep and tossing and turning all night.
The ideal mattress should distribute your body weight evenly, taking the pressure off those pesky pain points, especially around the hips. Memory foam and latex are standout materials in this arena, contouring your body shape and having motion transfer technology so your joint pain can feel relief all night long.
Spinal alignment
Maintaining a neutral spine position while you're in dreamland is of utmost importance— especially so you don't wake up feeling like your sleeping surface was disrupted by an overly soft mattress.
The right mattress to support your pain should support your spine's natural curve, especially when you're snoozing on your side.
If you're able to, test out mattresses in your typical sleeping position to see if it helps your spine stay aligned, and compare softer mattresses with firmer mattresses to find your ideal fit.
Motion isolation
If you share your bed with a partner who tends to toss and turn (a "combination sleeper") a mattress with good motion isolation can be your saving grace to make sure you don't wake up in the middle of the night (and so you don't wake up your sleeping partner!)
A mattress's material and type will ensure your partner's midnight movement marathon doesn't interrupt your peaceful slumber— particularly, a memory foam bed is ideal.
Durability
Nobody wants to invest in a mattress that loses its charm after just a few months, right? We're going to take a look at high-quality options (even affordable ones!) that promise to maintain their support and comfort over time, as well as offer many years' warranty for additional support and trust.
Checking out customer reviews, warranty details, and return policies can give you a solid insight into a mattress's longevity and the trustworthiness of the brand.
Personal preference & subjectivity
But after all of our options, even all over our site— the best mattress for side sleepers, the best memory foam mattress— there's only one opinion that will ultimately matter the most: yours.
At the end of the day, your personal comfort is paramount. The best way to find your dream mattress is to, quite simply, test out as many as you can, and do research like you're doing right now!
What works like a charm for one person may not necessarily do the trick for another. So, take the time to consider these tips and find a mattress that doesn't just meet your requirements but also complements your preferences. Happy mattress hunting!
If you can, visit mattress stores, test out mattress firmness, practice side sleeping on it, ask about all the firmness types like medium-soft feel and firm feels, take advantage of trial periods, and use your best judgment based on what you need. After all, the most important factor in this is you!
Consulting with your healthcare professional
It might also be worth consulting with a healthcare professional like a physical therapist or orthopedist to provide personalized recommendations that align with your specific condition and needs. if your hip pain is persistent, as well as any other pain like lower back pain, bursitis, or other chronic pain that could be holding you hostage during the day and during the night.
You could buy the best mattress in the world, but without getting to the root of the problem, you might spend years in pain, questioning why you can't get a good night's sleep.
But enough about pain— this is about comfort, right? So let's get into our favorite mattresses for hip pain!
Our Top Picks for Best Mattress for Hip Pain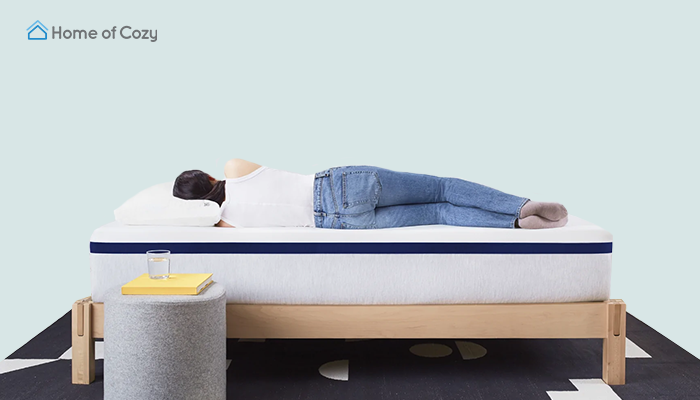 Price Range: $702.20-$1,748
Mattress Type: Medium
Firmness: Medium (5-6)
Trial Length: 100 nights
Warranty: 10 years
What I Loved
Multiple different layers, including a cooling top layer, a memory plus foam layer, Helix responsive foam, up to 1,000 individually wrapped coils, and DuraDense Foam
You can pick between two hypoallergenic mattress options, including a soft and cooling TENCEL™️ cover or a GlaxioTex™️ Cooling Cover
2-sided edge support, side-sleeper support, and pressure point relief built into the mattress design
Includes a free dream pillow set
What I Didn't Love
Many customers say that while this mattress is described as medium, it feels softer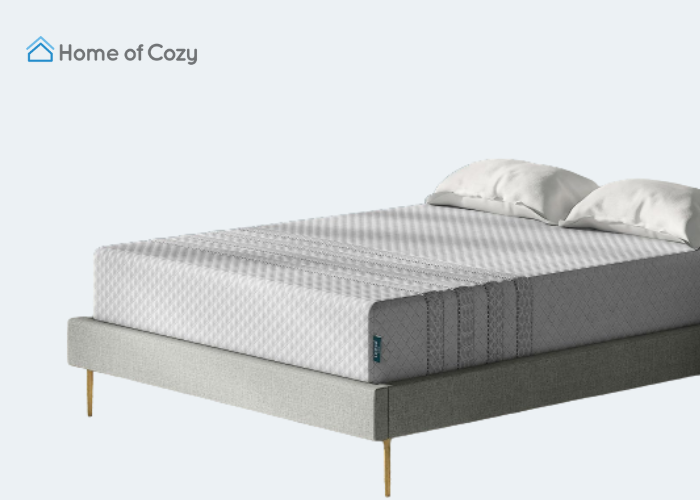 Price range: $1,199-$2,299
Mattress type: Hybrid (Pocket Spring and Memory Foam)
Firmness: Medium-Firm (5-7)
Trial Length: 100 nights (if you don't have access to a store)
Warranty: 10 years
What I Loved
A 6-layer design that includes a support layer, a memory foam layer, and a ventilated foam layer, all layered in between a support layer, a stability layer, and a breathable cover on top
More than 1,000 pocket springs allow for edge support, lots of movement, and airflow, while the two comfort layers of foam allow for pressure relief
2 free pillows with your mattress
What I Didn't Love
While the mattress claims to be a 5-7 firmness level (a medium- to medium-firm level) many customers say that it feels more like a firm 8-12 level, which comes as a surprise for many sleepers who felt their mattress would have a little less firmness than it states
A few customers seem to have had issues with the customer service, whether it's slow or completely unresponsive on certain issues
The only place you might be able to try out your mattresses is West Elm and Pottery Barn, and even then, it may not be guaranteed that you'll find the mattress you're looking for to try it out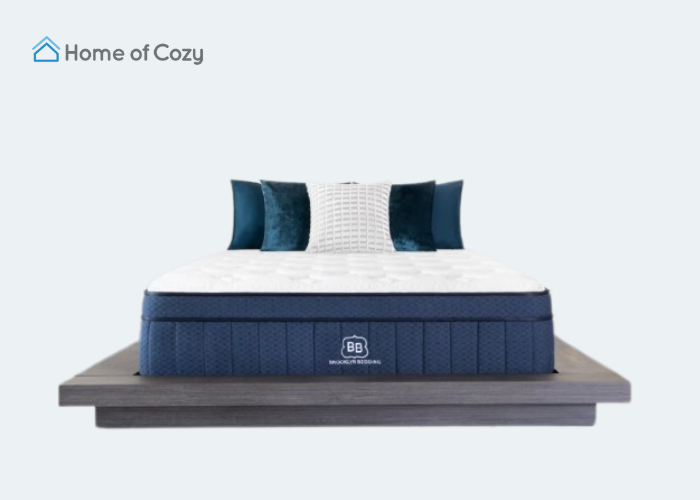 Price range: $1,199-$1,698.80
Mattress type: Hybrid (Memory Foam and Pocketed Coils)
Firmness: Medium (but with 3 firmness options for those who need firm!)
Trial Length: 120 nights
Warranty: 10 years
What I Loved
Free, bed-in-a-box delivery for a new mattress right to your front door
GlacioTex™️ cooling cover and Copperflex™️ foam, gel swirl memory foam, and supreme response comfort foam for extra comfort and cooling all in one and great for hot sleepers
120-night trial to give it a go without risk
The blend of memory foam and pocketed coils gives it a supportive body contouring shape without feeling like you're sinking or like you're sleeping on the ground!
What I Didn't Love
Many customers say that even though the website says the mattress is a medium, it's actually much softer, which is uncomfortable for sleepers with back pain who need more support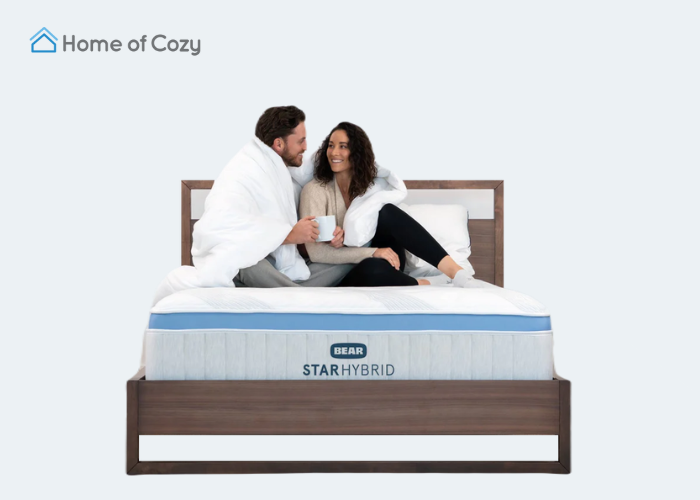 Price range: $909-$1,958
Mattress type: Hybrid (Gel Foam and Pocketed Coils)
Firmness: 6.8 (Medium to Medium-Firm)
Trial Length: 120 nights
Warranty: Lifetime
What I Loved
GreenGuard Gold Certified and CertiPUR-US Certified, which means it emits the fewest toxic VOCs into your home
The SereneGel Foam combined with the Sleep Recovery Technology™️ (which is made from natural minerals) makes this mattress environmentally friendly and great for hot sleepers
Not every mattress has a Lifetime Warranty, but this one does!
Made in the USA (Arizona, to be exact!) with both local and international parts
What I Didn't Love
Some believe that although the pain relief is a big factor in them picking this bed, it ends up being too firm for their liking, feeling like it falls higher on the firmness scale than it claims.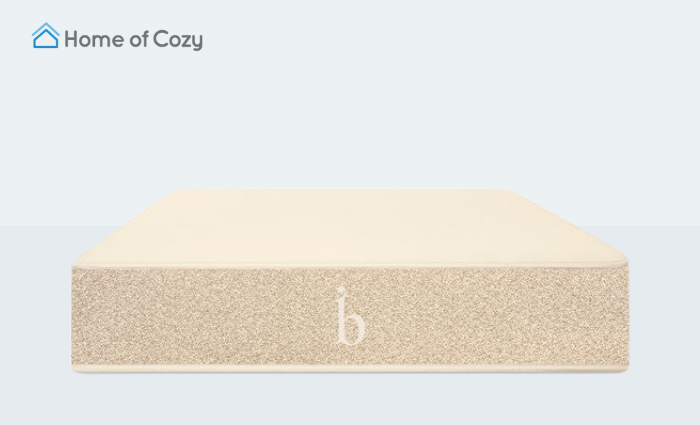 Price range: $1,124-$1,874
Mattress type: Hybrid
Firmness: Medium-Firm
Trial Length: 100 nights
Warranty: 25 years
What I Loved
Global Organic Textile Standard (GOTS) Certified, GreenGaurd Gold Certified, an Eco-Institute Tested Product, and a Fair-Trade Certified Factory, ensuring they only use organic and natural materials and partner with that adhere to ethical, responsible, and natural manufacturing practices, as well
Multiple arrangement orders, including removing your old products, setting up your new mattress, or doing both!
Free Standard Eco-Rest pillows with your order
Made of organic New Zealand wool, organic Fair Trade cotton, and natural Talalay latex (no foam!)
What I Didn't Love
Hot sleepers might feel uncomfortable with a mattress made up of cotton and wool
This is definitely more on the expensive side— even the smallest mattress size starts at above $1,000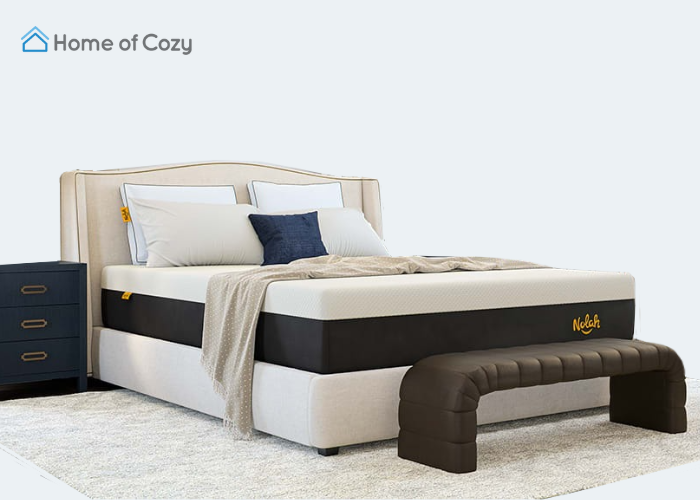 Price range: $1,259-$1,799
Mattress type: Foam
Firmness: Medium (5)
Trial Length: 120 nights
Warranty: Lifetime
What I Loved
5 layers, starting with a cotton cover followed by 4 layers of comfy foam including AirForm™️
Side-sleeper friendly, offering pressure relief from the shoulders and hips
CertiPUR-US Certified, made without ozone depleters, toxic flame retardants, formaldehyde, phthalates, and low VOC
Easy bed-in-a-box pack, so you can simply unbox, position, unwrap, let it expand, and enjoy!
What I Didn't Love
Though they have a 120-night trial, you'll still have to pay a $99 fee for your mattress to be picked up, which could be costly if you're looking for a risk-free option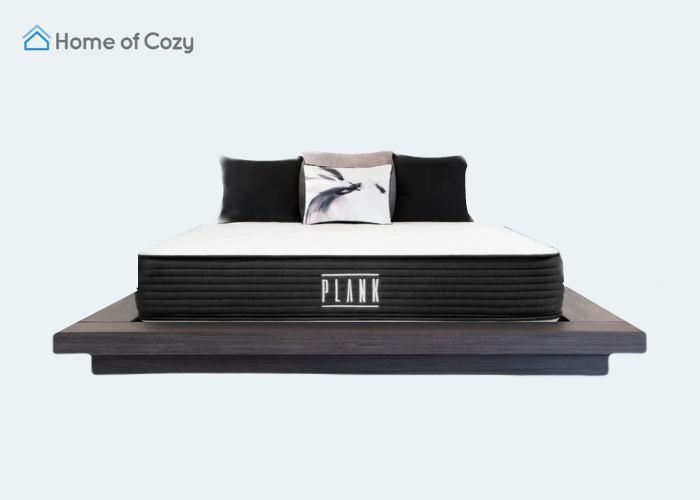 Price range: $749-$1,532
Mattress type:
Firmness: Firm (8)
Trial Length: 120 nights
Warranty: 10 years
What I Loved
Choose your ideal firmness by simply flipping the mattress! One side has a 0.75 quilted top layer, and the other side has a 2" TitanFlex™️ layer for a firmer sleep
Endorsed by the American Chiropractic Association (ACA), and through a 3-month study, found that the mattress reduced back pain and spine stress, and improved lumbar support
GlacioTex™️ cooling cover option allows you to add more cooling elements to your bed
Easy bed-in-a-box delivery, and offers a 120-night risk-free trial
What I Didn't Love
Some say that this mattress doesn't feel as firm as was marketed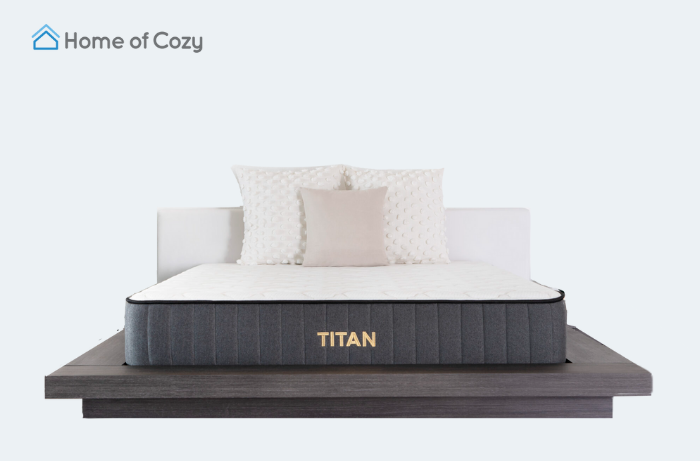 Price range: $699-$1,124.30
Mattress type: Hybrid (Memory Foam and Coils)
Firmness: Firm (8-10)
Trial Length: 120 nights
Warranty: 10 years
What I Loved
This mattress is thick, at 11 inches tall made with 5 layers, and specially designed for plus-sized sleepers who need extra support and thickness, with a 1" layer of quilted, gel memory foam, a 2" layer of patented TitanFlex™ foam for contouring, and pressure point relief, a 6" layer of TitanCore coils for motion isolation, and a 2" high-density foam base for durability
The GlacioTex™️ cooling cover can help sleepers who suffer from high body heat at night, helping them maintain 88 degrees for sleeping
Great for back sleepers and stomach sleepers
What I Didn't Love
These mattresses are only available in select Brooklyn Bedding showrooms; we can't guarantee you'll be able to give it a try in-person before ordering!
Brooklyn Bedding doesn't allow you to return mattresses until after 30 days for you to try them out. On top of that, the trial is only applicable once per customer per calendar year, which could get tricky if you order the wrong mattress or want to try out different firmness types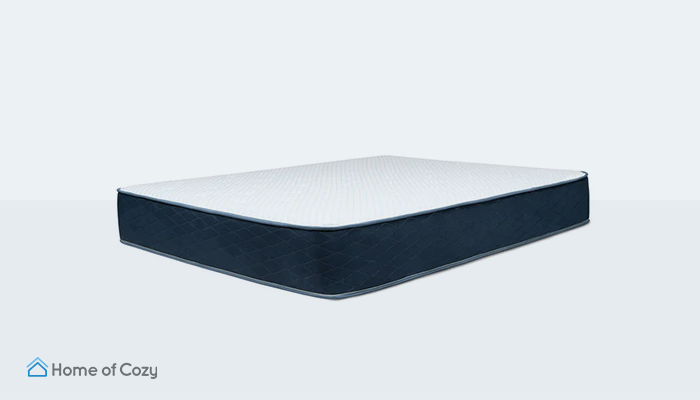 Price range: $399-$749
Mattress type: Hybrid (Coils and Foam)
Firmness: Medium (5)
Trial Length: 120 nights
Warranty: 10 years
What I Loved
A 4-layer design, including a quilted top, 2.5 inches of gel memory foam, individually encased coils, and a high-density foam foundation at the bottom for durability
Cooling features for hot sleepers with a cool mattress topper, foam-infused gel cooling beads, and coils to allow for airflow
Hypoallergenic and CertiPUR-US Certified meaning it's made without ozone depleters, Tris flame retardants, and heavy metals
What I Didn't Love
Some customers felt that lower back support and cooling support could have been better on this mattress
And with that, we wrap up our journey into the world of mattresses and hip pain relief! You probably saw a lot of similarities in these mattresses like high firmness and thicker builds, and lots of differences, like spring mattresses, hybrid mattresses, and Memory Foam mattresses.
But remember, what it all boils down to is you! With patience, research, and knowledge of your body, you can find a mattress that'll grant you years and years of uninterrupted, comfortable, pain-free sleep. And for more cozy content, check out our Favorite Mattresses of 2023!