Are you ready to elevate your sleep experience to the highest level of comfort and luxury? Look no further than the Best Texas King Beds. Designed to provide the perfect blend of regal style, ample space, and unparalleled comfort, these beds are fit for kings and queens.
Texas King Beds, also known as "Texas Kings" or "Western Kings," are the epitome of grandeur and sophistication. With their generous dimensions, they offer an indulgent sleeping surface that ensures you can stretch out and unwind in true Texas style. Measuring a remarkable 80 inches wide by 98 inches long, these beds provide an extra 18 inches of width compared to a standard King size bed.
Crafted with meticulous attention to detail, the Best Texas King Beds are made from high-quality materials that guarantee both durability and exceptional comfort. These beds often feature premium upholstery, sumptuous fabrics, and fine craftsmanship, ensuring a luxurious feel that will enhance the aesthetic appeal of any bedroom.
Best Texas King Mattress
What is a Texas King Bed?
A Texas king bed is a larger size than a traditional king bed, also known as an Eastern king. A Texas king measures 80 inches wide by 98 inches long, making it longer than a California king (72 inches wide by 84 inches long), which is narrower but longer than a traditional king bed (76 inches wide by 80 inches long).
An Alaskan king bed mattress is even larger than a Texas king, measuring 108 inches wide by 108 inches long, making it the largest standard-size mattress available on the market. It is typically used in spacious bedrooms, such as master suites, where there is ample space to accommodate its size.
It's worth noting that due to their non-standard sizes, finding bed sheets, comforters, and other bedding for these larger mattresses can be more difficult and expensive than for standard sizes.
What To Consider Before Purchasing a Texas King Bed
Room Size: A Texas King bed is one of the largest mattress sizes available and requires ample floor space. Before purchasing, it's important to measure your room to ensure that the bed will fit comfortably. Consider the layout of the room and how the bed will fit with other furniture pieces, as well as any potential obstacles that could make it difficult to maneuver the mattress into the space.
If you have a smaller room without a lot of space, you may want to look into a Wyoming King or California King, both of which are smaller than the Texas king-size mattress but are still oversized mattresses and the perfect family bed with everyone having ample sleeping space.
Budget: As with any large purchase, it's important to establish a budget before you start shopping for a Texas King bed. These mattresses can be more expensive than other sizes due to their larger dimensions. However, setting a budget will help you narrow down your options and ensure that you find a mattress that meets your needs without breaking the bank.
Preferred Level of Comfort: Everyone has different preferences when it comes to mattress firmness. When shopping for a Texas King bed, consider what level of comfort you prefer, whether it's a firmer or softer mattress. Texas King mattresses are available in a variety of firmness levels, so make sure to choose one that will provide the comfort you need for a good night's sleep.
Quality of Materials: A high-quality mattress is an investment that should last for years to come. When looking for a Texas King bed, make sure to consider the quality of the materials used in the construction of the mattress. Look for features such as high-density foam or coils, quality covers, and durable stitching. A well-made mattress will provide the support and comfort you need for a good night's rest.
Brand Reputation: It's important to research the reputation of the mattress brand you're considering. Look for reviews and ratings from other customers to get an idea of the quality of the product and the level of customer service you can expect. A reputable brand will stand behind its product and provide excellent customer service.
Trial Period and Warranty: Finally, check the trial period and warranty offered by the manufacturer. This will allow you to test the mattress to ensure it meets your needs and have peace of mind knowing that you're covered in case anything goes wrong. A good warranty will protect your investment and give you the assurance that you're getting a quality product.
Quality Considerations When Purchasing a Texas King Mattress
When purchasing a Texas King bed, one of the most important factors to consider is the quality of the materials used to make the mattress and frame. Look for a mattress made from high-quality materials such as memory foam, latex foam, or coils that provide the support and comfort you need for a good night's sleep.
In addition to the mattress, consider the quality of the frame and other materials used in the construction of the bed. A sturdy frame made from durable materials such as solid wood or metal will ensure that your Texas King bed lasts for many years.
The quality of the cover and other accessories, such as pillows and sheets, is also important to consider. Look for bedding made from high-quality materials that are soft and comfortable to sleep on and will last a long time.
Overall, investing in a high-quality Texas King bed is a smart choice that will pay off in the long run. By choosing a bed made from durable materials, you'll be able to enjoy a comfortable and restful sleep for many years to come.
Where To Buy Texas King Mattress
Texas King mattresses are not as common as other standard mattress sizes, such as King or Queen, but they can still be found at some online retailers, furniture stores, and bedding retailers.
Here are some places you can check to find a Texas King mattress:
Online retailers: You can find Texas King mattresses on popular online retailers such as Amazon, Wayfair, Overstock, and Big Mattress Company.
Furniture stores: Check with local furniture stores in your area, especially those that specialize in mattresses and bedding. Some well-known furniture stores that carry Texas King mattresses include Ashley Furniture, Rooms To Go, and Havertys.
Bedding retailers: Some bedding retailers may offer Texas King mattresses, including Mattress Firm, Sleep Number, and Tempur-Pedic.
When shopping for a Texas King mattress, it's important to compare prices, materials, and customer reviews to find the best option for your needs and budget.
Bedding Considerations
Bedding considerations are an important aspect to consider when purchasing a Texas King mattress. One of the most important factors to keep in mind is the size of the bedding. Since the Texas King is a unique size, it can be difficult to find bedding that fits properly. To avoid any discomfort, it's recommended to invest in oversized bedding that is specifically designed for the Texas King size.
Fortunately, many retailers offer custom-made bedding for Texas King mattresses, so it's possible to find bedding that is perfectly tailored to fit your new mattress. However, it's important to keep in mind that custom-made bedding can be more expensive than traditional king-size bedding.
When shopping for bedding, it's also important to consider the quality of the materials. Look for high-quality bedding made from durable and comfortable fabrics that will hold up well over time. Additionally, consider the frame and other materials used in the bed, such as the headboard and footboard. These should also be made from high-quality materials that will complement your bedding and provide a comfortable and stylish sleeping environment.
Delivery and Installation Considerations
Delivery and installation considerations are important when purchasing a Texas King mattress. Before making your purchase, make sure that your home can accommodate the delivery and installation of the mattress. This includes ensuring that the delivery personnel has easy access to your bedroom and enough space to maneuver the mattress.
If you're purchasing a bed in a box, consider enlisting the help of others to assist with the setup process. These mattresses can be quite heavy and difficult to maneuver alone, so having an extra set of hands can make the process much easier.
If the retailer offers white glove delivery, be prepared to pay extra for this service. While it may be more expensive, white glove delivery includes delivery and setup of the mattress, as well as the removal of any old bedding or packaging materials. This can be a convenient and stress-free option for those who want to avoid the hassle of setting up the mattress themselves.
Overall, it's important to consider delivery and installation when purchasing a Texas King mattress to ensure a smooth and stress-free process.
Our Top Picks for Best Texas King Bed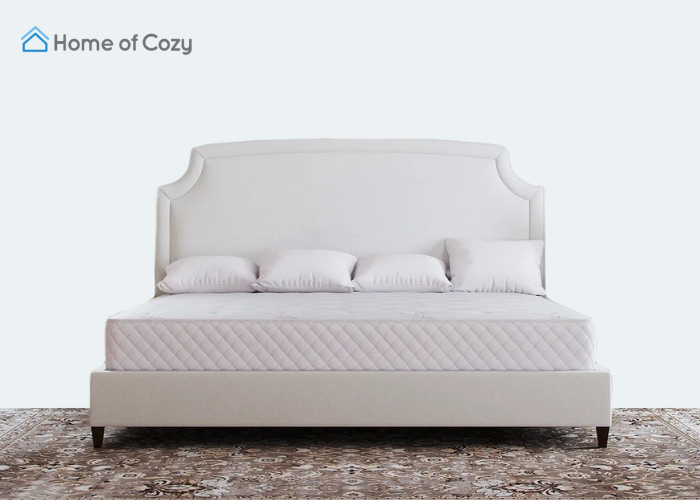 Best Value: The Original Texas King by Custom Mattress Factory
Price: $2,700.00
Mattress Type: Foam
Firmness: There are three to choose from 2.5/10 (soft), 4.5/10 (medium-soft), 6.5/10 (medium-firm)
Warranty: 10-Year Limited Warranty
Custom Mattress Factory is the ultimate destination for snagging a top-tier Texas King sized bed mattress. Rest assured, purchasing from them is an absolute breeze – the process is as seamless as any other online shopping experience. What's more, your brand-new, high-quality mattress will be compressed and shipped to your doorstep free of charge, all while arriving in a convenient box.
They have been a prominent player in the mattress industry, gaining nationwide recognition for their mastery in crafting custom or odd-size mattresses. Their unwavering commitment to exceptional customer service is a testament to their hundreds of gleaming 5-star reviews.
Custom Mattress Factory understands the importance of a good night's sleep and provides premium, US-made mattresses built with top-quality materials and standards. You won't have to break the bank to sleep like royalty – their Texas King model is priced fairly and is a cut above the competition.
What I Loved
I love the Hypercool layer. This material transfers heat away from the body and keeps the sleeper cool during the night. It also bounces back into shape quickly, so you don't feel stuck in the mattress. Also, it's eco-friendly and free of harmful chemicals. This bed has much more leg room than the standard king.
What I Didn't Love
With such a large bed, it shouldn't be a big surprise that the edges may sink a little. However, for such a large mattress, it's not as noticeable as it could be. When lying in bed, you can sleep on the edge with little sinking. It's more the sitting on the edge.
Best Luxury: Big Mattress Premier by Big Mattress Co.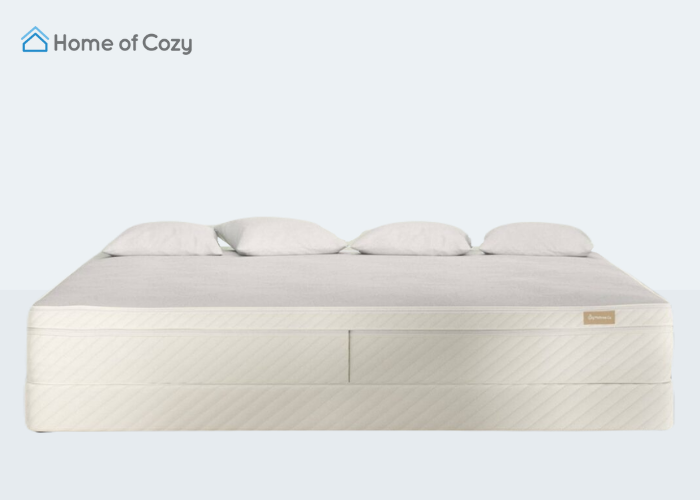 Price: $3,144.15 – $3,654.15
Mattress Type: Choice between premium hybrid or premium foam
Firmness: 5.5/10
Trial Length: 100-night sleep trial
Warranty: 10-year warranty
Unlock the next level of Texas King comfort with a mattress that's simply beyond compare. The folks over at Big Mattress Co. are the masters behind this wonder, and it's no surprise, given that they're backed by NaturalForm – an established player in the industry with years of expertise under their belt.
The mattress itself is a true game-changer, featuring a luxuriously soft cotton cover and a choice between foam or hybrid spring core – it's all up to you! But that's not all – their revolutionary patented innerspring system has garnered awards for its exceptional pressure relief. If you're looking for a mattress that's both supportive and relieves back pain, you've come to the right place.
But don't let the fancy features intimidate you – Big Mattress Co. has got you covered with the Classic Texas King Mattress. Slightly thinner in profile and about $500 less expensive, this model is the perfect option for those who seek an excellent sleeping experience without breaking the bank. With Big Mattress Co., sweet dreams are always within reach.
What I Loved
I love that people have a choice between the premium hybrid and premium foam. Both of these come with a 100-night sleep trial and a 10-year warranty.
What I Didn't Love
The biggest downside that I noticed was on the hybrid mattress and that was the motion transfer isn't as good as with the foam mattress. That's to be expected, though, and it's not all that noticeable and you'd still be able to get a good night's sleep even if you're sleeping with a partner.
Most Customizable: Texas King Bed by MattressInsider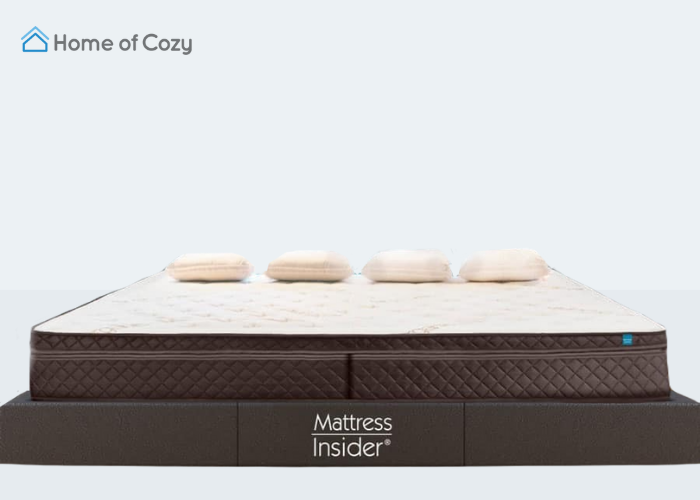 Price: $3,299
Mattress Type: Hybrid
Firmness: 5/10
Warranty: 10-year limited warranty
MattressInsider.com stands out as a top choice for purchasing a Texas King mattress. With their hassle-free online shopping process, your mattress is shipped right to your doorstep for free in a compressed box. Since 2008, Mattress Insider has been a leading manufacturer of custom and odd-size mattresses, earning a reputation for exceptional customer service and consistently receiving glowing 5-star reviews.
What sets Mattress Insider apart from the competition is their affordable pricing for their Texas King mattress, which rivals other brands' costs in the market. Additionally, all of their mattresses are crafted with high-quality materials and standards that ensure a comfortable and restful sleep experience. Trust Mattress Insider to provide you with a top-of-the-line mattress made in the USA at a price that won't break the bank.
What I Loved
I loved that this bed has different firmness levels. If you want a firmer mattress, you just flip a layer, and it brings the firmness to a 6/10. If you want it softer, you flip it for a 5/10. Another great thing about this mattress is it's an excellent choice for co-sleepers and for big and tall people.
What I Didn't Love
I didn't love that there isn't a sleep guarantee on the mattress. If you order it and don't like it, you're stuck with it because you do not get the 121-night guarantee. On a positive note, you can change the firmness of the bed.
Other Options for Oversized Beds
Looking to upgrade your bedroom with a touch of luxury and uniqueness? Consider checking out Mareeco.com or Acesize.com for their exclusive range of oversized beds. These two companies specialize in creating one-of-a-kind pieces that are sure to make a statement in any room.
While their prices may be higher than some other options, the investment is worth it for the quality and craftsmanship that goes into each piece. Plus, with the ability to have your bed or headboard designed in any size or style, you'll have a truly personalized addition to your home.
Why settle for a standard bed when you can have a show-stopping centerpiece that's tailored to your exact specifications? Explore the possibilities with Mareeco.com or Acesize.com and elevate your bedroom to the next level.
Like the Wyoming King and the Alaskan King mattress, the Texas bed frame must be ordered because it is not included with the purchase of a mattress.
If you have shoulder pain or are interested in the best mattress for combination sleepers, you should read the other articles from Home Of Cozy. We do the research for you, so you don't have to.