The California king mattress size has been around since the 1960s, when it was supposedly developed in the Los Angeles region as an option for the rich and famous. Like other king-size beds, the CA king is roughly the size of two twin beds pushed together. However, a California king is slightly longer and slightly thinner than a standard king mattress.
In this guide, we'll take a close look at 12 of our favorite California king mattresses based on quality, budget, and type. We'll also provide a CA king FAQ and offer tips on finding your ideal extra-large mattress and bed frame.
What Is the Difference Between a Standard King and a California King-Size Bed?
The California king mattress size is slightly longer and thinner than a regular king-size mattress, which is also known as an "Eastern king." These differences provide a useful option for tall sleepers or for couples who like to let a pet sleep at the foot of the bed. California kings are also often ideal for shoppers who want to fit a king-size mattress into a space that's slightly too narrow for an Eastern king.
Here are the dimensions of Eastern and CA king-size beds:
| | | | |
| --- | --- | --- | --- |
| | Length | Width | Total Area |
| Eastern King | 80" | 76" | 6,080 sq. in. |
| California King | 84" | 72" | 6,048 sq. in. |
The overall surface area is nearly identical for Eastern and California kings, with an Eastern King being just a tad larger.
The Top 12 California King-Size Mattresses
From leading online bedding brands, here are 12 of the best mattresses that are available in California king-size.
Brand
Best For
1

Editor's Choice

Organic
Shop Now
2

Side Sleepers
Shop Now
3

Athletes
Shop Now
4

Firm
Shop Now
5

Memory Foam
Shop Now
6

Comfort
Shop Now
7

Cooling
Shop Now
8

Back and Stomach Sleepers
Shop Now
9

Back Pain
Shop Now
10

Support
Shop Now
11

Value
Shop Now
12

All-Foam
Shop Now
1
Editor's Choice
2
3
4
5
6
7
8
Best For:
Back and Stomach Sleepers
9
10
11
12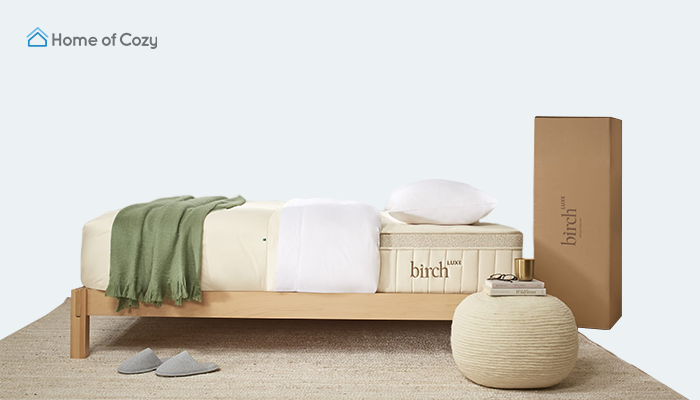 Price: $2,899
Best For: organic materials
Mattress Type: latex hybrid
Trial Length: 100 nights
Firmness: 6.5/10 (rating provided by Birch)
What I Loved About This Birch Mattress
A luxury mattress in a California king size… welcome to the good life, eh?
The Birch Luxe Natural is an upgraded version of the Birch Natural. The slightly pricier Luxe version adds organic cashmere to the mix, combined with the organic New Zealand wool, organic cotton, and Talalay latex that are featured in both models. The materials are certified for eco-friendly sourcing by the Global Organic Textile Standard, GREENGUARD Gold, and the eco-INSTITUT.
The core includes over 1,000 steel coils that are arranged to provide targeted lumbar support. However, the layer of natural latex that lies between the core and the cover is where the magic happens. This is an ideal material for creating a supportive surface that cushions but doesn't sink.
This is a high-end mattress that aims for elite performance in all areas. I was impressed by its cooling power, edge support, motion isolation, and most of all, the blissfully cozy and supportive sleep surface.
What I Didn't Love
The Birch Luxe Natural is the highest-priced mattress featured in our top-12 list. It feels spectacular and receives rave reviews. Unfortunately, it costs more than many shoppers spent on their last used car purchases, so it's simply not priced for the general public.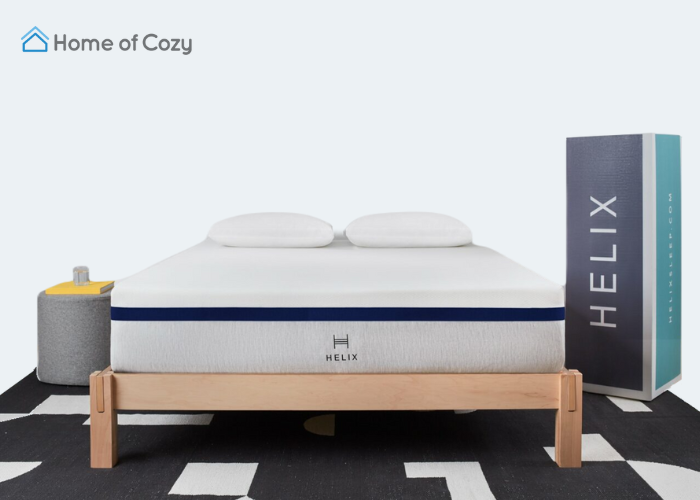 Price: $1,399
Best For: side sleepers
Mattress Type: hybrid
Trial Length: 100 nights
Firmness: 5.5/10 (rating provided by Helix)
What I Loved About This Helix Mattress
The Midnight is Helix's best seller, thanks to an incredibly comfortable medium-firm feel that appeals to most sleepers. The construction includes hundreds of individually-wrapped steel coils and several layers of memory foam and poly foam.
This mattress is especially nice for side sleepers, with enough softness to relieve pressure points but enough firmness to prevent sinking. It's also a good choice for combination sleepers and couples, thanks to a nice balance of comfort and support in any position. It's priced for value, but performs like a luxury model in all areas, including pressure relief, motion transfer, edge support, and airflow.
What I Didn't Love
The Midnight's edge support lets sleepers lie on the very edge without any sloping. However, hybrid mattresses in the medium-firm range don't have enough internal rigidity to prevent some sinking if you sit down on the side of the bed. Also, note that only the upgraded Midnight Luxe offers full, four-sided reinforced edge support. The standard model has two-sided, lengthwise reinforced edge support without offering this benefit at the bed's head and foot.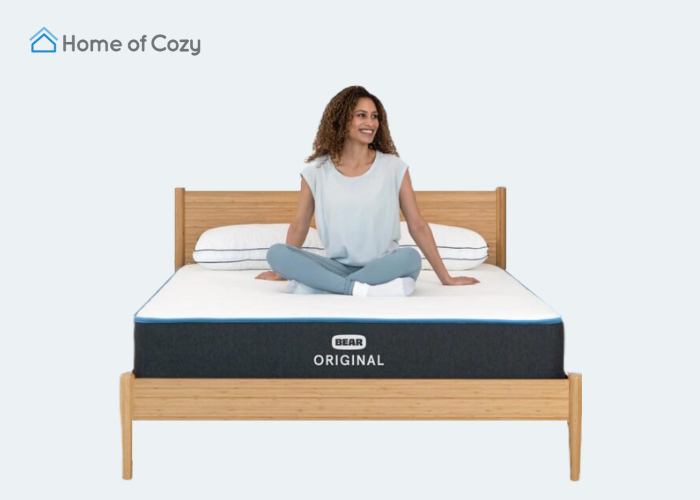 Price: $874 (queen size)
Best For: athletes
Mattress Type: foam
Trial Length: 120 nights
Firmness: 7.1/10 (rating provided by Bear)
What I Loved About This Bear Mattress
What type of bed works best for athletes? While body type and personal preferences are most important, hard-working bodies tend to need beds that are soft enough to relieve sore spots, but supportive enough to prevent uncomfortable sinking. An ideal sleep surface for many athletes comes from the type of dense, medium-firm foam used in the Bear Original mattress.
From bottom to top, this mattress consists of high-density base foam, Bear Dynamic foam, cooling gel memory foam, and a breathable quilted cover. The feel is fairly stiff and firm for a memory foam mattress, helping you feel more like you're "on top" of the bed rather than "in" it. Compared to most foam mattresses, the Bear Original is also pleasantly cool to the touch and effective at heat dispersal throughout the night.
What I Didn't Love
This isn't a critique, but shoppers should take note of the 7.1 firmness rating, which indicates more firmness than you might expect from foam. If you're looking for the extra squishy memory foam style, this isn't the one for you.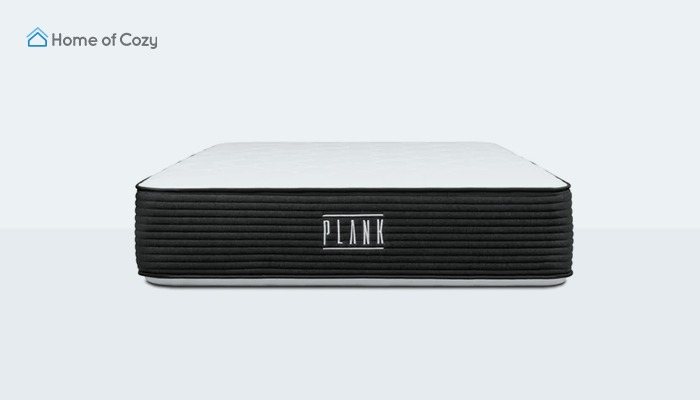 Price: $1,299
Best For: extra firm surface
Mattress Type: flippable hybrid
Trial Length: 120 nights
Firmness: firm side (7.25/10) or extra-firm side (8.75/10) (ratings provided by Plank)
What I Loved About This Plank Mattress
The Plank Firm Luxe is a flippable mattress with a firm side and an extra firm side. This gives sleepers two distinct options and presents spouses with the opportunity to secretly flip the bed back and forth to their preferred sides when the other partner isn't looking (just kidding).
The extra firm side is perfect for stomach and back sleepers and for heavy-bodied folks. The firm side is also quite supportive but uses a thicker quilted top to soften things up just a bit. Think of the firm side as a "traditional" firm, and the extra-firm side as an "ultra" firm option.
What I Didn't Love
The Plank Firm Luxe provides good edge support, but it's not the total support that you might expect from an extra-firm mattress. The edges certainly don't collapse, but they dip enough that edge support is the most criticized aspect of the mattress in customer reviews.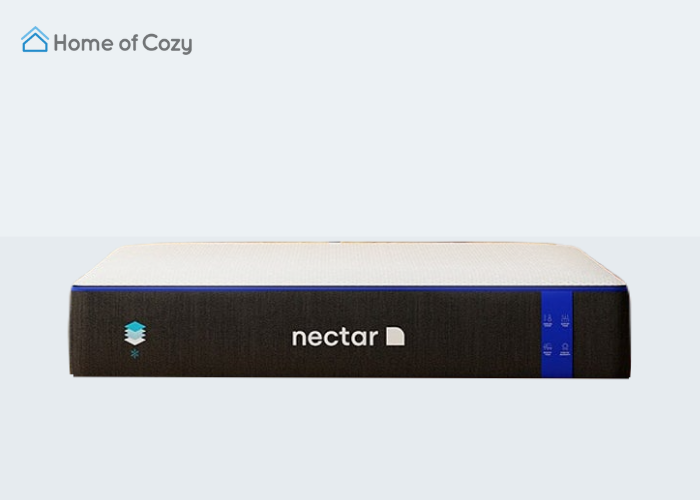 Price: $999
Best For: memory foam design
Mattress Type: foam
Trial Length: 365 nights
Firmness: 6.5/10 (rating provided by Nectar)
What I Loved About This Nectar Mattress
The Nectar Original is one of the best memory foam mattresses on the market, especially considering its price point: just $999 for a California king.
The mattress design starts with a seven-inch base layer that provides excellent stability underneath the thinner and softer upper layers. Layers of dynamic response foam and pressure-relieving gel-infused memory foam provide the familiar contouring of memory foam, but don't permit deep or uncomfortable sinking.
This mattress is great for couples, featuring excellent motion isolation. One partner's movements won't be felt on the other side of the bed, especially if that bed is an enormous California king.
What I Didn't Love
The Nectar Original, like most memory foam mattresses, tends to trap some heat. Nectar rates this design at 6/10 for cooling, compared to their other mattresses which are listed as 10/10. Sleepers who struggle to stay cool during the night can upgrade to the "NectarCool Technology" option, but might be better off opting for Nectar's cooler hybrid design instead (the same Nectar Original product page offers the choice of memory foam or hybrid materials).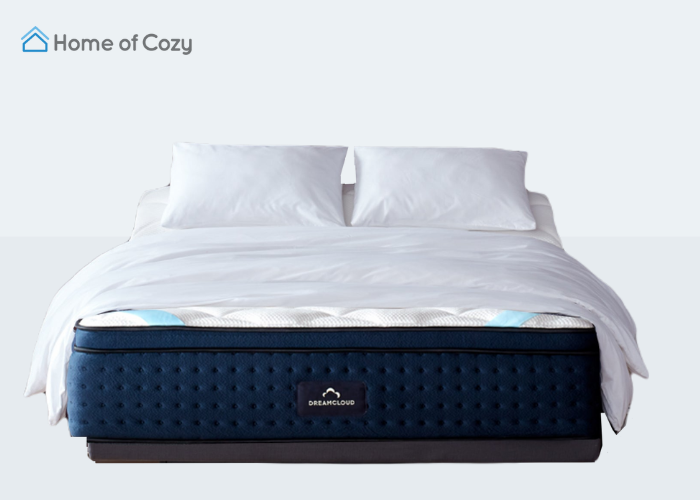 Price: $1,124
Best For: overall comfort
Mattress Type: hybrid
Trial Length: 365 nights
Firmness: 6.5/10 (rating provided by DreamCloud)
What I Loved About This DreamCloud Mattress
The DreamCloud Original is one of the most affordable mattresses that can accurately describe itself as a "luxury" option. Featuring a plush and breathable cashmere top, this mattress really has the comfort "it factor."
At 6.5/10 for firmness, the DreamCloud Original is designed to appeal to the widest possible variety of sleepers. The surface provides moderate contouring, but only to a very shallow depth. The firmness is supportive and balanced, likely to satisfy even those sleepers who typically want a surface with a higher firmness rating.
What I Didn't Love
Light-bodied sleepers might find the DreamCloud Original to be too firm and bouncy. The surface doesn't begin to contour until a fair amount of pressure is exerted, so the bed might feel firmer than expected for sleepers who weigh less than 120 lbs.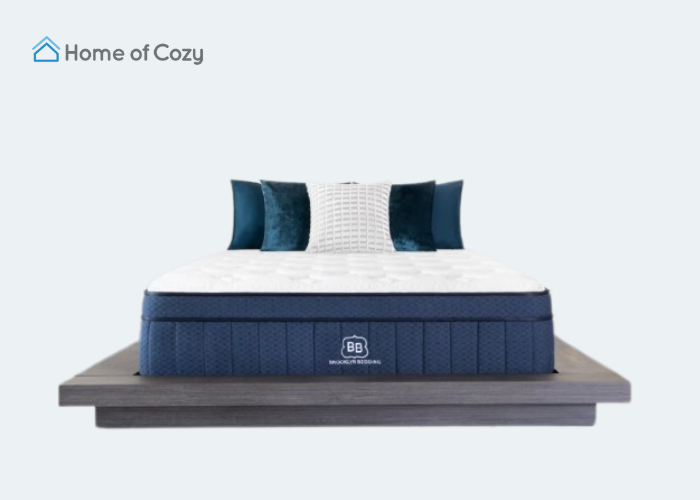 Price: $1,686.80
Best For: keeping cool
Mattress Type: hybrid
Trial Length: 120 nights
Firmness: choose from soft (3/10), medium (5/10), or firm (7/10) (ratings provided by Brooklyn Bedding)
What I Loved About This Brooklyn Bedding Mattress
If you're tired of sweaty nights, move the Aurora Luxe to the top of your list.
This mattress is a perfect example of why hybrid designs have become so popular: a luxurious blend of comfort and support, targeted pressure relief, incredible motion isolation, and higher-gauge coils around the perimeter for superior edge support.
Perhaps most impressively, the Aurora Luxe delivers the goods in an area where many other beds come up short: cooling.
The coil core is designed for airflow, and the foam is constructed with open-cell technology and phase-change material that absorbs and releases heat. The mattress is cool to the touch and works continuously to keep you cool through the night.
What I Didn't Love
The Aurora Luxe's surface has a slightly slick, almost slippery feel that some sleepers might not prefer.
8. Best for Stomach Sleepers and Back Sleepers: Saatva Classic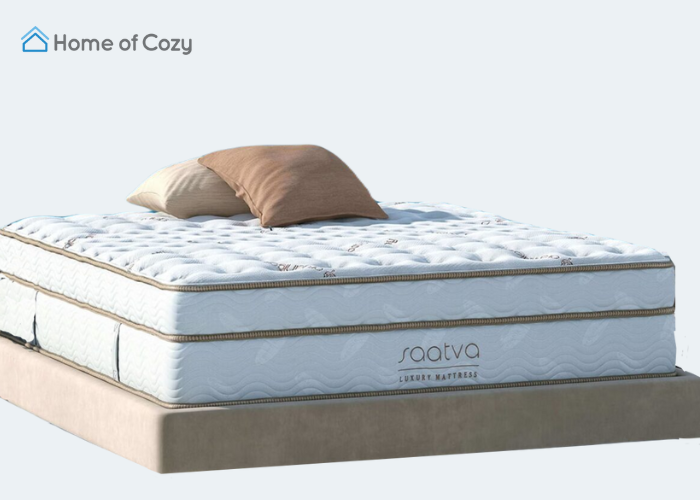 Price: $2,120
Best For: stomach sleepers and back sleepers
Mattress Type: hybrid
Trial Length: 365 nights
Firmness: choose from plush soft (3/10), luxury firm (6.5/10), or firm (8/10) (ratings provided by Saatva)
What I Loved About This Saatva Mattress
Saatva mattresses are pricy, but they deserve to be. First of all, Saatva doesn't compress and roll their mattresses in order to fit them into smaller boxes. That means they can use strong spring coils that never need to be squashed or twisted for shipping. Saatva leverages this advantage to build mattresses that are extra supportive and more durable than other brands.
In particular, stomach and back sleepers will appreciate the support offered by the Saatva Classic, especially in the luxury firm and firm models. The combination of latex and springs offers an incredible mix of comfort and support that most foam and hybrid designs simply can't compete with.
What I Didn't Love
My only complaint about the Saatva Classic would be that they bundle three very different firmness ratings into the same name. The plush soft Saatva Classic (3/10 firmness) and the firm Saatva Classic (8/10 firmness) feel like two different beds. Saatva would be able to more clearly communicate their benefits if they were marketed separately.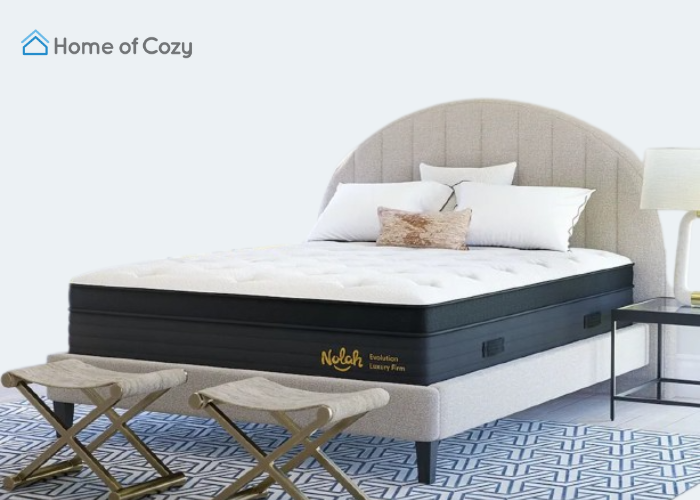 Price: $1,799
Best For: back pain relief
Mattress Type: hybrid
Trial Length: 120 nights
Firmness: choose from plush (4.5/10), luxury firm (6.5/10), or firm (7.5/10) (ratings provided by Nolah)
What I Loved About This Nolah Mattress
The Nolah Evolution 15" hybrid mattress uses a complex seven-layer construction that includes three different types of foam, a recycled plant fiber foundation, and a core of individually-wrapped coils. The mattress is tall and dense, using its unique arrangement of materials to establish excellent pressure relief, motion isolation, and edge support.
This mattress comes in plush, luxury firm, or firm, with the luxury firm option holding the widest appeal. Each model employs zoned support, offering varying levels of cushion and support just where you need it. Overall, it's an incredibly comfortable mattress and a top pick for sleepers who suffer from aches and pains.
What I Didn't Love
Be warned: a CA king Nolah Evolution 15" weighs 142 lbs, quite a bit more than most boxed mattresses. With its generous dimensions and hefty weight, this is not an easy object to move around.
10. Most Supportive: WinkBed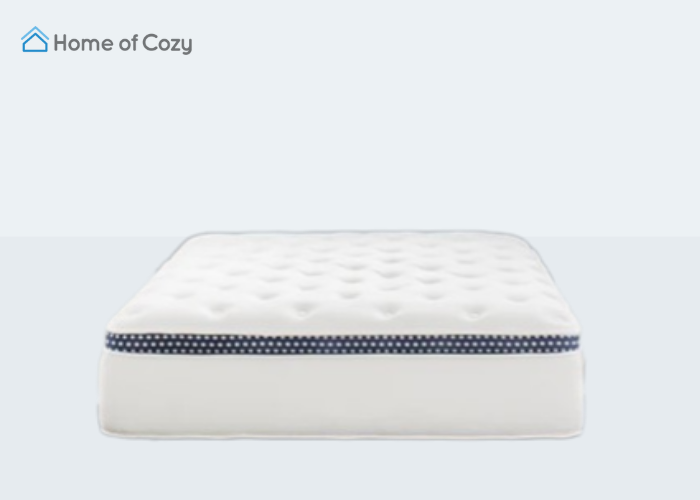 Price: $1,749
Best For: support
Mattress Type: hybrid
Trial Length: 120 nights
Firmness: choose from soft (4.5/10), luxury firm (6.5/10), firm (7.5/10), or plus (8/10)
What I Loved About this WinkBed Mattress
The WinkBed is a hybrid mattress that's available in four firmness levels: soft, luxury firm, firm, and plus. The "plus" model is designed specifically to accommodate sleepers who weigh over 250 lbs.
The pocketed coil core is constructed in a zoned layout that supports sleepers' midsections and prevents perimeter sagging. The surface layer is a Euro-pillow top with gel-infused foam. This type of top provides padding like a traditional pillow top. However, unlike a pillow top, the Euro-top is stitched beneath the mattress cover, providing a more unified and supportive feel.
What I Didn't Love
It's tough to offer specific critiques of the WinkBed because it's really a collection of four different mattresses, depending on the firmness level. Aside from the exterior design, these are four distinct models. WinkBed controls the firmness levels by using varying foam densities and softer or stiffer pillow tops. Before ordering from WinkBed, peruse the customer reviews, since many reviewers seem to find the model they chose to be firmer or softer than they expected.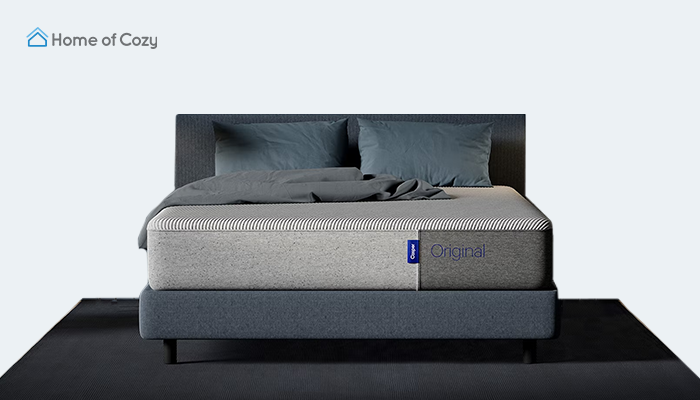 Price: $1,695
Best For: value
Mattress Type: foam
Trial Length: 100 nights
Firmness: 6.5/10 (rating determined by Home of Cozy)
What I Loved About This Casper Mattress
This mattress is made with breathable polyurethane foam on top, zoned memory foam in the middle, and a base of durable polyurethane foam. The thick base provides plenty of support, while the top is soft yet thin. The result is a mattress that provides a very cozy surface but permits minimal sinkage.
Casper is one of the most popular online mattress brands, thanks to dependable quality and great prices.
What I Didn't Love
Casper is one of the few brands that doesn't publish their own firmness ratings on a helpful 1-10 scale. Previous Casper owners should be aware that the current version of the Casper "original" is slightly softer than previous versions. This foam mattress won't be sufficiently firm or supportive for all sleepers.
12. Best All-Foam Mattress: Silk & Snow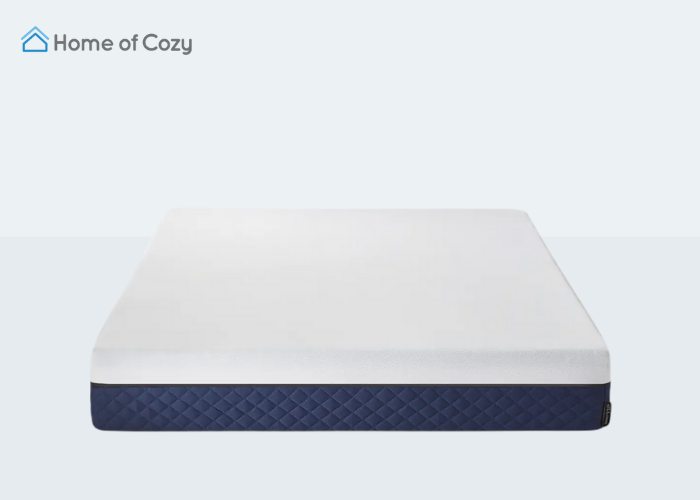 Price: $750
Best For: all-foam construction
Mattress Type: foam
Trial Length: 100 nights
Firmness: 6/10 (rating provided by Silk & Snow)
What I Loved About This Silk & Snow Mattress
Silk & Snow's original memory foam mattress uses heavy, luxurious high-density memory foam to create a surface that cushions but doesn't sink.
The all-foam construction includes three layers: base layer foam, transitional foam, and cooling gel memory foam. The result is a surprisingly supportive foam surface that doesn't create that "stuck in" feeling that some softer memory foam beds suffer from.
Considering the overall quality, the S&S mattress is surprisingly affordable, presenting one of the best value buys on this list.
What I Didn't Love
To combat the heat-trapping problem that foam mattresses suffer from, Silk & Snow uses open cell memory foam, meaning that there are pockets of air for ventilation. They also use cooling gel, i.e. tiny beads that draw away heat. However, foam is foam, and foam sleeps hot. The foam used by S&S is truly luxurious, but it's not a great match for hot sleepers.
What to Keep in Mind When Choosing the Right California King Bed
As you decide whether or not to go for a CA king, and which one to purchase, here are a few key factors to consider as you narrow down your options.
Quality Materials
Type of material and material quality are major factors in a mattress's price. Today's mattress brands are using more and more innovative materials in pursuit of superior designs, creating a wide price range and many options to choose from.
Memory foam mattresses are known for soft, cozy surfaces, while latex tends to have a slightly more supportive and bouncy feel. Traditional innerspring mattresses are quite bouncy, while newer hybrid designs use individually-wrapped coil cores to provide a more balanced surface.
Whichever type of mattress you're interested in, read through the materials list. Most retailer websites offer diagrams that show which materials make up each level of the mattress. Fancy materials like cashmere and organic wool are appealing, but the important thing is that the mattress is well-built and designed to meet your preferences.
Budget
Bargain hunters get great deals on online mattress purchases. Mattress-in-a-box retailers cut costs by eliminating brick-and-mortar showrooms, creating savings that are passed on to customers.
When shopping for a CA king, expect to pay the same or close to the same price that you would for a regular king-size mattress from the same retailer.
Size
If you're considering a CA king-size bed, make sure it's going to fit in your home. At 84" x 72", CA kings only make sense for large bedrooms. To make sure that the bed will fit nicely—and that you'll actually be able to get it into the room—measure the dimensions of your bedroom, door openings, and stairwells before deciding on this bed size.
Keep in mind that compared to other sizes, bed frames, box springs, and sheets might be harder to find for CA kings. Before making your purchase, sure that your retailer has the accessories you're looking for in stock.
Sleeping Position
Shoppers are sometimes surprised to learn that sleep position is a major factor in choosing an ideal mattress. The main concern here is firmness; different positions demand varying levels of support vs cushioning.
In general, side sleepers tend to prefer softer mattresses that cushion the shoulder and hip areas. Back and stomach sleepers often do best on firmer mattresses that provide lumbar and neck support.
Body type also matters. Lightweight sleepers may require softer surfaces that provide contouring without heavy pressure. Heavy-bodied sleepers usually prefer firmer mattresses like the Helix Plus that don't sink down too deeply.
Firmness
For couples, it's essential to find a bed that suits both sleepers' preferred firmness levels. The "perfect" firmness depends on a person's usual sleeping position, body weight, and comfort needs.
To evaluate your options, always check to see if the retailer you're considering publishes firmness scale ratings.
Most mattress companies use an unofficial 1–10 firmness scale, defined as follows:
1/10 indicates an extremely soft mattress that allows deep sinking
10/10 indicates maximum firmness, permitting virtually no conforming or sinking or conforming
6.5/10 is considered the industry standard for a medium-firm mattress
Type
Mattresses come in a variety of constructions. Different materials offer varying benefits related to affordability, firmness, and durability.
While manufacturers are increasingly creative in their material combinations, here are the four primary mattress categories:
Foam: Foam mattresses are made from layers of memory foam and/or polyfoam. This type is known for squishy softness, but foam mattresses can be made in a range of firmness levels. Foam mattresses are especially popular for online shoppers who purchase mattress-in-a-box deliveries. They're lightweight and relatively inexpensive compared to other types.
Innerspring: This is the traditional mattress style that uses a support core of coils and a thin comfort system. Innerspring mattresses are great for airflow/breathability and also tend to be low-priced. However, this type is less common among online retailers since they're not easy to roll and pack into shipping boxes.
Latex: Latex mattresses contain single or several layers of natural or synthetic latex. This mattress type is known for providing excellent comfort and durability but tends to be on the high end of the price range.
Hybrid: A hybrid mattress contains a coil support core plus cushioned outer layers, offering a mix of comfort and support. The comfort layers are typically made from foam or may include several layers of different materials. Hybrids come in many firmness levels.
Bonus Tips for Choosing the Best CA King Bed Frames
If you go for a California king mattress, you'll need a matching frame. Frames made for Eastern kings usually won't work for CA king mattresses.
If you're investing in a king-size bed, you want the entire ensemble to look great, meaning you'll have a few choices to make.
You can use a panel bed, which has slates, headboard/footboard/railings, and is meant to use box springs under the mattress.
Or, you can go for a platform bed, which is a lower-profile solid surface that doesn't require box springs. Panel beds and platform beds can both be made with wood or metal materials.
California King-Size Mattress FAQ
Who Is a California King Best For?
California kings are best for:
Extra tall sleepers
Couples who share the foot of the bed with a pet
Rooms with dimensions that aren't quite right for a traditional king
An Eastern king provides 6'8" of length. However, you lose a few inches of usable length at the top of the bed, since you don't sleep with your head jammed onto the headboard. Then, at the foot of the bed, you want a few inches of buffer to prevent your feet from kicking out the tuck of the sheets.
Generally, sleepers taller than around 6'2" will be most appreciative of the extra leg room provided by a CA king, which spans a full 7' in length.
How Much Does a California King Bed Cost?
Currently, CA king mattresses are mostly selling for between $1,200 and $1,600, with luxury models costing around $2,000. Most online mattress brands sell CA kings and Eastern kings for the same price or nearly the same price.
When buying a mattress, always check for discounts and coupon codes, since many retailers tend to frequently change their prices and offer varying discounts throughout the year.
Is a California King Worth It?
A California king mattress isn't right for everybody but it's a must-have for some.
If your long legs have spent too many years dangling off the end of the bed, upgrading to a CA king is a beautiful thing. With more retailers now offering CA kings, chances are you can find your ideal mattress in this size.
Sleep Better With Home of Cozy
With the rise of high-quality online mattress retailers, anyone who wants a CA king-size bed can have one delivered to their front door. It's a terrific option for sleepers who need that extra bit of room at the foot of the bed. At Home of Cozy, we're here to provide comprehensive furniture reviews so that you can live your comfiest life. To find more options from the brands reviewed in this article, check out top-10 Best Mattresses or our guide on the 15 Best Mattress-In-A-Box Brands.