A leather sofa is a great option to add a touch of class to your living room. However, they can also be a bit pricier than traditional upholstery so you want to make sure you make the right choice when shopping.
The Home of Cozy team took a look at all of the best leather couches of 2021 to help you make a decisions. When comparing leather sofas, we determined our top picks based on price, quality, style and long-term durability.
Let's get started.
Finding High-Quality Leather Sofas That Fit Your Home
Before we reveal the 4 best leather sofas of 2021 and the brands that sell them, we wanted to take a deeper dive into the criteria we use to determine what sofas stood out among the competition.
In addition to things like price and quality, we also tried to find a wide range of genuine leather sofa styles including: traditional three-seater sofas, loveseats, leather sectional sofas with a chaise, sleeper sofas and reclining sofas.
We also accounted for the different kinds of sofa styles that are most common and what their benefits are. Some examples include chesterfield sofas, small space sofas, customizable sofas and sofas capable of fitting a lot of people.
All in all, what we ended up with was a list of sofas that you really can't go wrong with.
Our Picks for the 5 Best Sofas of 2021
1. The Allform Modular Three Seater Sofa
Price: $2245
This leather sofa has a modern look and it's modular design allows you to scale it up or down to suit your living space. This top grain leather sofa is built with a solid hardwood frame for years of lounging. The Allform is middle-of-the-road in pricing, however, the sofa-in-a-box concept brings a whole new level of convenience to the table.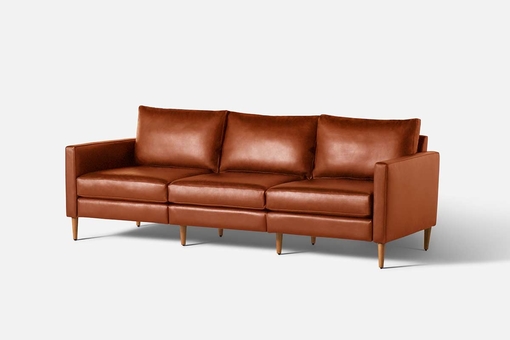 Best Leather Sofa: Allform
2. The Rivet Aiden Tufted Mid-Century Loveseat
Price: $925
This Rivet Aiden is a sleek sofa with classic leather upholstery and Mid-Century Modern-style armrests. It's reversible and removable seat cushions and back cushions make for easy cleaning. In addition, it's got a great price tag, however, it's upright design and firm cushions aren't a good fit for those looking for a plush couch or a recliner option.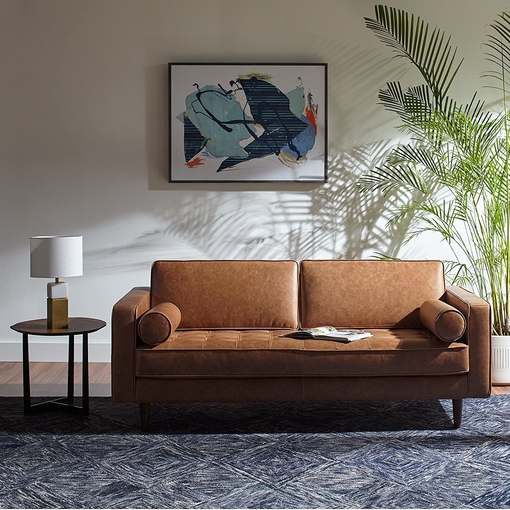 3. The West Elm Leather Dekalb Sectional with Chaise
Price: $4800 to $5400
The Dekalb sectional is made of top-grain aniline leather, a hardwood frame, and layered with plush cushions for the best in durability and comfort. However, with its lofty price tag and lack of warranty, might turn some shoppers away.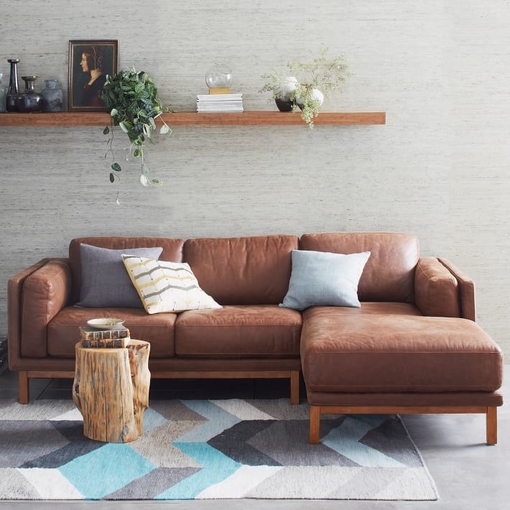 4. Turner Roll Arm Leather 4-Piece Chaise Sectional
Price: $4398 to $6434
With the Turner Roll Arm Sectional from Pottery Barn, you'll have both comfort and quality with its high back, thick arms, and down cushions. The Turner comes in over 20 supple top-grain Italian leathers, and is customizable with chair, ottoman, and arm style options. Unfortunately, this higher-end leather sofa is top tier in price and like West Elm, Pottery Barn does not advertise any warranty options, which presents a risk to shoppers.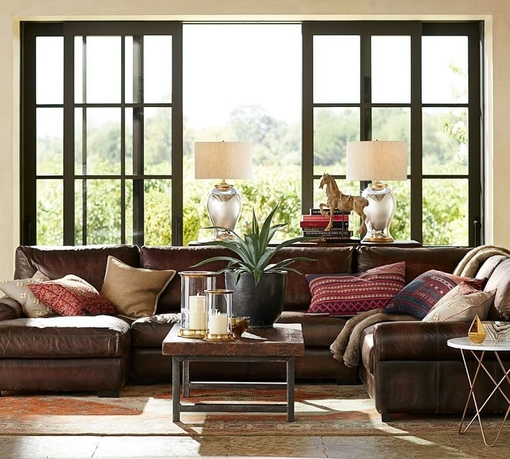 5. Serta Palisades Modern Sofa
Price: $400
For our price-conscious shoppers, Serta offers a fabulous faux-leather alternative with the Palisades upholstered sofa. In addition to its straight arms, soft upholstery and modern design, the Palisades is a great option for those on a smaller budget, who still want a stylish option. It also comes with convenient tool-free assembly and free shipping for Amazon Prime members.
The Best Leather Sofa Retailers
From the many brand and furniture retailers we reviewed, we've selected the top 8 to share with you. When reviewing these companies we considered things like variety and aesthetics, however we also considered price point and shopping experience. If you want more info, check out our content on best online sofa retailers and best places to buy a couch.
West Elm has a slightly edgy, contemporary design appeal that combines clean lines, solid colors, and modern fabrics. West Elm offers in-store and online home decor shopping as well as white-glove delivery service.
Allform modular sofas are customizable and come in one to eight seats, several fabric options and two top-grain leather options. Allform's durable construction make it a great investment for customers who want a versatile sofa that last for years.
Pottery Barn
Pottery Barn offers an extensive catalog of options at nearly every price point. In addition, their wide range of styles appeals to both those who prefer a modern look as well as those searching for a more retro style.
Wayfair
Wayfair is an e-commerce only retailer and proudly boasts one of the most user-friendly shopping experiences for its catalog of over 14 million products. Best of all, Wayfair offers fast and free shipping on orders over $49.
Homelegance
Homelegance is a wholesale furniture company offering a fresh, functional style that ranges from classical to modern influences. With over 30 years of experience, sold in nearly every major retailer, Homelegance is a trusted source for quality furnishings.
Amazon
Not only is Amazon the leading e-commerce retailer, with a wide selection of furniture brands available on their site, but they also recently launched their own private label furniture line, Rivet & Stone which is comparable to many of its high-end competitors.
Extra Tips for Getting a New Couch
Now that you know the best leather sofas available and the brands and retailers that lead the market, we'd like to conclude this page with a few helpful tips.
It's important to clean and maintain your leather upholstery to help it stay durable over time. Check out some of our articles about repairing a leather couch and cleaning your sofa.
When it's time to part with your home furnishings, you want to make sure you dispose of them properly. To learn more about your options, visit our article about how to get rid of your couch.