A hard-working athlete needs high-quality sleep. To get those rejuvenating slumber hours, an exceptional mattress is a must.
Everyone needs sleep, but an active lifestyle puts extra demands on athletes' bodies, pushing their muscles to soreness and depletion.
Furthermore, athletes in training require extra hours of sleep per night for recovery. That means that any discomfort caused by an athlete's mattress will be experienced for a longer time period, potentially resulting in additional aches and pains that may disrupt the training program.
Sometimes, being an athlete means pushing through some pain. But your bed should be where you go to recover, not another physical test to endure. If your bed hurts worse than your sport, then it's time for an upgrade.
In the sections below, we'll step through the most important mattress considerations for athletes. Then, we'll showcase Home of Cozy's picks for the best mattresses for athletes in 2023.
Mattress Priorities for Athletes
Firmness Level
When shopping for a new mattress, a smart way to get started is to decide upon your ideal firmness range.
Firmness refers to how soft or stiff a mattress is. To bring objectivity to this important factor, online bedding brands use the following mattress firmness scale:
1/10 indicates a soft mattress that permits significant sinking
10/10 indicates an extremely firm surface that allows virtually no sinking or contouring
6.5/10 is the industry standard for a medium-firm mattress
It's often said that athletes need a medium-firm or firm mattress, but it all depends on sleeping position, body type, and personal preference.
Side sleeping feels best on softer mattresses that permit pressure relief around the hips and shoulders. Back sleepers often do best on a medium-firm bed that provides some cushioning but doesn't allow the hips to sink in too deeply. Stomach sleepers generally like a medium-firm or firm surface that supports the hips, since the lower back is particularly at risk for discomfort in this position.
Additionally, softer mattresses are good for light-bodied sleepers, since a firm mattress won't provide any contouring unless heavier pressure is applied. Meanwhile, more firmness is helpful for heavy-bodied sleepers, since soft beds may permit excessive sinking.
The mattresses featured below have firmness ratings between 3/10 and 9.5/10.
Support and Durability
No matter how firm a bed is, it should be supportive.
While firmness refers to how soft or hard a mattress feels, supportiveness refers to a bed's capacity to hold your weight and maintain a healthy spinal alignment. If a bed lacks support, your body may sink in too much around the hips and shoulders, resulting in aches and pains from unnatural curving in your spine.
Supportiveness indicates a mattress's ability to hold its shape over the course of a night. Meanwhile, durability refers to a mattress that keeps its form over many years. Durable mattresses withstand heavy use without caving in around the middle or weakening around the edges.
Both durability and support are particularly important for heavy-bodied folks. Thin, weak mattresses tend to permit excess sinking and to wear out quickly when used by plus-size sleepers. Likewise, athletes of all sizes require mattresses that are supportive enough to provide proper spinal alignment to allow for muscle recovery and prevent back pain.
Comfort and Pressure Relief
Along with sufficient support, the right mattress for most athletes also offers enough cushioning to relieve the pressure on aching joints and sore muscles.
Comfort layers are usually made from memory foam or other foam materials. These layers may be dense and stiff or soft and fluffy. Ideally, comfort layers contour around pressure points but don't sink downward too deeply.
To select a mattress that matches your comfort preferences, always check the firmness rating and read plenty of reviews to get an idea of how well the bed performs for your body type.
Cooling
It's hard to get a good night's sleep when you're overheated. Sleepers who suffer through sweaty nights might not realize what a difference a new mattress can make!
Excessive sweating is often thought of as a problem for overweight people. However, plenty of athletes are super-sweaters. Active people carry muscle mass that increases body weight and requires lots of work to keep cool. Fit folks have bodies that are trained to cool down—i.e., conditioned to sweat.
If you're a hot sleeper, know that some materials are better than others at releasing body heat. In particular, memory foam mattresses tend to trap heat, although this effect can be partially reduced by infusing gel, copper, or graphite into the foam.
In general, the best bet for keeping cool is a hybrid mattress, i.e. a design that includes a coil core underneath the comfort layers. This type of bed allows for superior airflow and a cooler night's sleep.
Individual Needs
"Athlete" is a broad category. A 350-lb football lineman and a 130-lb marathoner are likely to prefer different mattresses. So, don't assume a bed that was "made for athletes" is automatically a great fit for you. Rather, choose the type of mattress that best suits your sleep style and body type and provides the mix of firmness and support that you're looking for.
Our 8 Favorite Mattresses for Athletes
Best Overall: Helix Midnight Luxe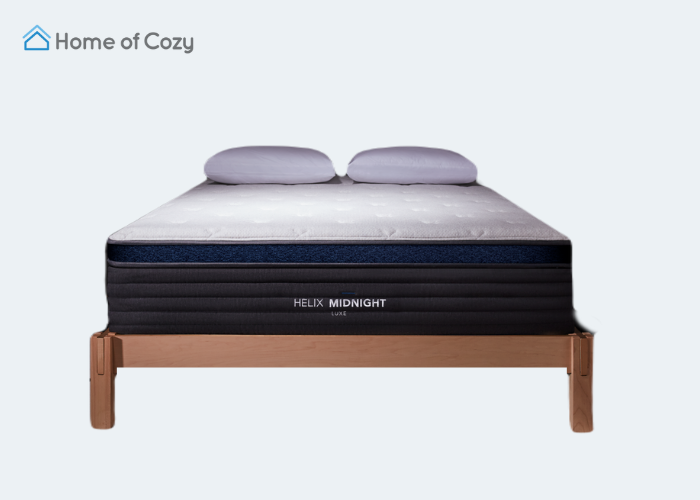 Price: $1,373.80–$2,873.80
Mattress Type: hybrid
Firmness: 5.5/10
Sleep Trial: 100 nights
Warranty: 15-Years
What I Loved
The Helix Midnight Luxe is our top overall pick for the best mattress for athletes. This 13.5" hybrid includes a core of steel coils that are arranged to provide zoned lumbar support, preventing uncomfortable sinking around the hips. The bed's structural stability reaches the entire perimeter, providing excellent edge support and motion isolation.
This design is an upgrade on the original Midnight, Helix's top seller. The Midnight is known for appealing to a wide range of sleepers, with 5.5/10 firmness and a perfect blend of pressure relief and support. The Luxe version improves upon this winning formula by adding thicker layers, zoned lumbar support, and four-sided edge support.
While different bodies have different needs, many athletes will love the blend of support and comfort offered by this medium-firm luxury hybrid.
What I Didn't Love
Compared to other online mattress brands, Helix offers a longer and more diverse selection. However, some shoppers might find Helix's inventory to be overwhelming or confusing.
Note that the Midnight Luxe is an upgraded version of the original Midnight, while the new Midnight Elite adds an even higher tier. The Luxe is thicker and costs more than the original, while the Elite is even thicker and pricier than the Luxe. Many shoppers will find the Luxe to offer the best value, but you should consider all three options if you're interested in a Midnight.
Best for Muscle Recovery: Brooklyn Bedding Spartan
Price: $1,099–$2,399
Mattress Type: hybrid
Firmness: available in three firmness options: soft (3/10), medium (5/10), or firm (7/10)
Sleep Trial: 120 nights
10-Year Warranty
What I Loved
Brooklyn Bedding designed the Spartan with athletic performance recovery in mind, with a number of interesting features for providing superior rest for hard-working bodies. These include cooling gel and copper-infused foam for temperature regulation and far infrared ray (FIR) tech weaved into the cover to improve blood flow and muscle recovery.
The Spartan's core includes over 1,000 coils distributed in a zoned arrangement for ideal spinal support. The coil core is topped with two thick layers of memory foam.
This mattress comes in three different firmness options—soft, medium, and firm.
What I Didn't Love
Note that with all three firmness options, the top two foam layers are included in identical proportions. Only the support layers differ. All three options present a fairly spongy surface that's great for pressure relief and suitable for side and back sleepers. However, stomach sleepers will likely prefer a firmer mattress.
Best Cooling Mattress: Bear Star Hybrid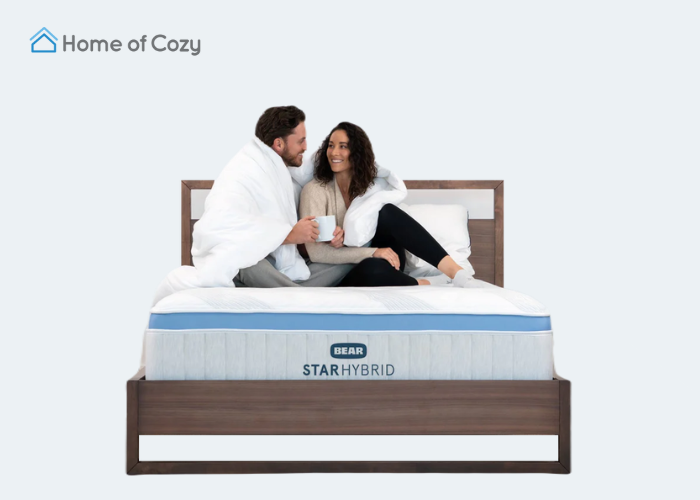 Price: $1,298–$2,796
Mattress Type: hybrid
Firmness: 6.8/10
Sleep Trial: 120 nights
Warranty: Lifetime
What I Loved
With a 6.8/10 firmness rating, the Bear Star Hybrid is right in the medium-firm sweet spot, offering an athlete-friendly balance of contouring and lumbar support.
This product is 13" tall and built to last, with an edge-to-edge core of pocketed coils and several fat layers of foam. This comfy mattress also includes several of the best cooling features for athletes, including a breathable core, copper-infused memory foam for heat dispersal, and a moisture wicking cover.
Like all Bear products, the Star Hybrid offers terrific value. If you want bargains on luxury quality, shop with Bear.
What I Didn't Love
The Bear Star Hybrid includes a layer of memory foam, but doesn't offer the traditional memory foam squishiness that some sleepers look for. The feel is responsive and slightly bouncy. If you're looking for the super deep contouring that memory foam is known for, this bed won't hit the spot.
Best for Pressure Relief: Nolah Signature 12"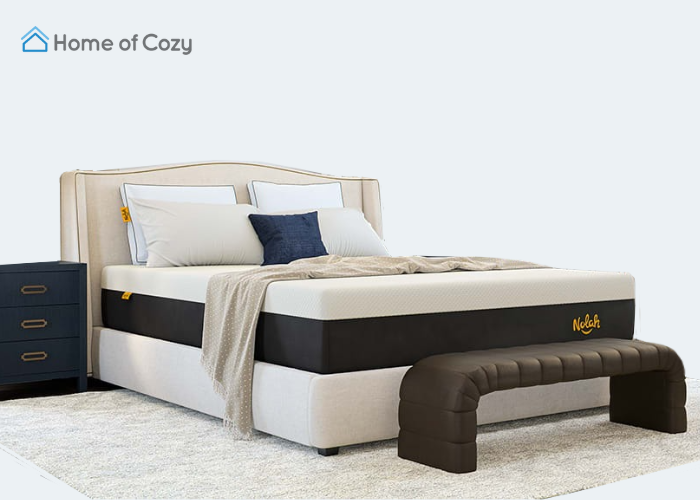 Price: $1,299–$2,798
Mattress Type: foam
Firmness: 5/10
Sleep Trial: 120 nights
Warranty: Lifetime
What I Loved
Often, there's a tradeoff between pressure relief and support. Mattresses that offer significant contouring around your pressure points are typically sinking downward somewhat to achieve this effect. However, certain top performers like the Nolah Signature 12" manage to offer excellent pressure relief with zero compromise on support.
Nolah makes the magic happen with their proprietary AirFoam™ comfort layer. AirFoam feels fluffy and buoyant, but it's also springy and responsive. Its ability to contour is similar to memory foam, but AirFoam is more able to maintain gentle upward bounce, snapping back into place quickly in response to pressure and movement.
What I Didn't Love
Due to its soft all-foam construction, the Nolah Signature 12" is slightly lacking in edge support. The foam is supportive enough that sleeping on the edge isn't an issue, but if you sit down on the edge of the bed you'll find yourself sinking down significantly.
Best Luxury Mattress: Leesa Legend Hybrid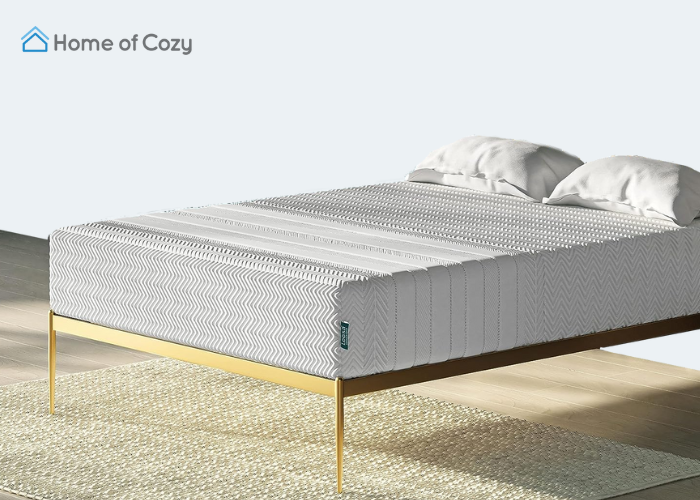 Price: $1,999–$2,999
Mattress Type: hybrid
Firmness: 3/10
Sleep Trial: 100 nights
Warranty: 10 years
What I Loved
They say that one person's trash is another's treasure, and the Leesa Legend Hybrid is a fine example. This luxury hybrid includes a coil core made from recycled steel and a cover that's manufactured with the help of 73 recycled water bottles.
Leesa only makes high-end beds, and the Legend Hybrid is its top-of-the-line model. The construction includes a core of over 1,000 active response pocket springs, a three-zoned support layer with pressure-relieving micro-springs, a memory foam recovery layer, and a comfort layer made with high-airflow foam that improves cooling.
Leesa describes the feel as "medium plush." The surface is fairly bouncy but provides heavenly contouring and ample pressure relief for side sleepers. Sleepers with light body weights will appreciate the highly-responsive comfort layers that cushion and conform at every point of contact. This mattress is especially appealing for sleepers who need a gentle surface to relieve hip pain or shoulder pain.
Finally, it's important to note that Leesa donates one mattress for every 10 sold. They've given away over 40,000 mattresses to families in need.
What I Didn't Love
Note that this is the softest mattress included in our best-for-athletes list. If you have a heavy body weight or you sleep on your stomach, you'll probably require a firmer design.
Best Organic Mattress: Birch Luxe Natural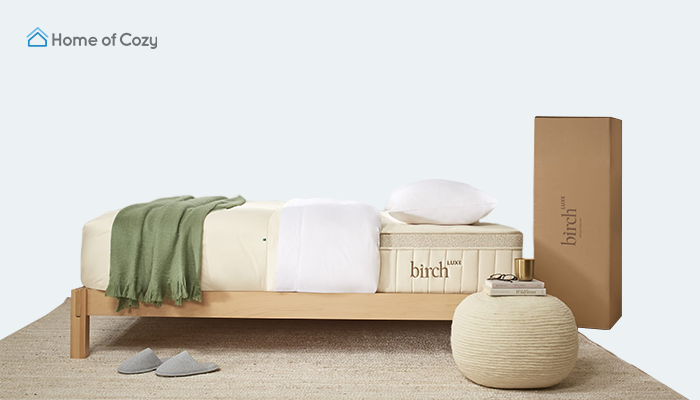 Price: $1,936.30–$3,623.80
Mattress Type: hybrid
Firmness: 6.5/10
Sleep Trial: 100 nights
Warranty: 25 years
What I Loved
The Birch Luxe Natural is an upgrade on the original Birch Natural. If you're easily impressed by high-quality organic materials, then you'll be thoroughly wowed by this mattress's construction, which includes:
Natural latex
Organic wool
Organic cashmere
Organic cotton
The overall comfort of this hybrid bed is fabulous. That's thanks in large part to the thick layer of latex that rests between the coil core support system and the top comfort layers. Latex is a premium material that contours gently around pressure points but doesn't sink down significantly. In this case, topping the latex layer with organic wool, cashmere, and cotton adds a touch more softness. The result is a medium-firm feel that's heavenly for all sleep styles.
Better yet, all of the materials in this mattress are naturally cooling. Airflow through the coil core along with breathable comfort layers make the Birch Luxe Natural a top choice for hot sleepers.
What I Didn't Love
Most athletes would be delighted to do their snoozing on a Birch Natural, but not every athlete will be able to afford one. At $2,342 for a queen size, this is the priciest product featured in this guide.
Best for Plus Size Athletes: Titan Plus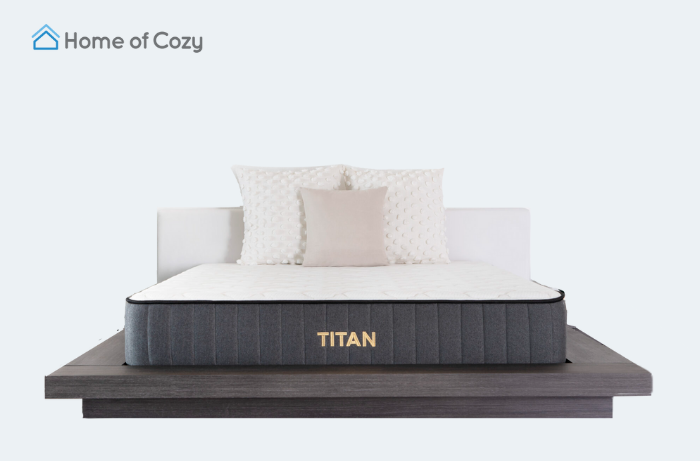 Price: $699–$1,499
Mattress Type: hybrid
Firmness: 9/10
Sleep Trial: 120 nights
Warranty: 10 years
What I Loved
The Titan Plus is designed to accommodate large bodies. Plus-size-friendly beds require strong materials and thus are typically more expensive than standard models. However, the Titan Plus is actually the lowest-priced mattress among the eight products featured in this guide, offering great value for heavier athletes.
With 11" of total height, the Titan Plus's construction includes a high-density foam base and a 6" core with 961 individually encased TitanCaliber™coils. The mattress is made to support up to 1,000 pounds. The comfort layers consist of responsive TitanFlex™ foam and a gel memory foam quilted top. These materials provide a touch of pressure relief, but make no mistake—this mattress is very firm. If you're a plus-sized back or stomach sleeper, the Titan Plus might be the extra-firm solution you've been looking for.
What I Didn't Love
This product is made for a niche customer base—plus-size sleepers who need an extra firm surface. If you aren't plus-size, then the Titan Plus will offer close to zero contouring. Even if you are plus-size, know that this mattress's 9/10 firmness rating indicates a significantly stiffer-than-average feel.
Best Extra Firm Mattress: Plank Firm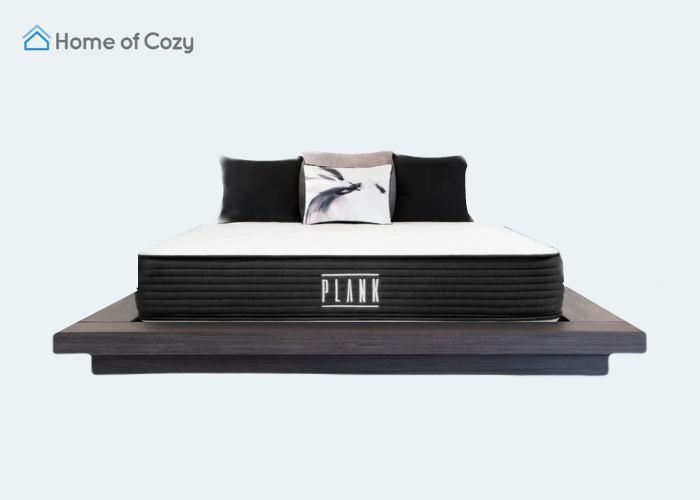 Price: $749–$1,532
Mattress Type: all-foam
Firmness: flippable design with a firm side (8/10) and an ultra-firm side (9.5/10)
Sleep Trial: 120 nights
Warranty: 10 years
What I Loved
If you like having options, it's smart to go with a flippable mattress like the Plank Firm. One side is rated "firm" (8/10) while the other is "ultra-firm," hitting 9.5/10 on the firmness scale.
This all-foam bed hits 11.5" in total height. Roughly half of that consists of a 6" core of high-density support foam.
On the ultra-firm side, the support foam is directly underneath a 0.75" quilted top layer. In other words, there's almost nothing between you and a super dense layer of core material. The result is a sleep surface that permits virtually no sinking and meets the needs of athletes who find almost every other bed to be too soft.
Meanwhile, the firm side includes a layer of TitanFlex™ comfort foam that softens the surface enough to provide more of a traditional firmness level.
What I Didn't Love
Like the Titan Plus (see above), the Plank Firm is significantly firmer than average. As such, if you have a light body weight or you're a side sleeper then you're unlikely to feel sufficiently cushioned by this ultra-firm mattress.
Find the Perfect Mattress for Your Active Body
If none of the mattresses described above seem like the perfect fit, don't be discouraged. While it might be nice to purchase a mattress that was designed with athletes like yourself in mind, it's more important to find one that's a great match for your sleep style, body type, and comfort preferences. To see what else is out there, check out more mattress review content from Home of Cozy, starting with our top picks for The Best Mattresses of 2023.